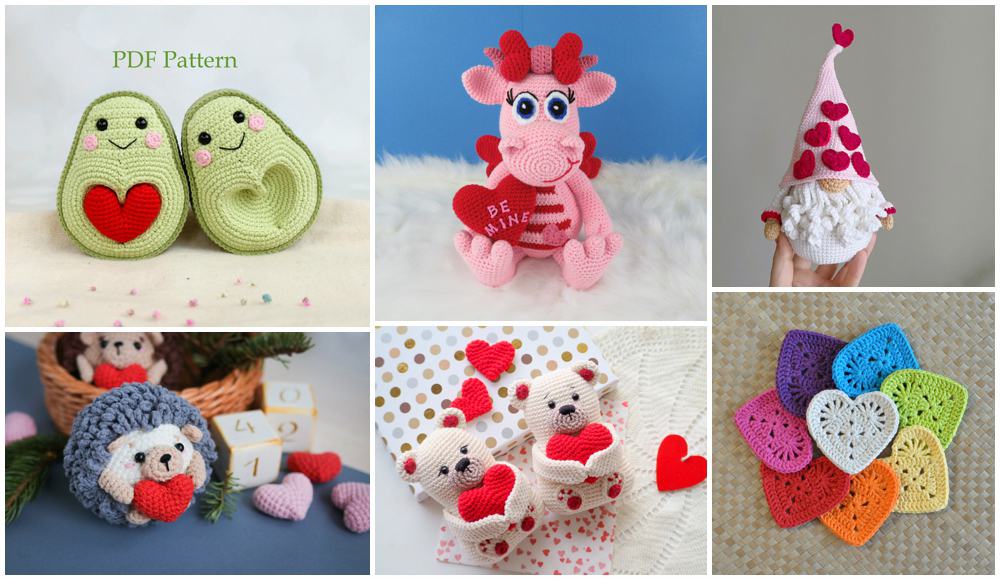 Photo Credit: Via Etsy
By using this site, you agree to our Terms of Use. This post may contain affiliate links. Read our disclosure policy. As an Amazon Associate I earn from qualifying purchases.
Follow us on Instagram for more fun ideas for kids!
You're going to love these adorable Valentine Crochet Patterns! These PDF patterns can help create the perfect Valentine decor or gift!
Everyone loves the day all about love! Valentine's Day is such a fun day full of sweets, treats, hearts, and more! If you're obsessed with all things Valentine, I'm right there with you. It's one of my favorite "low-key" holidays that I just love going over the top for.
We've gathered up fun and lovely list of some of the cutest Valentine Crochet Patterns, ever. Once you purchase, you get to instantly download the PDF and can get started right away. These are fun and simple projects to create right now when the weather is a bit chilly and you have some extra time on your hands.
Gifting your loved ones with homemade gifts is never a bad idea. It shows that your love comes from a place of creativity and gives them a fun and thoughtful gift that they'll be able to keep forever!
Have fun looking through the list of PDF crochet patterns below. It's going to be hard to narrow it down to just one! (and if you have time, make them all!)
10 Valentine Crochet Patterns You'll Love To Make!
In no particular order, these are some of our favorite Valentine PDF patterns that you can instantly buy and receive. Now is the perfect time to get prepped and ready for Valentine's Day!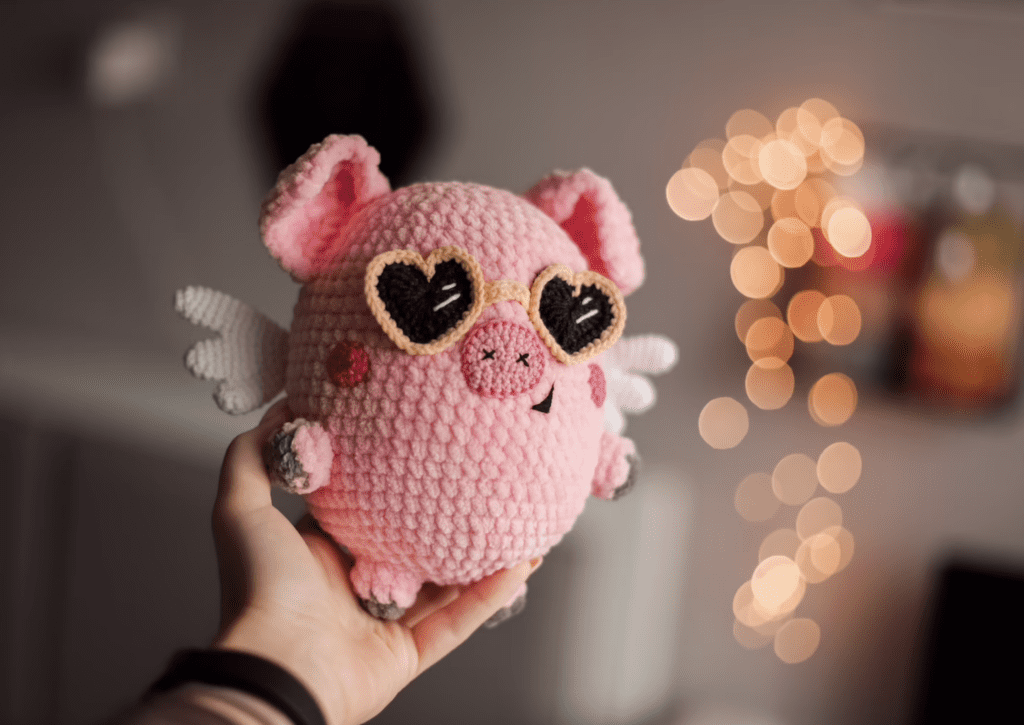 Photo Credit: Via Etsy
Who wouldn't love their own cute little pink piggy? It's a perfect way to give an amazing snuggle gift. The file is an instant download which means you can start working on it immediately. You'll need to have a 4.0 and 2.1 hook as well as stuffing and a handful of yarn colors.
Before you know it, you'll have created the perfect little pig snout and body!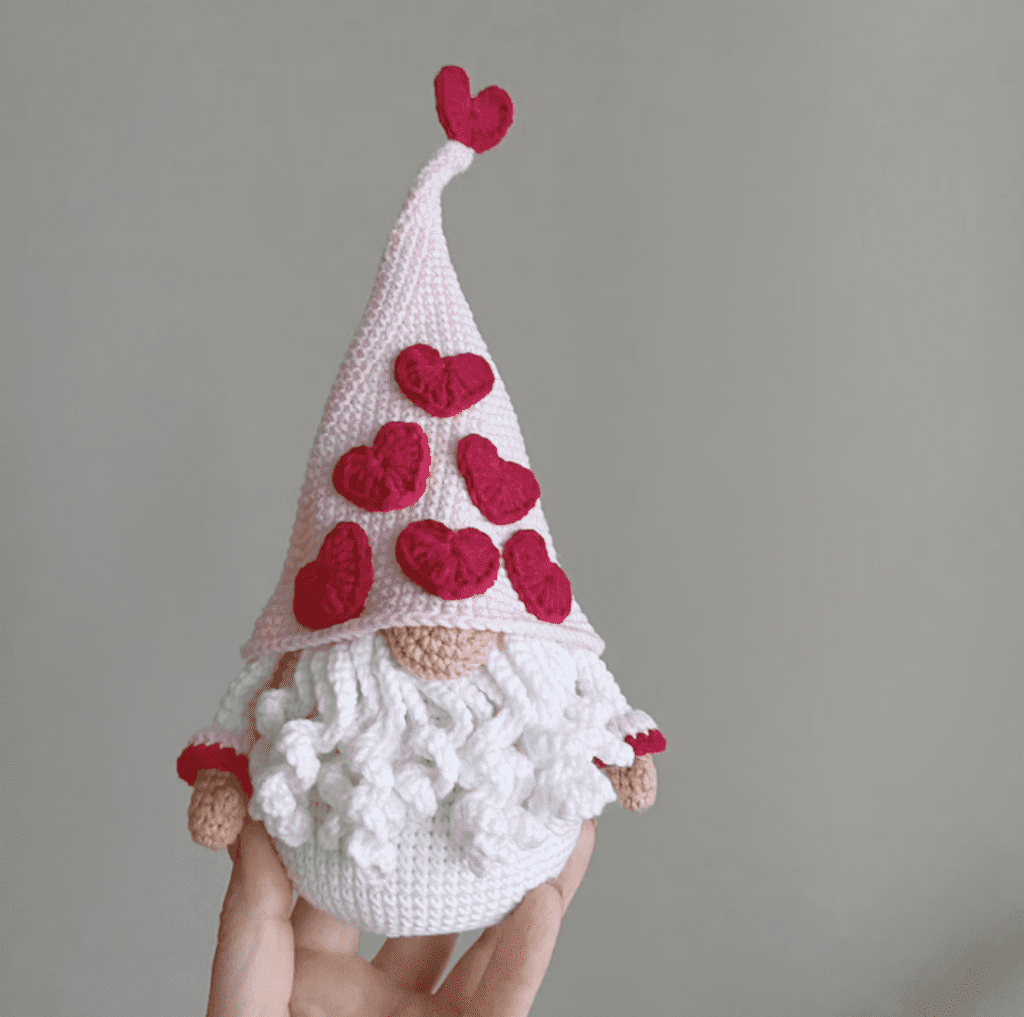 Photo Credit: Via Etsy
Gnomes are all the rage! This fun gnome for Valentine's Day is one that you can get started creating asap. Pay, download, grab your supplies, and you'll be well on your way. Grab a 4mm hook, the required yarn colors, and a piece of cardboard.
Anyone who loves yarn is sure to love this!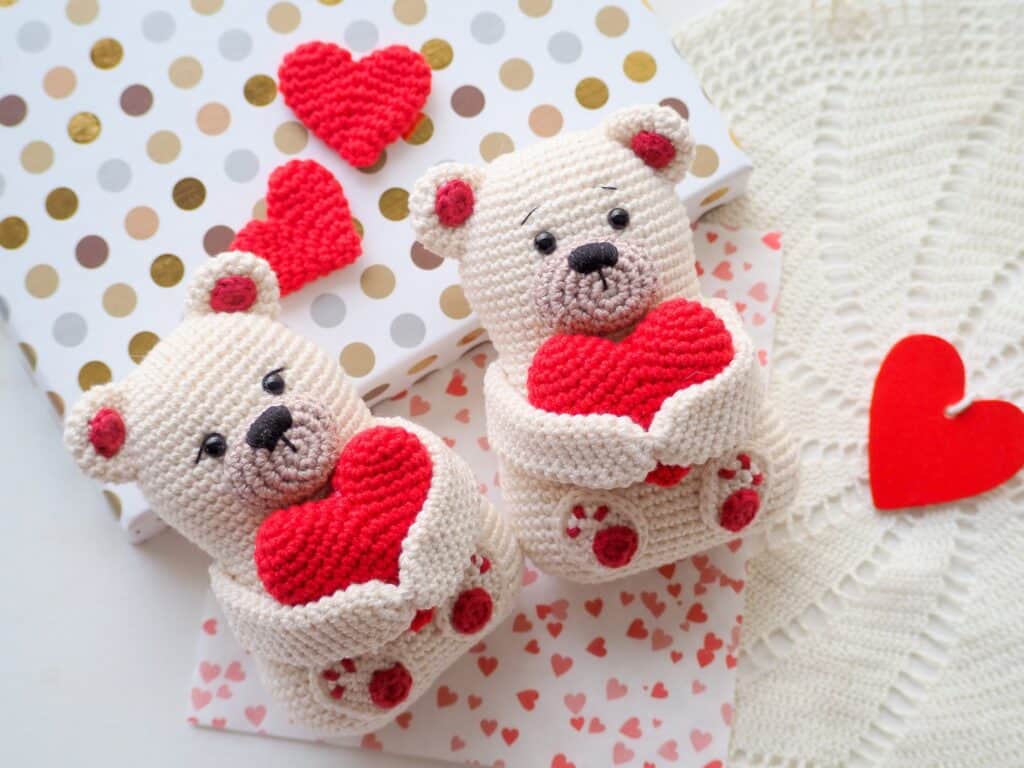 Photo Credit: Via Etsy
With plenty of step-by-step photos, you'll be able to crate this cute teddy bear in no time at all. To get the exact look like the pattern, you'll want to use Schachenmayr ORIGINAL Catania in milk, red and light brown. Having a 2.5mm hook is best as well.
This adorable teddy bear would be perfect as a gift or to pair up with flowers and sweets.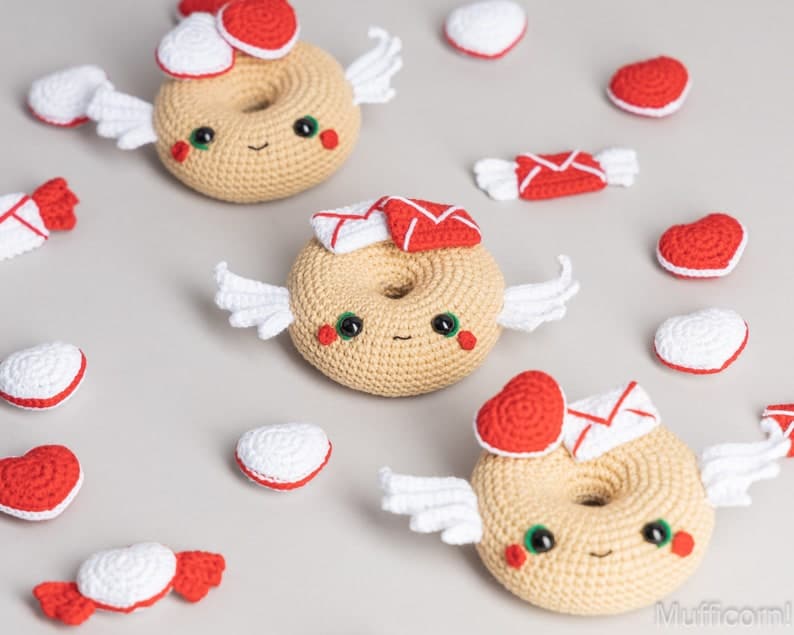 Photo Credit: Via Etsy
The skill level for this adorable Crochet Donut is intermediate so this isn't recommended for those who are new to the world of crocheting. Use a crochet hook 2.25mm to create this adorable donut craft.
While you can change up the colors of yarn if you'd like, the main ones that are shown and used in this template are Alize Cotton Gold in white and red colors and Yarn Art JEANS in light brown and green colors.
Giving the gift of this donut that they can keep forever is perfection!
Tiny and Adorable Valentine Crochet Patterns
Gifts don't have to be big to be loved! These tiny Valentine Crochet Patterns listed below are proof of that!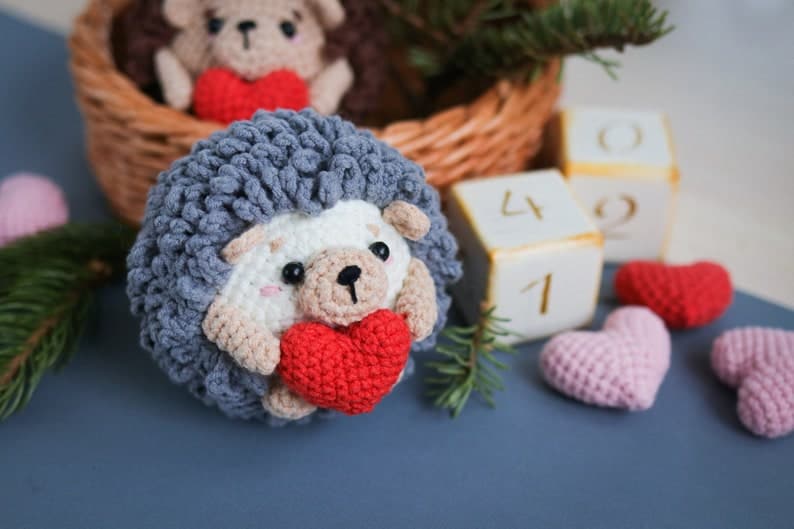 Photo Credit: Via Etsy
Once you get done making this cute crochet hedgehog, you'll love that it fits right into the palm of your hand. The best part? You can know from the beginning that it will take about 4 hours from start to finish to make!
This is an easy pattern that would be a great starting point for anyone who is wanting to crotchet a thoughtful gift.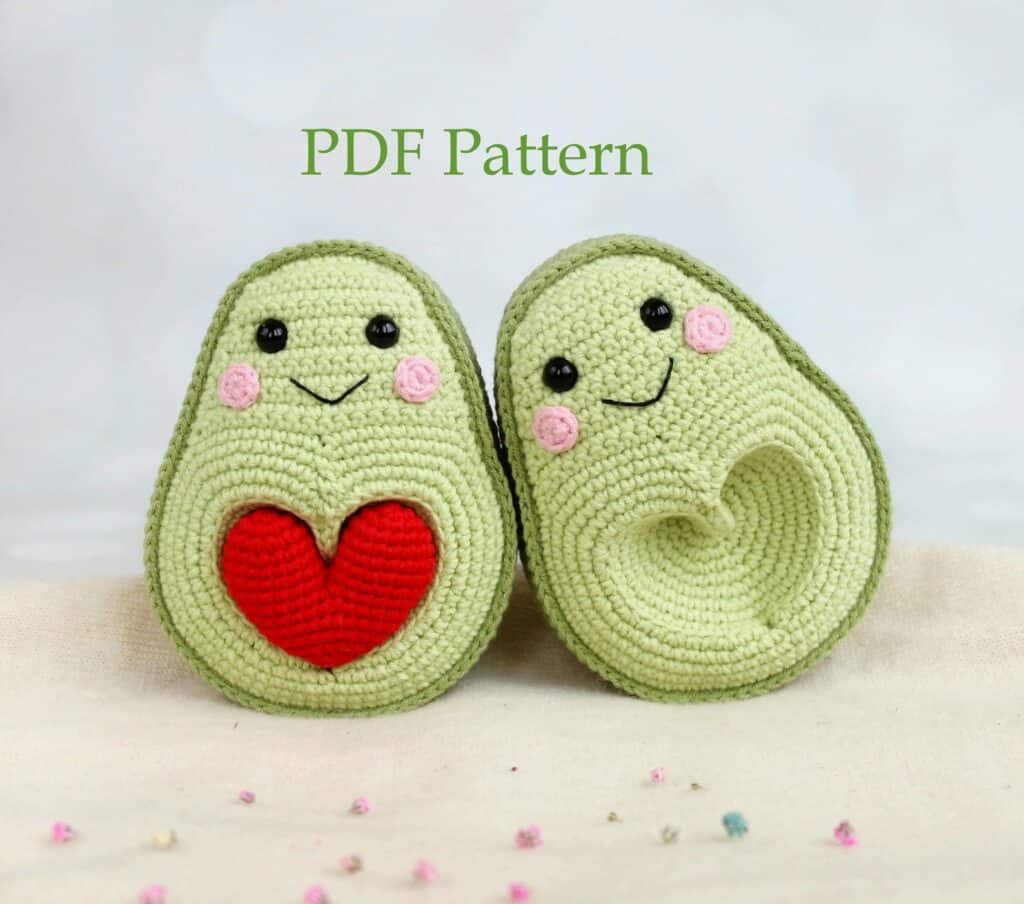 Photo Credit: Via Etsy
Literally, the cutest! These avocados are all about love! The pit in the middle is in the shape of a heart and can be taken out of one and put into the other. You can even use these as a gift for friends where you keep one avocado and they keep the other!
Pair it with our Valentine Avocado Card.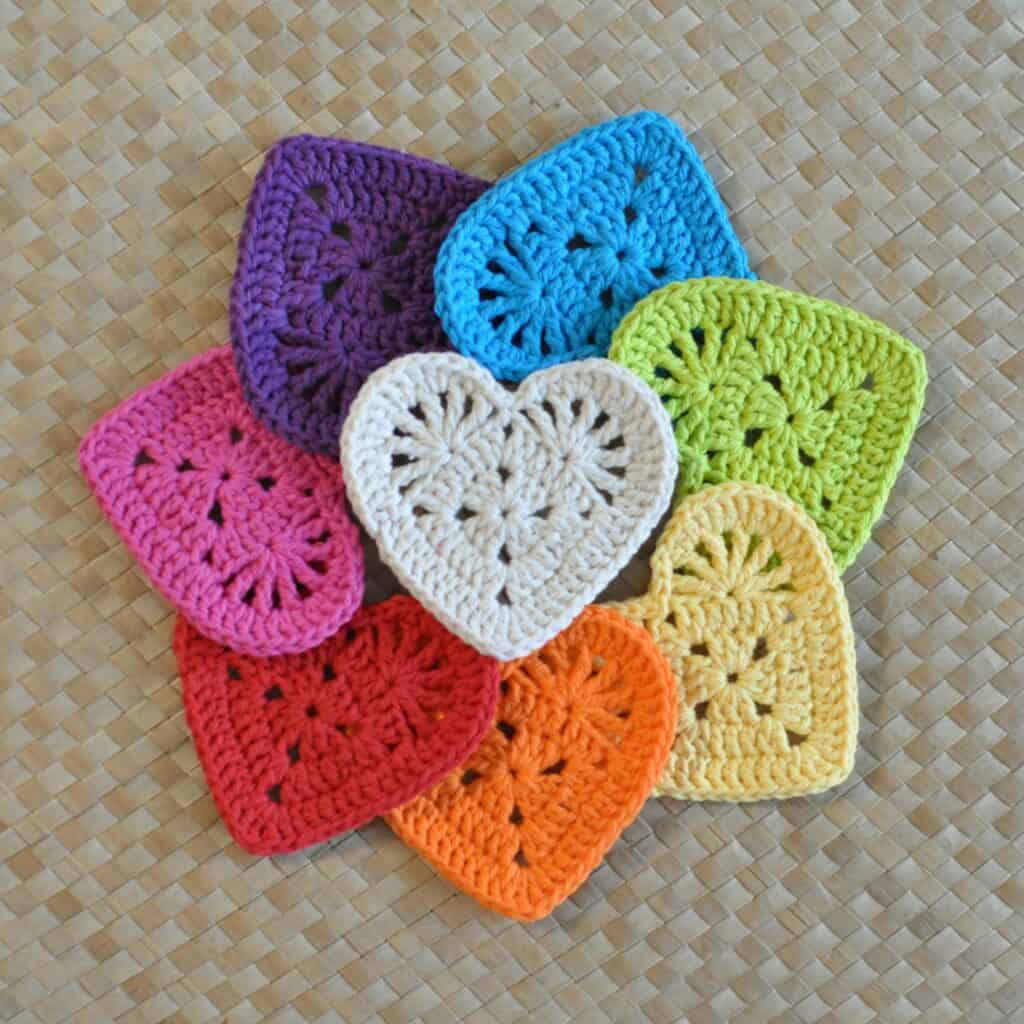 Photo Credit: Via Etsy
The creator of this PDF says that it's made for intermediate creators but they have taken the extra steps to create great step-by-step photos in case you want to give it a try.
You can easily change up the colors to make it look any way that you want, too!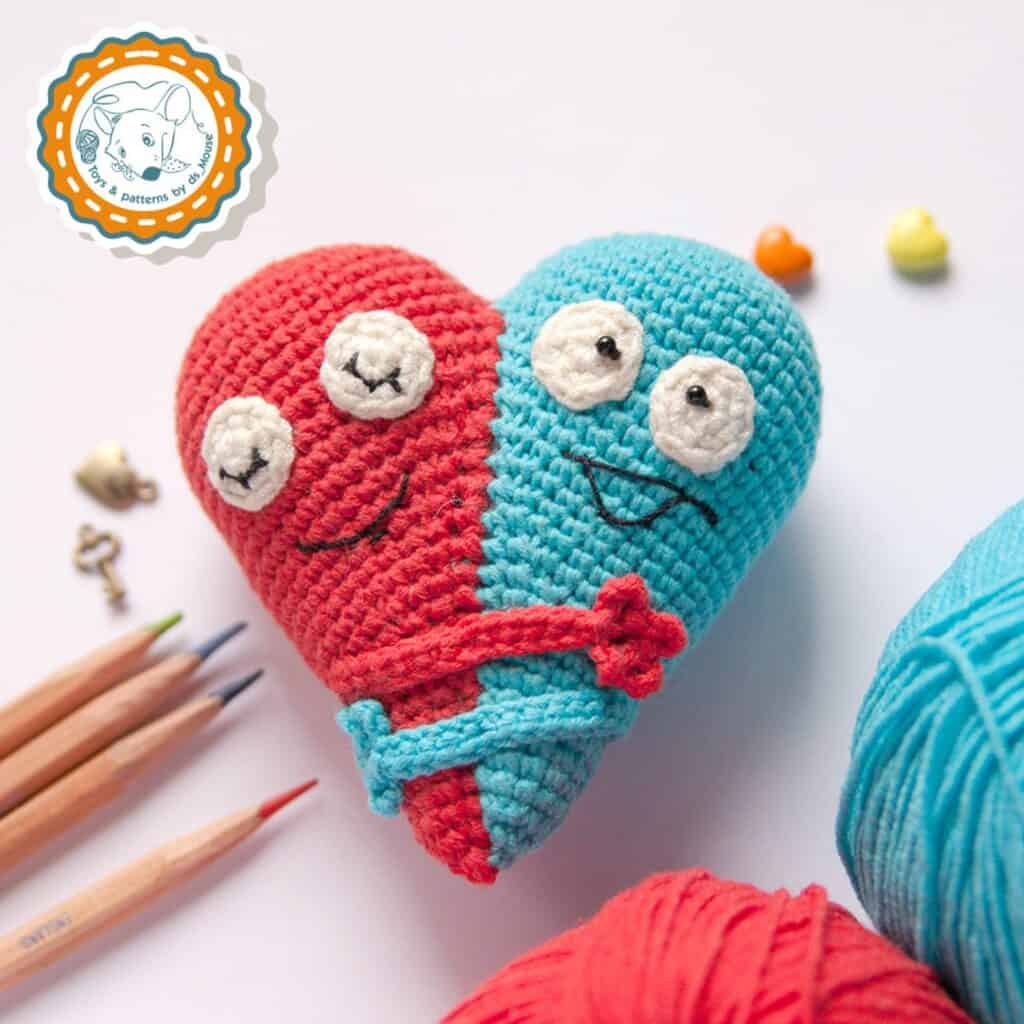 Photo Credit: Via Etsy
Are you looking for an easy-to-make gift? This double heart pattern is PERFECT! You'll need just four colors of yarn and a 2 mm hook to get started. The heart's hugging makes for the perfect adorable and romantic gift idea.
Change up the colors of the yarn to change up the look!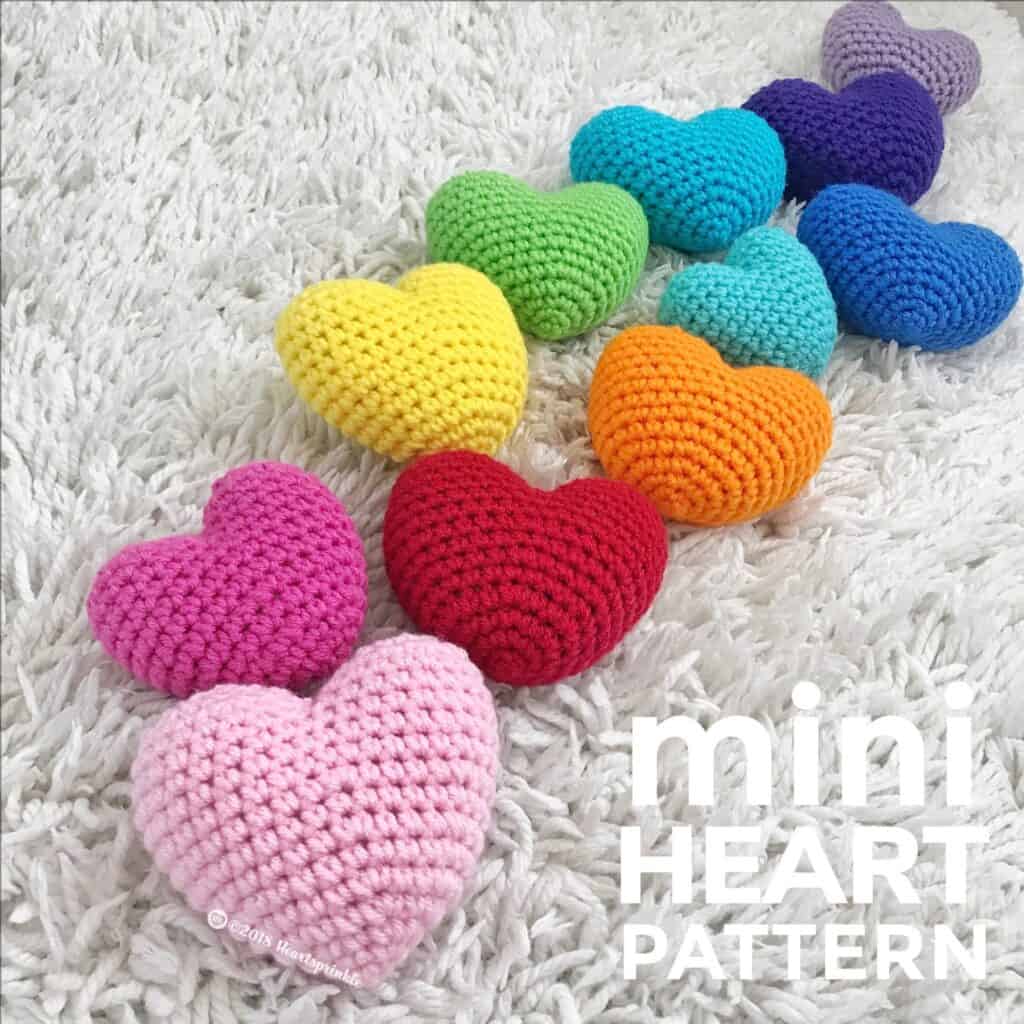 Photo Credit: Via Etsy
Perfect for beginners! You can easily make this chain of cute hearts to give to your family or friends! The puffy hearts are a fun way to give them the gift of love.
The stitches used are Single Crochet, Slip Stitch, and Decrease Stitches all of which are extremely easy to learn and use.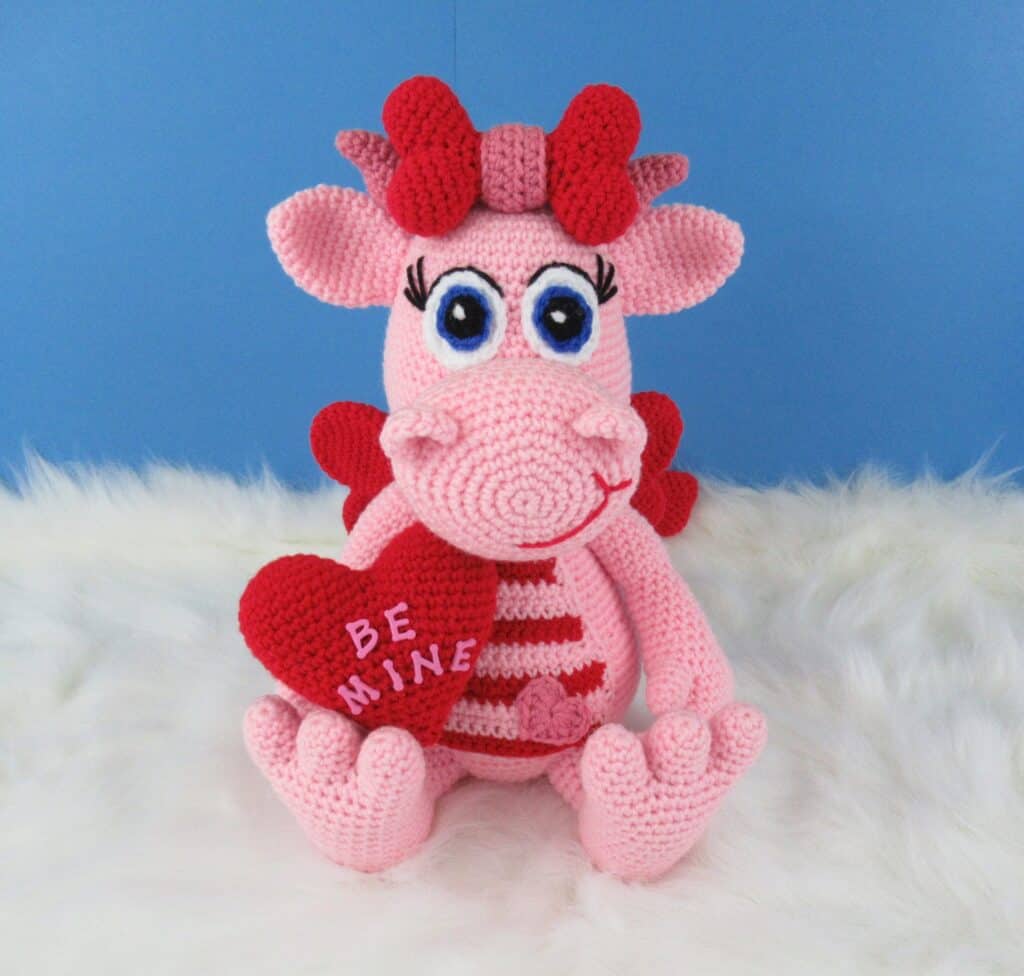 Photo Credit: Via Etsy
Using a 5mm hook to make this adorable dragon is what you need to get started. Pair that up with the printable PDF, the fun red and pink colors, and the easy-to-follow directions and you'll be staring at a cute dragon in no time at all.
Don't forget to stuff it full of stuffing. The more stuffing, the more space to snuggle!
Have fun making any of these cute Valentine Crochet Patterns!
When it comes to finding the perfect thoughtful Valentine's Day gift, you can't go wrong with any of these Valentine Crochet Patterns. Not only are they allowing you to be creative and perfect your craft, but they're giving you the ability to gift your loves with something that they're treasure forever!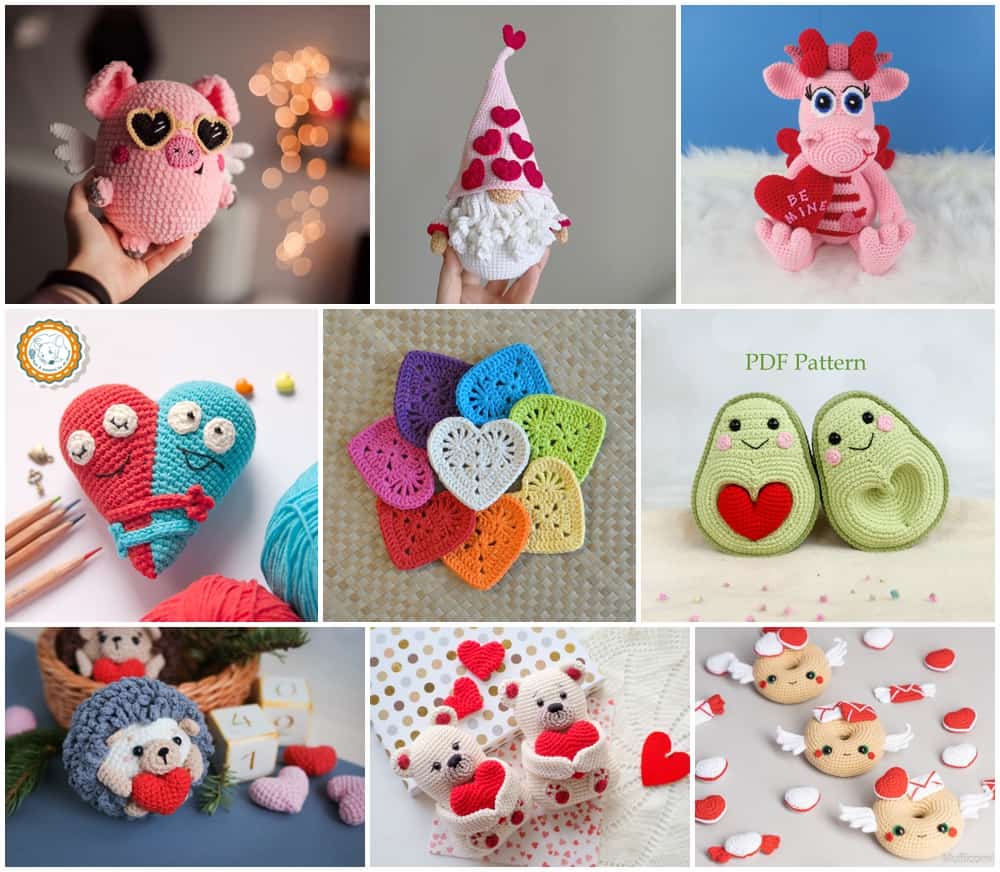 Photo credit: Via Etsy
You Might Also Like