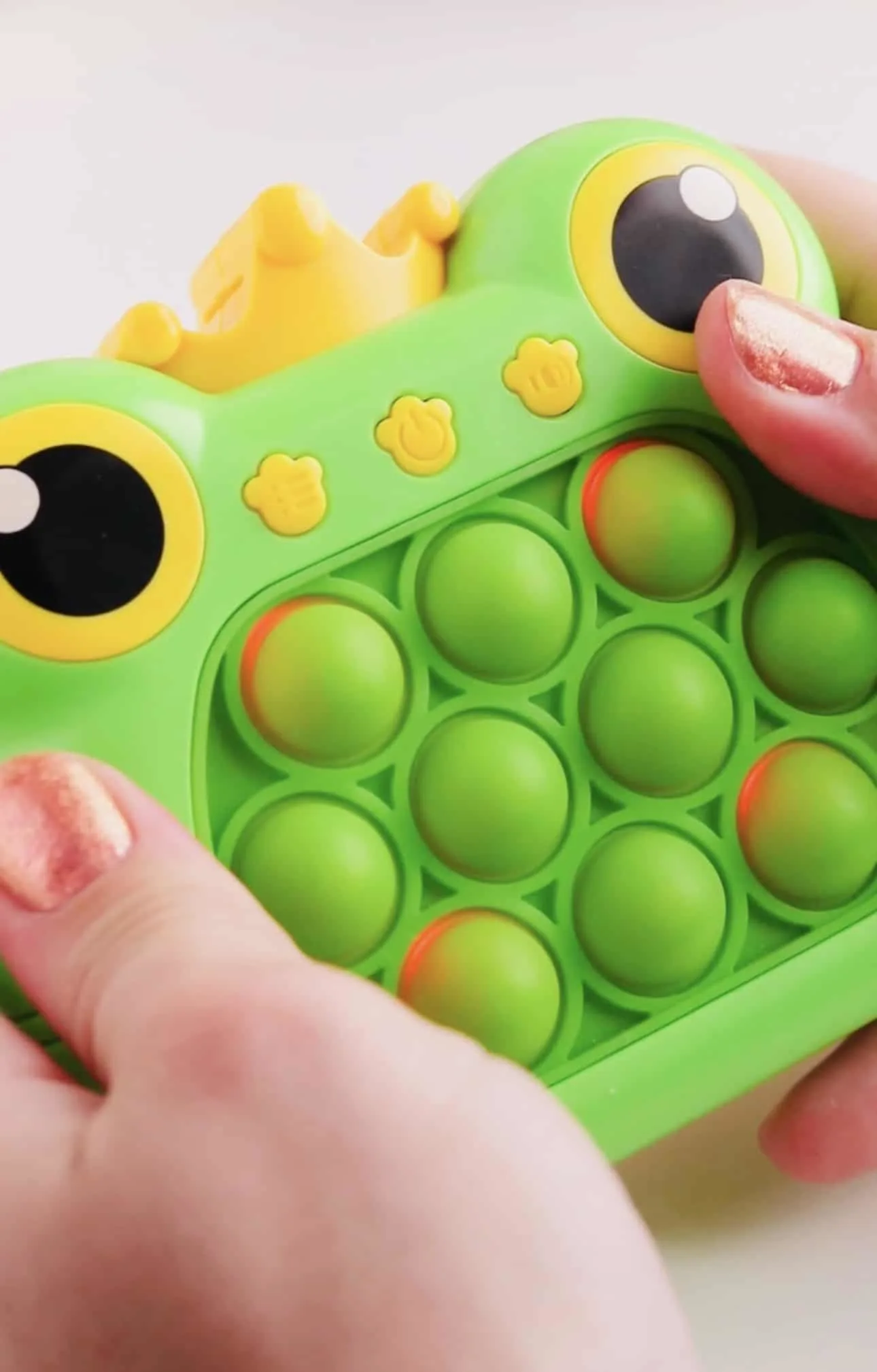 By using this site, you agree to our Terms of Use. This post may contain affiliate links. Read our disclosure policy. As an Amazon Influencer, I earn from qualifying purchases.
Check out my Plaeful Printables for kids play and learning!
Practice fine motor and cognitive skills with this fun pop fidget toy perfect for screen-free entertainment with kids!
If you're on the hunt for something that'll not only keep your little ones busy and entertained but also sneak in a little bit of entertaining education, you're in the right place!
This Pop Fidget game is the new kid in town when it comes to handheld gaming. But don't write them off as just another toy, because they're so much more than that.
These Pop Fidget Toys are anything but ordinary. They're your secret to keeping the little ones happy and occupied.
With four different game modes, these sensory toys promise endless fun and challenges, perfect for all ages. This toy has got it all!
Let's dive in and explore how this gadget can bring excitement, and maybe even a touch of educational value to your household.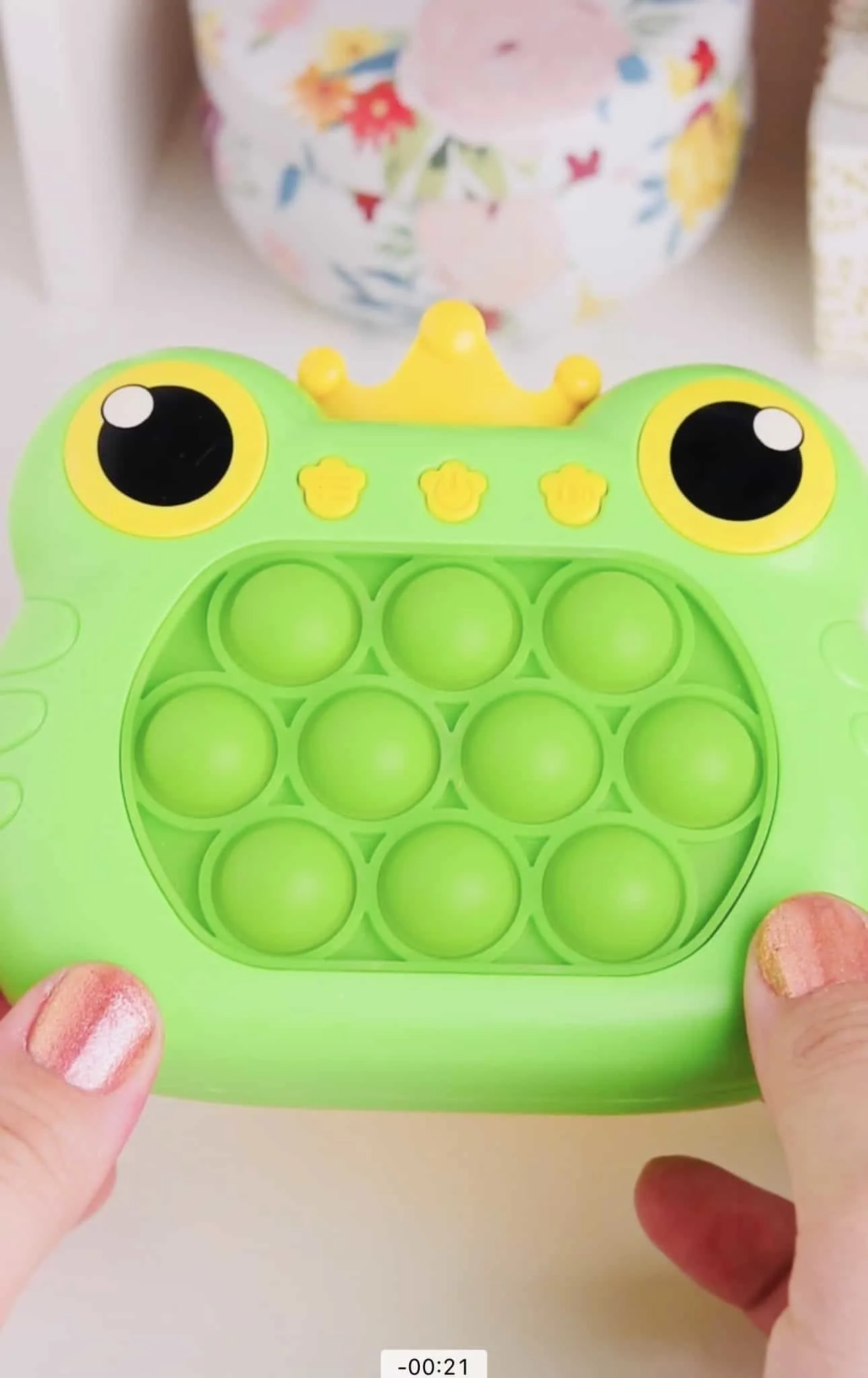 Pop Fidget Game
Recently, I got my hands on the viral Pop Fidget Game for my kids, and let me tell you, they love it! They were already big fans of Pop Its so this was a no brainer to try. This new game has four different game modes, so there's something for everyone.
If you're a mom searching for toys that feed your child's love for quick puzzles or their need for laid-back matching games, these have you covered.
The best part is that they're super stress-relieving for the kids. It's like a mini-break from the daily routine, and they get to have a ball while they're at it.
These toys are versatile, too. You can play solo or challenge each other, making them perfect for playdates. Just pop in three AAA batteries, set the volume, and let the fun begin!
And the gameplay is a breeze. Pop the lit bubbles, hit the reset button, and keep on popping. It's not only fun but also helps the kiddos with their fine motor and cognitive skills.
So, if you're looking for something fun that can also help with those fine motor and cognitive skills, the Pop Fidget Toy might be just the thing you need.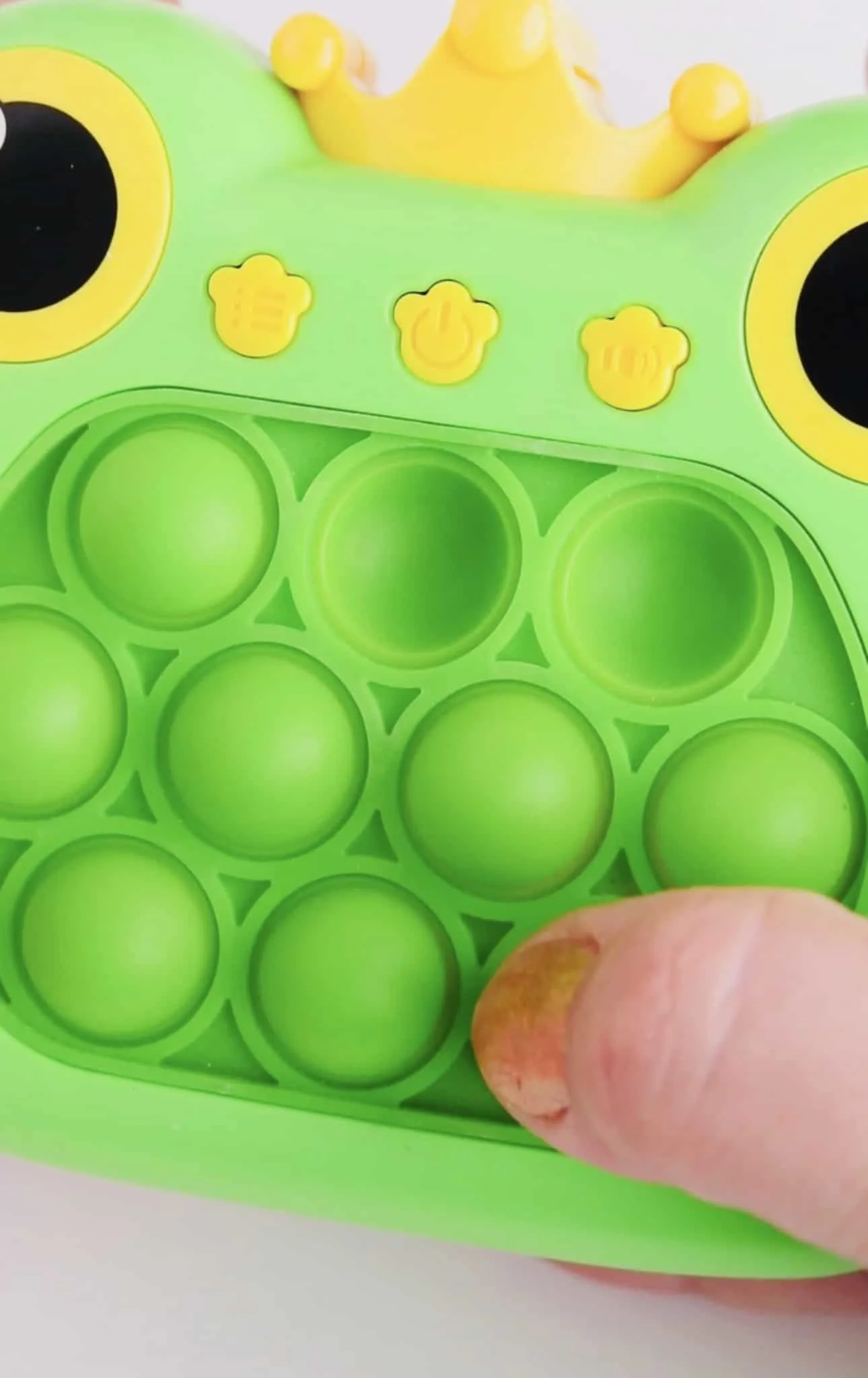 Pros and Cons:
Pros:
Engaging and educational.

Versatile gameplay options.

Stress relief for kids.

Family bonding through multiplayer.

Screen-free entertainment.
Cons:
Battery-powered (requires AAA batteries).

May occasionally lose its stickiness over time.
A Few Reasons Why Pop Fidget Toys Are Great for Kids
Brain-Boosting Fun for My Kids
With four exciting game modes, they're constantly challenged and engaged, making their playtime both enjoyable and educational.
Whether they're diving into fast-paced puzzles or relaxing matching games, it's a fantastic way to stimulate their cognitive skills while having a blast.
I've noticed how it enhances their memory and concentration – they need to remember which bubbles to pop and when. It's like a fun memory game that keeps their minds sharp!
Fine Motor Skills Development Through Play
It's fascinating how the Pop Fidget Toy turned playtime into a sneaky lesson for my kids!
Popping bubbles to level up is a thrilling game, and they have no idea it's also improving their coordination and dexterity.
As a mom, it was awesome to see them having so much fun while honing these fundamental skills. It's like a playful, skill-building adventure that keeps them entertained and engaged.
Enhanced Sensory Processing Skills
I'm always on the lookout for activities that help my kids engage their senses. The Pop Fidget Toy offers precisely that.
With different textures and captivating lights, it's like a sensory adventure for my children.
It's an excellent way for them to learn how to process sensory information, contributing to their overall development and helping them become more well-rounded individuals.
Strengthen Connections Through Playtime
Our family game nights have taken a more fun turn, thanks to the Pop Fidget Toy! They've added a lot of laughs and stronger connections.
With the multiplayer option, my kids can challenge each other or invite friends to join. The set up is basically nothing just press and play.
Screen-Free Entertainment
In today's screen-dominated world, finding screen-free entertainment that captures my children's attention is a relief. The Pop Fidget Toy offers a refreshing alternative.
They spark my kids' creativity, engage their minds, and bring imaginative, screen-free play into our daily routine.
It's comforting to know they're enjoying themselves without being glued to a screen, and I'm thrilled to provide them with such wholesome entertainment.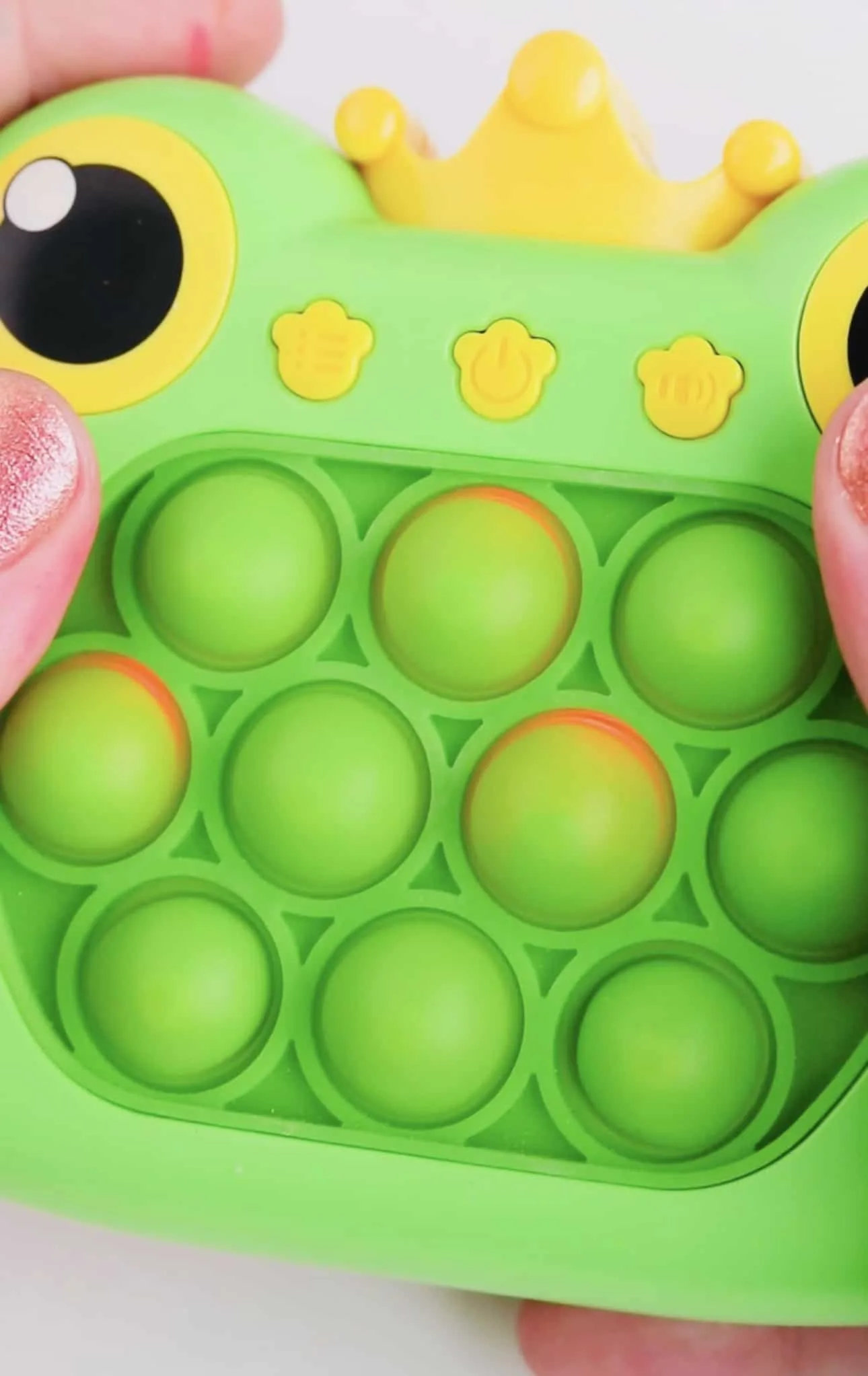 What Customers are Saying
"I bought this as a distraction toy for an 8hr car ride. It helped but he honestly loved it more at home afterwards. He brings it to me so I can help hold it while he pushes the bubbles down. Easy to clean. Does tend to attract pet hair though. But overall would recommend!"
"Perfect for; development of finger dexterity in 6 mos+, teething, great for travel, easy clean, entertaining even for adults.
"Very nice toy, it is value for money, kids like to play. Easy to use. The size is good to take on. Very lovely outlook!"
Takeaway
The Pop Fidget Game has been an incredible find for my kids. They're not just toys; they're a gateway to a world where enjoyment and education come together.
My kids stay engaged, have fun, and boost their memory and concentration as they play. These toys also quietly enhance their fine motor skills and coordination.
Plus you can beat the price at $13.99 (as of this writing). We got ours on Amazon.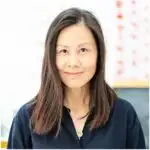 Agnes Hsu is a mom of three and has been inspiring parents and kids to get creative with easy activities and family friendly recipes for over 10 years. She shares her love for creative play and kids food to her 2MM+ followers online. Agnes' commitment to playful learning and kindness has not only raised funds for charity but also earned features in prestigious nationwide publications.