Follow us on Instagram for more creative ideas for kids!
Watch the video below to see this fun Owl Pumpkin Craft in action. Make sure to subscribe to our YouTube channel for more fun videos!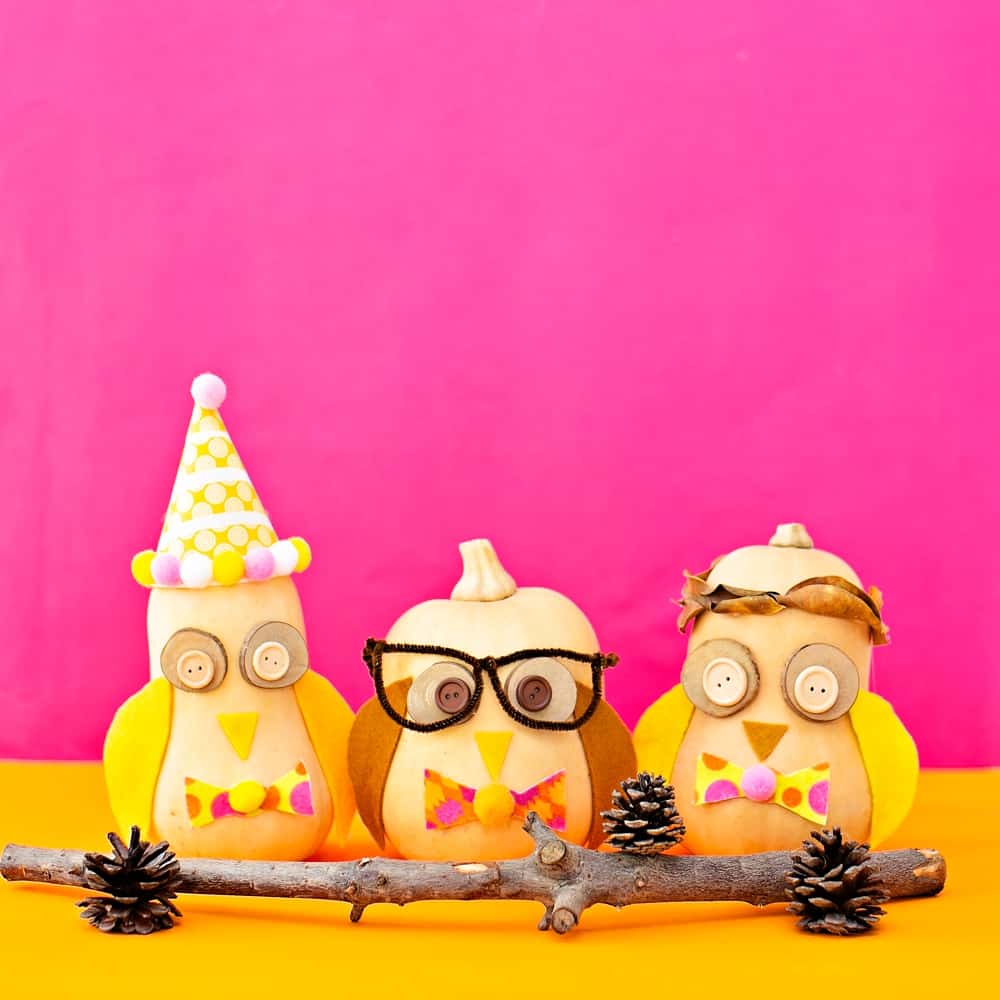 This owl pumpkin craft is a a fun no-carve Halloween craft for kids.
I'm just gonna go ahead and say that these Owl Pumpkin Crafts are just the cutest. They're one of those Halloween activities that we can sit around the kitchen table and create in a simple afternoon easily. And once we're down, we're revved up and ready to make more.
We love that they're a no-carve pumpkin idea for kids who are too young to carve their own.
If you're all scratching your heads and wondering if my eyes need to be checked, just know that I do know that they're actually gourds.
BUT, owl pumpkins have a little better ring to it than owl gourds, don't you think?
Just know that if you want to actually use real mini pumpkins for this, you totally can as well! Why not have a mash-up of both and create a really cool creation for your house?
My hope for you and your children after crafting these are to realize that it's totally possible to decorate pumpkins and gourds without having to actually cut into them! They can also work on their fine motor skills and ability to follow directions with this simple activity, too.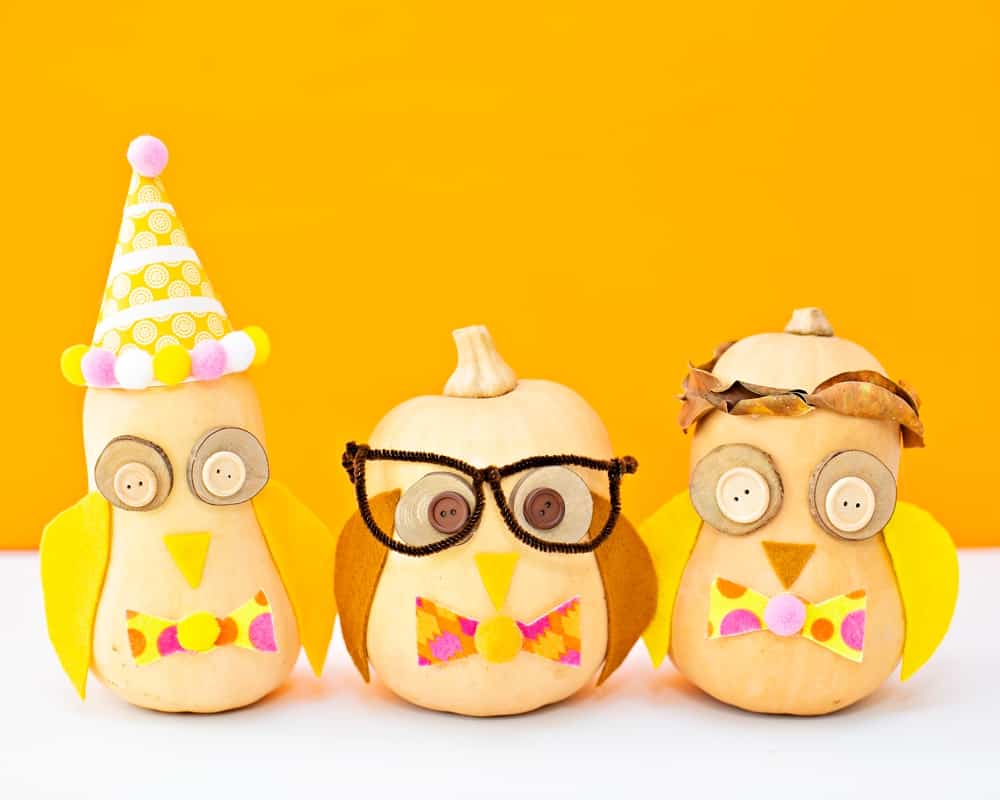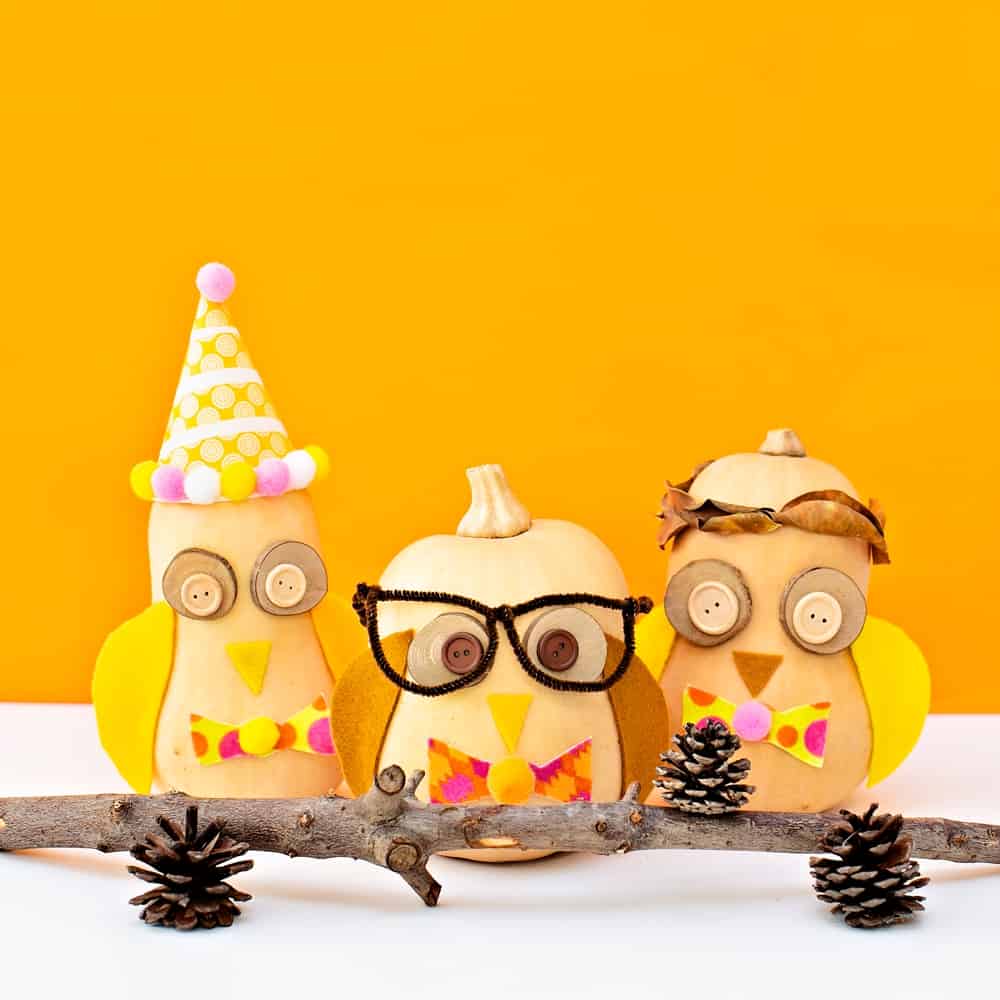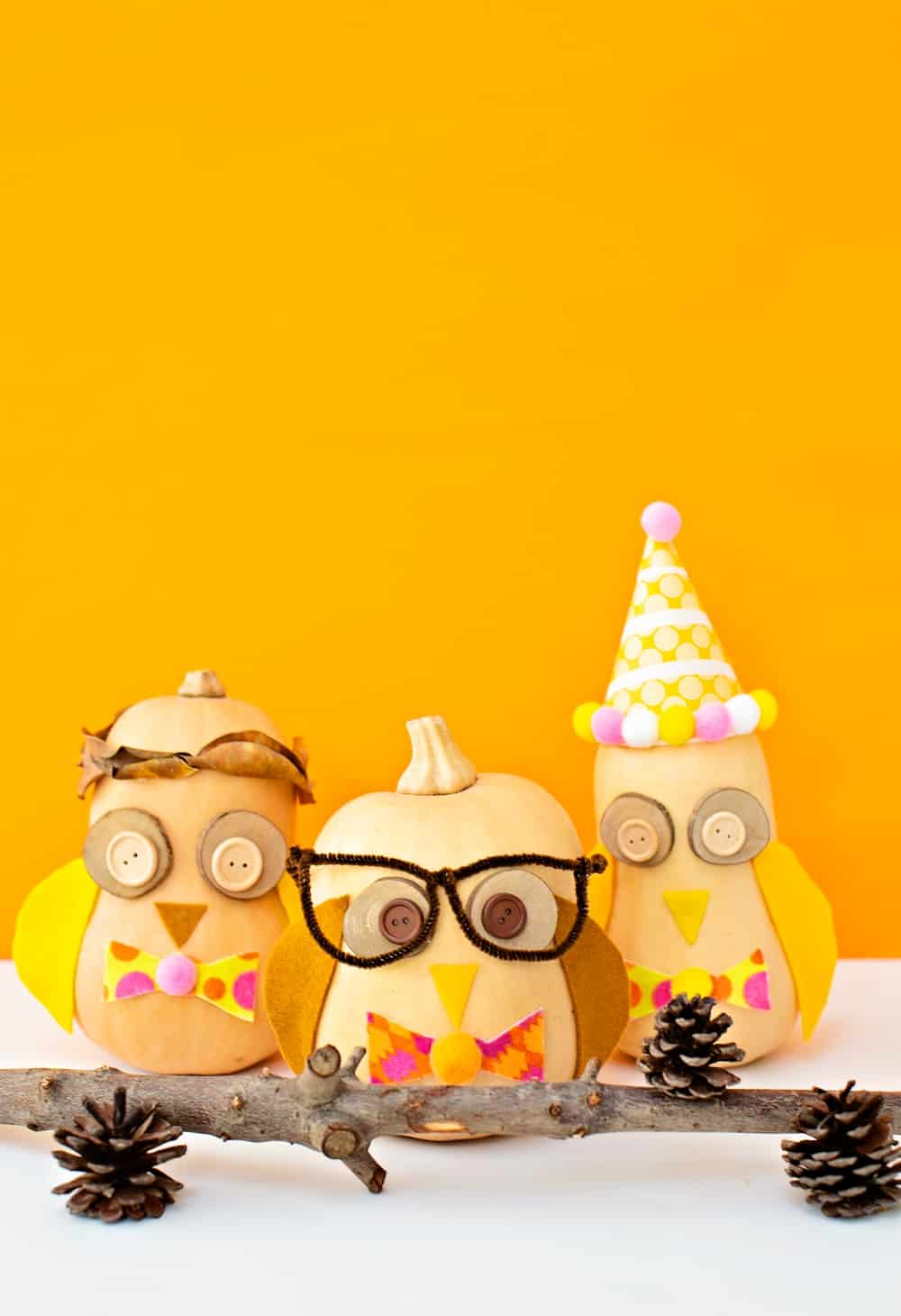 How do you get the supplies to stay on the owl pumpkins and gourds?
Glue is going to be your best friend. You can try to use regular glue, but in all honestly, hot glue might work the best. (and of course, this means that adult supervision is required for this craft unless your child can is ready for a low temp glue gun.)
If you don't want to use hot glue, that's fine. Just be prepared to hold the objects a bit longer on the outside of the pumpkins and gourds to make certain that they're going to stick and use a strong craft glue.
This can also be a great lesson to teach patience to your children, too. The glue drying is a key component to making this adorable owl craft.
You can always try one type of glue before moving on to other options.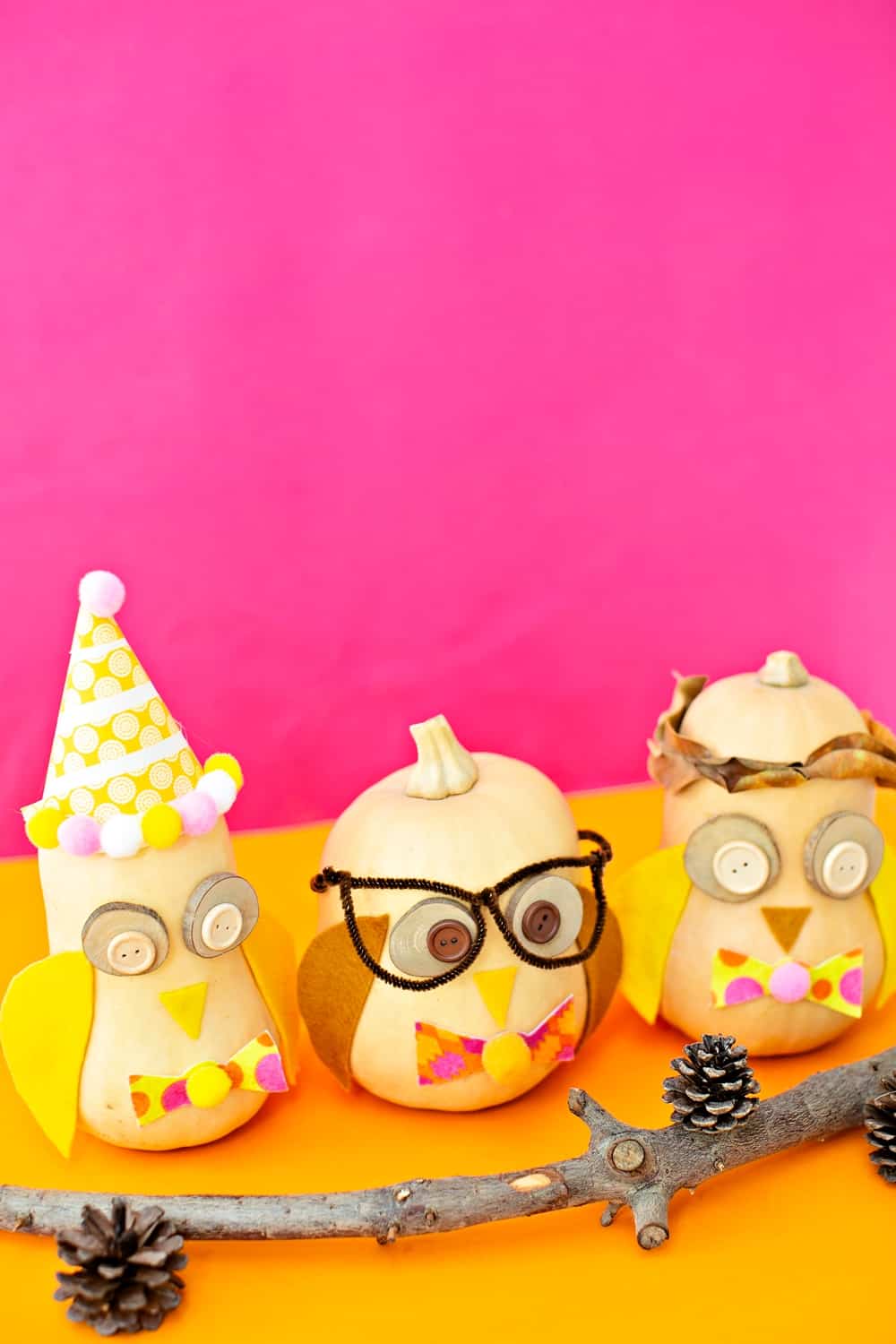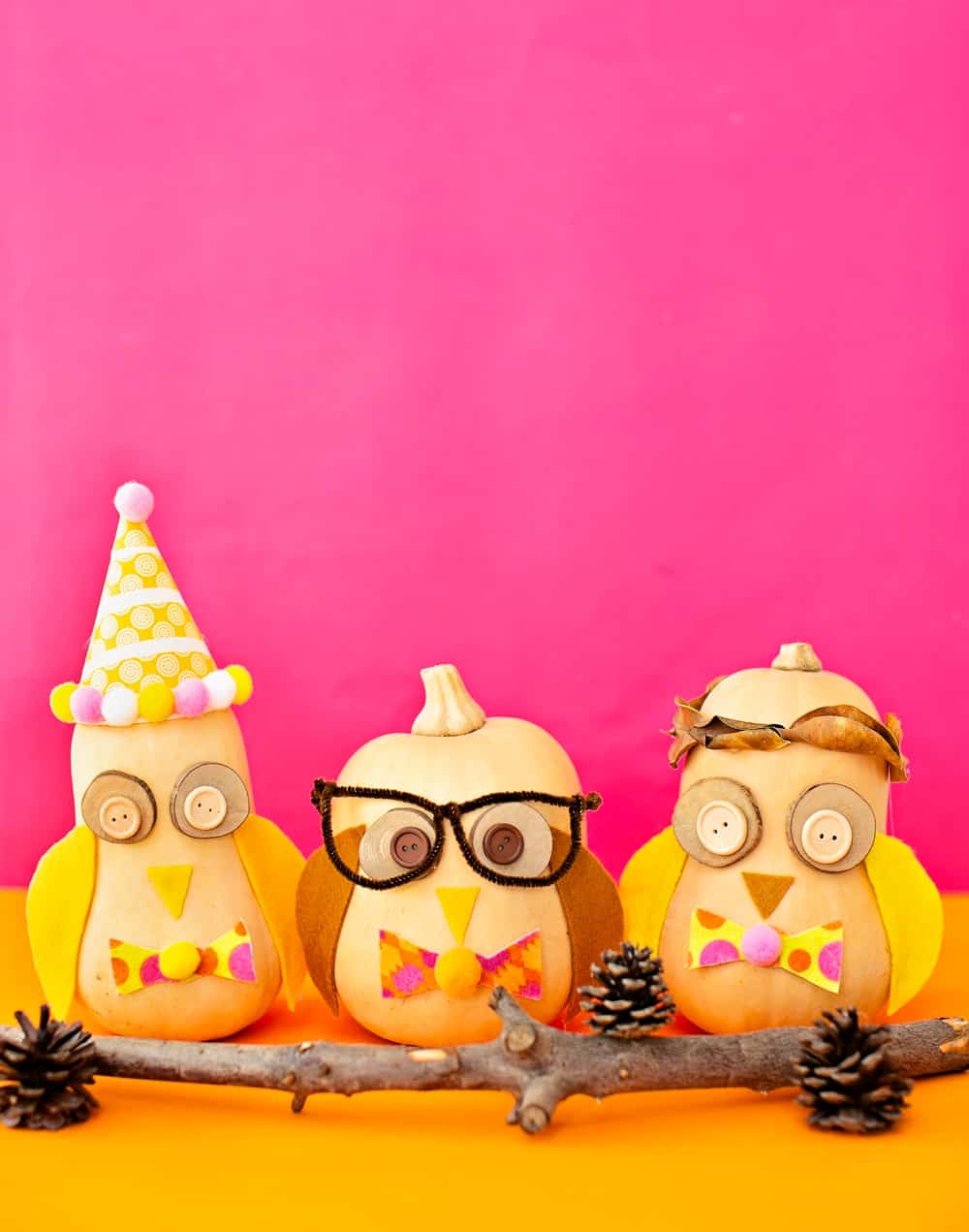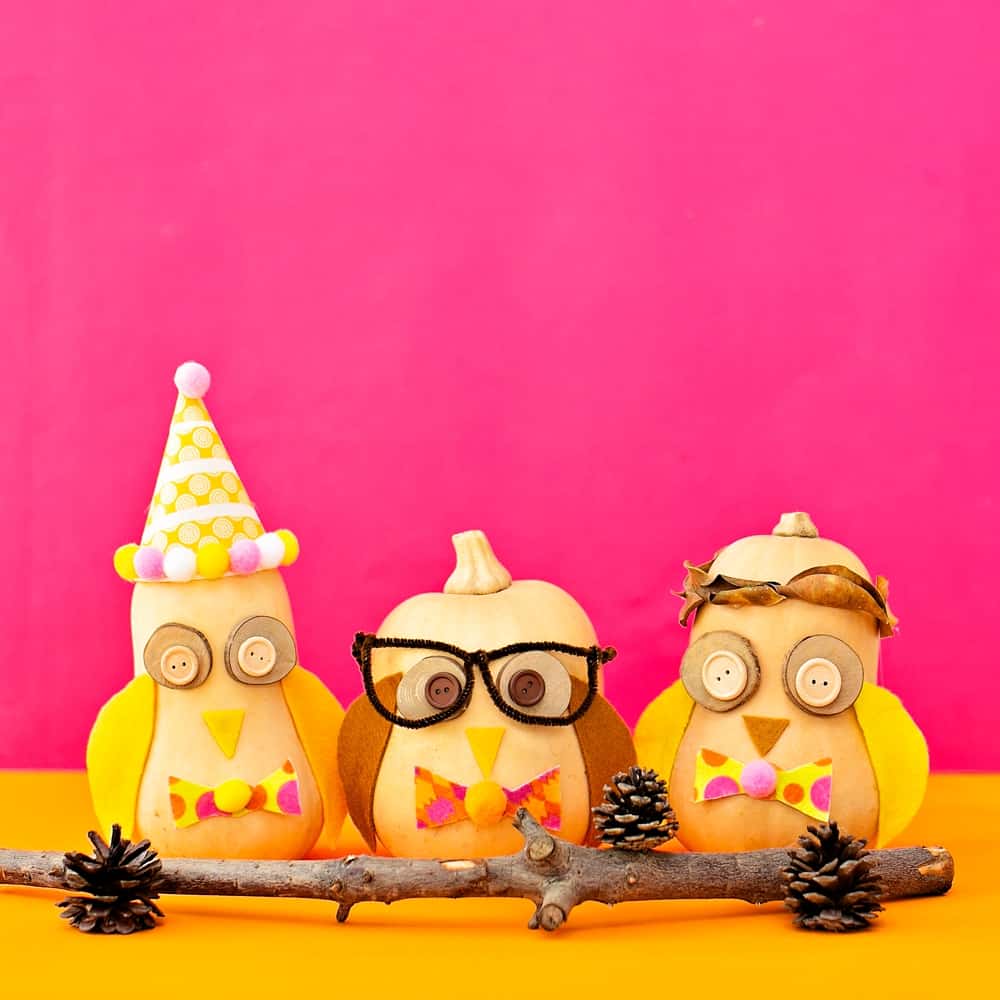 Do I need to follow these specific owl pumpkin designs?
Absolutely not! This craft is all about having fun and letting kids use their imagination. They can have big eyes, little eyes, wide smiles, no smiles…and anything else that they want.
You don't have to use wood slices or felt, you can use any crafty materials you have. We just wanted to provide some cute examples. Why not just set up some craft material and provide invitations to create pumpkin gourds?
This craft is a great way to exercise children's minds and their creativity and let them create the vision that they're seeing in their heads.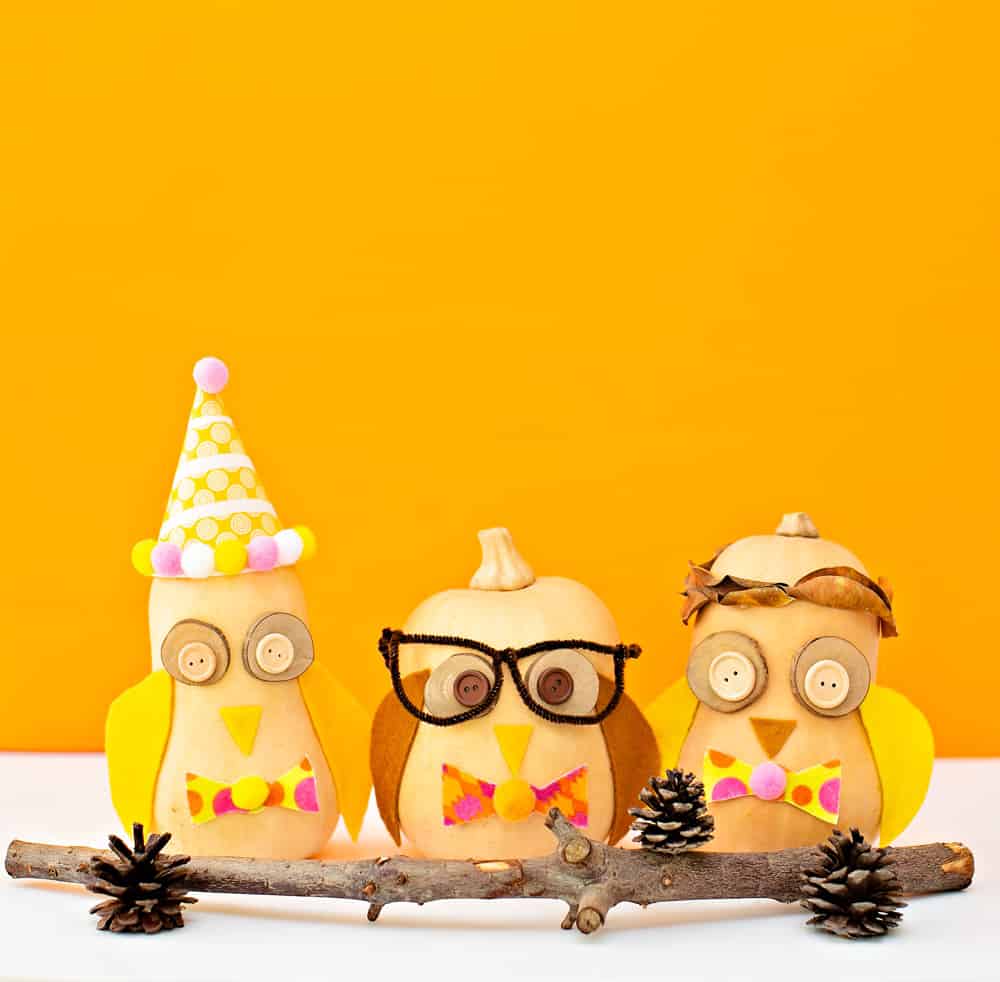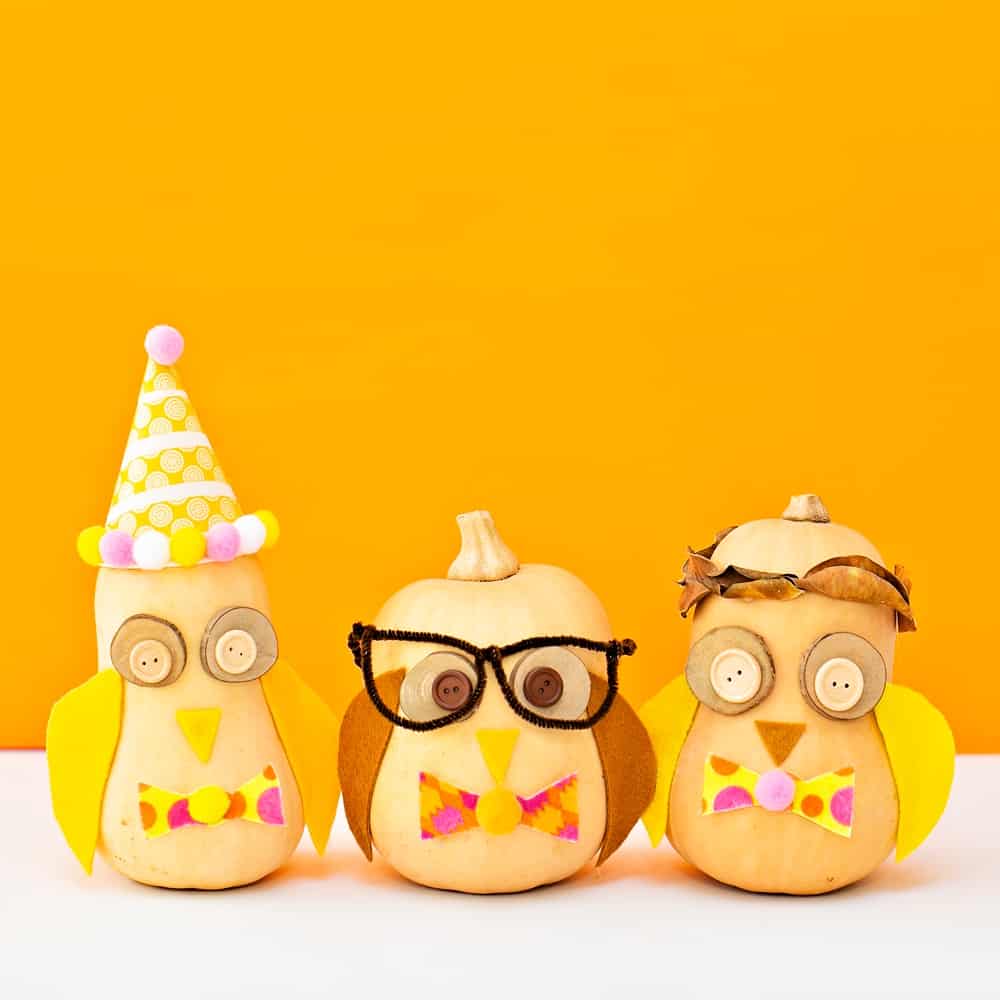 How to create this Owl Pumpkin Craft
The best part about this fun fall craft is that it's super simple to make. All you need are a few materials to get started and the creativity will flow right from the start.
Owl Pumpkin Craft – Materials:
Felt for bowties and wings

Pom poms for party hat and bowties

Pumpkins/gourds

and anything else you want to add on for the faces!



If you love this Owl Pumpkin Craft, make certain to take a peek at some of our fun fall and Halloween activities as well.
Yield: Owl Pumpkin Craft
OWL PUMPKIN CRAFT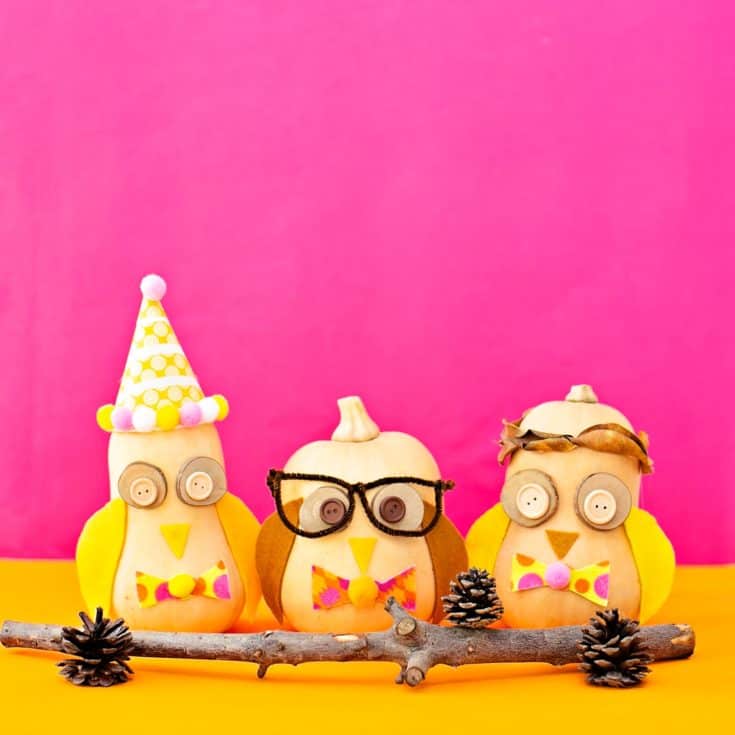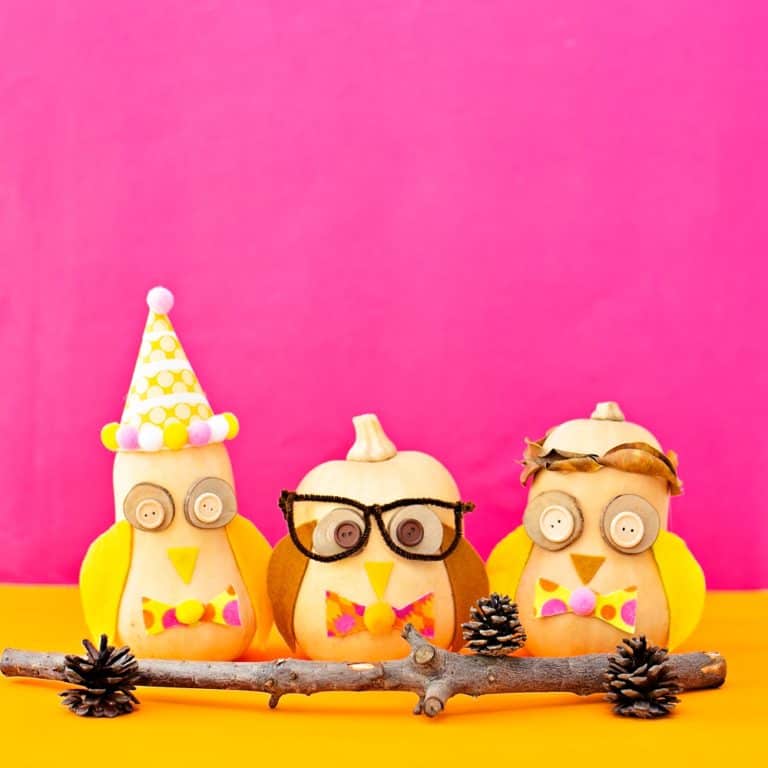 This owl pumpkin craft is a a fun no-carve Halloween craft for kids.

Prep Time 10 minutes

Active Time 30 minutes

Total Time 40 minutes
Materials
Wood slices and wood buttons for eyes
Felt for bowties and wings
Pom poms for party hat and bowties
Pipe cleaner for glasses
Pumpkins/gourds
Hot glue gun
and anything else you want to add on for the faces!
Instructions
Make sure your gourds or pumpkins are clean.

Lay out your craft materials.

Make glasses out of two pipe cleaners (watch video to see how).

Cut felt into bow-tie shapes and wings. Glue a pom pom on the center of the bow-ties.

Collect leaves and make a flora crown to glue on pumpkin heads.

Glue buttons on top of wood slices to make eyes.

Cut bits of felt into small triangles for beaks.

______________________________________________________________________________________________________
Disclosure: Some of the links in the post above are "affiliate links." This means if you click on the link and purchase the item, we will receive a small affiliate commission. Regardless, we give our promise that we only recommend products or services we would use personally and believe will add values to our readers.