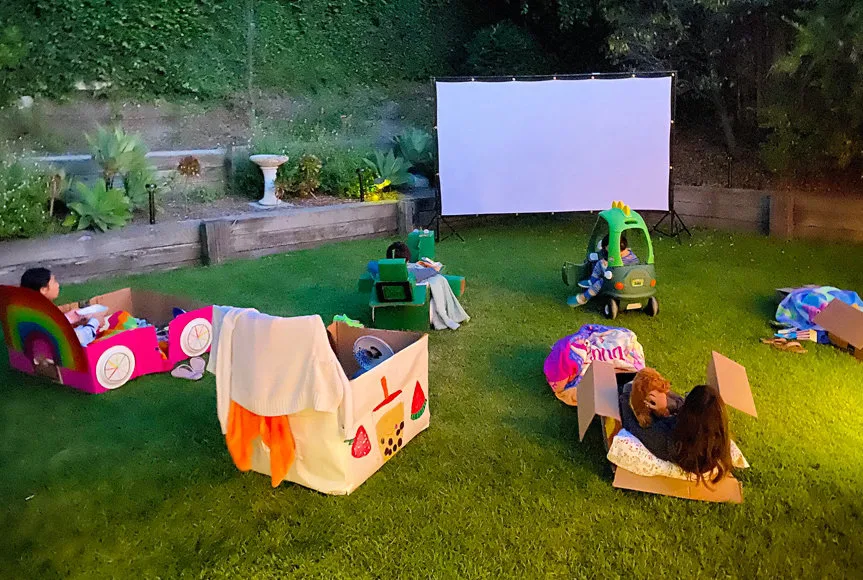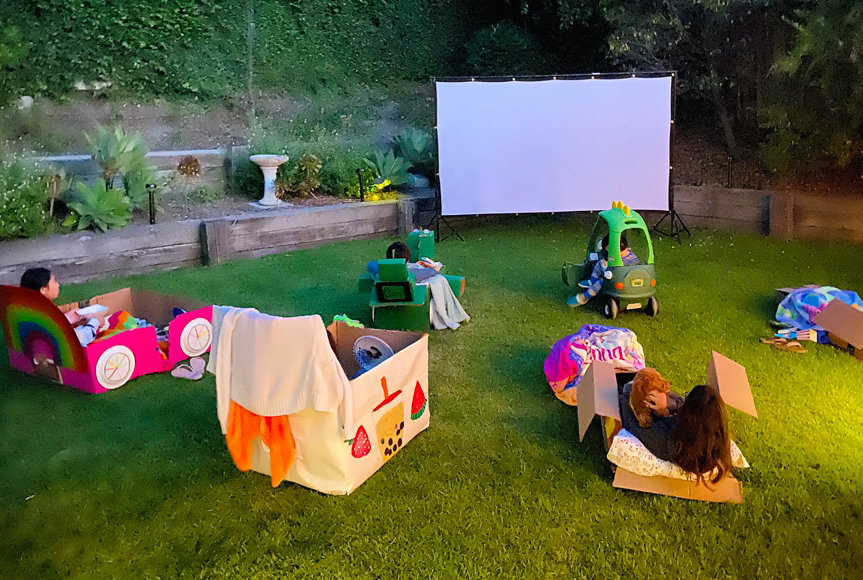 By using this site, you agree to our Terms of Use. This post may contain affiliate links. Read our disclosure policy.
Follow us on Instagram for more fun ideas for kids!
Watch the video below to see how fun it is to set up your own Outdoor Movie Night for Kids. Make sure to subscribe to our YouTube channel for more fun videos!
Set up a fun drive-in outdoor movie night for kids and encourage them to create and attend safely while still practicing social distancing.
I guess this post should really be titled "How to set up Outdoor Movie Night for Kids while social distancing." Since the lock downs due to COVID-19 the kids have spent nearly 8 weeks separated from their friends and playdates. With the curve flattening and low incidences in our city, we decided to host an outdoor movie theater, but do it safely and creatively.
First, creatively as the kids have all been home and have plenty of time to kill even after distance learning.
The price of "admission" to the theater was to design and bring their own cardboard car! It could be anything and left to their imagination. The were encouraged to come up with themes that meant something to them.
The kids had one week to design their car in their respective homes. My daughter and son make a rainbow/unicorn and dinosaur car. I think you can pretty much those are some of their favorite things 🙂
I didn't spend any time project directing this. I laid out cardboard, pain and glue in the garage and they slowly built and created over the week. It was super fun to see them get excited about the process and got them even more excited for movie night to come!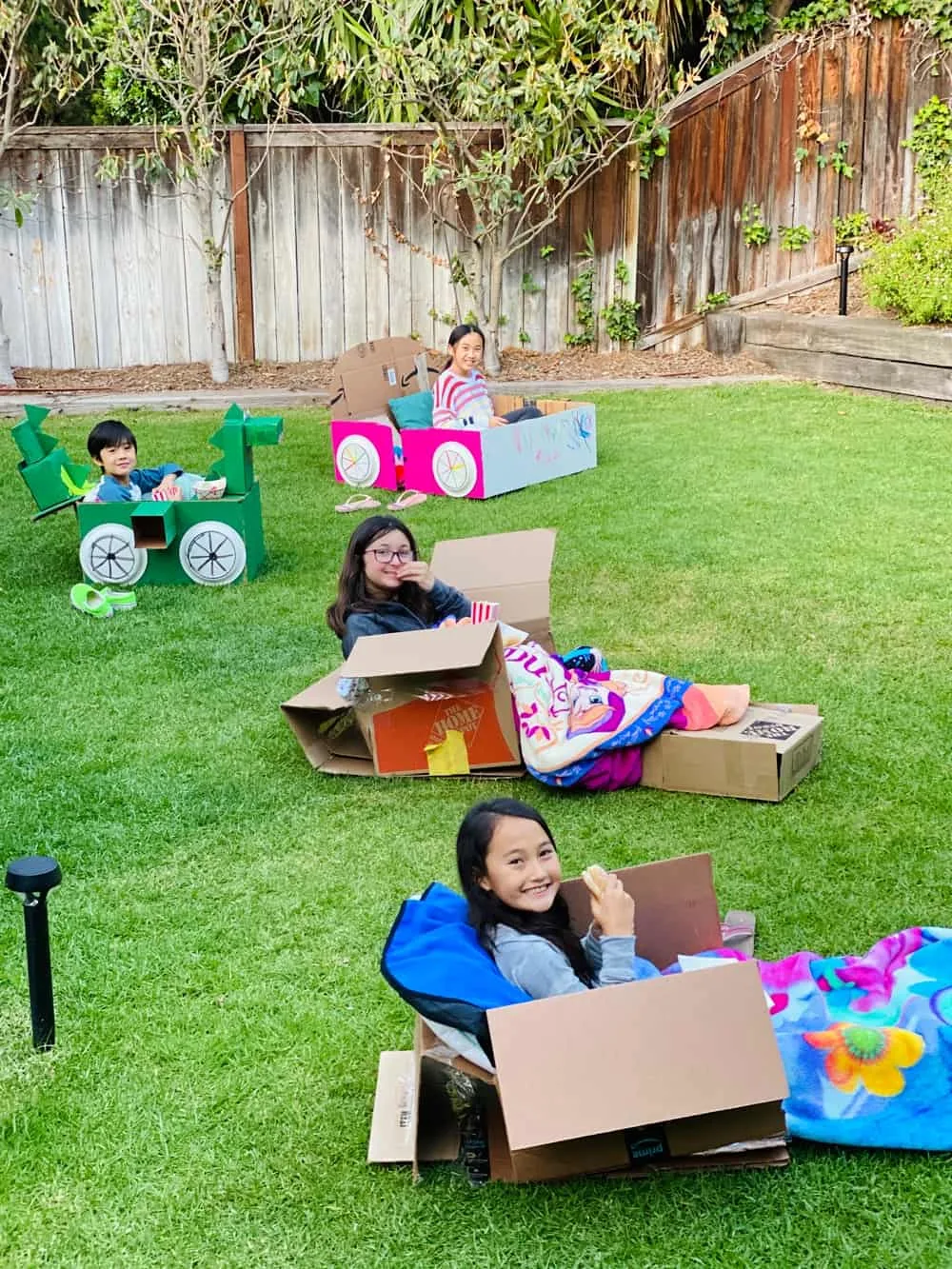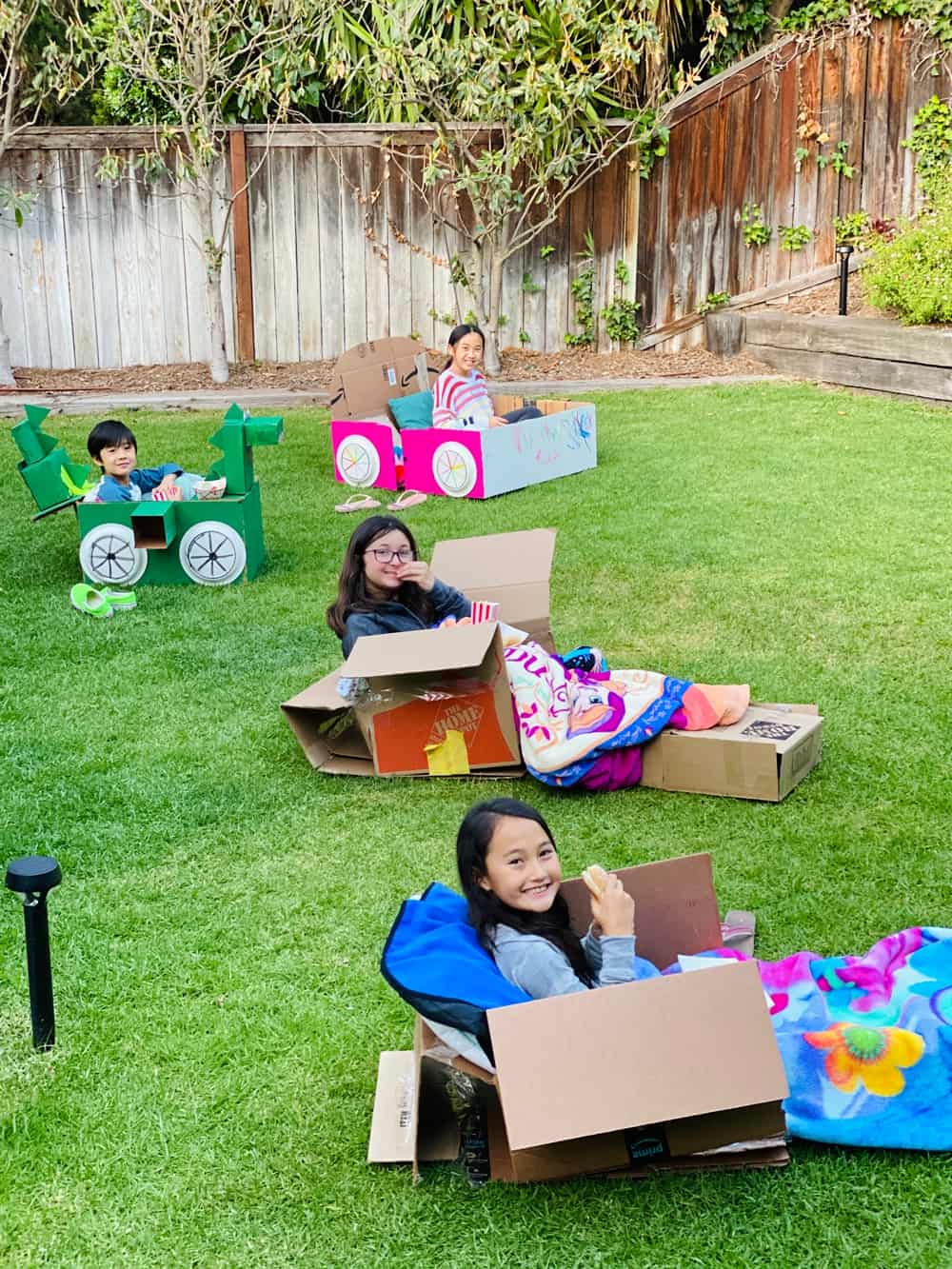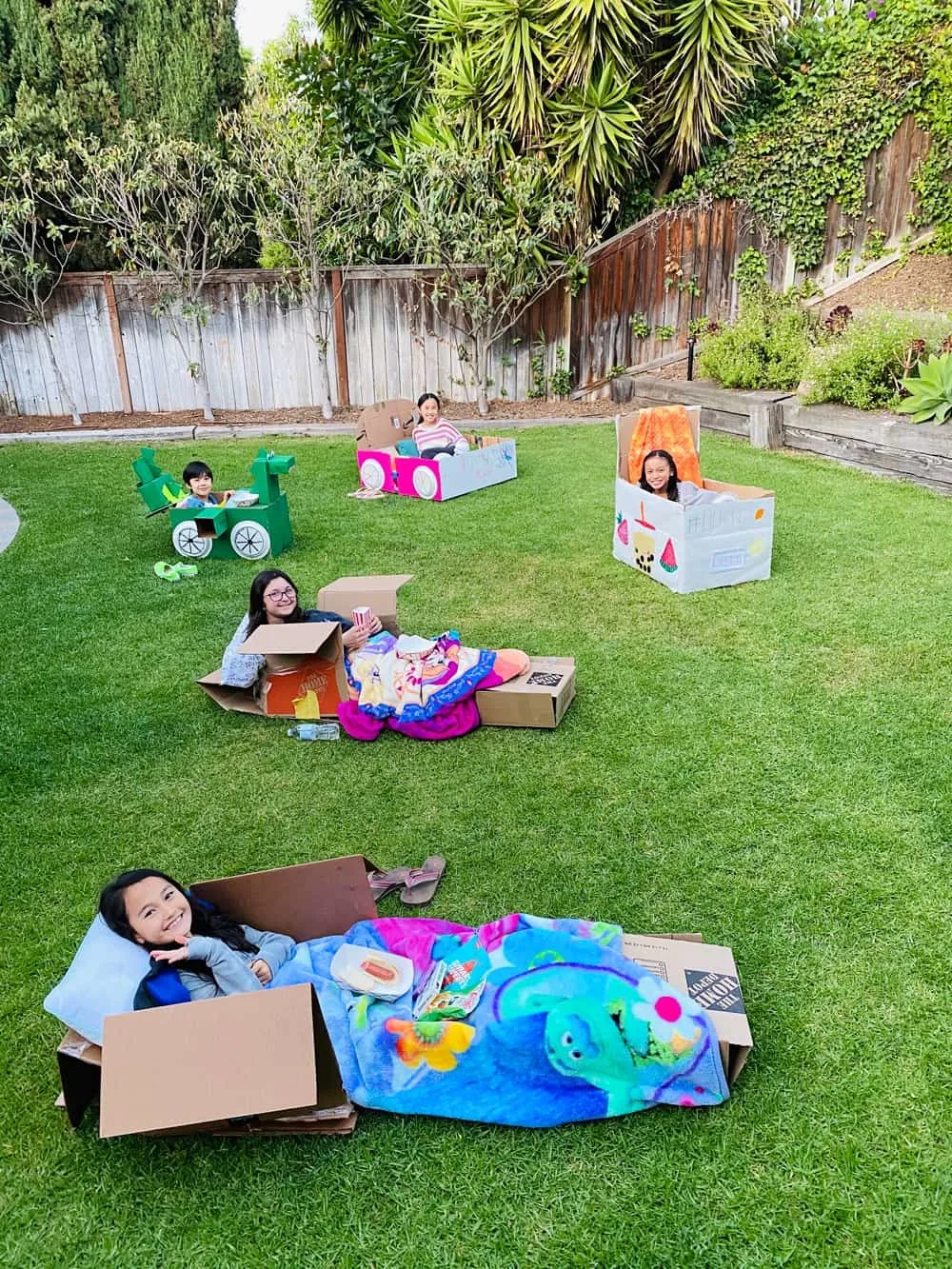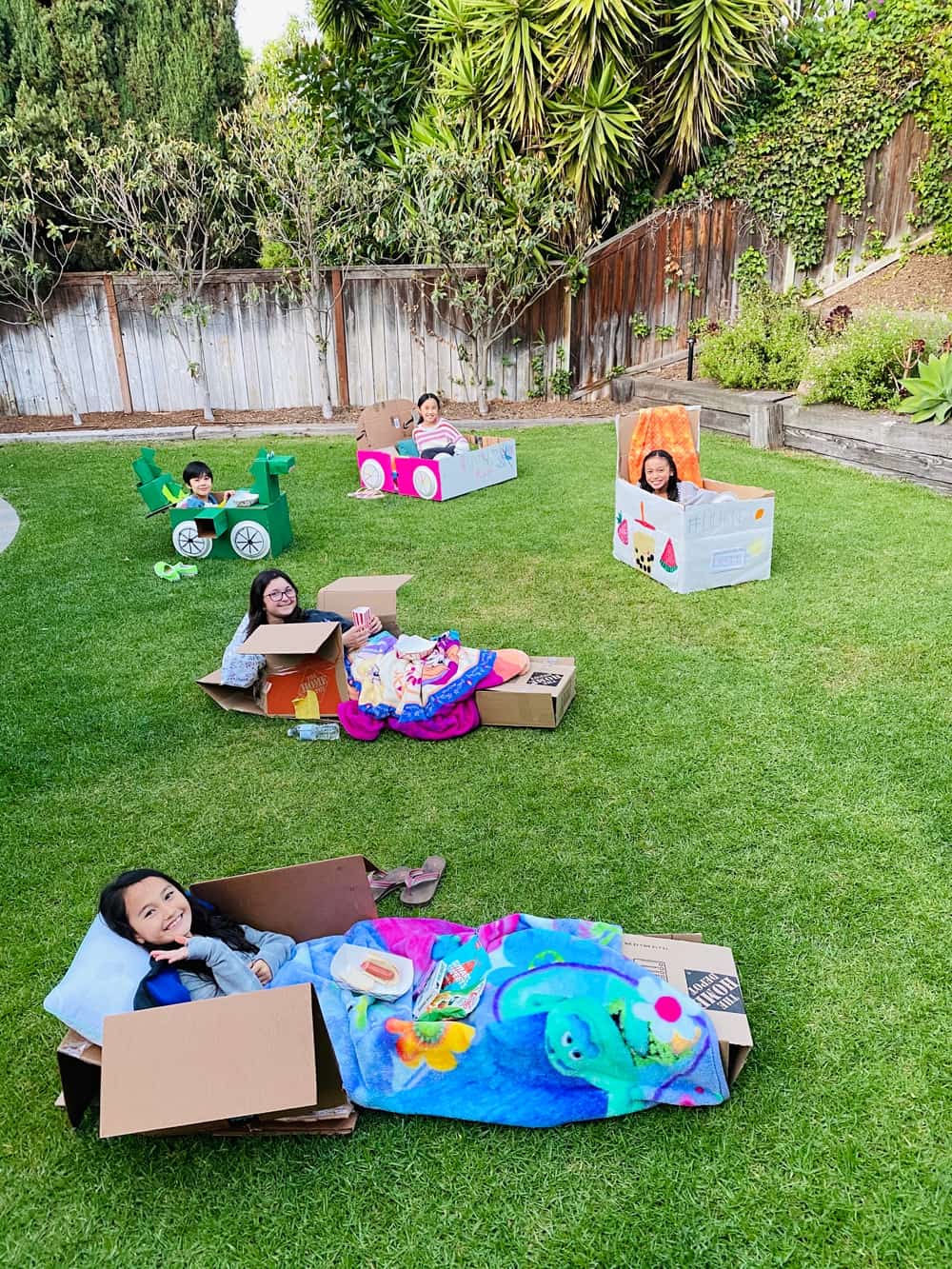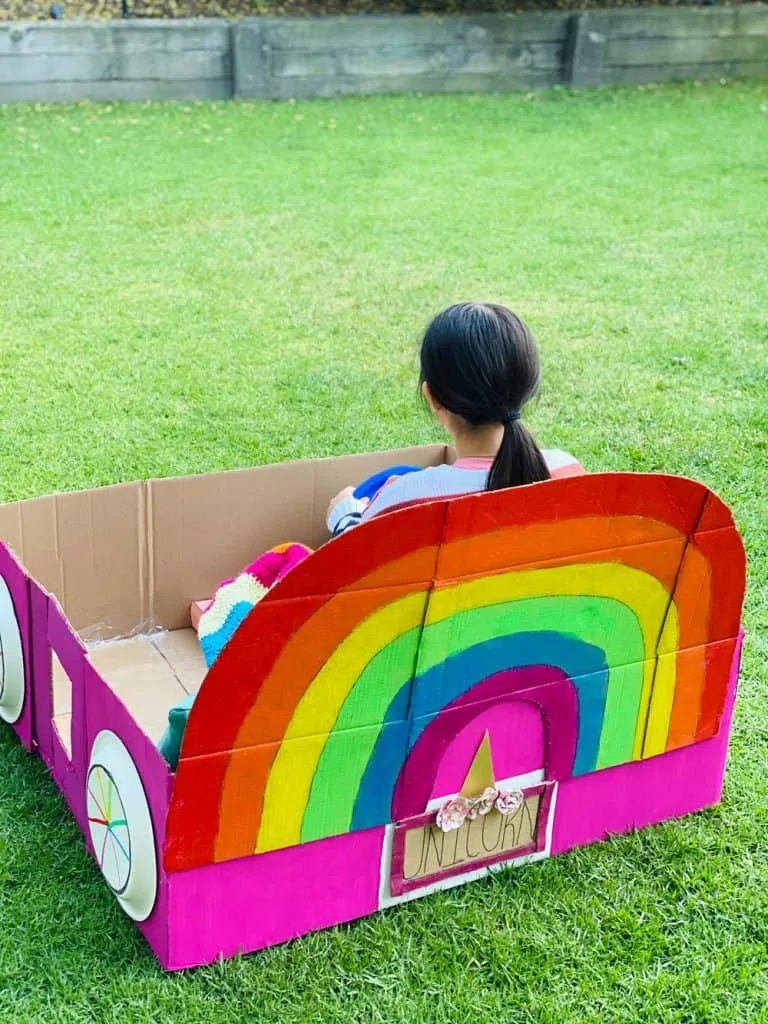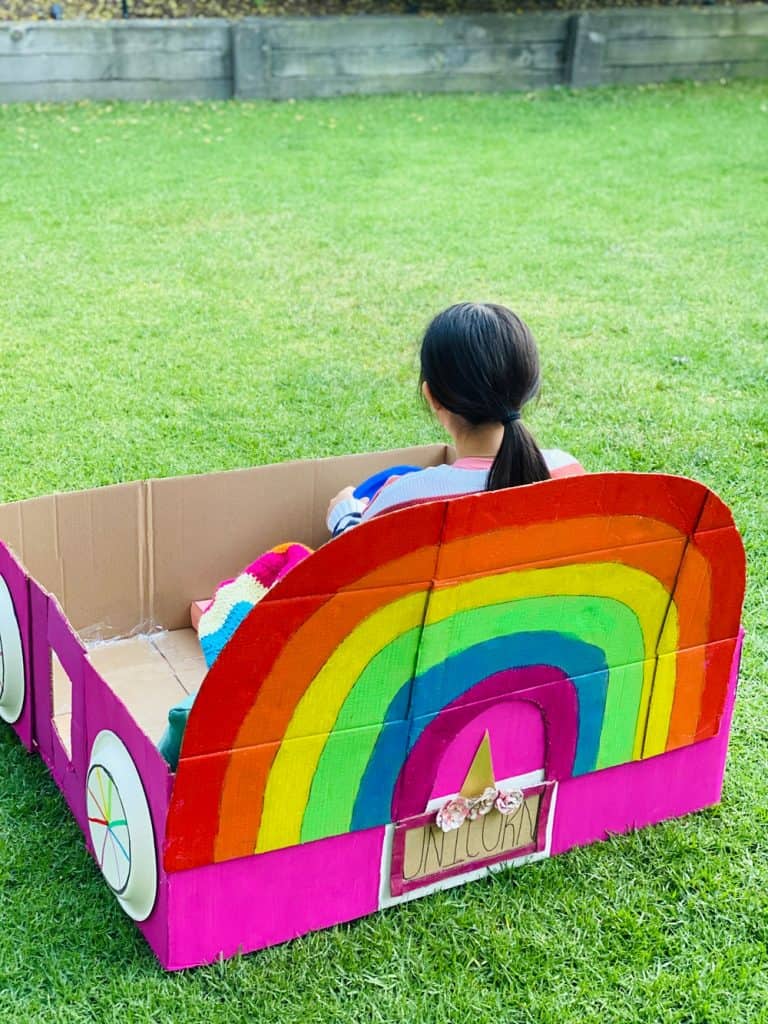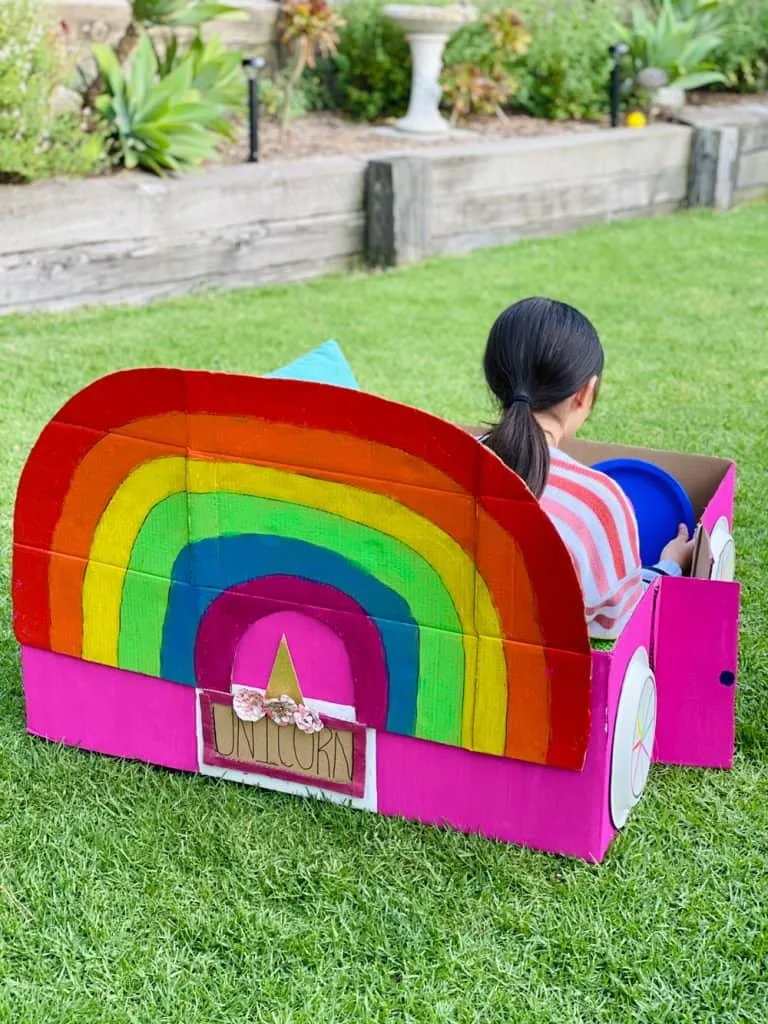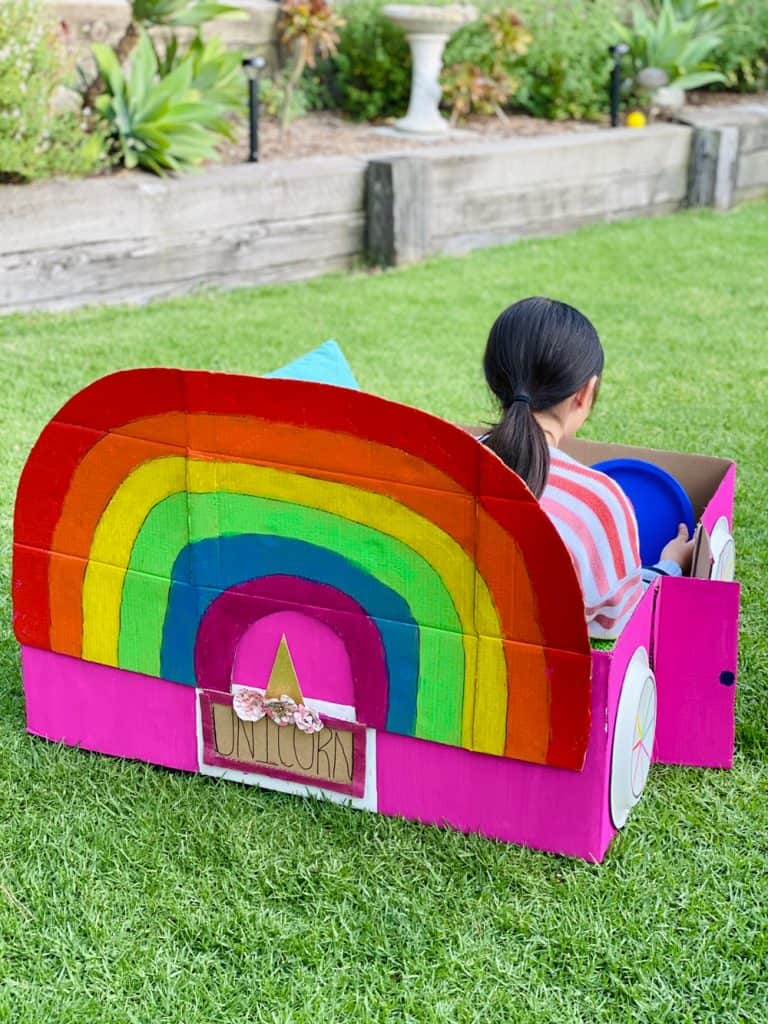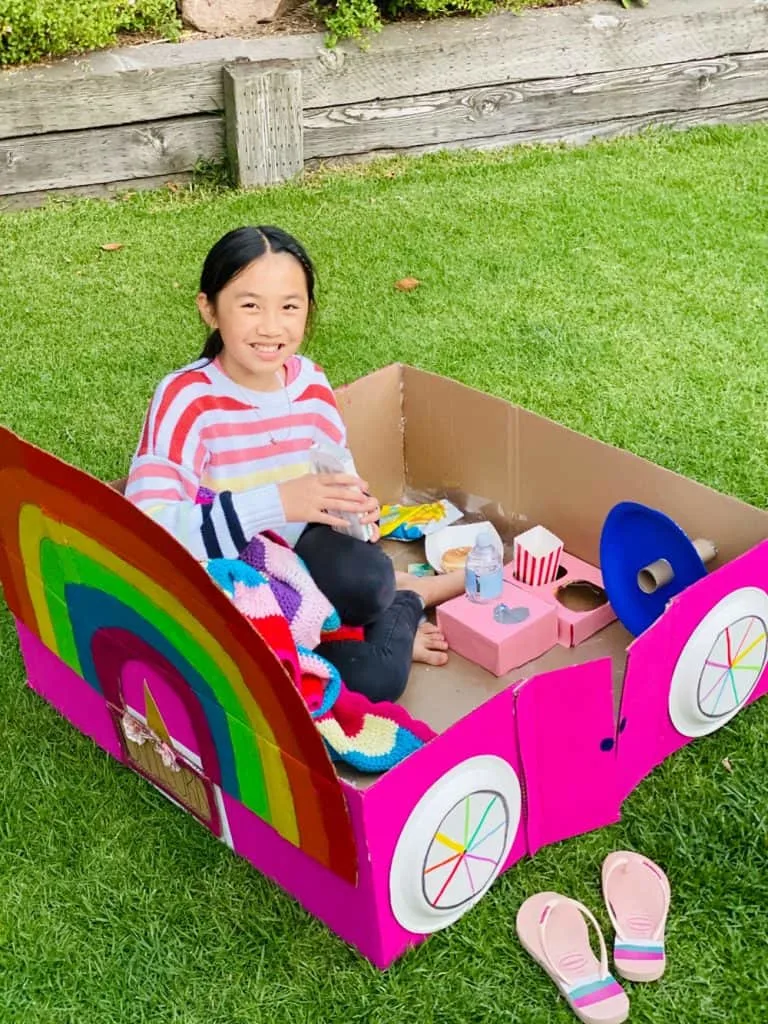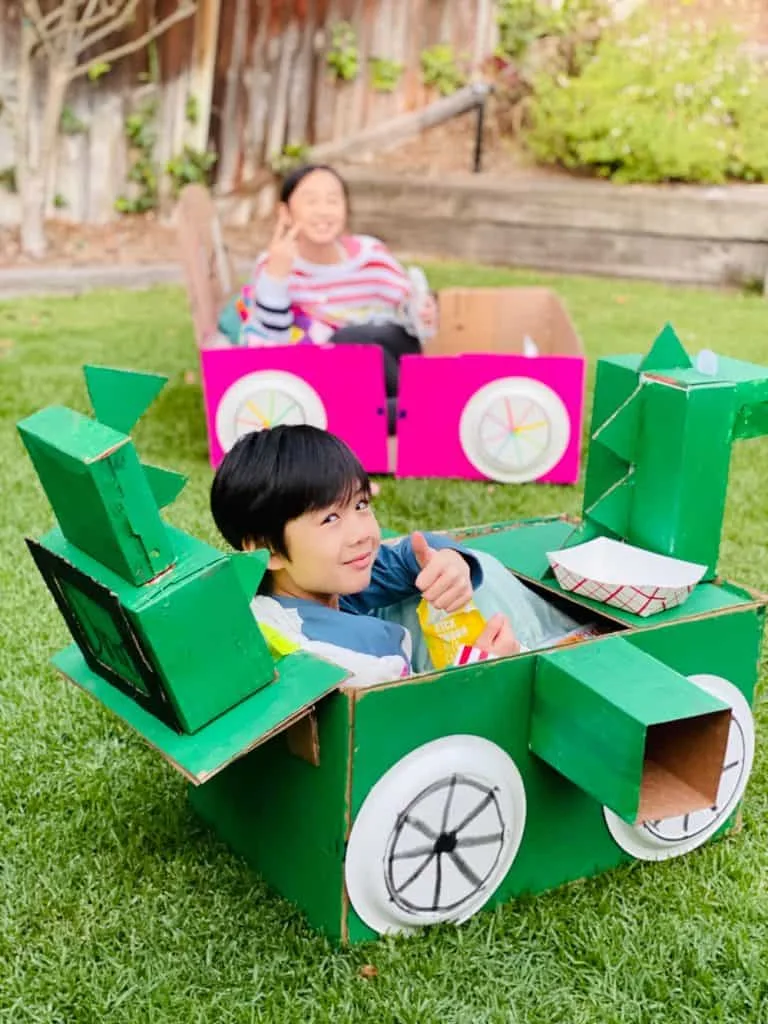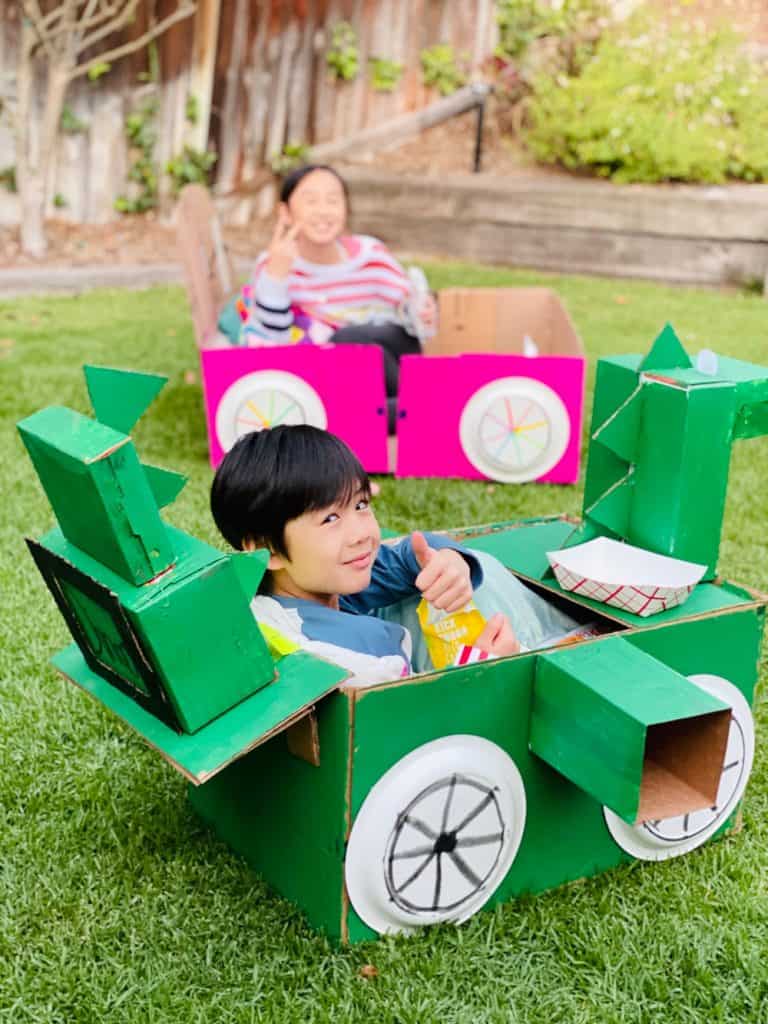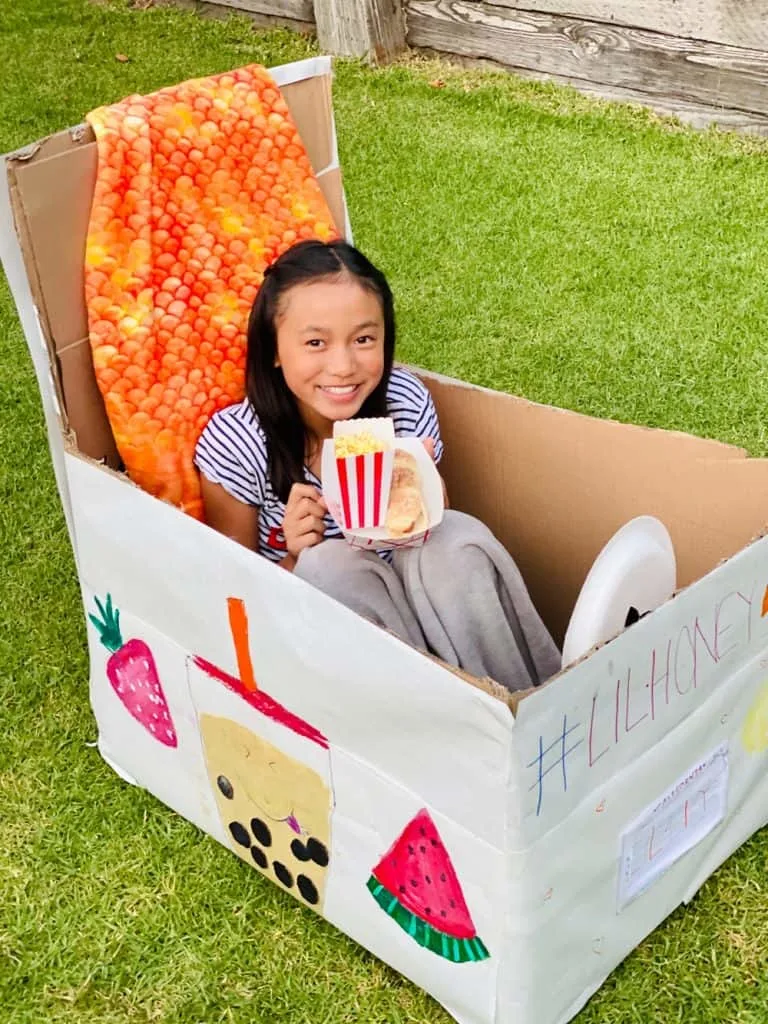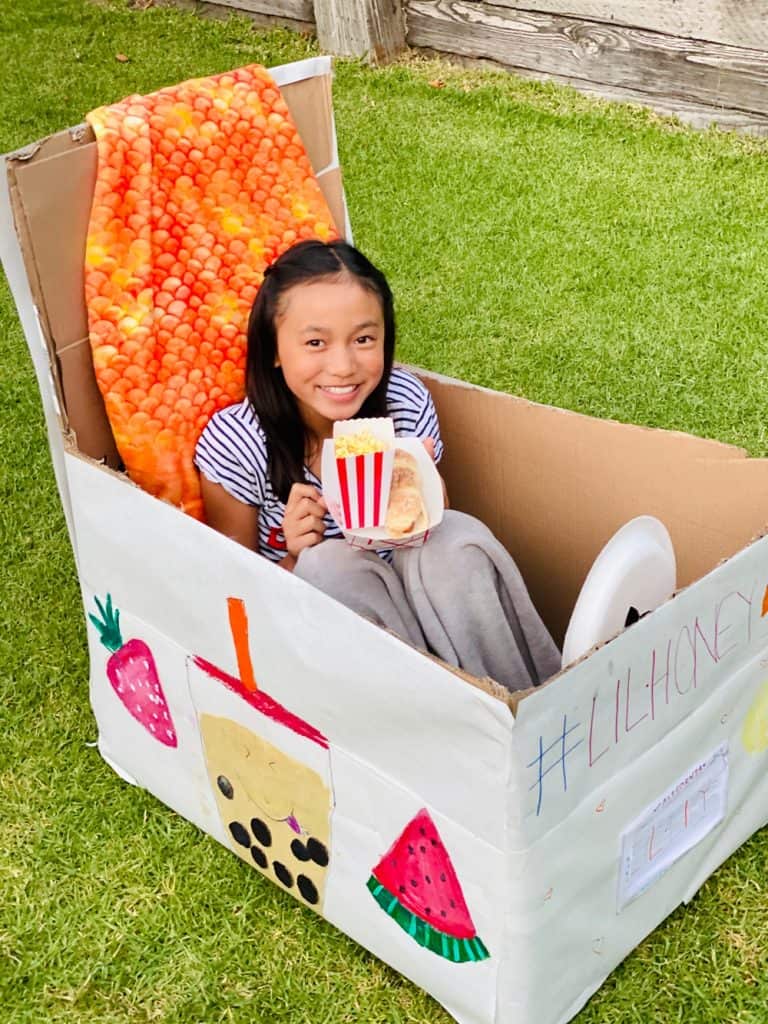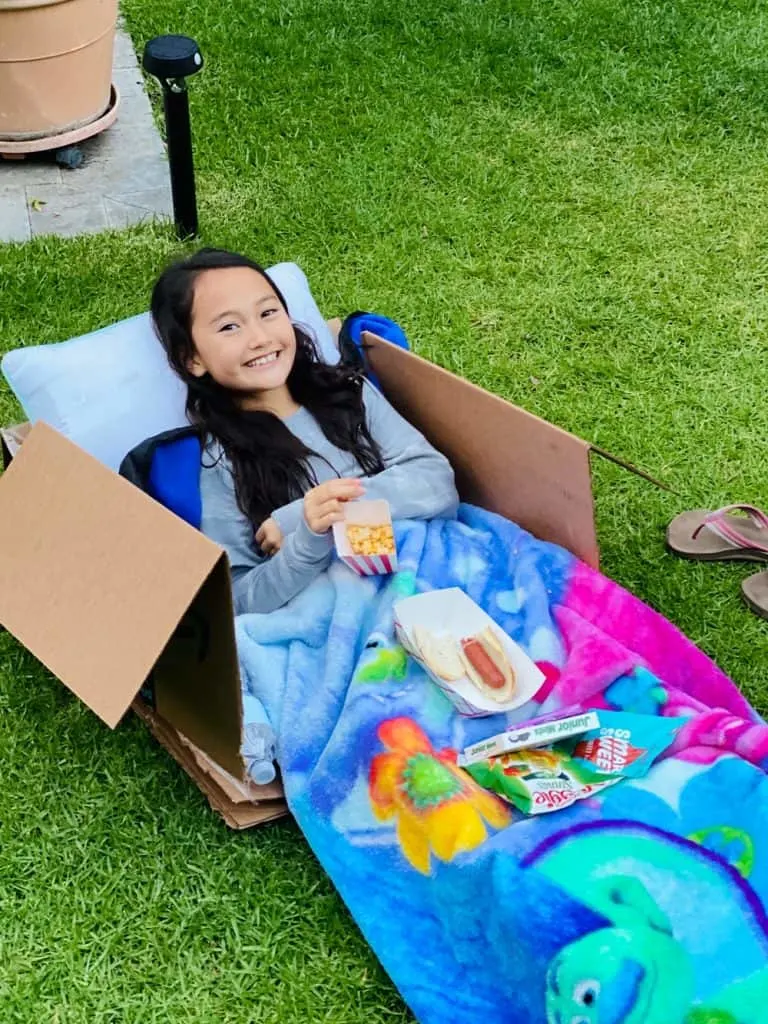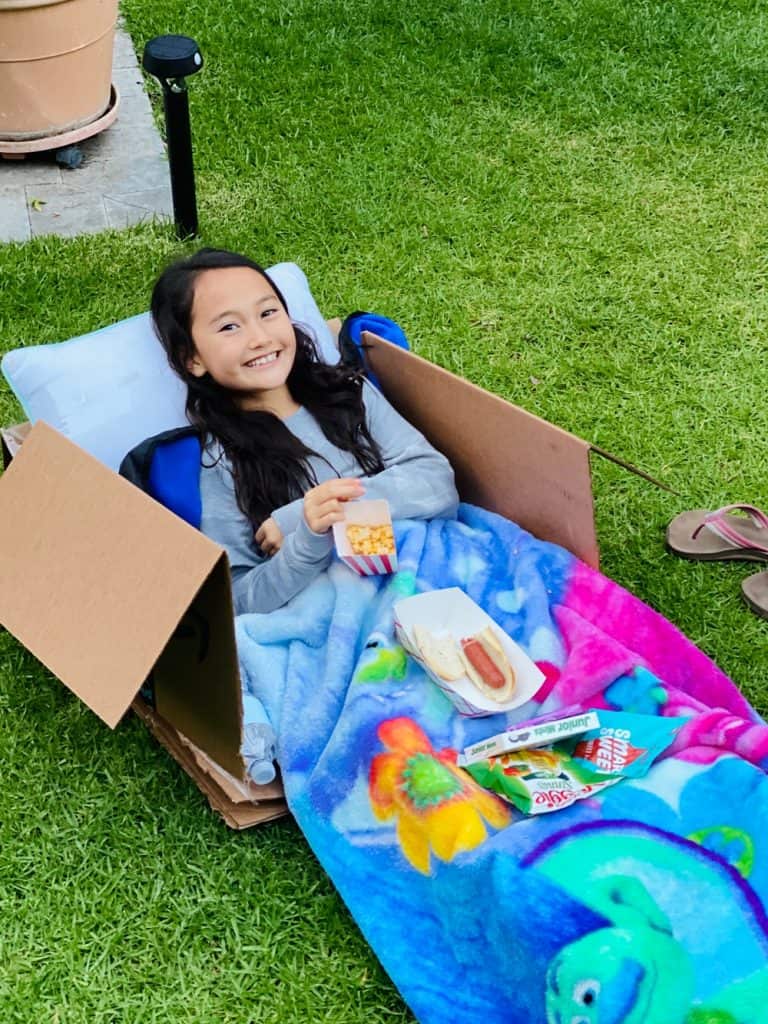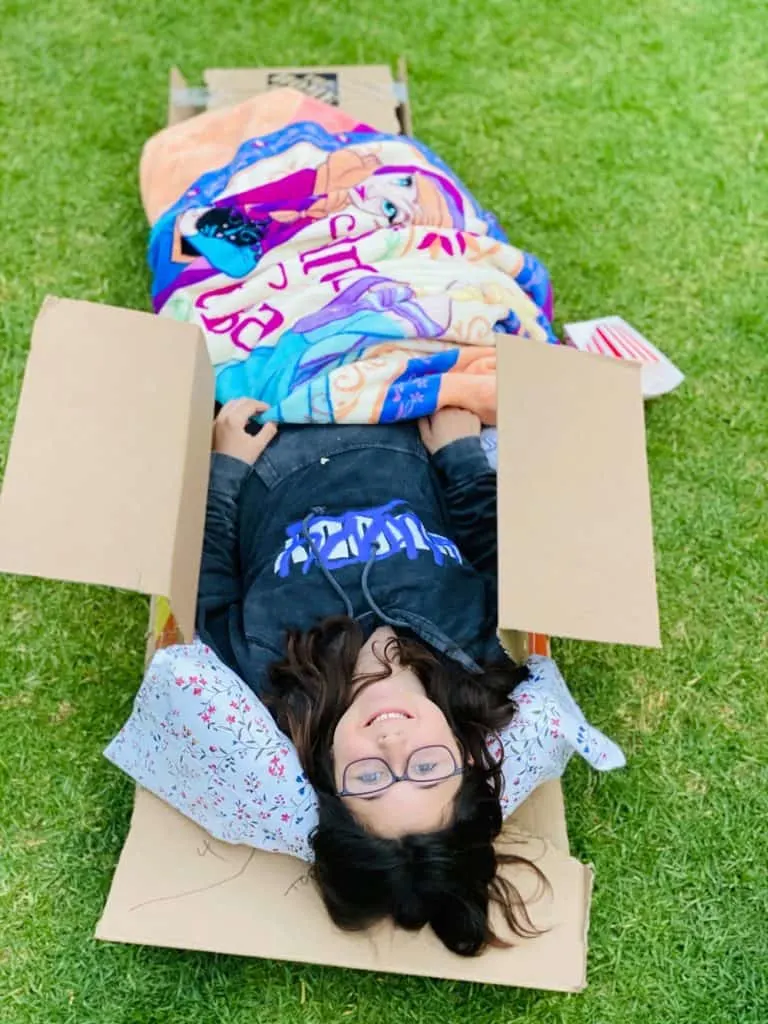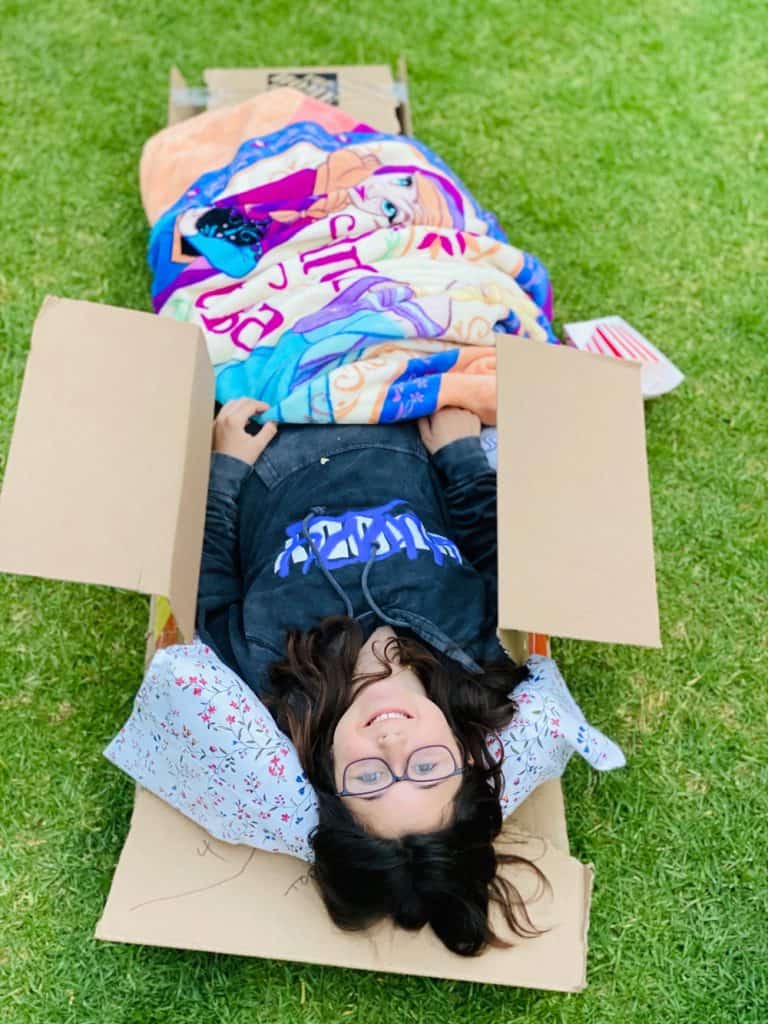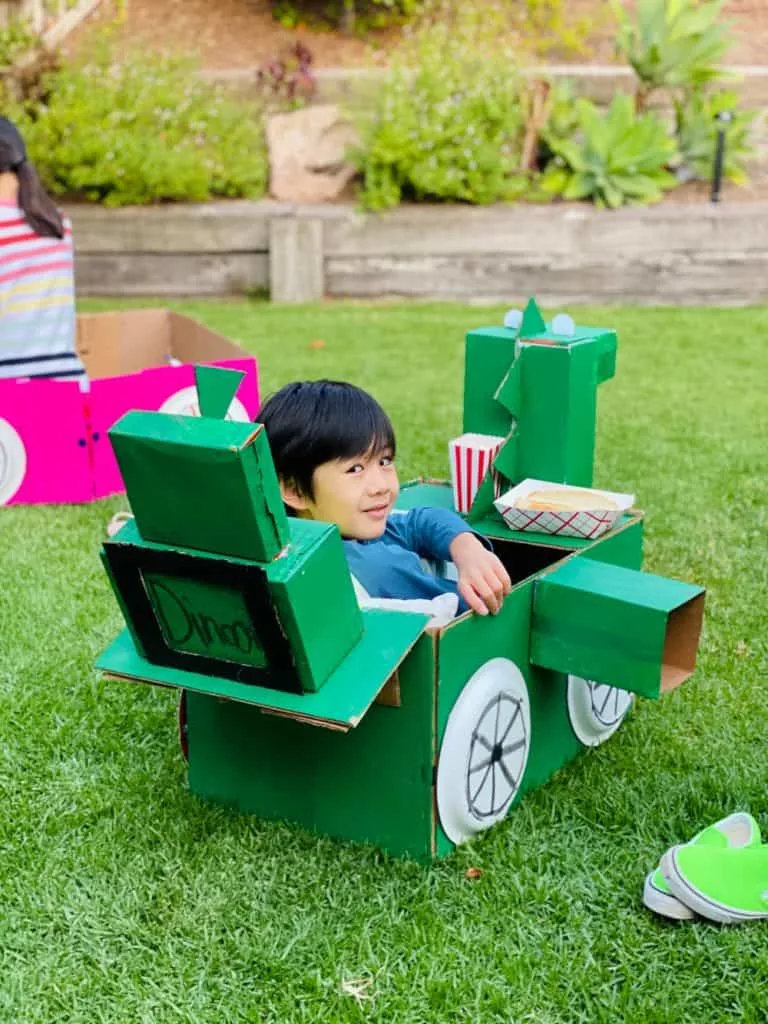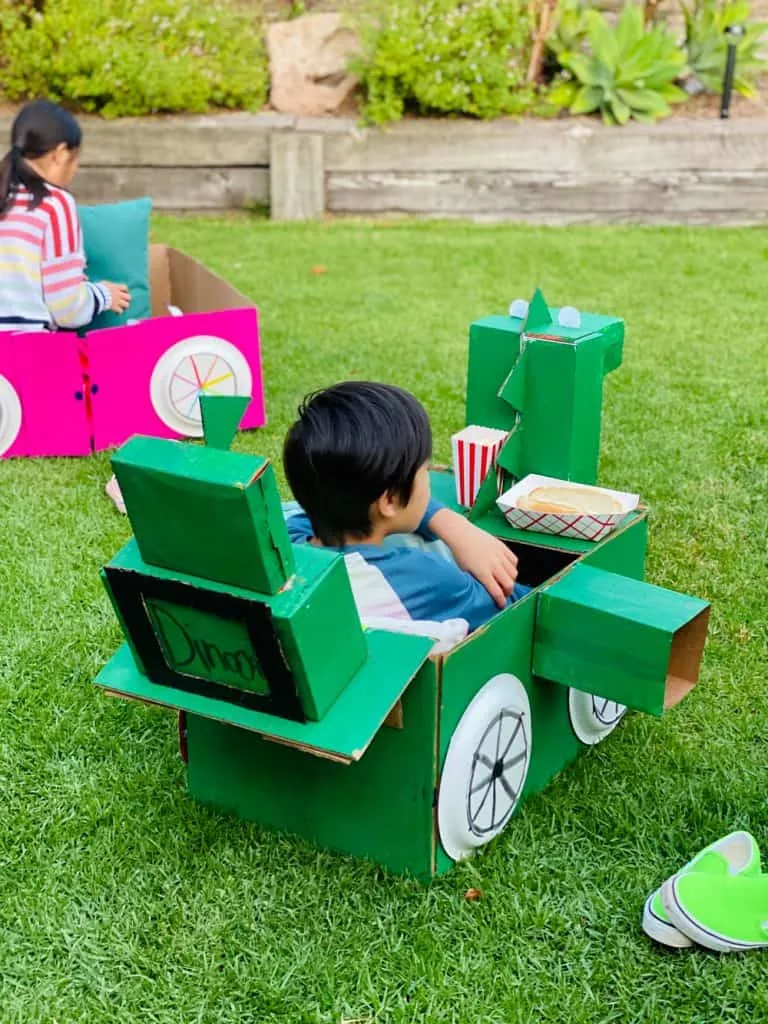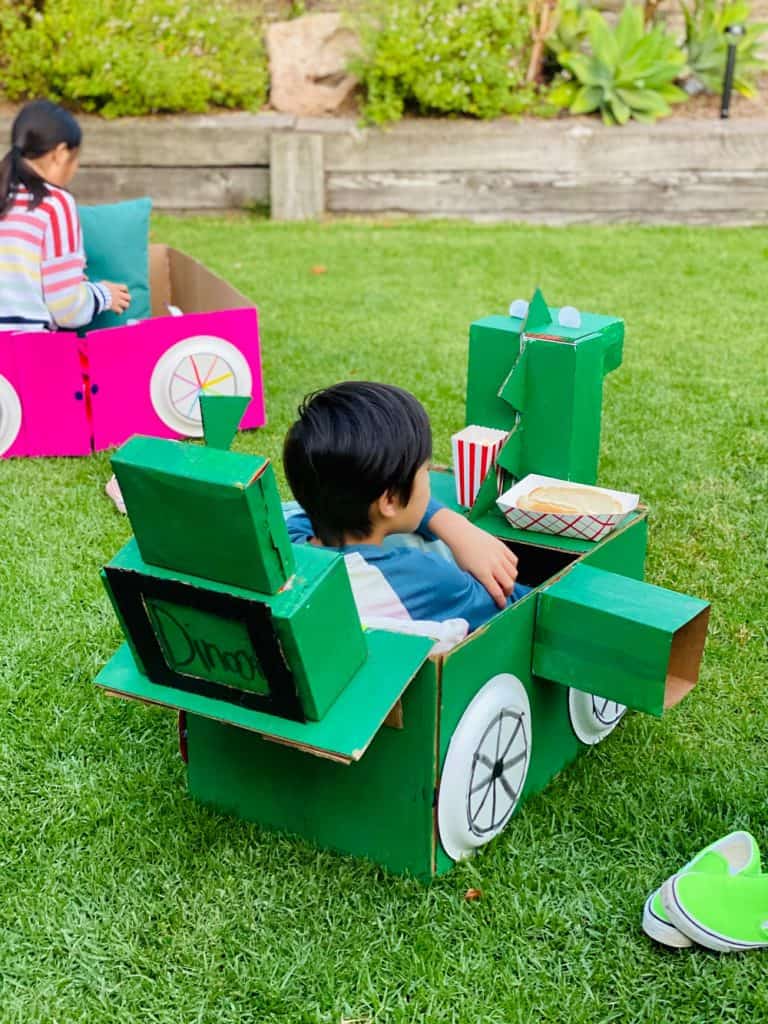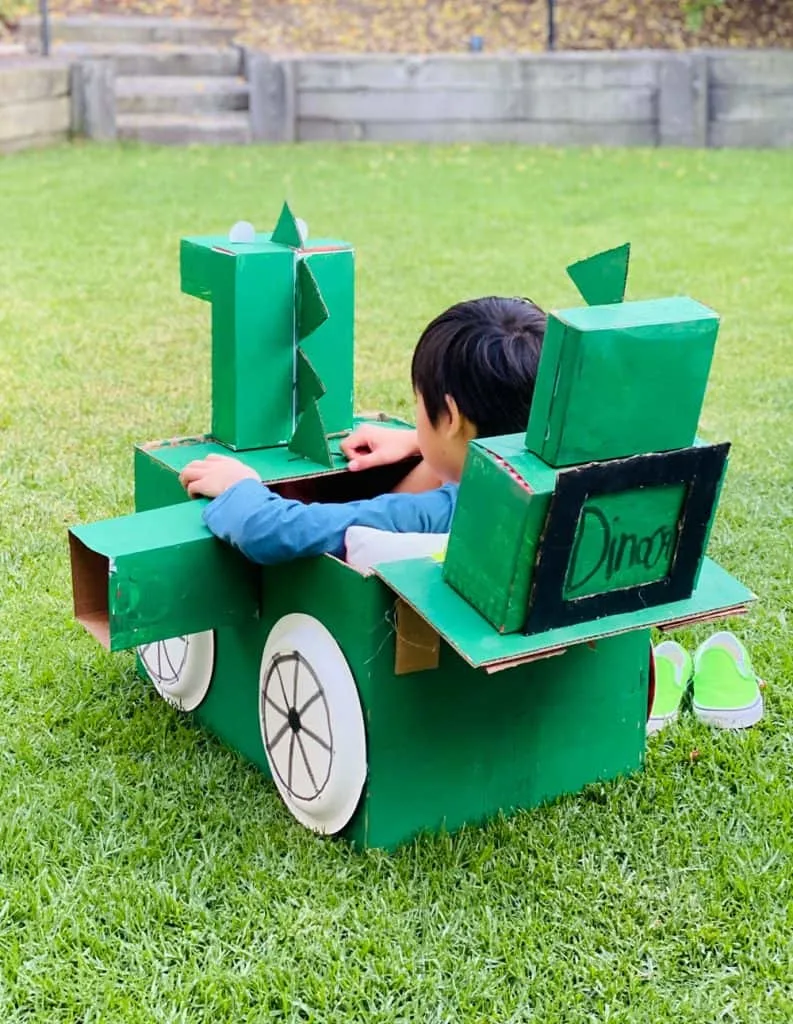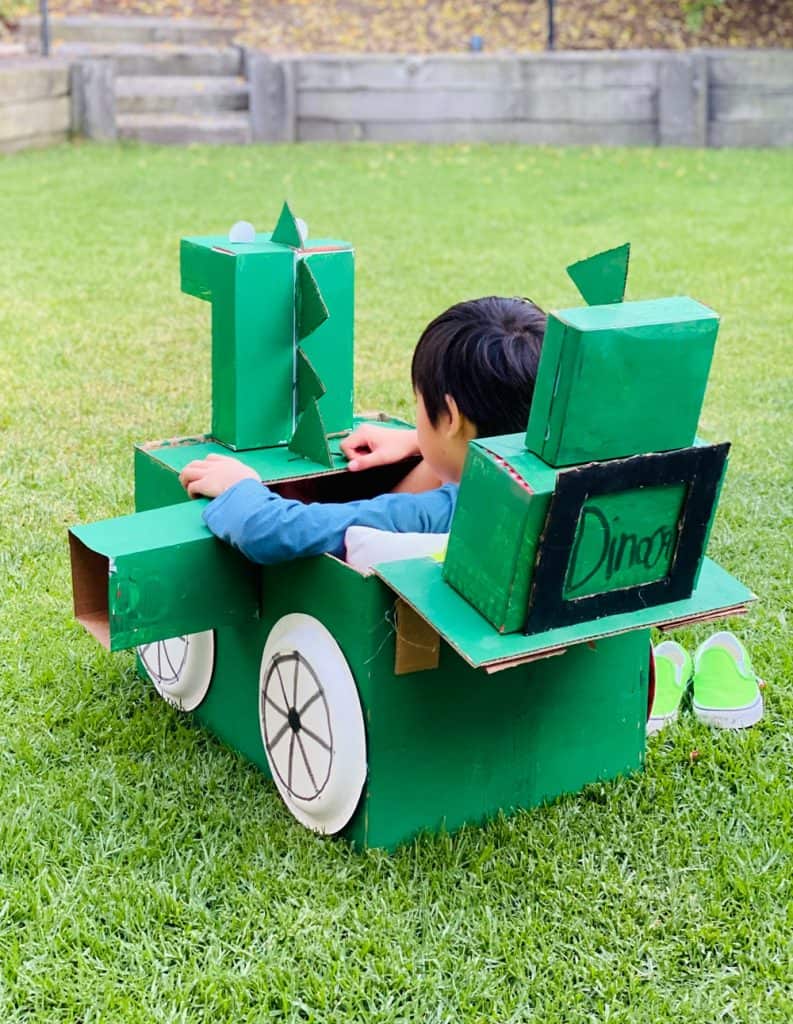 How to set up movie night safely when social distancing
Now the safety part. We asked kids to make cars because not only was it a creative challenge, it would keep them "parked" in their seat somewhat contained and encourage them to stay there as opposed to lawn chairs or open blankets.
We placed the cars 6 ft apart and placed the projector in open view of all the cars.
Note, 3 of the kids are mine, so we didn't invite a ton of kids! Keep it very small and safe. We also only invited two families we know very well who have been home for 8 weeks as well and are responsible about practicing social distancing while out.
Hand sanitizer was out and food was carefully portioned out. We put individual trays of popcorn and hot dogs for each kid and they each got one bottle water, no cups or refills or handling same bottles.
The rest of the food was pre-packaged concession fare like Junior Mints, packaged choc0lates, gummy snacks (we got the healthy packs). There were no utensils.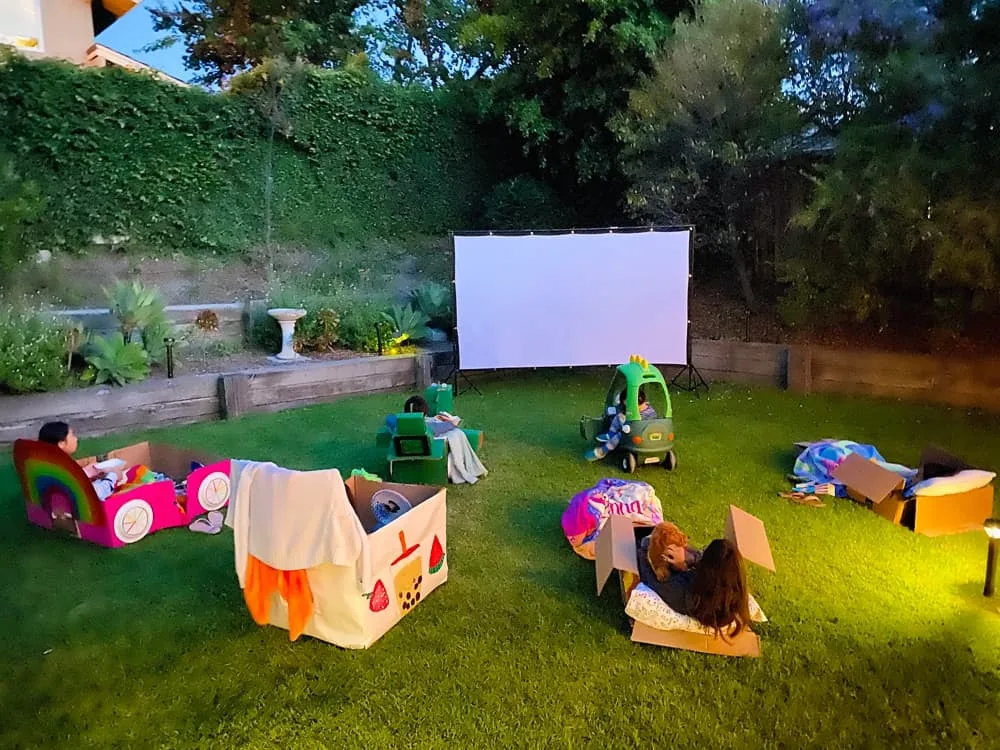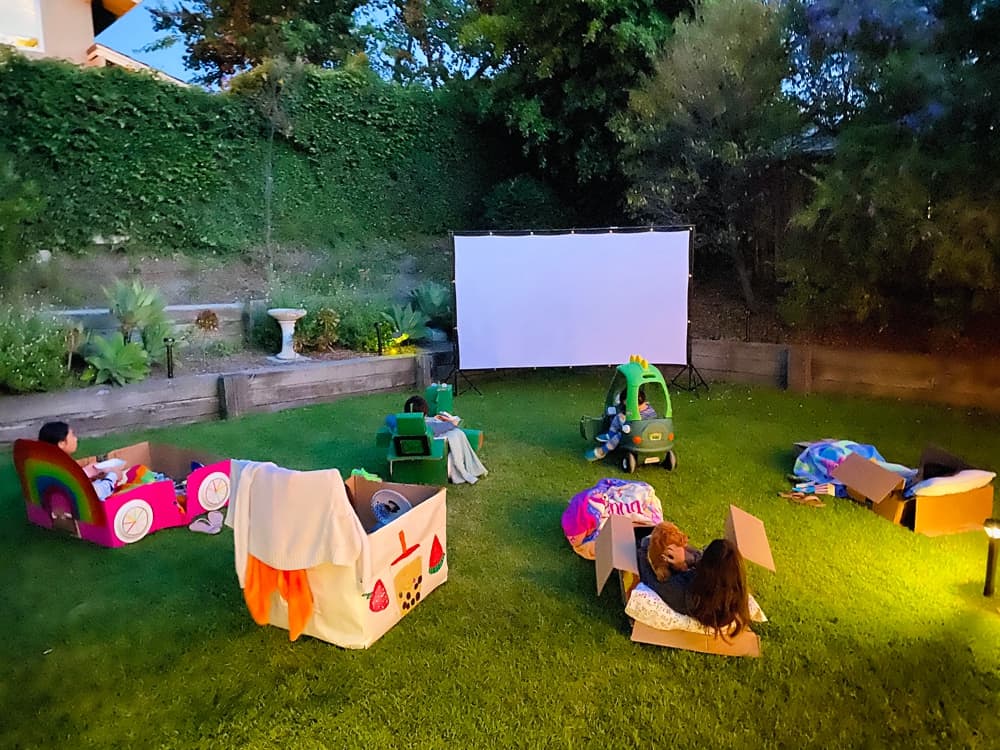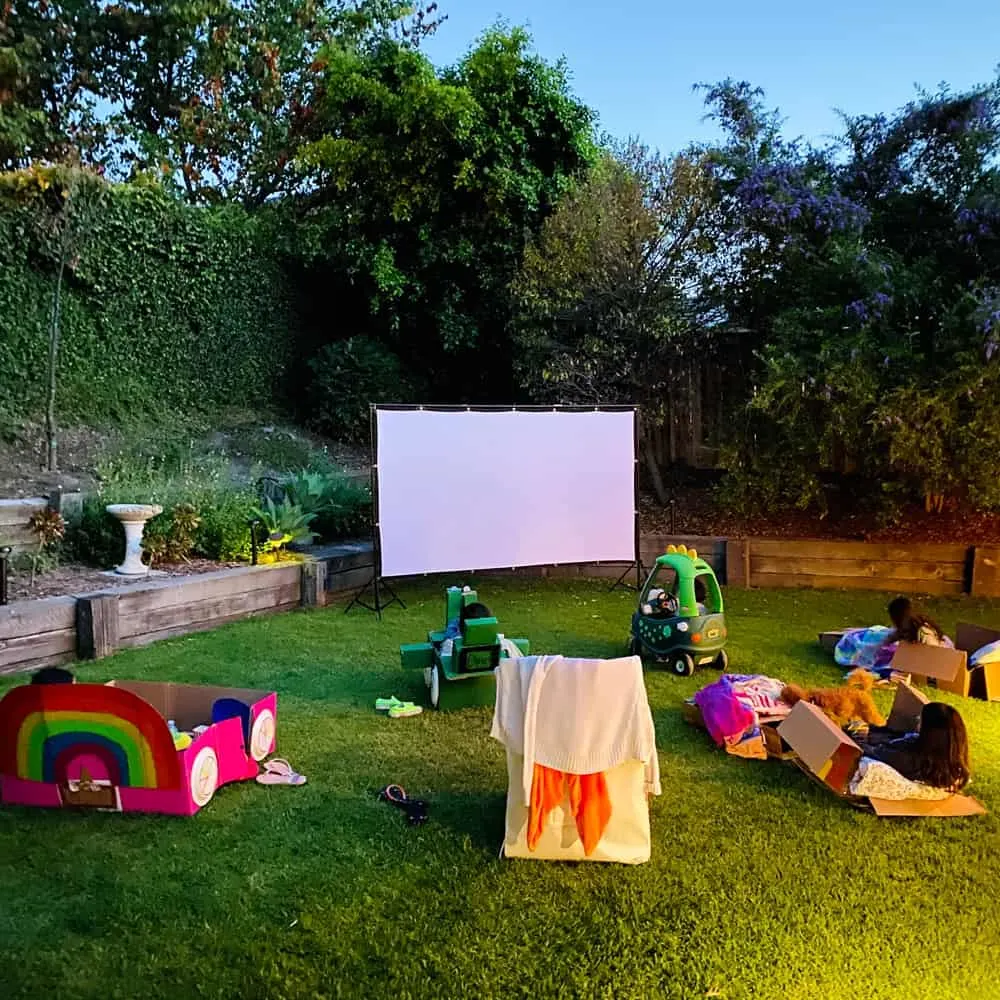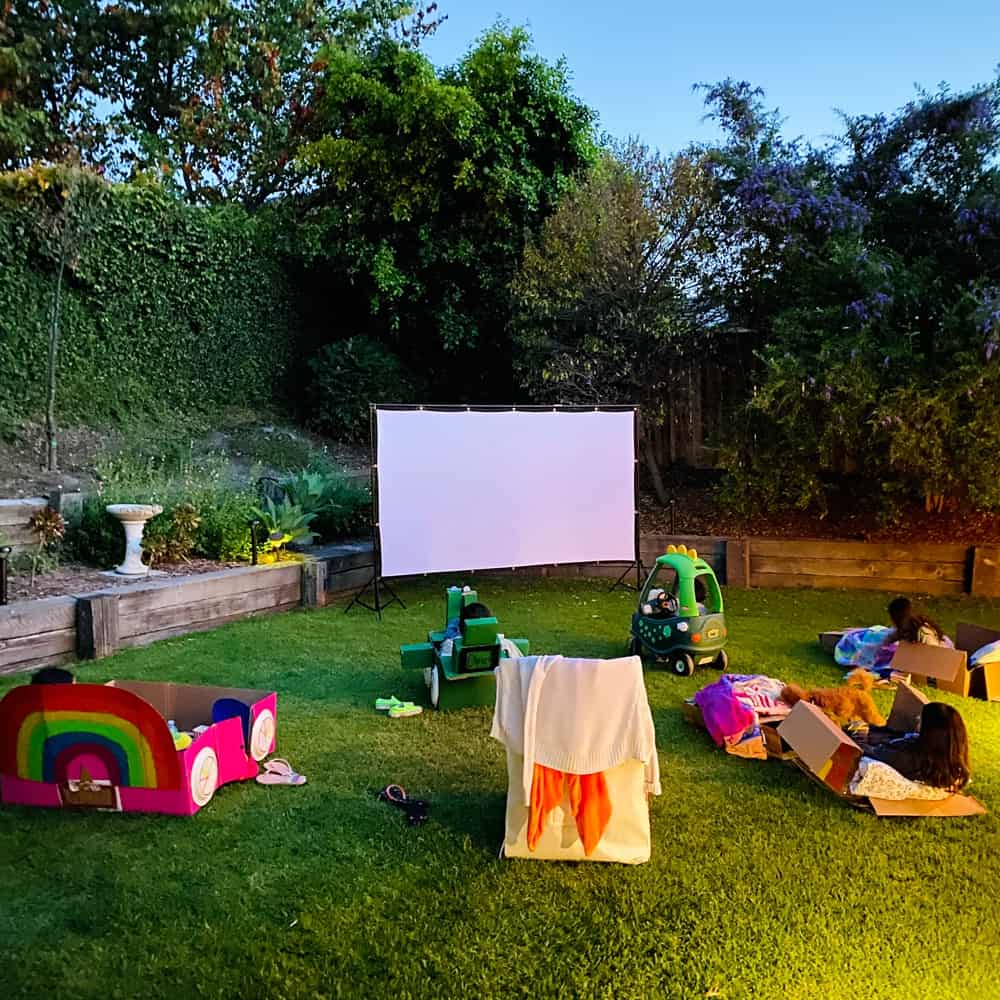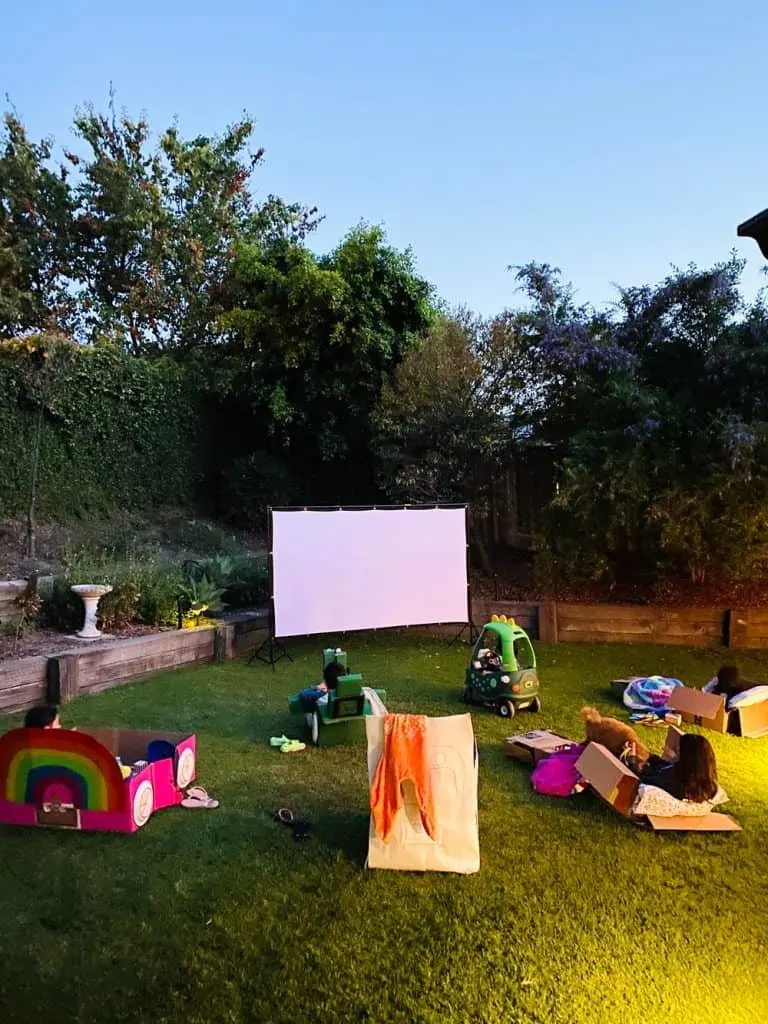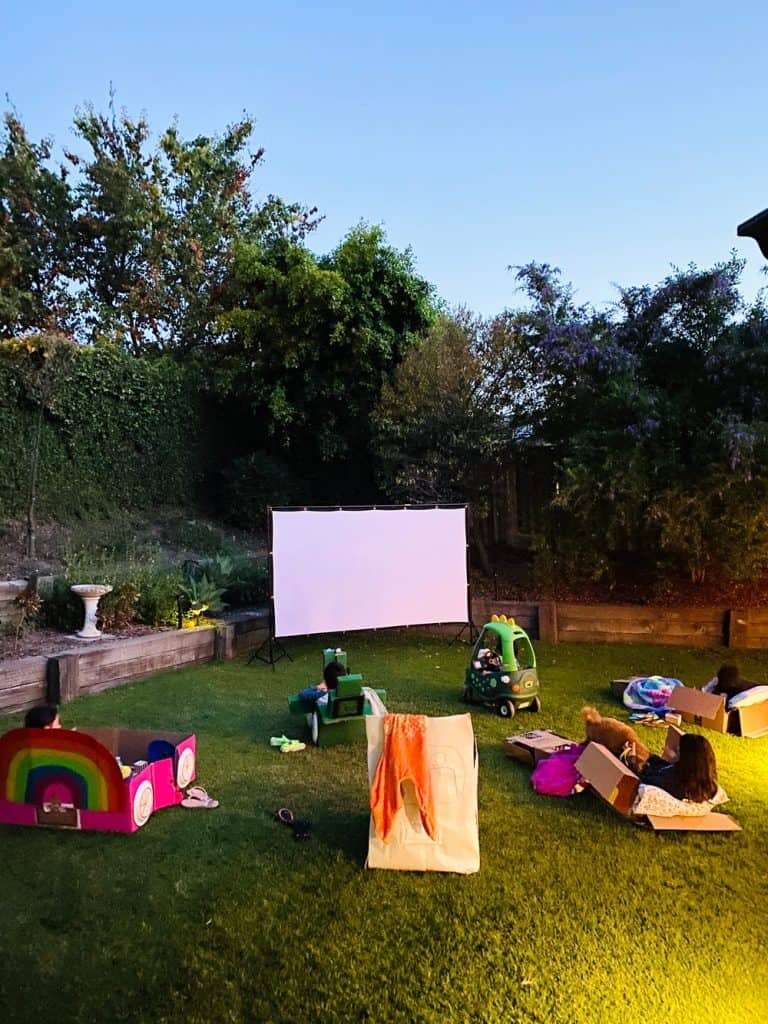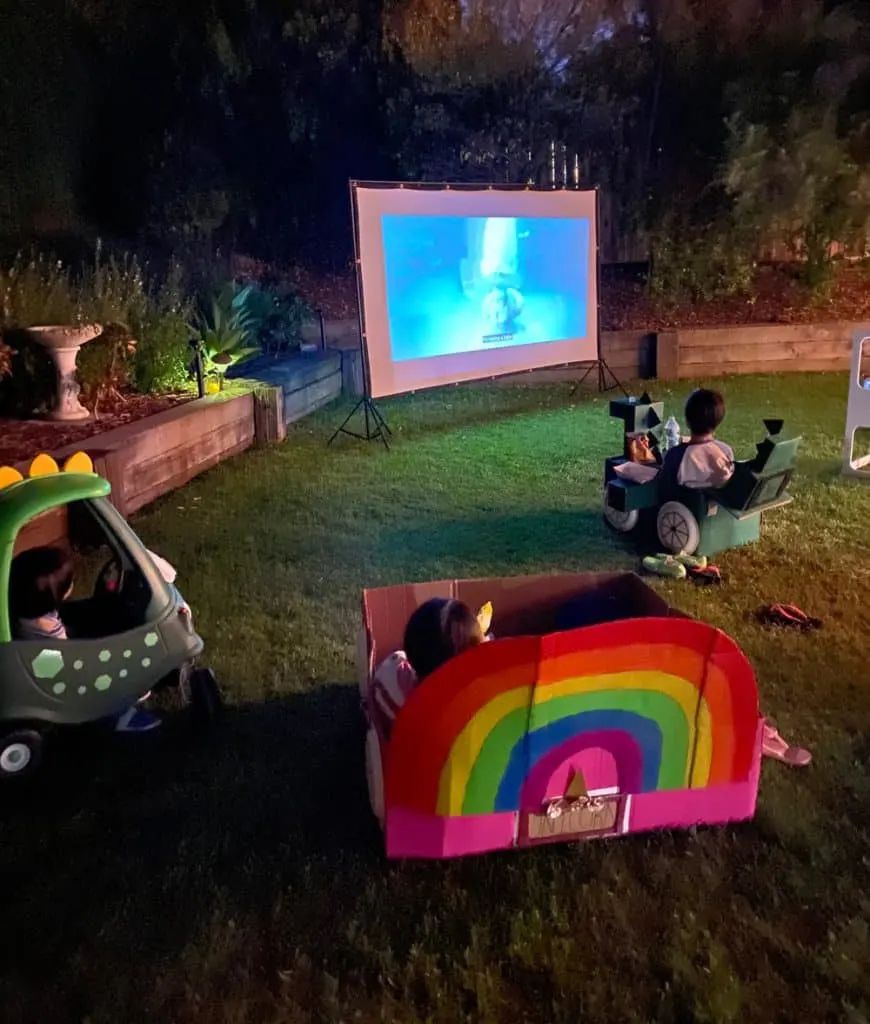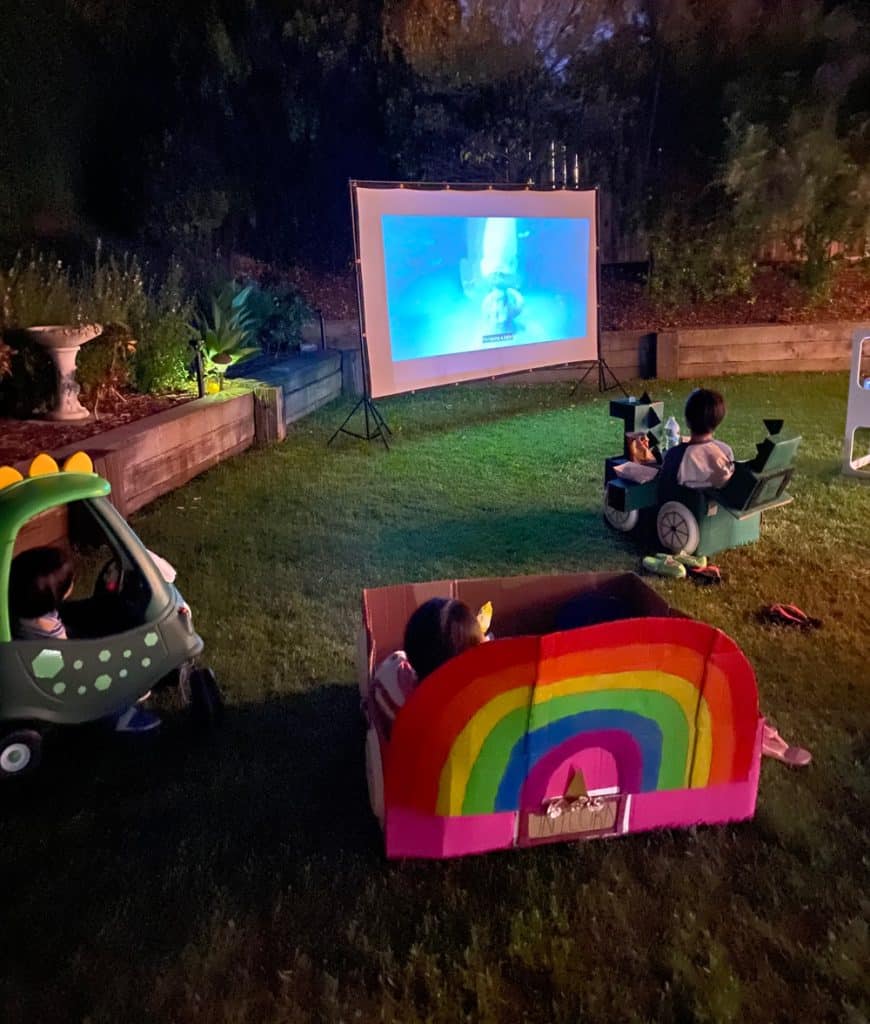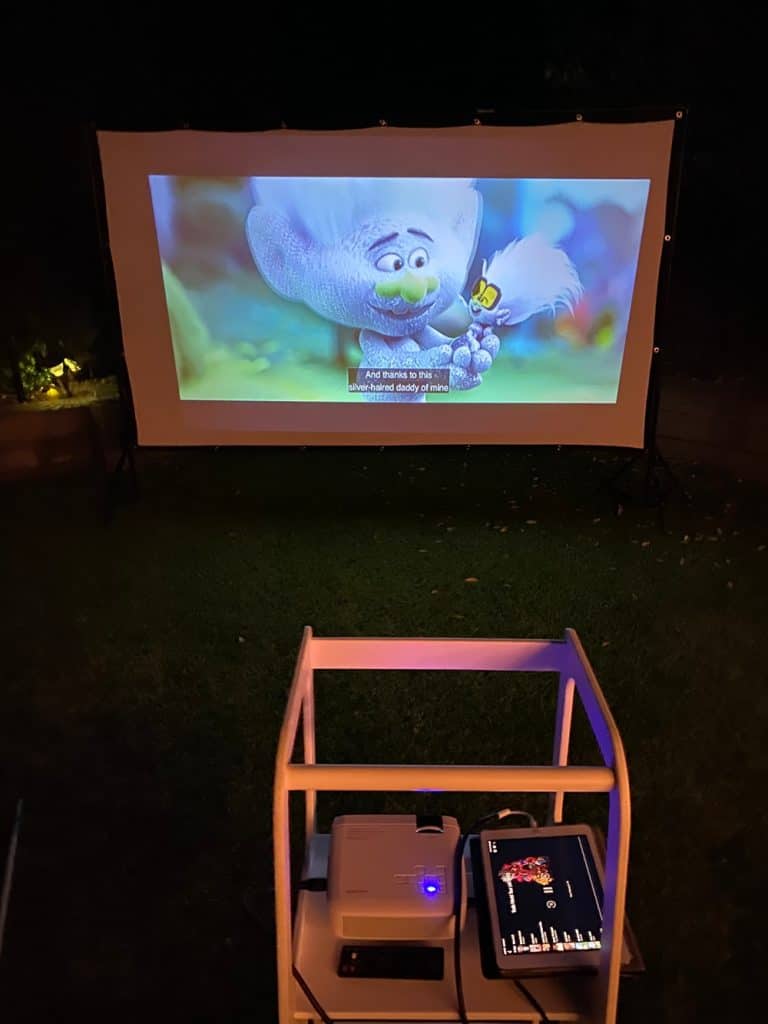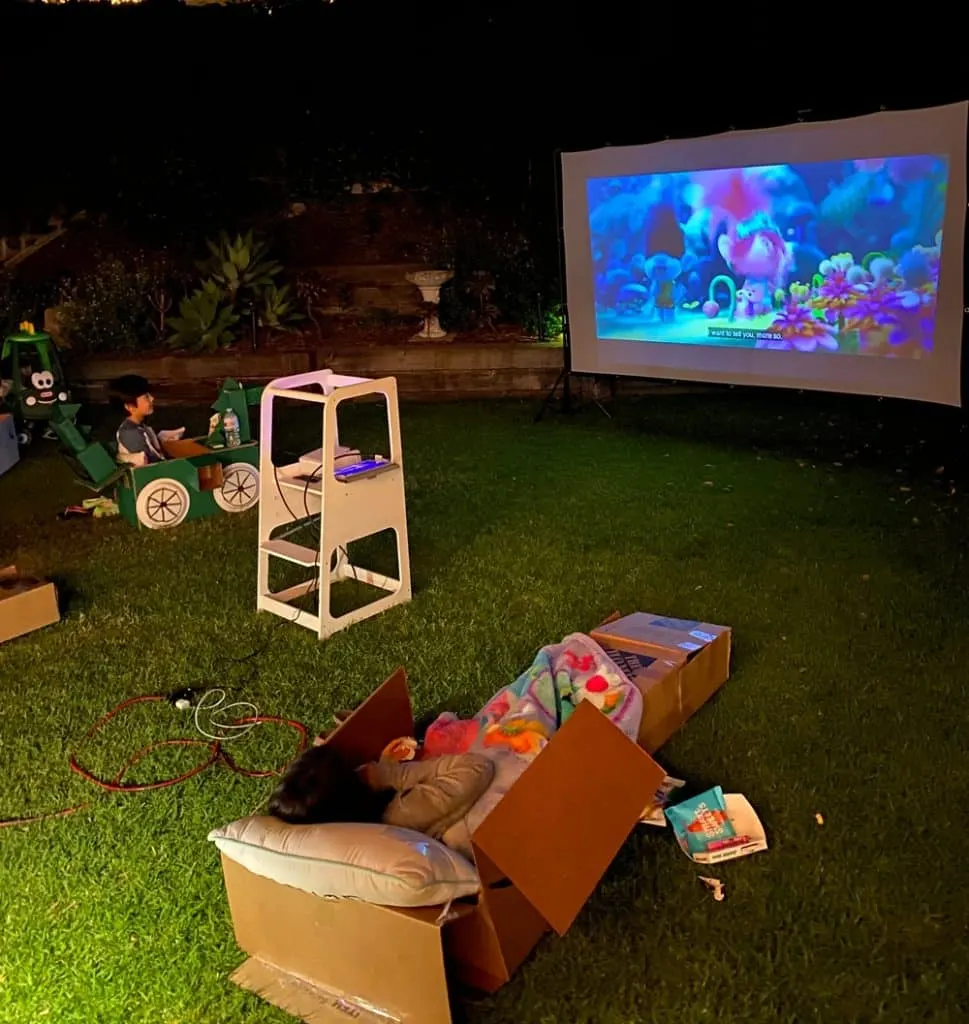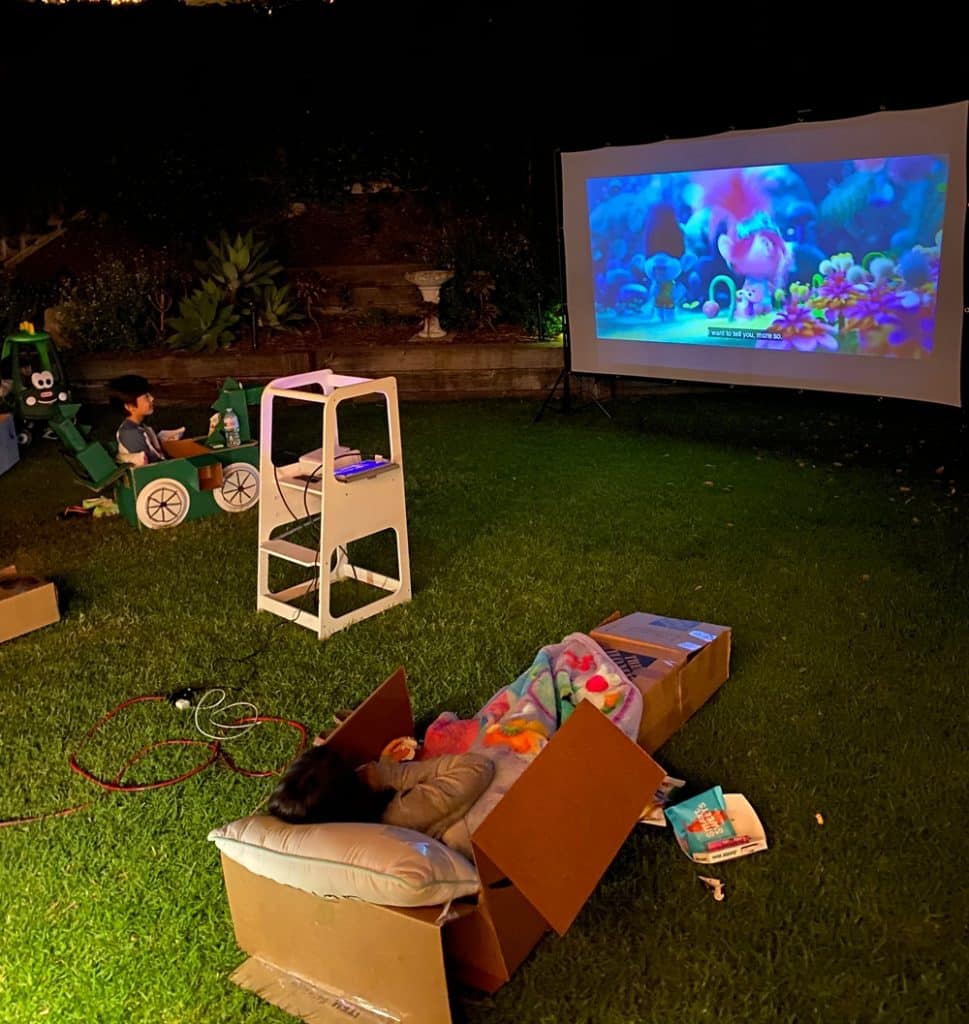 What materials do you need for outdoor movie night?
I've gotten lots of messages on what we used as projector, screen, etc. So here are links to all we used!
Outdoor Movie Screen
We got this 120 inch movie screen based on the reviews as it looked wrinkle free and large enough for indoor or outdoor use. We used our own tripods as we already had those at home, but the screen comes with pre-built grommets or hardware.
Unfortunately, the screen we got no longer seems available on Amazon! Here are some alternative options for outdoor movie screens, and note some of these alternatives do come with their own stands. Make sure to read the descriptions carefully.
Outdoor Movie Projector
We got this outdoor movie projector because it was not on the super expensive end, but has loads of great reviews. It also is compact in size AND comes with built-in speakers. It can hook up to tablets, phones or laptops which was important to us since we primarily stream movies off services like Netflix.
*(update: I had to remove the link because it's no longer available! But here are some other movie projectors to consider)
Note if you connect to a tablet or laptop like we did, you will need an HDMI cable (we had one at home already) but also an HDMI cable adapter we got this one because we have an iPad, but it doesn't need to be the Apple brand. you can use. Here are some other brands of HDMI cable adapters.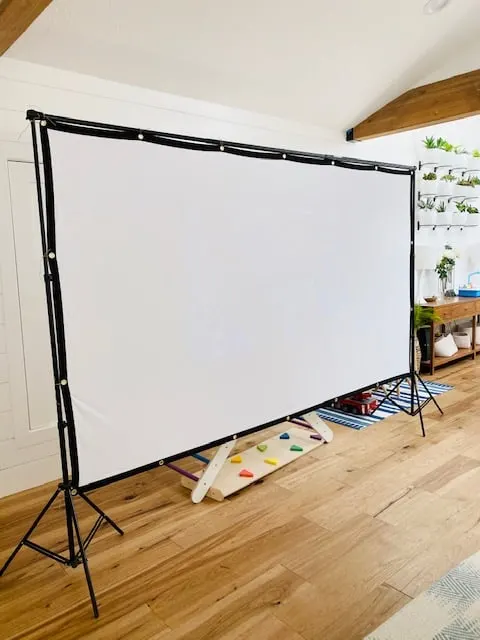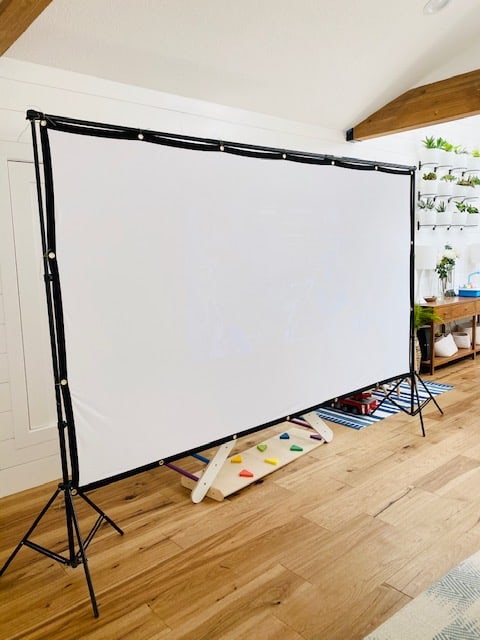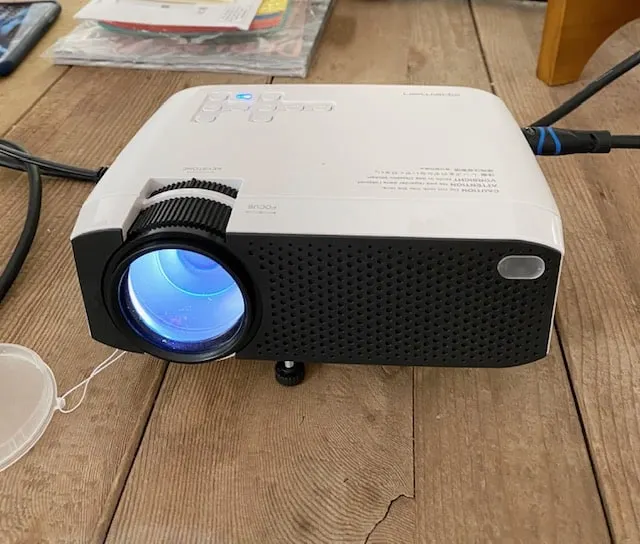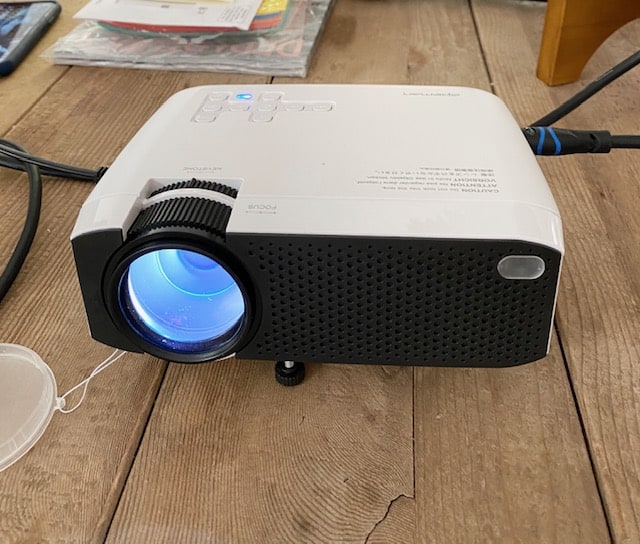 Move Night Printables
We got this super fun movie night printable from this Etsy shop. What we liked is it came with ALL the printables you need, title of movie, drink and food labels, invitations. And if you are celebrating something like a party, it has banners and each text field is editable to customize for the birthday guest!
Movie Night Food Packaging
We got these food trays and like them because they fit these popcorn containers and one hot dog perfectly.
Those are all the major items we got for our fun movie night! Hope you get to host your own soon. Have fun and be safe!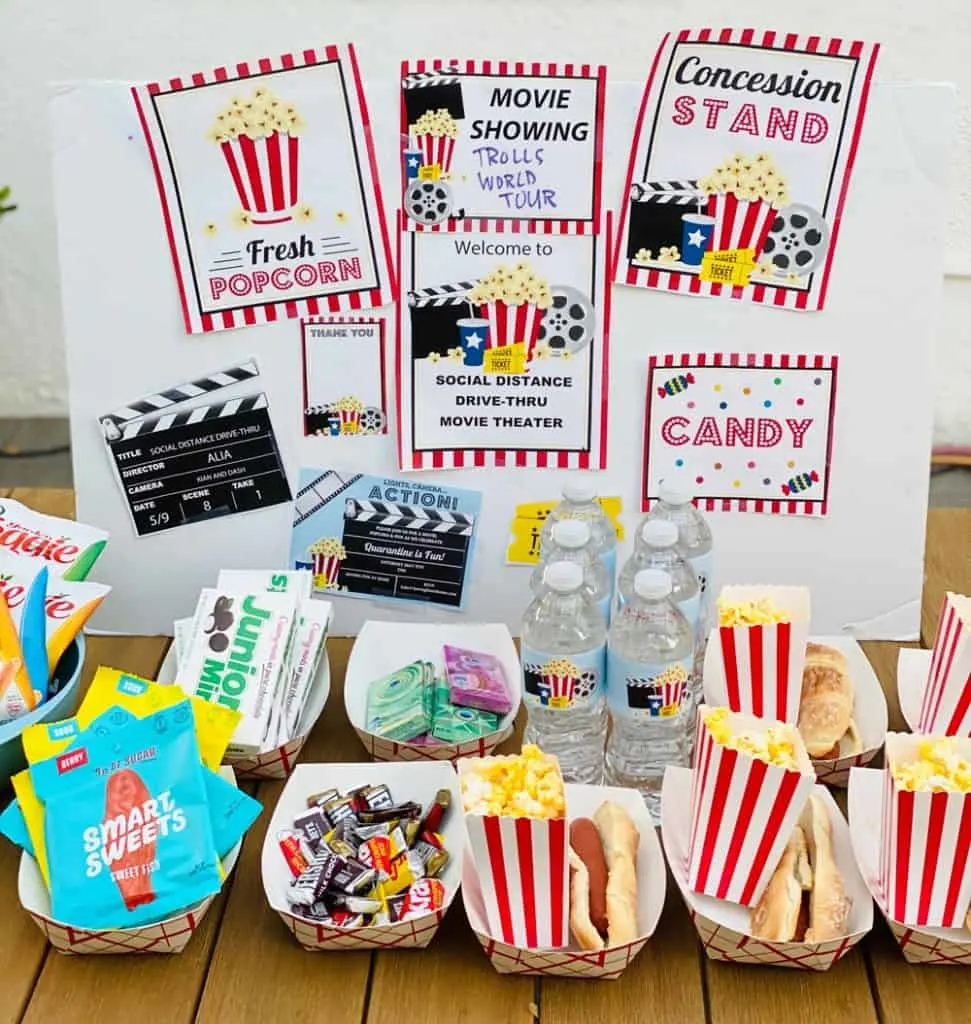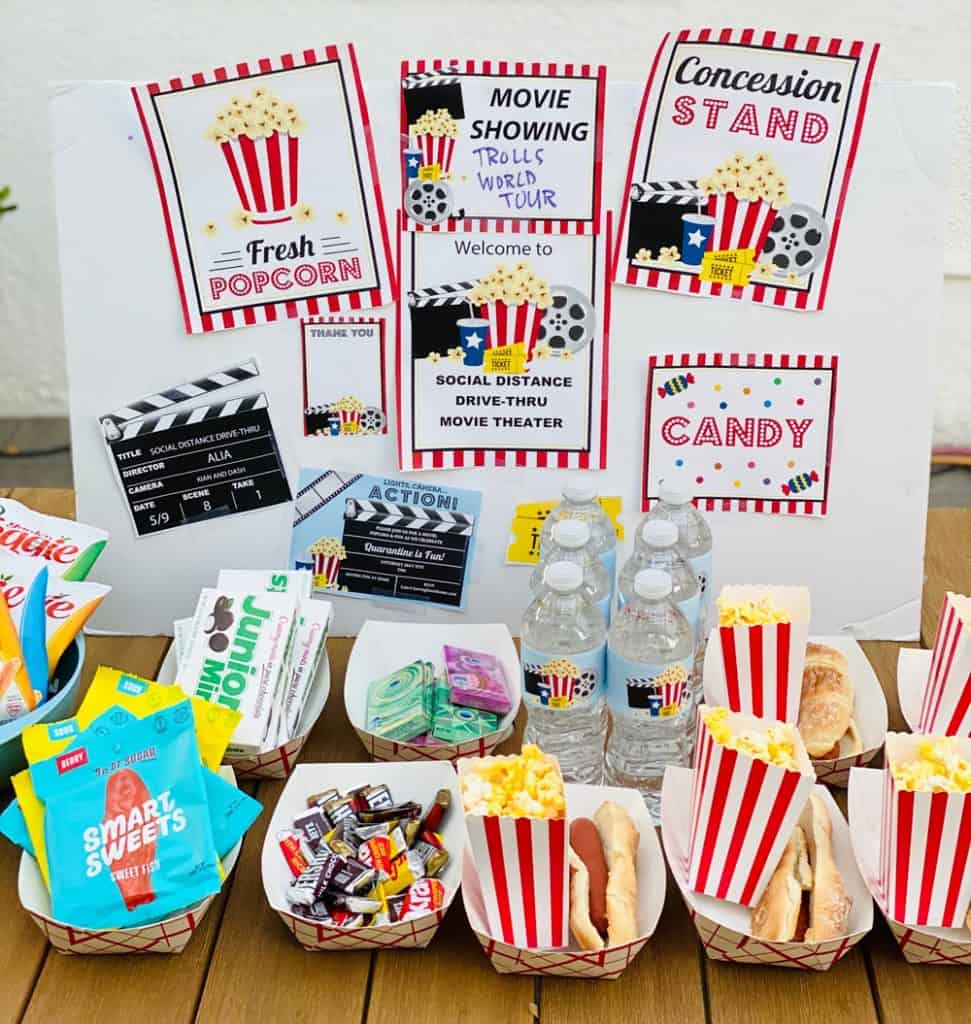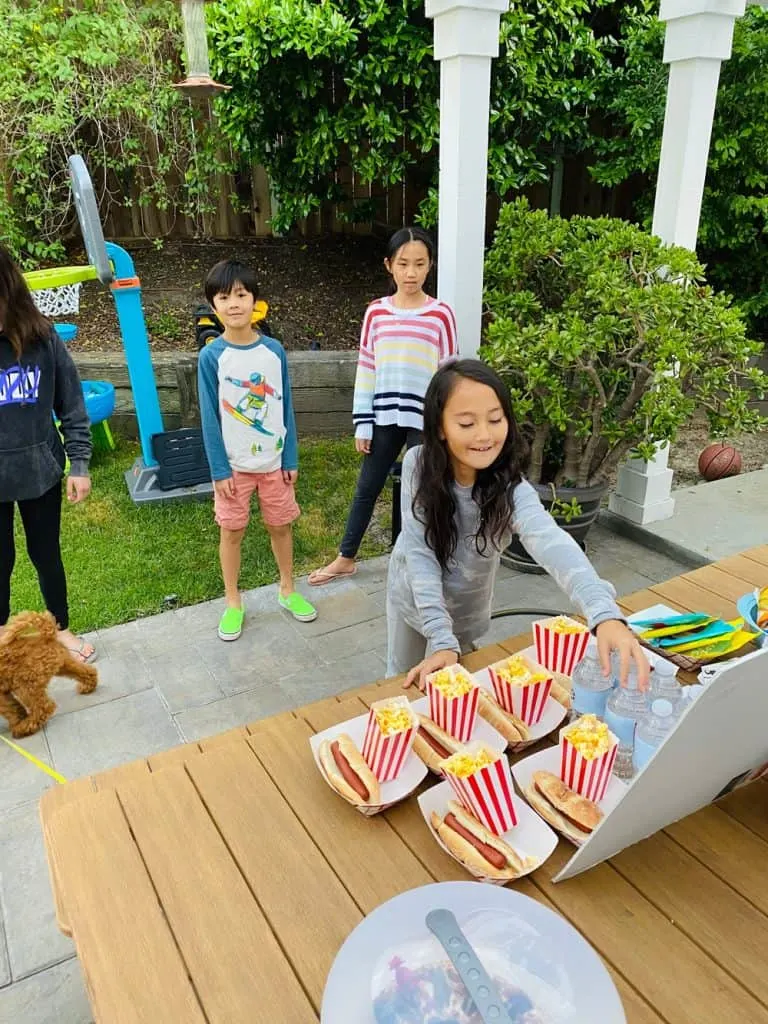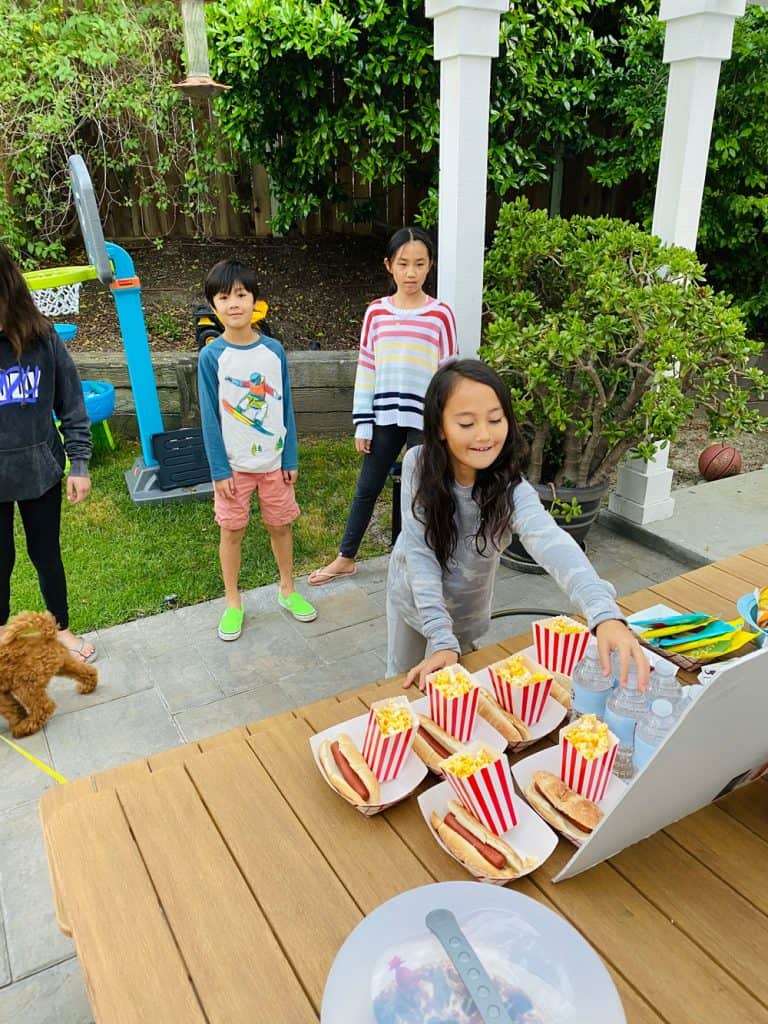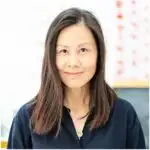 Agnes Hsu is a mom of three and has been inspiring parents and kids to get creative with easy activities and family friendly recipes for over 10 years. She shares her love for creative play and kids food to her 2MM+ followers online. Agnes' commitment to playful learning and kindness has not only raised funds for charity but also earned features in prestigious nationwide publications.