Does your little guy love playing with cars and watching them crash and fall? My son can do this with his toy cars all day long. Here's a fun car conveyor belt I made him with just a few recycled items to keep his fascination going with crashing cars.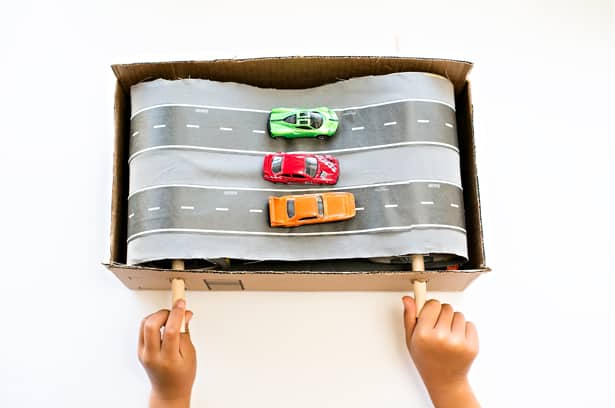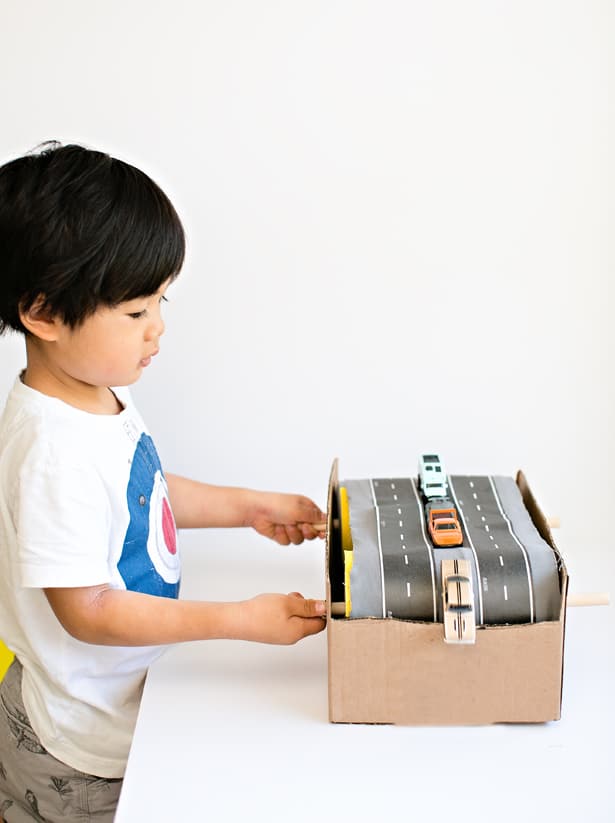 DIY Cardboard Car Conveyor Belt – Materials:
– Cardboard box (15″ wide x 7.5″ tall)
– Two oatmeal cardboard canisters
– Two (12″ dowel sticks)
– Piece of 35″ wide x 7″ tall fabric
– Road tape (optional)
– Rubber bands
– Hot glue gun
– Colored cardstock paper (optional)
– Duct tape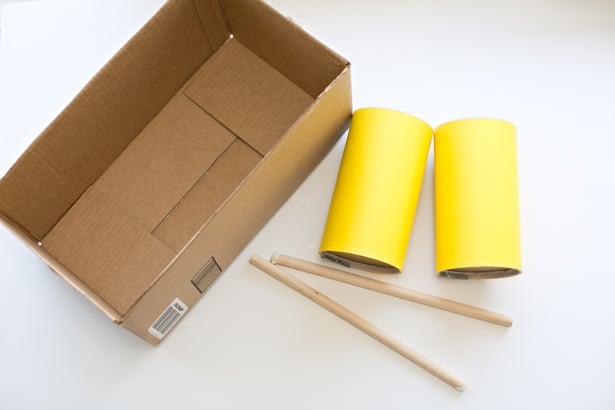 Instructions:
You can cover up your oatmeal canisters if you'd like with some tape and colored cardstock paper, but this step is optional.
Step 1. Create two holes through each oatmeal canister and insert your dowel, securing the hole with hot glue so the dowel stays in place.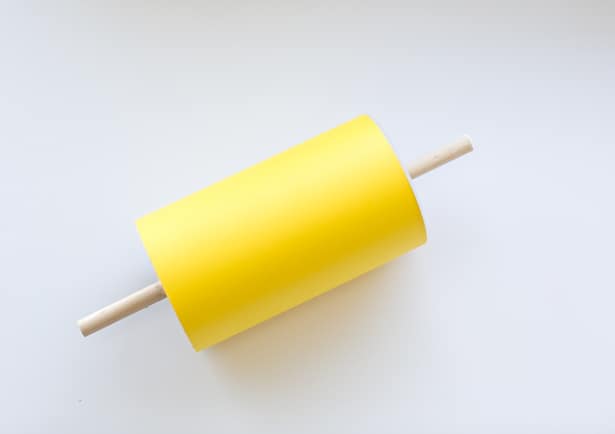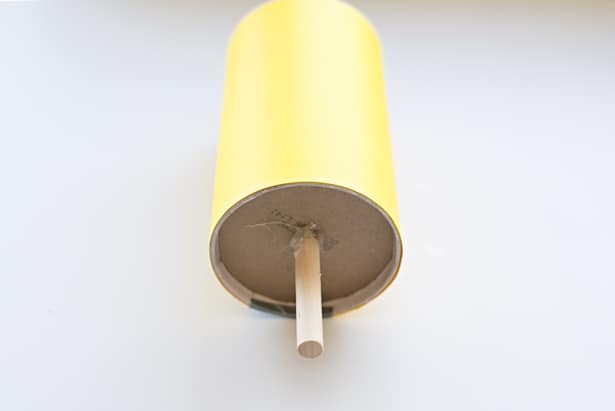 Step 2. Add rubber bands on the rollers (this is to add friction so the fabric can grip better). Cut holes in your box to add the rollers. We added ours about 3.5″ from the bottom of the box, about 10″ apart and 2.5″ from the sides.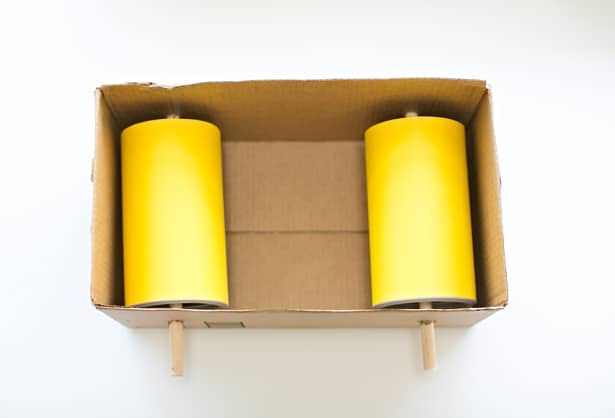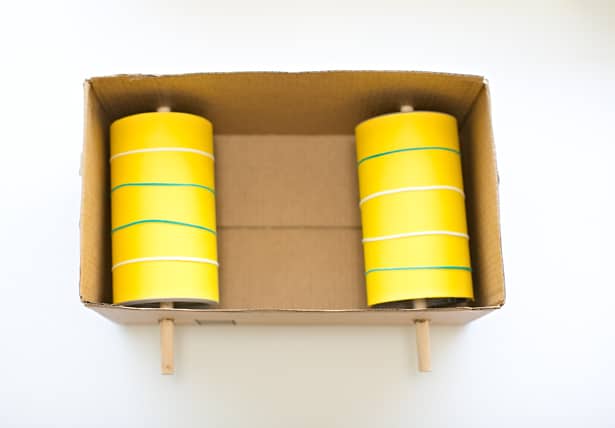 Step 3. Add your fabric and secure with duct tape. You can also add the road tape after this step, securing the ends of the road tape with duct tape to make sure it stays put. Adding the road tape is optional.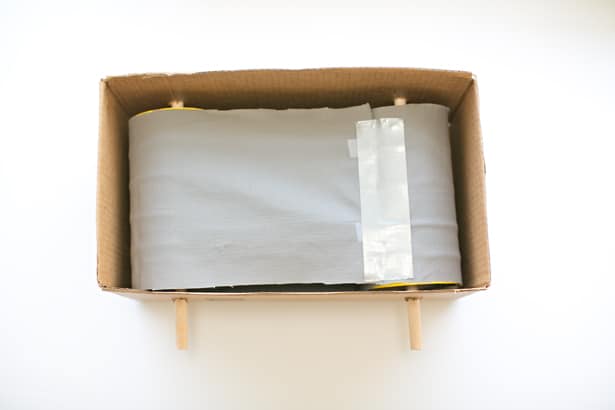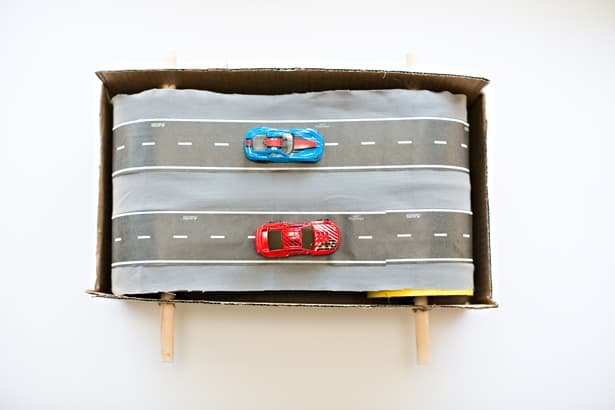 One last step is cutting down the cardboard a couple of inches off the top so the rollers stays above the box. Now you're ready to play!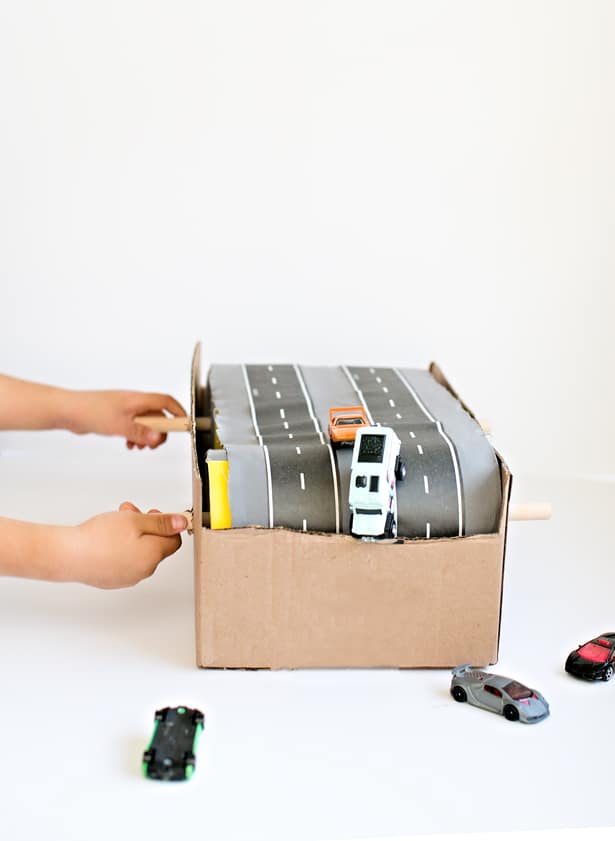 My son had fun piling on the cars and manually working the conveyor belt to watch them fall down, crashing all over the place. He also tried adding other small objects other than cars. It's a fun experiment to see what will move or stay put due to weight.
What are your favorite car activities for kids?
______________________________________________________________________________________________________

Disclosure: Some of the links in the post above are "affiliate links." This means if you click on the link and purchase the item, we will receive a small affiliate commission. Regardless, we give our promise that we only recommend products or services we would use personally and believe will add values to our readers.