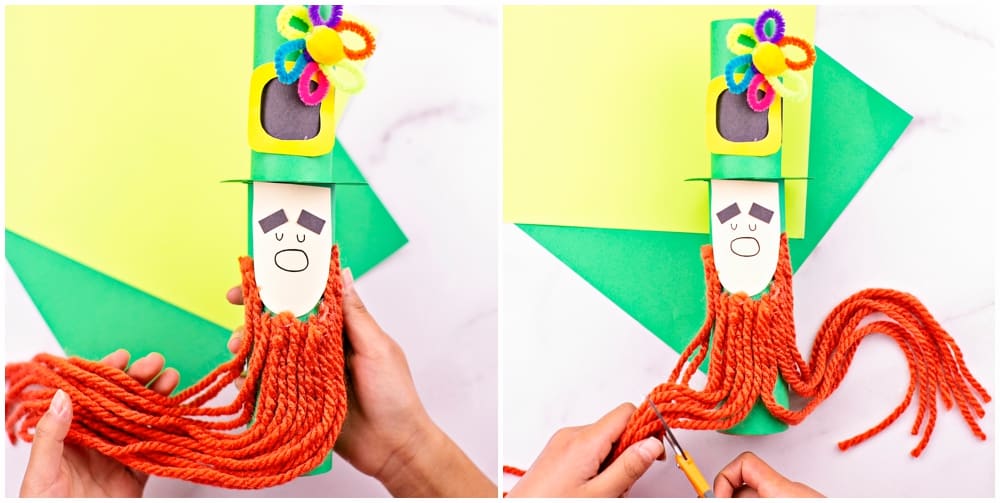 By using this site, you agree to our Terms of Use. This post may contain affiliate links. Read our disclosure policy.
Follow us on Instagram for more fun ideas for kids!
Scroll all the way down to watch the video below for the step-by-step video to create this cute Paper Tube Leprechaun Craft for Kids. Make sure to subscribe to our YouTube channel for more fun videos!
This paper tube Leprechaun craft for kids doubles as a fun scissor cutting activity on St. Patrick's Day. Kids will love trimming the leprechaun's beard!
If you're looking for a fun St. Patrick's Day craft for kids, look no further than this adorable toilet paper tube Leprechaun. All you need to dress him up is some green paper, a fancy leprechaun hat, and colorful pipe cleaner rainbow flower.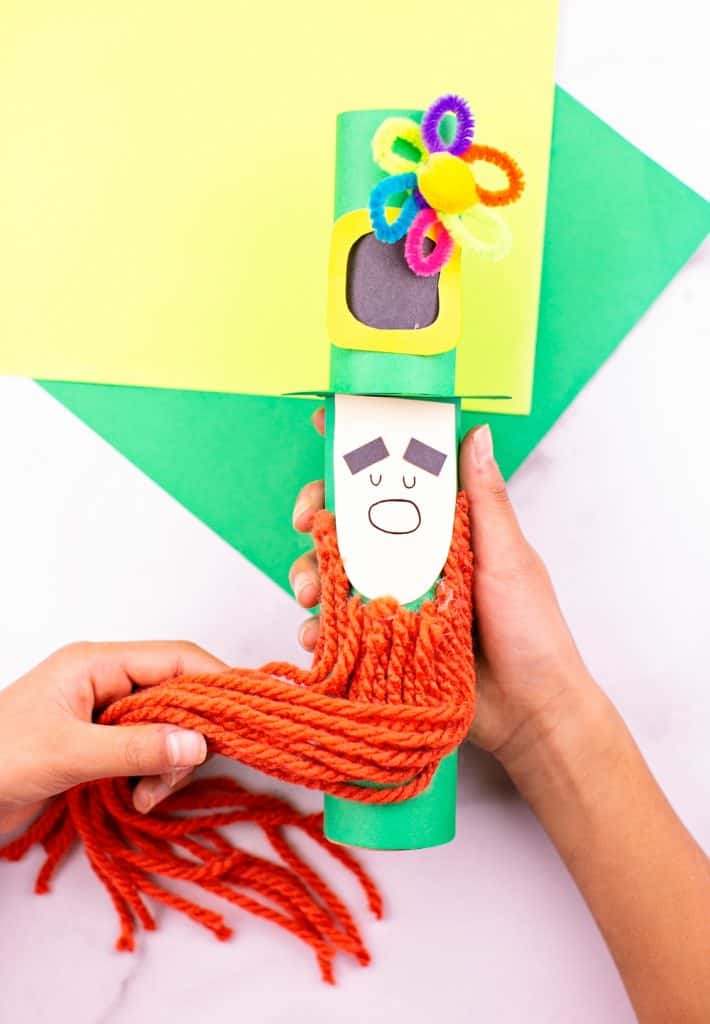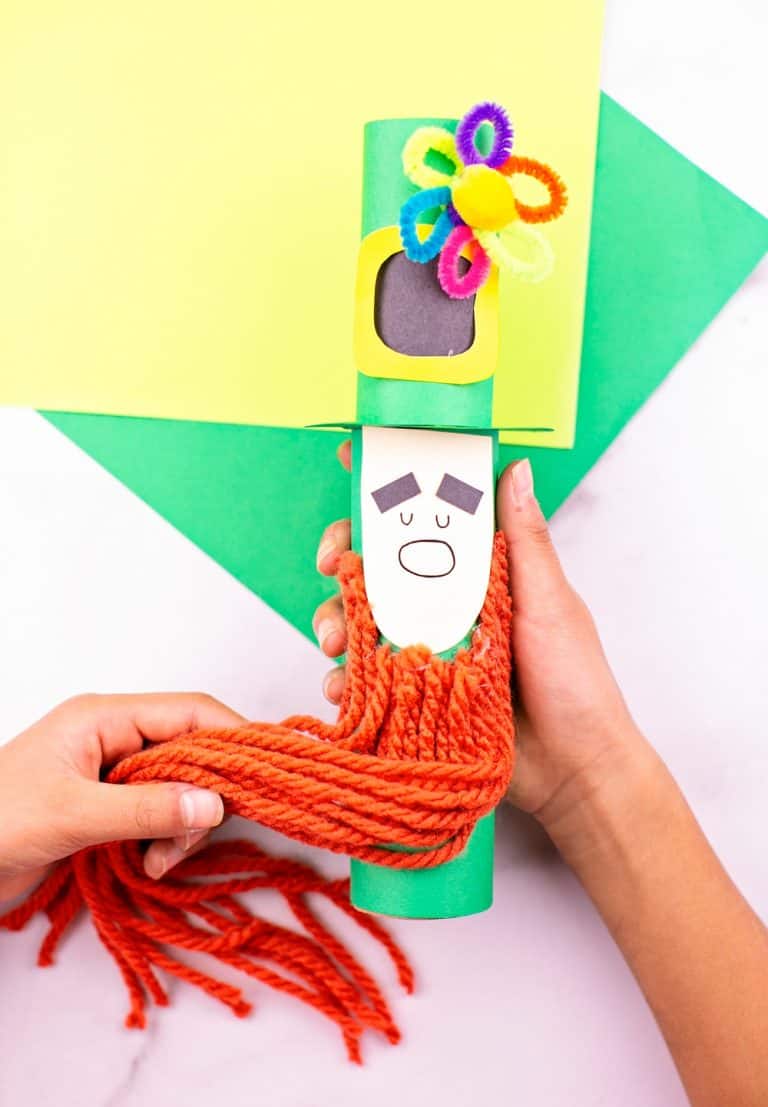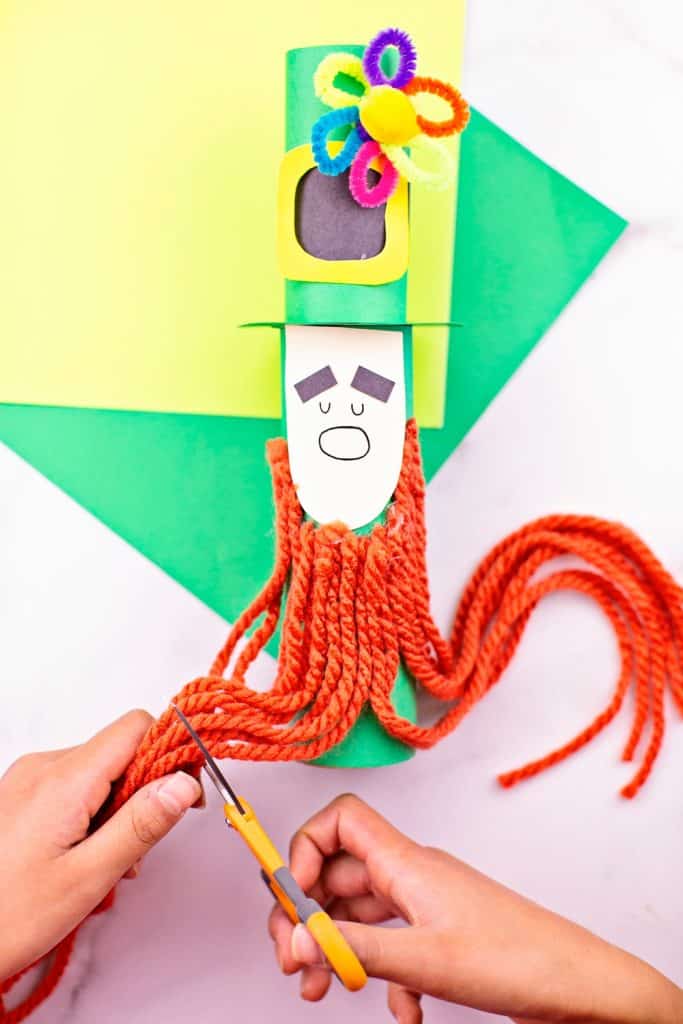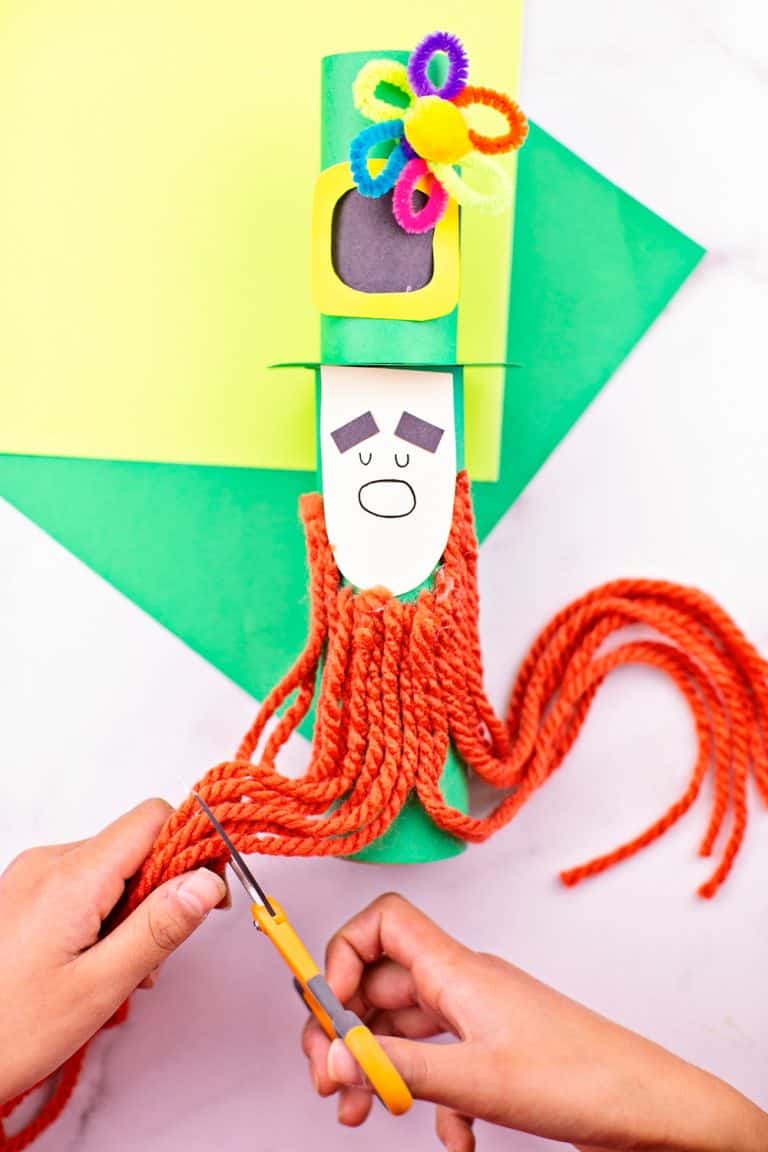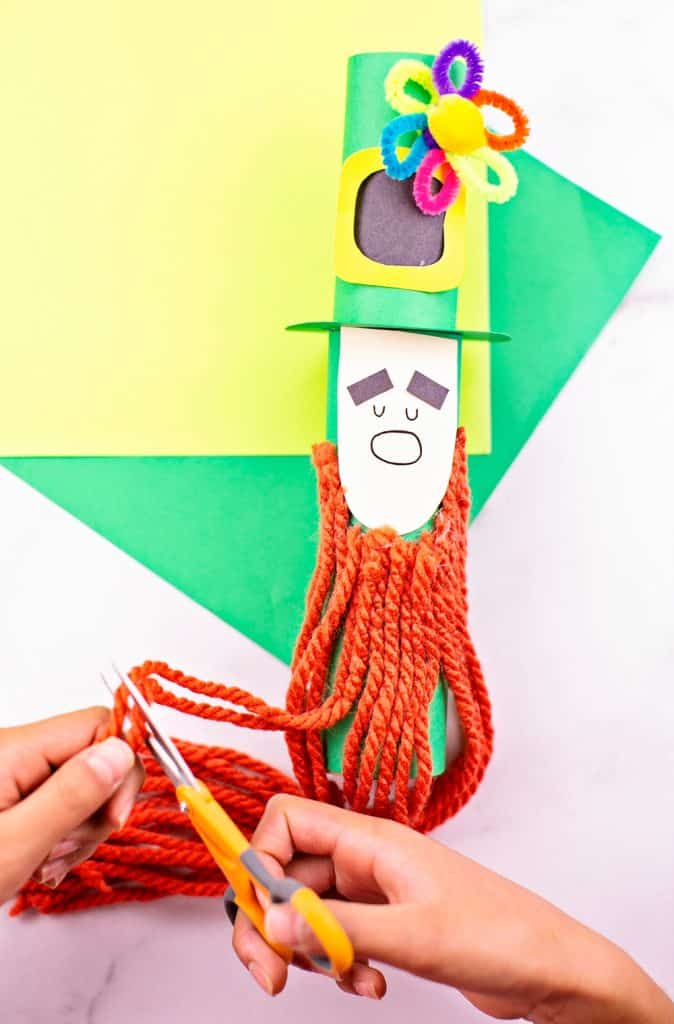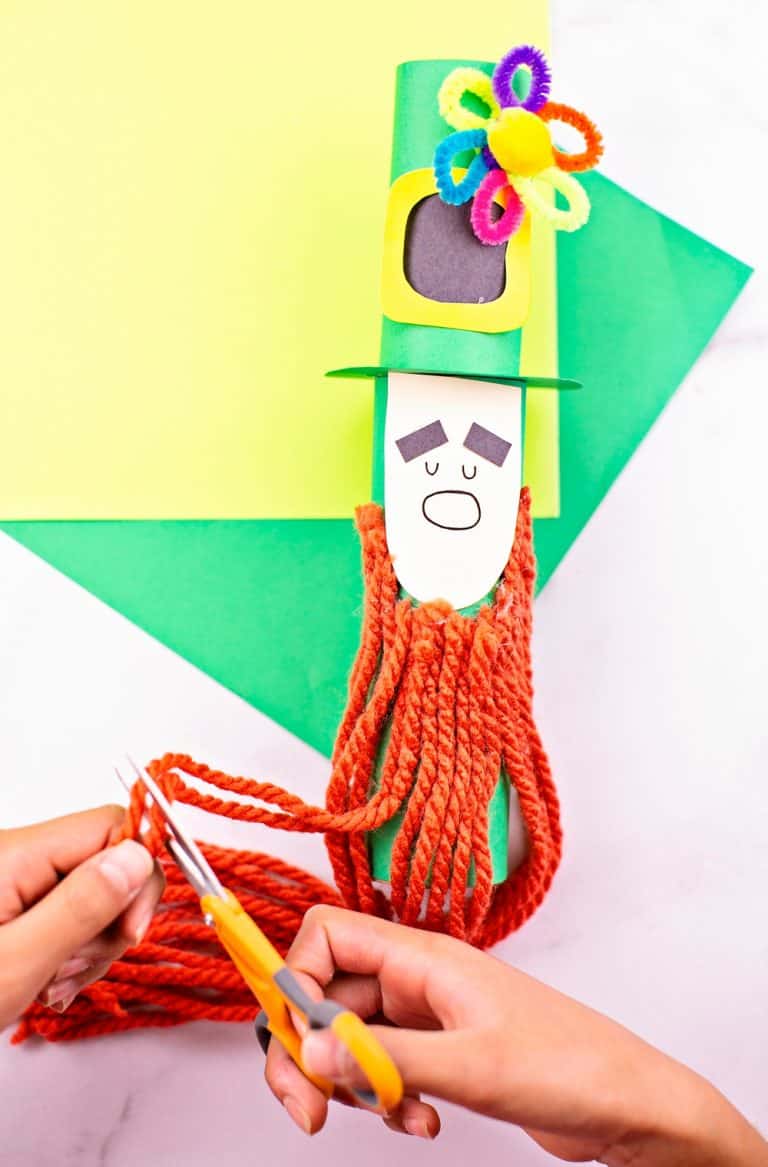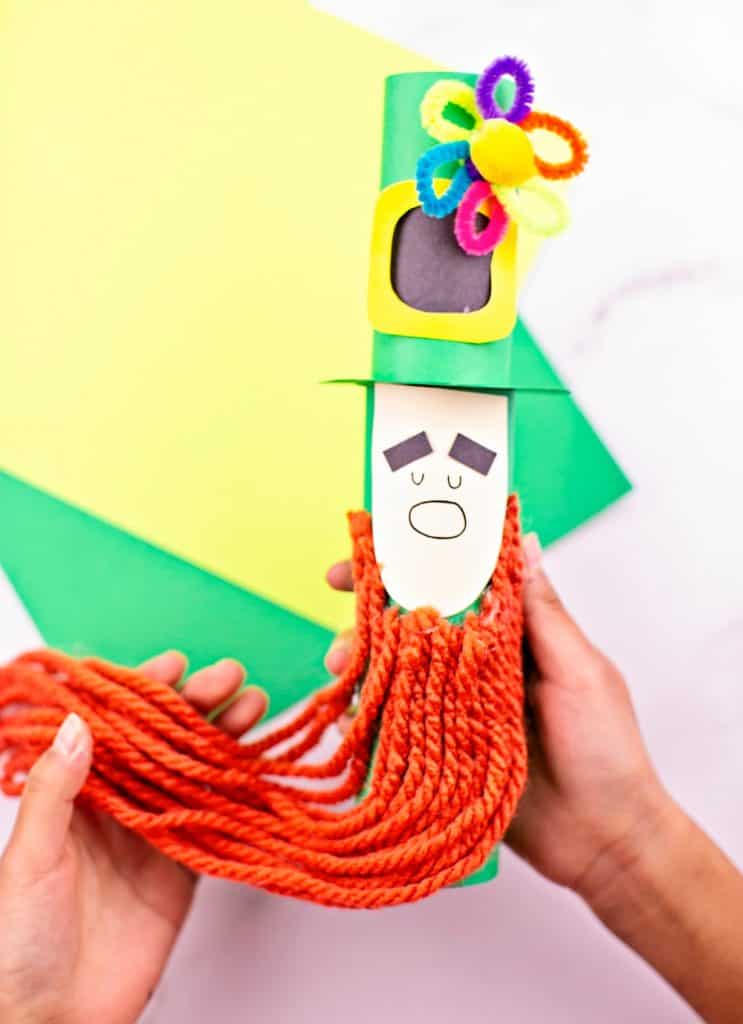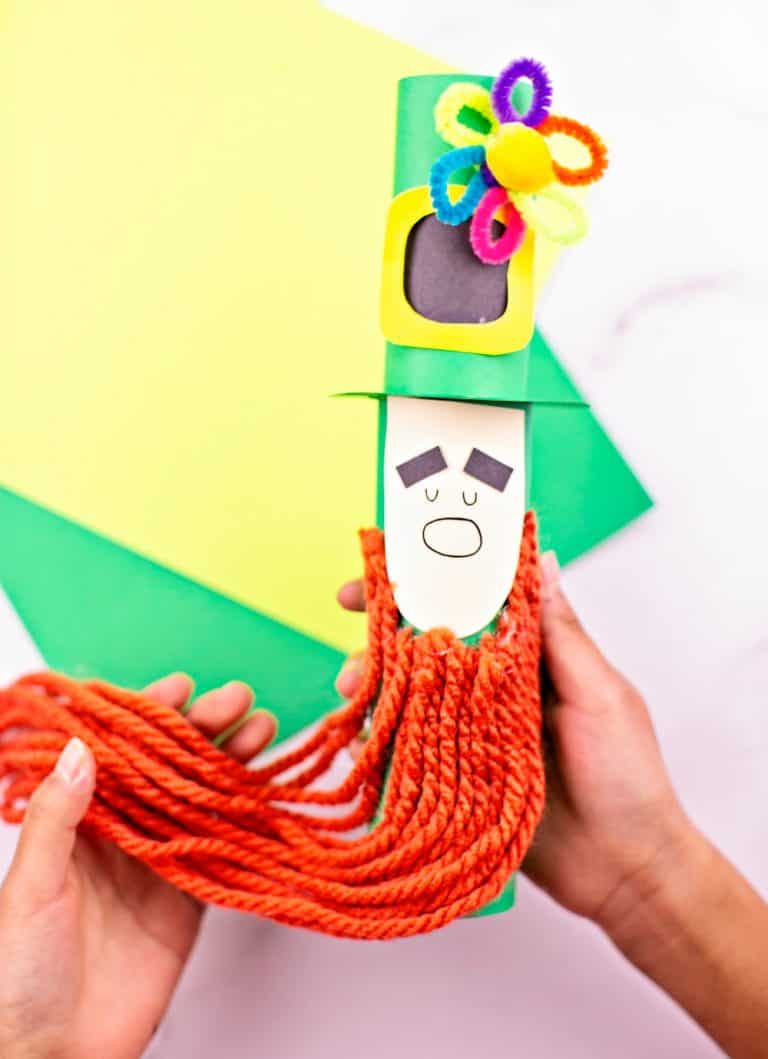 Practice fine motor skills with this leprechaun craft.
The best part about this stylish leprechaun is his soft, orange yarn beard. Start off by making it extra long so kids can practice trimming his beard and work on their scissor cutting skills!
This is great fine motor skills for kids!
Does this leprechaun look familiar? If so it's because we have an exact replica of him in coloring form! Get the coloring template to make this Trim the Leprechaun Beard Craft!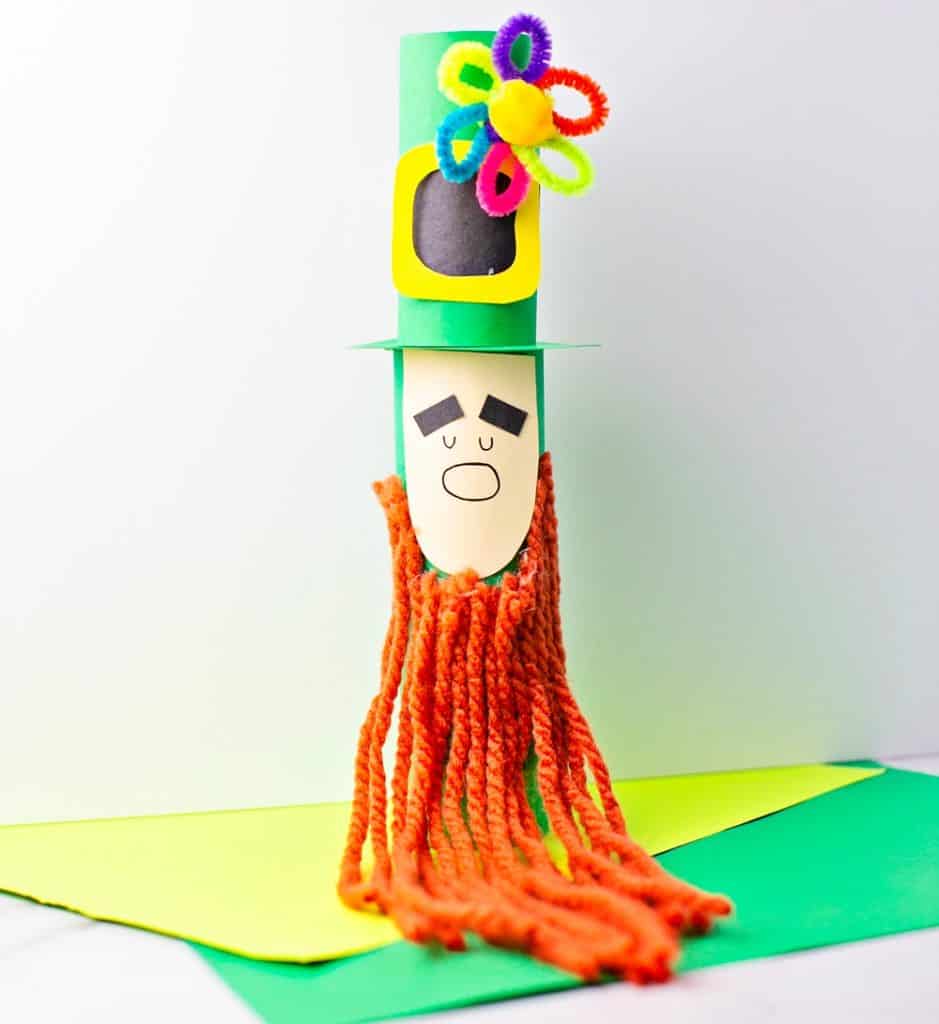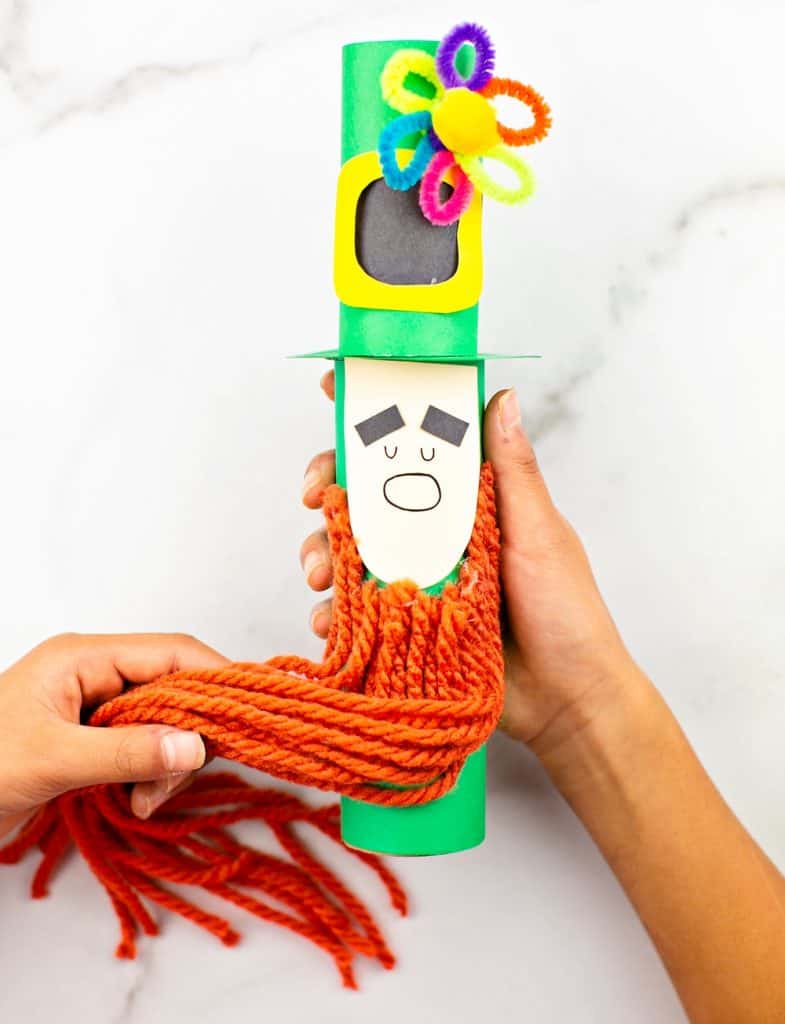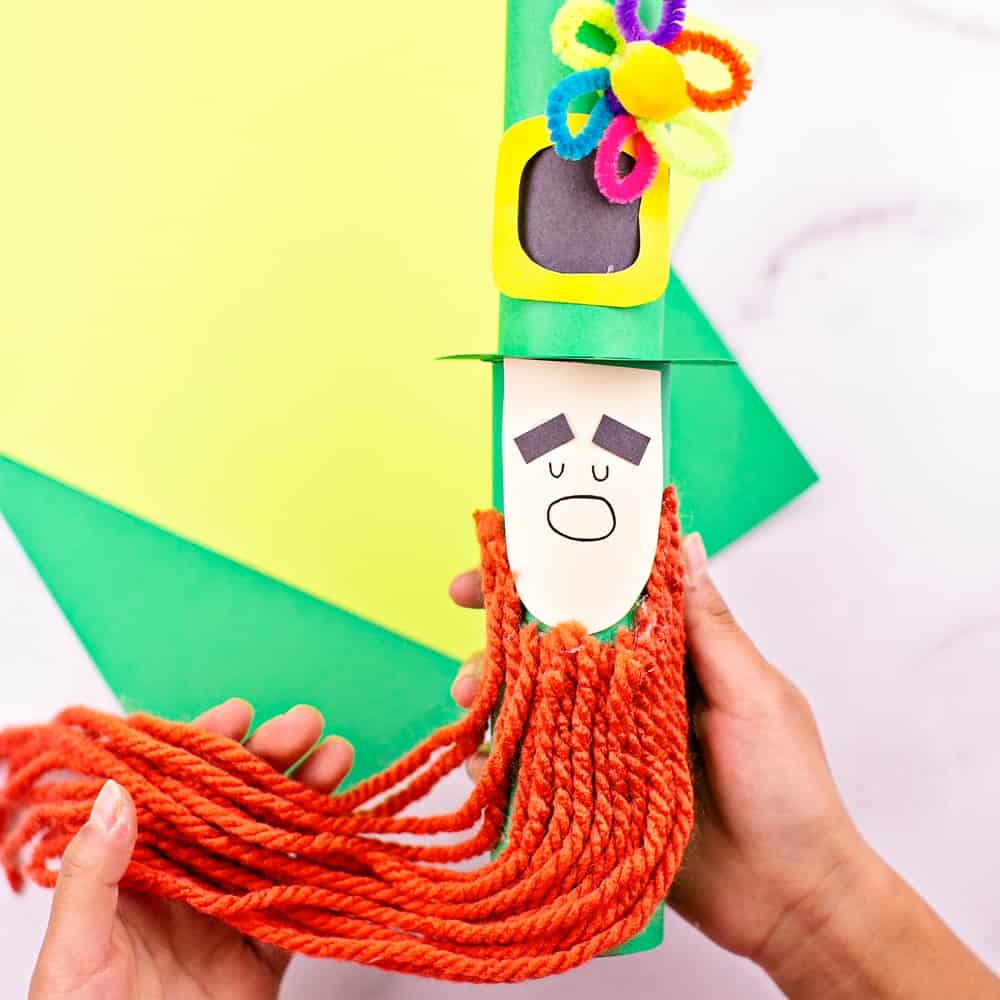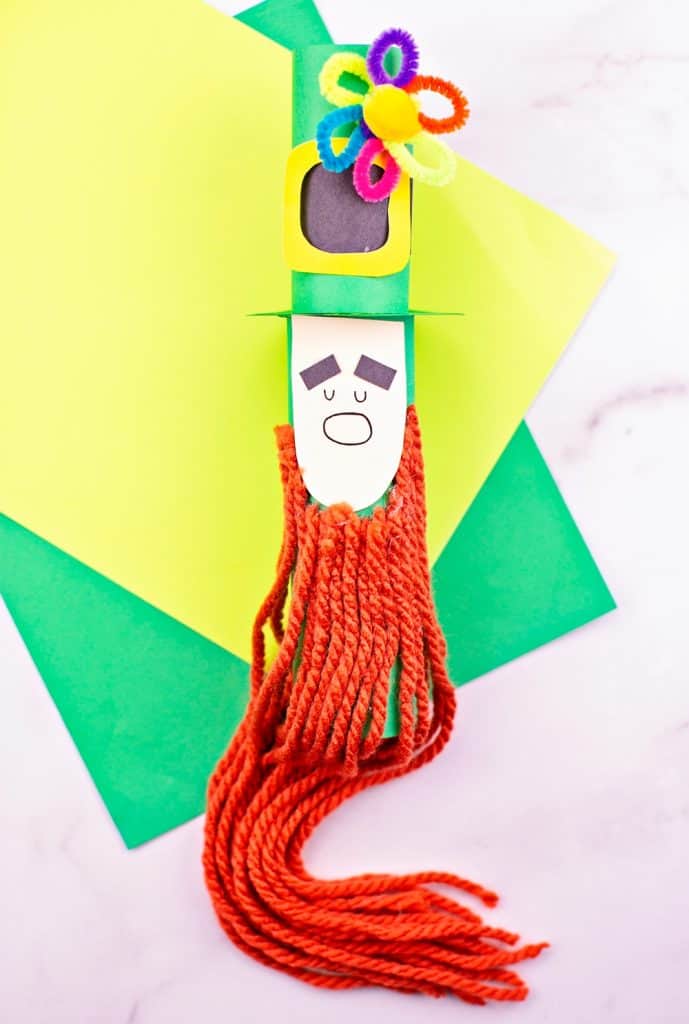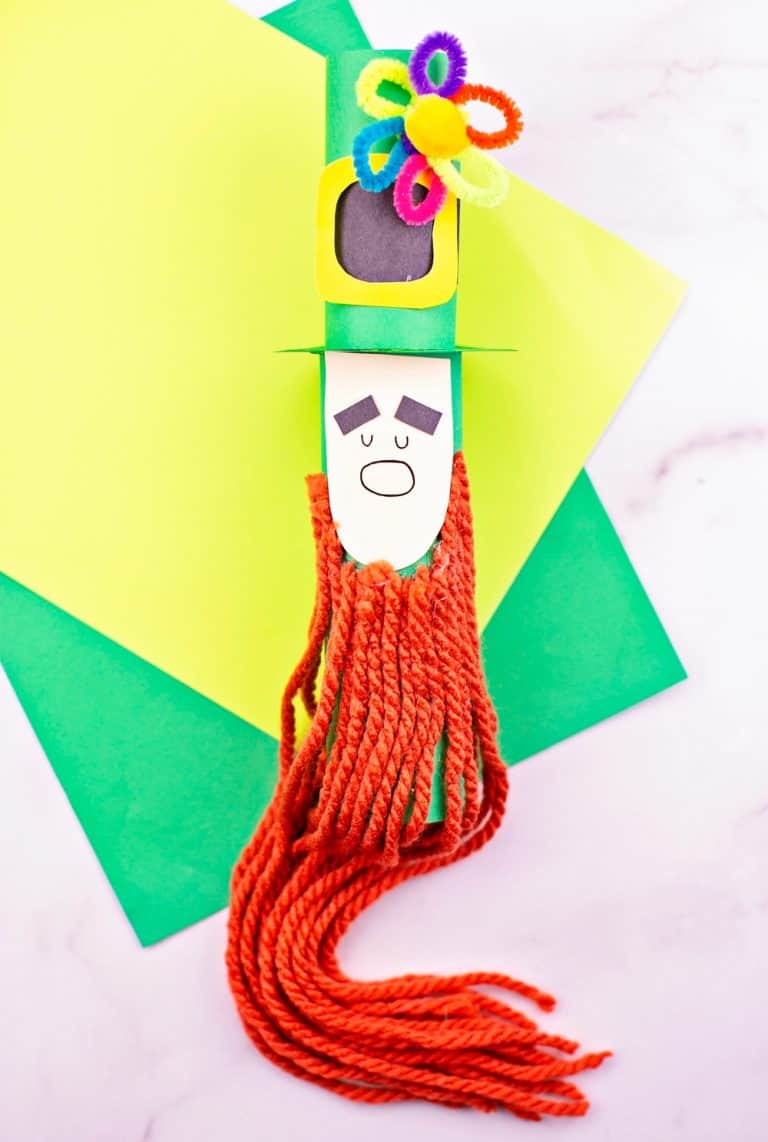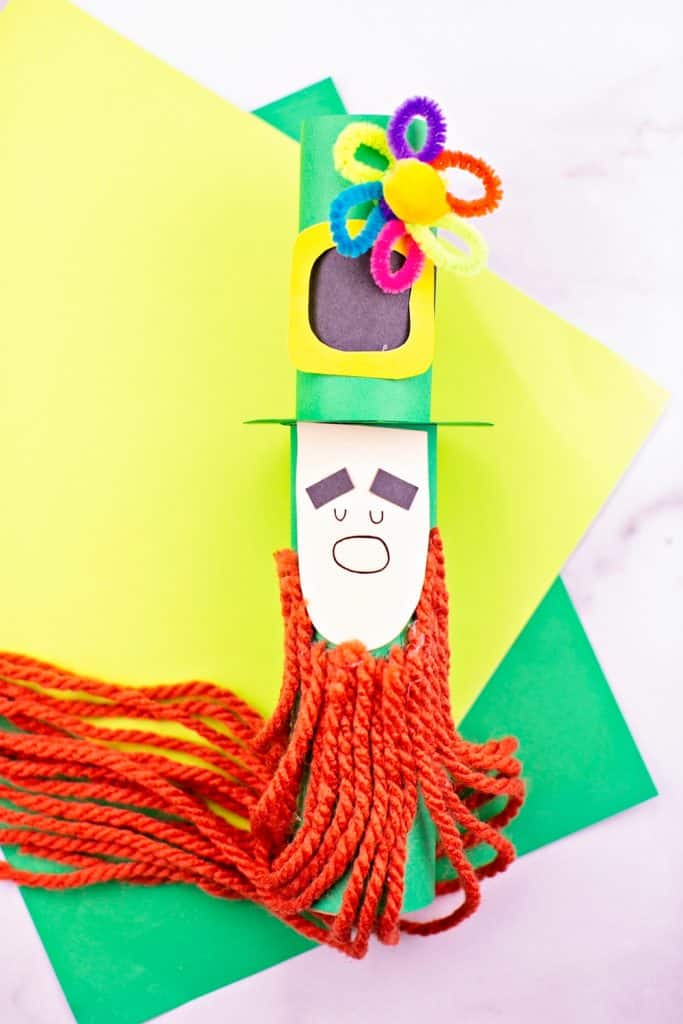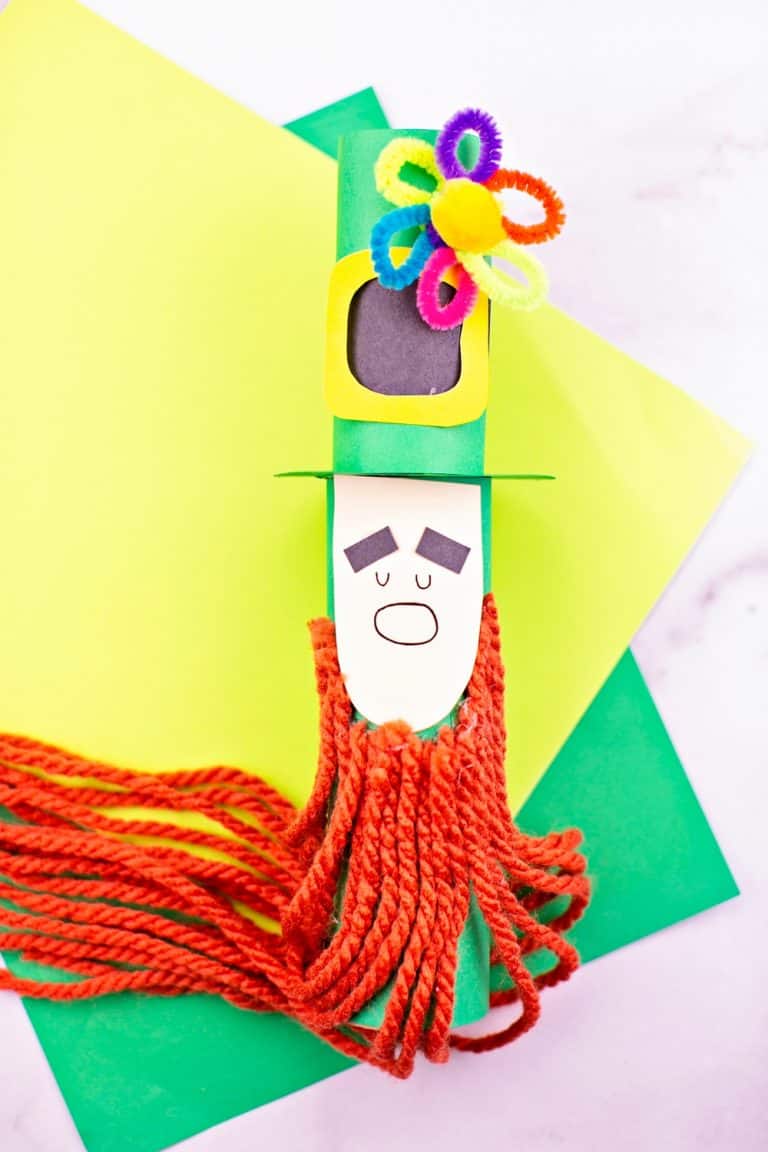 Paper Tube Leprechaun Craft – Materials:
Paper tube (we actually used a slightly longer one than a toilet paper tube you can get here) or you can cut down a paper towel roll in thirds. The longer the better for the beard.

Green, yellow, black and cream paper

Pipe cleaner in rainbow colors

Yellow small pom pom

Orange thick yarn

Black marker

Scissors

Hot glue gun

Staplers (optional)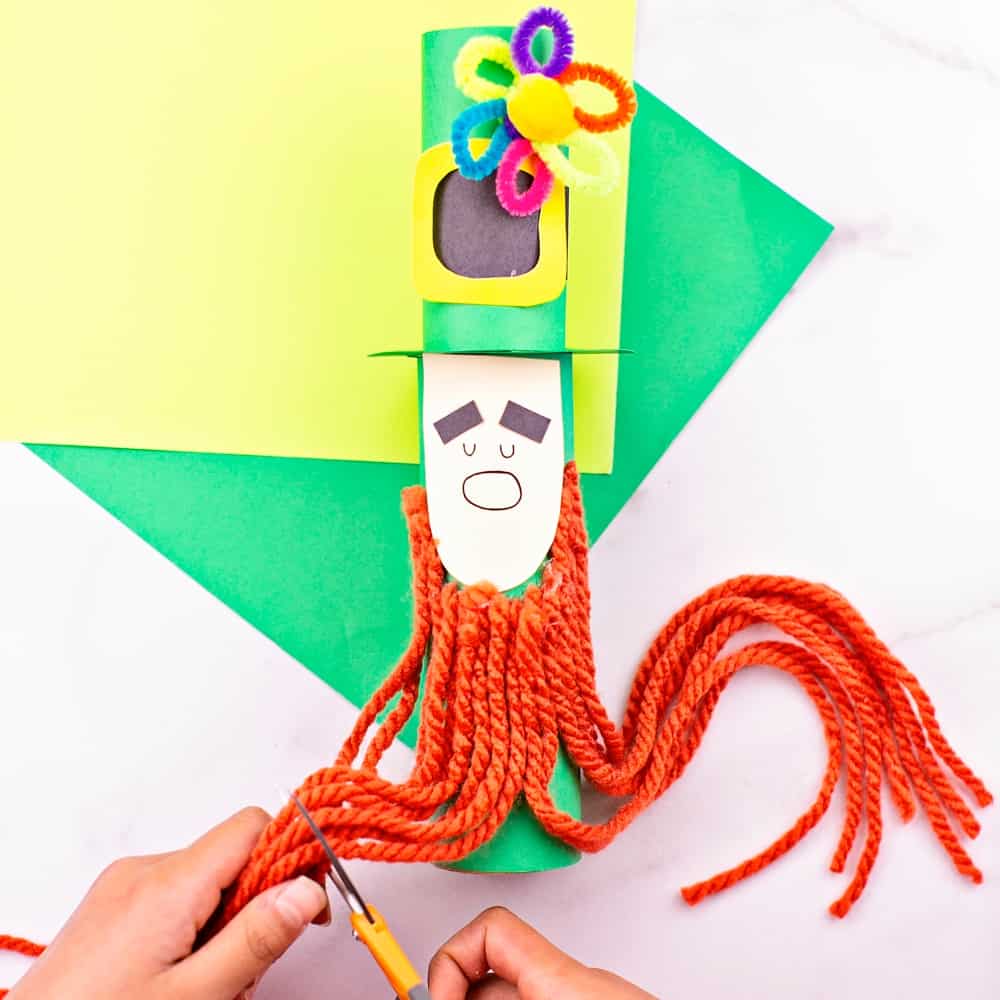 INSTRUCTIONS (MAKE SURE TO WATCH THE VIDEO IN THIS POST TO FOLLOW ALONG)
Step 1. Tape or glue green paper around your paper roll.
Step 2. Take a rectangle piece of green paper and roll it around to make a cylinder. Staple or glue. Wrap a piece of black rectangle along the bottom of your green tube.
Step 3. Cut a rounded square out of yellow paper and a hole to make a buckle. Glue to your hat cylinder.
Step 4. Cut a wide green circle and glue your hat cylinder on top to finish off the hat.
Step 5. Cut a piece of cream paper for the face, we made ours a bit long like an oval with a squared off top. Make your face any shape you want!
Step 6. Cut two small black rectangles for eyebrows, glue on face.
Step 7. Draw the eyes and nose using a black marker. Glue face to your paper tube.
Step 8. Glue the hat on top of the paper tube.
Step 9. Cut small strips of your rainbow pipe cleaners and curve and twist them to make a flower shape. Glue a yellow pom pom in the center. Glue the flower on the hat.
Step 10. Cut strips of yarn and glue on paper tube as the beard. Practice cutting the beard to practice your fine motor skills!