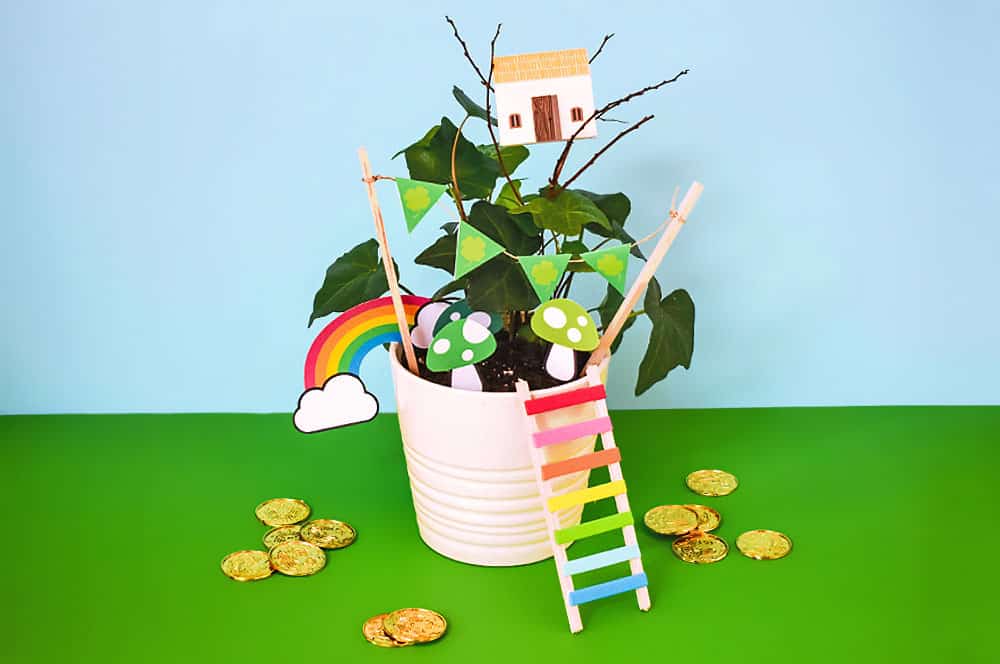 I have a special St. Patrick's day tradition at my house: plant a handful of lucky pennies and see what grows…you might end up sprouting a Leprechaun garden!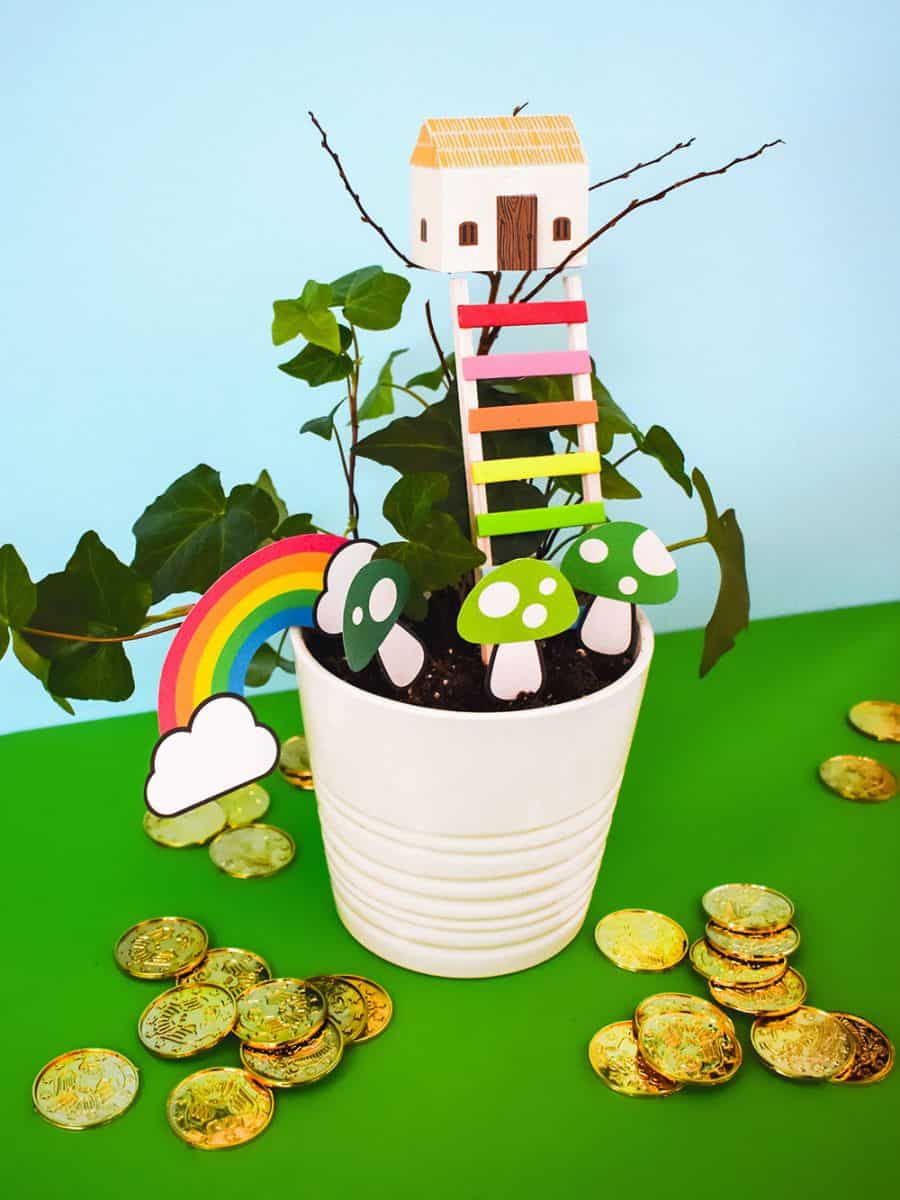 This festive little garden is brimming over with colorful whimsy and bright spring cheer. Your kids will have a blast discovering their surprise gardens, planting and creating their own arrangements, or maybe even checking for surprise notes or tiny gifts from their own Leprechauns. They also make a wonderful gift for a friend, teacher, or classroom! Love these lucky little gardens? You can create a whole village – or add a unicorn garden for extra magic! And while you're planting your gardens, celebrate the day with a yummy (and healthy!) St. Patrick's Day smoothie.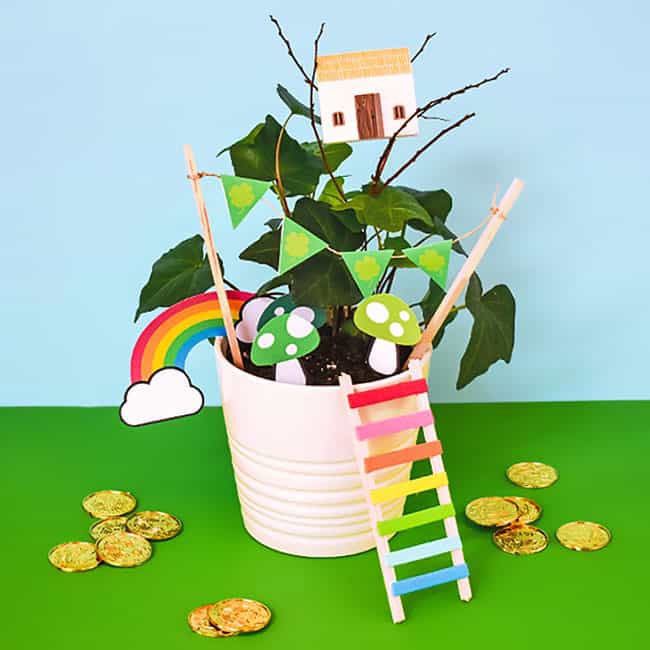 Leprechaun Garden – Materials:
– 1-2 Sheets of 8.5 x 11 Cardstock
– Scissors
– Tape
– Toothpicks
– Our Leprechaun Garden Printable (download right below)
Click Here to Get Your Free Printable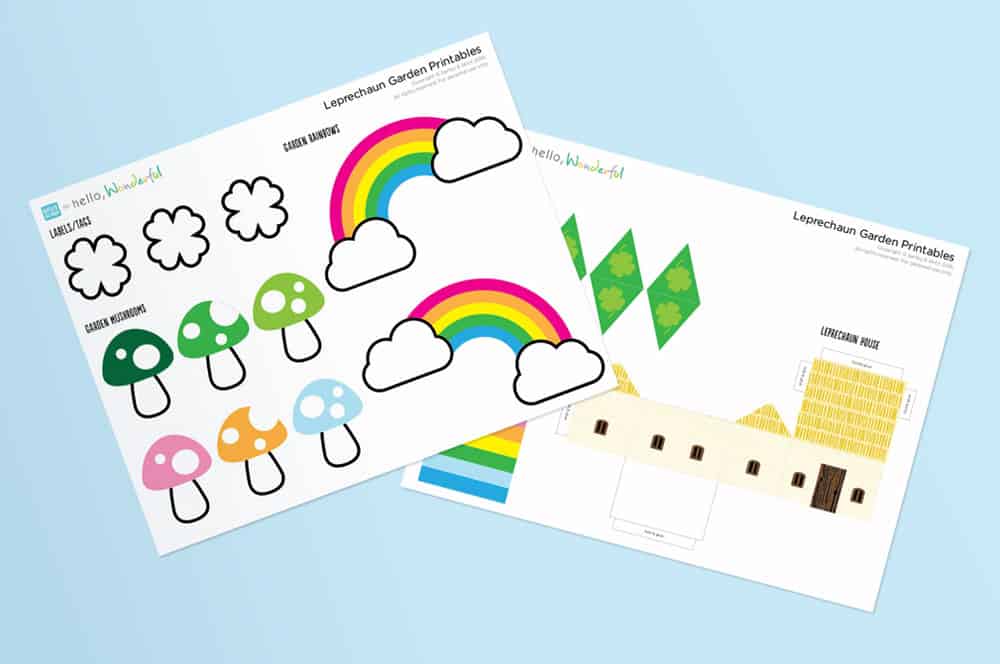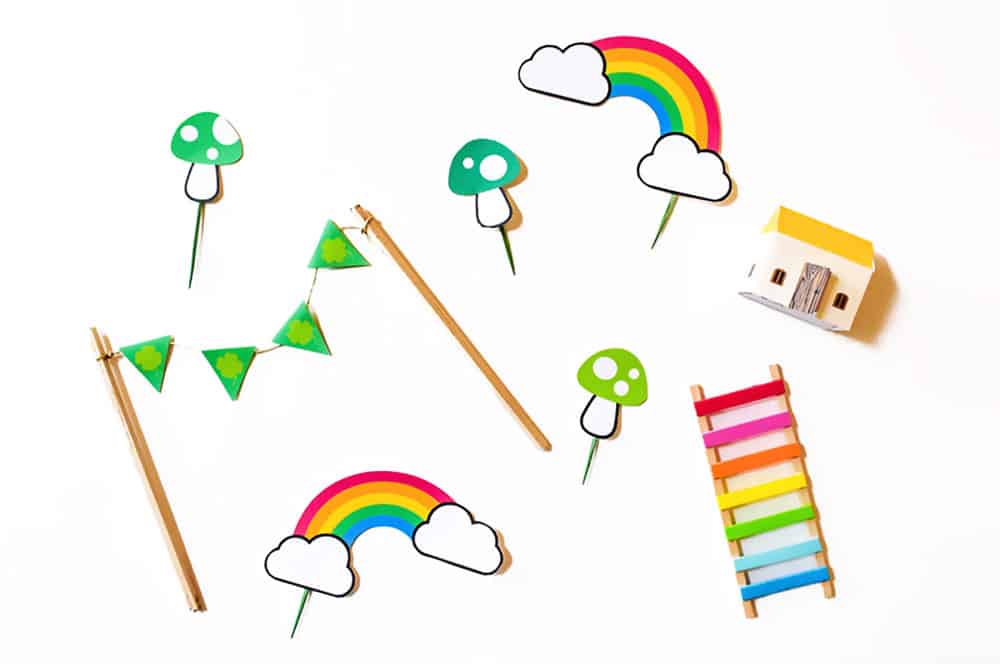 To make the garland and/or ladder:
– Twine (to make the garland)
– Sticks, Straws, or Popsicle Sticks (to make the ladder
– Craft Glue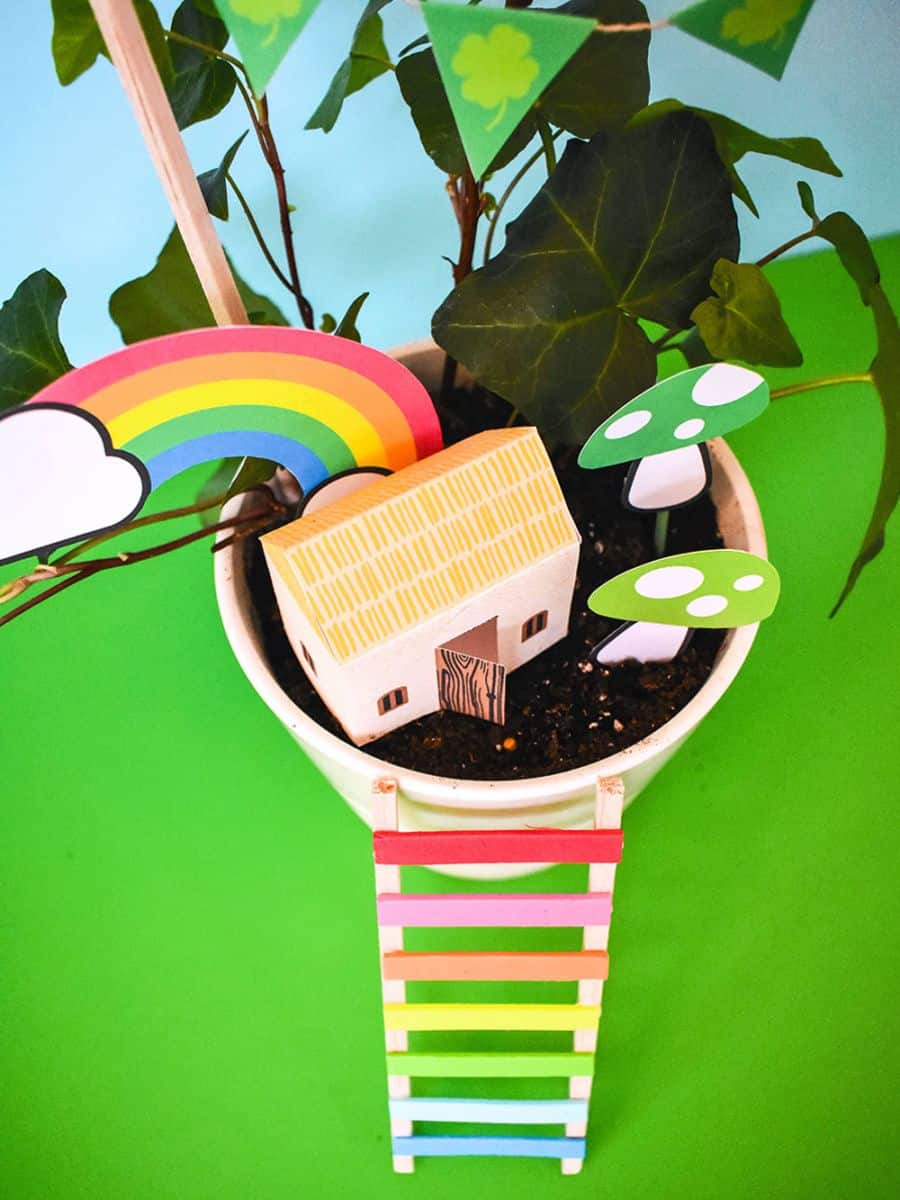 Instructions:
Step 1: Print out the desired pages of our Leprechaun Garden PDF onto a heavy cardstock and cut out the pieces you'd like to use in your garden.
Step 2: We taped toothpicks to the back of our garden accessories to keep them in place in the dirt. For the little Leprechaun house, fold along all dotted lines, glue on the tabs where indicated, and paste together! If you'd like to make a rainbow ladder, you can cut out the rainbow-colored rungs and glue to sticks, straws or popsicle sticks. To create a garland, cut the garland pieces from the template, fold over a piece of twine, then tie both ends around sticks or straws.
Step 3: You can build your garden anywhere you'd like, but we chose to pot a small green plant. You can add as few or as many pieces to your garden as you'd like! Branches, pebbles, shells and other natural materials also make great garden decor!
If you're going to use these over and over, you can even laminate your garden accessories for protection from watering and dirt.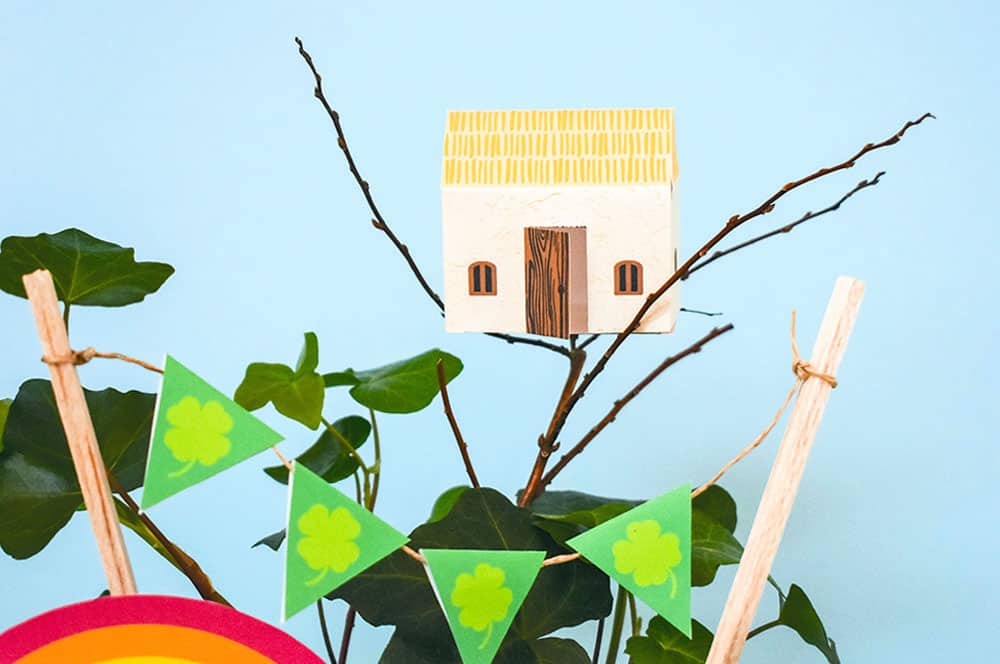 Other Ideas for Use:
These little garden decorations are wonderful for small world play. Not into gardening? You can use the mushroom and rainbow shapes as templates to cut your own felt shapes for a bright, spring felt board or to make sweet lucky softies! You can also use the template pieces to make a fun, collaged St. Patrick's Day greeting card.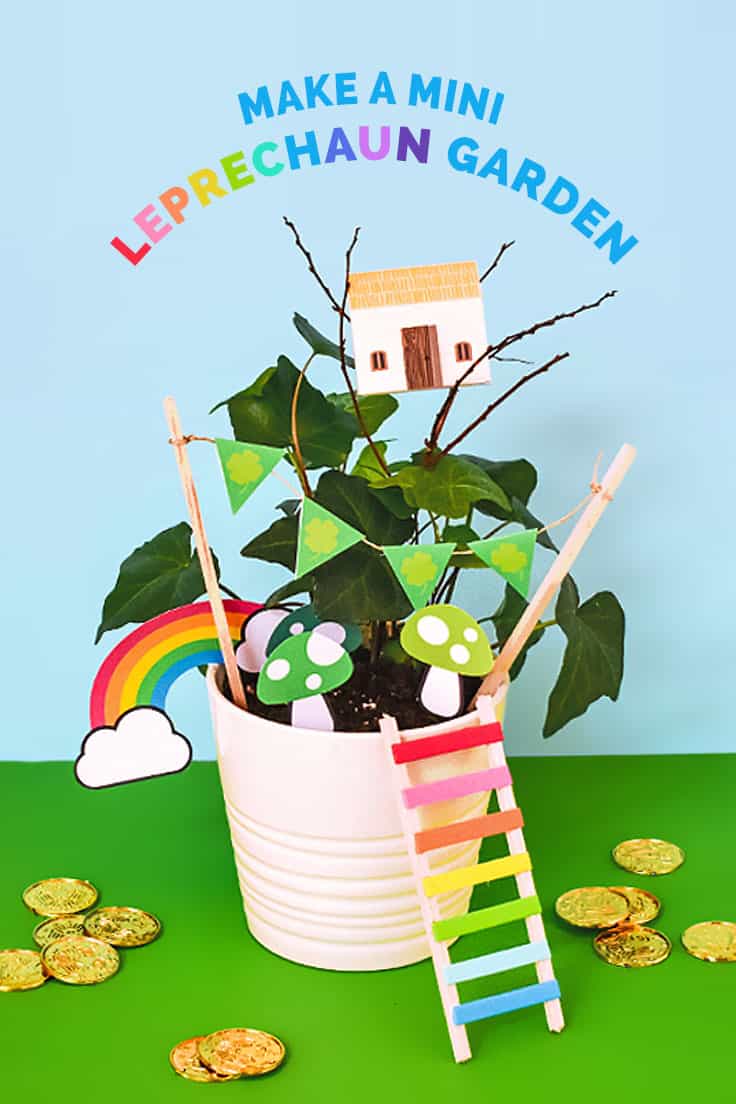 How are you celebrating St. Patrick's day with the kids?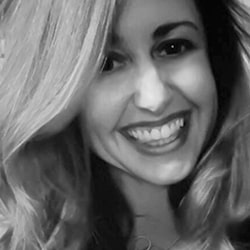 Amanda Eldridge is the Managing Director and Lead Designer at barley & birch. Driven by carbs, coffee and a passion for cultivating imagination, she aims to help families discover their creative potential and be inspired to generally make the world a better place through art, play, adventure, activism, conservancy and community. When not tinkering with ideas, designs and projects for barley & birch, Amanda enjoys working as a modern art curator and managing her own small design business. Beyond work, you'll likely find her playing mom to Thor – her ginormous Golden Retriever, reading a new book, or traveling anywhere she can. For more fun projects and printables, you can explore the barley & birch blog or follow b&b on Instagram, Facebook and Pinterest.

______________________________________________________________________________________________________
Disclosure: Some of the links in the post above are "affiliate links." This means if you click on the link and purchase the item, we will receive a small affiliate commission. Regardless, we give our promise that we only recommend products or services we would use personally and believe will add values to our readers.