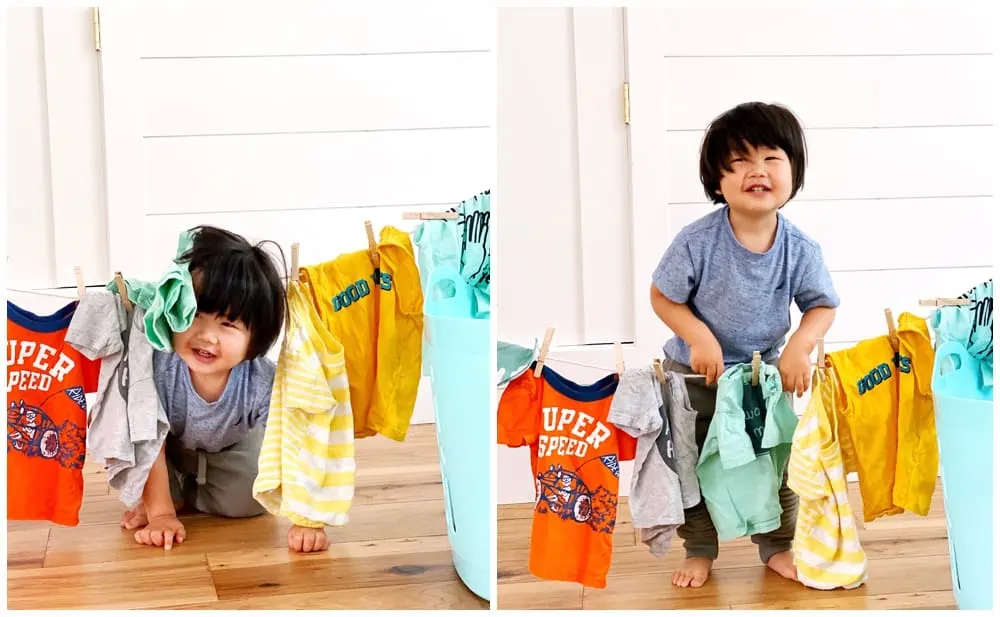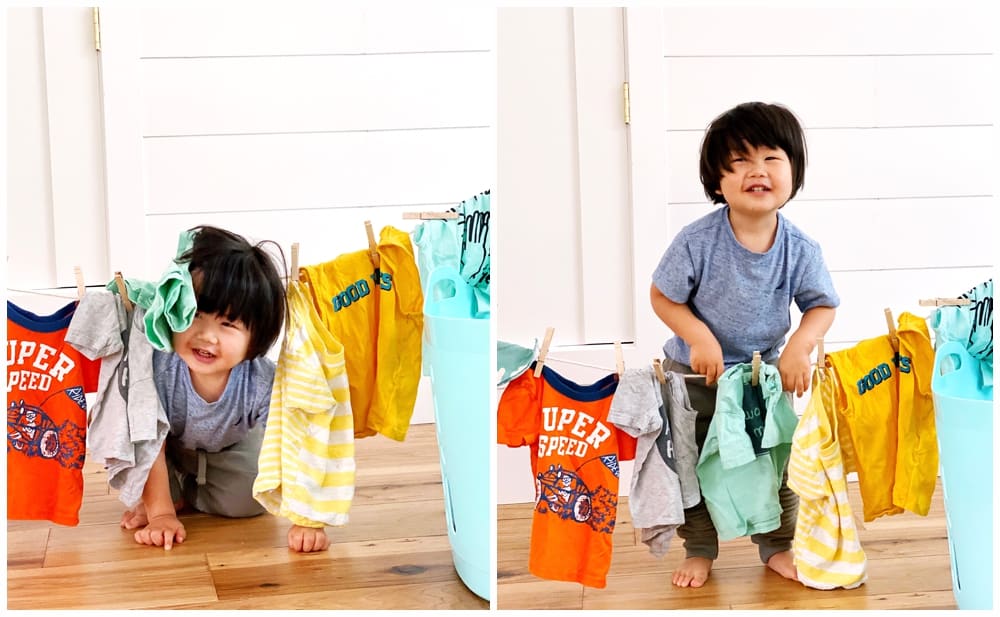 By using this site, you agree to our Terms of Use. This post may contain affiliate links. Read our disclosure policy.
Follow us on Instagram for more fun ideas for kids!
Watch the video below to see this fun Laundry Preschool Activity in action. Make sure to subscribe to our YouTube channel for more fun videos!
This fun Laundry Preschool Activity is a great practical life skills job your preschooler can do while practicing fine motor skills.
We're always looking for fun and simple fine motor skills activities for our youngest. When he likes to be busy and active, why not find ways to help him work on his coordination and hand-eye skills, too?
While most situations in our house tend to be about learning and creativity, this is one simple activity that he actually had fun with as well. (and who knows…maybe when he gets older he'll still want to hang the laundry out on the line!)
The best part about this simple preschool chores activity is that it takes minimal effort on your part to get set up. Your child will love the fact that it's eye-level for them and easy to play with and you might even find that they're using their imagination with it too.
Use this fun idea to work on their fine motor skills and coordination at the same time. They'll be so intrigued by the clothespins!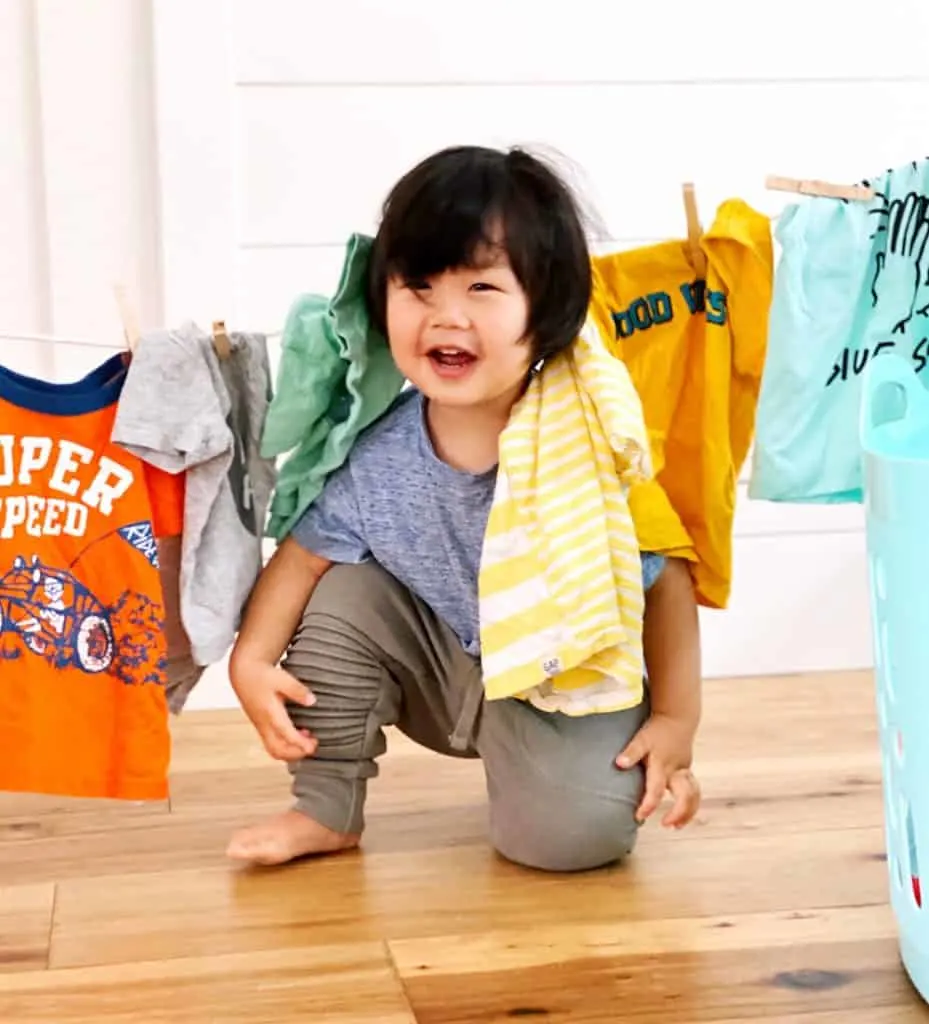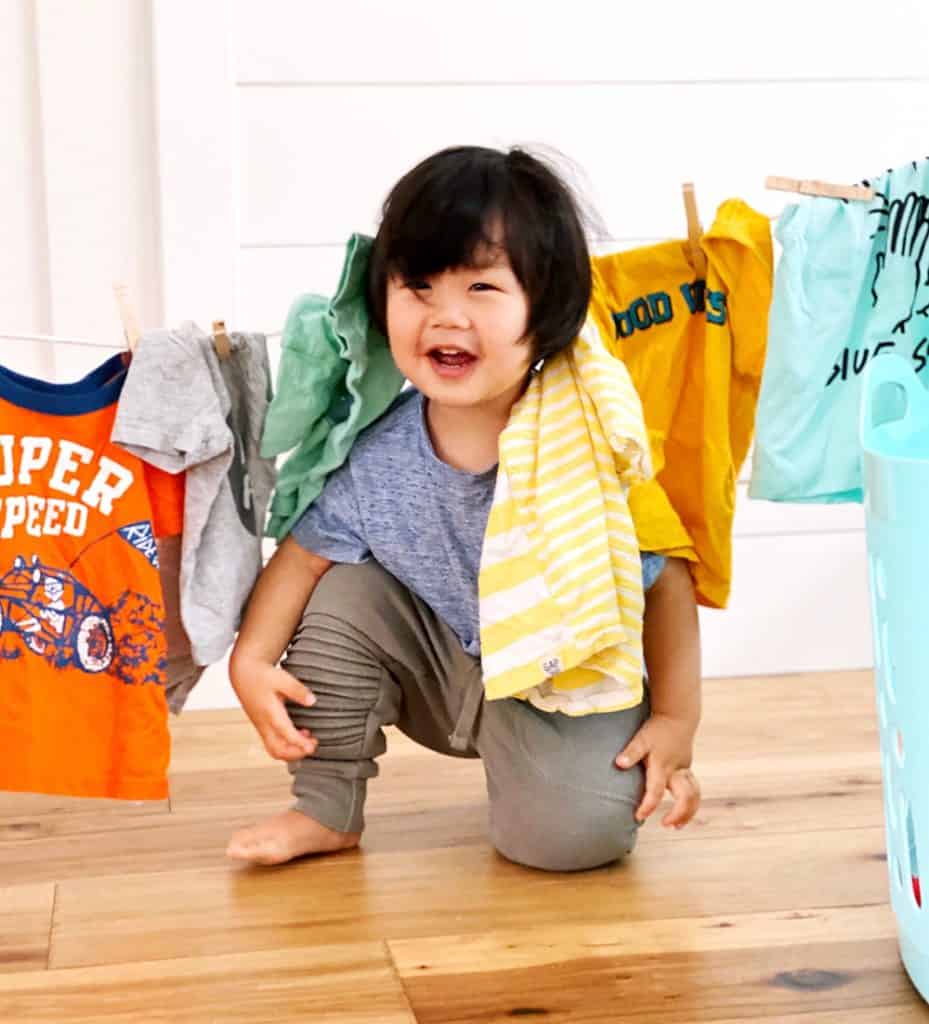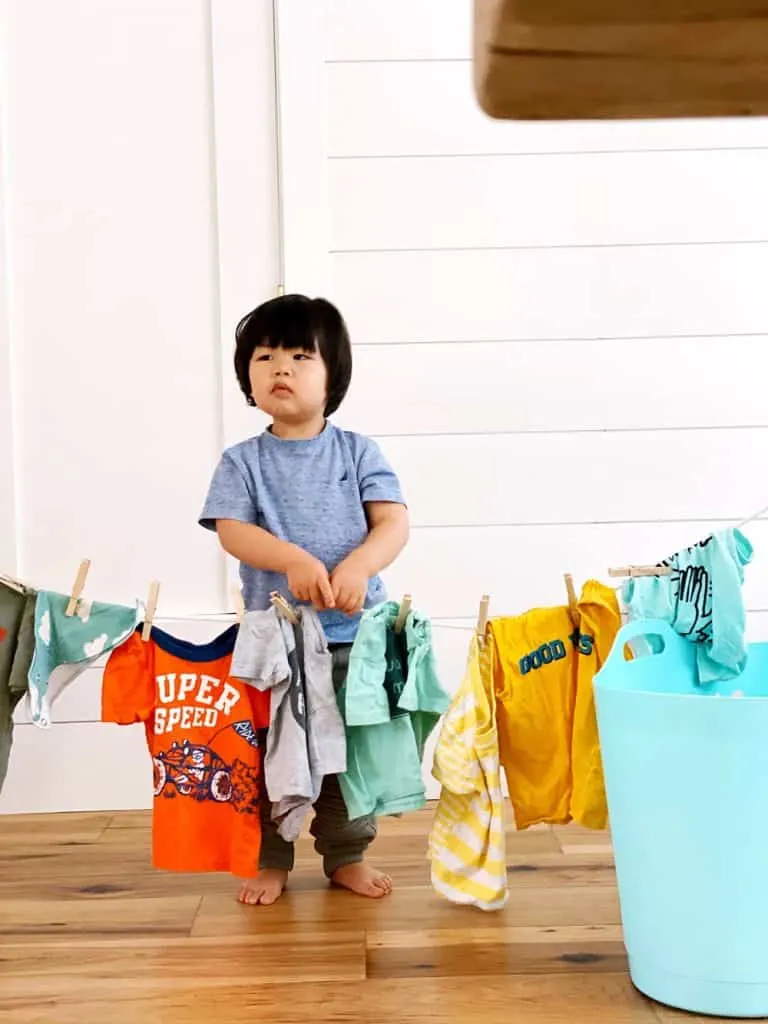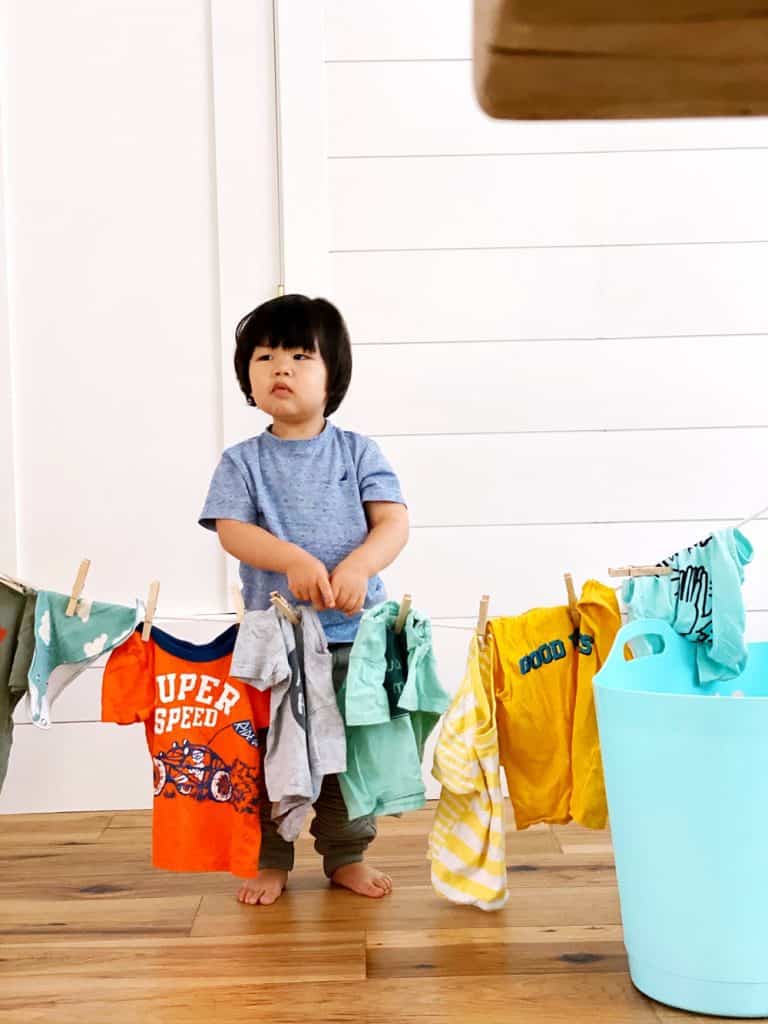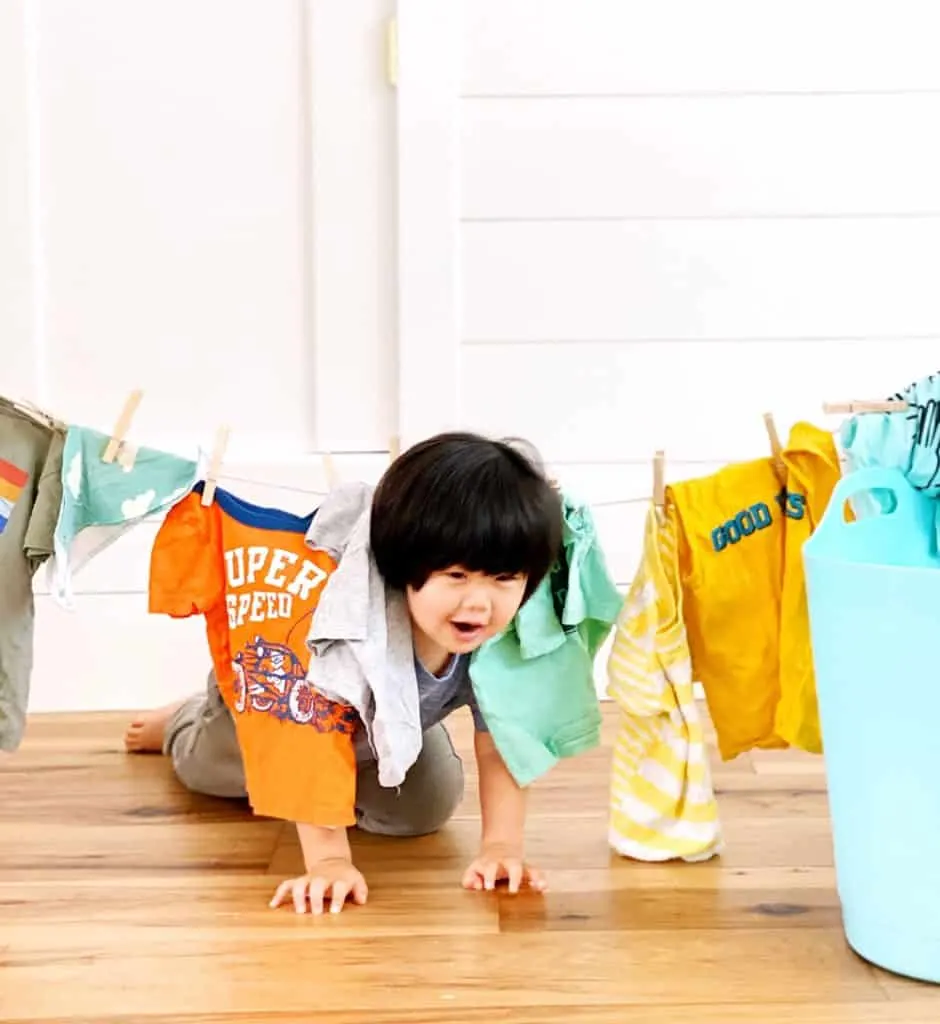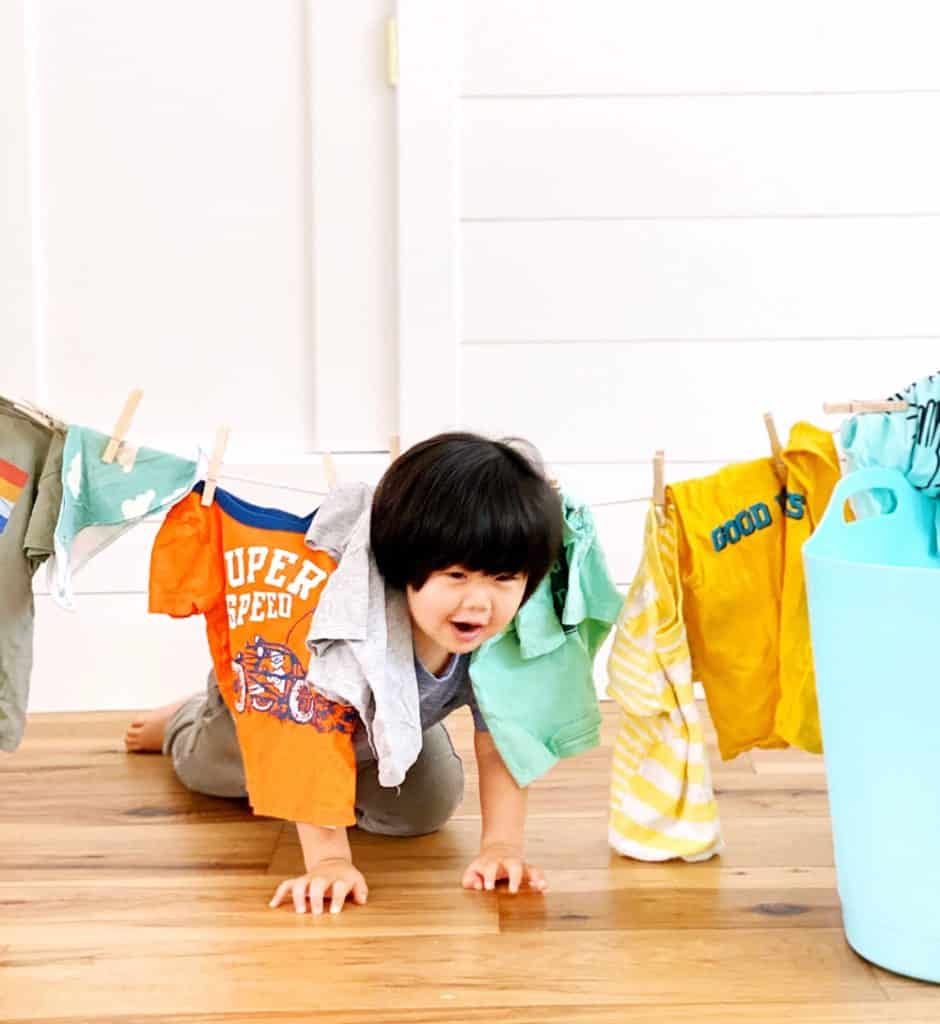 What are other fun ways to use this laundry preschool activity?
While the main idea is to work on motor skills, don't stop there. When it comes to being creative, let your child take the reigns and have their own fun.
You can easily use this set up for a fun dramatic play center where they pretend to wash and hang up clothes. Or have them set up their own laundry store and act as a customer for them to interact with.
Keep in mind that the point of these activities is to get them to be active with their mind and bodies. If you keep coming up with fun ideas and activities to prolong it, that's totally great!
Thinking outside the box is always encouraged and is a great example for your child to see in action, too.
Is this laundry basket activity for younger children only?
Mainly, yes. But that doesn't mean that the older kids won't get curious and want to join in on the fun. If that happens, let them. They'll be able to interact and play together and your house will be brimming with imagination and creativity.
Wouldn't that be one of the greatest things, ever?!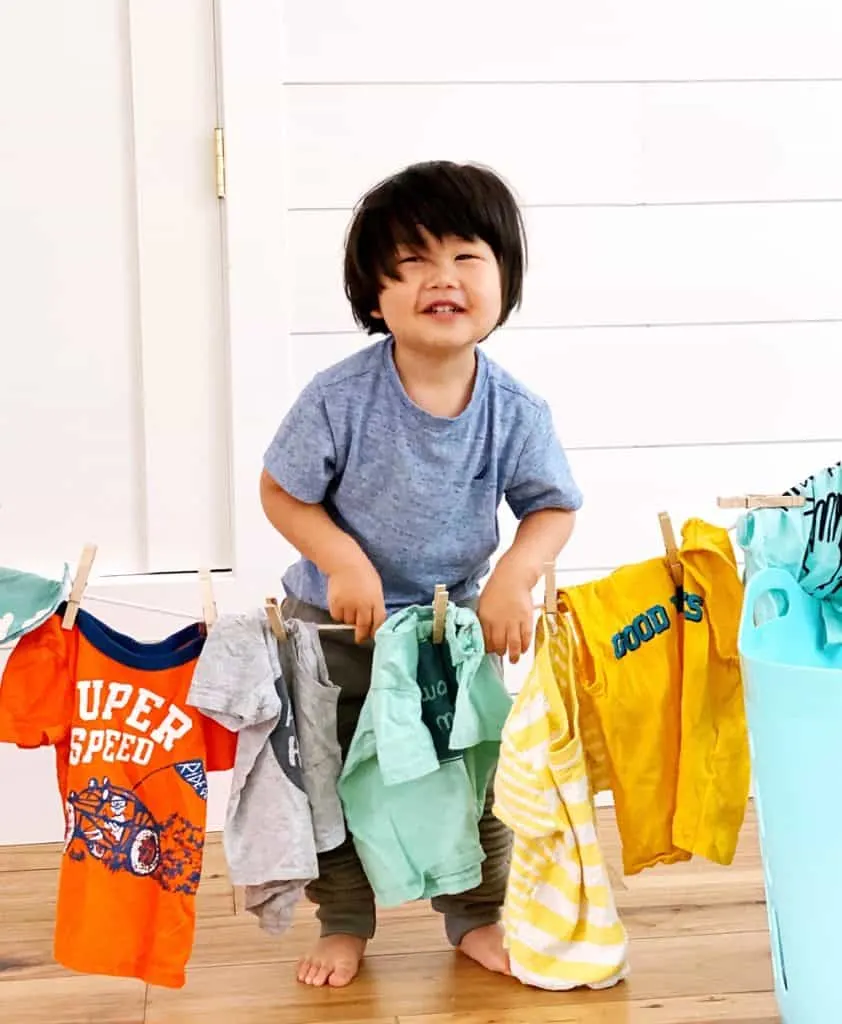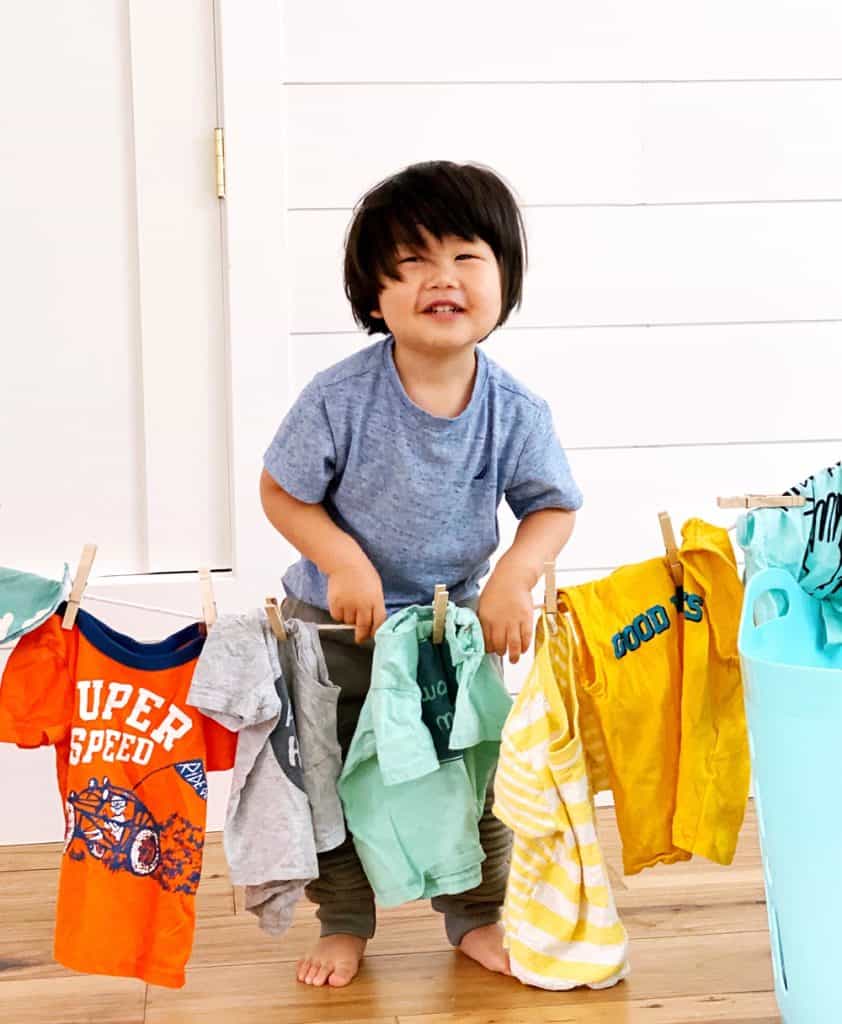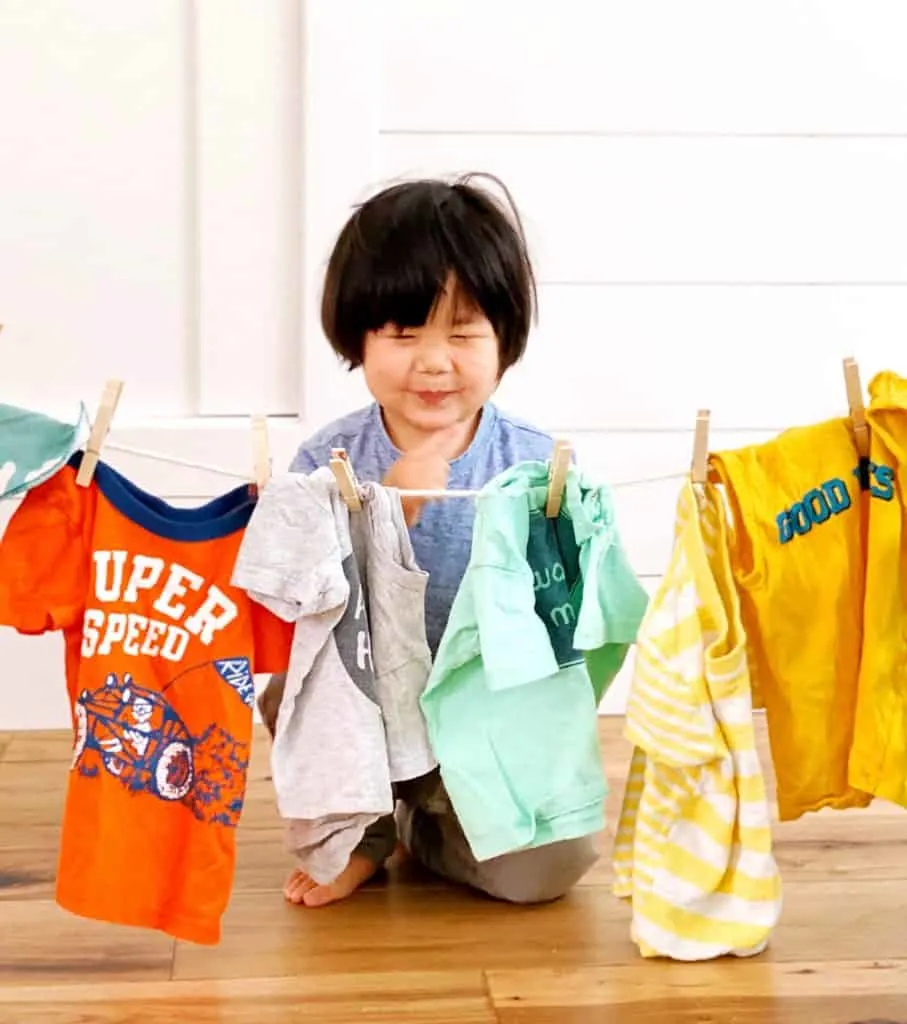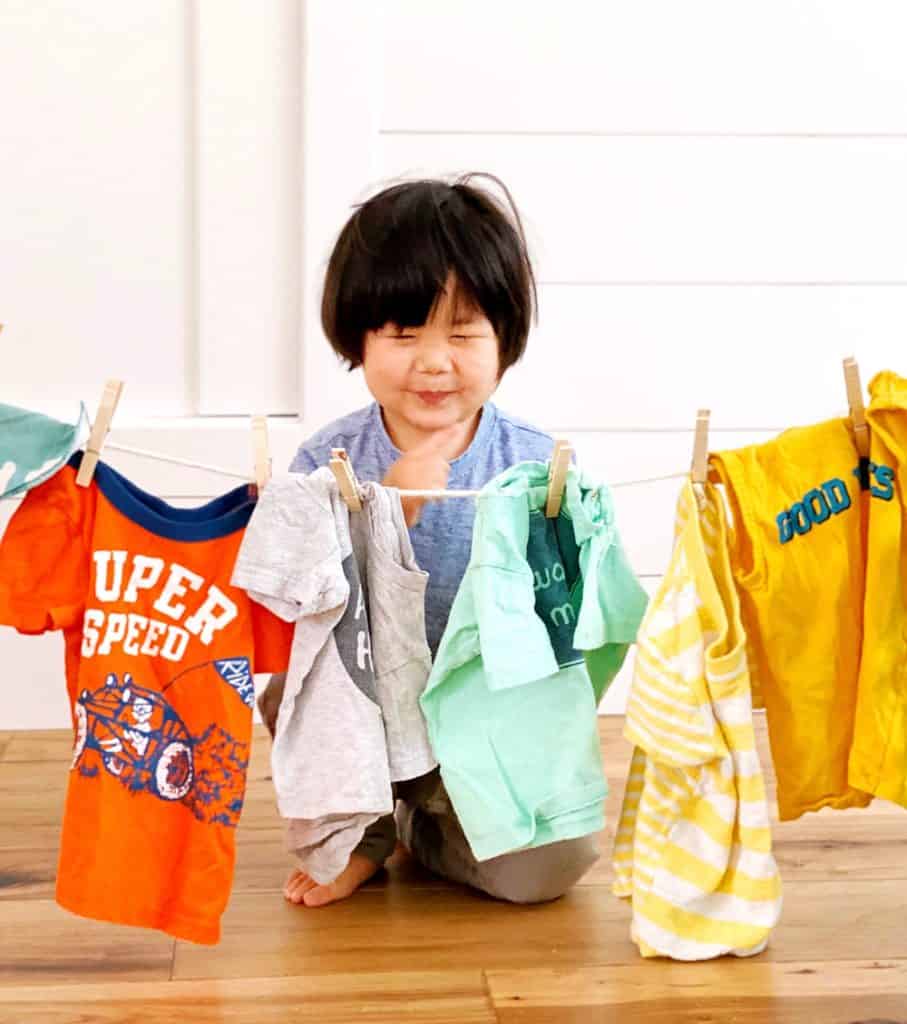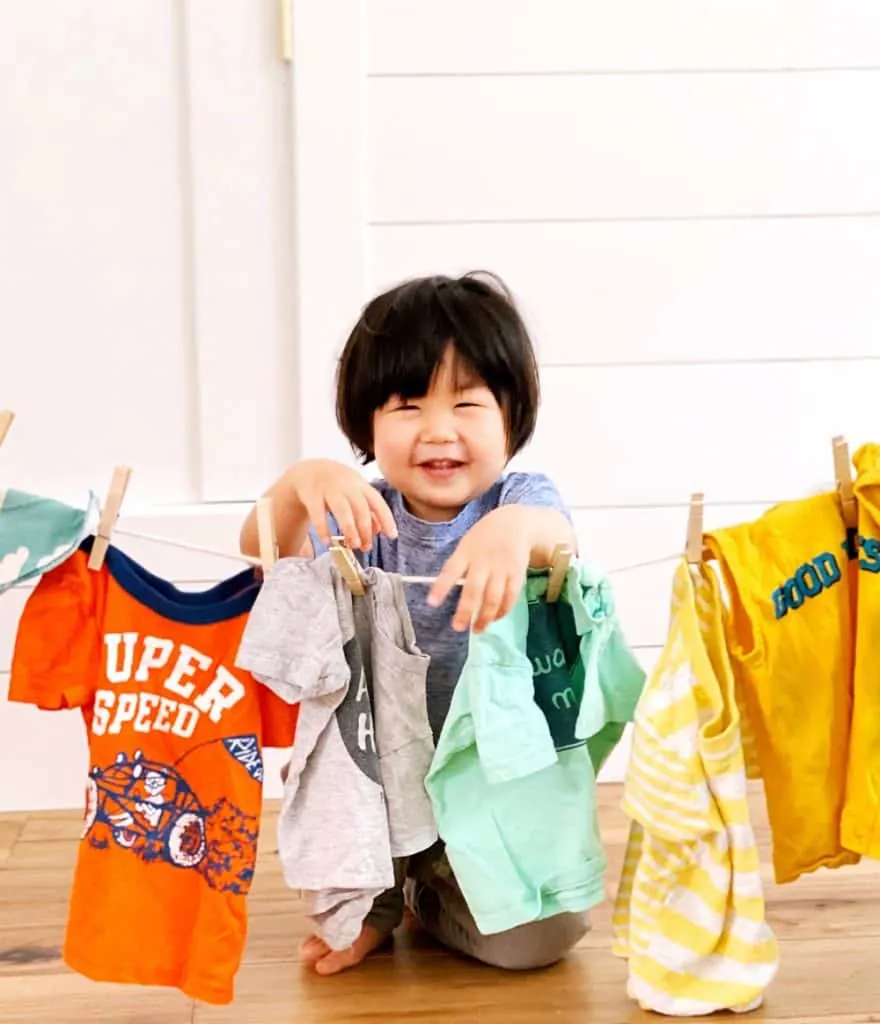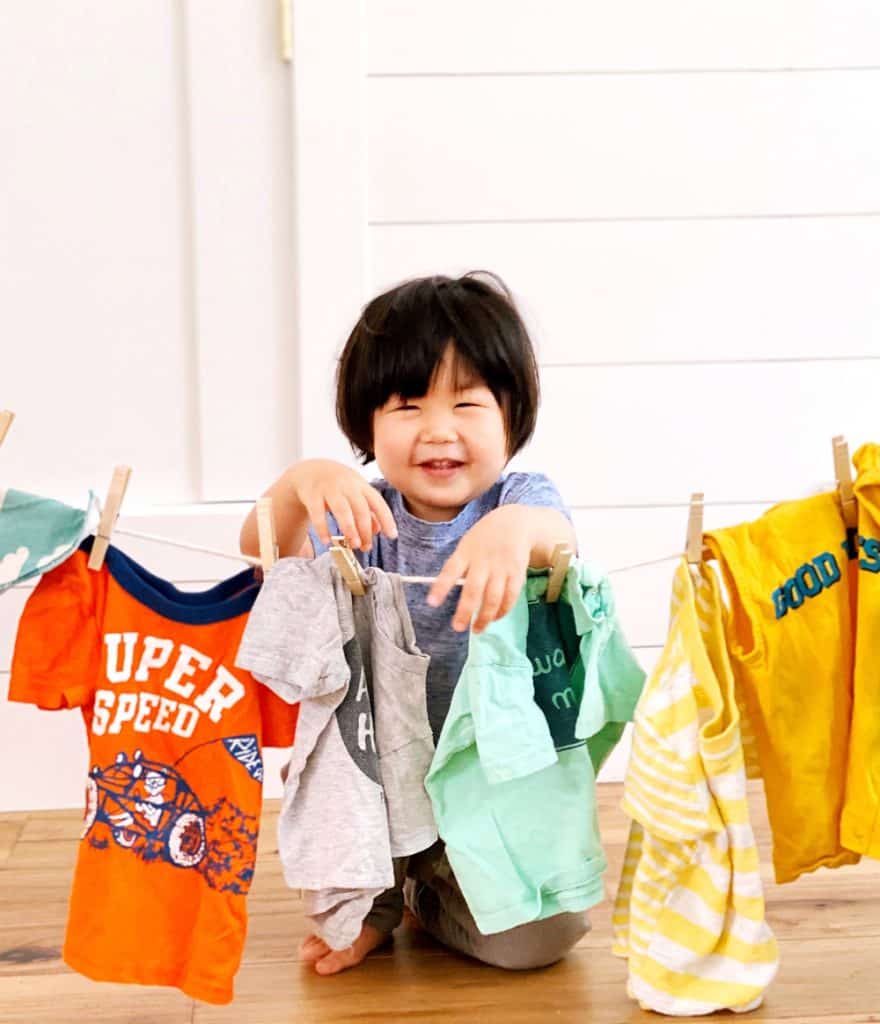 How to create this Laundry Preschool Basket Activity
Remember earlier when I said that you don't need a ton of supplies to set up this activity? You're about to see how simple it really is going to be. This will be your go-to activity when you're short on time but needing something fun for the kids.
Teach them young about hanging up the laundry and just maybe they'll continue with doing more chores as they get older.
Laundry Preschool Basket Activity – Materials:
Laundry Basket

Clothespins

Yarn on String

Clothes
**Always supervise baby and toddler activities
INSTRUCTIONS:
Step 1. Gather some lightweight clothes like cotton tees and shorts, nothing too heavy.
Step 2. Add to a laundry basket. Maybe this is something your preschooler can help an sort by color!
Step 3. Tie yarn or strong string across two items that can withstand your clothesline. We used two chairs. Keep the line low to the ground and not too high so your preschooler or toddler can reach.
Step 4. You can encourage them to clip and unclip clothes to the clothesline and add to the basket. If their fine motor skills are not strong enough to clip clothes by themselves, you can do what we did which is to lay the shirt over the line first and have your child practice opening and closing the clip.
If you love this Laundry Preschool Basket Activity, make certain to take a peek at some of our fun Preschool Activities as well.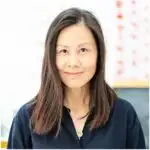 Agnes Hsu is a mom of three and has been inspiring parents and kids to get creative with easy activities and family friendly recipes for over 10 years. She shares her love for creative play and kids food to her 2MM+ followers online. Agnes' commitment to playful learning and kindness has not only raised funds for charity but also earned features in prestigious nationwide publications.