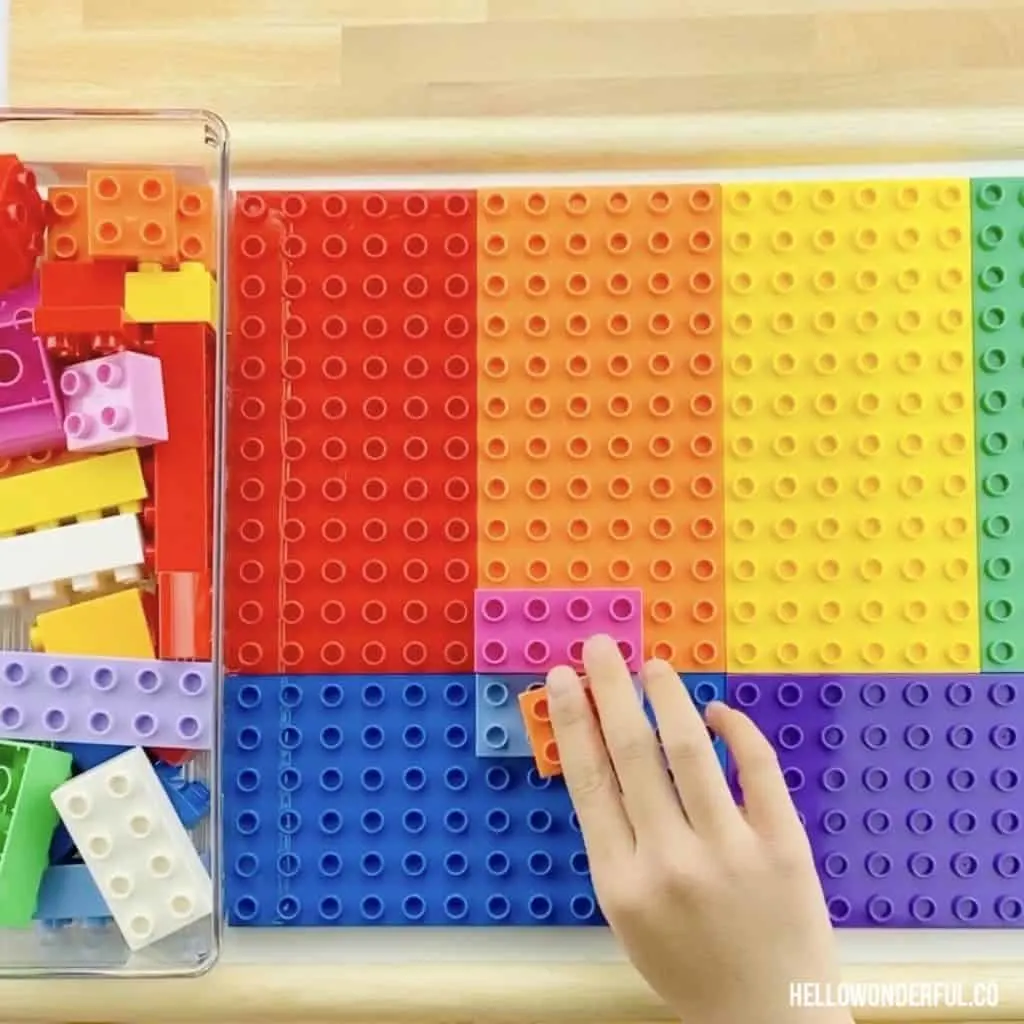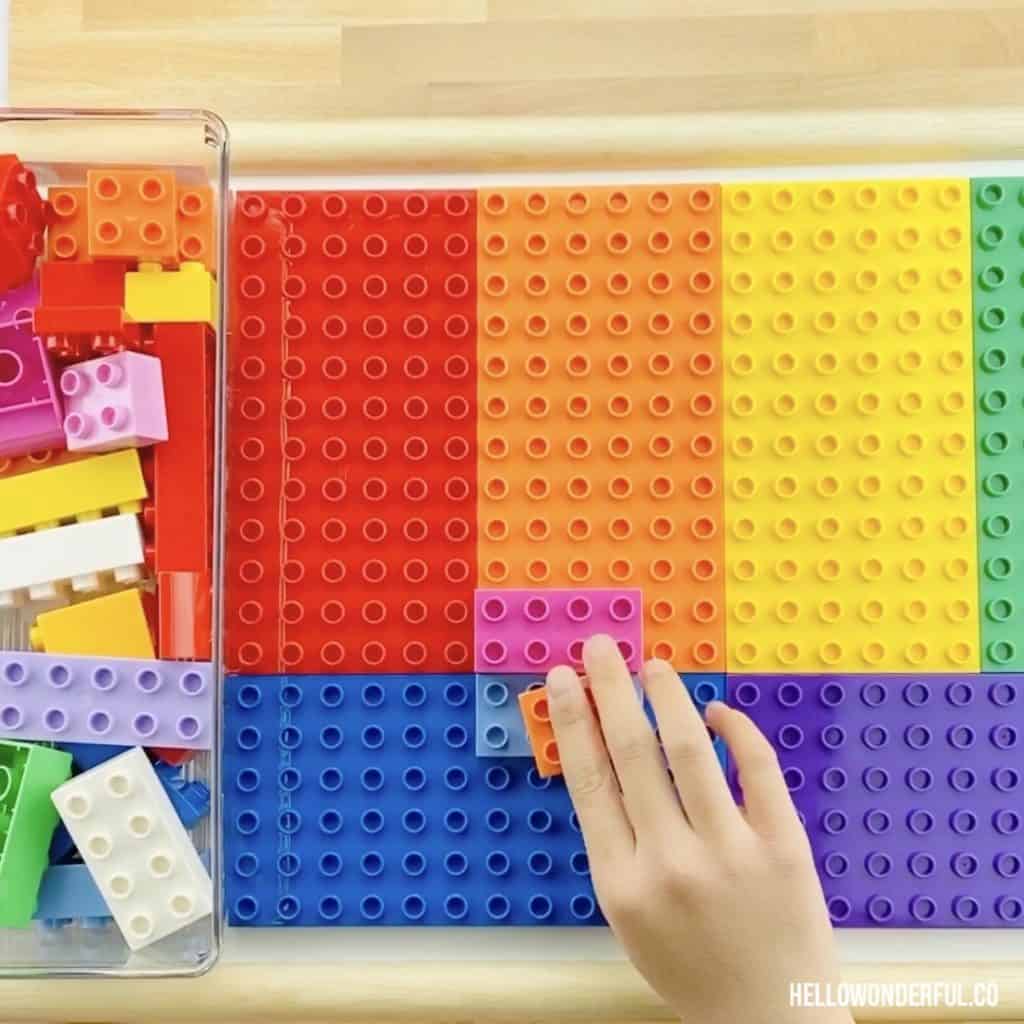 By using this site, you agree to our Terms of Use. This post may contain affiliate links. Read our disclosure policy.
Follow us on Instagram for more fun ideas for kids!
Watch the video below to see how to make this awesome DIY LEGO Tray Table in action. Make sure to subscribe to our YouTube channel for more fun videos!
This Easy DIY LEGO Tray table is a fun way to play LEGO anywhere in the home or on the go!
My toddler is just now getting into LEGO DUPLO and I'm so excited to see him following in his older brother and sister's footsteps in their love for LEGO!
LEGO blocks are amazing for inspiring creativity in children with endless possibilities for building anything you want, even LEGO planters!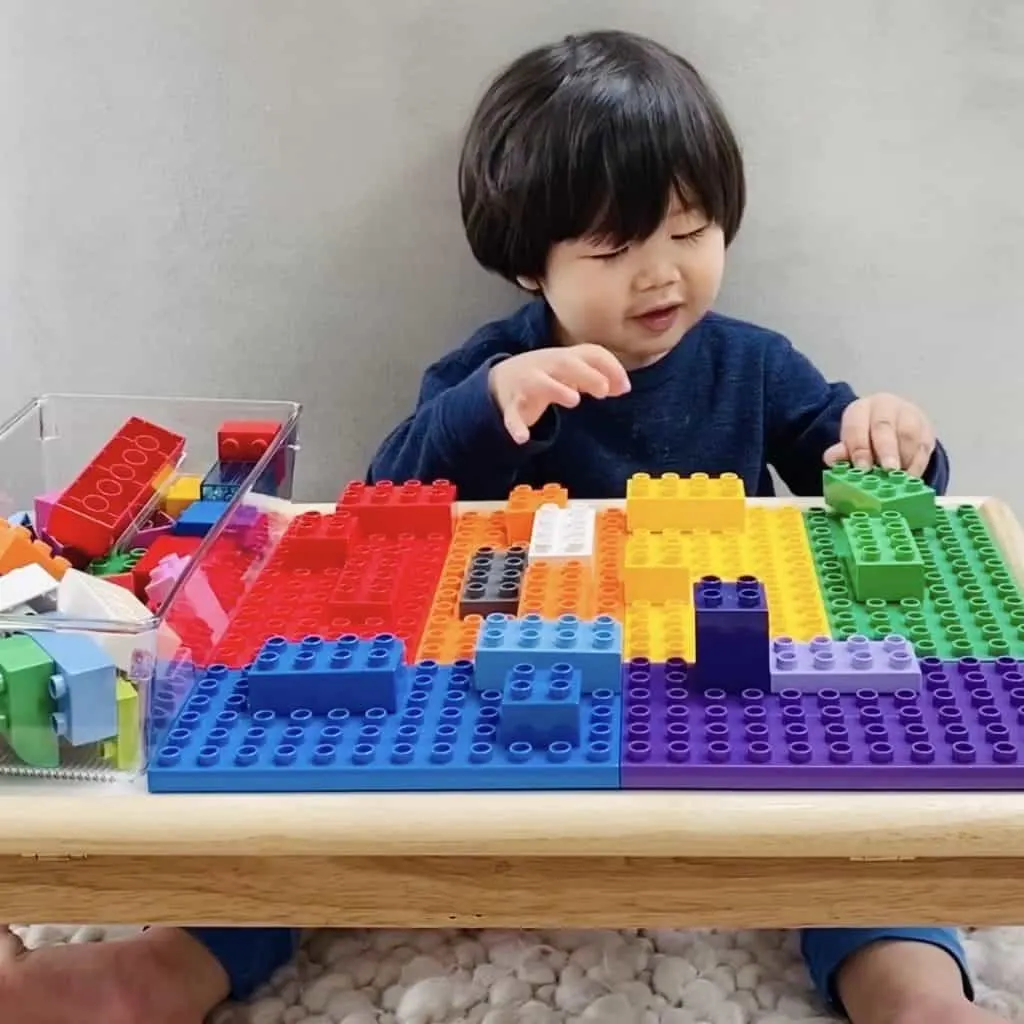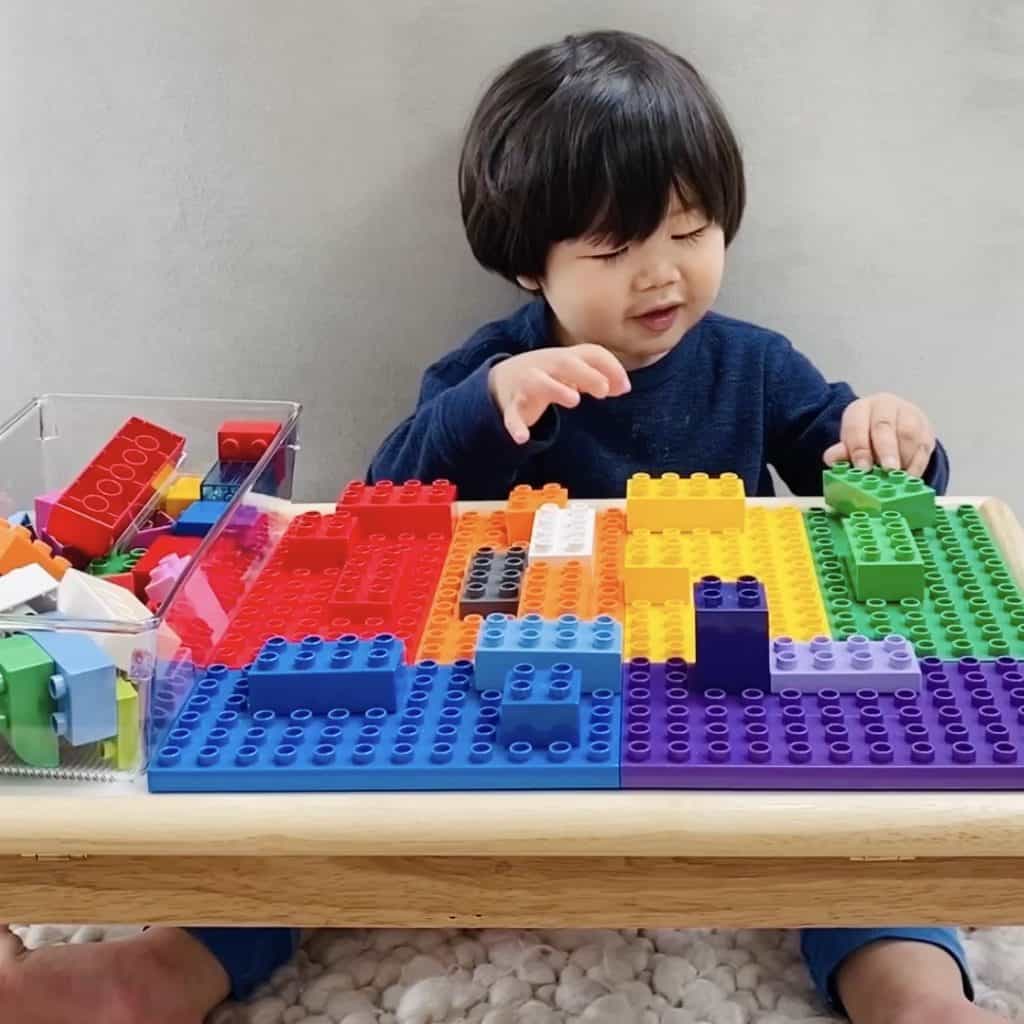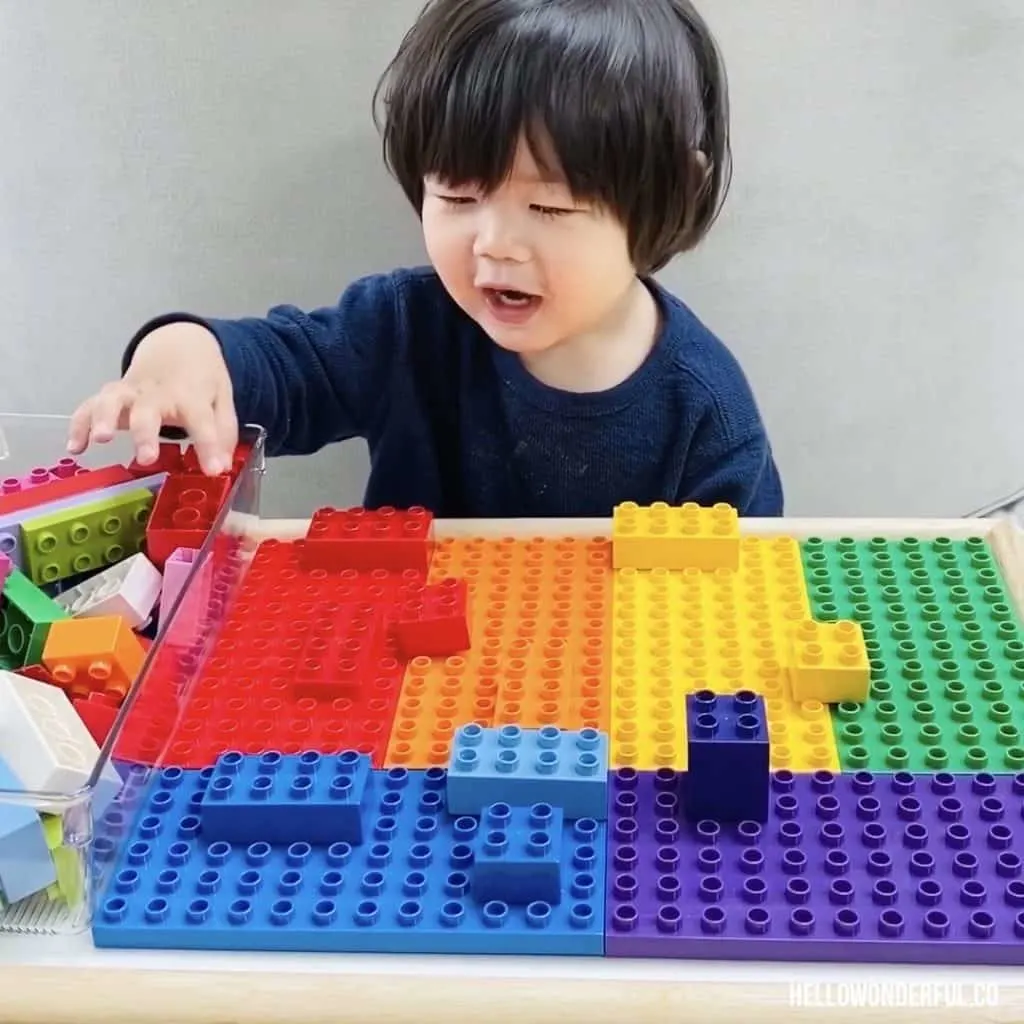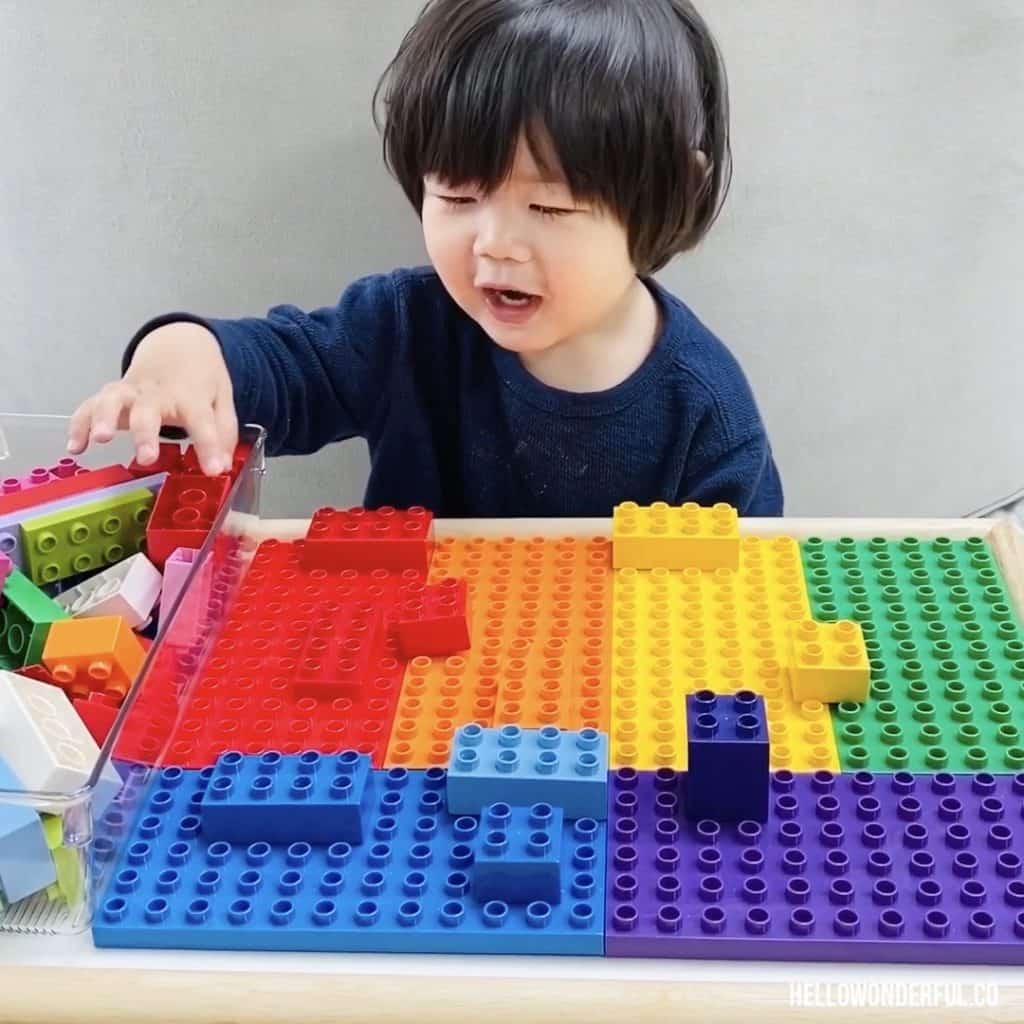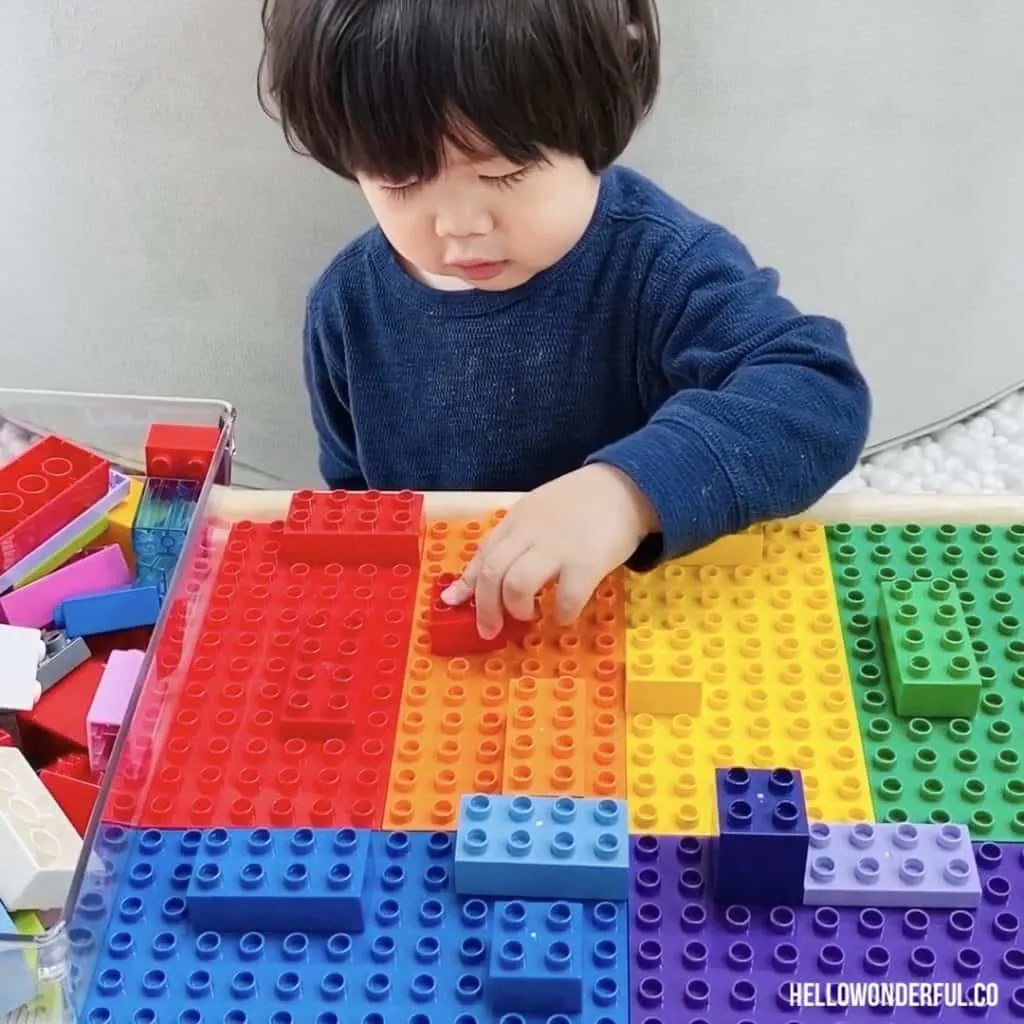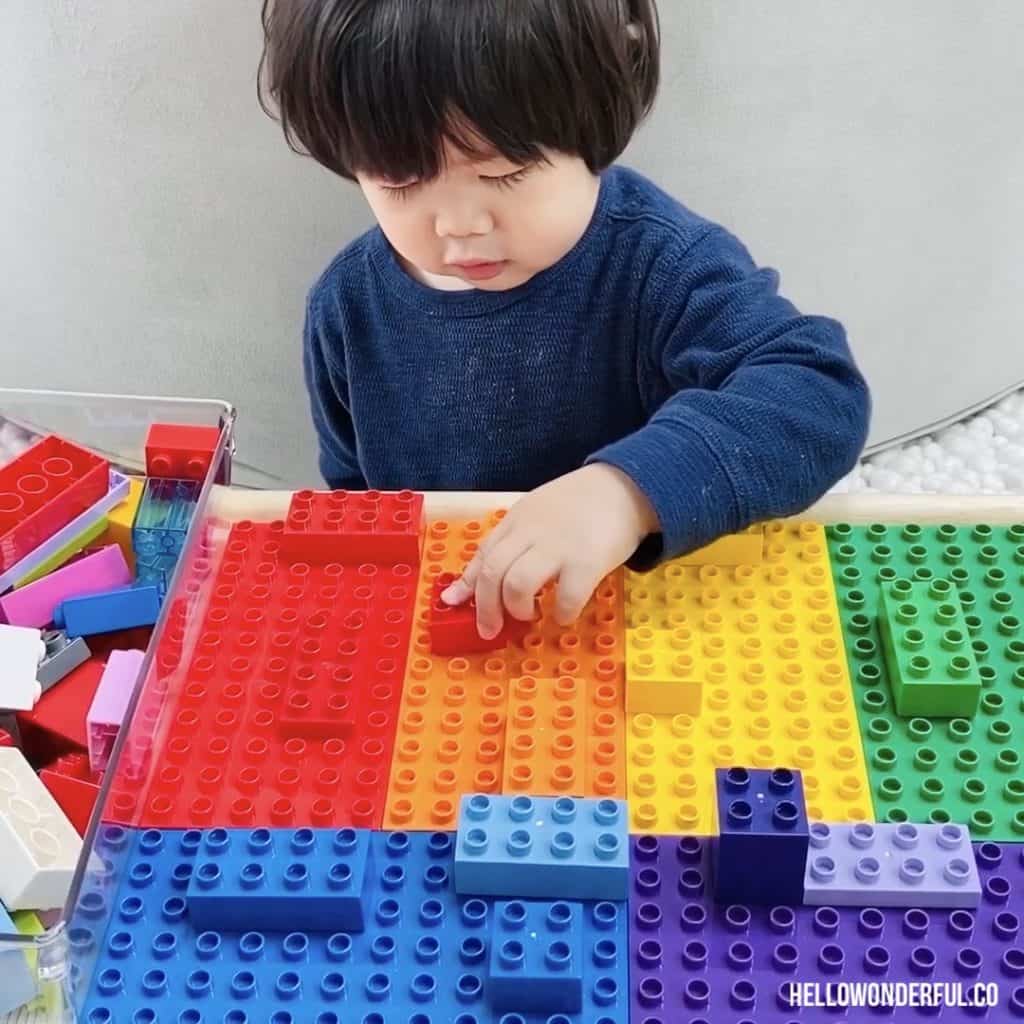 The LEGO table on a tray is a great, small size for toddlers and preschoolers to sit and play LEGO Duplo with as well.
I wanted to create a small LEGO table that my toddler could have with him in any room as he likes to roam around. I also wanted it to feel easy for him to build so I added a clear container to hold enough blocks to get started.
Learn colors with this DIY LEGO Table
Another fun idea was to use rainbow color plates. I found these perfectly sized plates that fit DUPLO blocks. Note you can also get rainbow regular size LEGO plates.
Although I created this with LEGO DUPLO in mind due to my son's age, you can adjust this to make a regular LEGO tray.
My son really enjoyed color matching LEGO blocks to the same color plates! You can see him do this in the video in this post so make sure to watch.
What if I don't want to stick the LEGO plates on permanently?
This was a big question for me. The tray we got was a breakfast tray. It's perfectly useful as one in the case my toddler no longer had any interest in the LEGO tray.
Most DIY LEGO tables use a strong adhesive or glue to permanently adhere the LEGO plates but I didn't want that. However I did want to keep the plates secured.
I was so happy to find this super strong, clear, removable tape! It is strong enough to keep the plates down and not move but with some force you can take the plates off and remove the tape with absolutely no residue!
This strong removable tape has now become one of my favorite crafting materials and secret weapon in crafts.
I highly recommend having it around not just for crafting but for many household uses!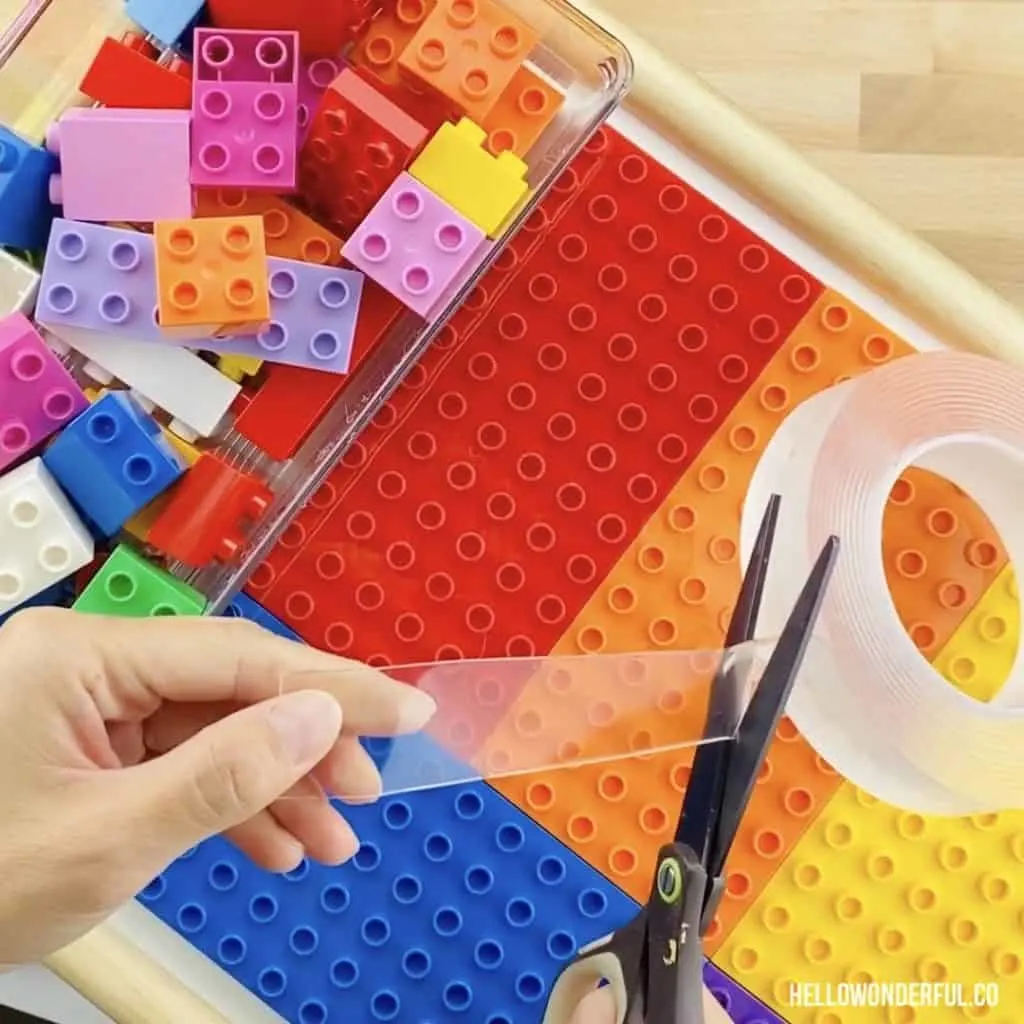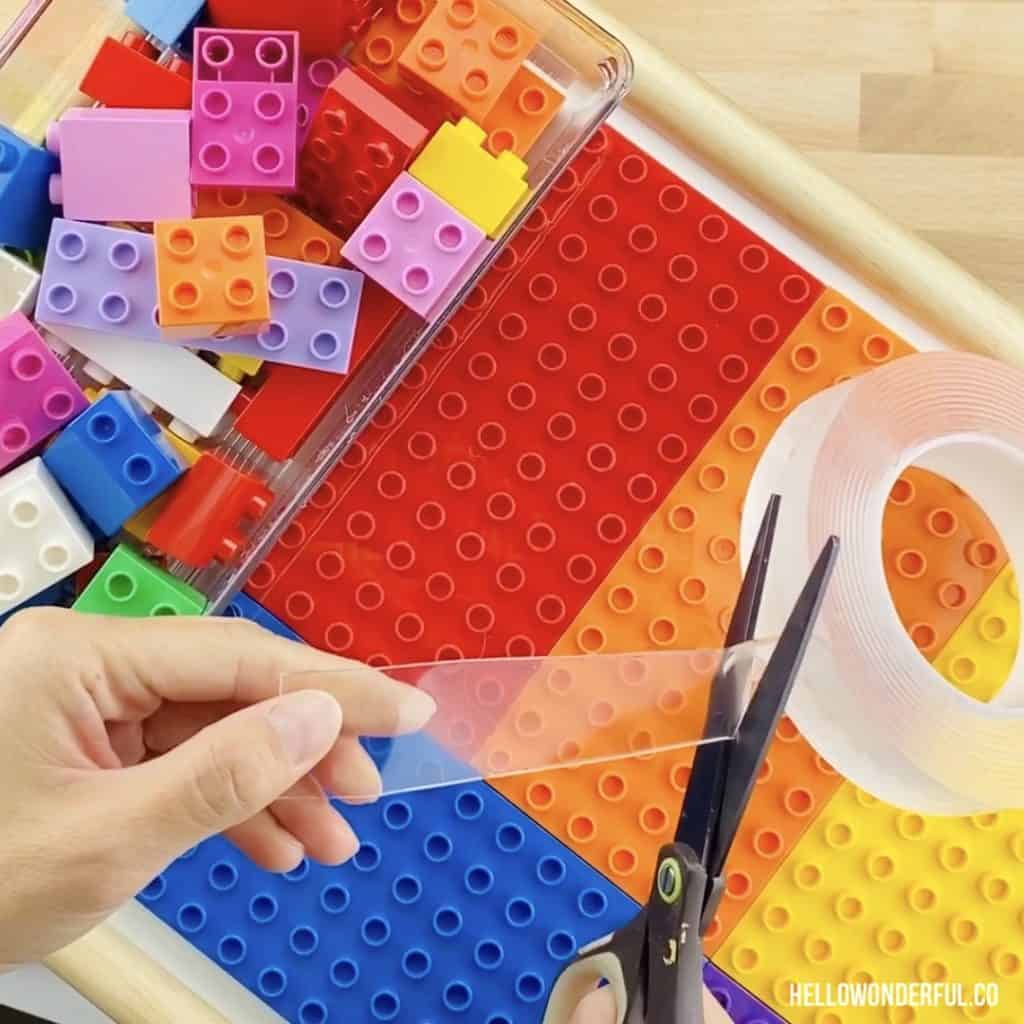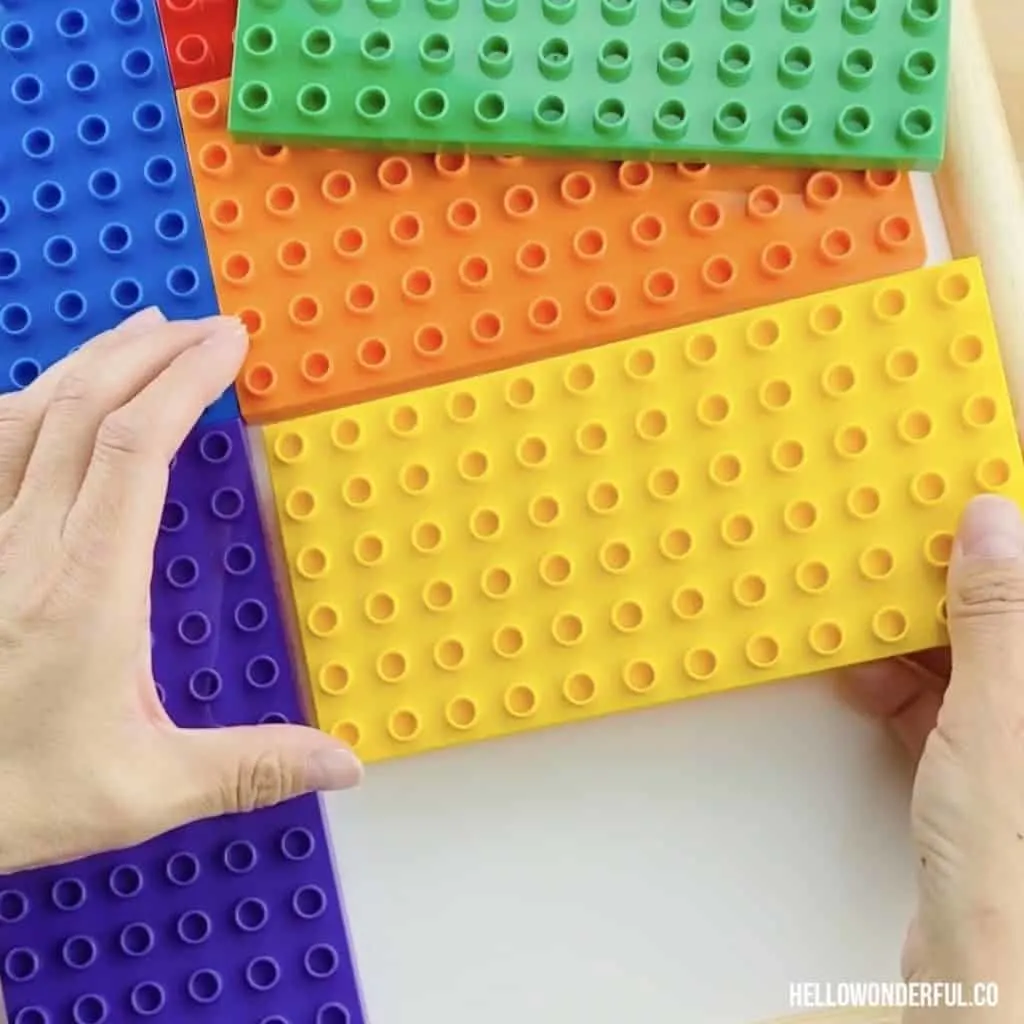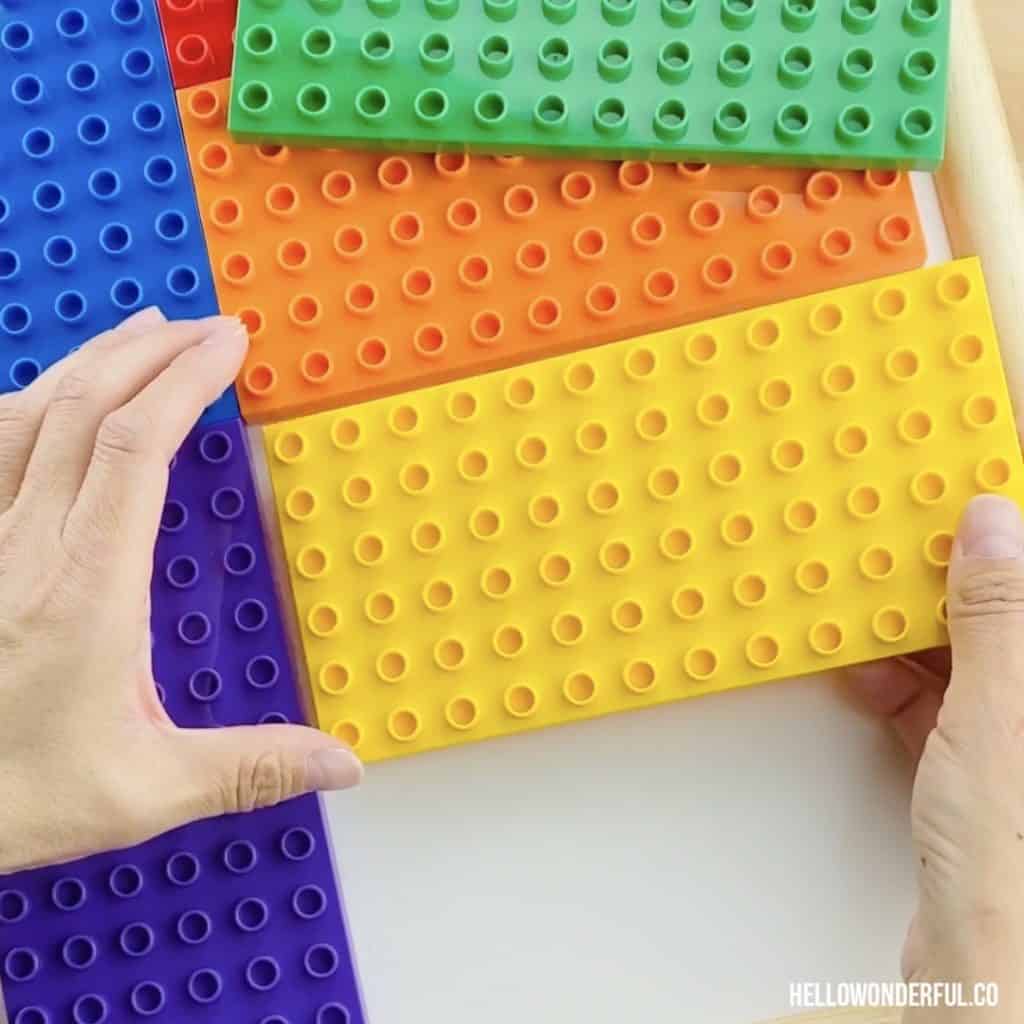 DIY LEGO Tray Table – Materials:
6 of these LEGO plates (note these are for DUPLO blocks) you can use regular LEGO plates too

Scissors
*Note my clear container is a tad bit larger than the tray table once the plates are on, but with the strong tape I was still able to have it adhere and not come off. If this bothers you, you can use an exacto knife and cut off the LEGO plates a bit to make the clear container fit. OR you can find a smaller container or omit altogether. Although I think it's nice to have that side storage option.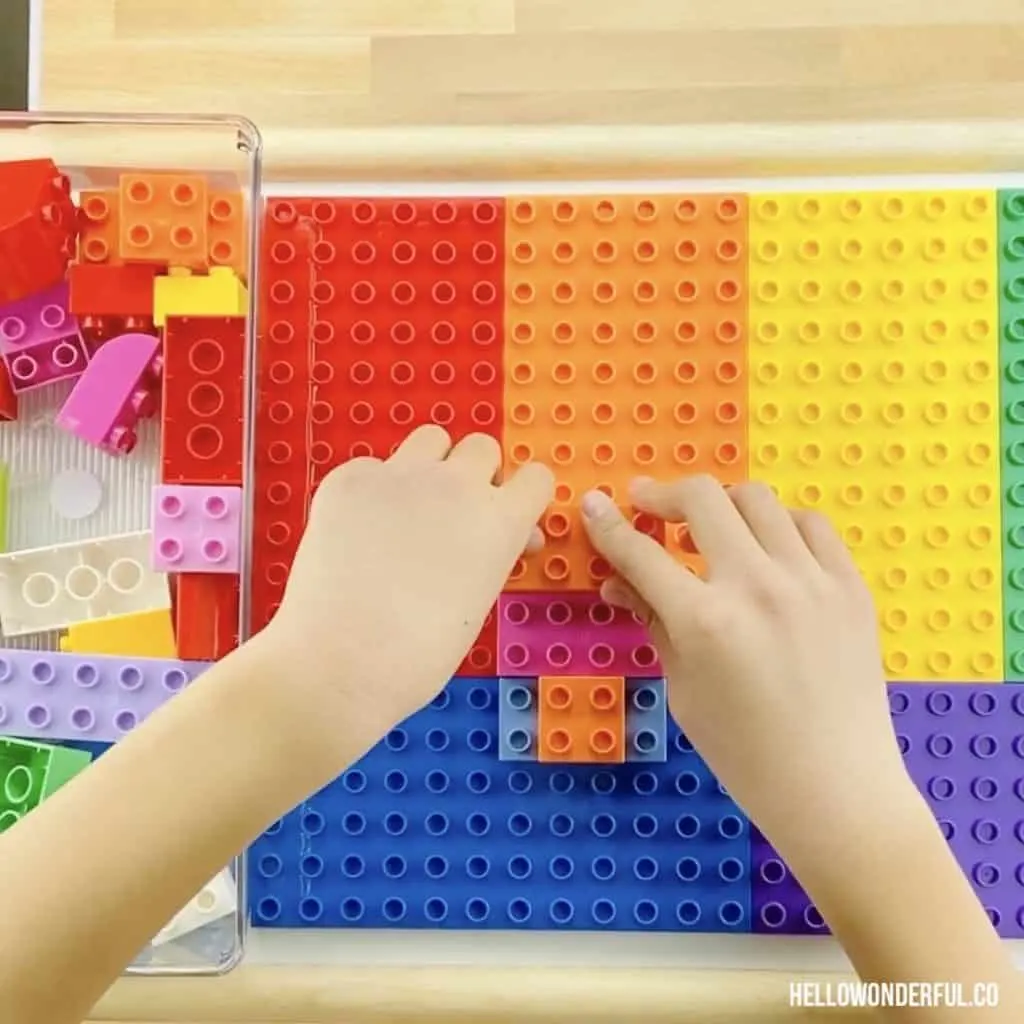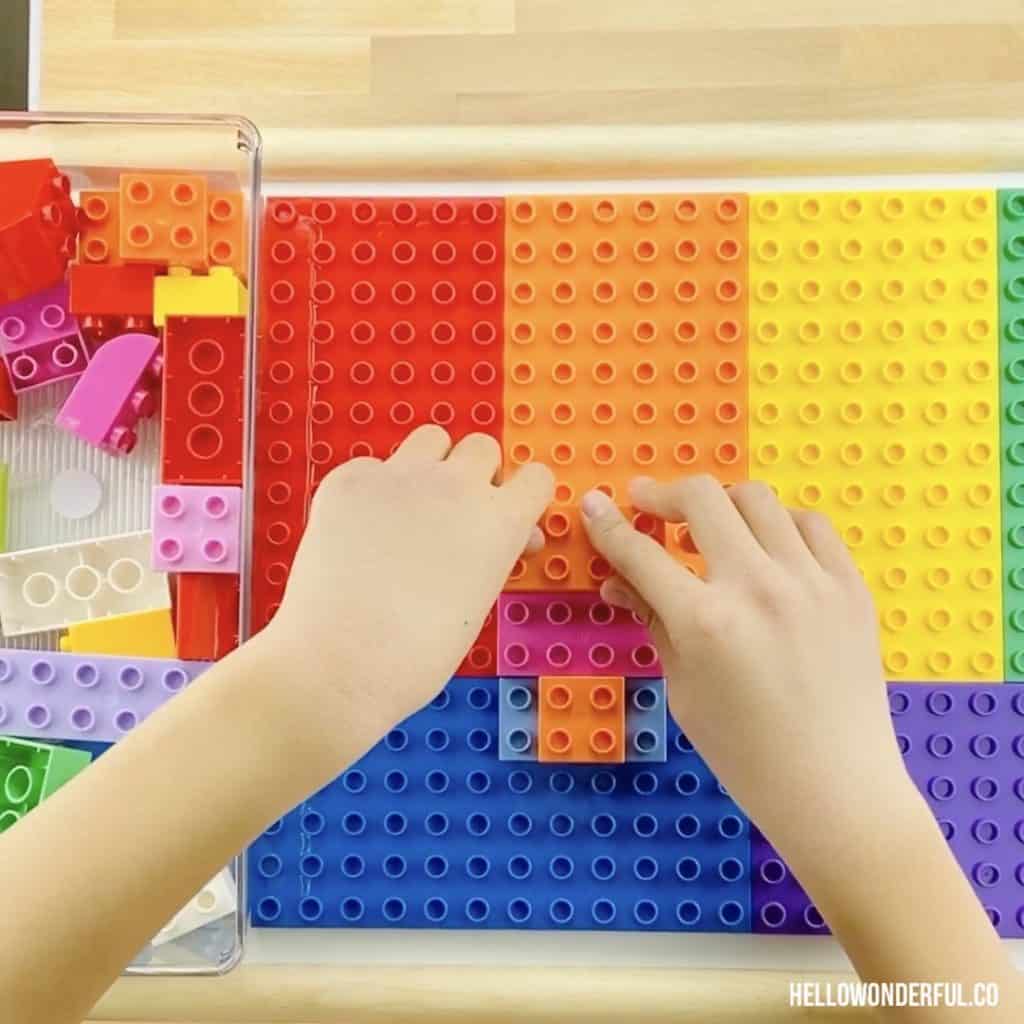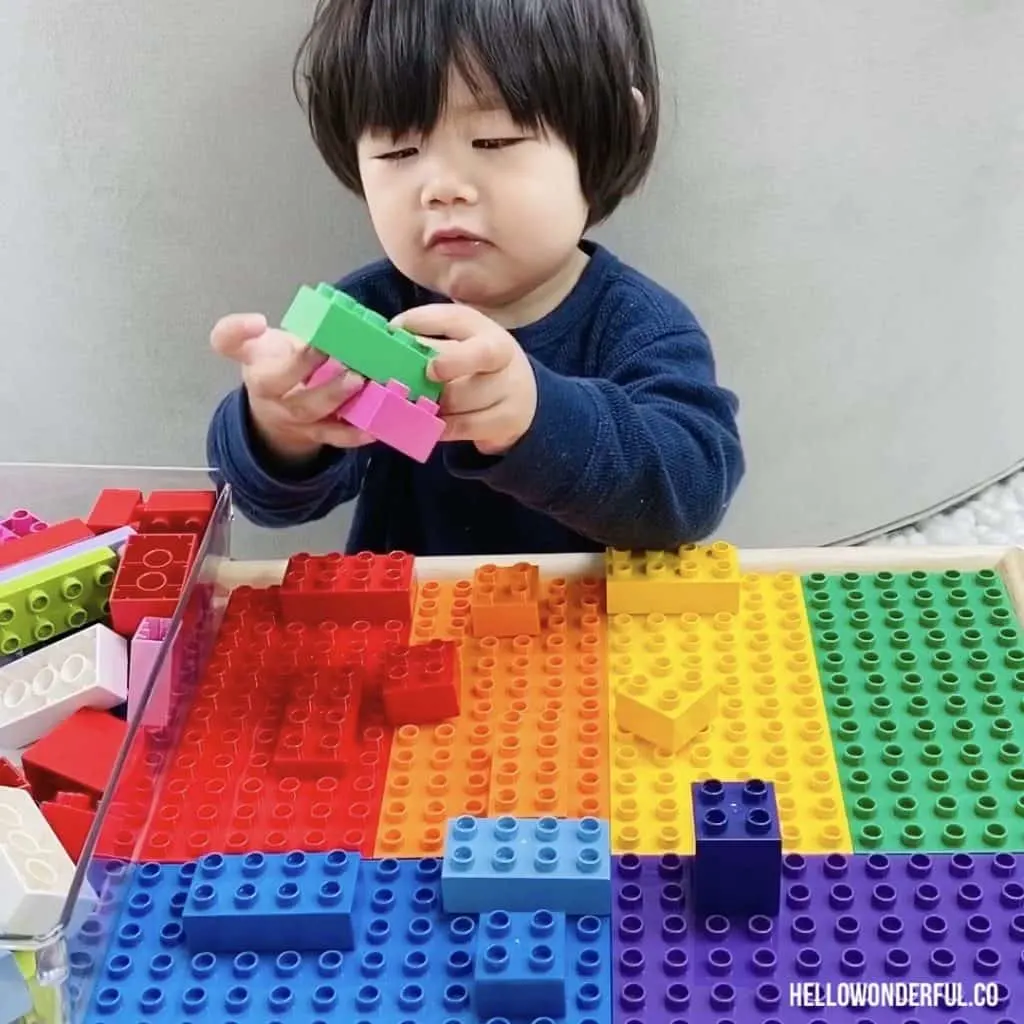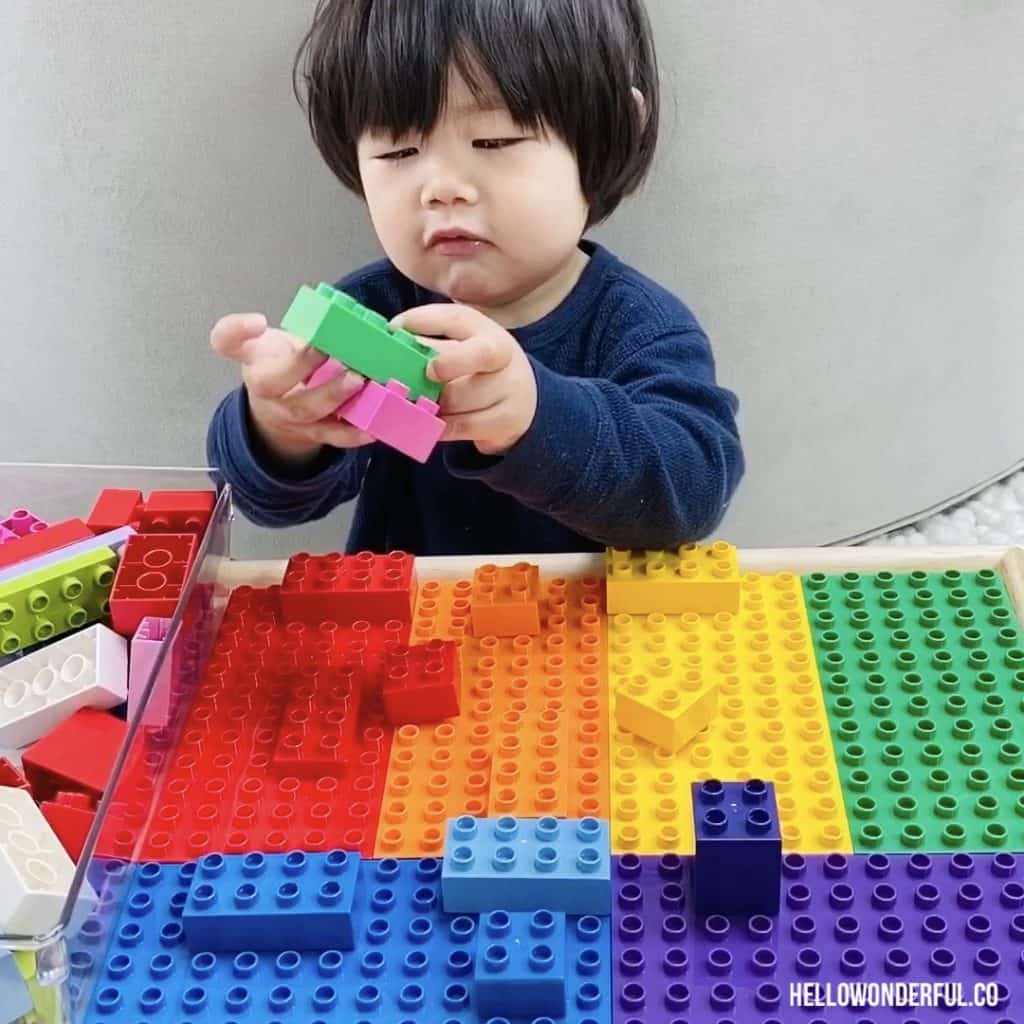 INSTRUCTIONS:
Step 1. Tape 4 of your plates across vertically and two horizontally on the other half of tray. See video for our placement. We used two strips of tape per plate.
Step 2. Tape your clear container on one side.
Step 3. Fill with LEGO blocks. Start building!
You might also like:
Now tell me, isn't that the easiest DIY you've ever seen? This tray table has gotten so much play in the last few weeks. So much fun for creative learning!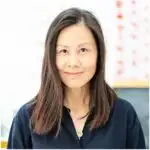 Agnes Hsu is a mom of three and has been inspiring parents and kids to get creative with easy activities and family friendly recipes for over 10 years. She shares her love for creative play and kids food to her 2MM+ followers online. Agnes' commitment to playful learning and kindness has not only raised funds for charity but also earned features in prestigious nationwide publications.