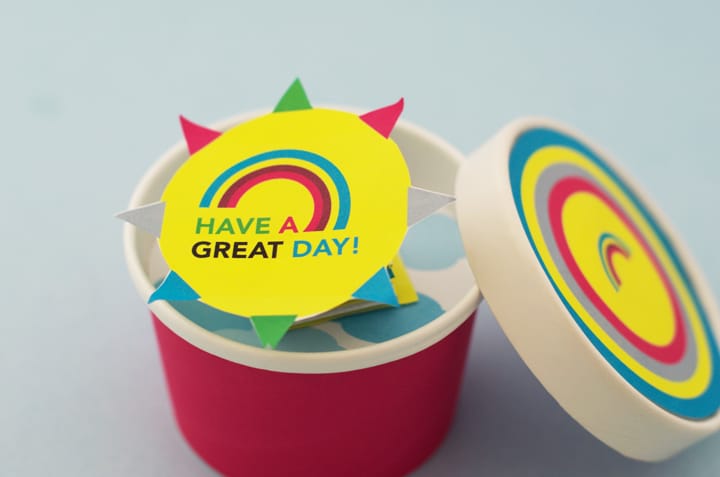 Follow us on Instagram for more fun ideas for kids!
Here is a fun surprise you can make that will help you and the kiddos celebrate the beginning of the school season. Pop this into your child's lunch box for a fun surprise at lunchtime. When they open the box, this happy, rainbow message will pop out with their snack hidden underneath. It is a pretty simple way to brighten their day and make you smile. You can experiment with your own art, and this can easily be used for birthday parties or any special occasion.
The printables fit this 8 ounce snack container, but feel free to cut it to fit whatever snack containers you have.
Have fun with it!
P.S. Scroll all the way down to watch this Surprise Snack Box in action and be sure to subscribe to our channel for more fun crafts and ideas!
SURPRISE SNACK CUP – MATERIALS:
Download printable HERE
Clear tape
Scissors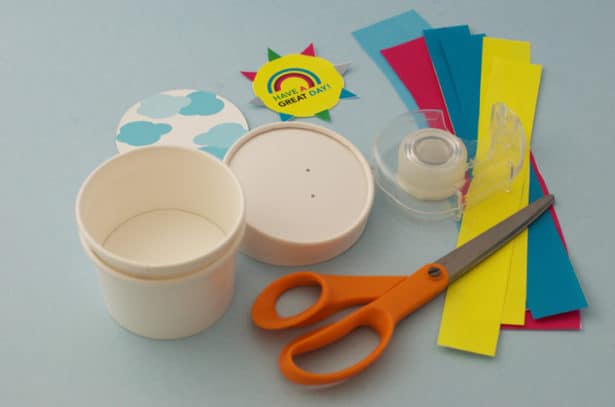 INSTRUCTIONS:
First, take the two blue strips and tape together, then the two yellow strips and tape together.
Create the spring by folding each strip over the other as illustrated in the above photograph.
Tape closed both ends of the paper spring to keep it together.
Print the cloud art onto card stock and cut.
Tape the spring to the cloud art and tape the "Have a Great Day" art to the top, as shown.
Add a snack to the container and cover with Springy art that you just created.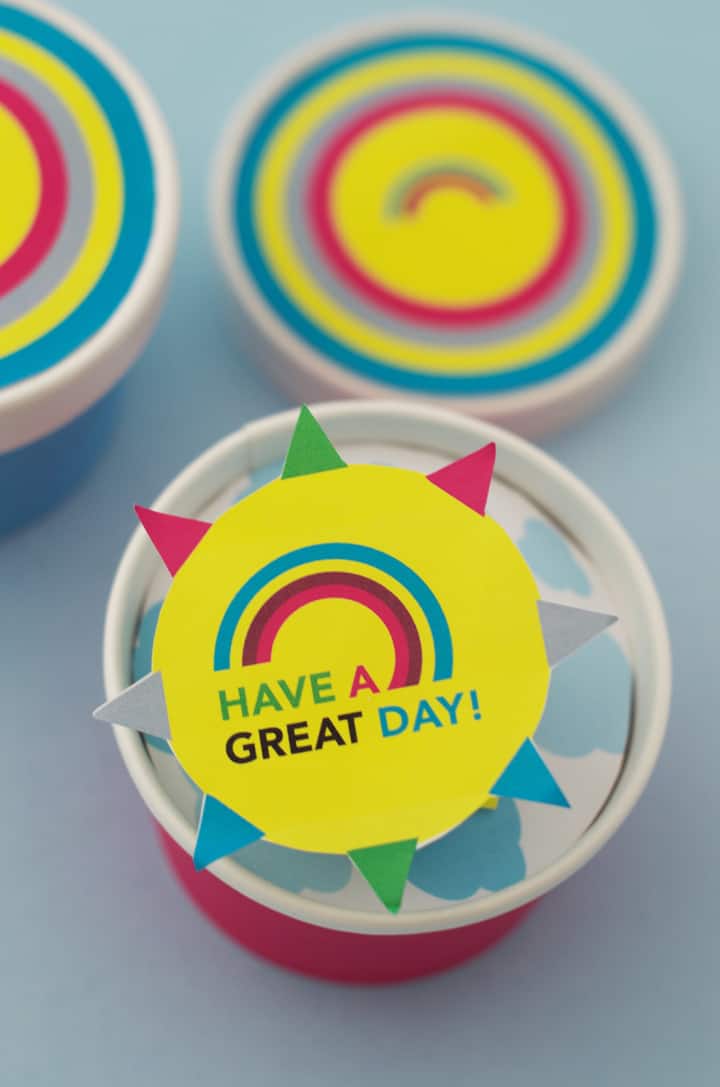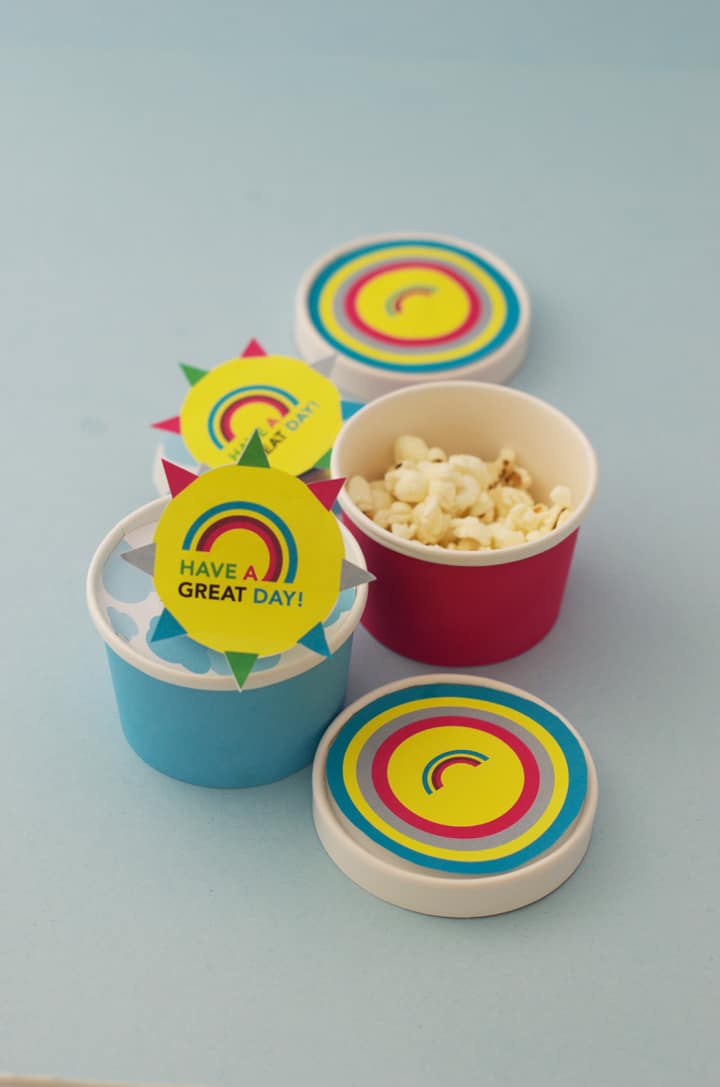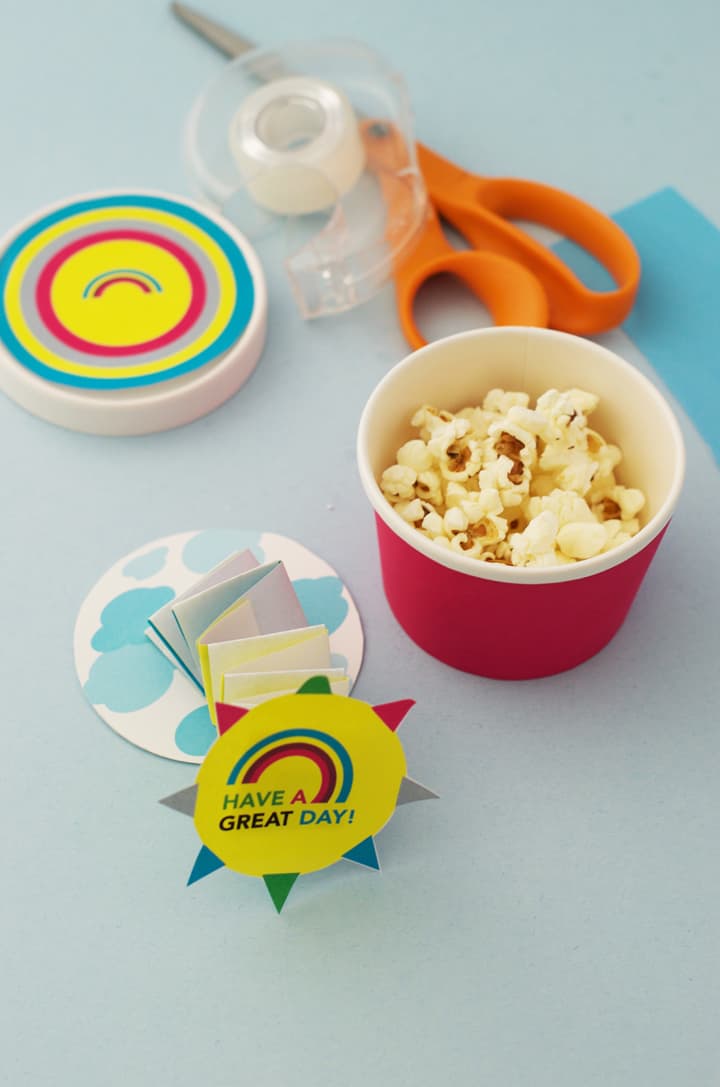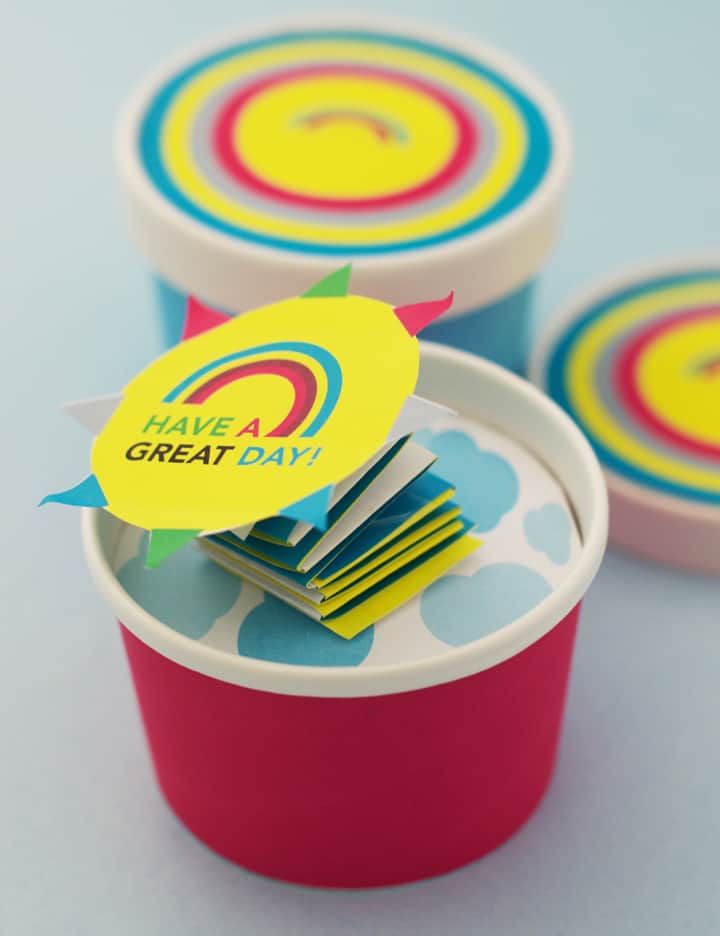 A little surprise half way through the day can be such a fun pick-me-up for kids! Small notes of encouragement like these adorable printable lunchbox notes are a simple way to spread lunchtime smiles. You can also try some amazingly easy food art, or make a quick finger food that's totally new and unexpected!
Watch the video below to see this fun surprise snack box in action and see how it "pops" out!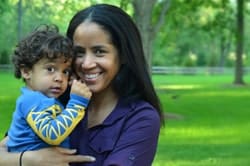 Lisa Fyfe is a graphic designer and mom to a lovely 4 year old boy, Rowan. After having him, life changed ten-fold. From life as an art director in publishing in New York, to a slower paced life in Connecticut, and now San Diego, creativity has always been the constant. Rowan changed everything and amazing inspiration came from this unexpected place. Little Monster is where she shares diy's and recipes inspired by motherhood. You can follow her on Facebook, Instagram, Twitter and Pinterest.
_________________________________________________________________________________________
Disclosure: Some of the links in the post above are "affiliate links." This means if you click on the link and purchase the item, we will receive a small affiliate commission. Regardless, we give our promise that we only recommend products or services we would use personally and believe will add values to our readers.
SaveSave
SaveSave
SaveSave
SaveSave
SaveSave
SaveSave