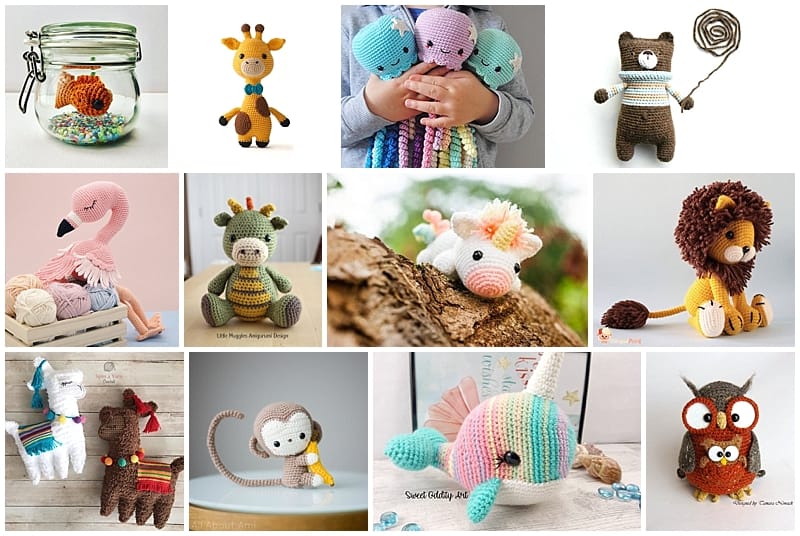 I'm in love with cute animal crochet toy patterns! Ever since the art of toy crocheting made a huge come back come back, people have been going crazy over amigurumi patterns. Amigurumi is the Japanese art of crocheting small stuff yarn animals. Most of these are worked in super easy stitches of single, double, invisible decrease, etc. There aren't any hard techniques that you need to learn.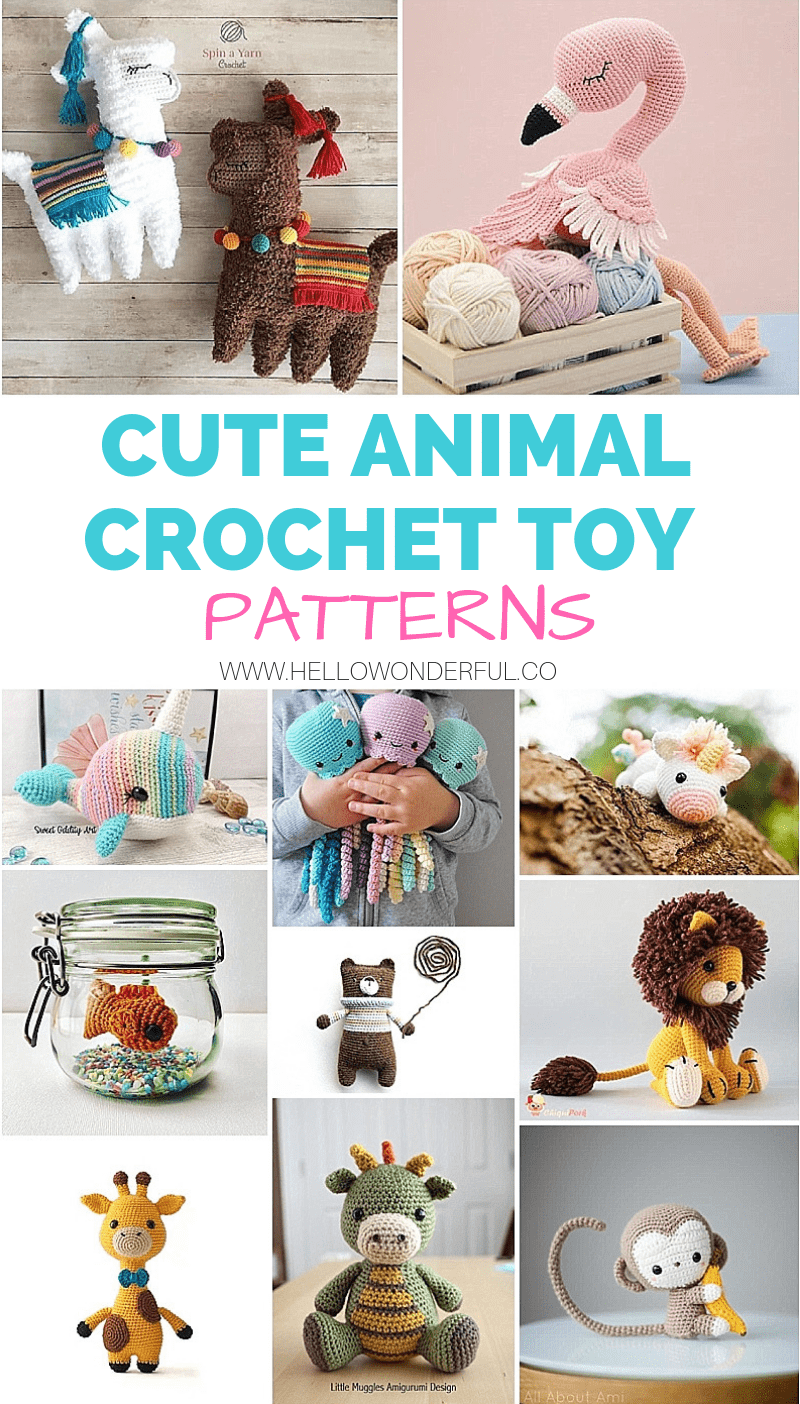 To help with shapes, some patterns will call for pipe cleaners and plastic eyes to attach. Of course, you can always hand stitch your own eyes onto these cute animal crochet toy patterns. I hope that you'll love these amigurumi patterns as much as I do!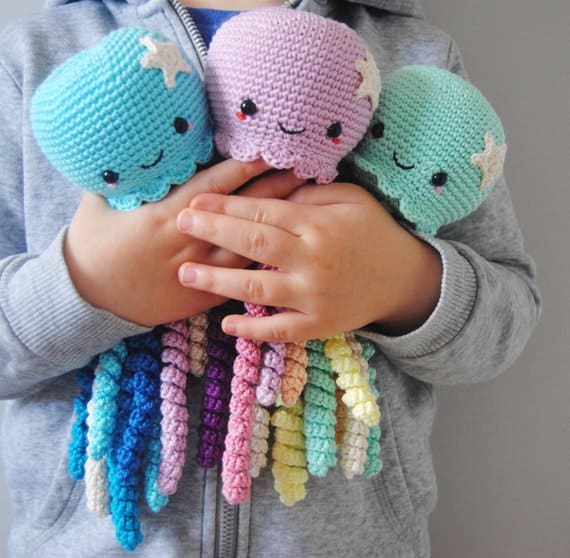 This octopus crochet toy pattern is simply sweet and adorable. How can you not help yourself but to smile while holding an armful of these happy swimming octopi? I love the vision of how many different colors that you can make this amigurumi octopus in.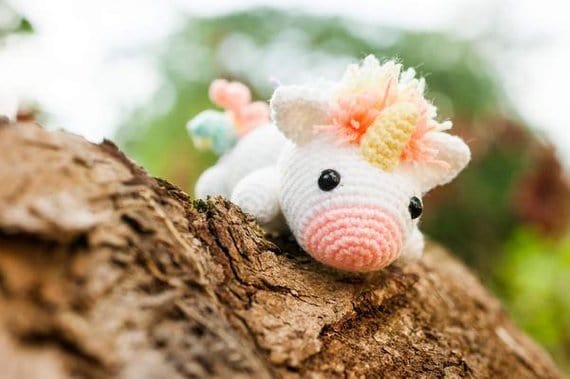 Photo Credit: Angie of TinyRabbitHole.com
I'm simply in love this, and I hold this pattern by Tiny Rabbit Hole which is nearest and dearest to my heart. It's what inspired our first crochet Send a Unicorn! Don't have time to crochet an amigurumi unicorn to brighten someone's day? Then be sore to send them one. A box with a magical unicorn in it will be sure to make someone smile over and over again when they look at it.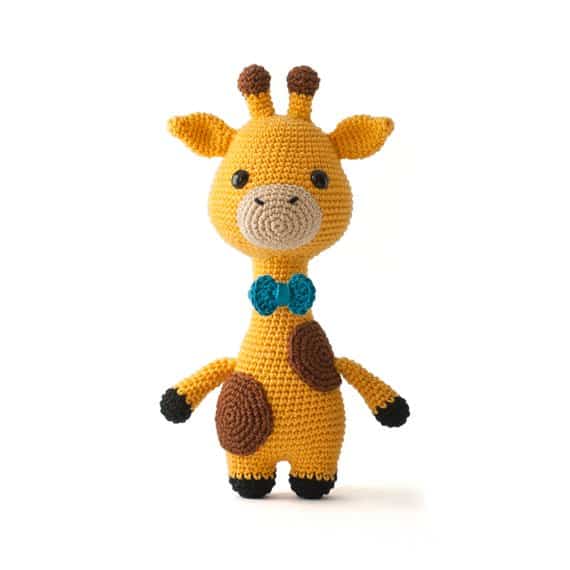 This is the most adorable and dapper crocheted giraffe I've ever seen. That blue bow tie is just perfect for James. Talk about spreading smiles! This little guy will be sure to send out tons of them. The best part He takes no time at all to make. I love a super easy pattern.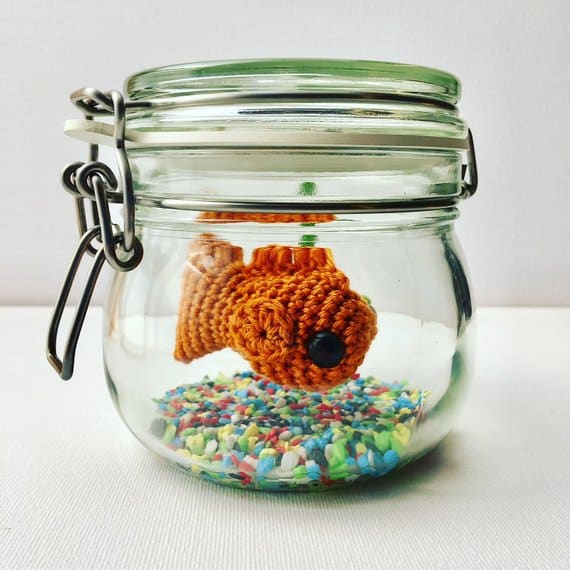 This is one adorable fish that can live out of water! You can make multiples of this little guy, tie him to a string, and hang them in your little ones room. Another idea? Sew Velcro strips on them, and one to fishing pole. A great indoor activity!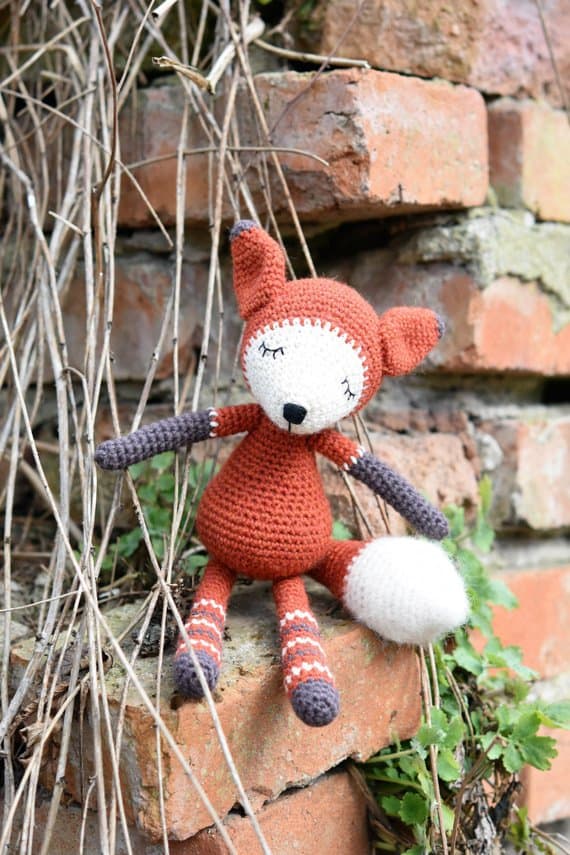 This sly little fox is simply fabulous. From the big "fluffy" tail, to the patterns of the ears and nose. It's so whimsical and sweet to look at and just want to hug. Something that I'm sure your little one will want to do…or sleep with.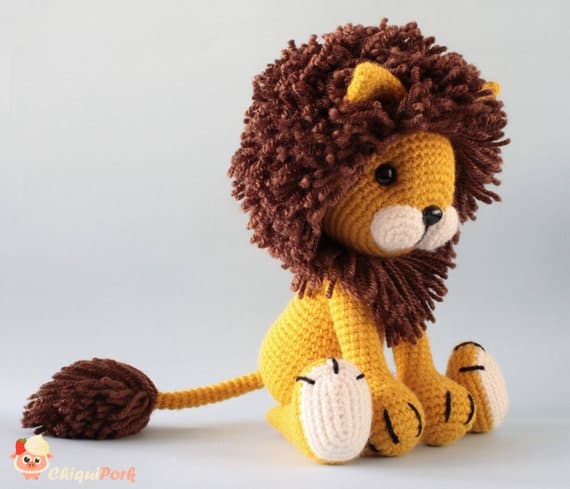 Meow-za! This is the most adorable King of the Jungle that I've ever seen. He just screams to pick me up and hold me. He'll look great on any bookshelf, or maybe you should crochet the whole animal kingdom to recreate the Lion King scene.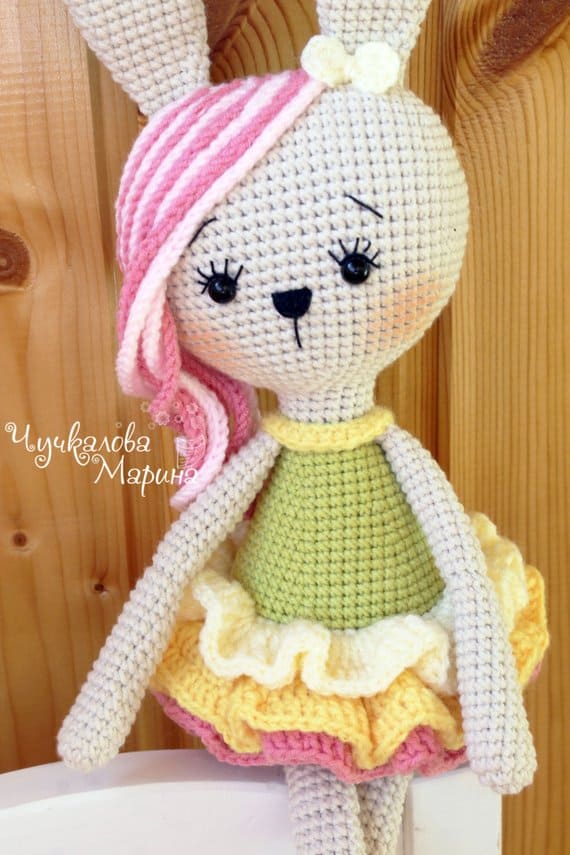 This is crocheted bunny is so pretty. I love that you can make the three layered skirt any colors that you want, including just one solid color. The bunny lover in your home is going to simply be head over heels for this.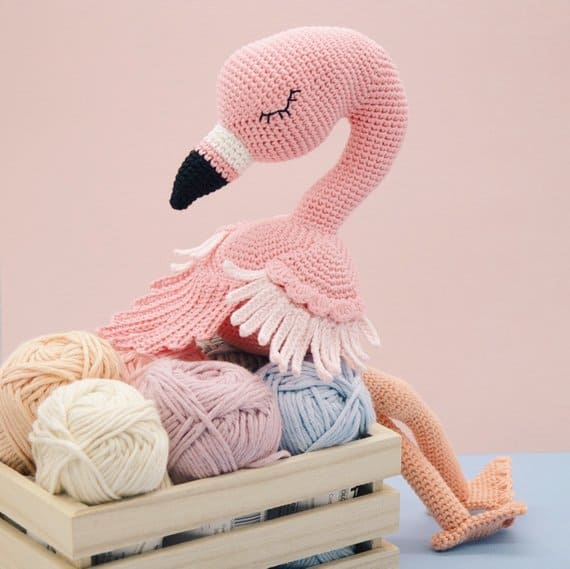 Flamingos are just so elegant to look at, so I knew that I had to share with you all when I found it. The pattern is so easy to follow along, so it's a big winner in my book! This flamingo is just too precious to look at.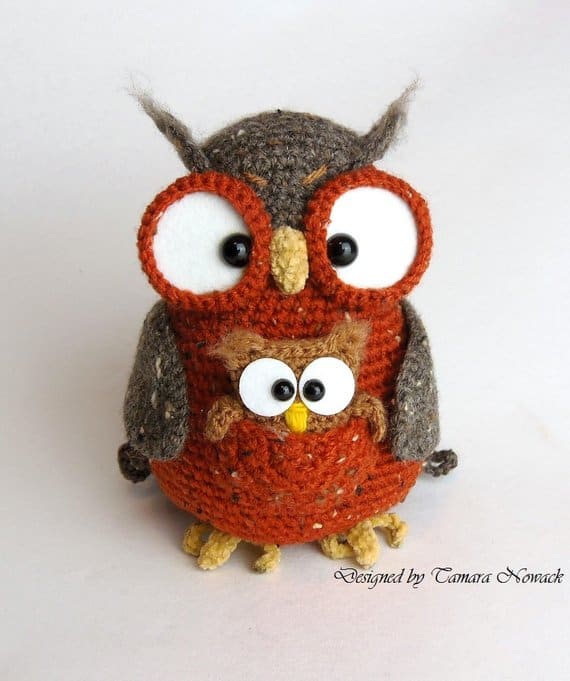 When it comes to crochet toy patterns for woodland creatures, this is totally one of my top faves! I love how adorable the baby owl sits nestles in their parents pouch. If you're an avid owl collector, then you definitely need this crochet pattern.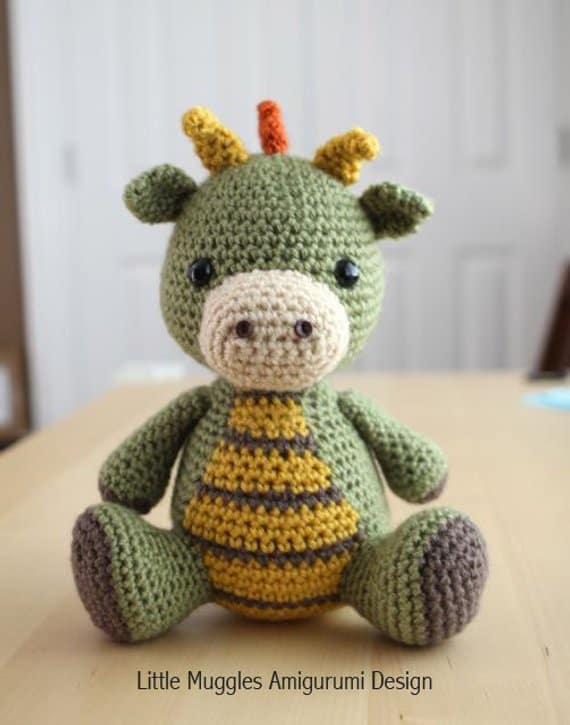 Know any dragon fans? Make this roar-some Dragon Crochet Toy to make them wish they could travel back to mythical times. How adorable would this be as a gift for dragon loving kiddos? Don't worry this one won't start any fires.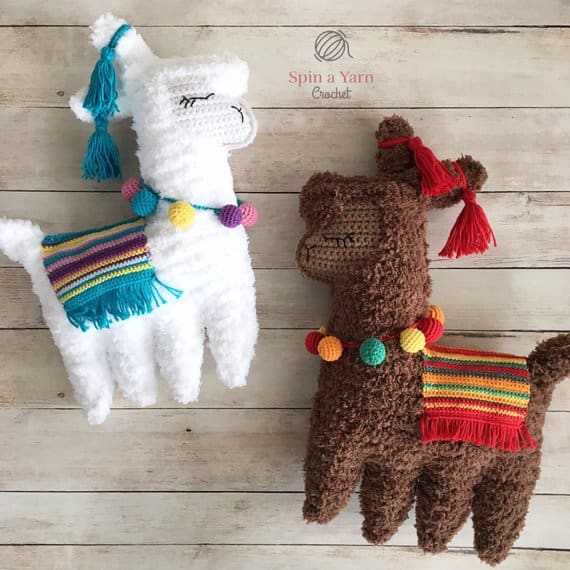 Can we all stop what we're doing and absorb how stinking adorable these llamas are? My inner child is squealing at the top of her lungs at the moment. I might need to make one of these for every season and month of the year.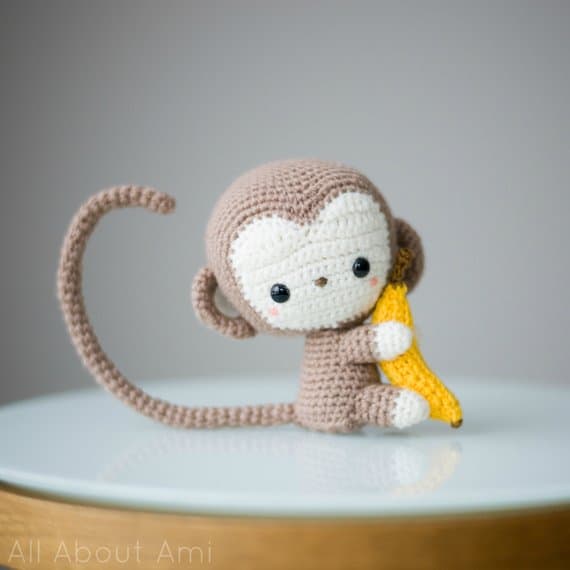 This adorable guy isn't monkeying around with his banana. I wouldn't go near him if I were you, unless you wanted to pick him and squeeze the dickens out him! I should make a few of these and have them hanging around my house.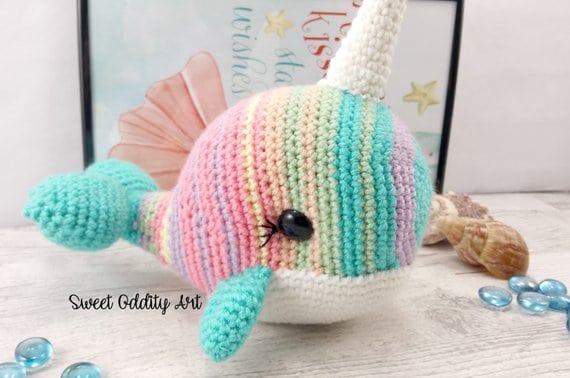 Stop my heart and looks…it's a whale look a like! This cute little Narwhal is too much for my heart. If you have a nautical theme for your little one's bedroom, then you need to make this! You might need to make a whole family of them. It's the unicorn of the oceans, so I love it even more.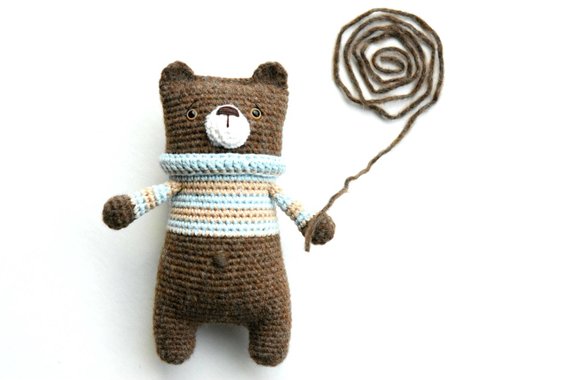 This bear is embodies everything right about life. Life is all about wearing an amazingly comfortable sweater, so I'm a little jealous of the crocheted bear at the moment. Look! It even has a belly button. It's all about the simple details. This is amigurumi bear patter is super simple, and I can't wait to dig in to the pattern!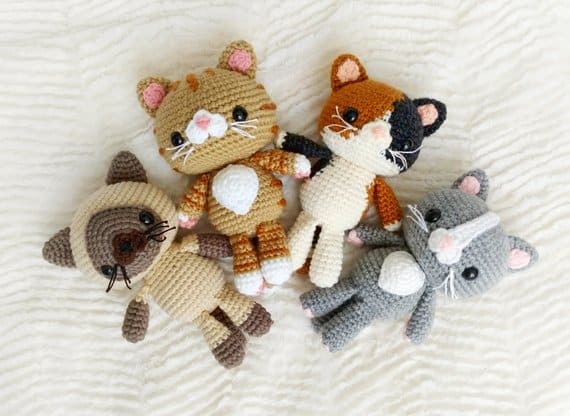 "Soft Kitty, Warm Kitty, Little ball of fur…." That song got stuck in my head when I came across this adorable bundle of cat amigurumi crochet patterns. Do you know a cat lover? Then this is perfect! Imagine crocheting a whole litter of these cats, or even mirroring the colors of one.
So besides all of them, which of these cute animal crochet toy patterns are your favorite? You already know mine, but I would love to know your thoughts! Looks like I have some more yarn to buy.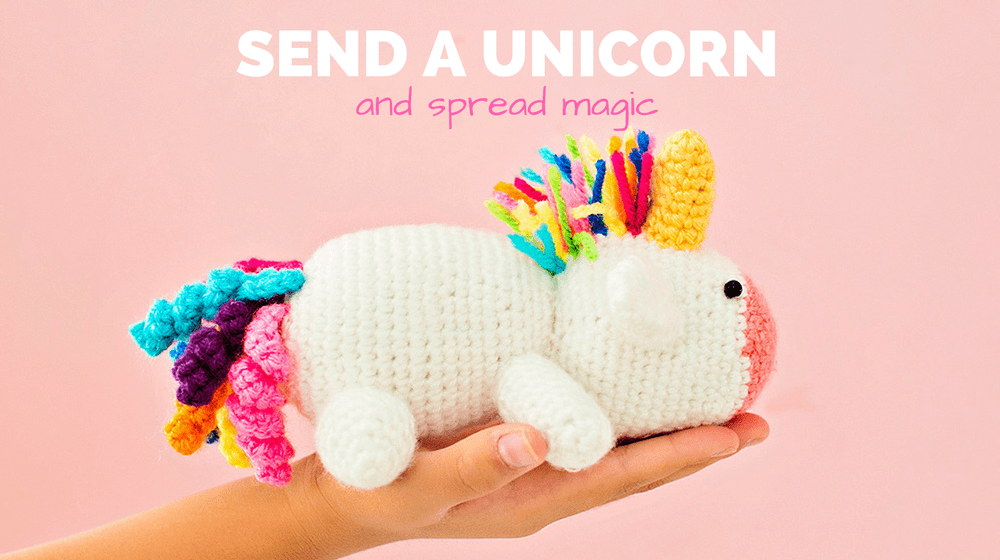 ---
Disclosure: Some of the links in the post above are "affiliate links." This means if you click on the link and purchase the item, we will receive a small affiliate commission. Regardless, we give our promise that we only recommend products or services we would use personally and believe will add values to our readers.