Follow us on Instagram for more fun ideas for kids!
Watch the video below to see how to make this fun DIY Monster Candy Conveyor Belt. Make sure to subscribe to our YouTube channel for more fun videos!
This DIY Monster Candy Conveyor Belt is perfect for social distance trick or treating this Halloween.
This year Halloween 2021 is definitely different from years past because of the safety measures we have to take and COVID precautions. This DIY Monster Candy Conveyor Belt is a fun way to practice social distance trick or treating. Some cities are cancelling trick or treating altogether and some are implementing clever ideas like candy chutes. Some are even adding candy on sticks right on their lawns!
One thing 2021 has shown us is the resiliency and brilliance of people once they are faced with a challenge. Kids have the best imaginations and minds! So I challenged my kids to make a candy DIY conveyor belt to keep candy at a safe distance while still embracing the fun and spirit of Halloween trick or treating!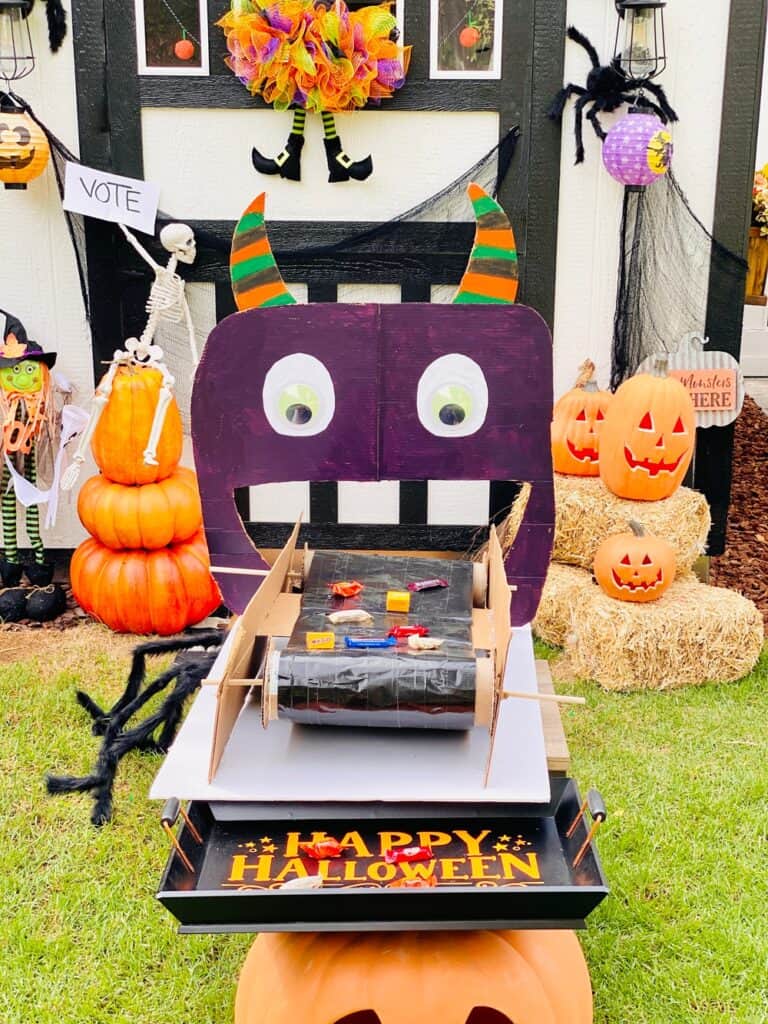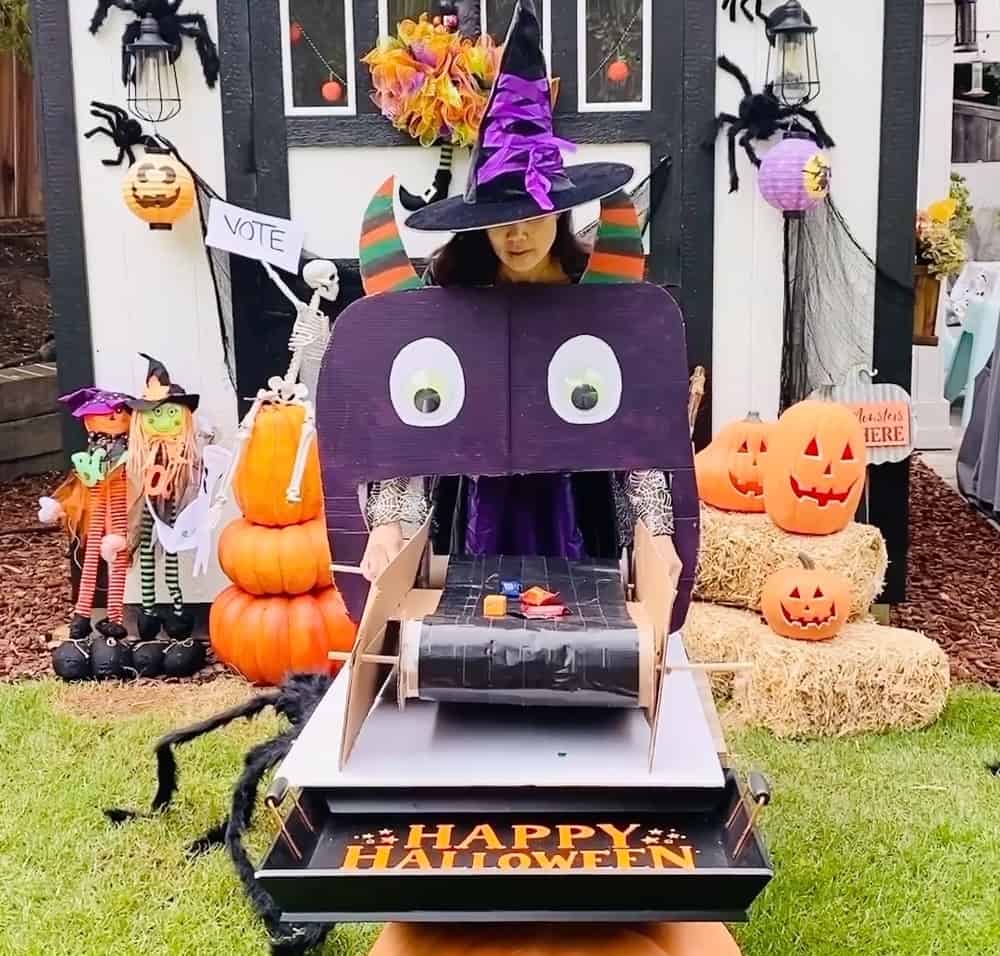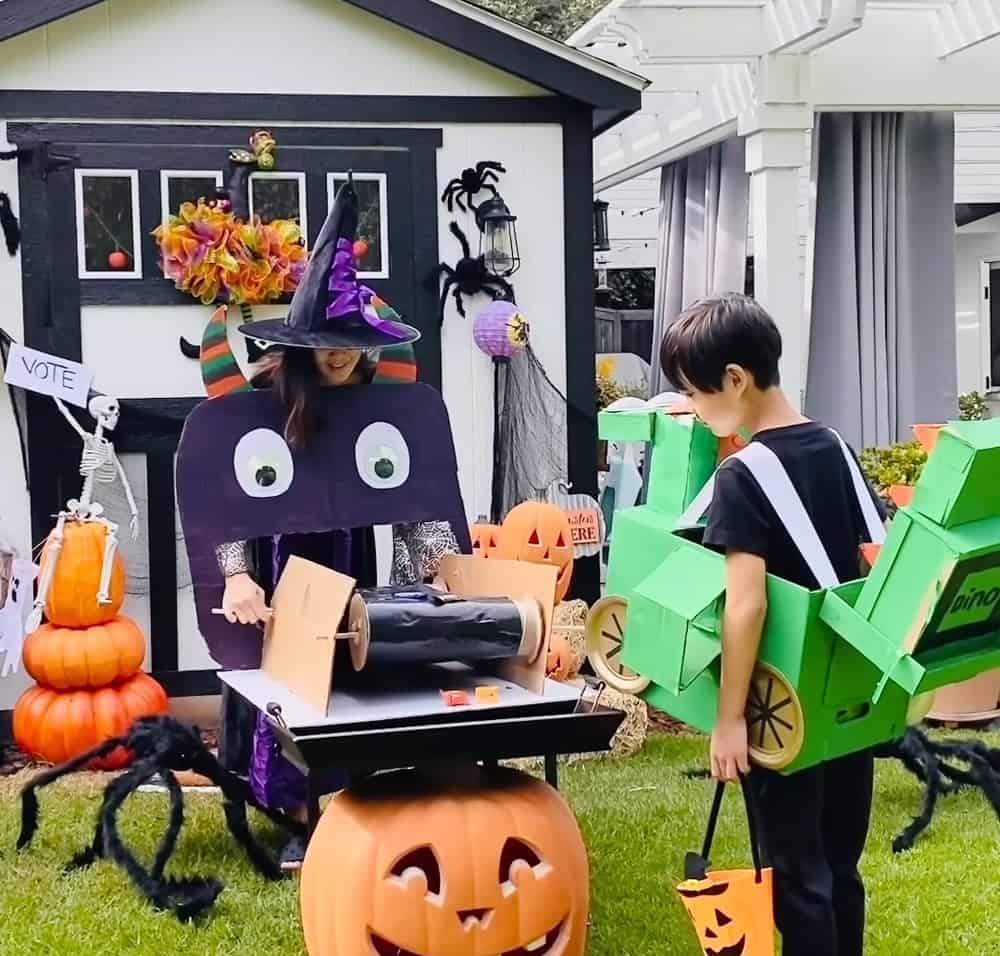 What materials do you need to build this Monster DIY Conveyor Belt?
My daughter (age 11) and her friend (one of our safe pod friends) put their brilliant engineering heads together to build this super fun cardboard monster!
I did give them some tips, we used my DIY car conveyor belt as a guide to make a larger conveyor belt. The main thing we changed was to add black duct tape to regular paper as shown on this DIY conveyor belt.
The rest is just tape, cardboard, lots of hot glue, paint sticks (they look like paint but are so much easier to use and dry faster!). Plus some dowel sticks and a base for the monster (we used a piece of white poster board).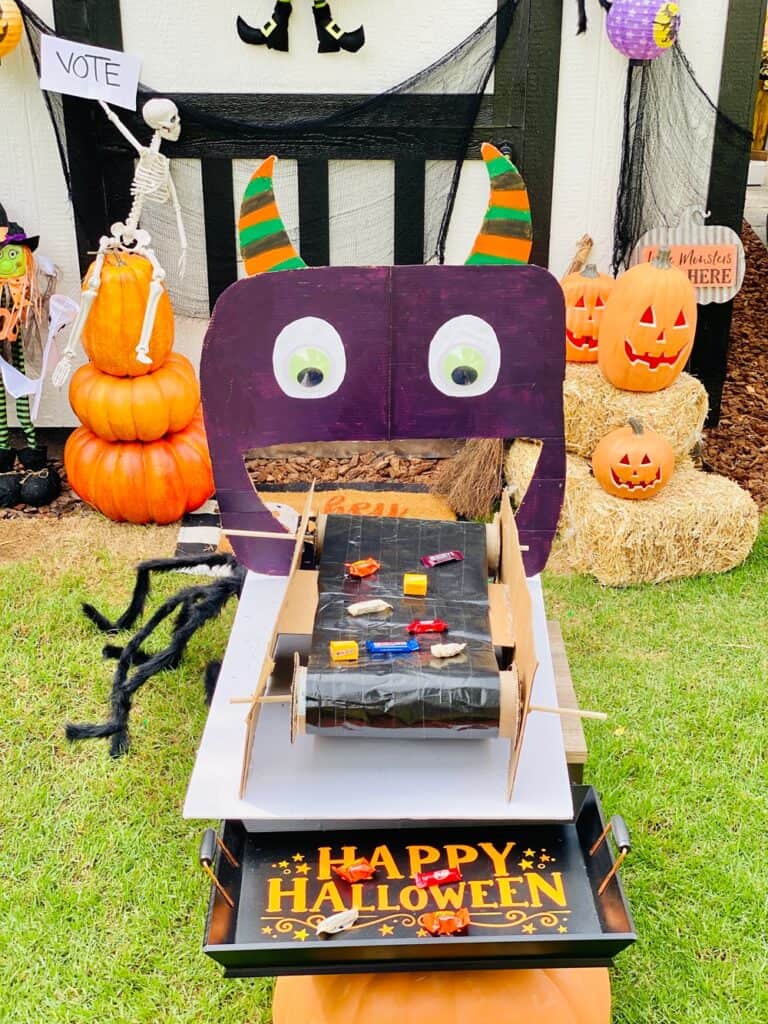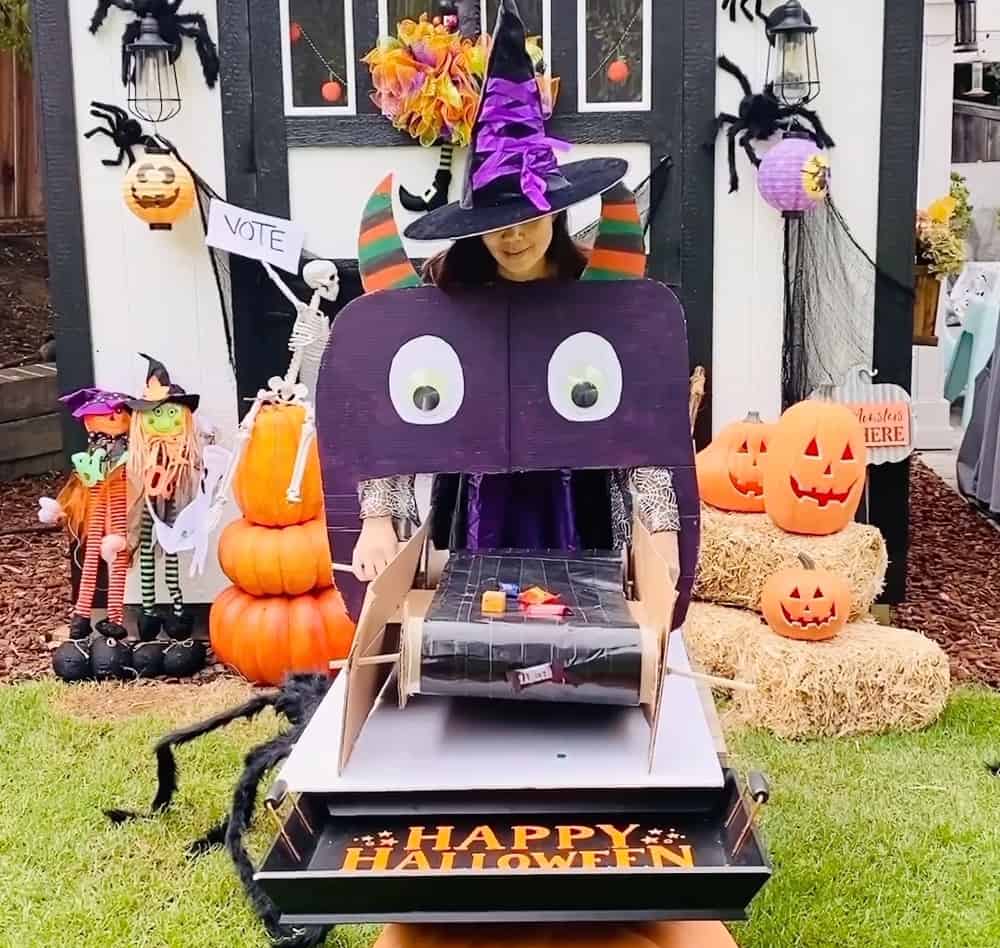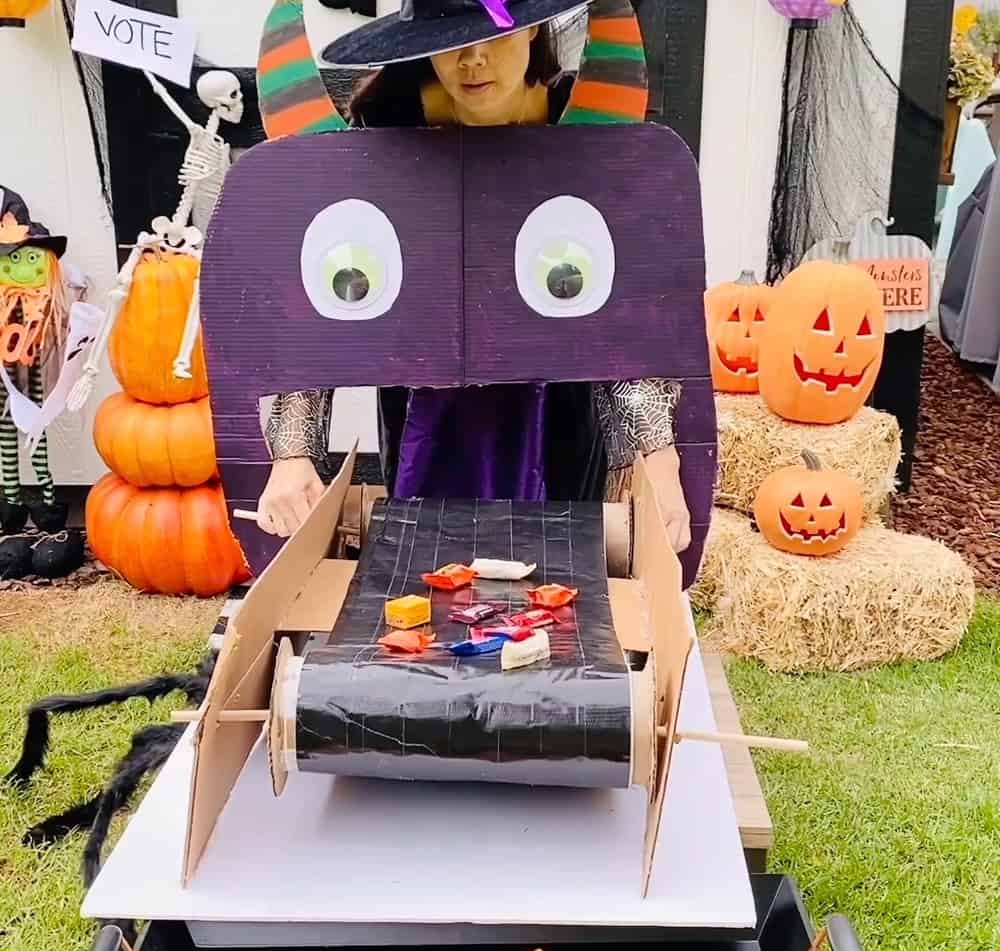 Was our social distance Monster conveyor machine 6 ft?
Admittedly no, we didn't think the cardboard mechanic would work by making a giant 6 ft conveyor belt with no electrical component. What we did is made it 4 ft and added a giant Jack O'Lantern pumpkin as you see in the photos with a tray so that added a couple more feet.
DIY MONSTER CANDY CONVEYOR BELT – MATERIALS
Cardboard (conveyor sides and bottom)

Two cardboard tubes

Rubber bands (to place around tubes to add grip for the belt)

Two dowel sticks long enough to go through tubes

Craft knife

Scissors

Tape

White butcher paper

Foam board
Monster Face
Large cardboard for monster face

Scissors

Large googly eyes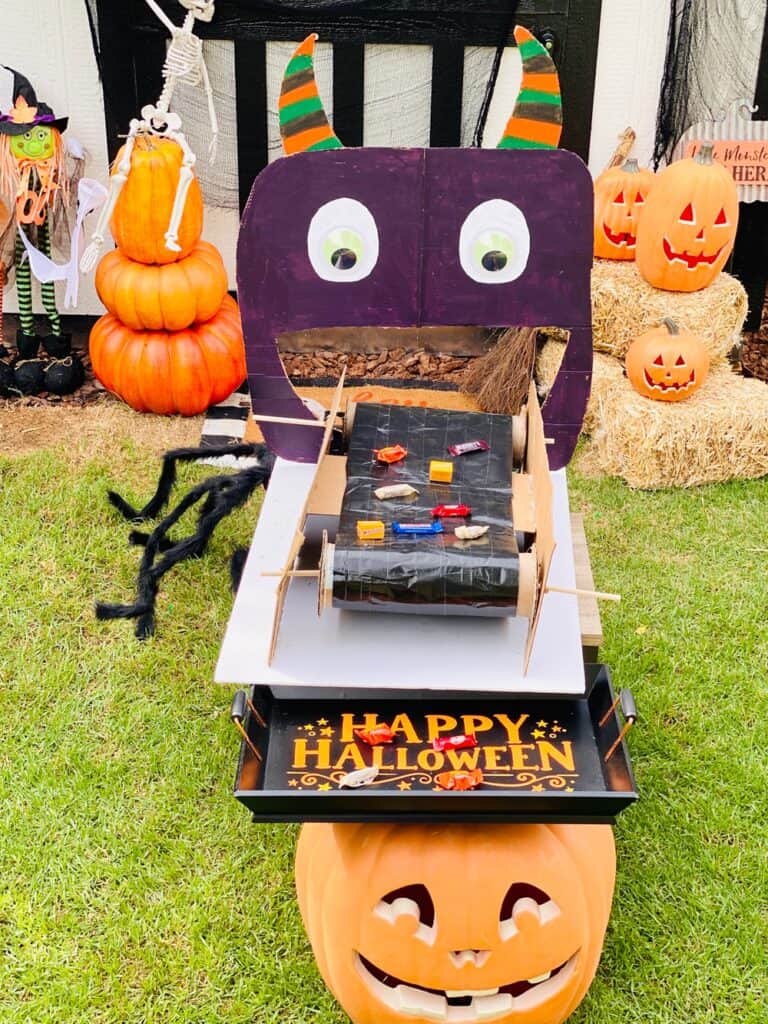 INSTRUCTIONS TO MAKE CONVEYOR BELT
Use our DIY car conveyor belt instructions but scale it large, BUT use white paper and black duct tape to make the belt instead of fabric

Hot glue the conveyor belt to a white foam board (another piece of sturdy cardboard works too)
INSTRUCTIONS TO MAKE MONSTER FACE
Cut a large piece of cardboard into a monster face and a mouth that fit around the conveyor belt

Color your cardboard and glue two large googly eyes (we also added black paper behind them to make them larger eyes)

Hot glue your face to the sides of the conveyor belt. The face might be floppy so glue pieces of cardboard on the back or weak sides to reinforce it to stay straight.
YOU MIGHT ALSO LIKE