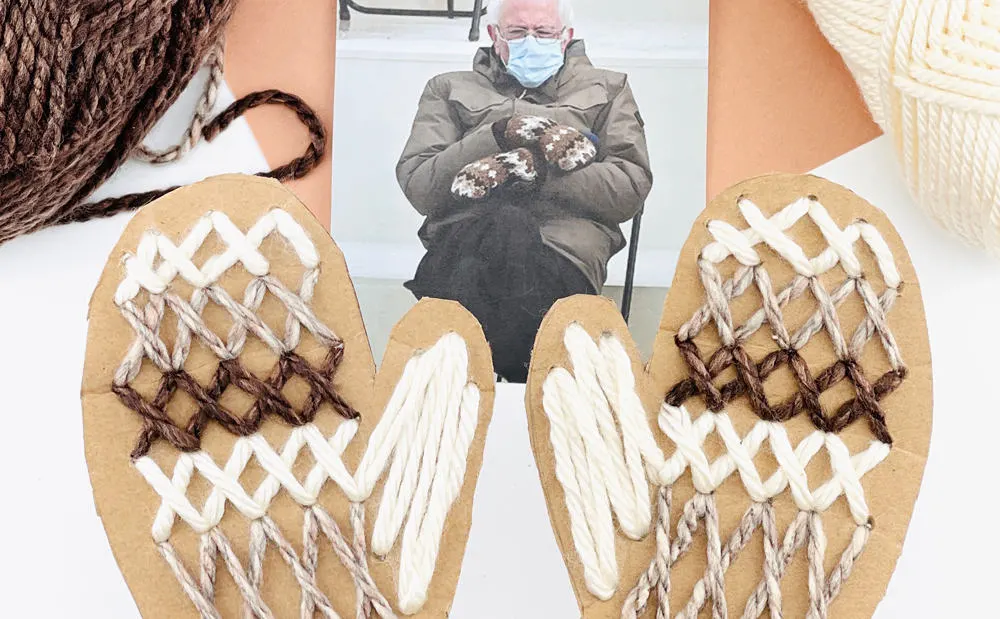 By using this site, you agree to our Terms of Use. This post may contain affiliate links. Read our disclosure policy.
Follow us on Instagram for more fun ideas for kids!
Watch the video in this post to learn how to make this fun Bernie Sanders Mitten craft. Make sure to subscribe to our YouTube channel for more fun videos!
This Bernie Sanders Mitten Craft turns his mittens into a fun DIY while teaching kids how to thread and practice fine motor skills!
We've been loving the funny memes floating around of Bernie Sanders showing up everywhere sitting and wearing his now iconic mittens! There is even a Bernie Sanders crochet doll! We had to get in on the crafty action by making a fun kids craft. This funny Bernie Sanders Mitten Craft is a cute way for kid to practice threading while learning about current events.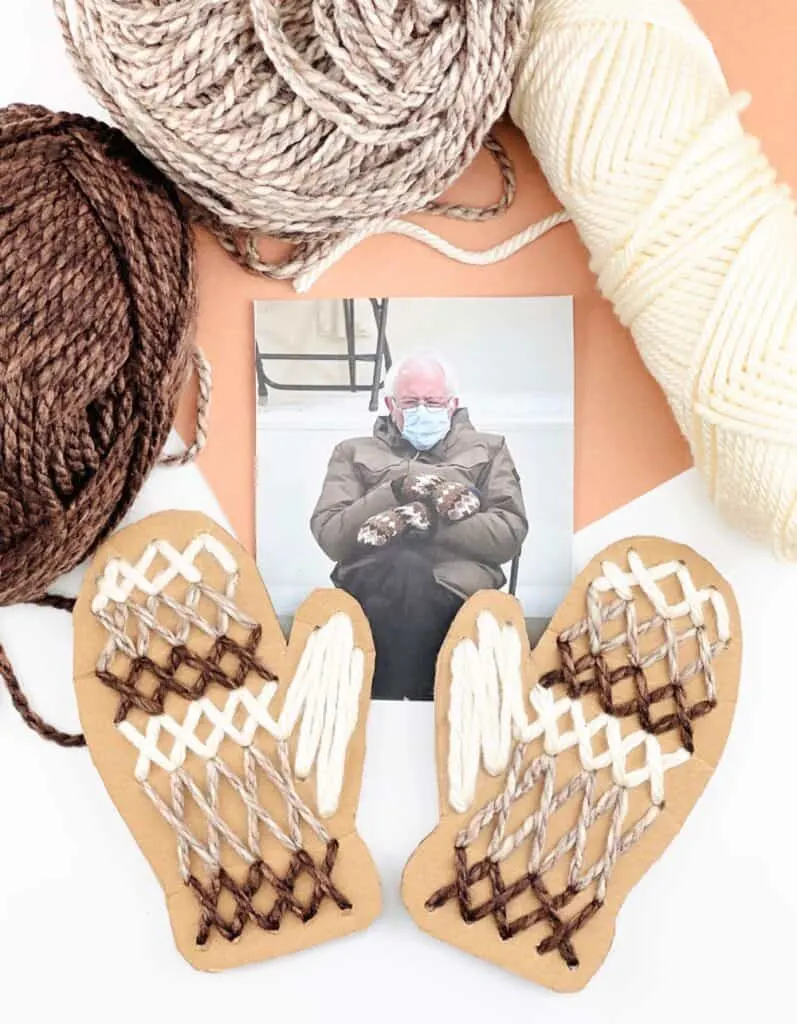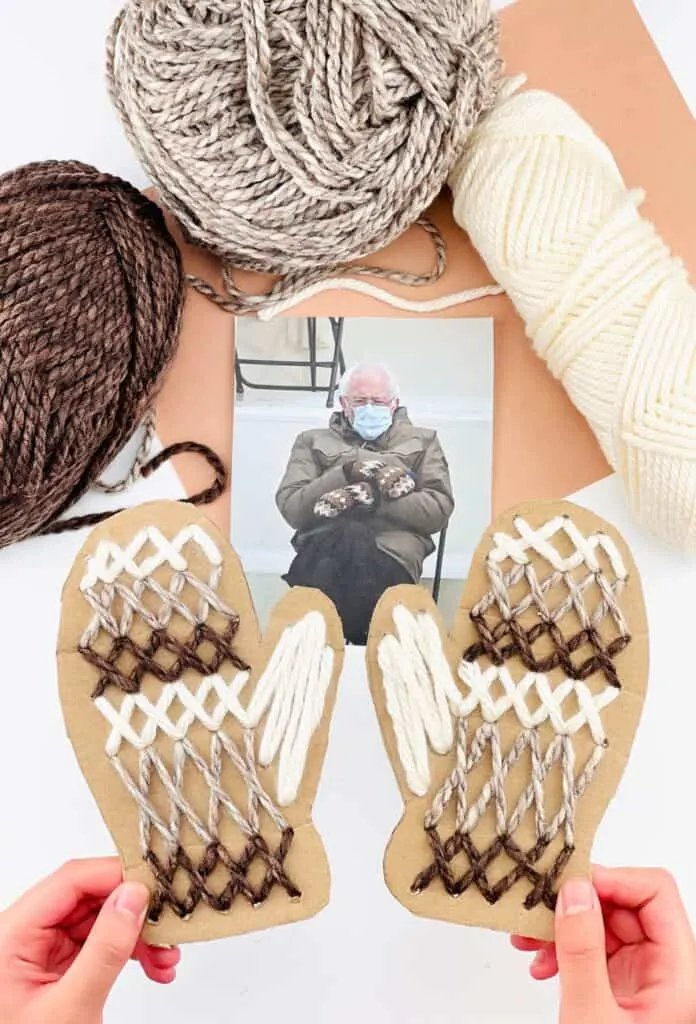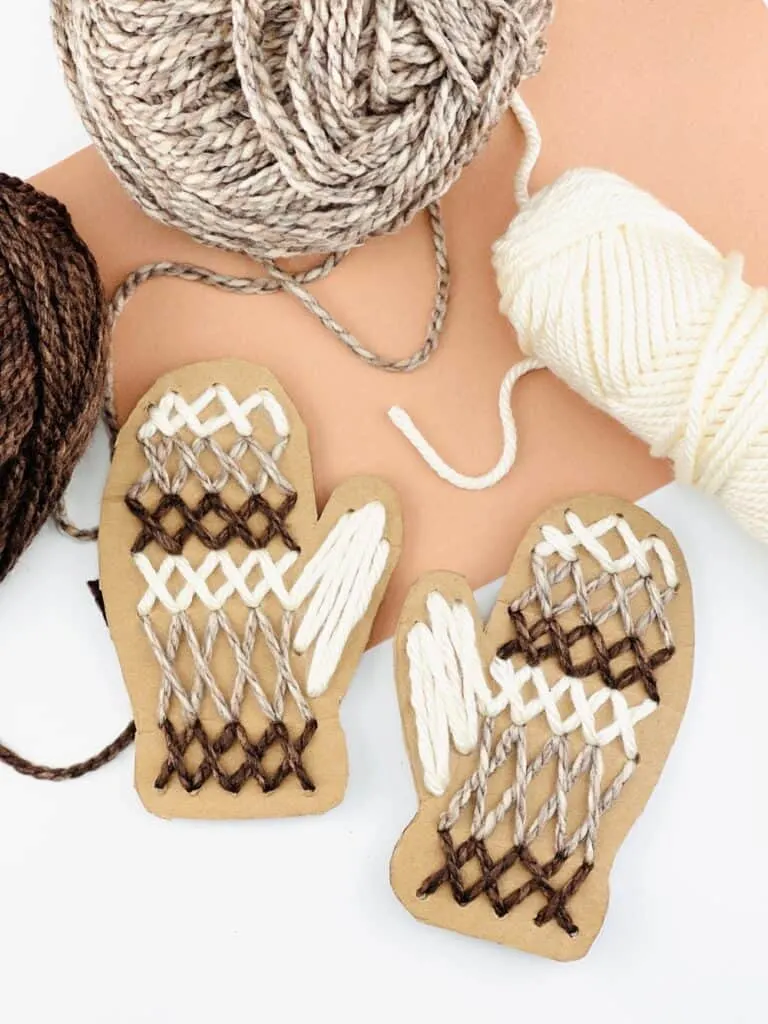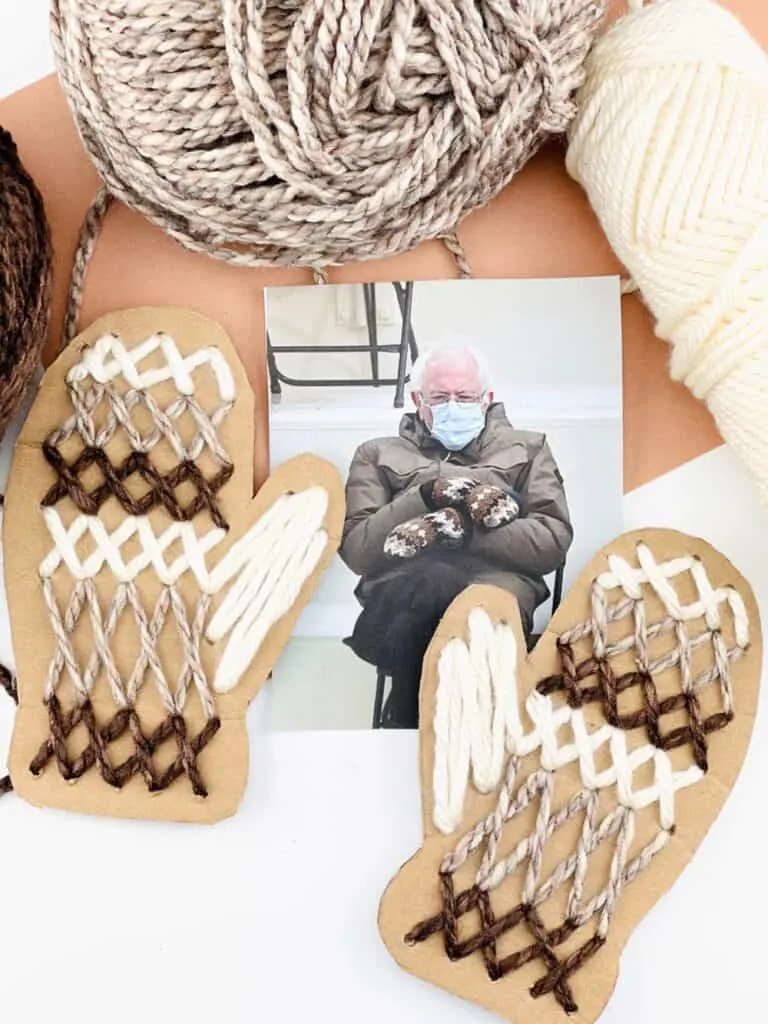 What do I need to make this Cardboard Mitten craft?
This is such an easy recycled craft using just cardboard and yarn to practice those fine motor skills! You'll need sharp scissors and something like a stick to poke holes through (we used a wooden chopstick!), tape for the back and a blunt needle that can thread yarn (make sure it's blunt and not sharp so safe for kids).
We were inspired to thread yarn after seeing our friend Mummy and the Bears Instagram post featuring simple cardboard mittens. In our case, we covered the entire mitten with similar yarn colors as Bernie Sanders' mittens in cream, light and dark brown.
You can do an extension of this craft by even tracing your kids' handprint and turning that into the mitten! If not just download our FREE printable mitten template down below in the craft instruction card.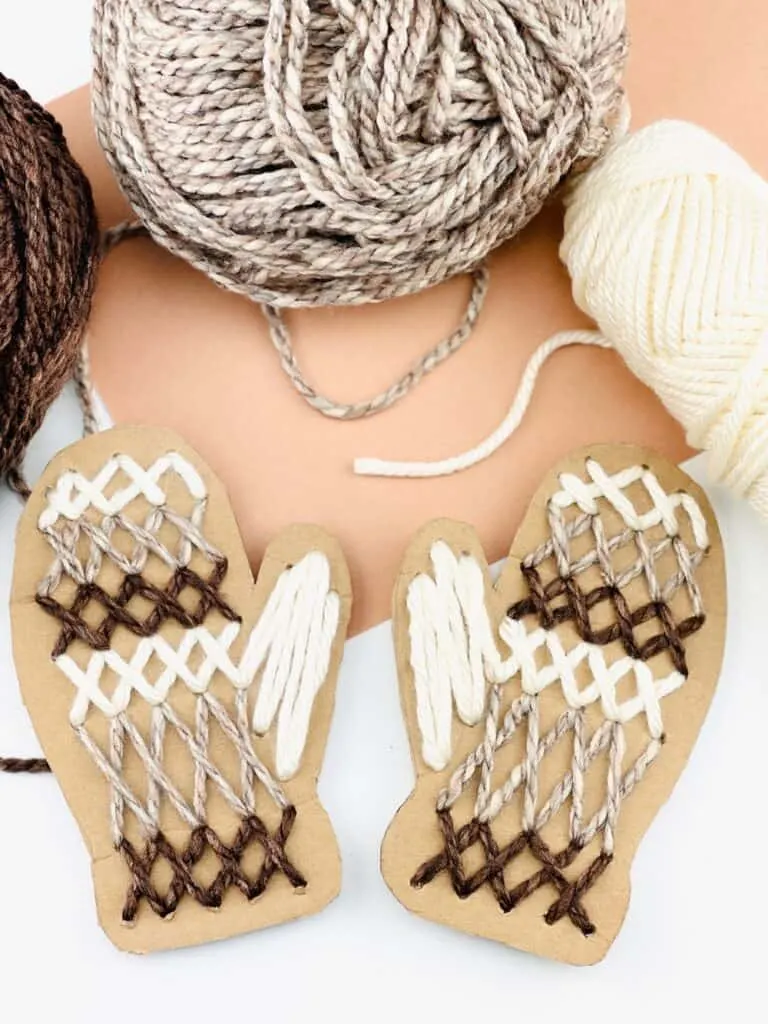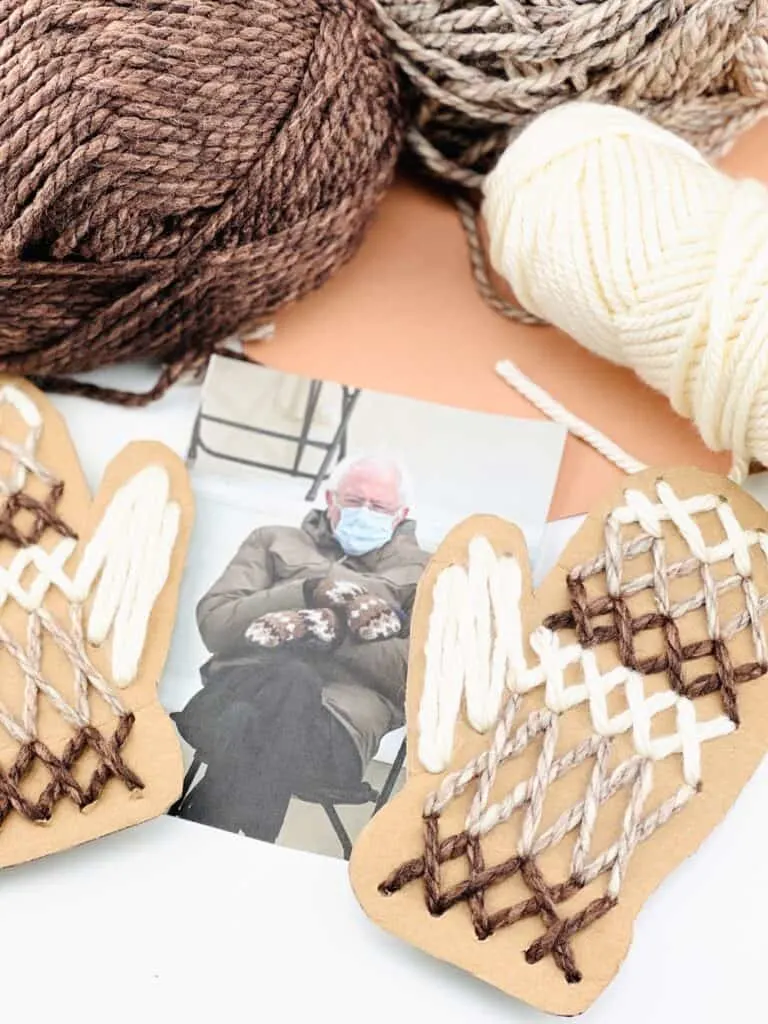 Watch the video in this post to learn how to make this fun mitten craft. Make sure to subscribe to our YouTube channel for more fun videos!
Cardboard Mitten Craft – Materials:
Cardboard

Yarn (cream, light brown, dark brown)

Large blunt needle

Scissors

A wooden stick like a chopstick

Tape

FREE mitten template (download below in craft instructions card)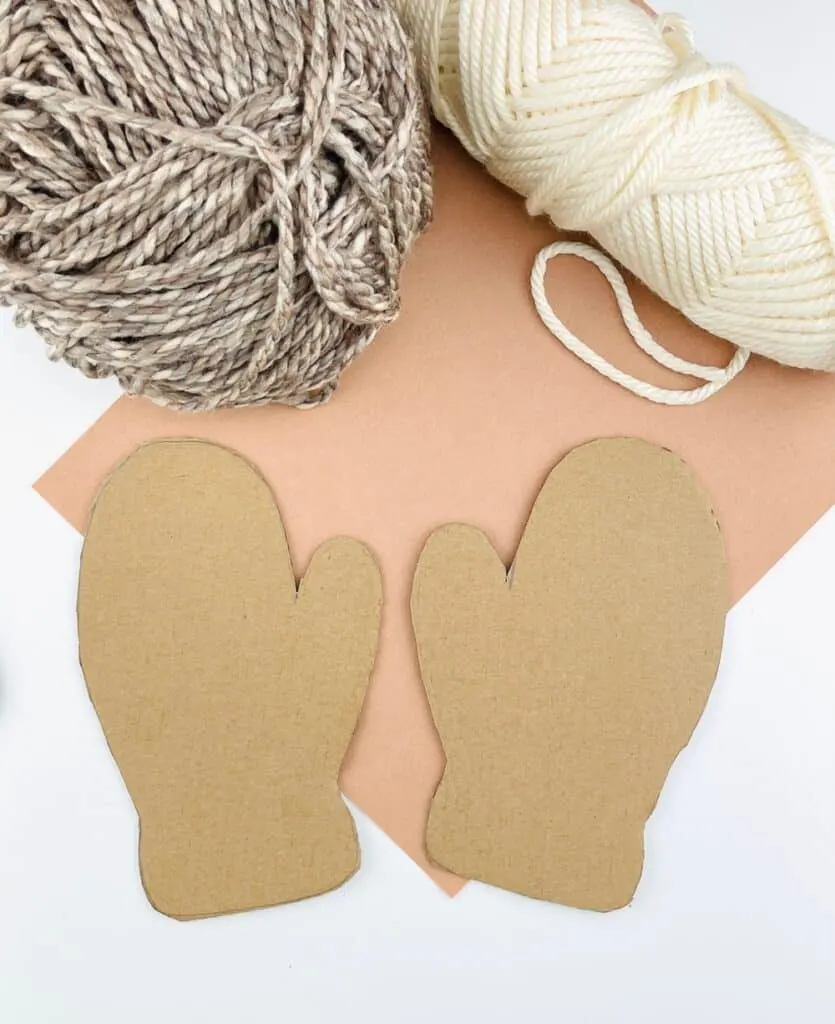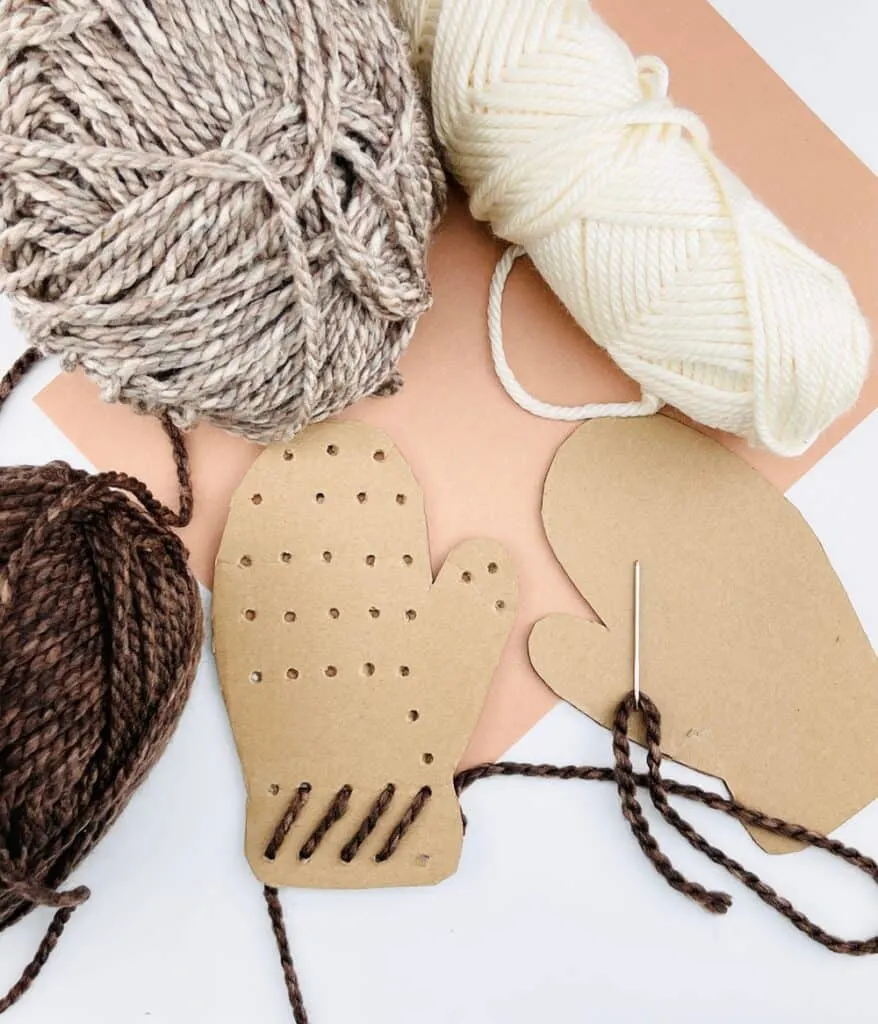 Yield: Bernie Sanders Mitten Craft
BERNIE SANDERS MITTEN CRAFT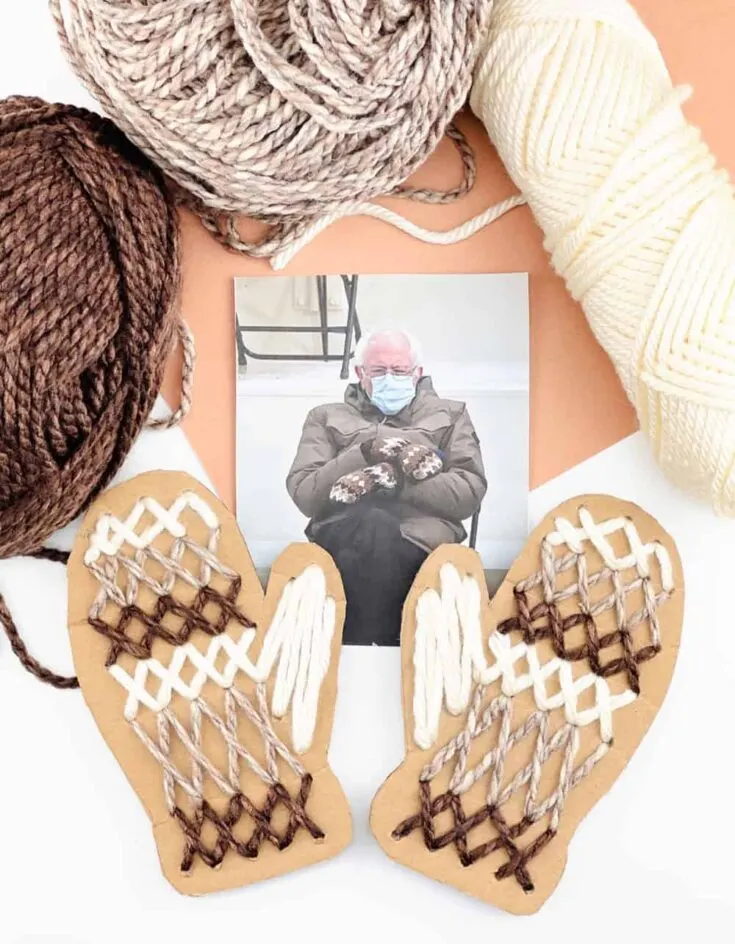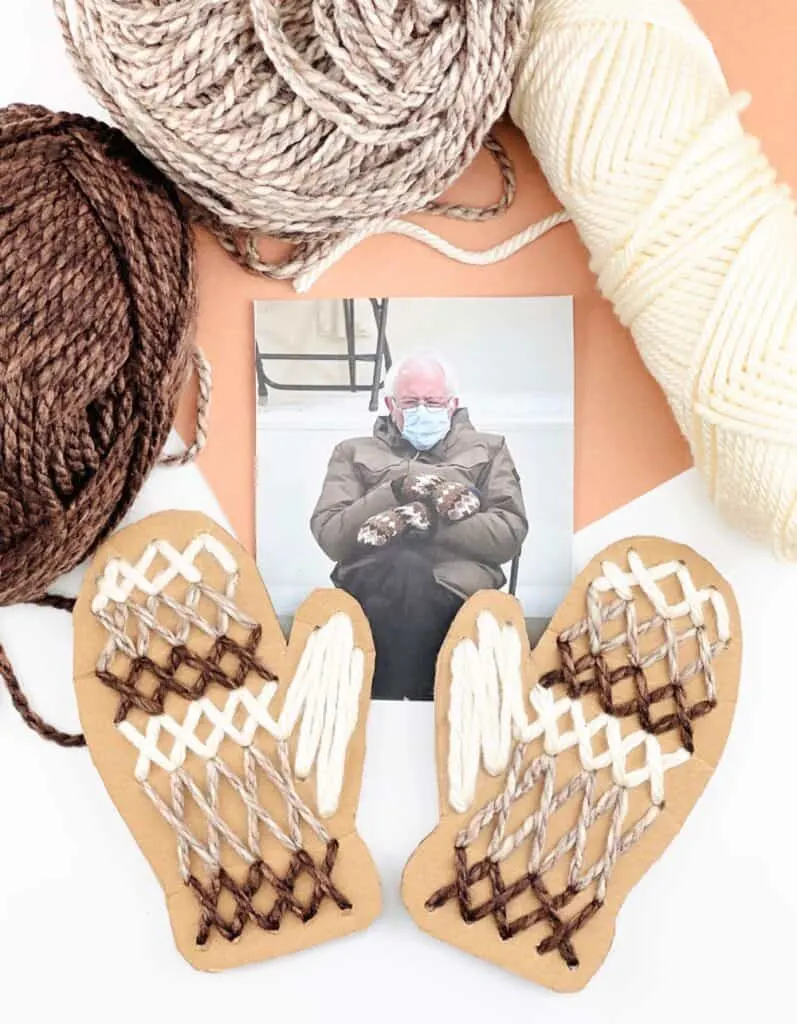 Materials
Cardboard
Scissors
A wooden stick like a chopstick
Tape
Instructions
Print out the template, cut and trace mittens onto cardboard. Cut those out.
Punch holes with sharp scissors where you want the yarn to go. it helps to use a stick like a chopstick to punch through and make the holes circular.
Use a blunt needle, thread yarn through. Make crisscross shapes like we did and follow along the pattern we made or make your own!
Simply use tape behind the mittens to prevent loose strings from unraveling .

You Might Also Like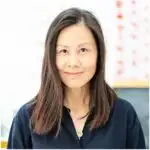 Agnes Hsu is a mom of three and has been inspiring parents and kids to get creative with easy activities and family friendly recipes for over 10 years. She shares her love for creative play and kids food to her 2MM+ followers online. Agnes' commitment to playful learning and kindness has not only raised funds for charity but also earned features in prestigious nationwide publications.