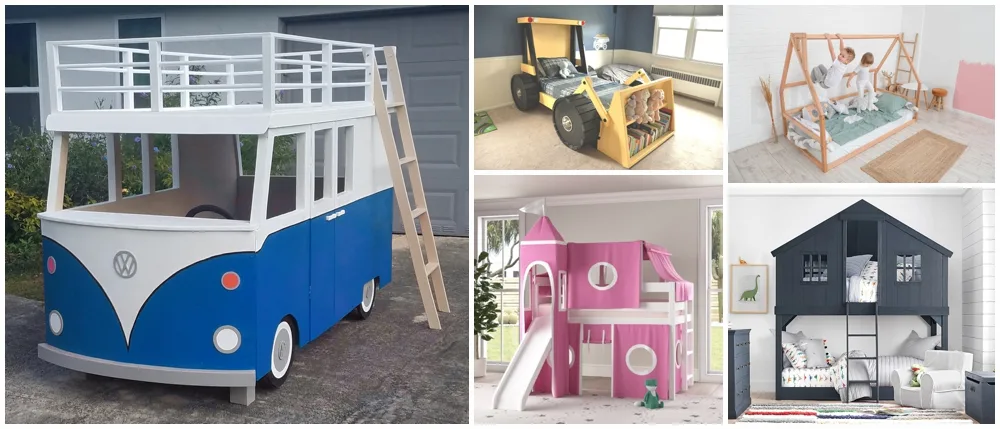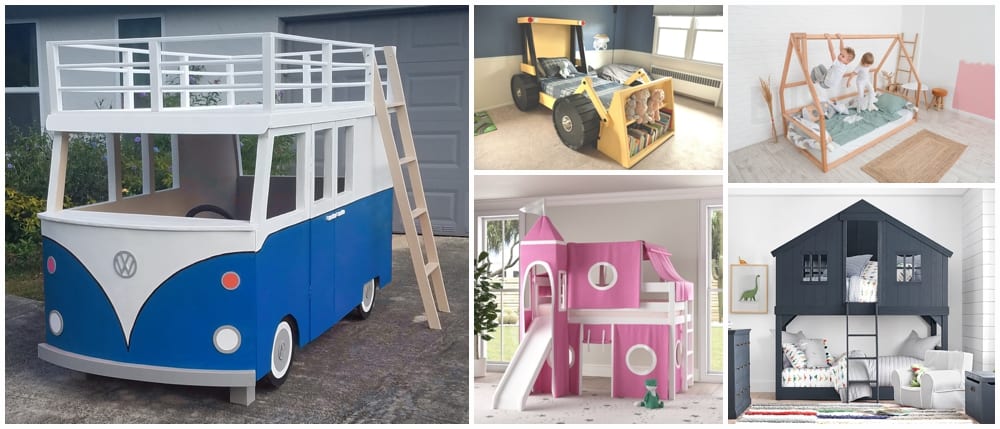 Photo credit: Etsy, Pottery Barn Kids, Wayfair
By using this site, you agree to our Terms of Use. This post may contain affiliate links. Read our disclosure policy.
Follow us on Instagram for more fun ideas for kids!
These creative and unique beds for kids create a sense of adventure and fun!
A unique bed for kids can be more than just a place to lay your head and rest. Playful beds can give kids a sense of adventure! Having their own bed is something that all children enjoy. It gives them a sense of maturity and sense of embarking on their very own adventure. Children will get to choose how their bedding will look, what decorations they'd like to go with it, and even which colors will be used!
There isn't a single standard design for children's beds; they can be customized to fit the needs of the individual children. Some parents prefer to purchase ready-made children's beds, while others prefer to involve their children in the process of creating their own personalized abode.
No matter which type you choose, there is a diverse range of exciting styles available on the market these days. Here are some fun entertaining kids bed options for you to consider!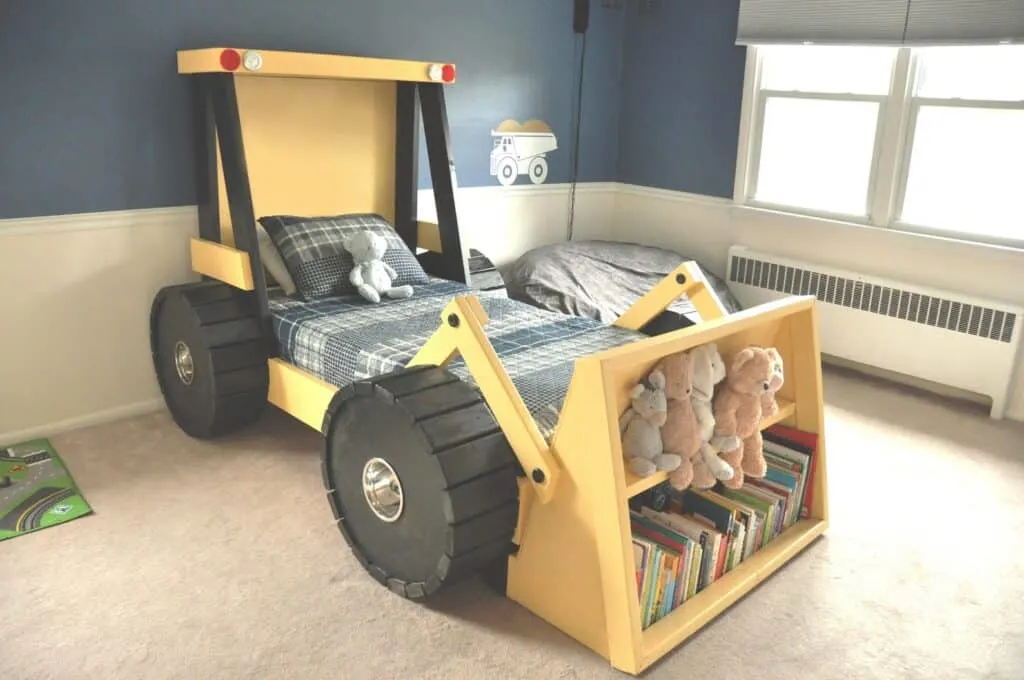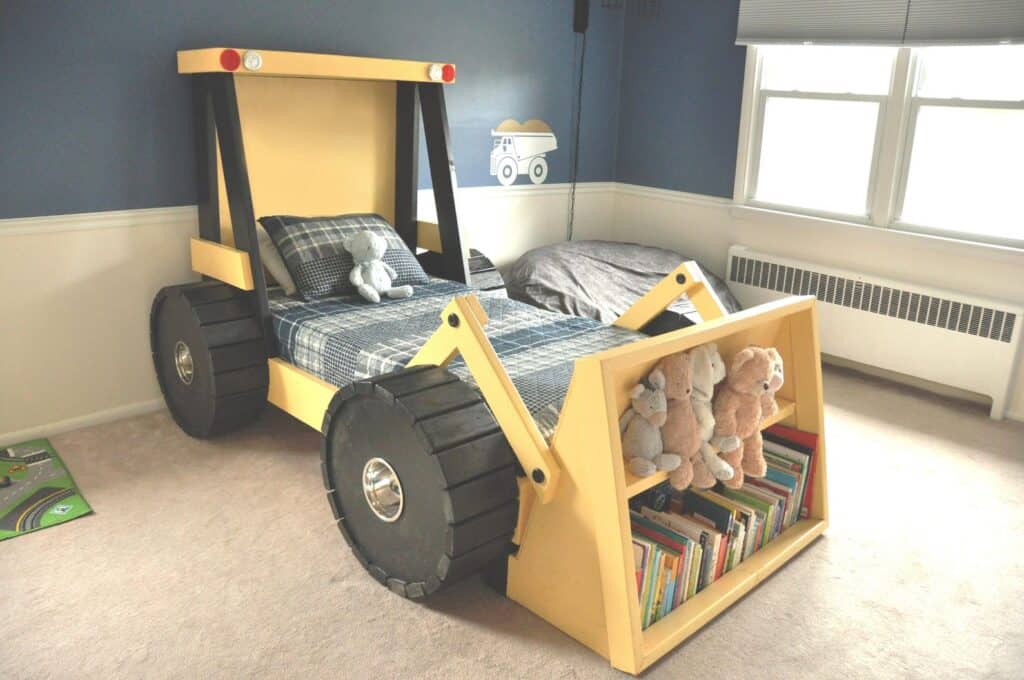 Photo Credit: Etsy
Ready to roll? Your child will love snoozing in this comfortable Construction Truck Bed! This model is perfect for a construction-themed room. This design guide provides step-by-step instructions on building the bed for a TWIN size mattress. So easy and fun, your little one can help with the construction! This modular design is easy to access and easily converted into a regular bed. Plus, there's plenty of storage for all of your child's toys and books. Assembly is a breeze with the step-by-step guide, and you can customize it however you'd like. So grab your tools and get started!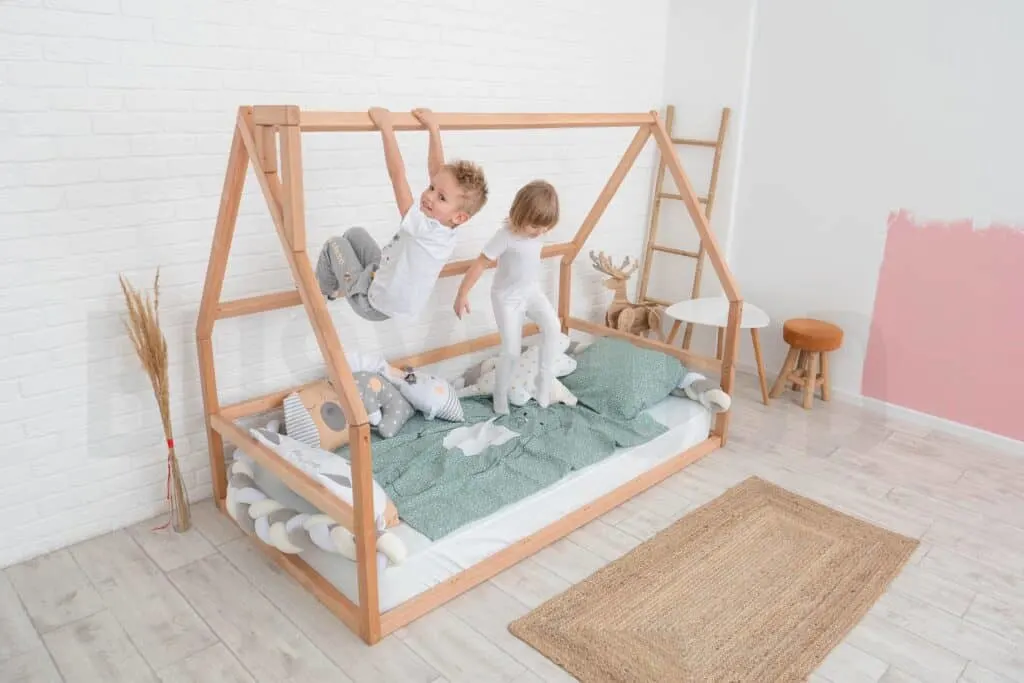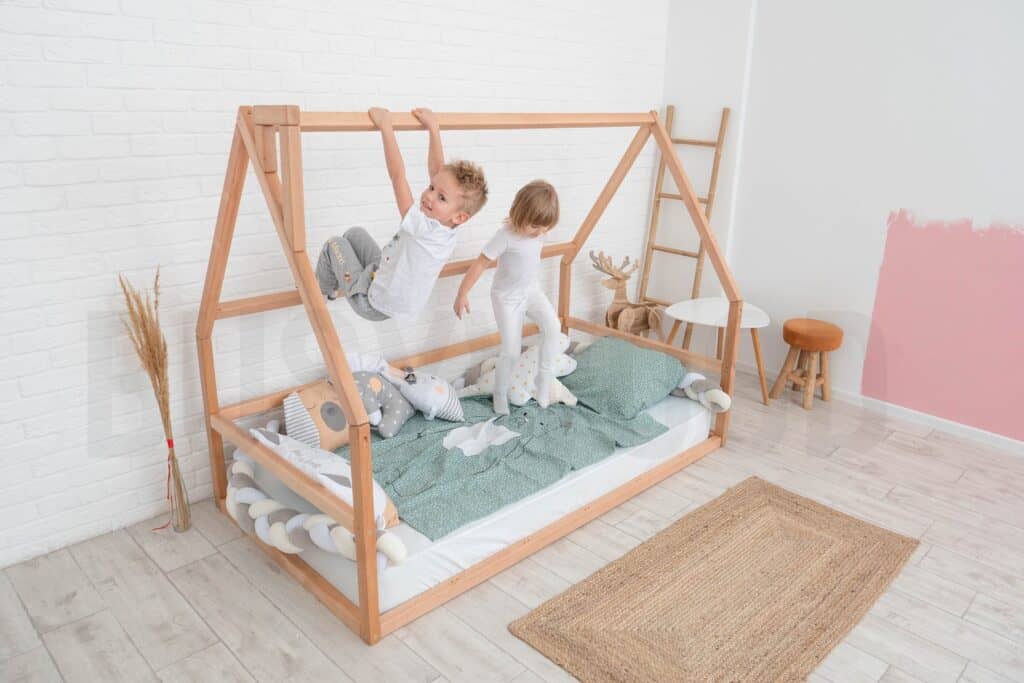 Photo Credit: Etsy
Do you want your child to have a Montessori-inspired bedroom? With Kids Montessori Design Playroom Furniture, you can create a space that inspires creativity and independence. These beautiful pieces are designed to help children learn and grow, with furniture that's perfect for sleeping, playing, and exploring. Kids Montessori Design Playroom Furniture is the perfect solution for kid-friendly bedrooms and playrooms! This furniture is constructed of natural Alder wood and is painted with eco-friendly paint and varnishes. As a result, it's safe for children and won't emit harmful substances or cause allergic reactions.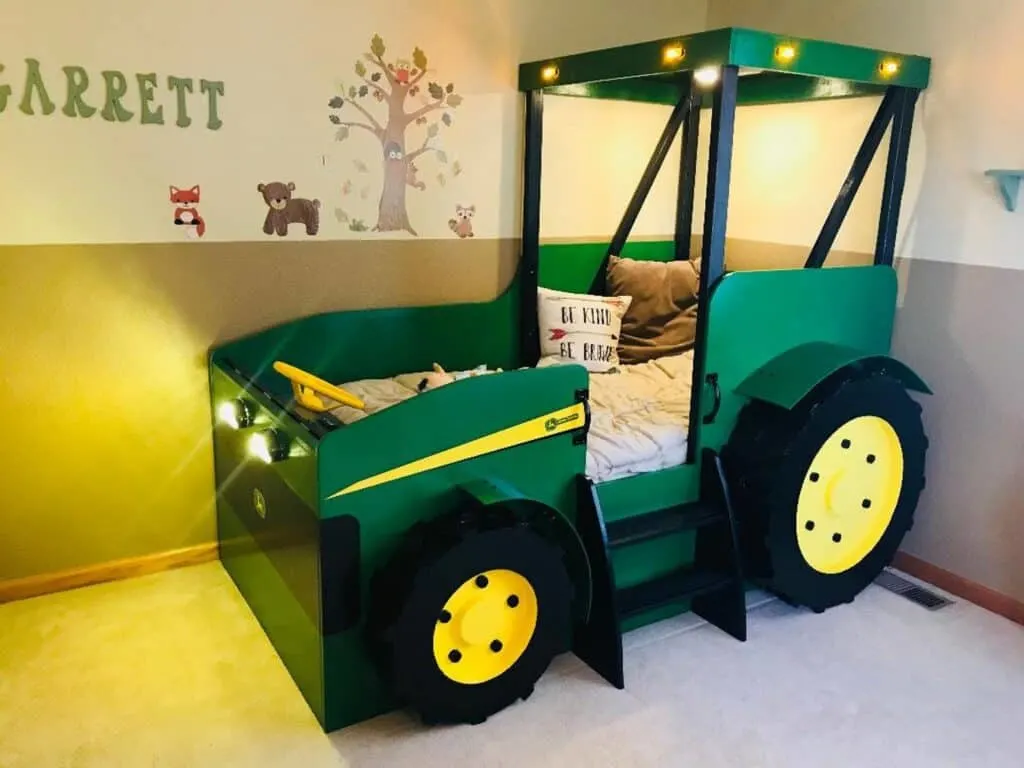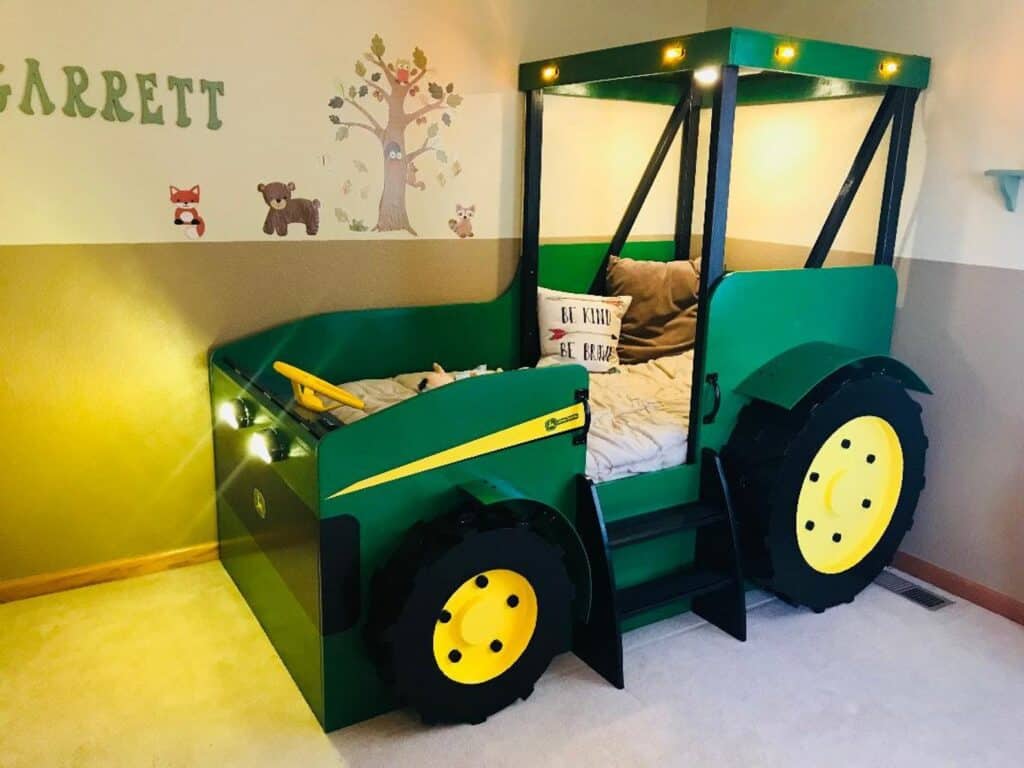 Photo Credit: Etsy
Looking for a fun and unique way to transition your little one grown-up bed? Look no further than the Twin Size Tractor Bed Plans! This downloadable pdf includes detailed instructions and diagrams, clearly explaining each step of the build process. This tractor bed with a steering wheel and switch operated LED light is sure to be a hit with any kid! If you're looking for a unique and fun bed for your little one, look no further than the Twin Size Tractor Bed. This stylish bed plan is easy to assemble and even easier to transport thanks to its modular design. Plus, at only 69″ high, it's perfect for toddlers and children of all ages. So start your engine and get ready for some serious snoozing!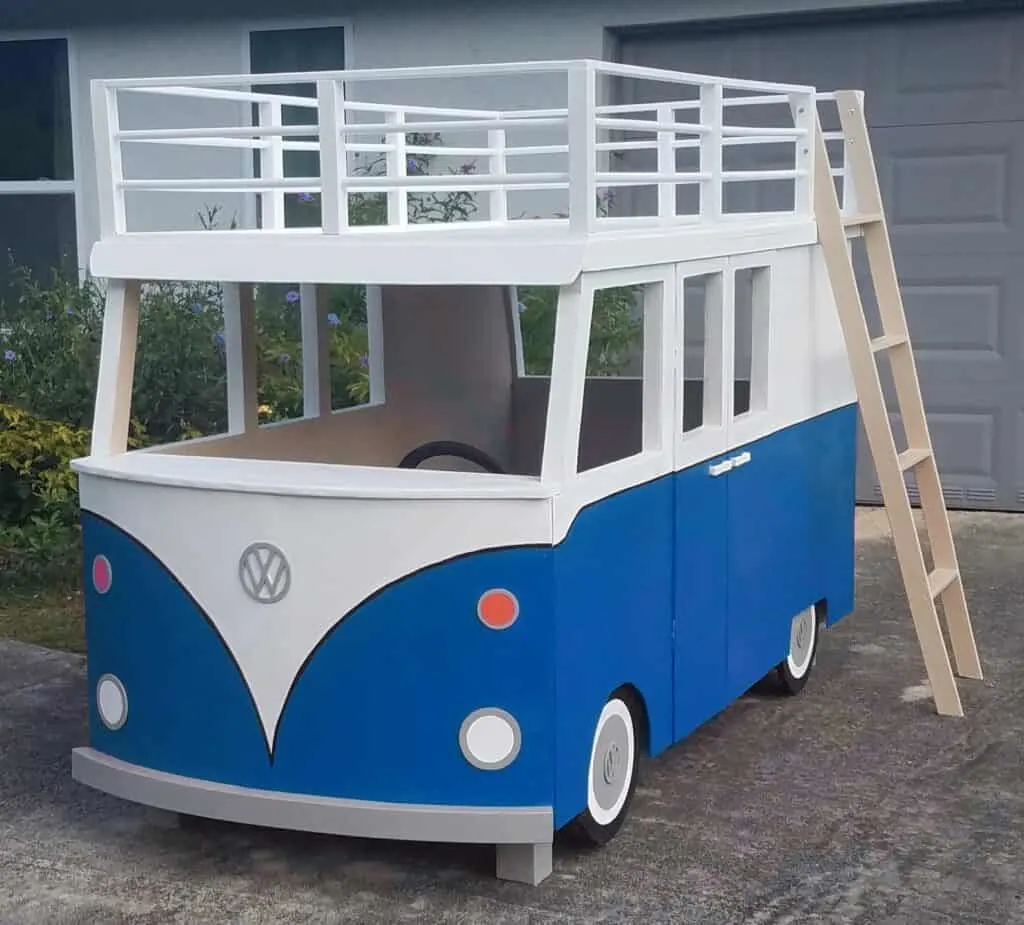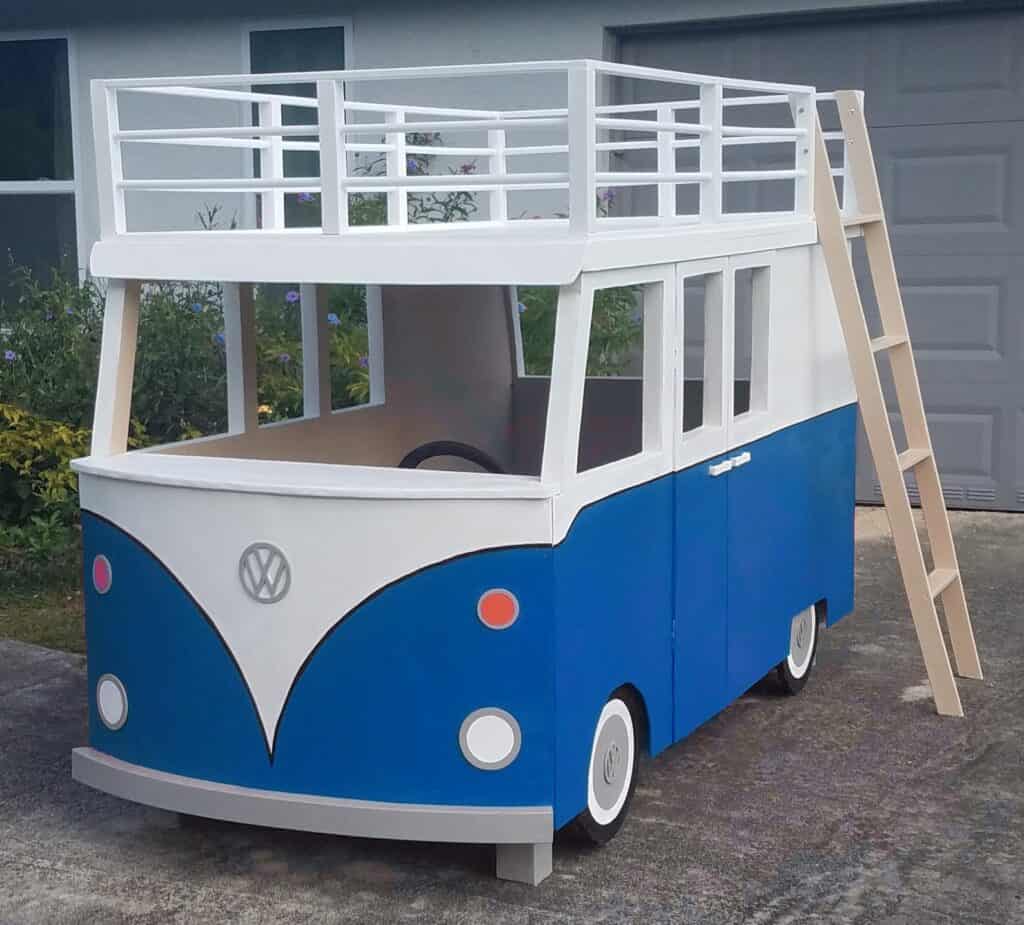 Photo Credit: Etsy
Are your kids always begging for a little more excitement in their lives? With this VW Camper Microbus bunk bed, they'll get all the adventures they can handle. It's perfect for small spaces, and it comes equipped with a playhouse so your kids can pretend to travel the world. Who knows? They might even learn a thing or two about road trips along! This bunk bed is the perfect solution for kids who want their own space. The VW 1960s Camper Microbus design is sure to please any child, and the sturdy construction will make sure they stay safe.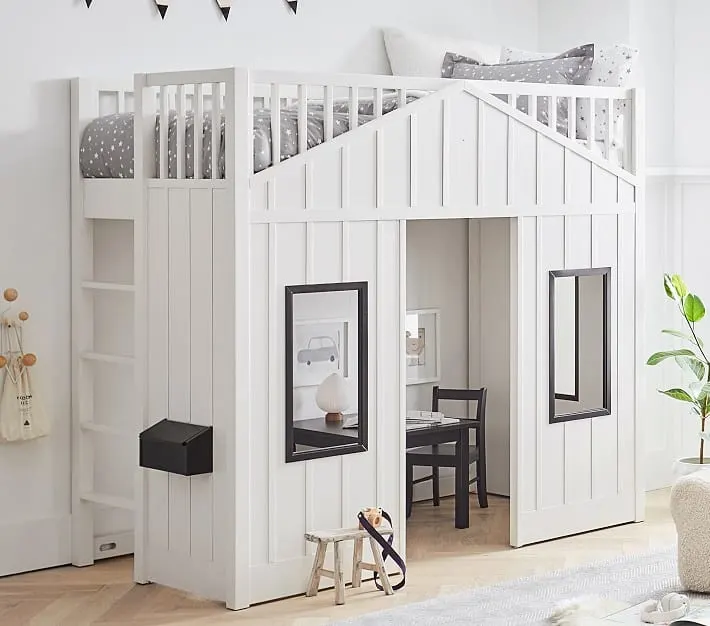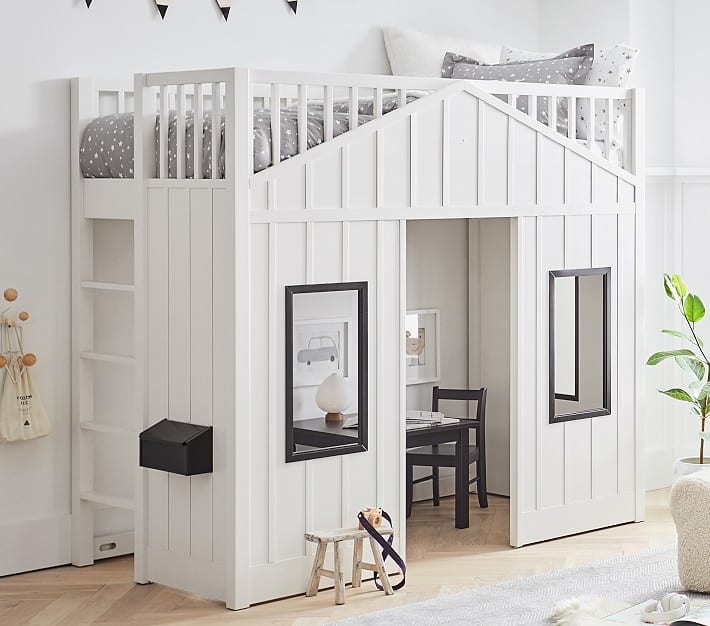 Photo Credit: Pottery Barn Kids
The Modern Farmhouse Loft Bed is perfect for your growing child! This bed has a rustic yet contemporary feel with its natural wood and clean lines. The kiln-dried wood aids in preventing warping, splitting, and mildew, so you can rest easy knowing your child is safe and sound. Plus, the Simply White with Black accents provides durability, depth of color, and richness to each piece of furniture. This GREENGUARD Gold Certified bed is perfect for kids who want their own little space. The playhouse on the bottom features three windows, a mailbox, and an open doorway – perfect for hours of play.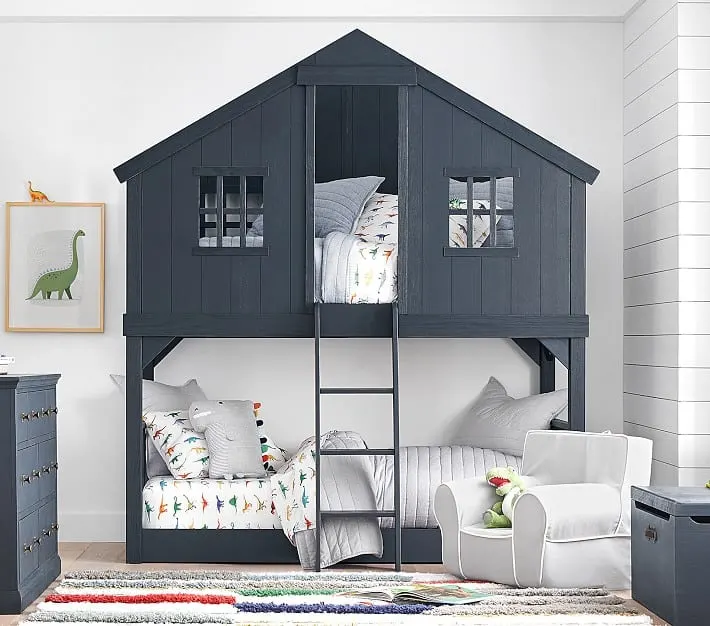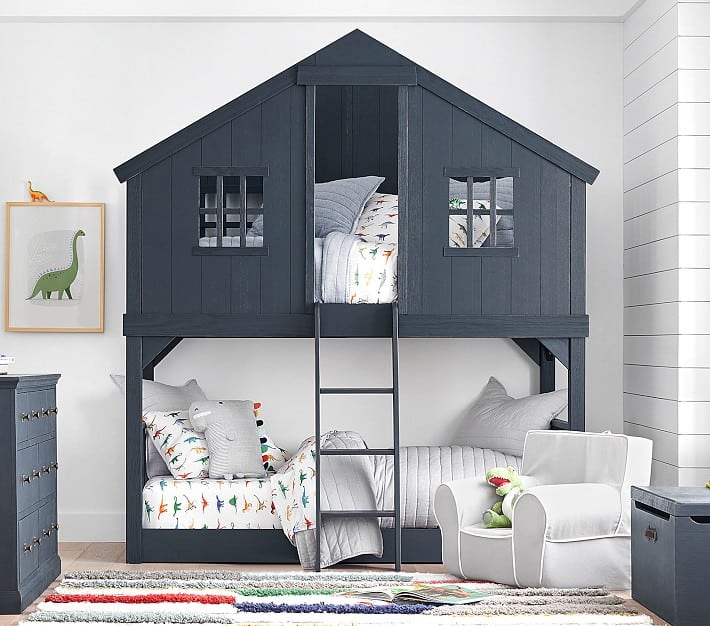 Photo Credit: Pottery Barn Kids
Introducing the Tree House Twin-Over-Twin Bunk Bed! This enchanting bed is perfect for any child who dreams of having their treehouse. It features a sturdy ladder, five open windows, and a beautiful frame with a classic house design. It's also made from high-quality materials that will last for years to come. So give your child the bedroom they've always wanted with the Tree House Twin-Over-Twin Bunk Bed. This unique bunk bed is made with finishes developed exclusively for kids and is sealed with an extra coat of lacquer for extra durability.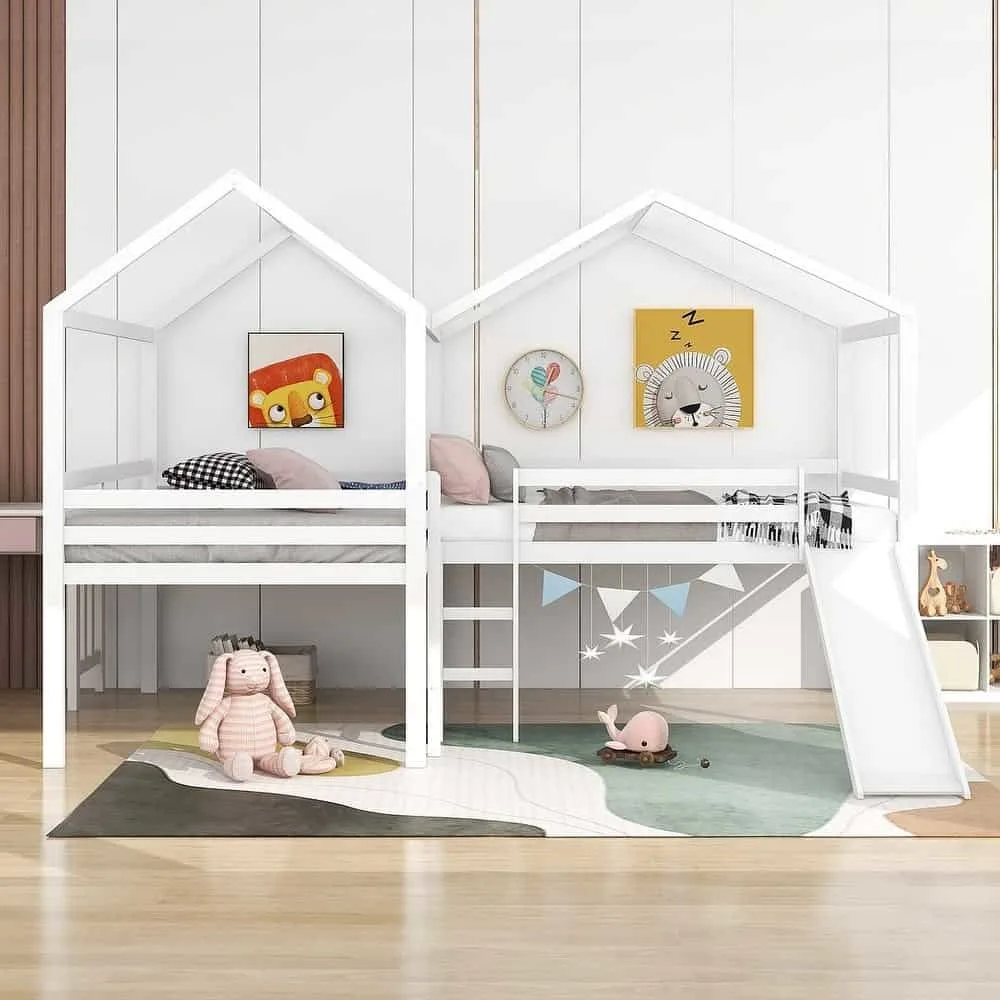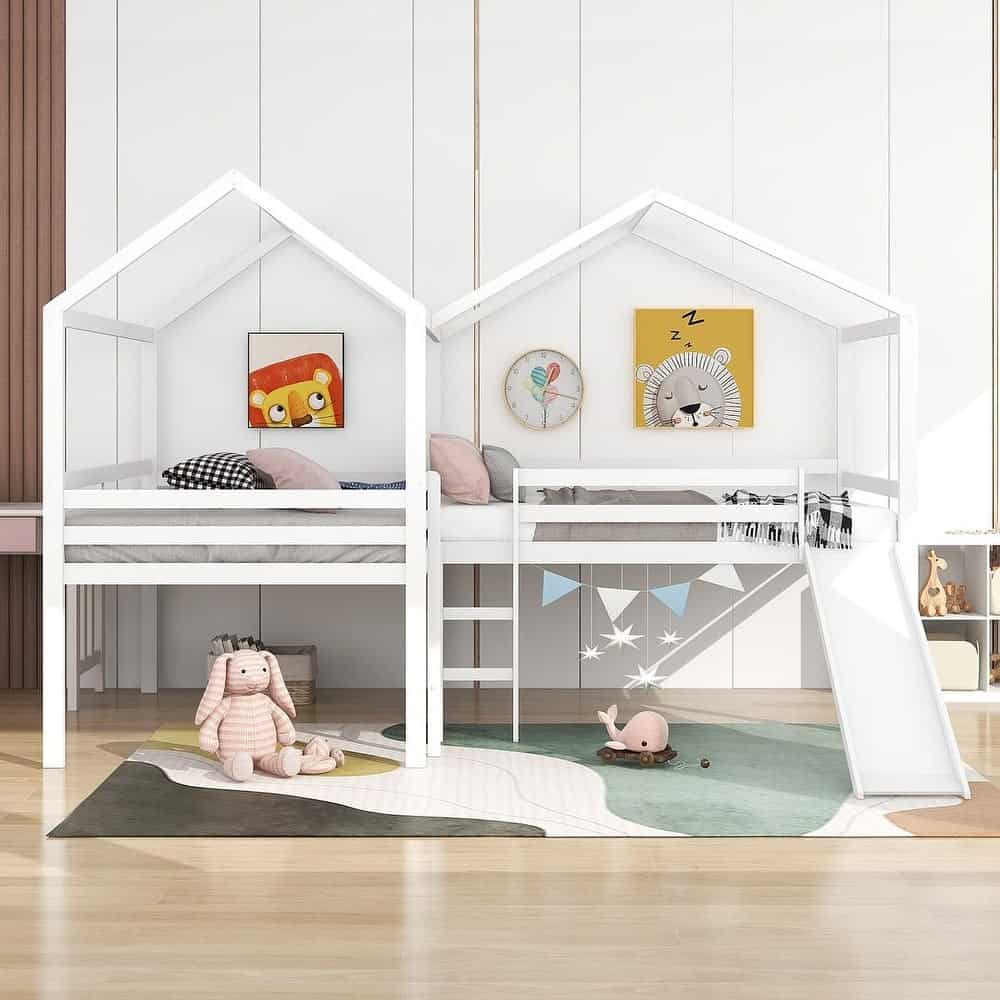 Photo Credit: Overstock
Get your child the chic barnyard style bed they've wanted with this Full Loft Bed. This cute, stylish bed is made of wood, and its design comes with a roof, a slide, and a guardrail for safety. Available in White or Brown. Its sturdy wood and construction are perfect for sleepovers and will withstand the test of time. It comes complete with a beautiful colored finish! The fence-shaped guardrail is designed to help keep your child safe while playing or sleeping. The spacious under-bed space is perfect for storage or creating a mini playground, making this loft bed the ideal choice for any child's bedroom.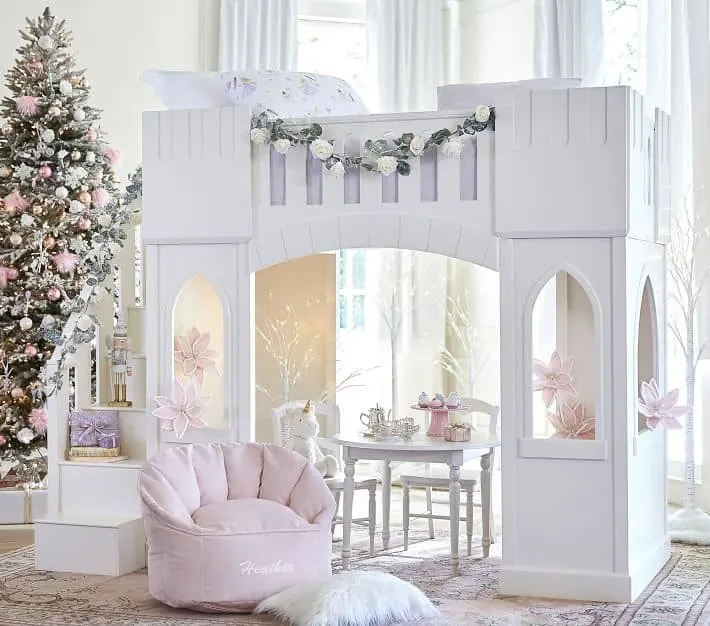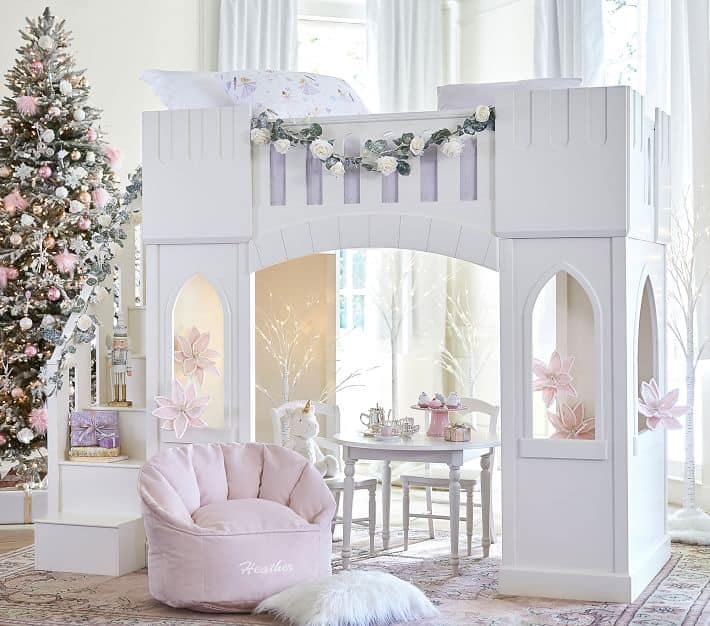 Photo Credit: Pottery Barn Kids
Calling all princes and princesses! Your child will love having this magical Castle Twin Loft Bed in their bedroom. With a twin bed up top and a play castle underneath, your little one will have hours of fun playing make-believe. The hand-applied finish is beautiful and sure to last for years to come. Turn any child's bedroom into a royal palace with this magnificent Castle Twin Loft Bed! The sturdy kiln-dried wood construction will prevent any warping, splitting, cracking, or mildew, while the hand-applied finish in French White will give your child's room an elegant look. In addition, the guardrail features beautifully sculpted turrets and detailed molding, providing safety and security for your little one.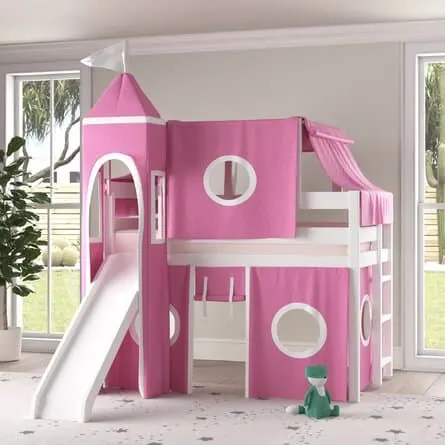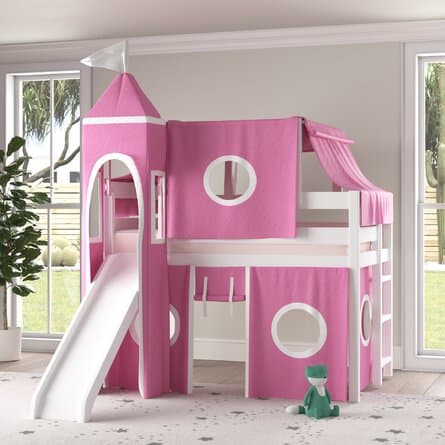 Photo Credit: Wayfair
The Aisling Twin Solid Wood Loft Bed by Zoomie Kids is perfect for your adventurous child! This bed includes a slat kit, guardrails, built-in ladder, slide, and tent! It also consists of a canopy and bunk bed curtain. The frame is made of solid wood and can hold up to 175 lbs. The Aisling Twin Wood Loft Bed will be a playful addition to any child's bedroom! This sturdy bunk bed includes a desk and a bookcase, making it the perfect place for your child to study or read. The bright white finish will brighten up any space, while the playful design will excite any child about their bedroom!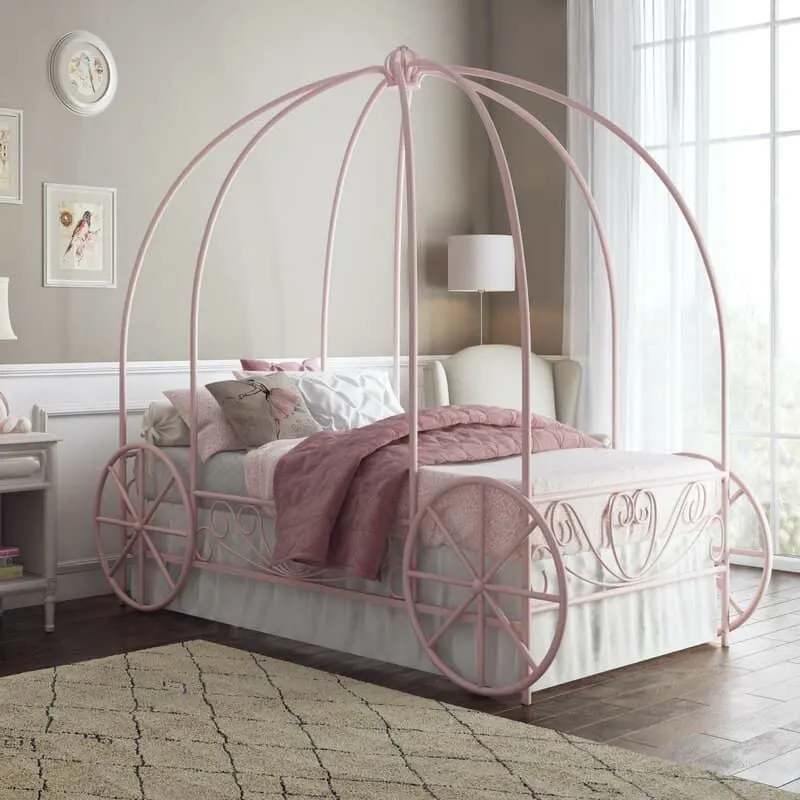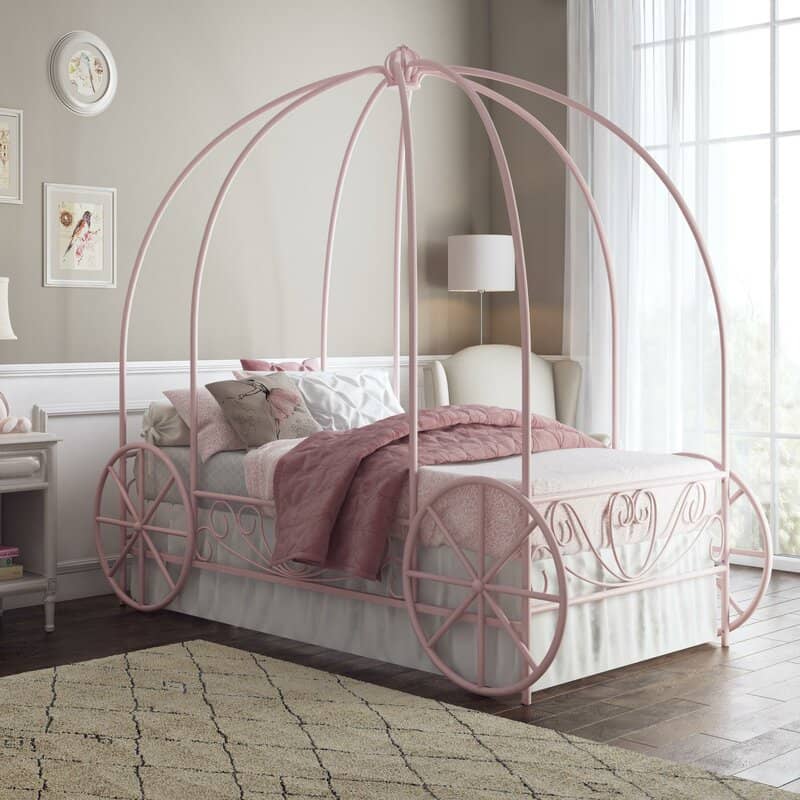 Photo Credit: Wayfair
This dreamy and delightful German Twin Metal Canopy Bed by Zoomie Kids is fit for a prince or princess! The headboard, footboard, and sides are adorned with whimsical scrolled lines in a sturdy metal finish. So whether your child is dreaming of taking a carriage ride through the snow-covered forest or simply wants a fun and fancy place to sleep, this bed is sure to please! Finished in a lustrous white, this metal canopy bed fits royalty. Its low profile and raised sides make it easy to get into and out of, while the sturdy frame can hold up to 225 pounds. A perfect focal point for any child's bedroom!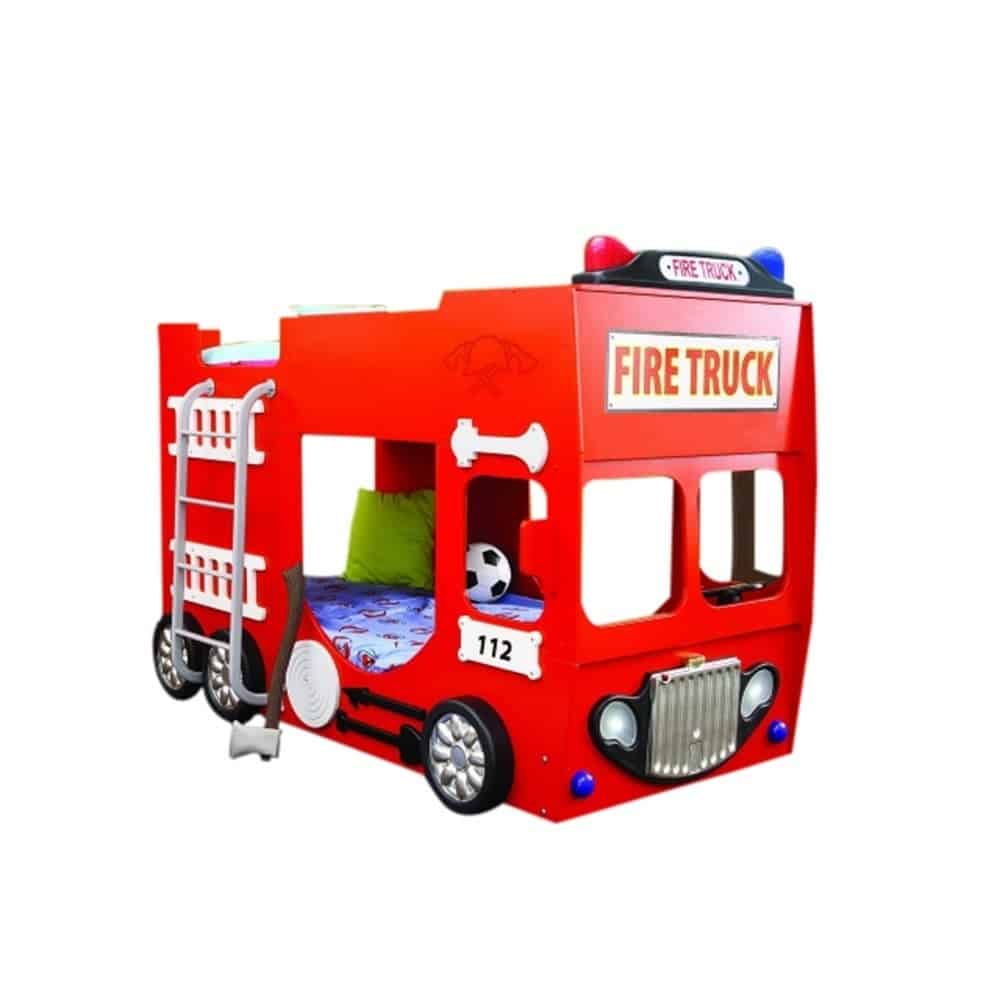 Photo Credit: Overstock
The Fire Truck Toddler size Bunk bed is the perfect way to encourage your child's imagination while providing a safe place for them to sleep. The bright red color and decals of this bed will inspire your child to act out their favorite firefighter fantasies. With an attached metal ladder, your child will have no trouble getting in and out of bed, and with its front LED headlights; it adds that extra touch of realism. This fantastic bunk bed is perfect for any child who loves firefighters or trucks. It's made of laminated board and features two mattresses, plastic wheels, front LED headlights, a turn on and off button, and 100% solid wood slat mattress platforms. Your child will love this unique bunk bed!
Takeaway
Unique beds for kids can help encourage your child's imagination and provide a safe place for them to sleep. Many beds boast attractive designs for an extra special touch.
Unique beds are also great because they are often customizable to fit your child's needs, whether a loft bed or something else entirely.
If you are looking for something specific, you can ask yourself a few questions to help identify your child's needs and wants.
You Might Also Like
Hot Wheels Storage Container For Kids Room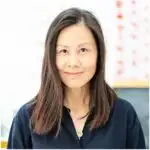 Agnes Hsu is a mom of three and has been inspiring parents and kids to get creative with easy activities and family friendly recipes for over 10 years. She shares her love for creative play and kids food to her 2MM+ followers online. Agnes' commitment to playful learning and kindness has not only raised funds for charity but also earned features in prestigious nationwide publications.