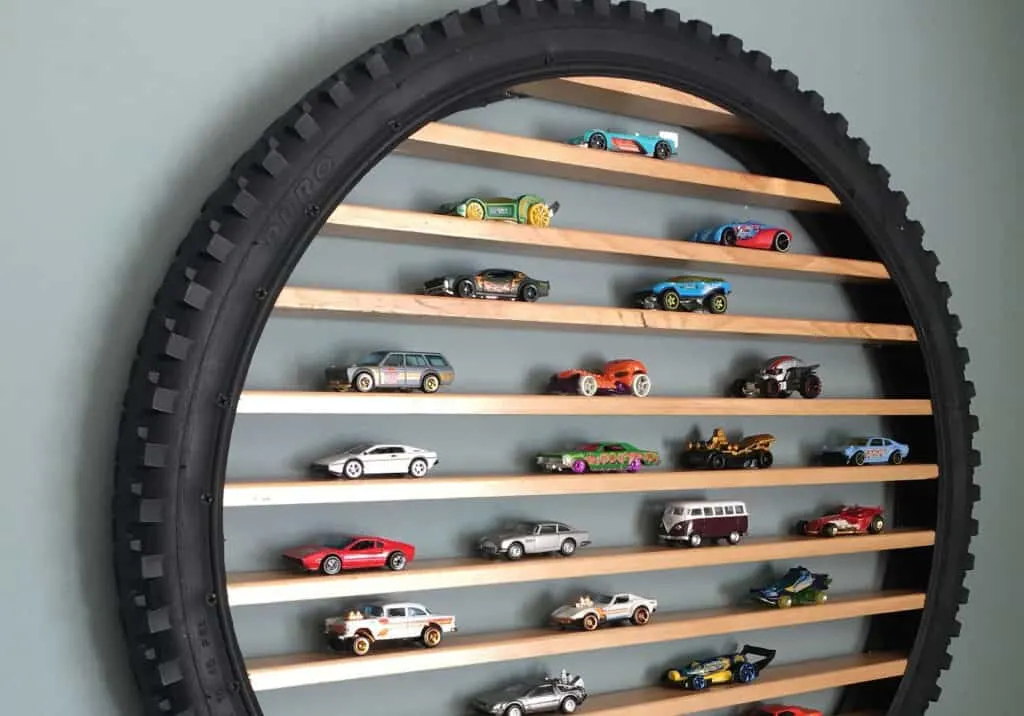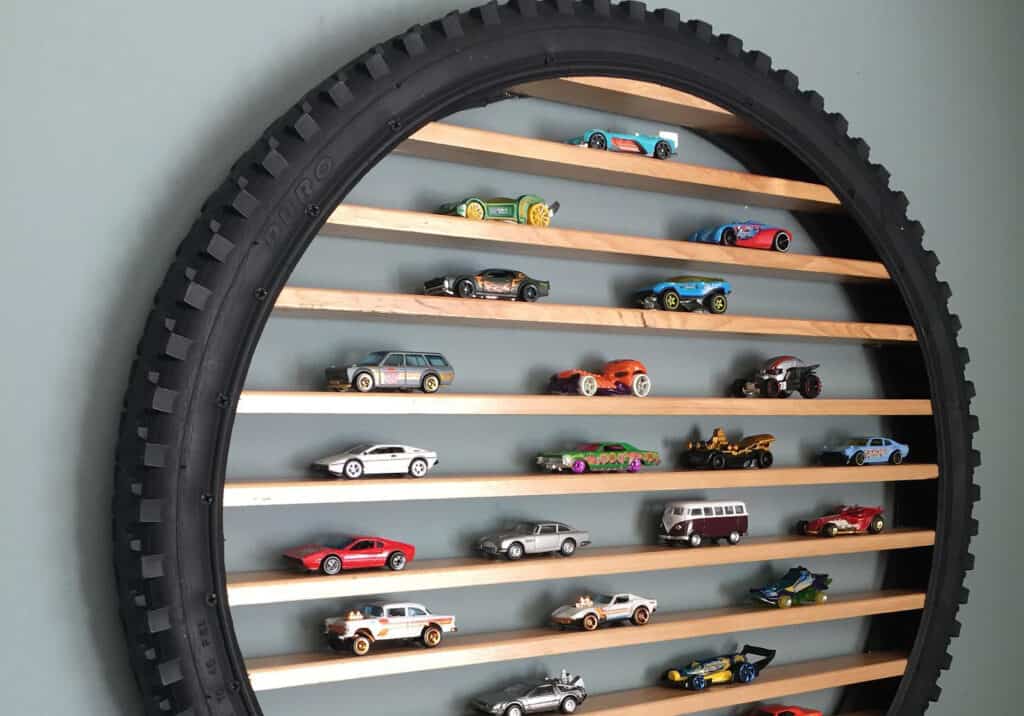 Photo Credit: Etsy/Cool Wheels Display
By using this site, you agree to our Terms of Use. This post may contain affiliate links. Read our disclosure policy.
Follow us on Instagram for more fun ideas for kids!
Does your child have a box full of hot wheels or toy cars that just keeps piling up? Do they just stuff them in the closet or under their bed because they don't have anywhere else to put them? Having a cluttered bedroom or playroom isn't attractive, especially when you have to clean it up in order to make it look neat again. You could put the cars in an organization cubby, but there is a more aesthetic way of storing that them that acts as a decoration AND a storage compartment.
What is the Hot Wheels Tire Storage Display?
When I was shopping on Etsy, I stumbled upon this ORIGINAL 26" Cool Wheels Car Display Wall Art by Cool Wheels Display, which is a bike tire with little wooden shelves for storing hot wheels! When I first saw this, I was amazed at how unique of a design this was. It's made out of a 26" bike tire wheel, and has finished natural wooden slats in the center. According to the description, the display can hold up to 75 cars! That's a lot of cars for such a small space, which makes it perfect for decluttering! I am a huge fan of consolidating lots of little things into one big thing. It makes it easier to look for toys or valuables when you want to pull them out. This is especially good for children because they are very visual and would appreciate being able to see their cars all lined up. It also incentivizes them to keep it neat, so it doesn't ruin the display!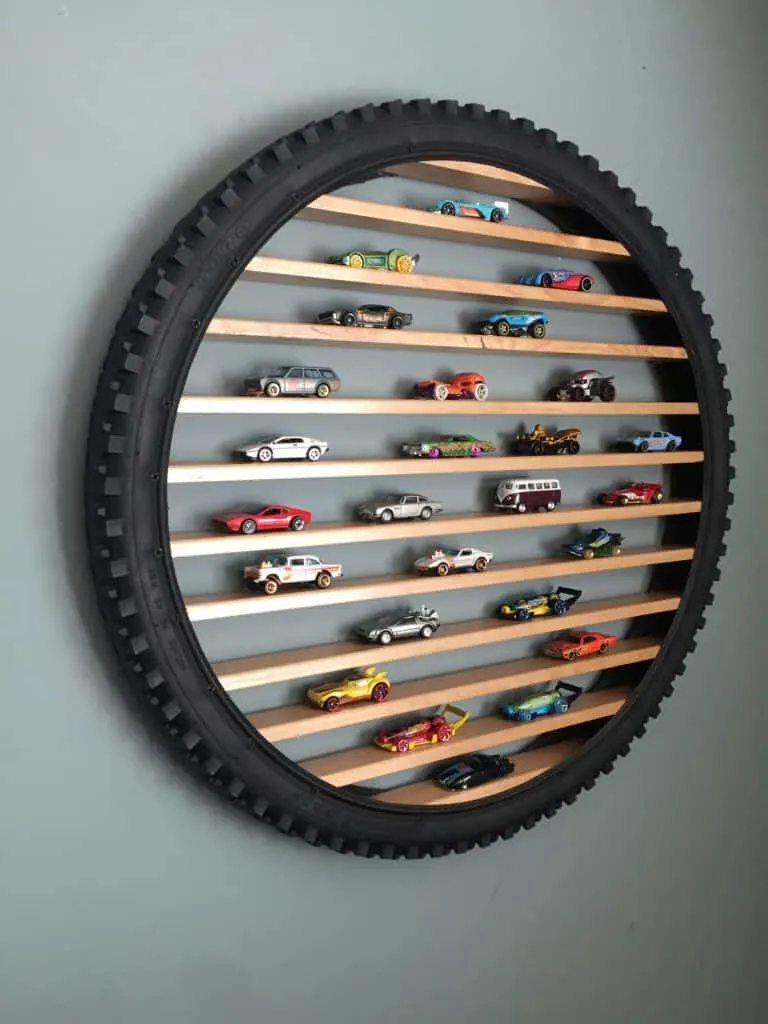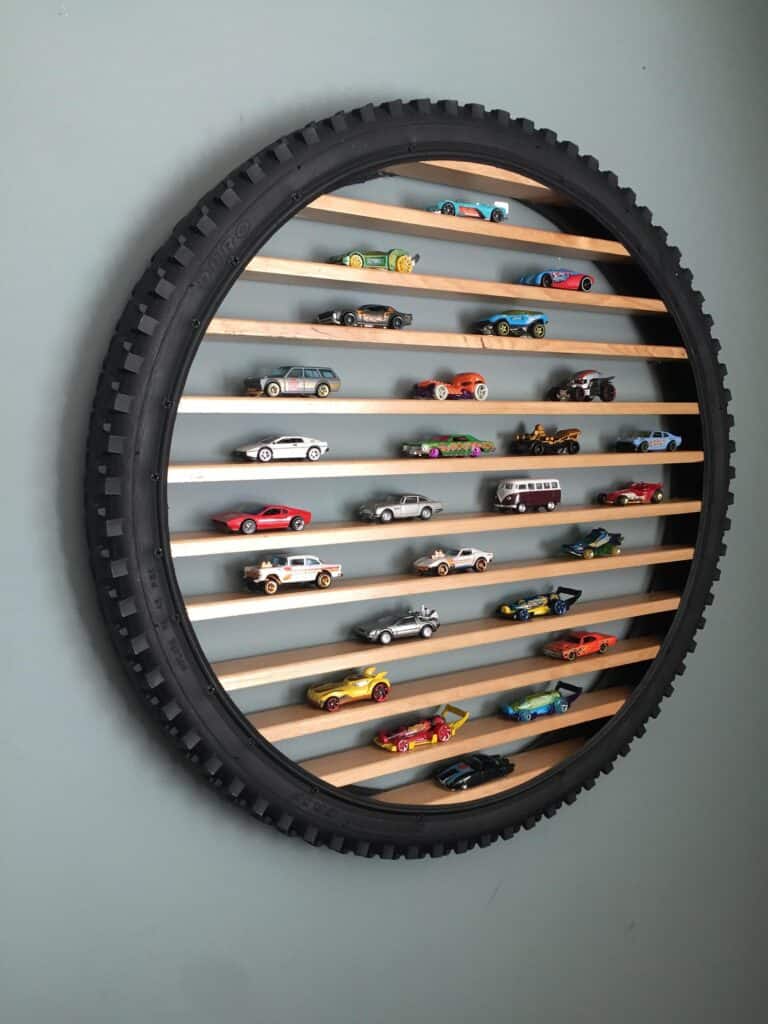 Photo Credit: Etsy/Cool Wheels Display
How much is the Hot Wheels Tire Storage Display?
The retail price is listed for $129.50, which is super reasonable considering it's handmade and signed by the artist himself! It's also a Best-Seller on Etsy, which means that there have been multiple five-star reviews in the last seven days for this product! They also mention in their description that the racks are made with refurbished tires. This makes them eco-friendly because the tires aren't getting thrown into landfills. That's a bonus for anyone looking for planet-friendly art!
What do people say about the Hot Wheels Tire Storage Display?
Some of the reviews say, "My 5 yr old loves this. Went from hot wheels stuck in every nook and cranny to organized. He now calls them his 'collection'," and "Absolutely love our tire display. It goes great in our boys room. Also, received excellent customer service!" It's safe to say this product has got customers RAVING! That's not surprising considering I've never seen anything else like it on Etsy!
The thing I love about this tire display is that it's flat against the wall. There's nothing sticking out to the point where someone could knock it over, especially a small child. Also, it doesn't just have to be for kids! I could definitely see this in a man cave, as a showcase for collectors. Instead of a basic shelf or glass cabinet, you have a product that actually uses a tire as part of the display. For anyone wanting to show off their display of collectible cars, this product is perfect for you! Plus, it makes a great conversation piece as to where you got it, and who it's made by! I also love the eco-friendly aspect of it; the tires aren't being sent to landfills, which means less waste for our planet!
The shop owner from Cool Wheels Displays has a wide variety of wheels displays in his shop! They are all around the same price, and only have slight variations. One in particular that I liked was a tire filled with little circles instead of wood for a slightly different look! I love the uniqueness and ingenuity behind his designs. You never get TIRED of looking at them!