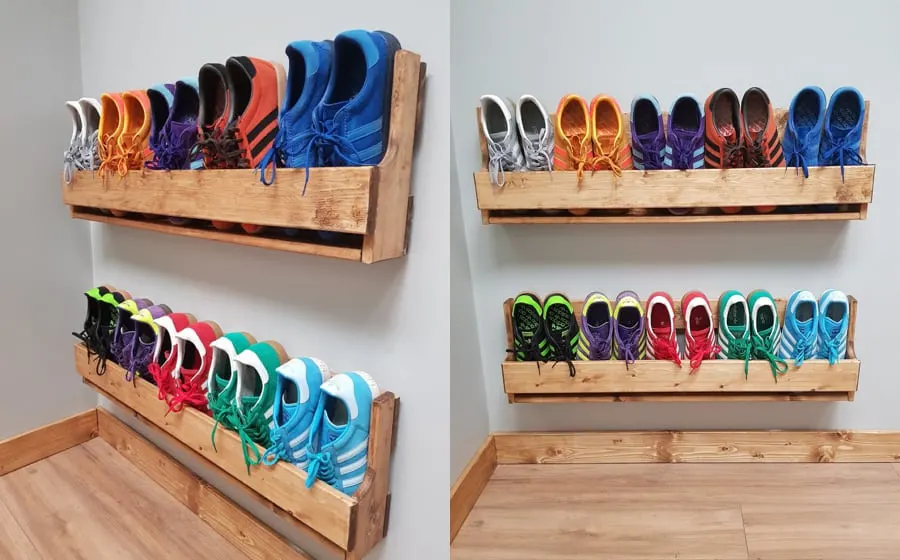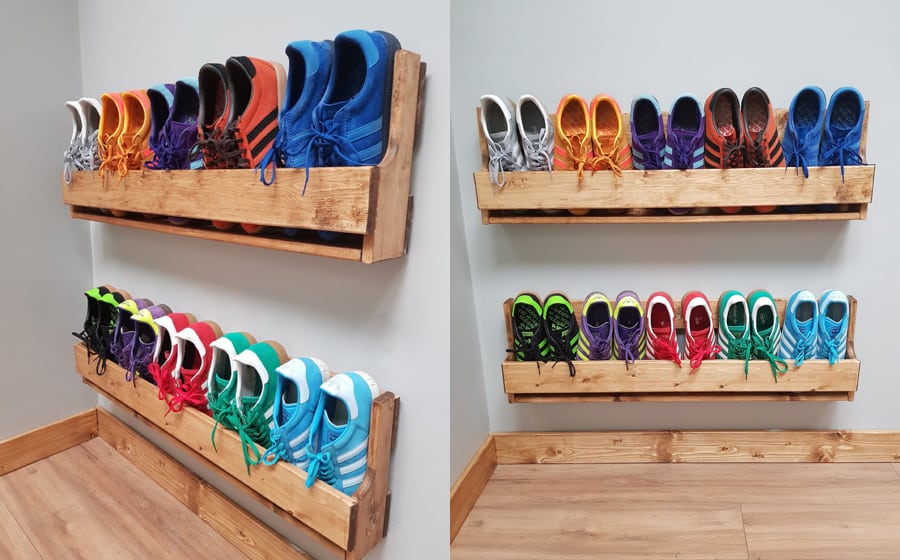 Photo credit: Etsy/OurHomeToYours2017
By using this site, you agree to our Terms of Use. This post may contain affiliate links. Read our disclosure policy.
Follow us on Instagram for more fun ideas for kids!
Have you ever walked into your kitchen and been absolutely appalled by the number of shoes on the floor? I know I have. Kids can be pretty messy sometimes. Whether it's shoes, toys, clothes, there's usually stuff lying around everywhere. Sometimes, you can't seem to fit all of their stuff in organizational items because they're either already full, or they take up too much space because you have too many. A quick tip that I like to do is have organization items that hang on the wall. I really love this Genius Shoe Hanging Rack because it looks very tasteful and gets all the clutter out of the way without having hundreds of shoe boxes shoved under beds, couches, or wherever.
If you know me, you know I like things clean. I love organizational hacks, chore charts, plastic bins, basically anything that keeps my life clutter-free. That's why I want to share this genius shoe hanging hack for messy kids (and adults)! I came across this awesome listing on Etsy for a set of 2 Large Shabby Chic Wooden Shoe Racks, and I was instantly drawn in! They have a rustic, vintage vibe to them, and they are made of treated solid natural wood. Since every piece is unique, there may be some cracks and splits from the natural layout of the wood. The going retail price for these shoe racks is $119.19. I feel like that it such a reasonable price for beautifully handcrafted shoe racks that are simple, yet extremely elegant.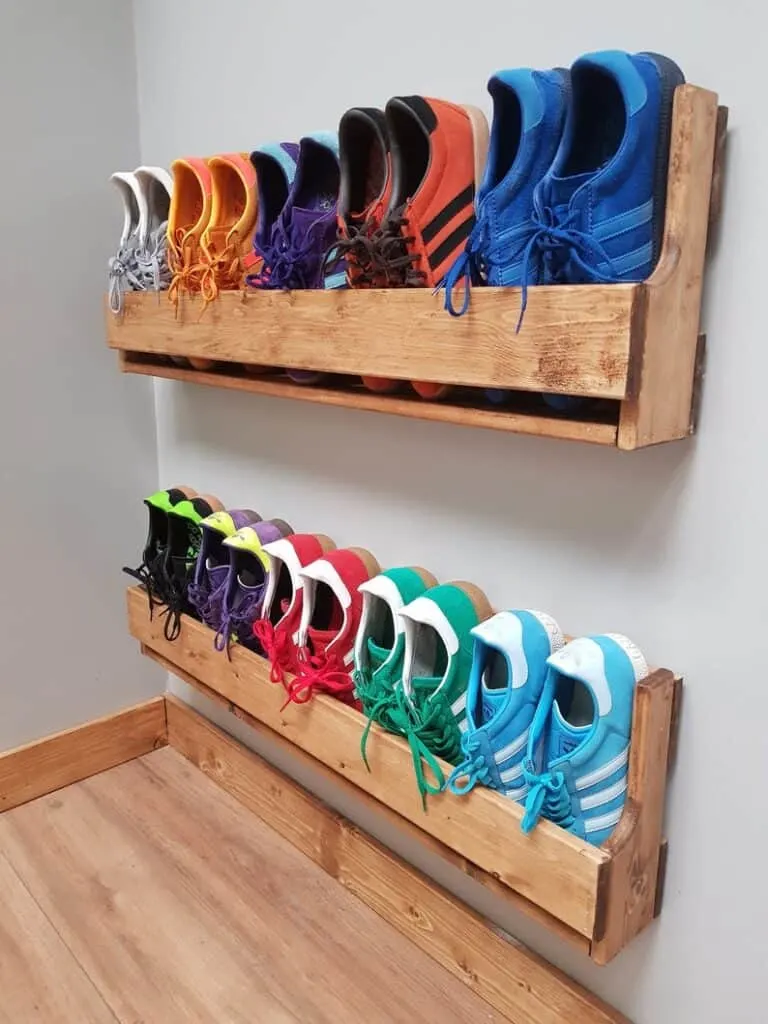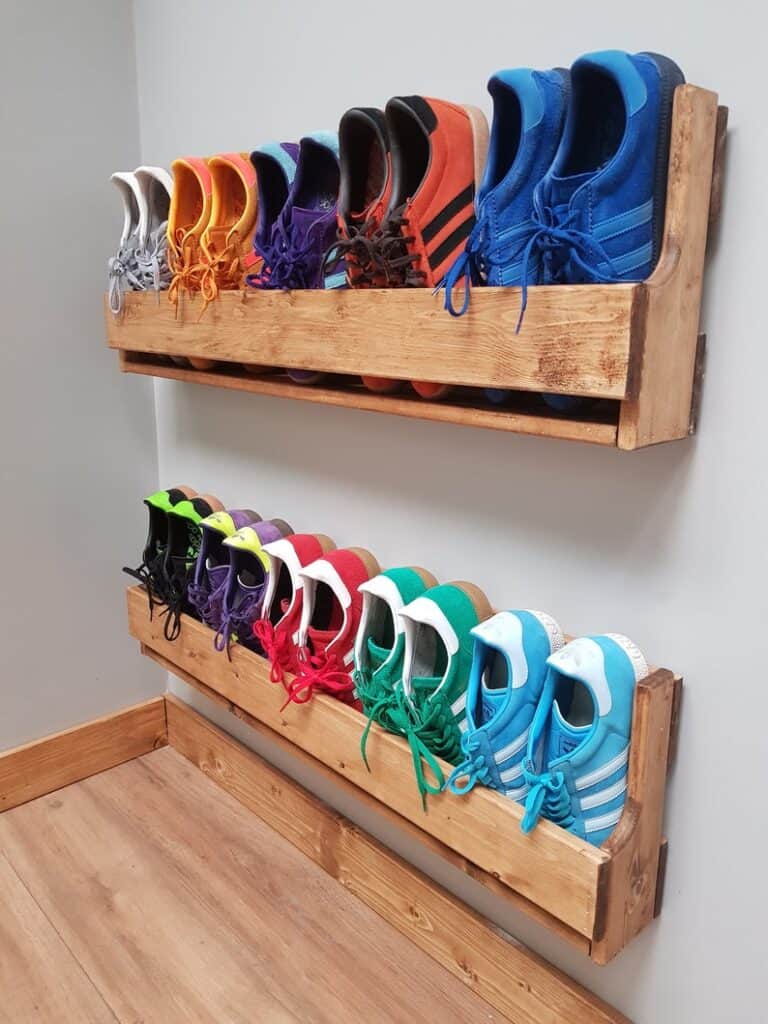 Photo credit: Etsy/OurHomeToYours2017
What's so great about this genius wooden shoe hanging rack?
Sometimes, organizational methods can be pretty bland, such as plastic bins, over the door hanging shoe racks, plastic crates, etc. That's why I love this hanging wooden shoe rack because it can go with any decor without looking too backwoodsy, and each piece is wonderfully unique. That's also one of the reasons I shop on Etsy all the time, is because when I want something unique, they always have it.
How is this rack made?
The description for the racks states that each rack is unique and is "carefully cleaned, sanded, then beautifully stained and waxed." The owners of the shop OurHomeToYours2017 really make sure they uphold their standards of beautifully crafted pieces with a simple design. They also mention in the description that you can get a different size rack if you prefer, but you need to contact the shop first for pricing, and the length can be changed accordingly. All of their shoe racks come with "basic fixtures and a fittings kit" for easy, seamless installation on all constructed walls.
What do people say about this Genius Shoe Hanging Rack?
Some of the reviews for this product are: "Well packaged and quick delivery with good quality wall fixings. Very pleased with my new shoe storage and my porch looks so much tidier," and "These simple shoe racks have transformed our entryway in such a good way! Great quality, exactly as described, exceeded my expectations!" As you can see, customers are raving about this product because not only does it look fantastic, it makes their homes look more put together!
OurHomeToYours2017 has several other wooden, handcrafted products that are worth mentioning. They have a Wall Mounted Home Bar used for storing wine bottles and glasses, a Wooden Coat Rack, and a Rustic Reclaimed Coffee Table! All of their products are handmade and made from treated natural wood, so you know you're getting a one-of-a-kind piece!
Why shop from an Etsy store?
I am a huge advocate for shopping from small businesses. I think it's amazing that these little shops take the time to carefully hand make all of their pieces, so you can enjoy them in your home. Be sure to check out the Etsy shop OurHomeToYours2017 to get yourself a wonderfully handcrafted wooden piece of art!