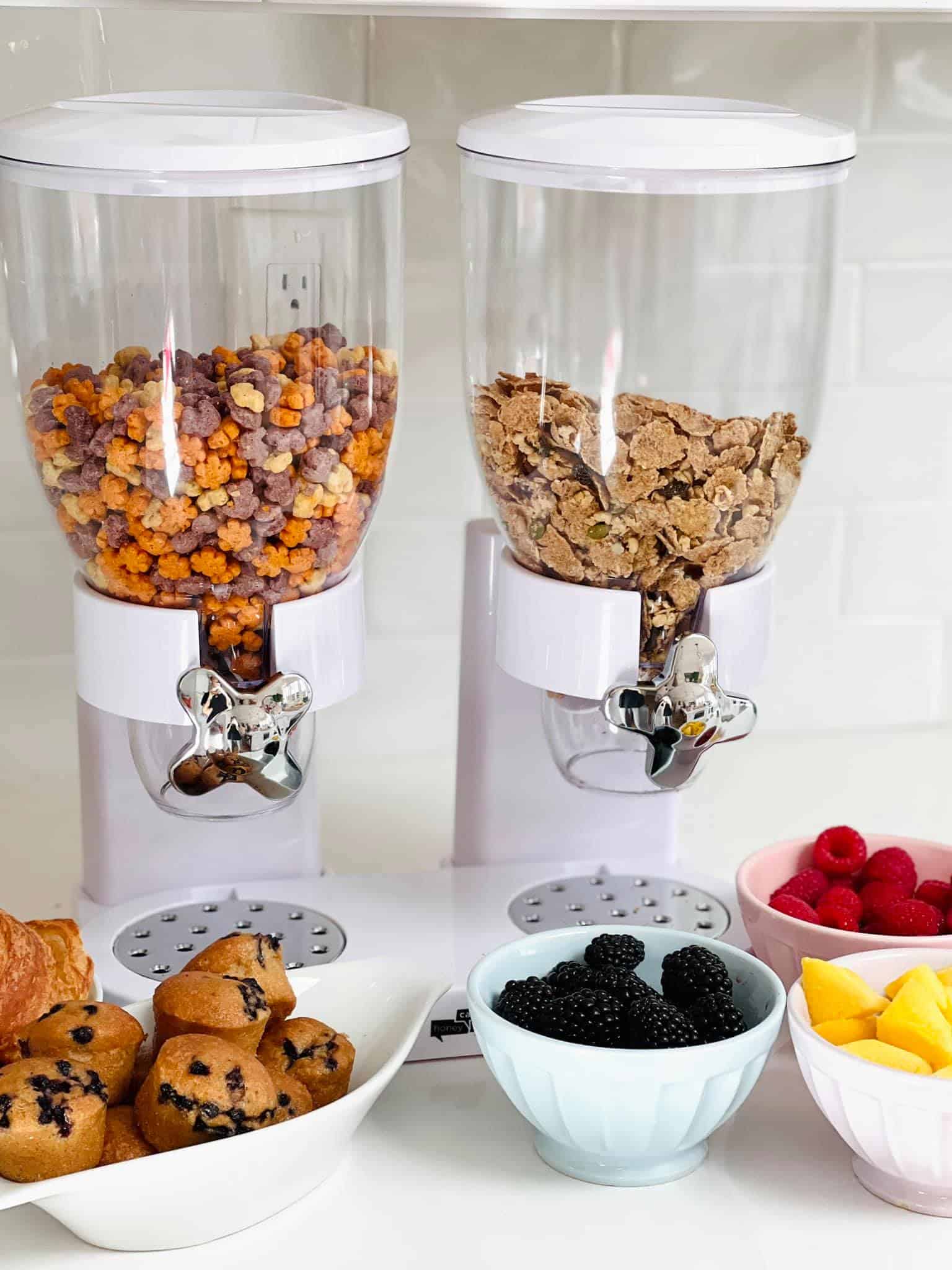 This genius hack will get your kids self-serving their own breakfast in the morning and give you extra time while giving them independence!
The best part about being a little kid and waking up on Saturday morning – BREAKFAST. I remember it like it was yesterday. It gives me such nostalgia to look back on my youth and remember waking up to the smell of pancakes on a Saturday morning. I remember how much work my mom put into making me breakfast every Saturday, and how long it took. The other day, I stumbled upon this viral TikTok video called "Kids Self-Serve Breakfast Station," and I was hooked on this brilliant mom hack. If my mom had only known about this when I was growing up, it would have saved her a ton of time.
How do you create a self-serve breakfast station for kids?
Tik Tok creator athomewithshannon is the brains behind this hack, and she does an amazing job at creating this super organized, kid-friendly breakfast station with all sorts of yummy breakfast foods. She has two cereal dispensers, a ketchup bottle filled with milk for a mess-free breakfast, cut-up fruit, apple sauce pouches, and individual cartons of milk and orange juice. Everything is individually wrapped for easy access and mess-free clean-up afterward. I'm super impressed by the amount of prep work she put into the serving station, but she doesn't have to sit there and cook everything. It's a super genius way to let your kids feel like adults, and let them pick out their own breakfast, without you having to constantly cook the whole time.
This video (at current writing) has over 4.2 million views, 648k likes, and 5528 comments! The video first appeared in May 2020, and has been one of her most popular videos to date! The reason this hack is so great is that it doesn't require too much prep work, and yet, the end results are amazing!
Some notable comments from the video are, "If I had this as a kid, my life would be complete," "If I had that in my house, I would never go anywhere else 😂," and "I'm 21, and I love this for myself 👀👀👀." It's safe to say the video received tons of positive comments from people who wished they had this in their life. I wish I would've had this growing up, because not only would it have saved my mom a ton of time, but also because I would've thought it was so cool!
Some things I love about this TikTok breakfast station mom hack:
It's relatively quick – There is a bit of prep work involved, but that comes with the territory. You're making breakfast, not just grabbing a granola bar. The only things you really need to prep are cutting up fruit, setting up the cereal dispensers, and putting everything into organized bins.
It's customizable – You don't have to do exactly what athomewithshannon does. She just put the things her kids like onto the cart. If you want to get really fancy, and put in a tiny bit more work, you could do bacon, eggs, pancakes, waffles, or pastries and put those on the cart as well. It requires more prep and cooking, but it's also more delicious 🙂
It's portable – The self-serve station is on a cart, so you can roll it to wherever your kids normally eat their breakfast. If they're in their playroom or bedroom watching cartoons, you could definitely wheel it in there, if you don't mind the mess 😉
I am absolutely going to try this for myself because it looks so fun to make, and I think that anybody who wants to wow their kiddos on Saturday morning, would definitely get the thumbs up from their kids! Quit slackin' and get hackin'!
Photo credit: Amazon
More genius TikTok Hacks: