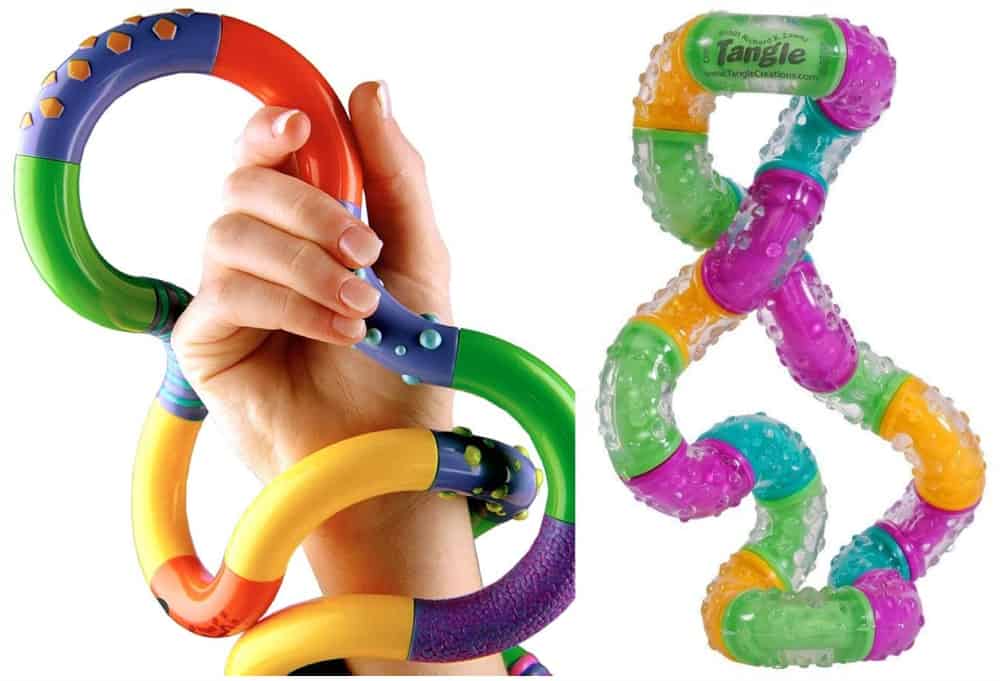 By using this site, you agree to our Terms of Use. This post may contain affiliate links. Read our disclosure policy.
Follow us on Instagram for more fun ideas for kids!
This Tangle toy is the best fidget sensory toy your kids need this year. Calm your nerves through the fun twists and sensory turns.
Let's face it, 2020 aside, we are still dealing with quite a bit as adults while processing our feelings about the world around us. Our children are no different, yet may not have the same coping skills that we have had years to learn. In our search for answers of how to calm ourselves and refocus, the internet is abuzz with sensory toys for all ages. This is why we're excited to introduce you to Tangle sensory fidget toys.
Restless energy is energy that we may be feeling for a variety of reasons: nervousness, uncertainty or even boredom and sometimes that come out as fidgeting. Once thought of as a distraction, things such as toe-tapping, hair twirling and leg bouncing, can now be corralled in a way to help students and adults focus better. Educators have now found that putting that energy towards something productive can have a positive impact on students' learning as long as a place is found for that possibly anxiety-induced energy. Sensory walks are also a great way to deal with these feelings of restlessness.
Bright eye catching colors, different textures and moveability are common among the sensory toys geared toward school age kids. These seemingly simple toys help to calm nerves and channel energy.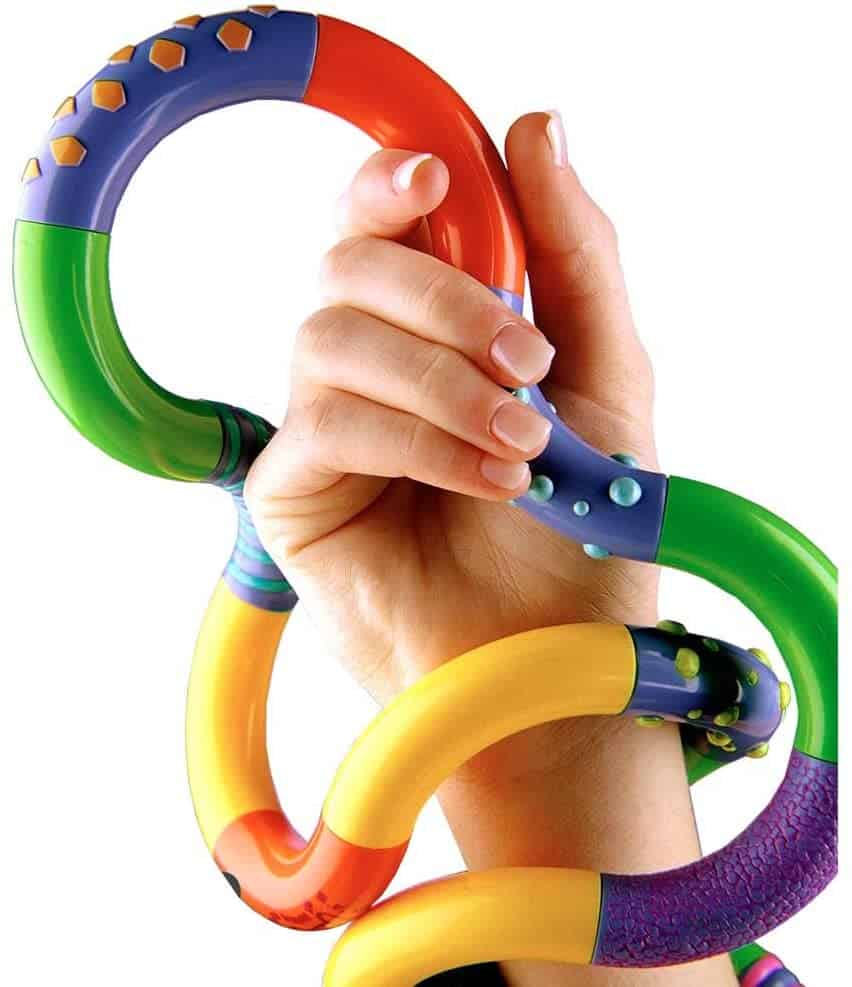 Photo Credit: Tangle
What are Tangle Sensory Toys?
Tangle Creations has several versions of their tangle sensory toy and while they have been around for 40 years, it wasn't until more recently that these have taken off and are oftentimes sold out online. The global pandemic and the move to virtual or online schooling for many this year has increased the popularity of these types of toys. We have seen such sensory toys trend in the past such as slime or fidget spinners but the latest is Tangle toys which has grown in popularity due to it's endless ability to keep hands busy in a non messy and safer way that previous fidget toys. They sell many varieties, from keychains, light up versions, and even an executive metallic desk version.
They are a fidget toy that looks like an endless connected tube that moves and twists in different ways. The infinity style of it and the countless ways to manipulate it makes for a long session of "tangling."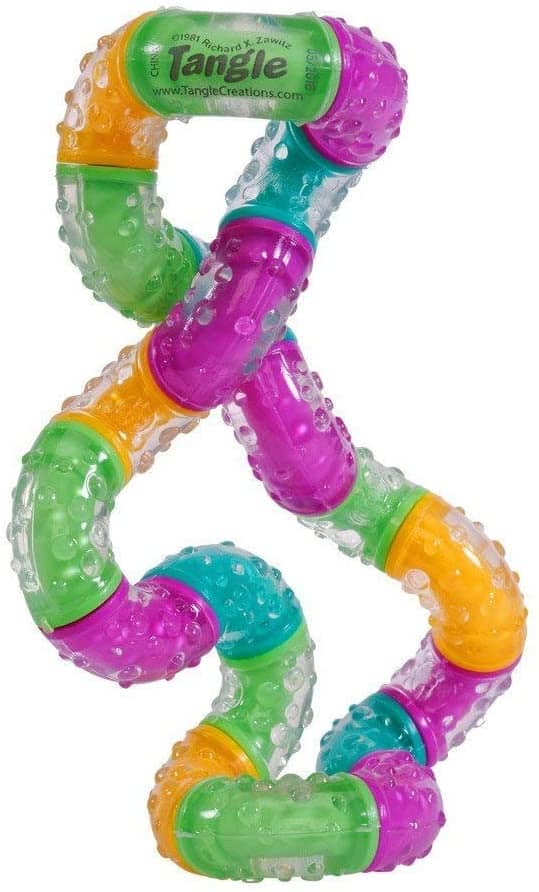 Photo Credit: Tangle
How do Tangle Toys work?
The idea is simple, a series of connected tubes that can be twisted and contorted in multiple ways. They come in a rainbow of colors and finishes, but the textured Tangle seems to be a crowd favorite. Along with the movement which allows that restless energy to go somewhere, the textured Tangle picks up on that touch piece of our senses with textures ranging from bumpy to fuzzy, and smooth to a version with multiple textures on one Tangle. The tactile nature of the textured ones make them popular for kids who like to use the sensory toys to calm themselves while "zooming" through class. Teachers are allowing these during class as long as they are not distracting since it can help students focus on the class.
Whether you choose the mobile keychain style, the fun light up version, or you stick with the classic, with a Tangle, you are in for lots of twisty, turny, textured fun.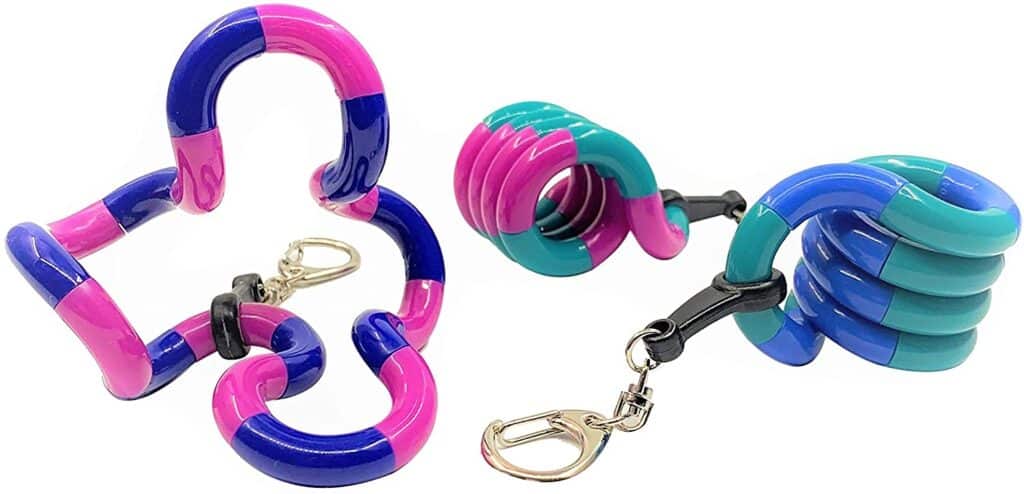 Photo Credit: Tangle
You Might Also Like