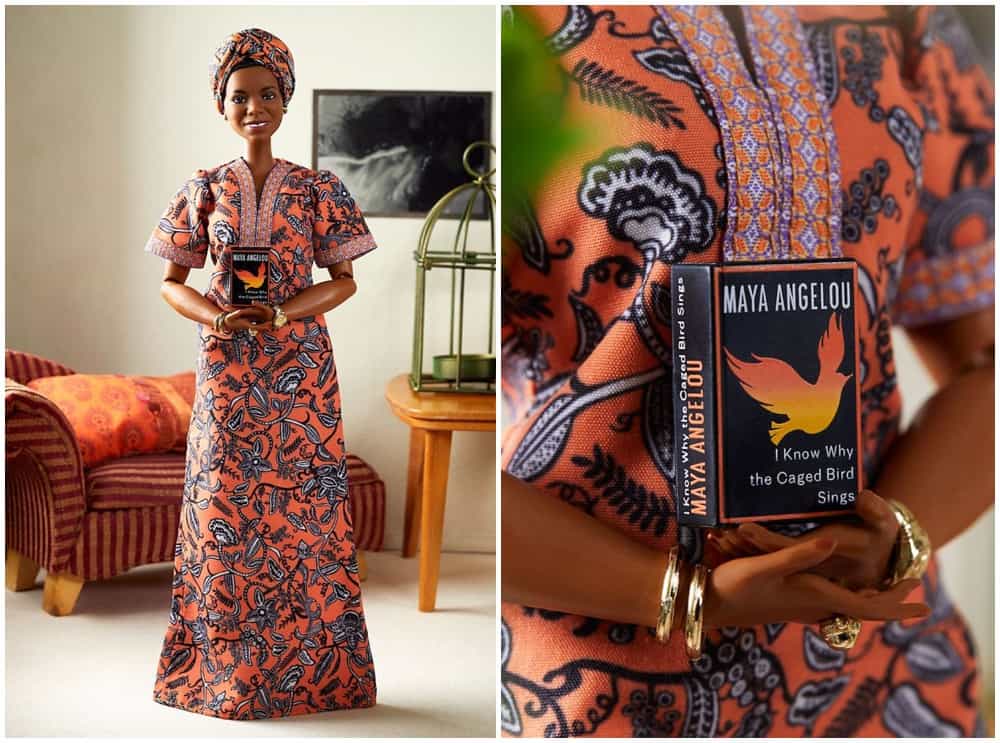 Photo Credit: Barbie
By using this site, you agree to our Terms of Use. This post may contain affiliate links. Read our disclosure policy.
Follow us on Instagram for more fun ideas for kids!
Mattel releases new Maya Angelou Barbie as its next Inspiring Women Series Doll.
Barbie has been a household name in the toy arena since 1959 when Barbie first made her debut at the New York City Toy Fair. Inventor, Wife and Mother, Ruth Handler created the doll after watching her daughter play for hours with paper dolls and she wanted her to be able to have a three-dimensional doll to play with. Most people only think of the iconic blonde Barbie and Mattel has been working hard to change that with dolls of different ethnicities, hair colors and body types. The doll company has been diversifying its offerings to show that all types of women make up who Barbie is and who children can aspire to become.
What is Mattel's Inspiring Women Series?
The hope of Barbie dolls was and still is to show girls that they can be anything they want to be. The Inspiring Women Series gives life to those who have forged the way for women in their respective fields. The line which started in 2018 honors the women who took risks, were ahead of their time and challenged societal norms. Mattel has already honored people such as painter Frida Kahlo, musician Ella Fitzgerald and astronaut Sally Ride with their likeness in a Barbie doll.
Today, Barbie continues making a name for itself with it's latest release for their Inspiring Women Series, with famed author, Dr. Maya Angelou. Her doll represents the tenth doll in the series and the 4th Black American Woman to be honored. Mattel has made a commitment that 50% of this doll line will be people of color in order to bring to the forefront the diversity within our history. The toy giant partnered with Cardiff University whose study, echoed the importance of empathy in those who look different than us and how playing with or being shown dolls that don't look like you can be helpful in encouraging that empathy.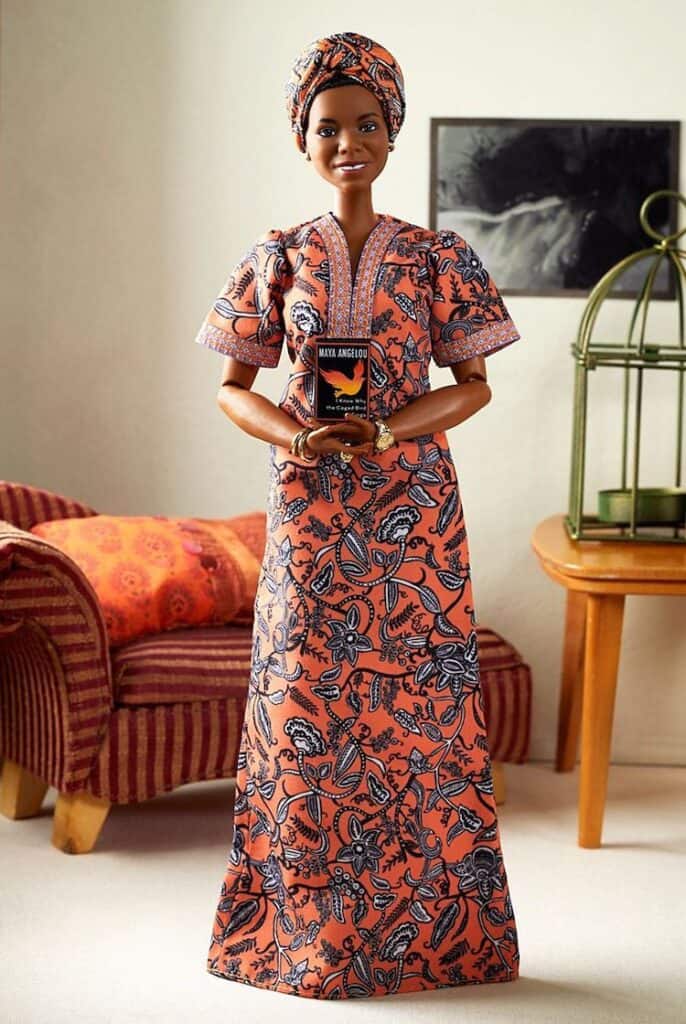 Photo Credit: Barbie
Maya Angelou's impressive work and legacy makes her a great role model for Mattel's Barbie Inspiring Women Series.
With over 50 honorary doctorates and numerous literary awards, Dr. Angelou makes for a terrific inspiration. She was the first African American poet to be invited to speak at a Presidential Inauguration in 1993. She has written a number of poetry books as well 6 autobiographies. She is most well known for the first of her autobiographies, I Know Why the Caged Bird Sings and her doll is carrying a replica of this book in her hands.
While being an acclaimed author and scholar may have been enough for some, Maya Angelou was also an actress, having been in such movies as Roots, Porgy and Bess and even a few appearances on Sesame Street, the children's television show. She was an activist and left behind quite the Civil Rights Legacy having organized marches along with Dr. Martin Luther King Jr. She was a professor and also spoke at many commencement speeches as well.
Where can I can get the Maya Angelou Barbie Doll?
With all that she accomplished in her life, it is very fitting that Barbie chose Dr. Maya Angelou as an Inspiring Woman for Barbie. Her Barbie likeness sold out online in just 2 days and can be found on Mattel of course and other major retailers like Amazon and Target Rest assured, Mattel says there are more on they're way.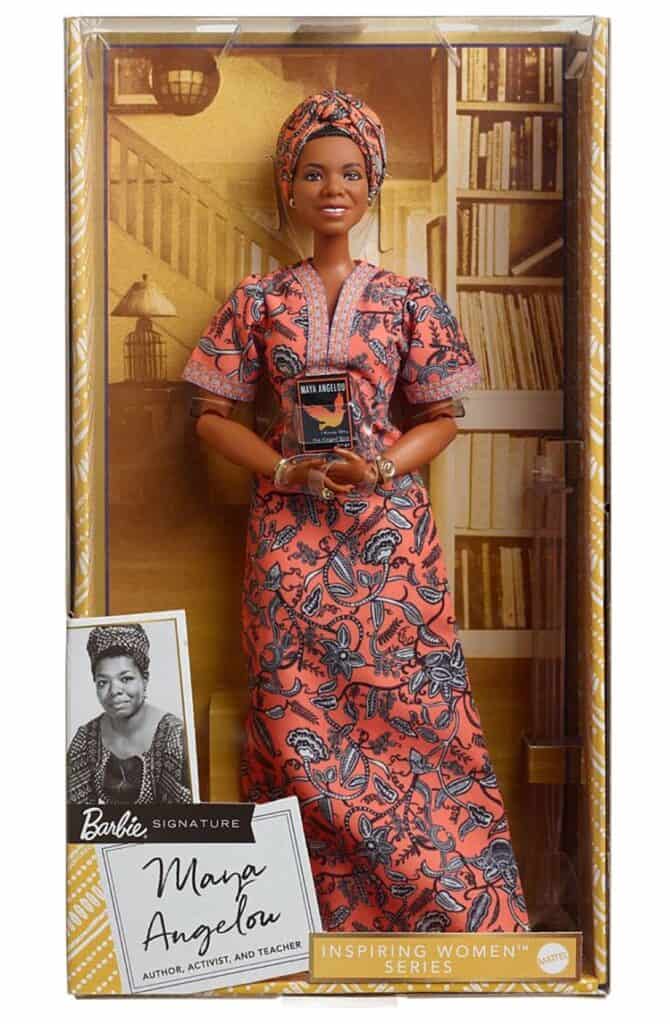 Photo Credit: Barbie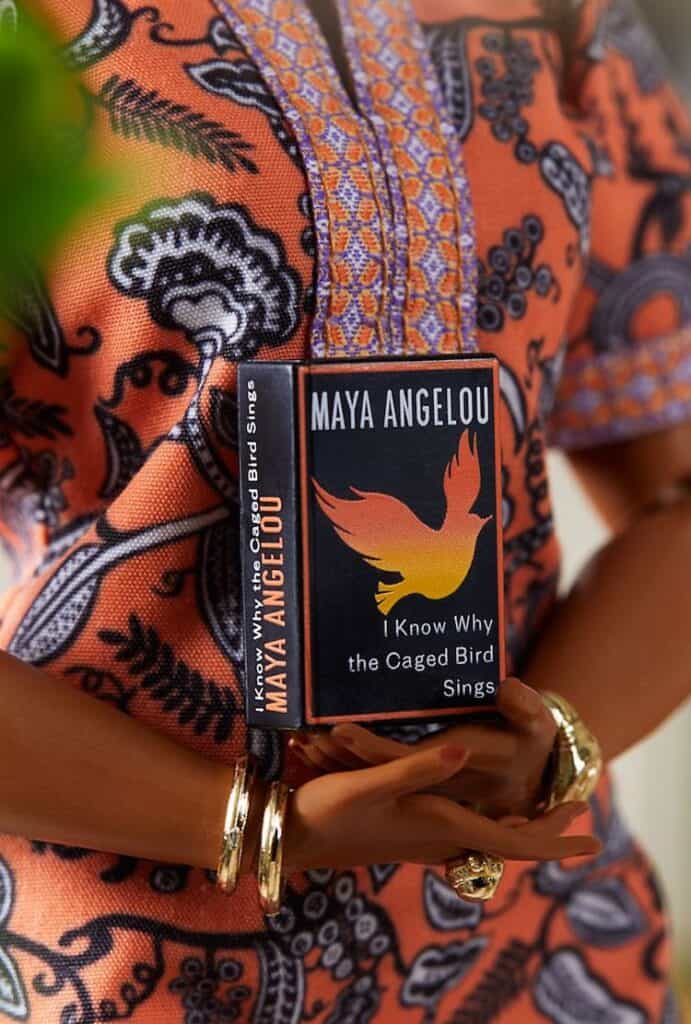 Photo Credit: Barbie
You Might Also Like