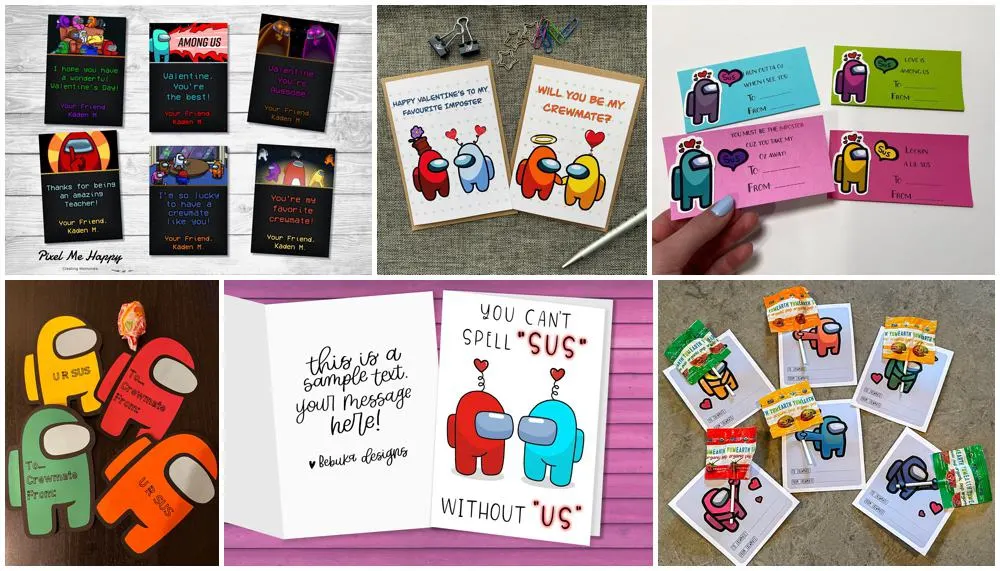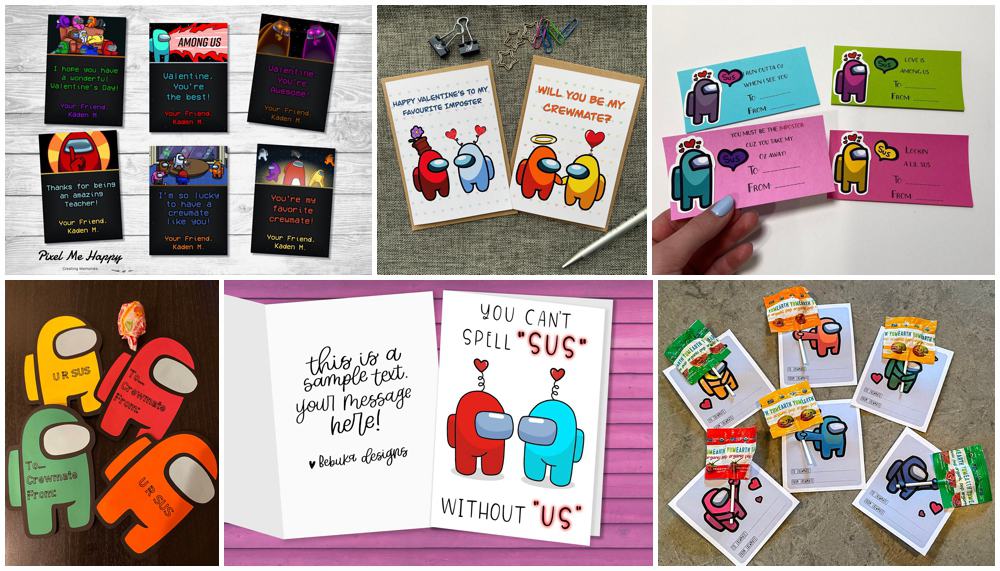 By using this site, you agree to our Terms of Use. This post may contain affiliate links. Read our disclosure policy.
Follow us on Instagram for more fun ideas for kids!
These Among Us Valentine cards will delight kids who are fans of the popular game for a unique and creative on-trend Valentine.
Each year around Valentine's Day, it's always fun to see which of the previous year's trends, characters, tv shows or movies will end up on cards and treats for kids. These Among Us Valentine cards for kids top the list this year. Etsy certainly keeps up to date on the latest trends that make for fun cards and gives you so much variety whether you want to print them yourself, make them yourself, or just have them sent as a complete card or favor.
2021 might be a bit different in how your kids are able to give out Valentine's Day cards, but there is a new trend "Among Us". Parents with kids around 9 years old and older have been hearing about this particular online game for months and now the characters are being used to create unique and fun Among Us Valentine cards that will be the talk of the classroom or friend group. The online multiplayer game, Among Us has gained quite a bit of popularity during this global pandemic due to the ability to play online with up to 9 other friends across various platforms, phone, tablet and PC/Mac.. When kids start watching or playing something new, we start to hear all the characters' names, or the buzzwords from the games or toys.You may already be hearing things like "that's sus" or "(s)he's the imposter", "sabotage" and "ejecting" in your house. Part murder mystery, part science fiction, with a bit of whodunnit, this game has a bit of everything for everyone which makes it's popularity understandable.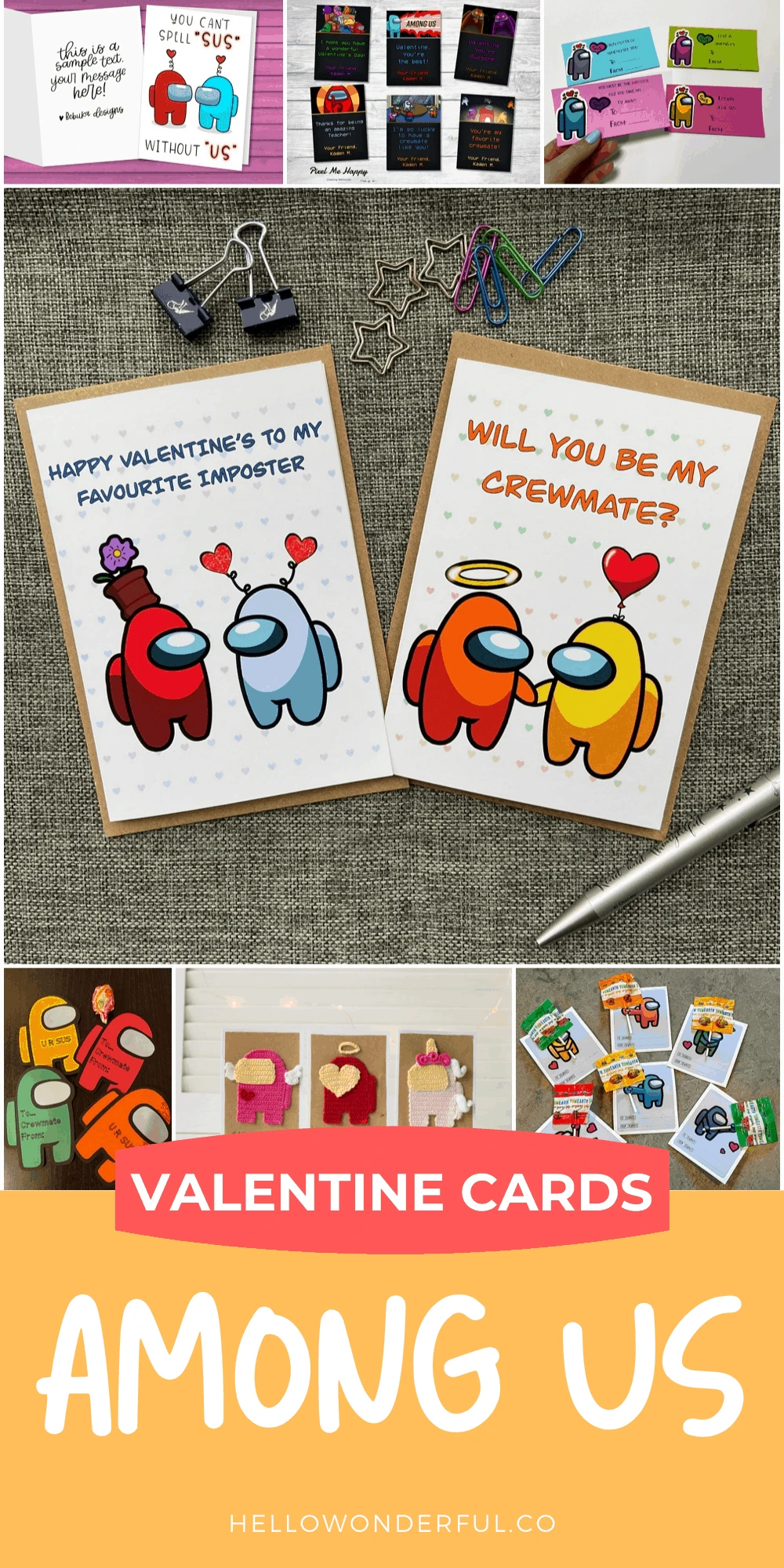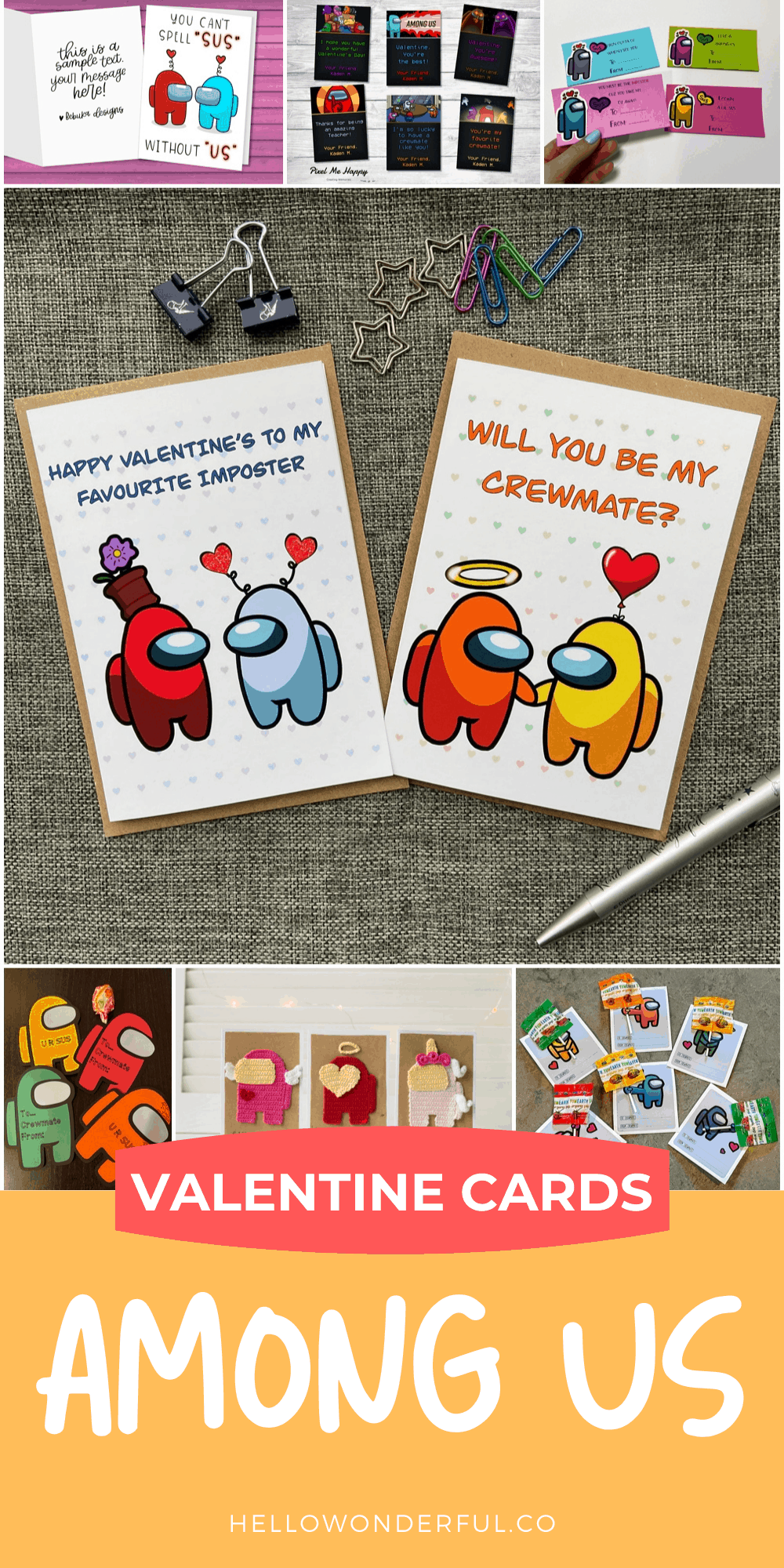 The Among Us Game characters make a cute Valentine gift.
The Among Us game is a colorful cartoon world with many rooms, where up to 10 different colored astronauts have costumes and hats the players can wear. The characters also have pets too, making it a cute theme for kids' Valentine's Day cards. The online game centers around a group of astronauts attempting to fix their spaceship but trying to find the Imposters that are among them. The astronauts spend their time fulfilling different tasks, while trying to figure out who the Imposter(s) are. While it doesn't seem like it would make sense for Valentine's Day cards, the cute characters seem to be popping up as Vday cards and treats! Most likely because the cartoony and colorful characters with their costumes and pets make for a fun and relatable Valentine's Day treat.
We offer you a few different ideas to get your cards, and some of these are downloadable art which could also be turned into an email, in the event that your child isn't attending school in person or wants to email something to a far away friend.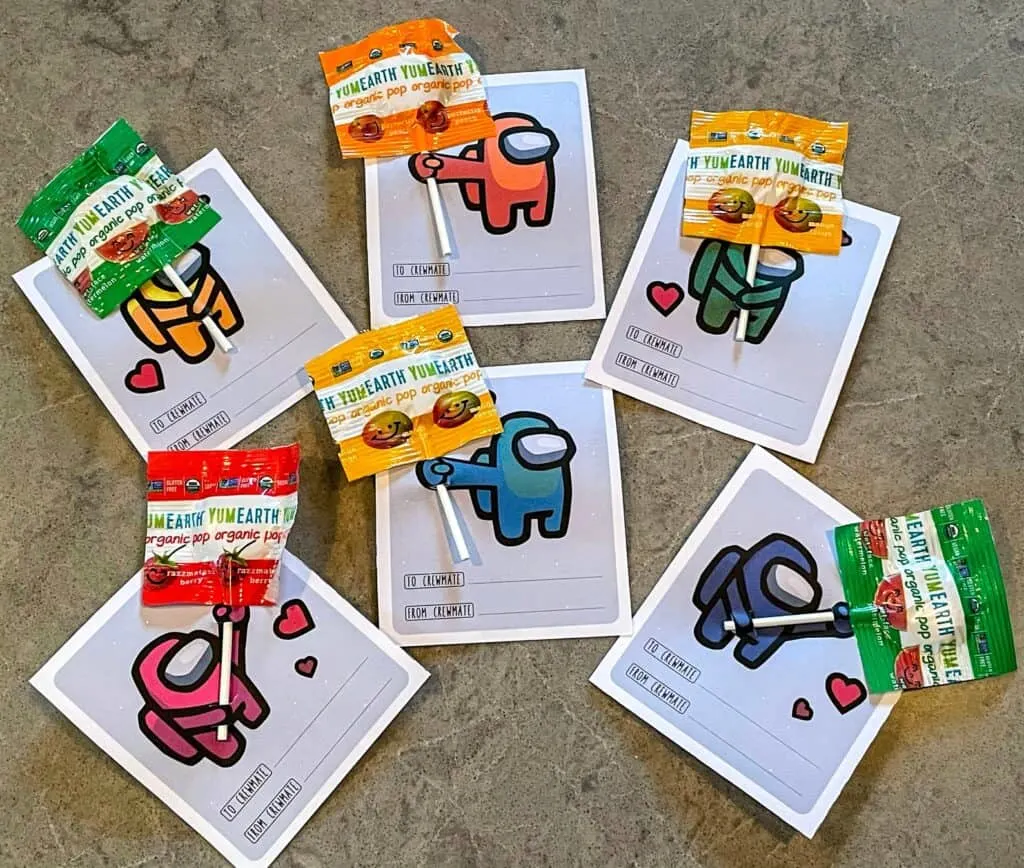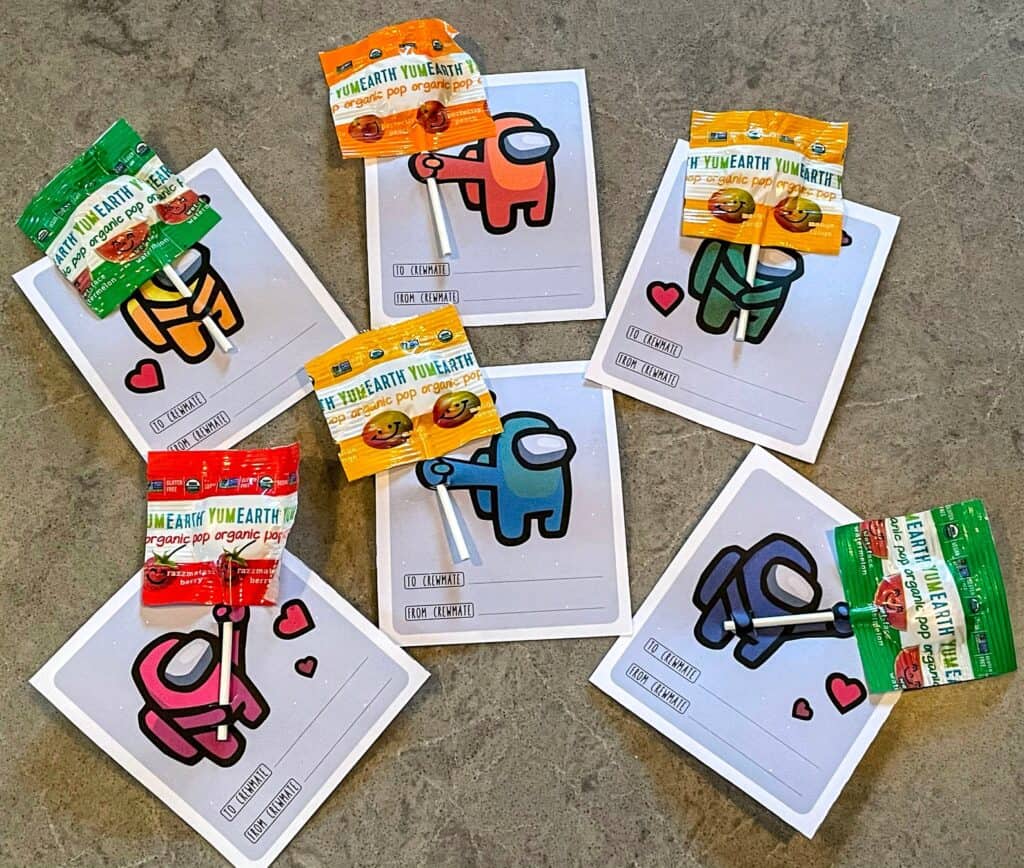 Photo Credit: D Town Studio Design
The first printable is a cute treat holder, using the main astronaut character in different colors and the wording of: For my crewmate is a fun one since that's what the characters call each other. This card is fun since the crewmate can hold a lollipop as a treat, using the marks that are on the cards to show where to cut slits.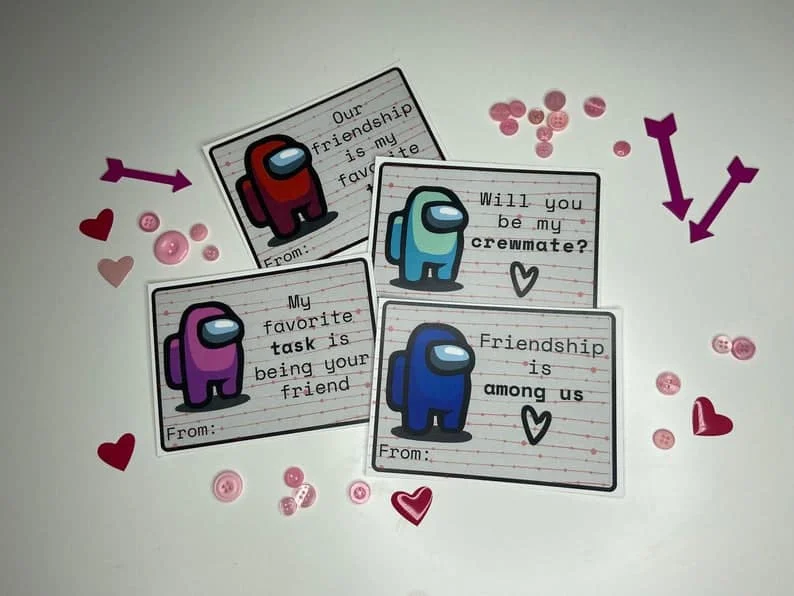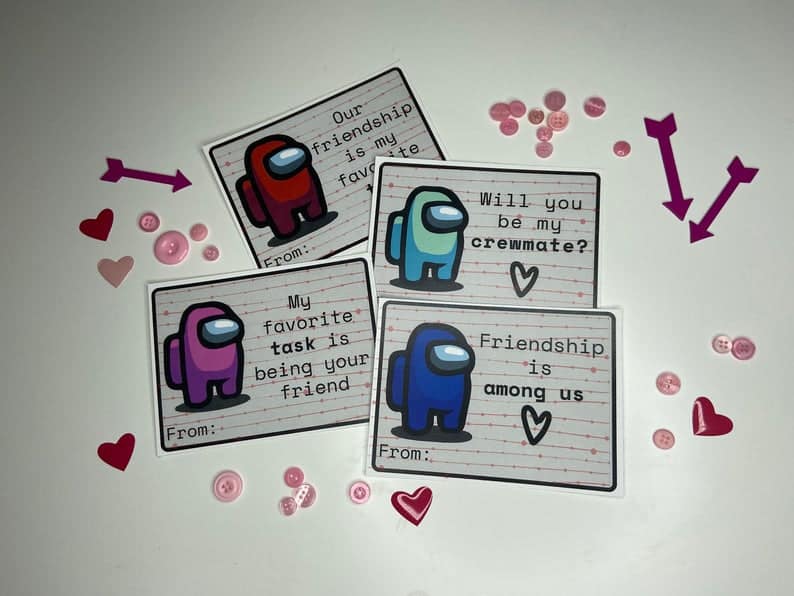 Photo Credit: Smith Shenanigans
Our next one is a simple print at home set of cards for Among Us crewmates with fun phrases such as "will you be my crewmate" and "friendship is among us". The astronauts are against a simple gray background which can easily be print and cut or glued onto a backing as well.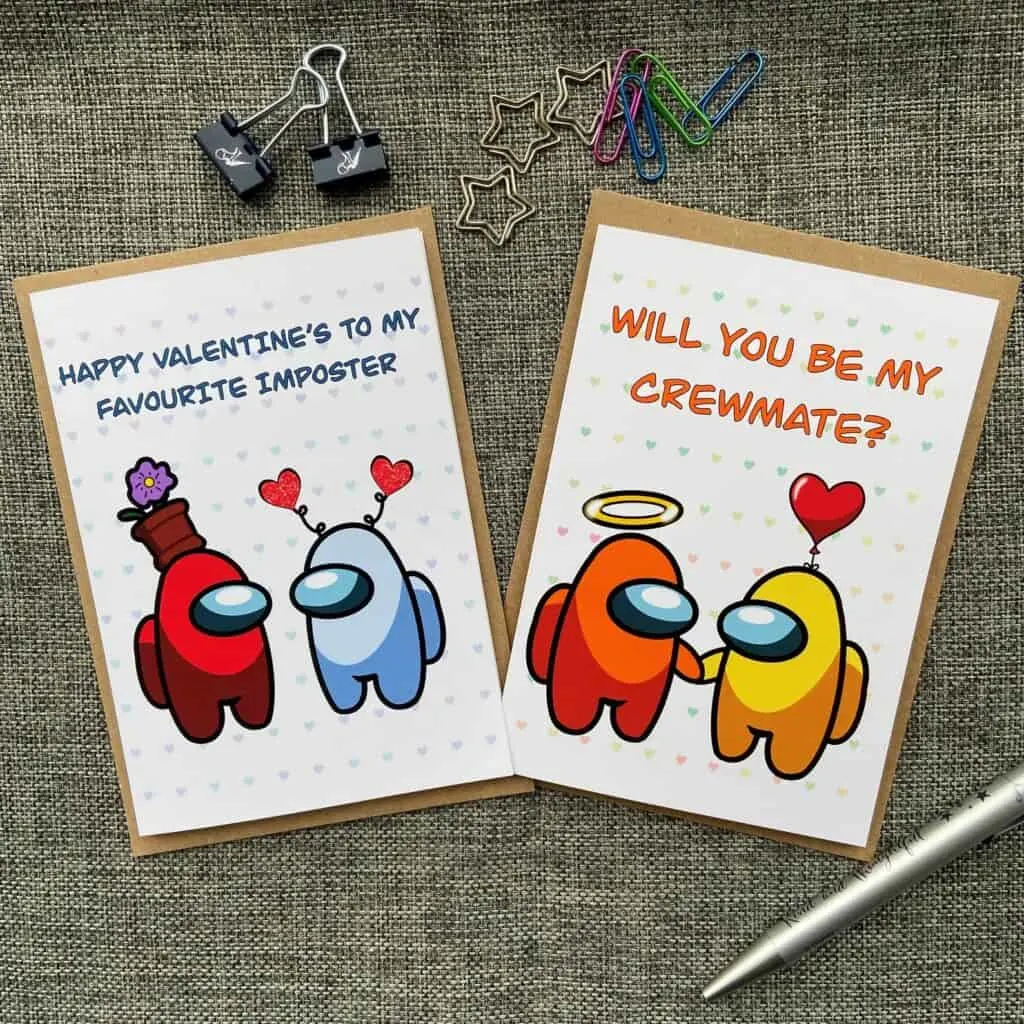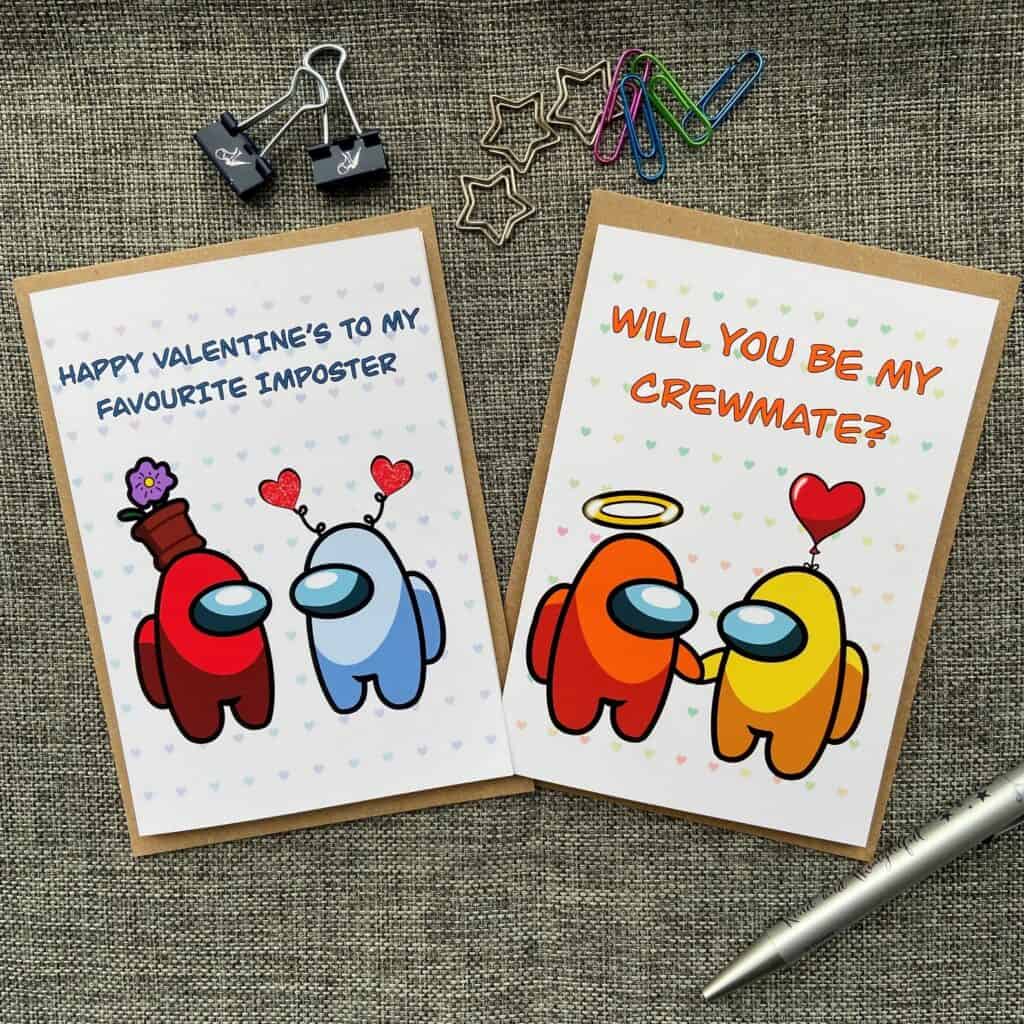 Photo Credit: Hello Bird Prints
These colorful printables show off two crewmates together with their fun hats! In the game, you can make your look unique with game hats and they make for the cutest cards! The printable looks great simply printed and cut out, but attached onto a colored background, they look so amazing!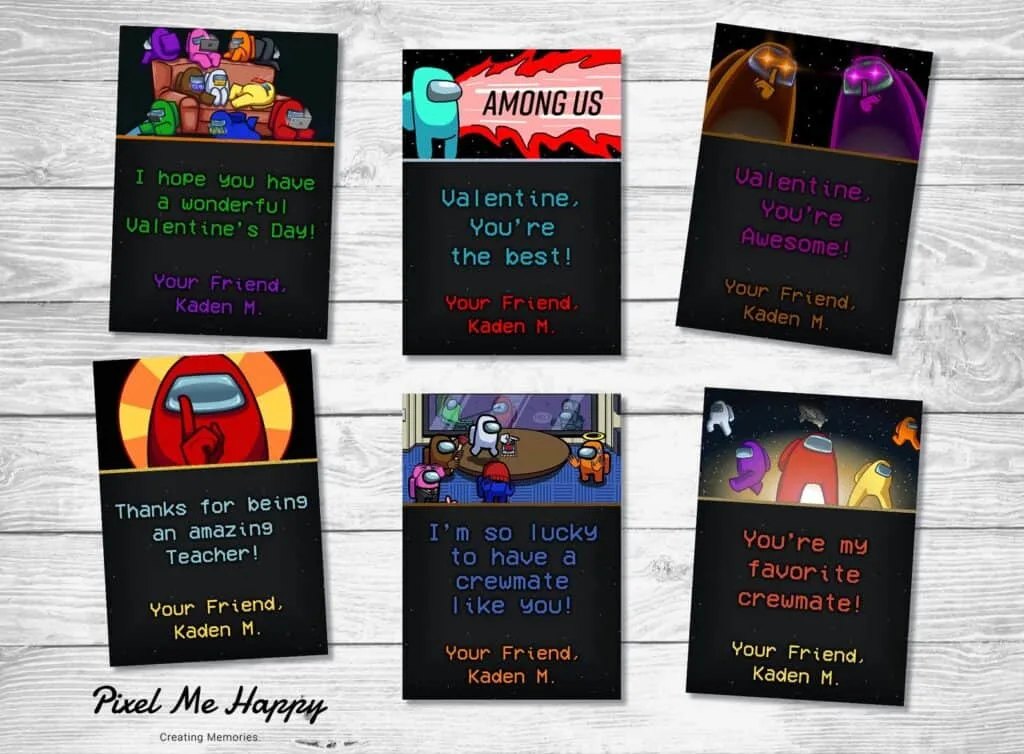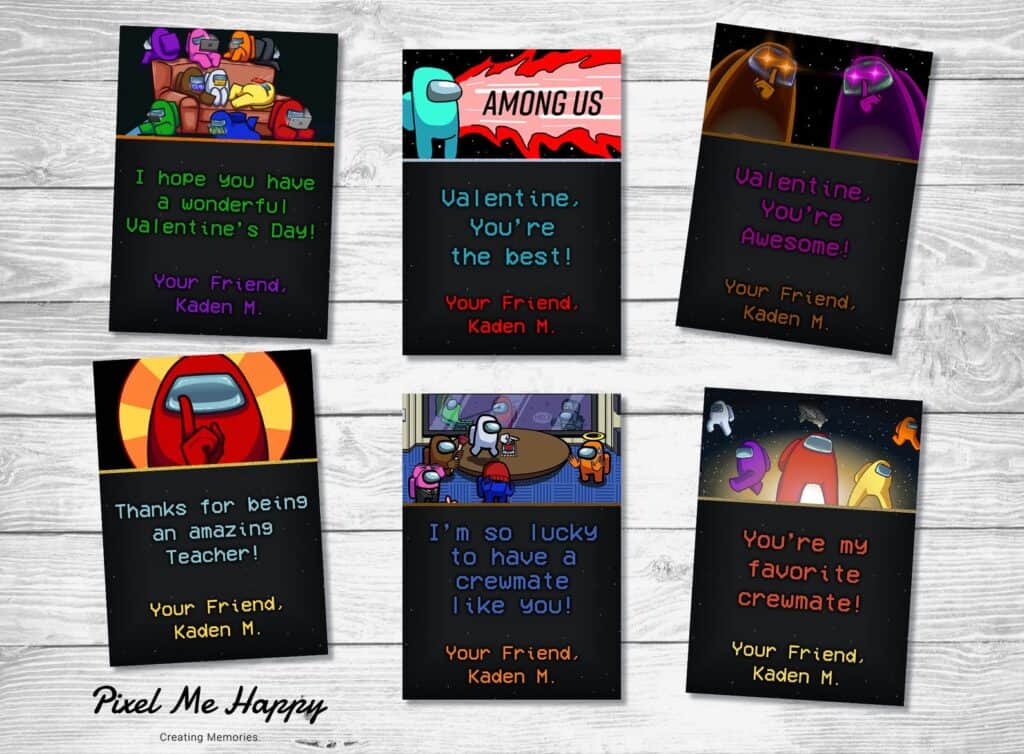 Photo Credit: Pixel Me Happy
The colors pop off these black background cards with unique Among Us style graphics. Great for a classroom there is also a specific teacher card in this printable pack. These also take away the task of having your child write their name on all the cards as they can be personalized with their name before your printable is sent to you.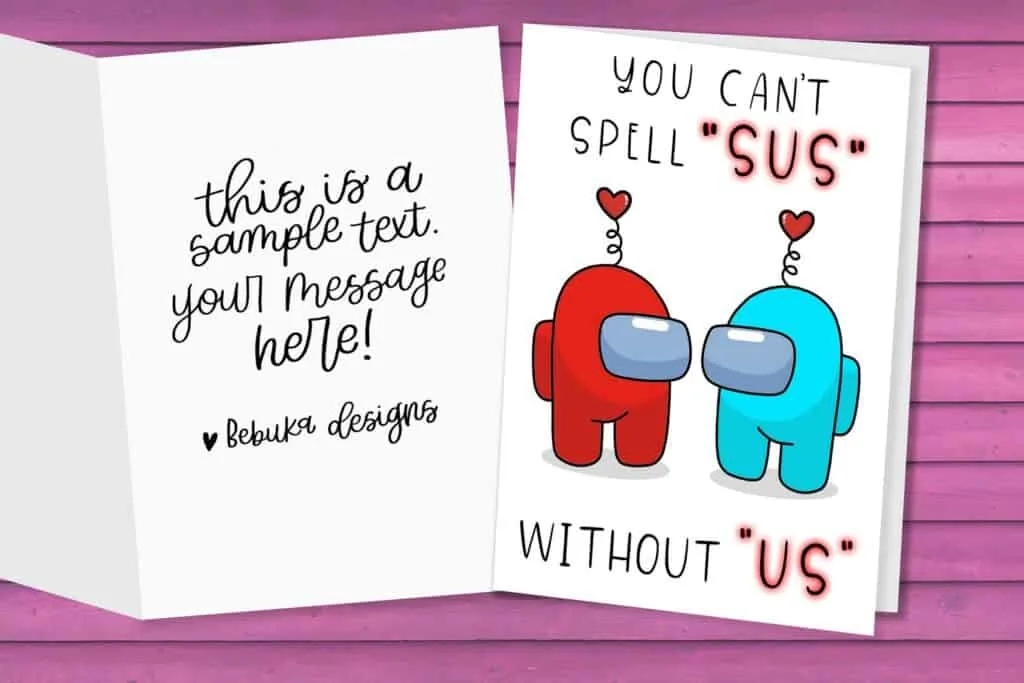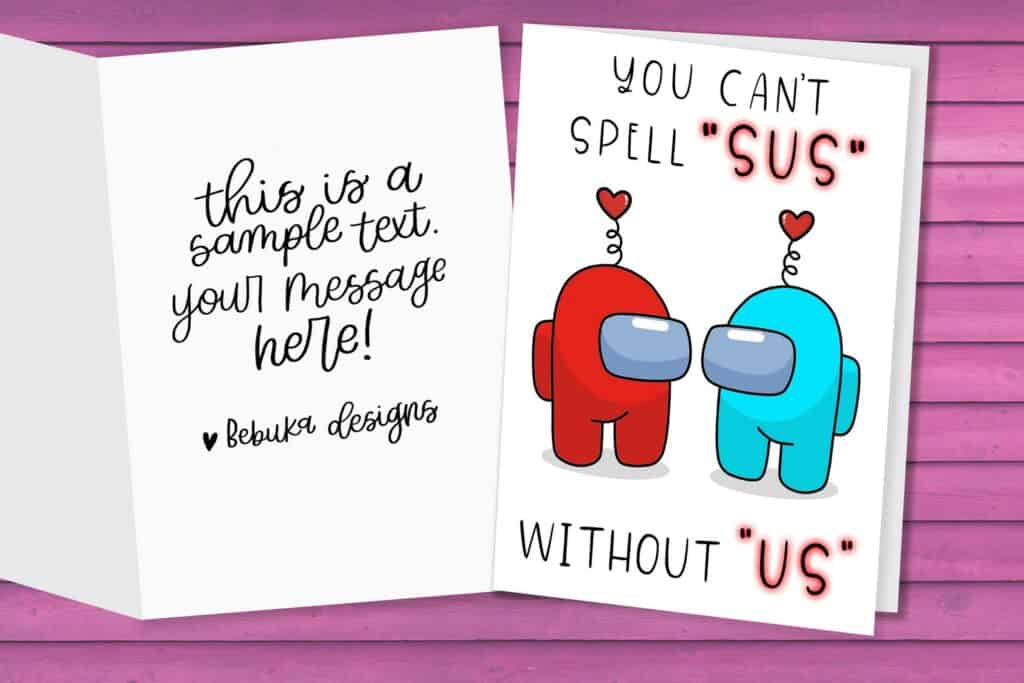 Photo Credit: Bebuka Designs
This card is a 5X7 inch foldable pre-printed version that is customizable. Perfect for a special Valentine, uses a play on the phrase "sus" or suspect from the game. You can pay a bit more to customize color and text as well.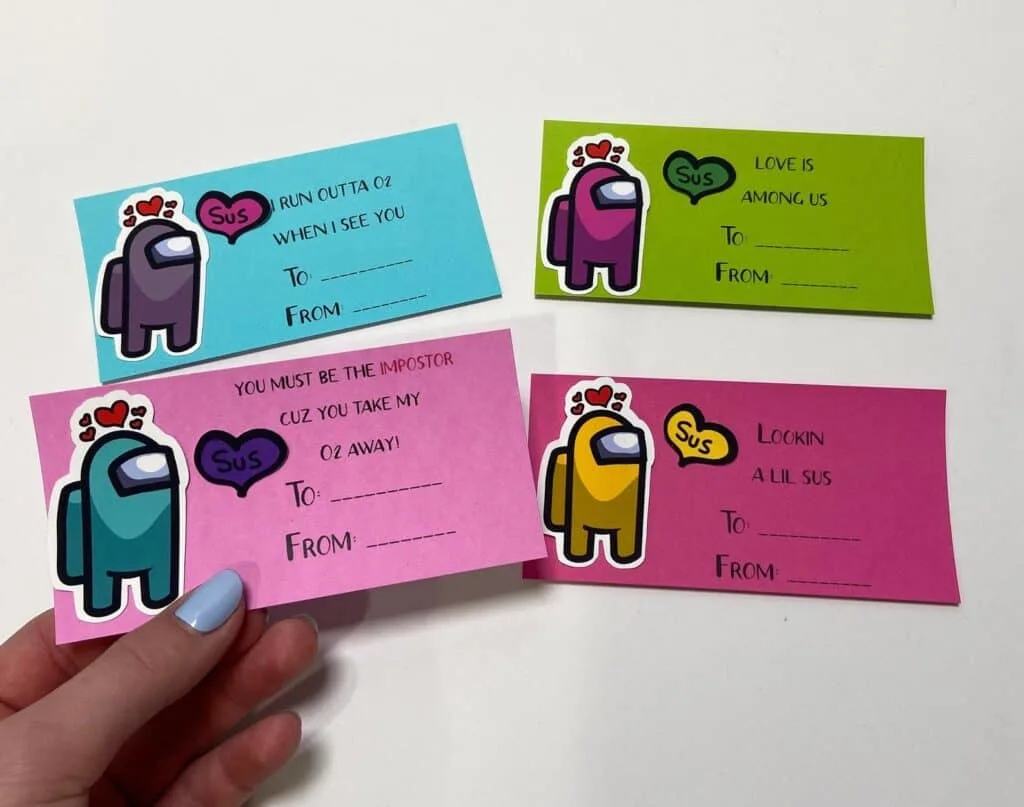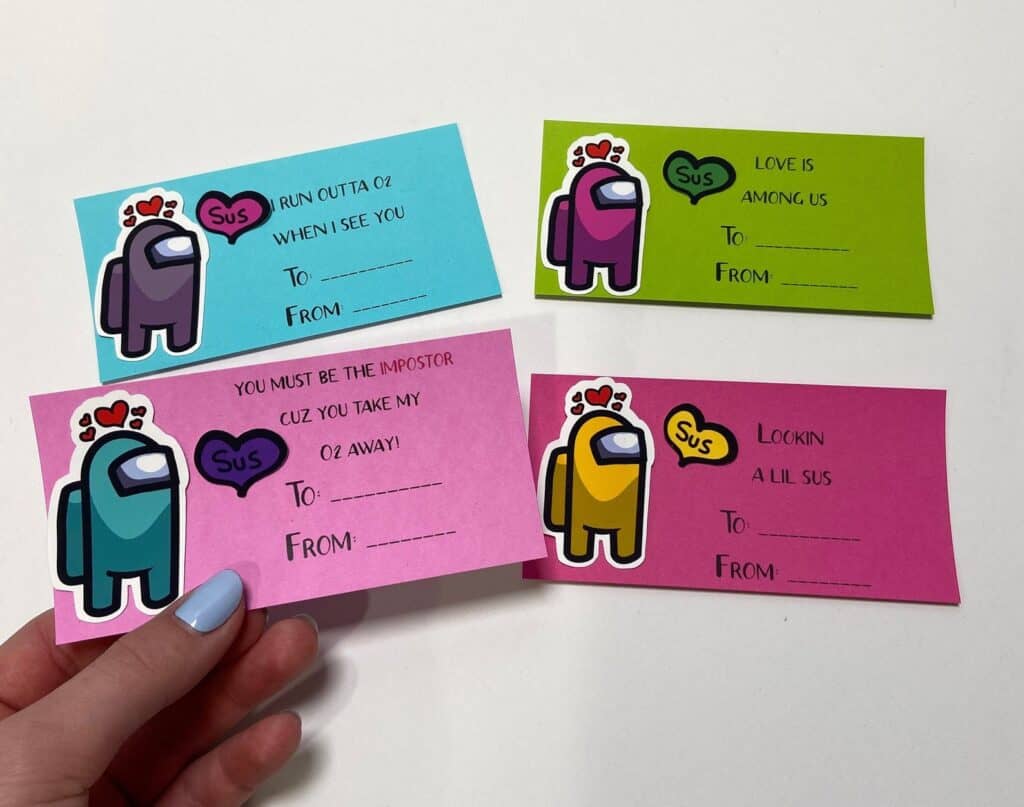 Photo Credit: Loofers Sticker Shop

If part of the fun of Valentine's Day is making your own cards, these are perfect, they are Among Us stickers! You have your choice of matte or glossy stickers for this listing too. These would be great to make your own cards, or to give as the small "prize" to go along with your Valentine's.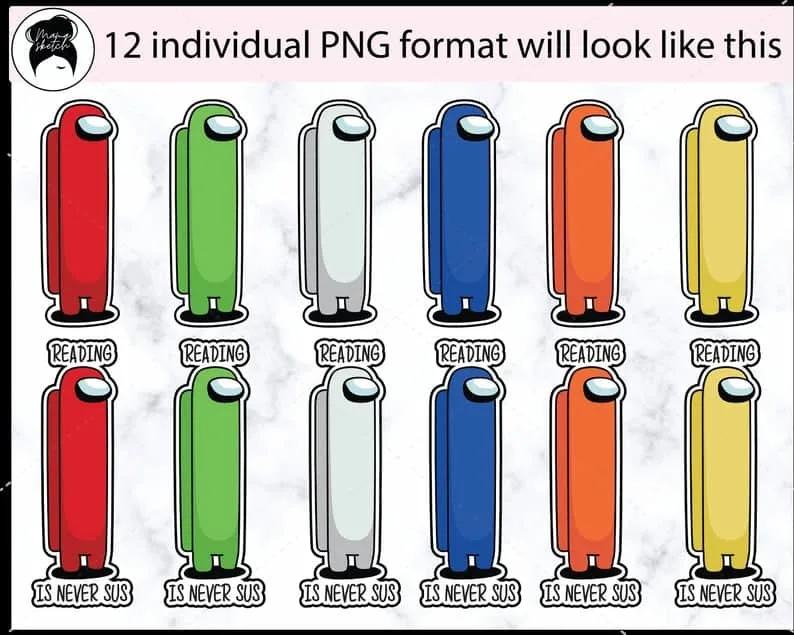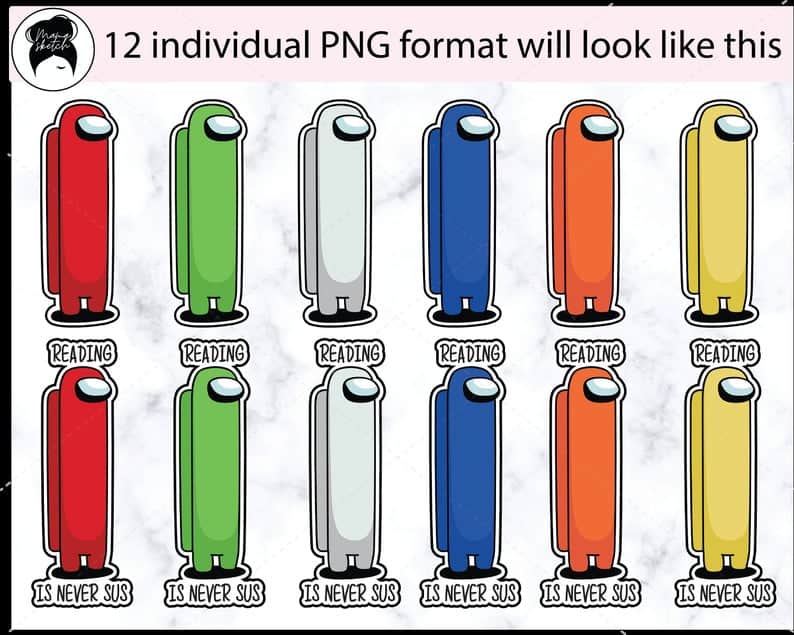 Photo Credit: Mama Sketch
Here is a fun idea for a Valentine's treat! Bookmarks! The listing is for a bookmark printable that comes in 6 colors with wording and without – you will receive both versions.. It makes for a cute and fun bookmark and would work well to give out as a Valentine. These can be printed and cut out and glued to a backing, or they can be cut out into the shape of the astronaut. These would be super fun with a handmade tassel too!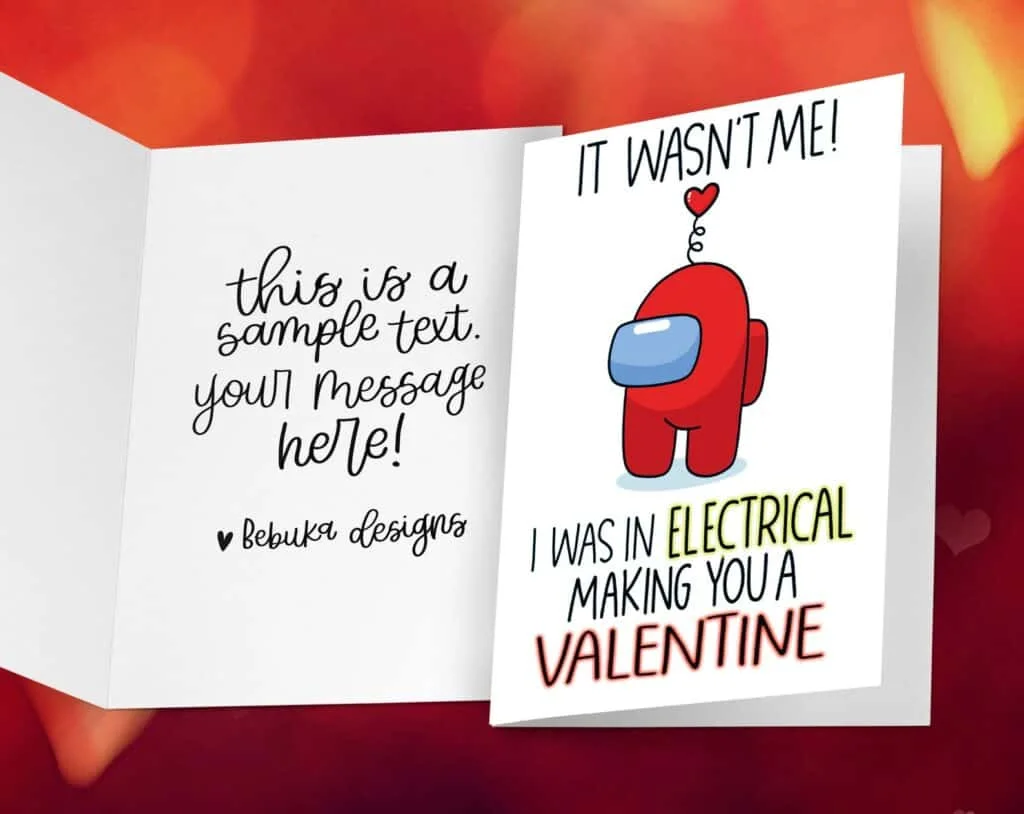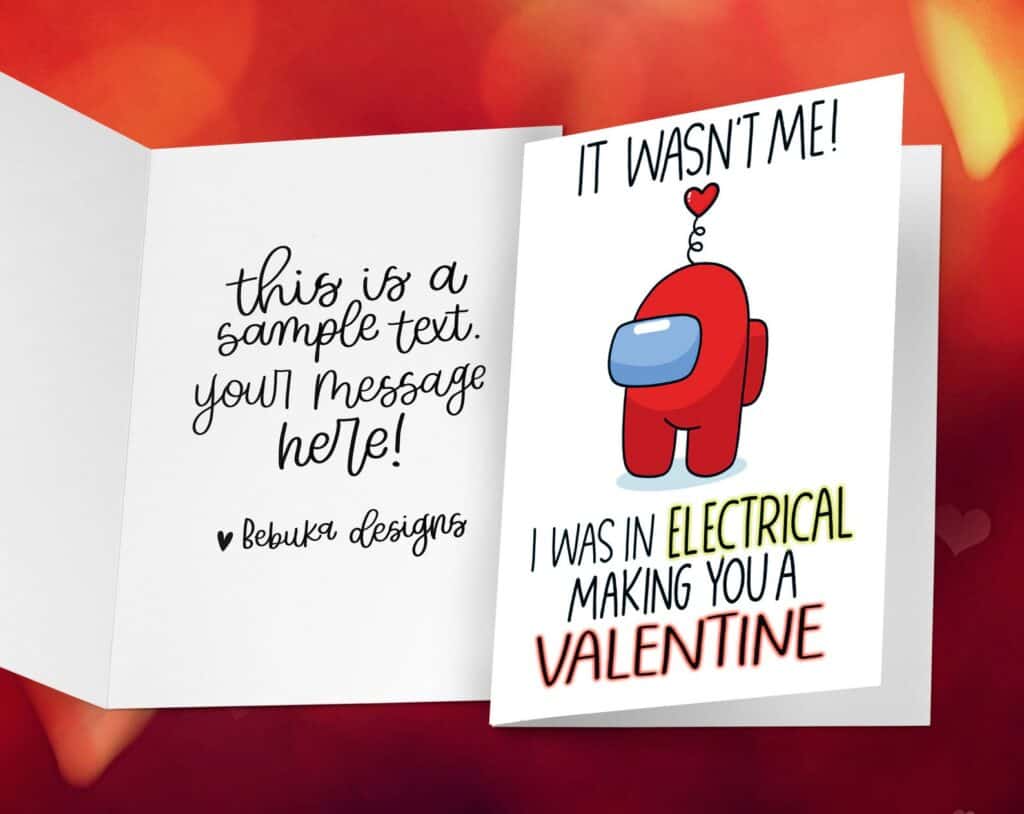 Photo Credit: Bebuka Designs
Another fun folding card, this has an adorable bright and large character with their fun hats. This card has an option to personalized too! A 5X7 inch card that is printed on nice cardstock with vibrant colors, these would be great for a couple of friends or maybe a teacher.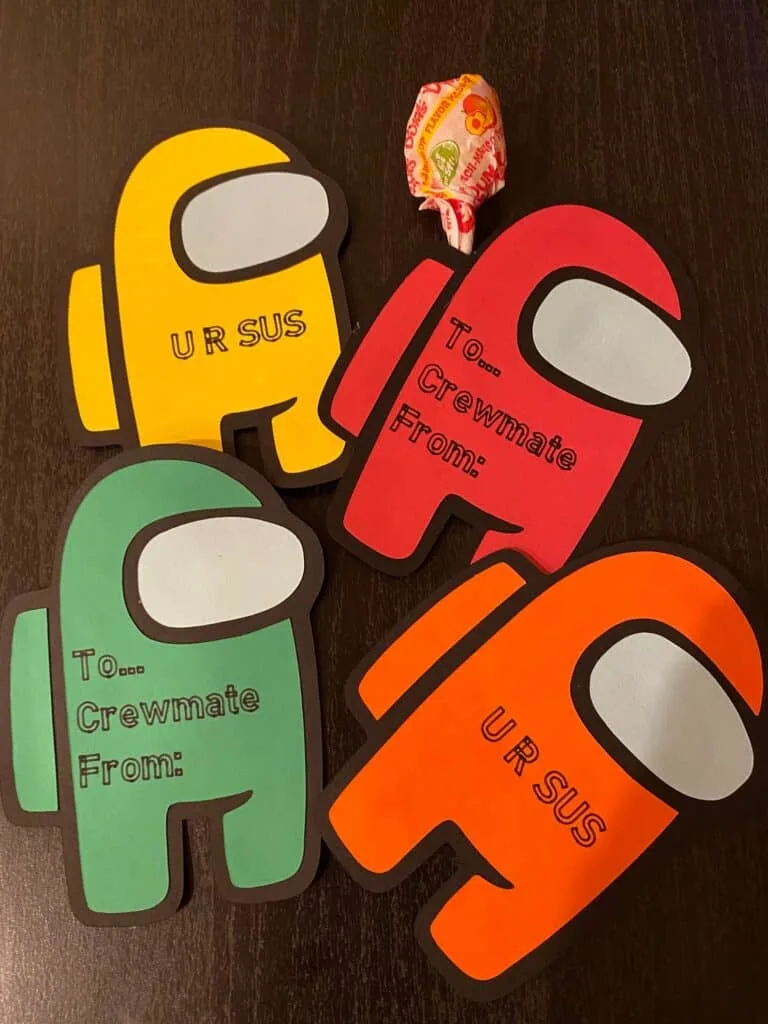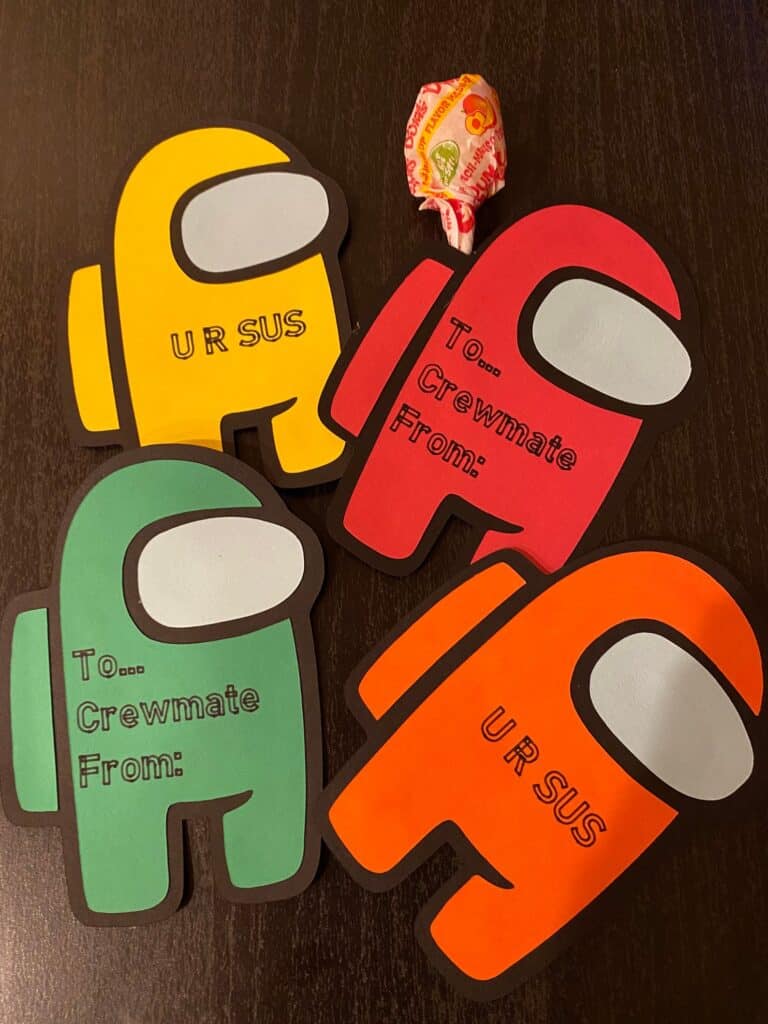 Photo Credit: Cutie Gloss
These adorable cards are actually cut out in the shape of the astronauts. These are sent to you already cut and printed out and come in a pack of 10 in a variety of colors. You can also choose from 2 sayings or they will be randomly decided for you.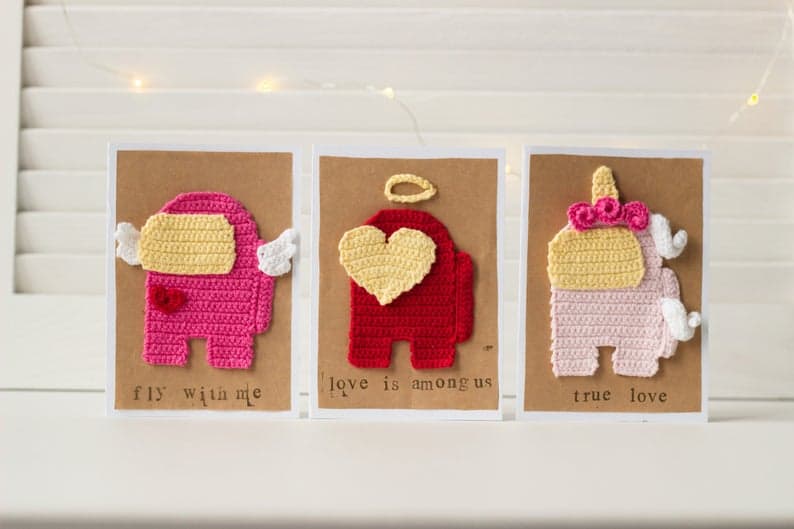 Photo Credit: Fox and Dog Patterns
The most unique download, this one is for a crochet version of the Among Us characters! Such a fun download to make a one of a kind Valentines! Make sure you give yourself enough time to complete the crocheting!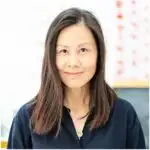 Agnes Hsu is a mom of three and has been inspiring parents and kids to get creative with easy activities and family friendly recipes for over 10 years. She shares her love for creative play and kids food to her 2MM+ followers online. Agnes' commitment to playful learning and kindness has not only raised funds for charity but also earned features in prestigious nationwide publications.