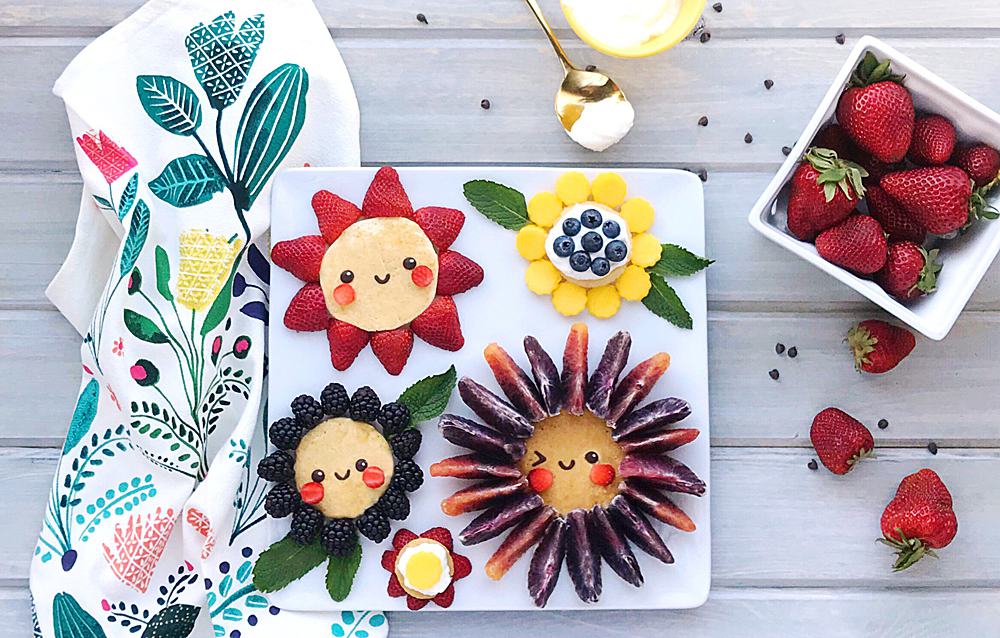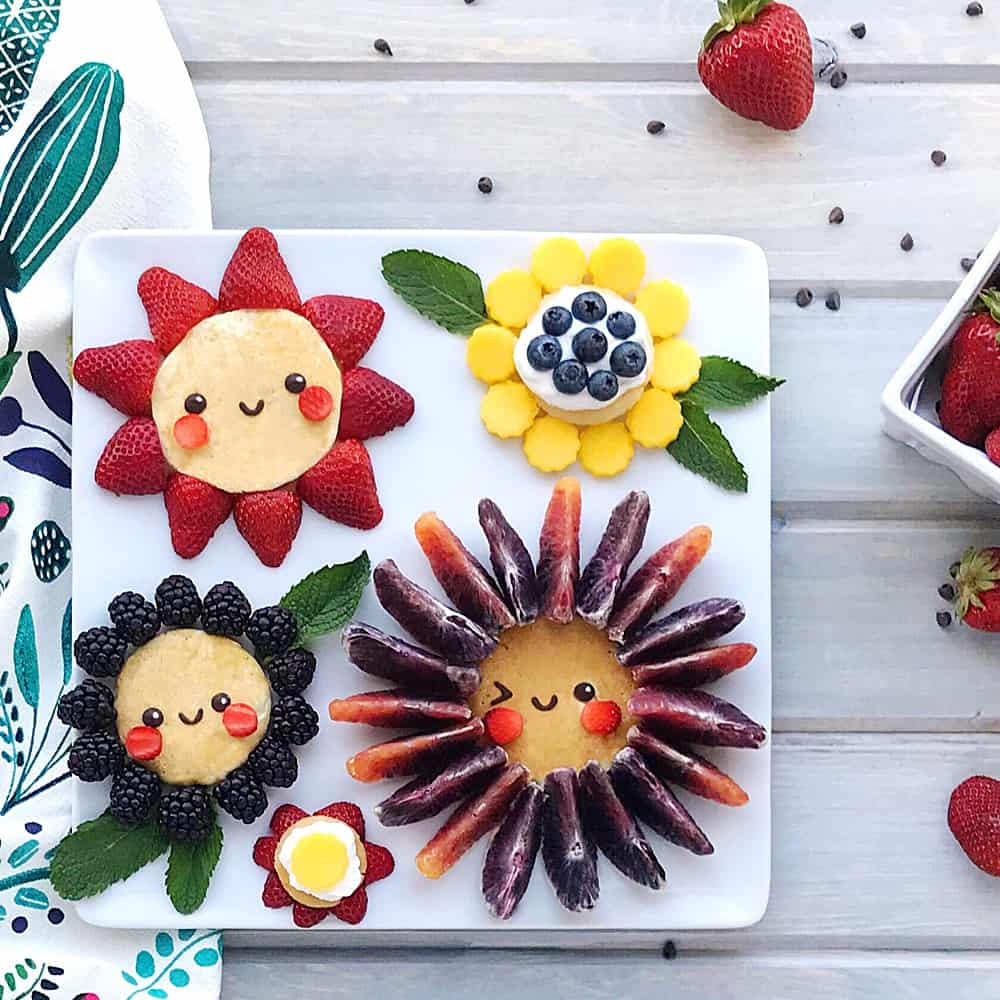 Celebrate mom with a breakfast as special as she is! Every year for Mother's Day I bring my mom flowers (either a fresh cut bunch, or something for her garden), but I think this year I'll give her a different type of bouquet. These fruit and yogurt pancakes are light and fluffy and oh so yummy! The recipe is super simple, and once the pancakes are cool enough to handle, little ones can join in the fun of decorating them with their favorite fresh fruit, more yogurt, and my mom's favorite – chocolate. You can easily make them gluten or dairy free by replacing the all purpose flour with a 1:1 gluten free blend, and swapping out any of the dairy options. Now, if only I could train my pet bunny to bring me breakfast in bed!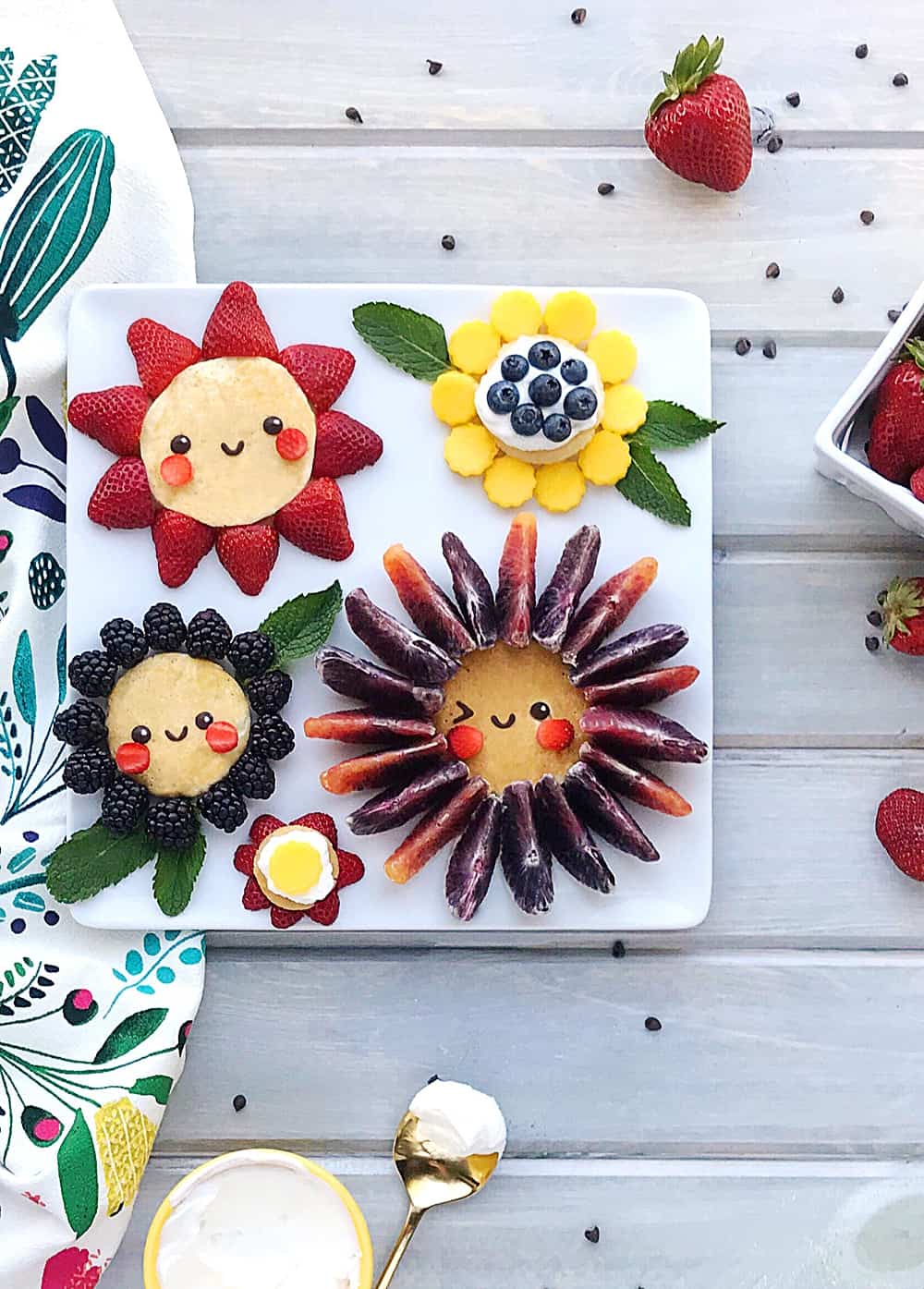 Flower Pancakes – Ingredients: (Makes about 12 2" pancakes)
1 cup all purpose flour
2 teaspoons baking powder
¼ teaspoon salt
2 teaspoons sugar
¾ cup milk (you can use non dairy as well)
2 tablespoons butter, melted (or coconut oil)
1 large egg
¼ cup Greek Yogurt, plain or flavored (plus more for topping the pancakes)
½ teaspoon vanilla extract
Favorite fresh fruit (strawberries, mango, blueberries, blackberries…)
¼ cup chocolate chips for melting or chocolate sauce
Fresh mint leaves
Circle cookie cutters or kitchen scissors
Small zip top bag
*All cutting should be done by an adult.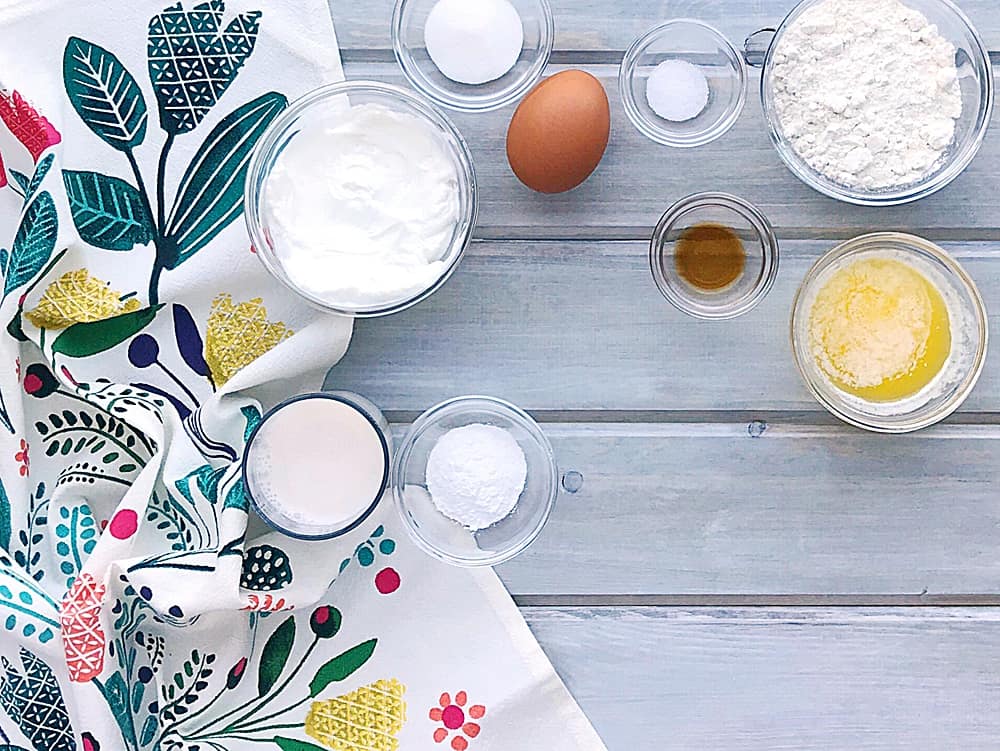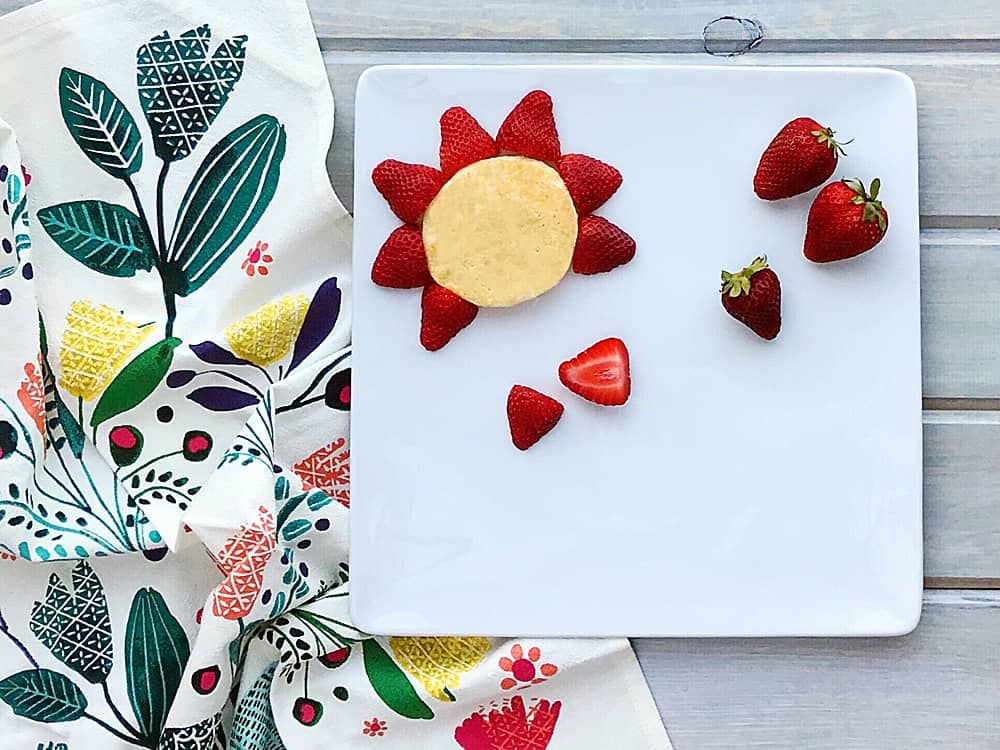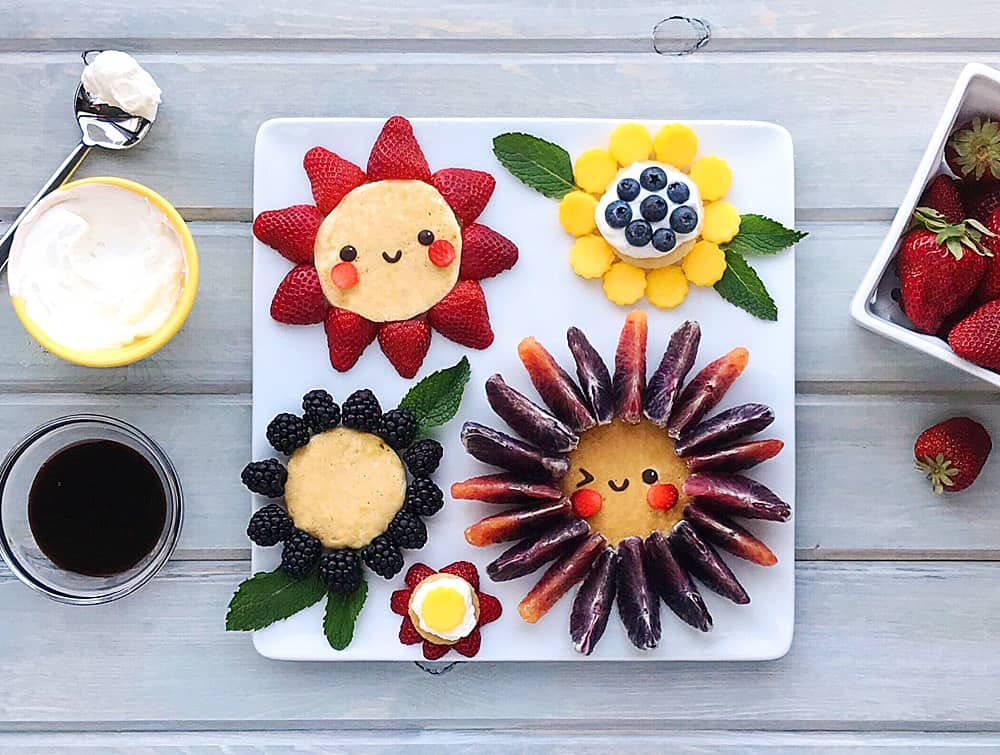 Instructions:
Step 1. Add the flour, baking powder, salt and sugar to a medium size mixing bowl and whisk to combine. In a separate bowl mix together the milk, butter (or oil), egg, yogurt, and vanilla, and then add the wet ingredients to the dry and mix until just combined (it's ok for there to be small lumps).
Step 2. Heat a griddle or skillet over medium. Lightly grease with extra melted coconut oil or butter using a paper towel, and drop 1/8 cup or 2 tablespoons of batter onto the skillet. Cook the first side for about 1 minute, or until bubbles start to form and burst, then carefully flip and cook the other side for 45 seconds. Wipe and re grease the pan in between batches of pancakes (you should be able to cook 2-3 at a time).
Step 3. If you want to make your pancakes a bit rounder, or cut a few smaller, you can use kitchen scissors or the cookie cutters to shape them. Arrange them on your plate leaving space in between each pancake for the fruit.
Step 4. Use your favorite fruit to create petals around each pancake. For the blood orange, I just sectioned it and placed the sections in a circle. For the strawberries, I cut the tops off, and then sliced each in half and arranged with the wider side of each half facing the pancake. For the mango, I used a small round cookie cutter to cut circles out, and placed them around. You can also add yogurt to the top of a few pancakes and decorate with more fruit.
Step 5. Use either melted chocolate chips or the chocolate sauce to add faces to the pancake flowers. If you are using the chocolate chips (like I did), melt them in the microwave, in a heatproof bowl, in 30-second intervals, while stirring in between each set until they are smooth. Allow the chocolate to come to room temperature, and transfer it (or the chocolate sauce) to a small zip top bag. Cut a tiny corner off the bag, and pipe the design you would like onto each pancake. Add fresh mint leaves, top with any other ingredients you like (honey is really delicious with the fruit and yogurt), and enjoy!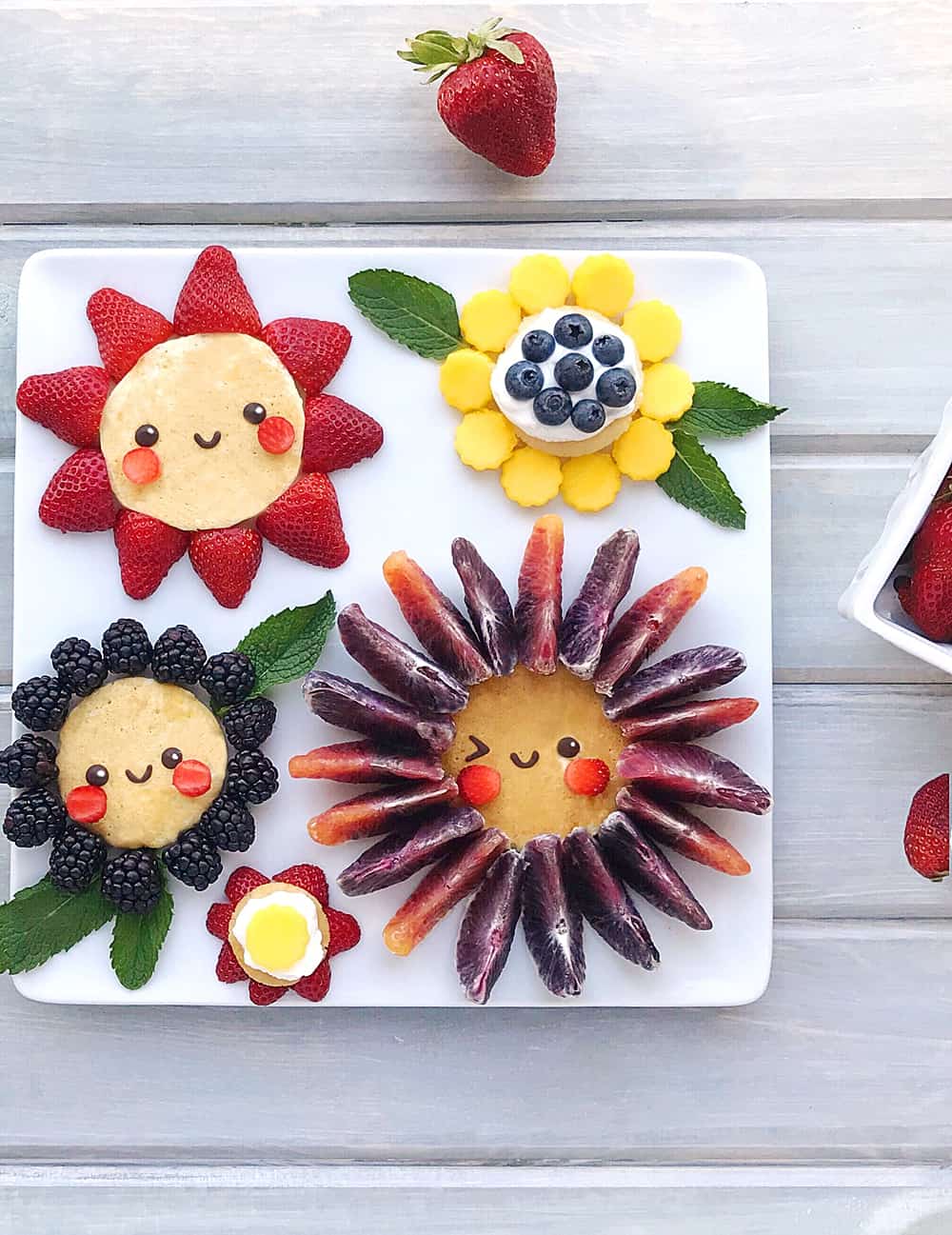 The decorated pancakes are best enjoyed immediately, but if you have extra undecorated pancakes you can always freeze them to eat at a later time. Feel free to adjust this recipe however you would like! You can even add chocolate chips or fresh berries to the pancake batter.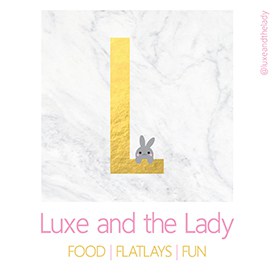 Jessica Lucius is a food and flatlay stylist with a fondness for baking, making, and all things cute. She's also the founder and creative force behind her newly established blog, Luxe and the Lady, where she shares fun ways to bring her favorite animals and childhood characters to life with food. When Jessica's not busy playing with her food, or at the grocery picking out just the right ingredient to turn into eyes and ears, you can find her trail running, working out, reading, recipe testing, and playing with her fluffy baby lionhead bunny, Marshmallow. Follow Jessica on Instagram @luxeandthelady.
_______________________________________________________________________________________
Disclosure: Some of the links in the post above are "affiliate links." This means if you click on the link and purchase the item, we will receive a small affiliate commission. Regardless, we give our promise that we only recommend products or services we would use personally and believe will add values to our readers