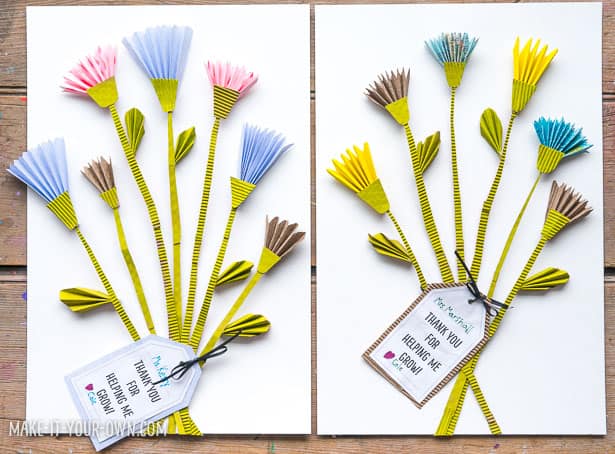 Make a special bouquet to thank a teacher or for anyone who has helped you to grow! This recycled paper flower bouquet is a sweet gift for a special mentor or a lovely Mother's Day gift from kids.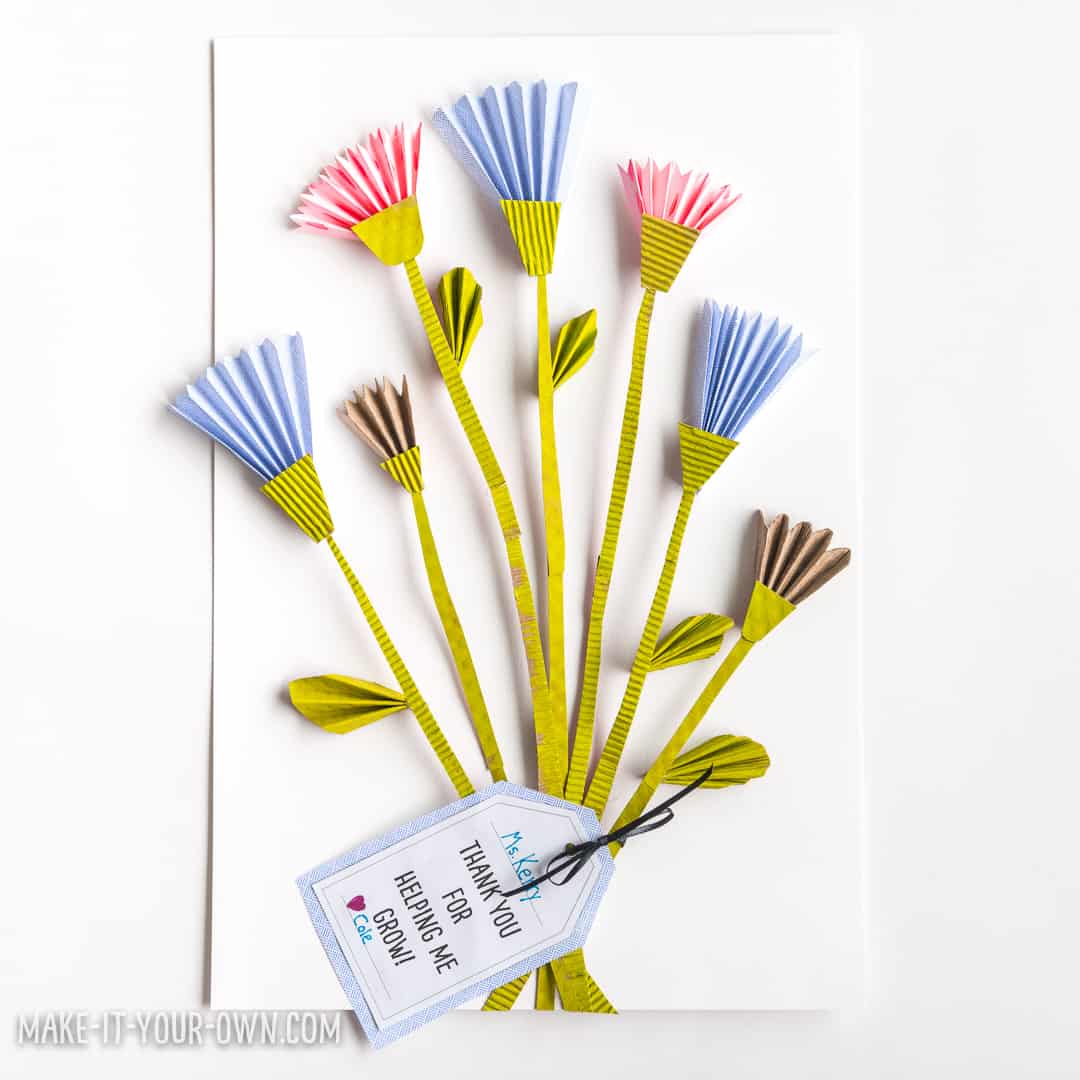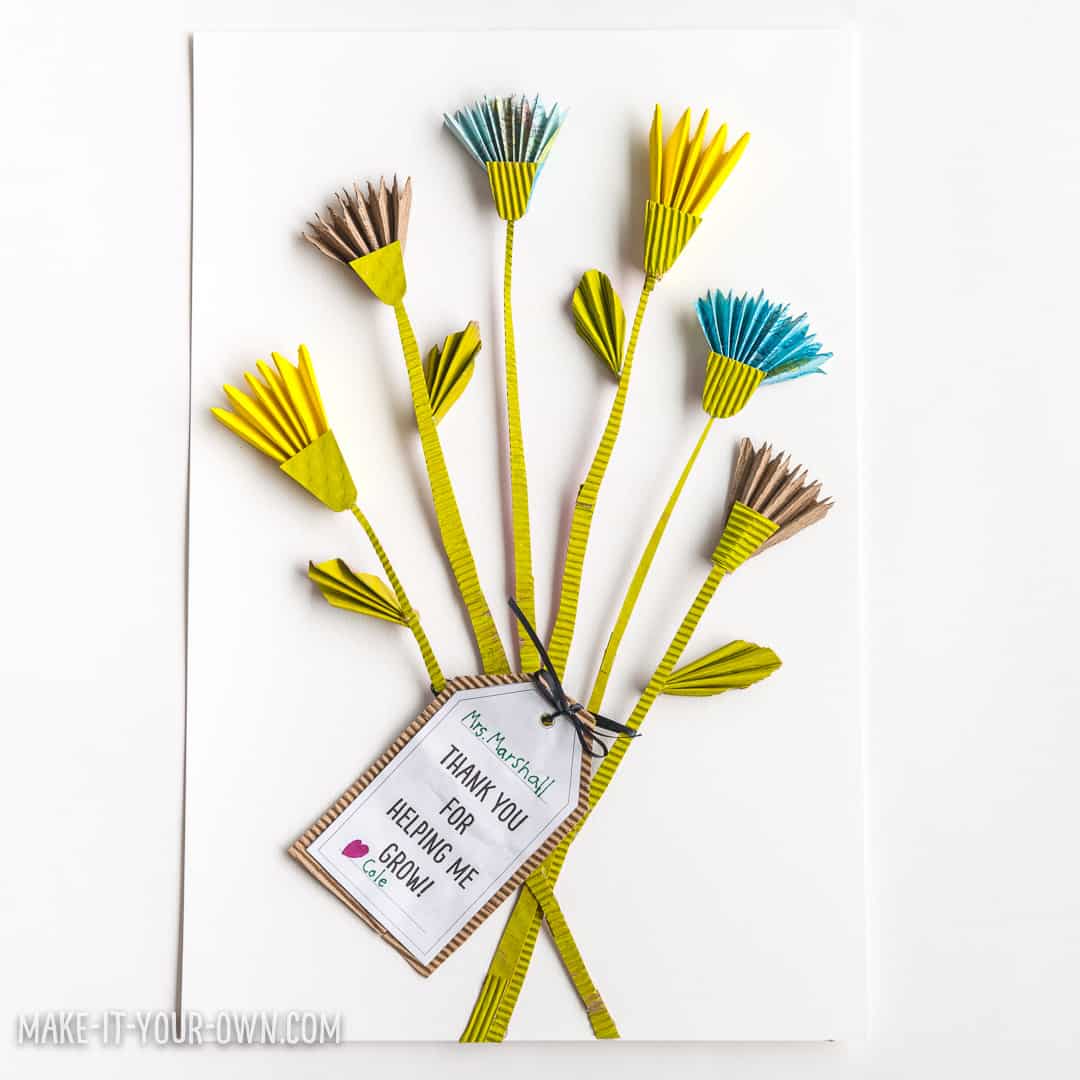 Recycled Paper Flower Bouquet – Materials:
Recyclable paper (security envelopes, coffee sleeves, old paintings, maps etc.)
Paint brush
Glue (we used a glue gun, but you could use craft glue as well)
Scissors
Paper for a background
Ribbon
Optional, but handy:
We always find these items useful too: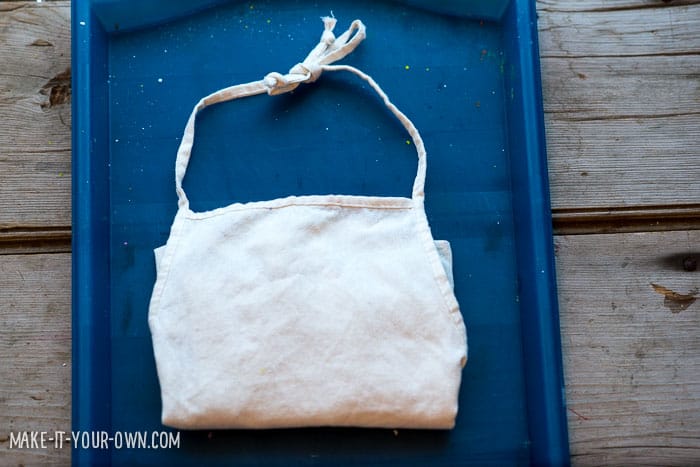 Smock
Craft tray
INSTRUCTIONS:
Paint some of your coffee sleeves for your stems and leaves. You could also paint some for blooms. Allow them to dry overnight.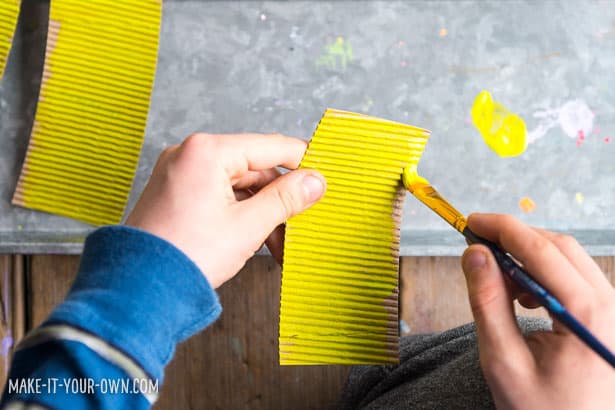 Trim your paper into rectangles. The longer the shape, the bigger the bloom.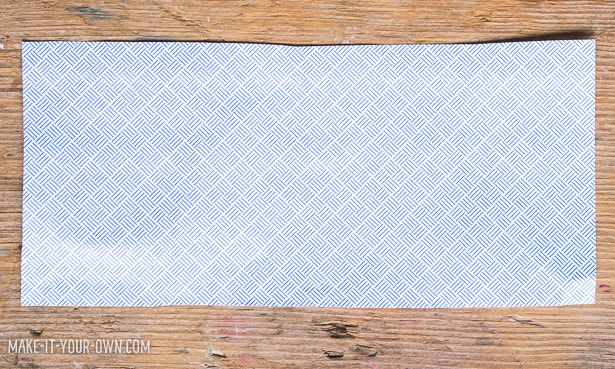 Fold your paper accordion style, back and forth, flipping your paper with each fold. To help, we used a popsicle stick. This allows the folds to be equal and the lines a bit sharper. We then put glue in the "valley" folds on both the front and the back at the bottom and then squeezed them together. We used a binder clip to hold it while the glue dried. You could trim the edges to make the blooms the size that you like. Trim the tops in different ways to make the shapes of the petals different. Use a variety of papers and colours to bring your bouquet to life, making a batch of them!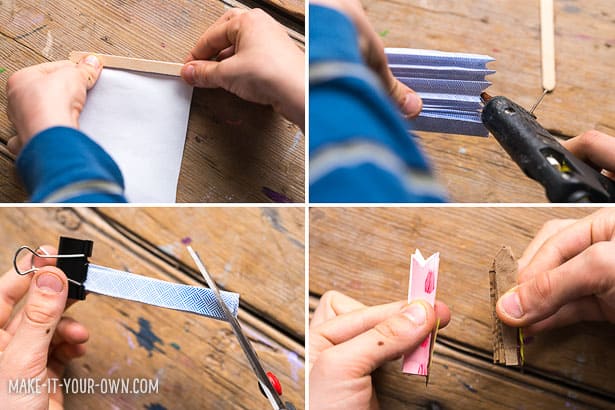 Cut stems from your sleeves.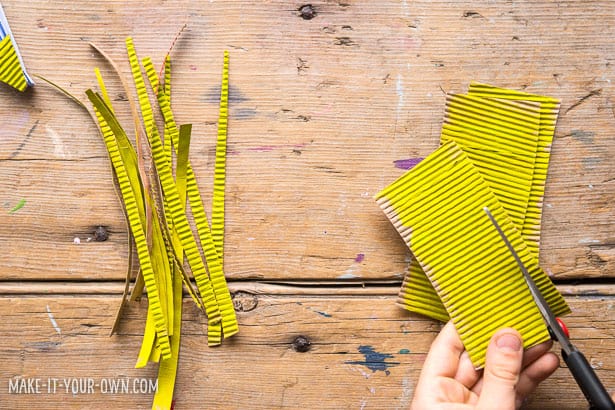 To make the leaves, cut one of your sleeve sides into a pointed shape and fold them in the same accordion style as the floral blooms, gluing the end.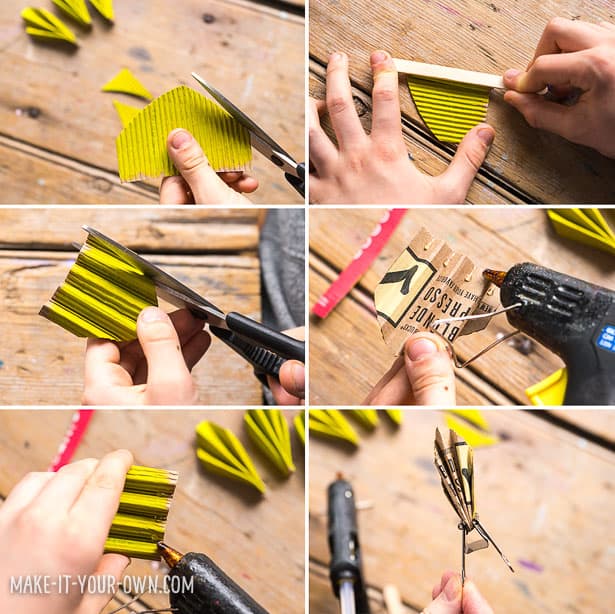 Arrange the pieces of your flowers together on your paper and glue them down. We put the stems on the top, so we could slide the ribbon for the bouquet underneath of them.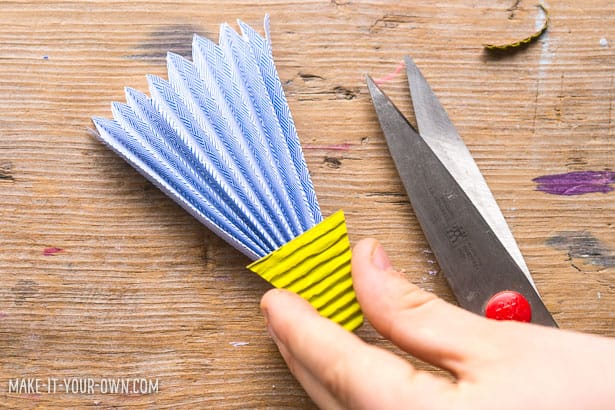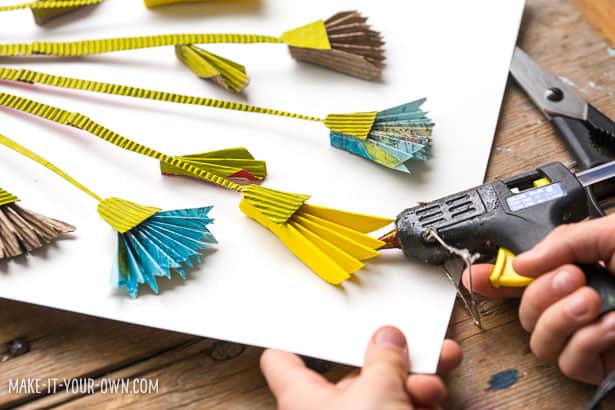 Print out your tags, cut them out and address them. We backed them onto some more of the recyclable paper and cut them out again, punching a hole at the top.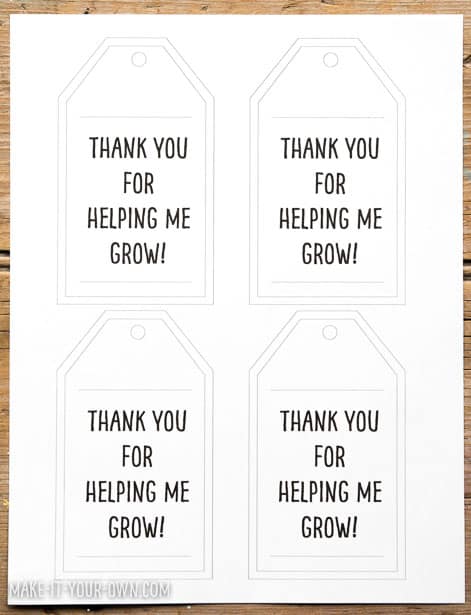 Slide your tag onto your ribbon and glue both into place.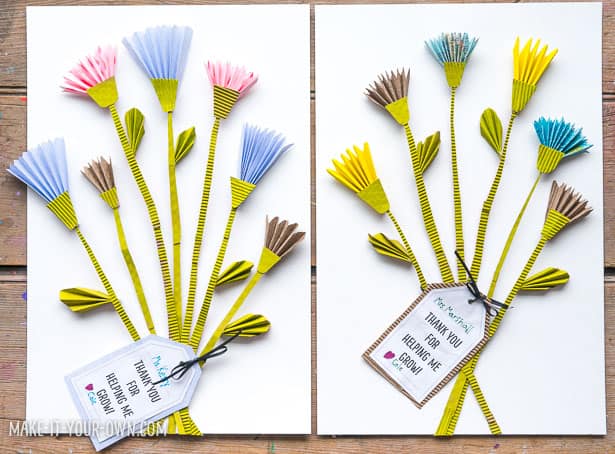 Give your bouquet to someone special!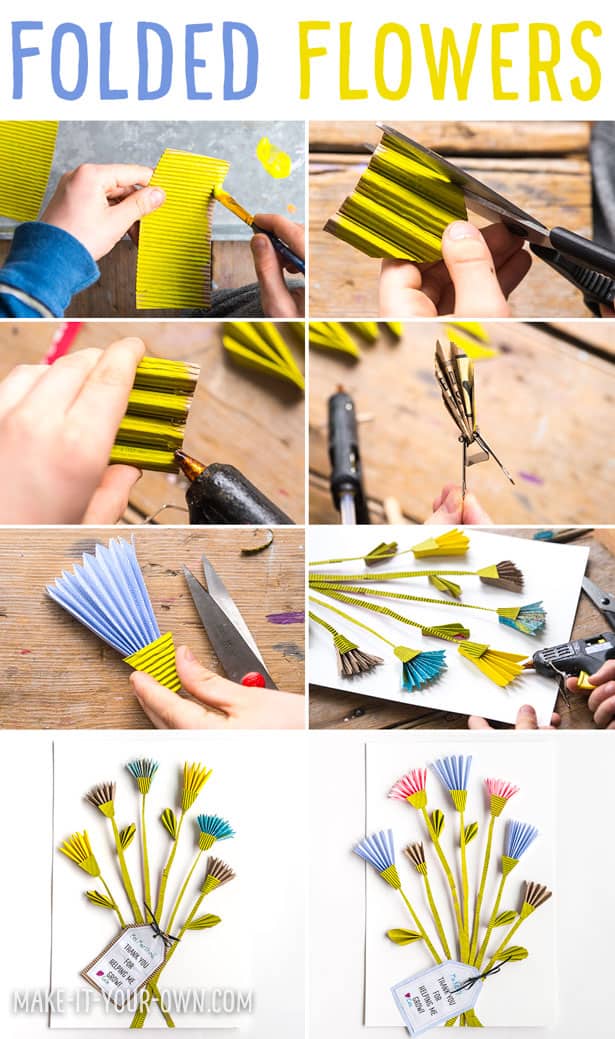 Purpose
Re-using materials.
Giving appreciation.
Safety Notes
We suggest that you use a tray and a smock to protect your clothing and surfaces.
Cord, yarn etc. can be a strangulation hazard, therefore be sure to use with direct supervision and for its intended purpose.
Use scissors and a glue gun with care and direct, adult supervision.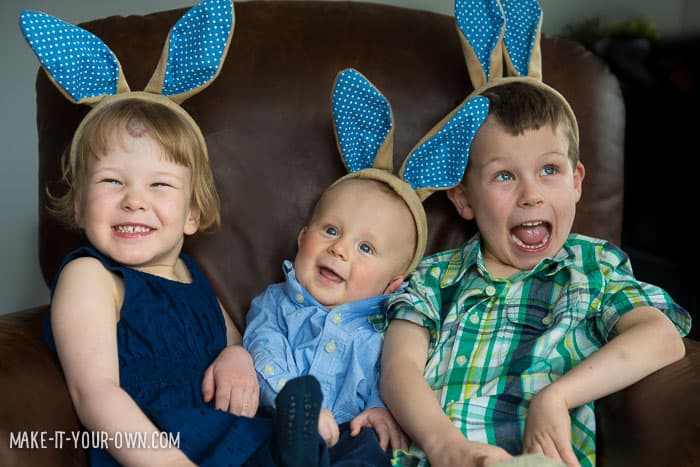 Make it Your Own is a Canadian children's website. We hope to inspire educators and families with projects to do together, explorations of various mediums and techniques and to get out into nature to source supplies. We love re-imagining items and thinking of new ways to share children's artwork. We are often described as "an educational mom, a digital dad and their three mini-makers.
__________________________________________________________________________________________________
Disclosure: Some of the links in the post above are "affiliate links." This means if you click on the link and purchase the item, we will receive a small affiliate commission. Regardless, we give our promise that we only recommend products or services we would use personally and believe will add values to our readers.