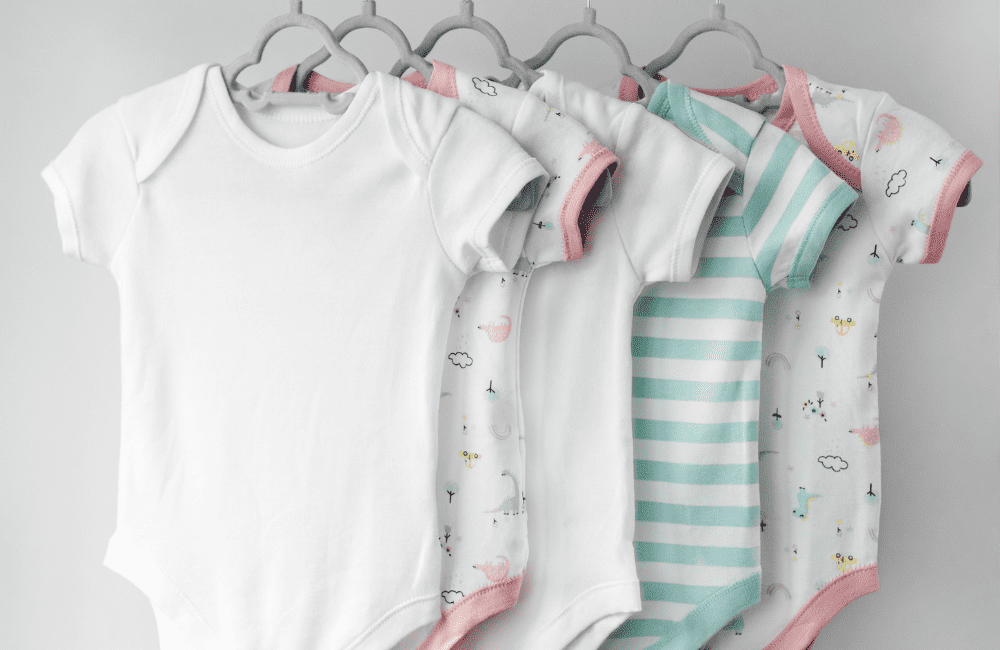 Photo Credit: Canva
By using this site, you agree to our Terms of Use. This post may contain affiliate links. Read our disclosure policy.
Follow us on Instagram for more fun ideas for kids!
Here's a super fun and functional idea to recycle old baby clothes and turn your old onesies into a new stylish use!
We as parents absolutely love money-saving, reducing waste, recycling, and any type of mom hacks. As most parents of newborns learn within a month or two is that the babies outgrow their onesies very quickly. Unfortunately with those outgrown onesies also comes stains from milk, spit up, food and sometimes even poop.
There's no need to throw them away now with this neat way to recycle baby clothes, because with 9.4 million views and counting, TikTok user @xotiny__shares her baby hack for getting extra use out of the outgrown onesies…and all you need is scissors.
How do you recycle baby clothes?
Simply take the onesie he/she has outgrown, lay it flat and cut straight across the entire section, just above the legs. The top part will resemble a t-shirt and the bottom will be reused as a bib. Genius, right? Fortunately since it will be reused as a bib, it's really irrelevant if there are any stains because every baby bib ultimately ends up with stains. You can never have enough bibs once the baby starts eating solid food, or starts teething and maybe drools a lot, so this is the perfect hack.
It's a two for one – use the top, after cutting the bottom, as a t-shirt for your little one. It's really a win-win. If you've used mostly plain white onesies for your baby, they've outgrown them lengthwise and they just have too many stains to salvage…tie-dye the onesie before cutting it! It will help hide the stains and you'll still be able to make a cute bib and top. Even though bibs may be cheaper than the onesie, you're really just repurposing what you already have, your child has gotten the use out of it, and will no doubt save money.
What to do with old baby clothes?
As your little one sizes up and outgrows those cute onesies, outfits, baby shoes and accessories, it's tempting to just store them away or donate them. We've got some other great ideas below for what to do with those outgrown clothes besides just the easy and obvious.
1. Put away and save their favorite piece(s) of clothing from 0-3 months or even their first year. You'll look back one day and all the memories of them being that little will likely fill your heart with joy.
2. Donate them to a local thrift shop, local women's shelter, or your church.
3. Give them to friends, family, or neighbors who have children at similar ages.
4. If you're planning to have more children, store them in a labeled container and use them as hand-me-downs.
5. Create a sweet keepsake from your baby's hospital blanket.
6. Make them into baby doll clothing.
7. Create an elastic headband and add a flower embellishment.
8. Sell the clothing at a garage sale, and even better a neighborhood garage sale.
9. With squares cut from multiple clothing items, t-shirts or onesies, make a baby quilt or blanket.
10. Use old t-shirt material clothing or onesies as cleaning rags.
11. Do a clothing swap with other neighborhood moms.
12. Sell the clothing that remains in good condition to a used kids' clothing store or an online marketplace.
You Might Also Like
Best Mom Hack for Car Rides