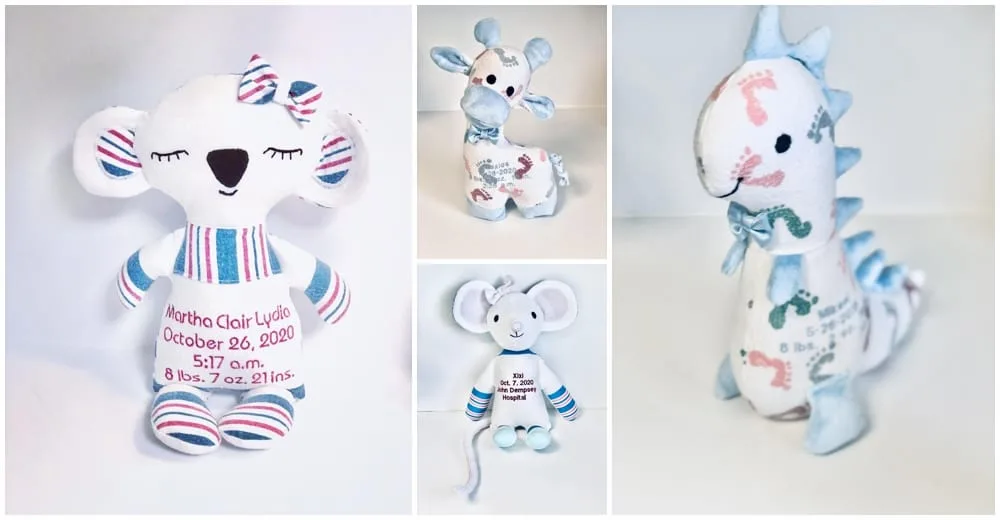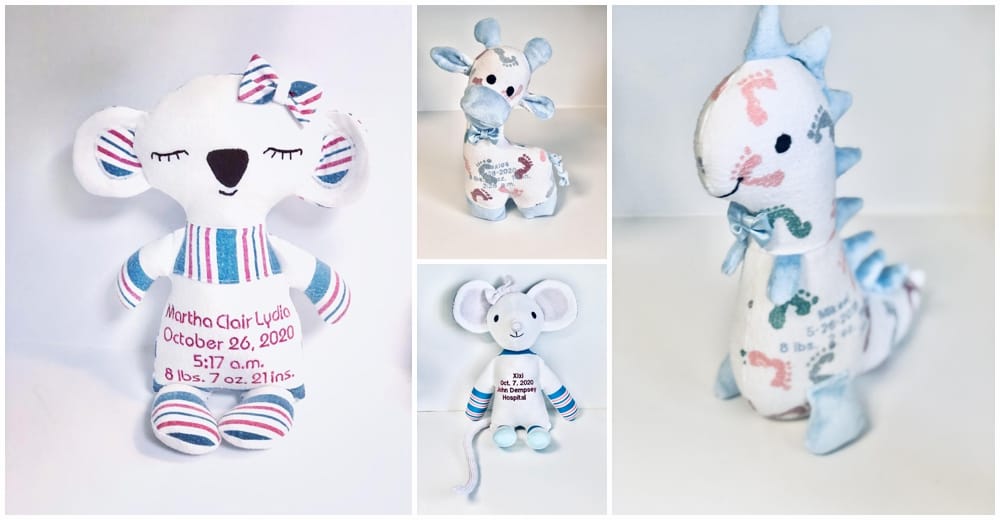 Photo Credit: Sewing Tink
Turn Your Baby's Hospital Blanket Into the Cutest Plushie Keepsake
Do you remember when you brought your baby home from the hospital in their blanket? Is it stuffed in an old keepsake box in your attic, collecting dust? The other day, I came across these adorable custom stuffed animal keepsakes that are made from your baby's hospital blanket. I know there are tons of mommas out there that would love to have this keepsake to give to their kids one day. It's also a fantastic way to repurpose the blanket by making it into a stuffed animal.
How do you make a hospital blanket keepsake?
Shop owner, Tina Jessee, has several stuffed animal designs to choose from in her shop, Sewing Tink. The prices for her stuffed animals range from $24.00 to $45.00, depending on the size and shape of the animal. The ship date is usually around 6-8 weeks, but that is only because each product is custom and takes a while to make. The materials used to make the stuffed animal are poly fiberfill, thread, flannel, knit, and cotton. I bet you can imagine how soft the stuffed animal must be! It doesn't just have to be the hospital blanket, either. You can use a piece of your clothing for the outer fabric for the stuffed animal if you don't have the hospital blanket anymore. What I love about this product is that it's so simple, yet so personal. I would have never thought to make a stuffed animal out of a hospital blanket!
Tina also has a few other items in her shop that are just as personable. She has blankets where you can put your child's name on them, and even has a memory quilt that she can make from your old t-shirts! I love these kinds of products because they're so unique, but they also have so much meaning attached to them. It would make a perfect gift for a new mom or even a grandma!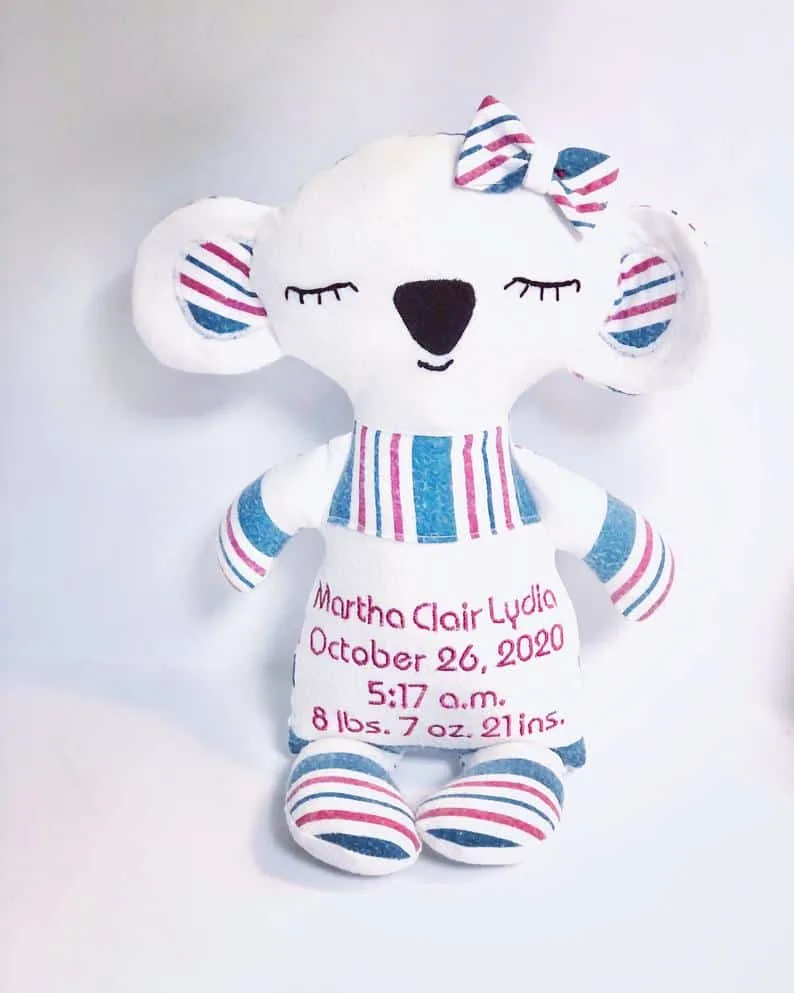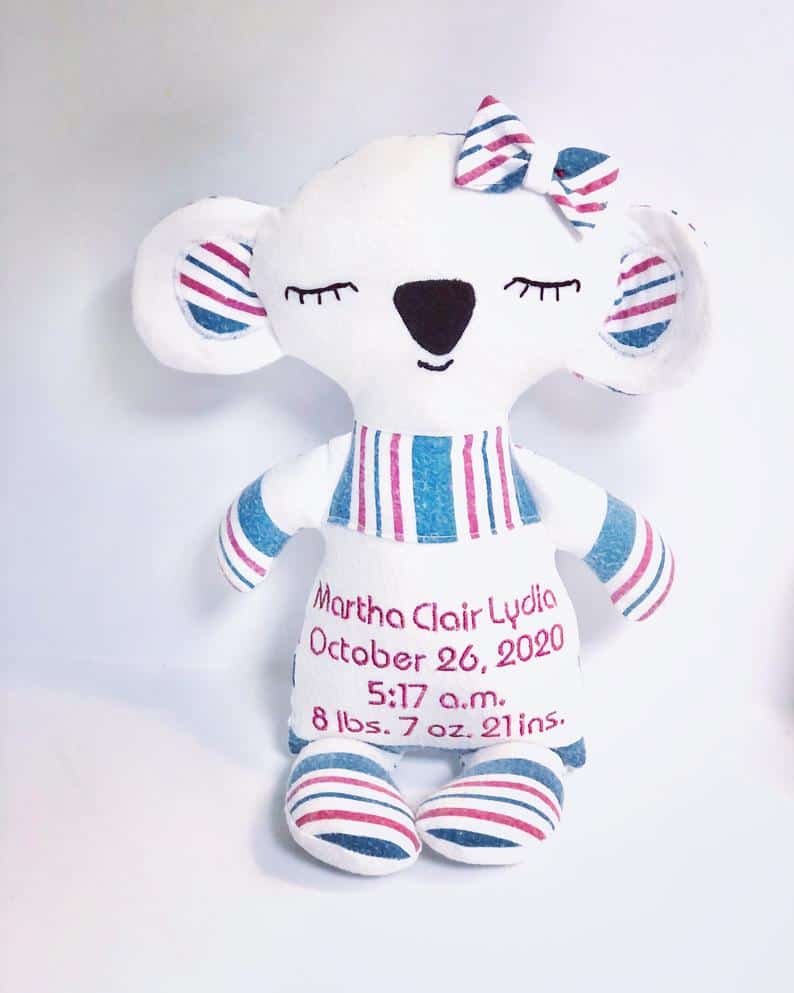 Photo Credit: Sewing Tink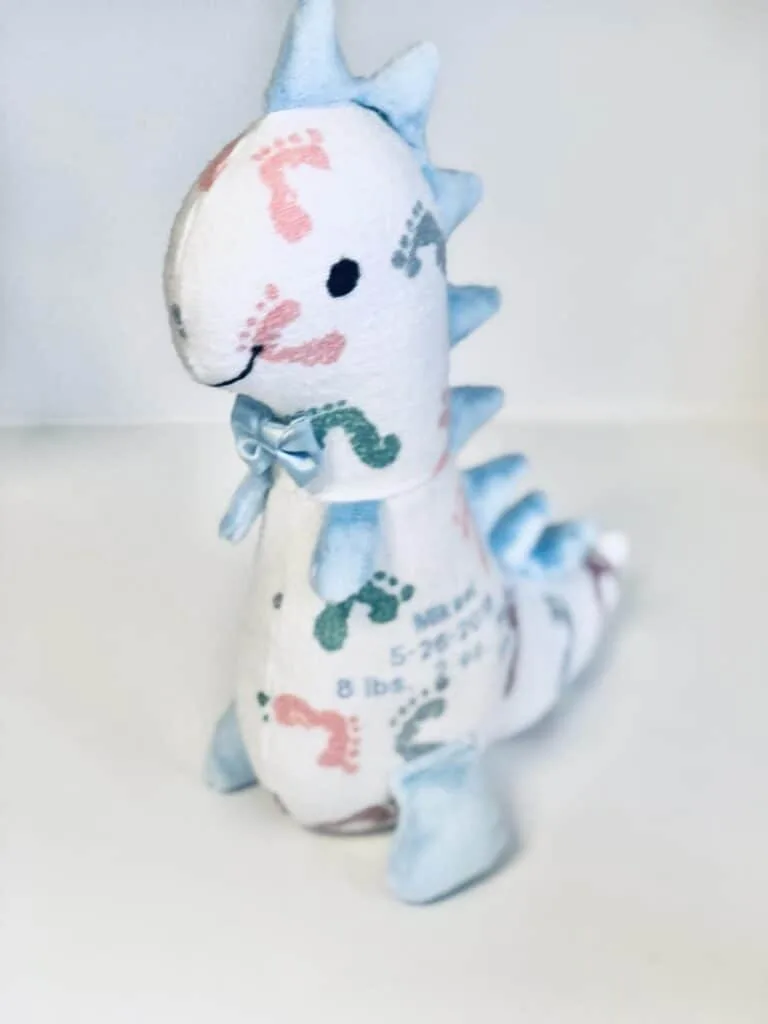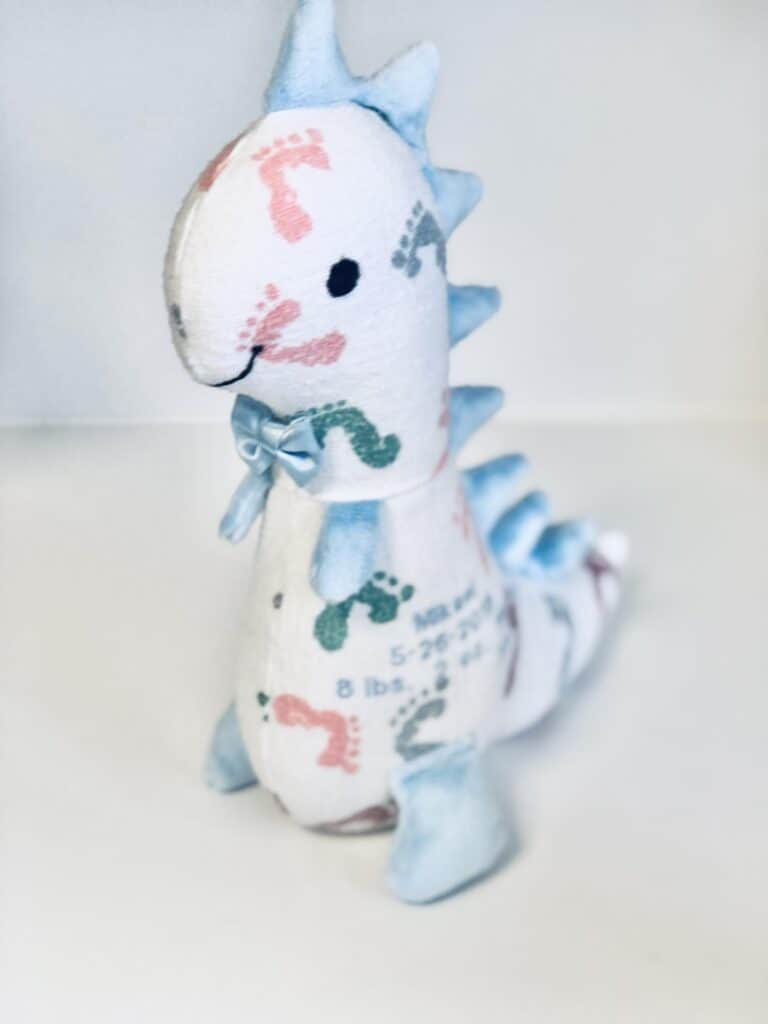 Photo Credit: Sewing Tink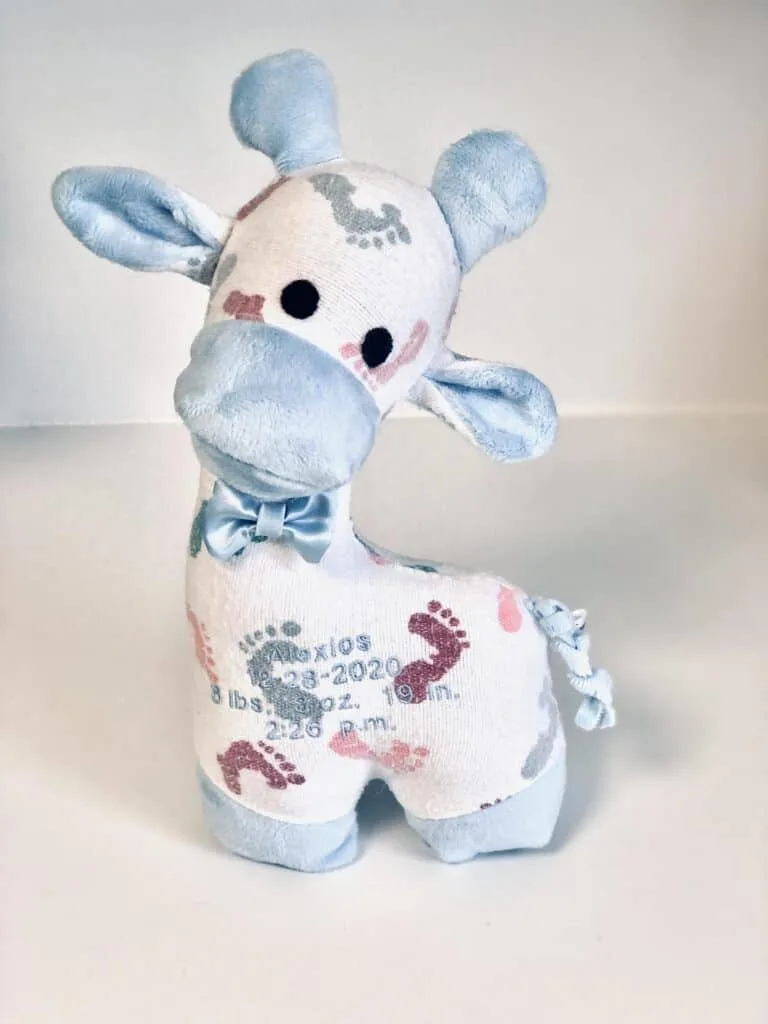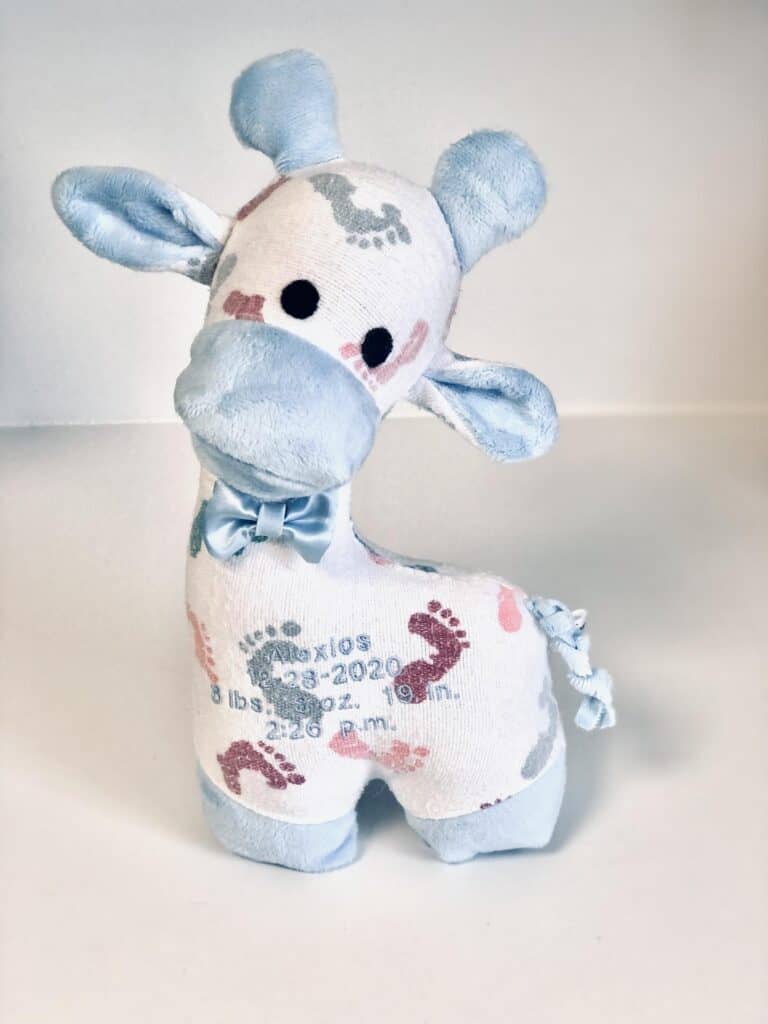 Photo Credit: Sewing Tink
Where can I buy a hospital blanket keepsake?
Tina's shop has buyers raving, which means multiple people have left 5-star reviews in the past 7 days! Some of the comments on her products read, "Absolutely love!!!! My baby's hospital blankets with each of their stats is more beautiful in person….. will purchase them from the shop again! Tina contacted me each step of the process and made my purchase 100% smooth!," and "Super happy with how this bunny came out! It is so cute! Better than the blanket sitting in a drawer. The whole process of shipping back and forth was seamless and the turnaround time was fast! Will definitely order again for our future kids." As you can probably tell by the reviews, people absolutely love the craftsmanship and care that Tina takes in her creations.
The reason I love this shop and its products is that it's so much better than leaving your baby's hospital blanket sitting in a drawer. It allows you to utilize an already memorable keepsake and have it turned into a sentimental creation that your kids can enjoy! A lot of the pictures posted on the product pages from reviews were of children holding their stuffed animals! I also love the care taken by the shop owner. It's so important to support small businesses like this because they truly take the time and effort to create beautiful products for us. These products are something you could NEVER buy in a store, and I think that's why so many people are raving about it! If you have your baby's hospital blanket lying around or in a box, try sending it to Tina Jessee and have her make a wonderful keepsake for you or your child to enjoy!