Follow us on Instagram for more fun ideas for kids!
Watch the video below to see how to make this fun Paper Leaf Acorn Wreath. Make sure to subscribe to our YouTube channel for more fun videos!
This cute Paper Leaf Acorn Wreath makes an adorable fall autumn or Thanksgiving craft for kids. Grab the free printable to make yours!
If you're geared up and ready for fall crafting, it's time to start hanging up those cute and adorable fall decorations that the kids are going to make. Clear some space on the fridge or make room on the front door because this adorable DIY fall wreath will be the perfect homemade decoration to show off to all your guests.
Not only does this wreath give your home fun decor created by your child but it's also a great activity for them to work on their tracing skills, scissor cutting skills, gluing skills, and hand-eye coordination as well.
And if you happen to have a wide variety of colored construction paper, your child can easily make this craft over and over again and have it look totally different as well.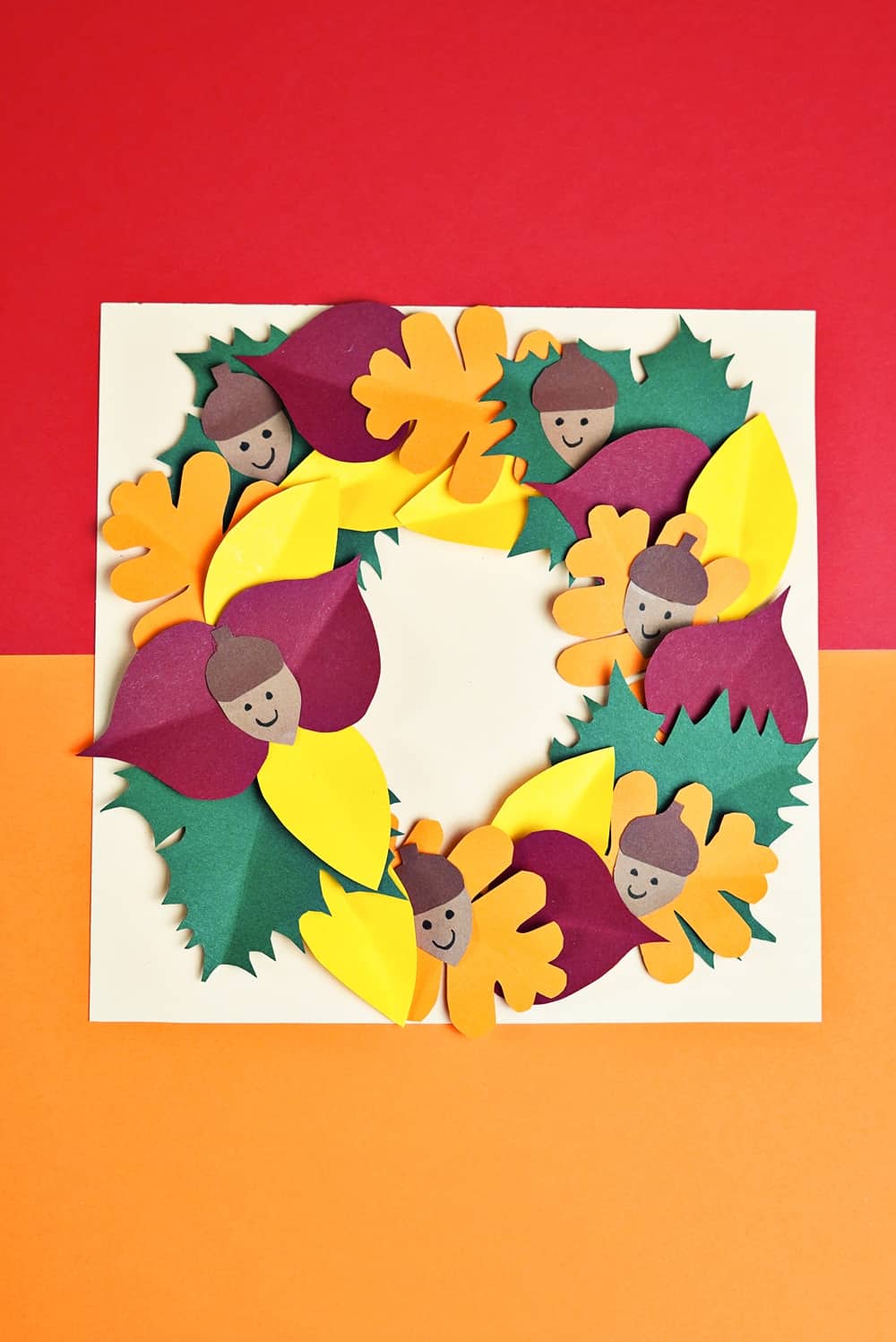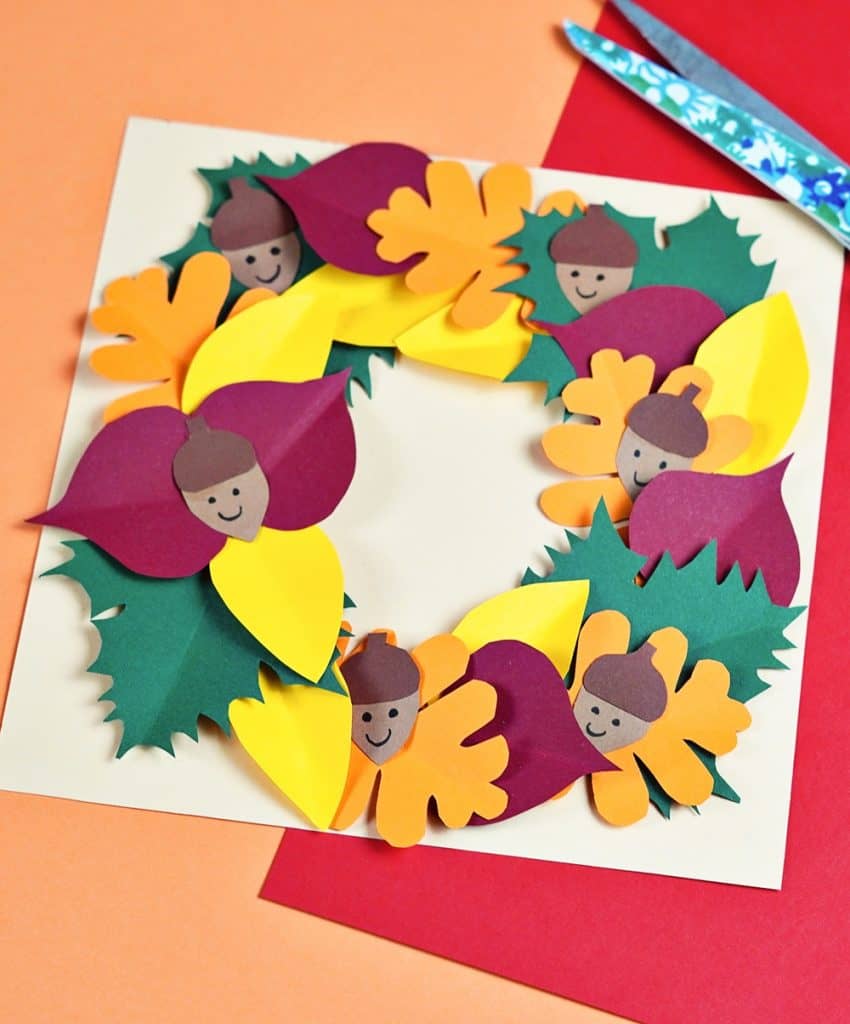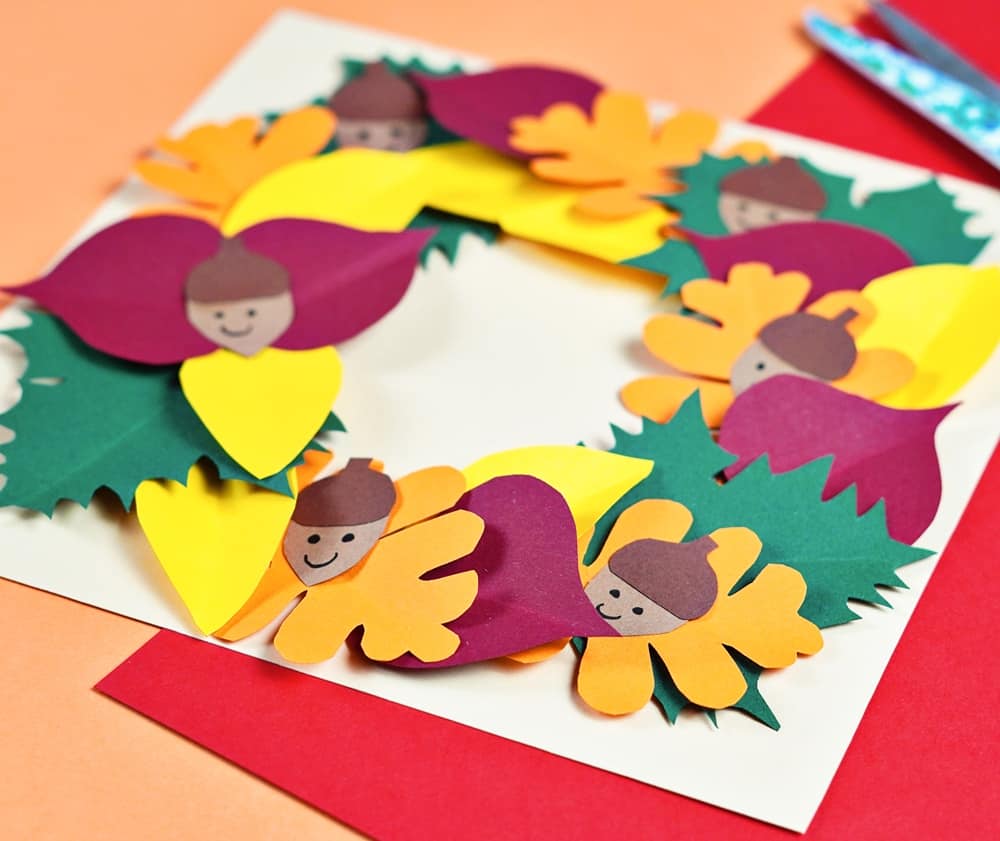 How Long with This Paper Leaf Acorn Wreath Craft take to create?
While the length of time might vary depending on your child, it's a safe bet to state that this craft should be done and dried in about an hour. But don't rush your little one to try and finish during that time!
Let them be as creative as they want while making this paper wreath. Talk to them about the colors of fall and even take a break if attention spans start to wander and go outside to see if you can find any real acorns laying on the ground!
The more that you can interact with them during this craft project, the more engaged and interested they're going to be.
Is this considered a preschool-aged craft?
Yes, this would be a great craft for a preschool-aged child because it's a lot of tracing and gluing which is something that they can work on and do. If you're worried about them using the scissors and cutting out the leaves, just take over that part yourself and help out as often as you can.
Working together is not only fun but it shows your child that crafting and creating together is a fun way to bond, too!
And even though it's a great craft for younger kids, the older kids will enjoy the process as well. In fact, it's a lot of fun to have everyone in the house join in and compare how each paper wreath is different.
How to create this Paper Acorn Wreath
The great part about this simple wreath craft is that the supply list is short and sweet. Plus we make it easy with our FREE PRINTABLE TEMPLATE below. You probably already have a majority of the list already in your home! And if you can recycle your crafting supplies from one project to the next, that's a great idea!
Paper Leaf Acorn Wreath – Materials:
Markers
Pencil
Glue Stick
Scissors
Black marker
INSTRUCTIONS:
Watch the video below to see how to make this fun Paper Leaf Acorn Wreath.
Step 1. Print out the free template and cut out the leaf shapes. Use as templates to cut out colored leaves
Step 2. Fold the leaves and glue them around in the form of a wreath.
Step 3. Use the acorn template to make acorns and draw faces with a black maker.
Step 4. Glue the acorns to the wreath.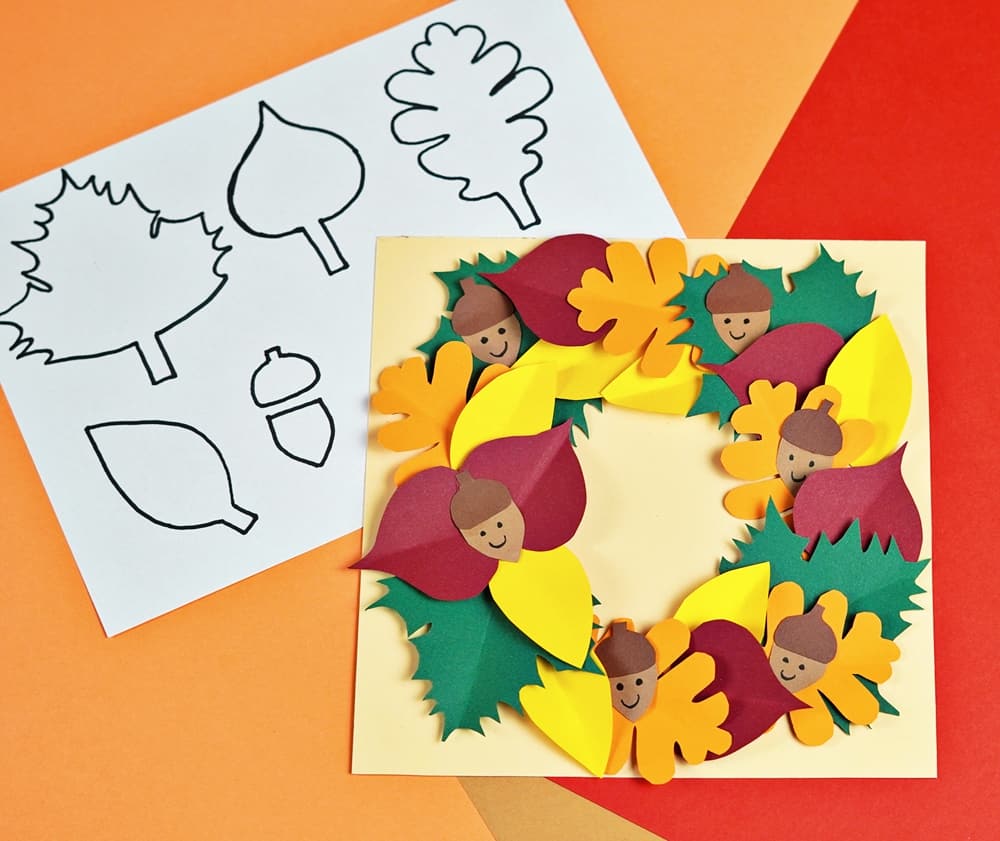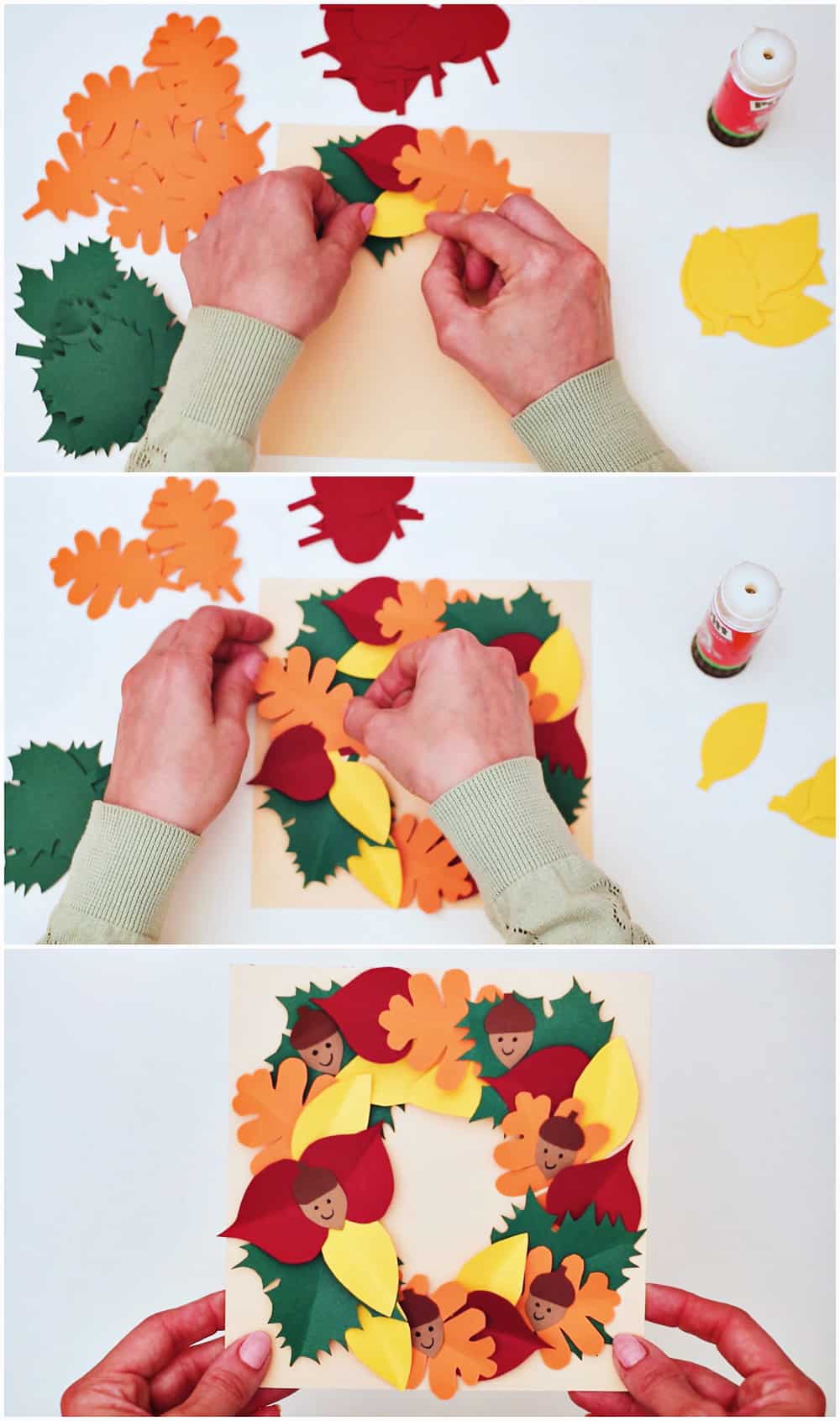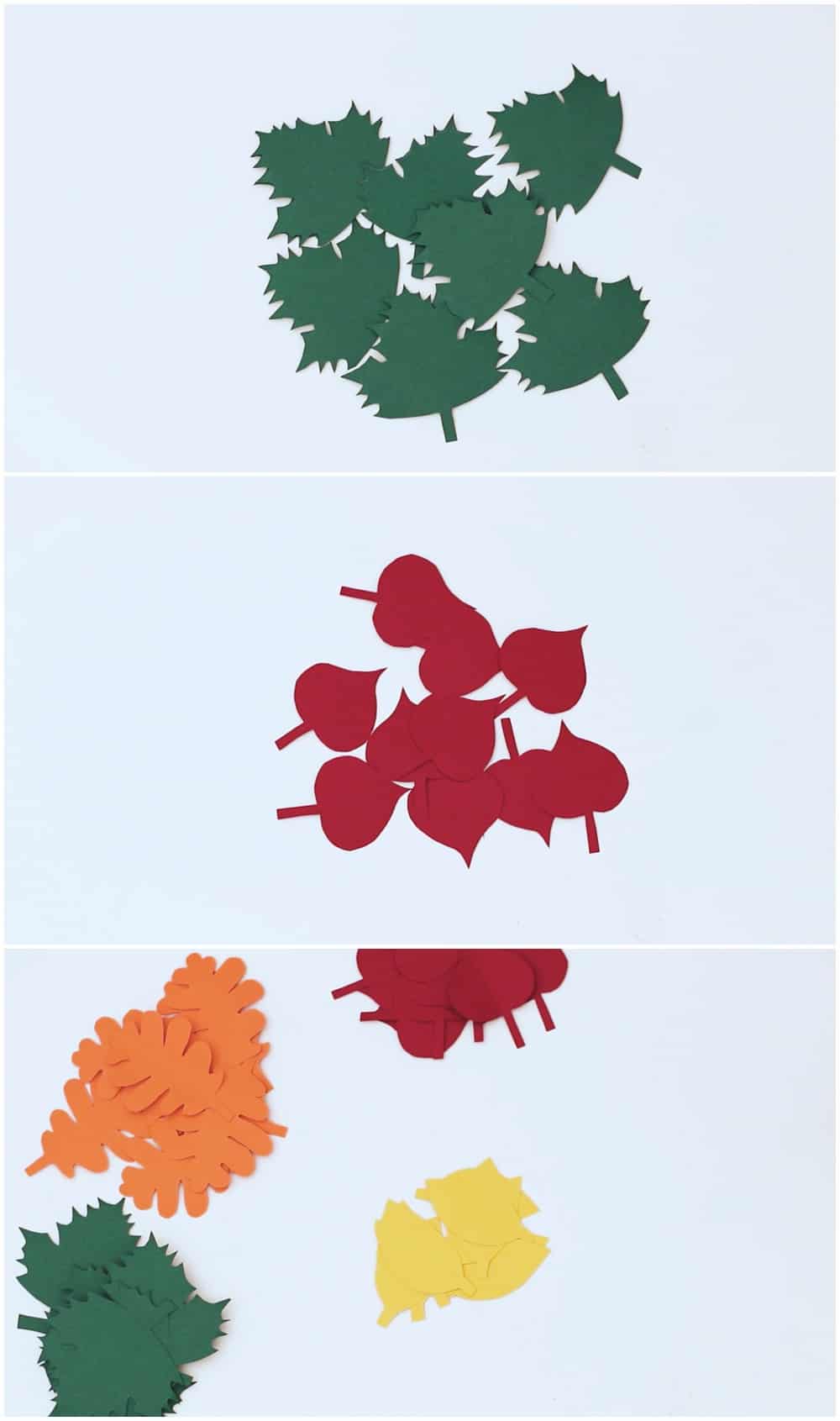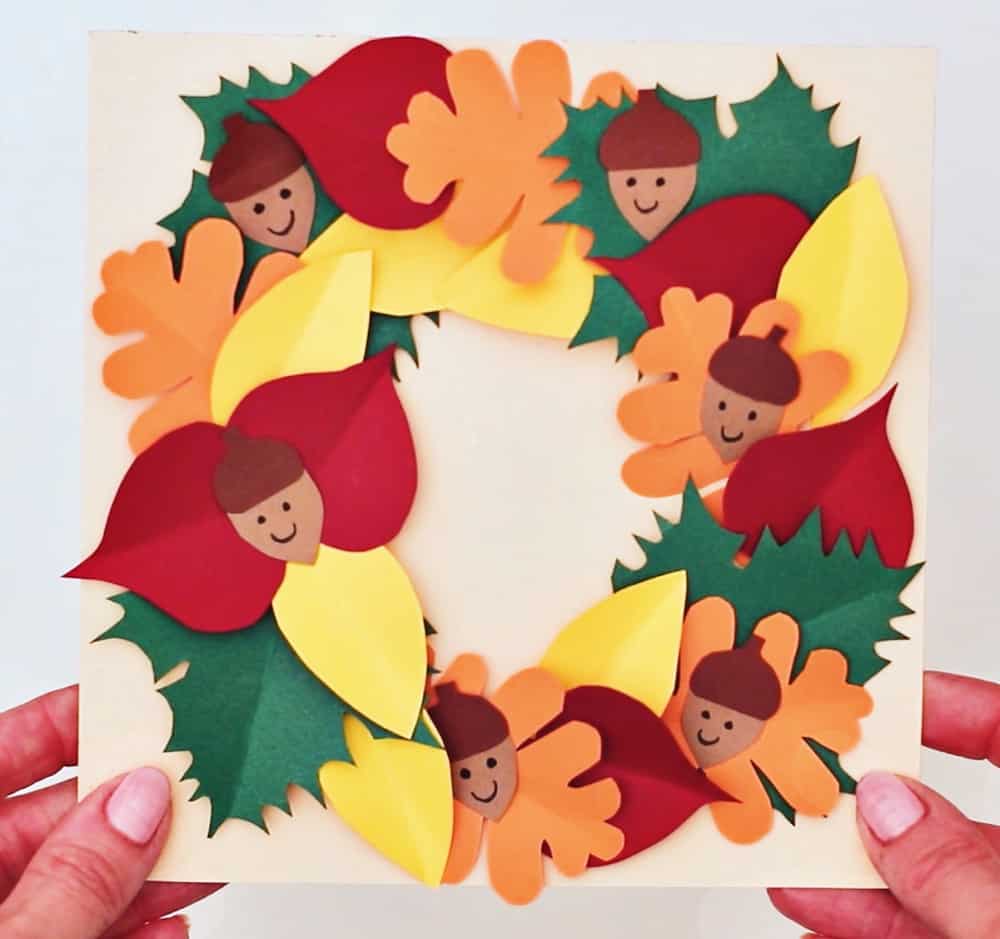 If you love this Paper Acorn Wreath, make certain to take a peek at some of our other fun fall activities as well.