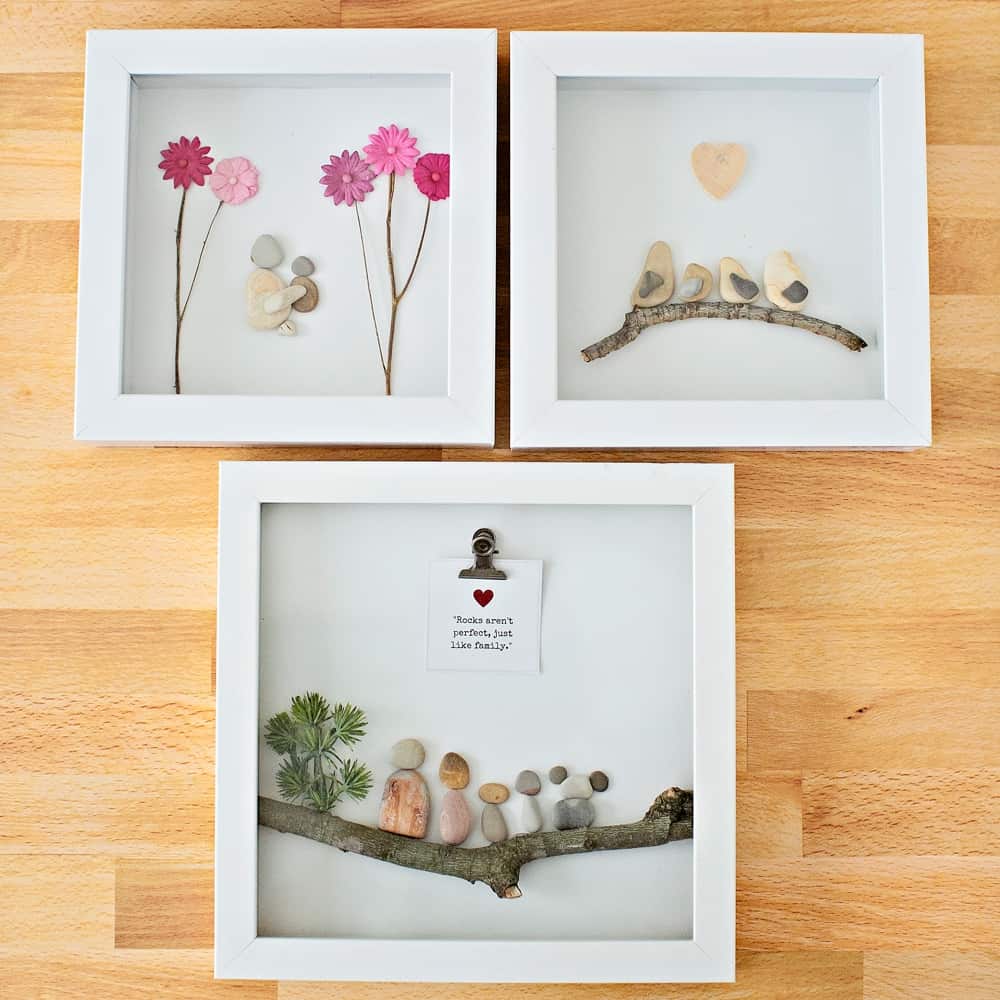 By using this site, you agree to our Terms of Use. This post may contain affiliate links. Read our disclosure policy.
Follow us on Instagram for more fun ideas for kids!
Watch the video below to see how to make beautiful Pebble Rock Art. Make sure to subscribe to our YouTube channel for more fun videos!
Make beautiful pebble rock art featuring your family or loved ones. These make wonderful and special handmade gifts for Mother's Day, friends or family!
I've always loved pebble rock art in its simplicity and one-of-a-kind, unique and creative look.
It's the perfect customizable handmade gift for Mother's Day or really for any special occasion such as birthdays, family milestones, or celebrations (e.g. graduation or new baby).
What's great about pebble rock art is that no one is ever the same, each rock will always be uniquely chosen for your art!
You can also use many different elements or crafting materials on hand to personalize your art!
Here we share 3 different and simple ways to make your pebble rock art stand out. One features pretty craft flowers, another a clipboard so you can add a special quote of your own, and the third features a wooden heart as a meaningful symbol.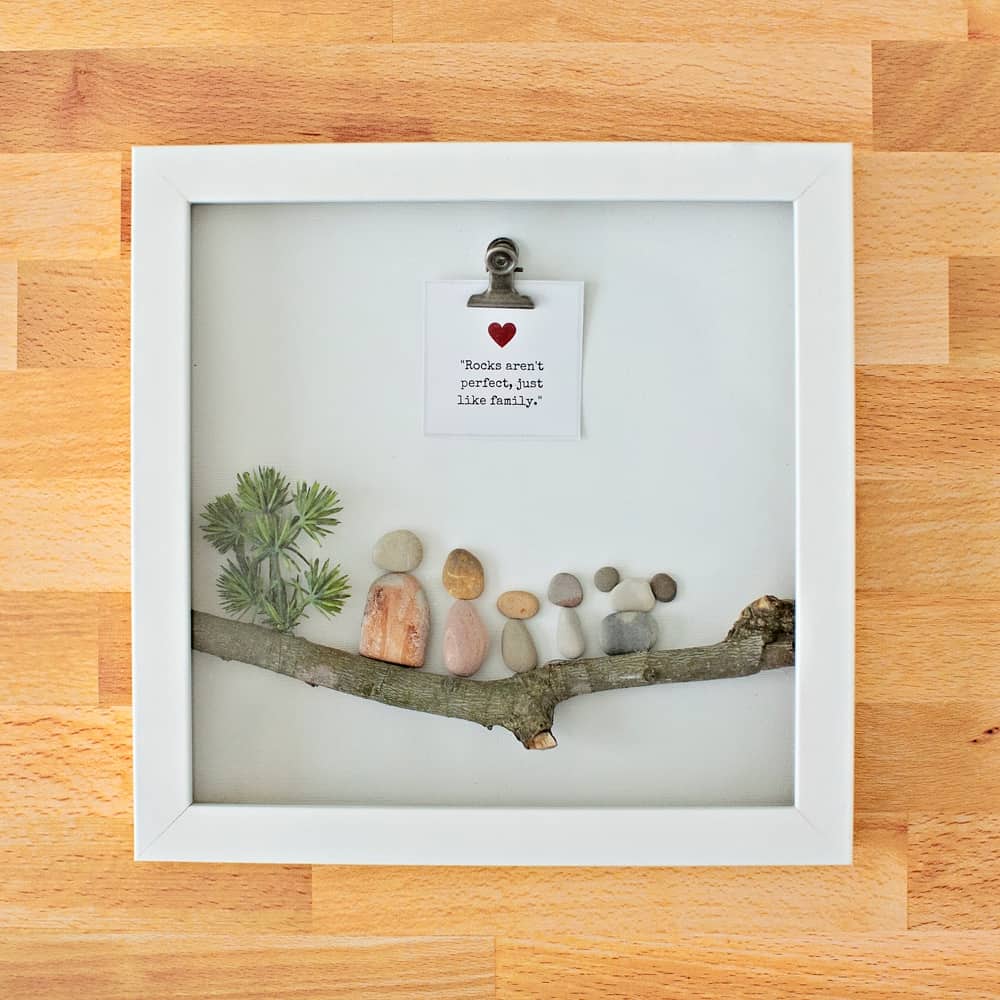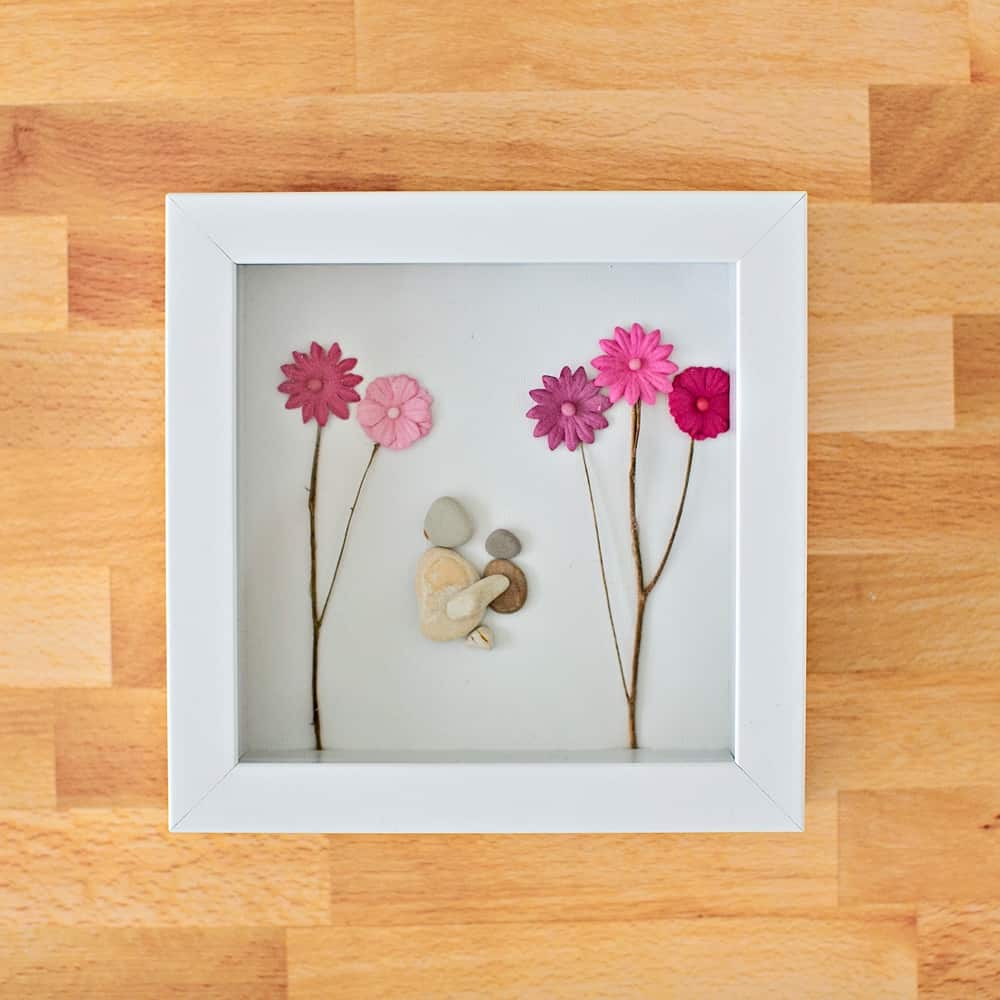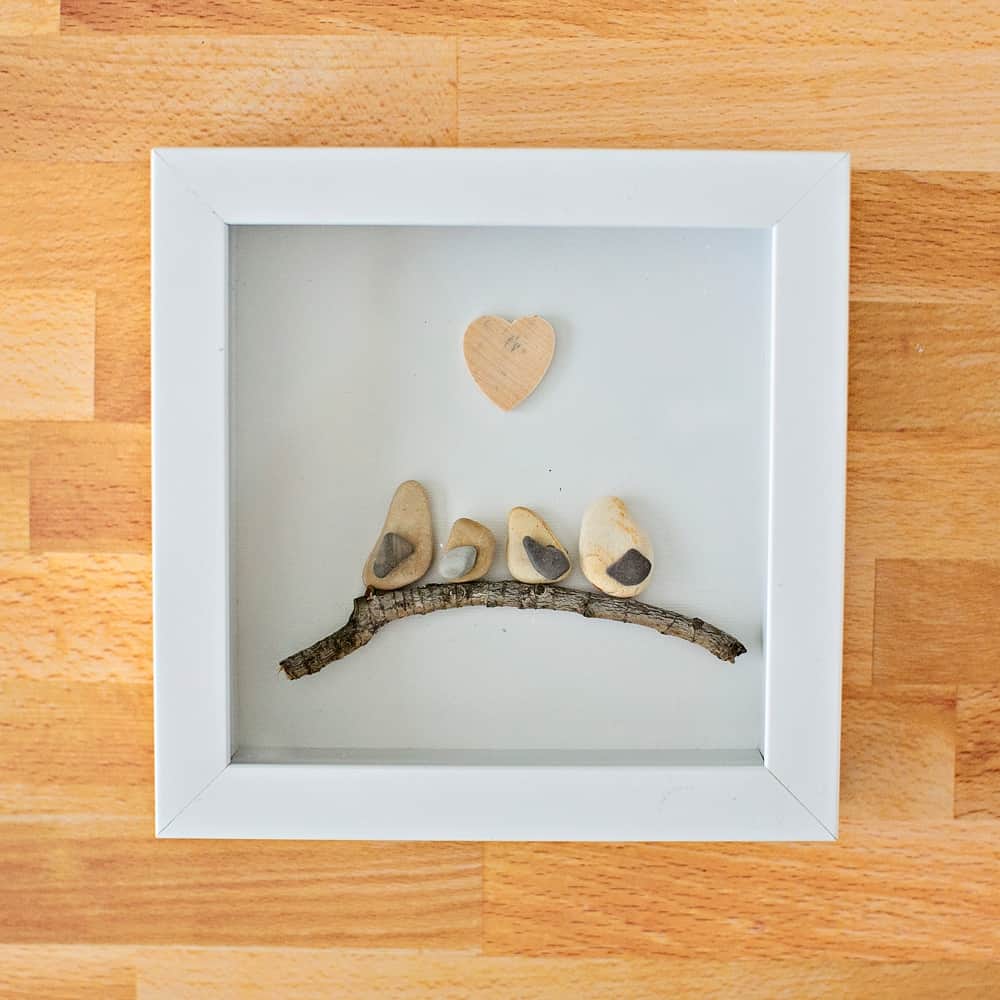 Does pebble art always have to show families?
Not at all! It can be shown to display love in many different ways. Here we show a traditional family with pet. But also the love between a mother and child. And a family of birds to symbolize togetherness.
How do you make your pebble art stand out?
Aside from the suggestions above such as using different craft elements and characters, you can use color! We chose to go with a simple nature theme here as that is the more traditional pebble art you see. However, you can add color and be as creative as you want as shown int the colorful blue pebble art my son made for his sister.
Use colorful or pattern scrapbook paper! And make a pebble rock art just for one person featuring their favorite thing to do. The possibilities are endless with pebble rock art!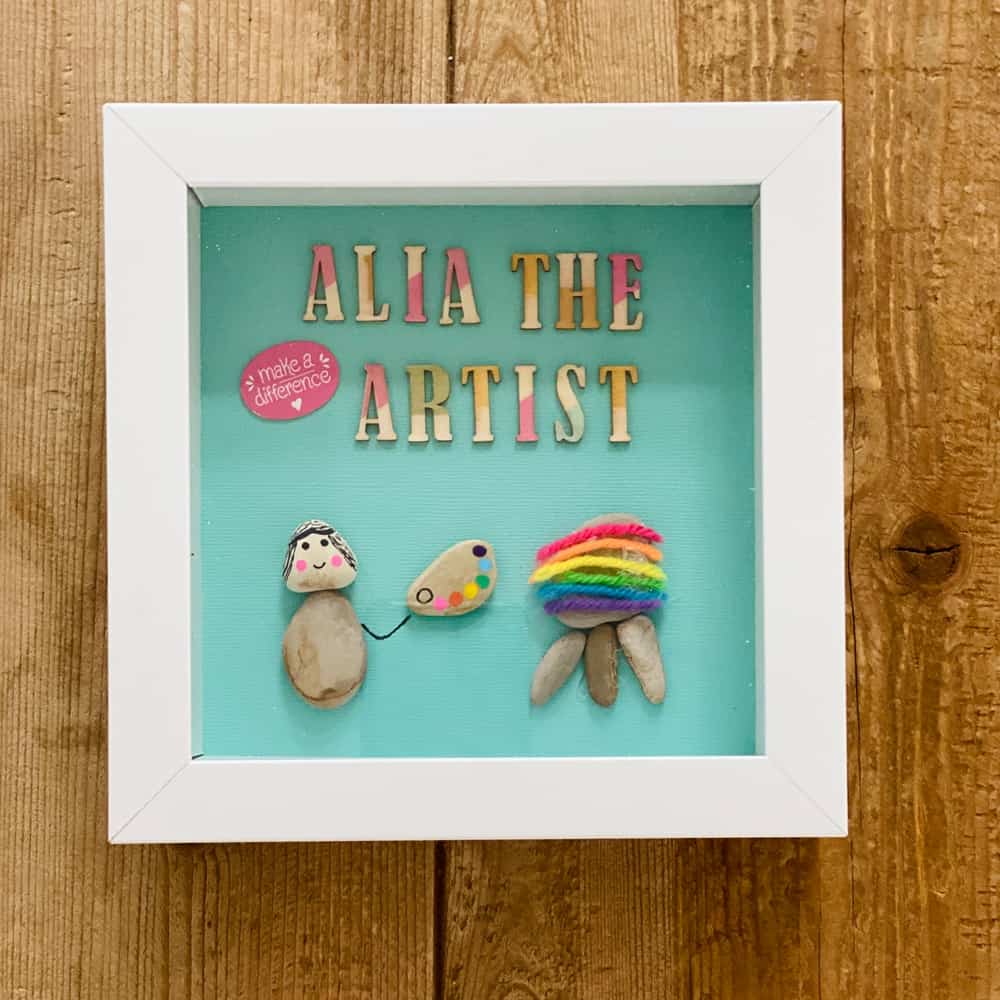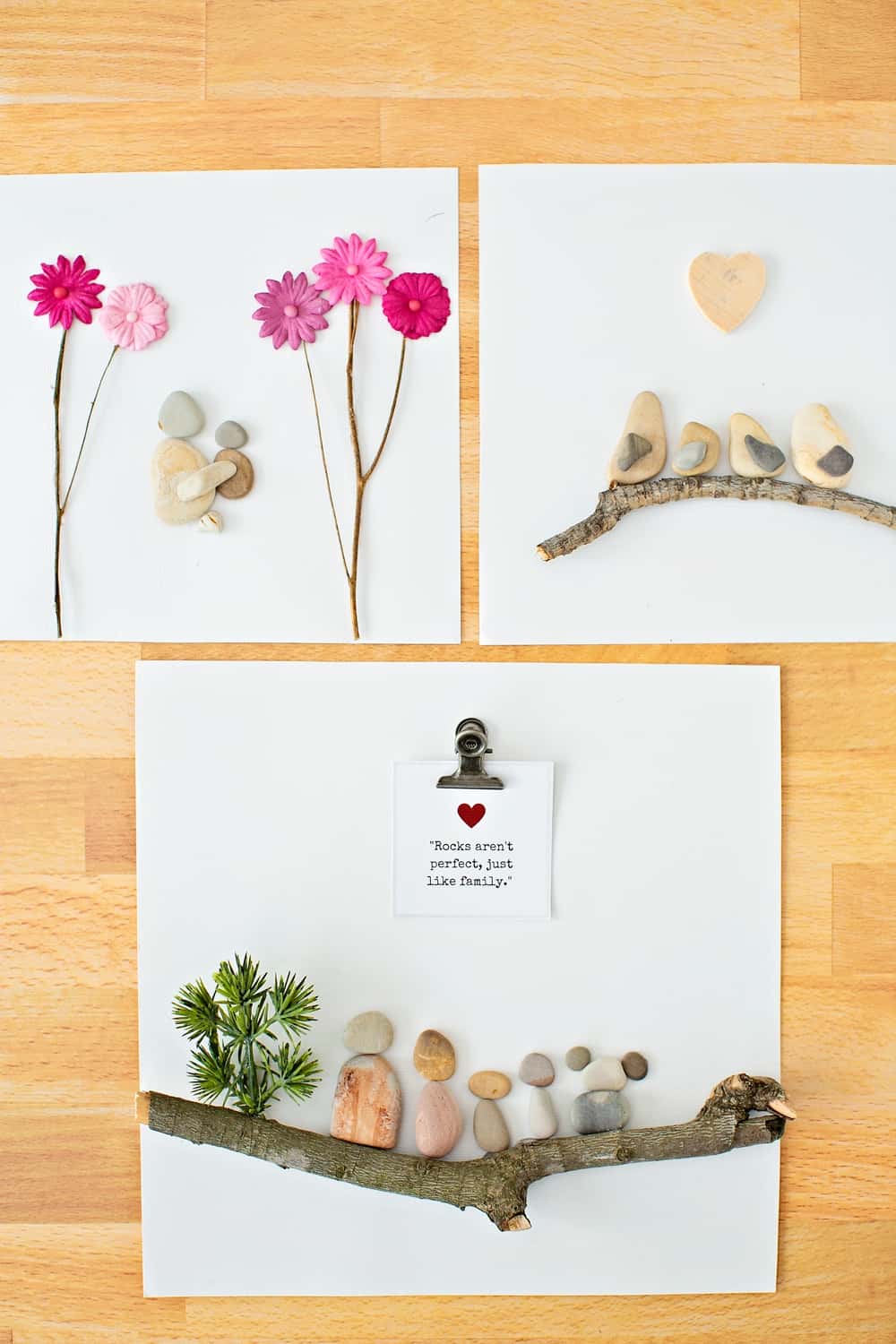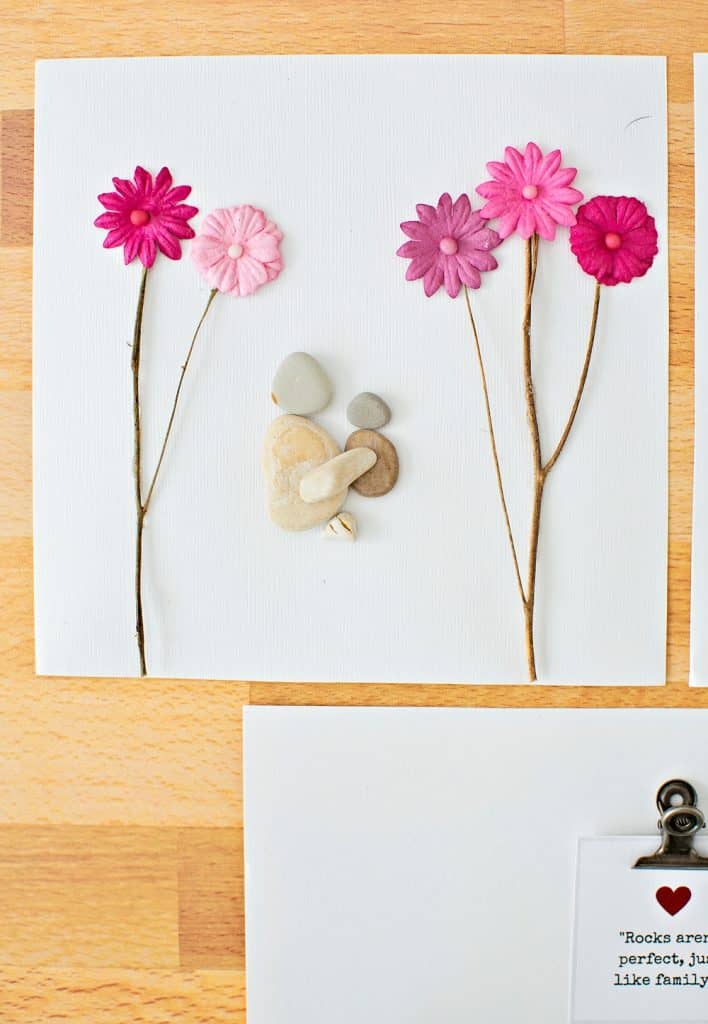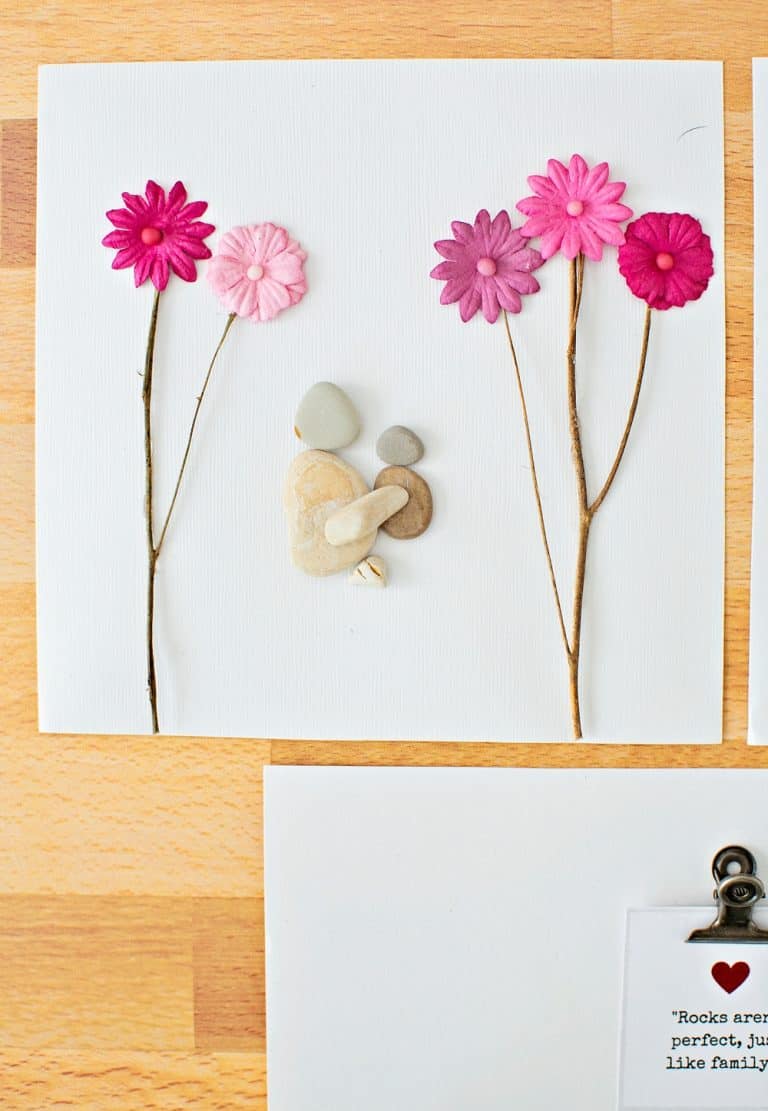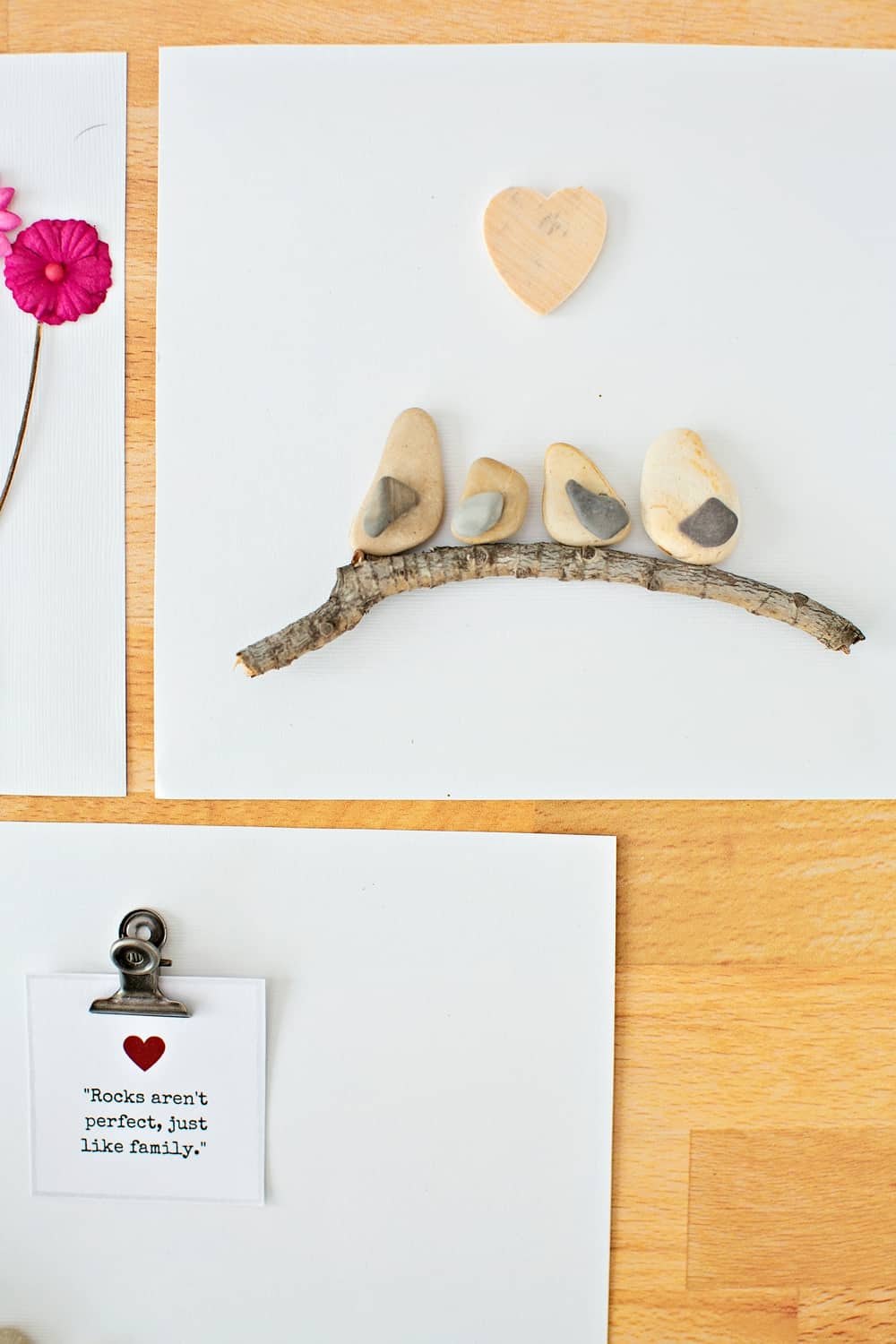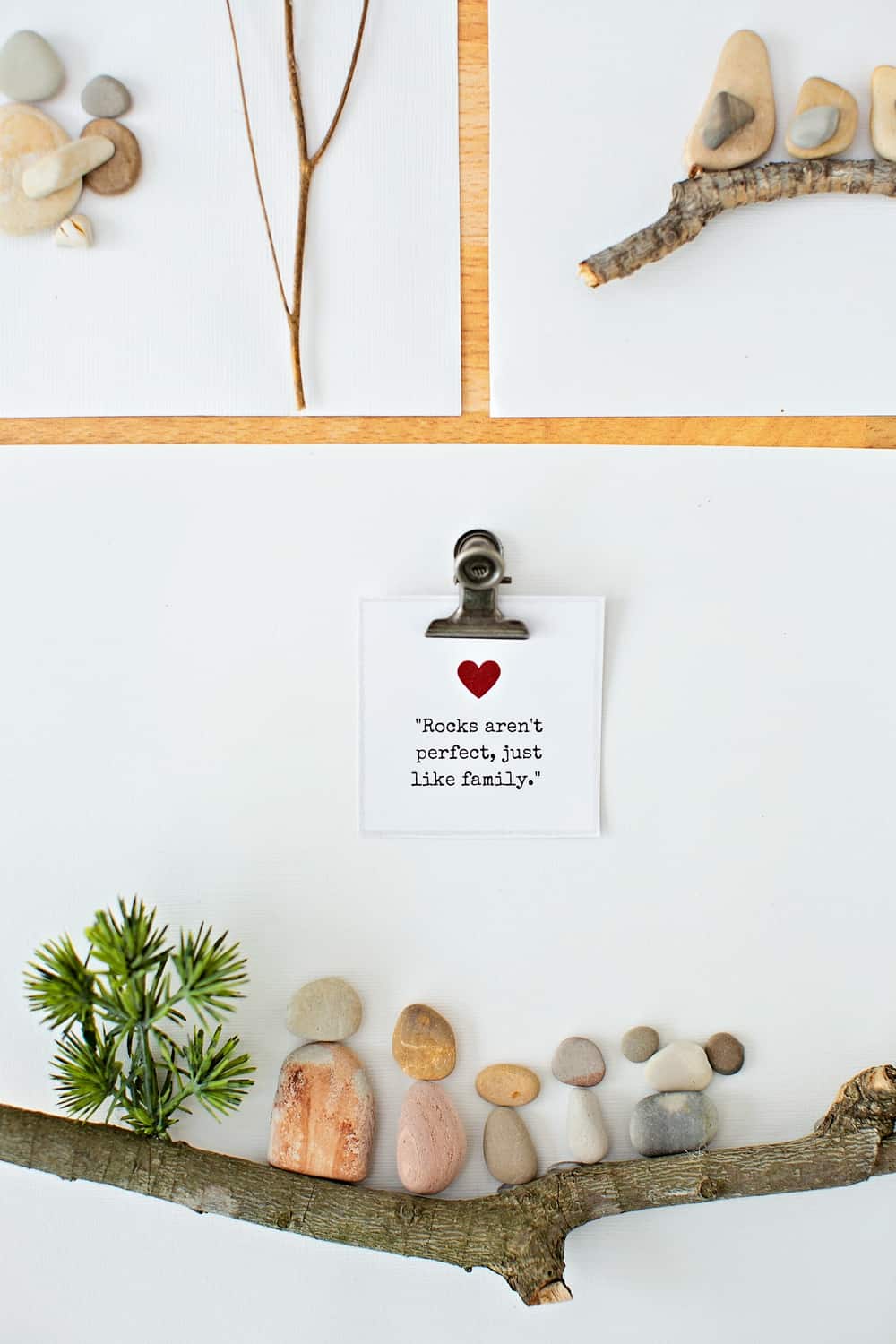 Where do you get pebble rocks for making pebble art?
If you are lucky to live by a beach, you can easily go rock hunting for tiny size rocks and pebbles in various shapes, sizes and colors.
Most of us don't live near beaches, so our favorite place to get pebbles for making pebble art is actually Etsy! You can search for "rocks for pebble art" and see a variety of sellers who sell pebble art just for making rock art!
What type of glue is best for pebble art?
We have tried strong craft glue like e6000 or Gorilla Glue which are more like crazy glue types of adhesives that are super strong. As well we have tried hot glue.
What we've found is that although hot glue is quicker to dry and easier in that sense, for longevity, using the super strong glues are best for staying power. It really depends on use too. The hot glue will adhere fast, but after it dries, you can often peel it off from your paper, with the hot glue dried up on the rocks!
If you plan to hang up your pebble art once and never move it, hot glue is fine.
However if you plan to move your frame around different places or you plan on shipping to someone as a gift, it is best to use the stronger glues.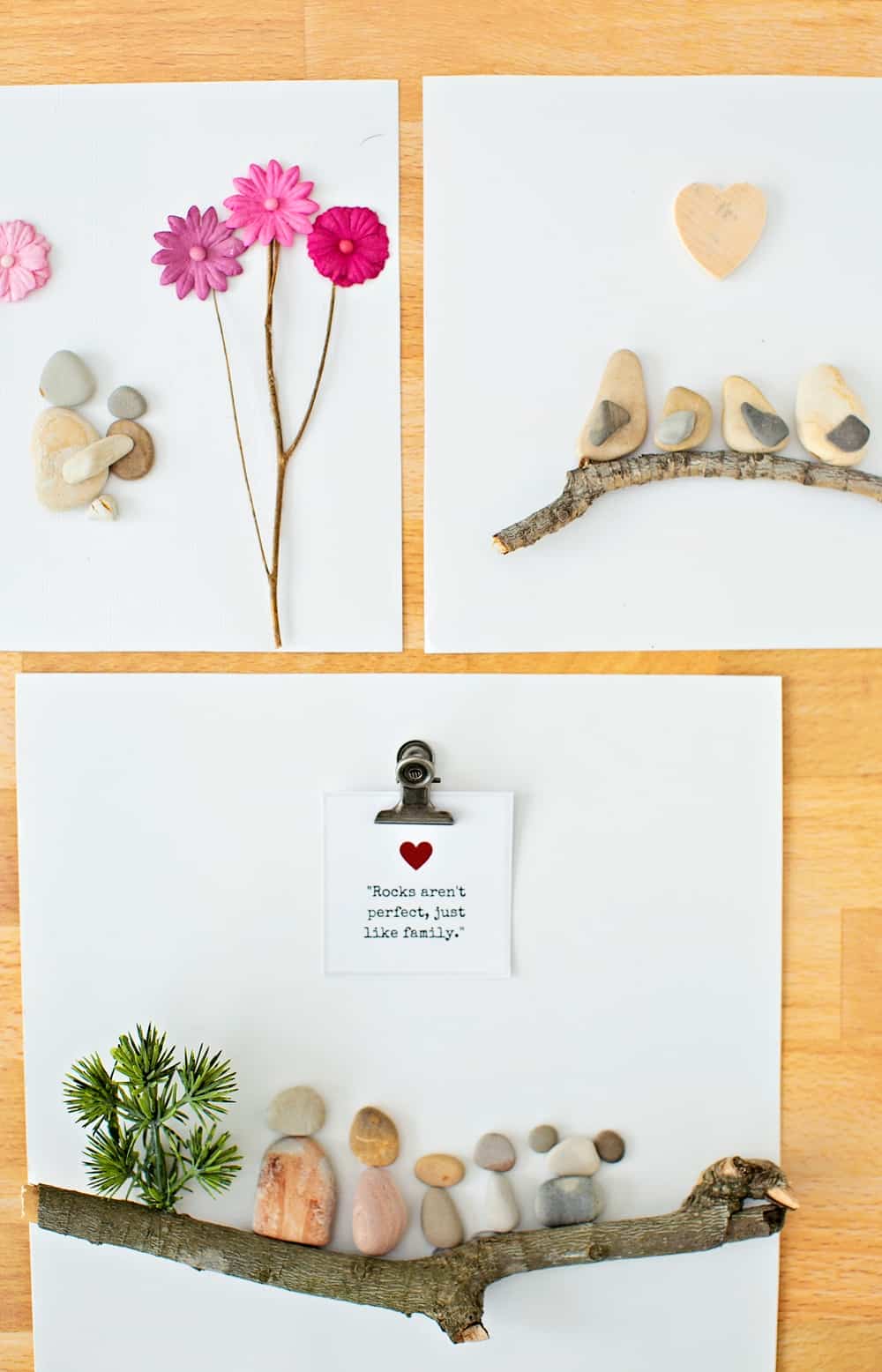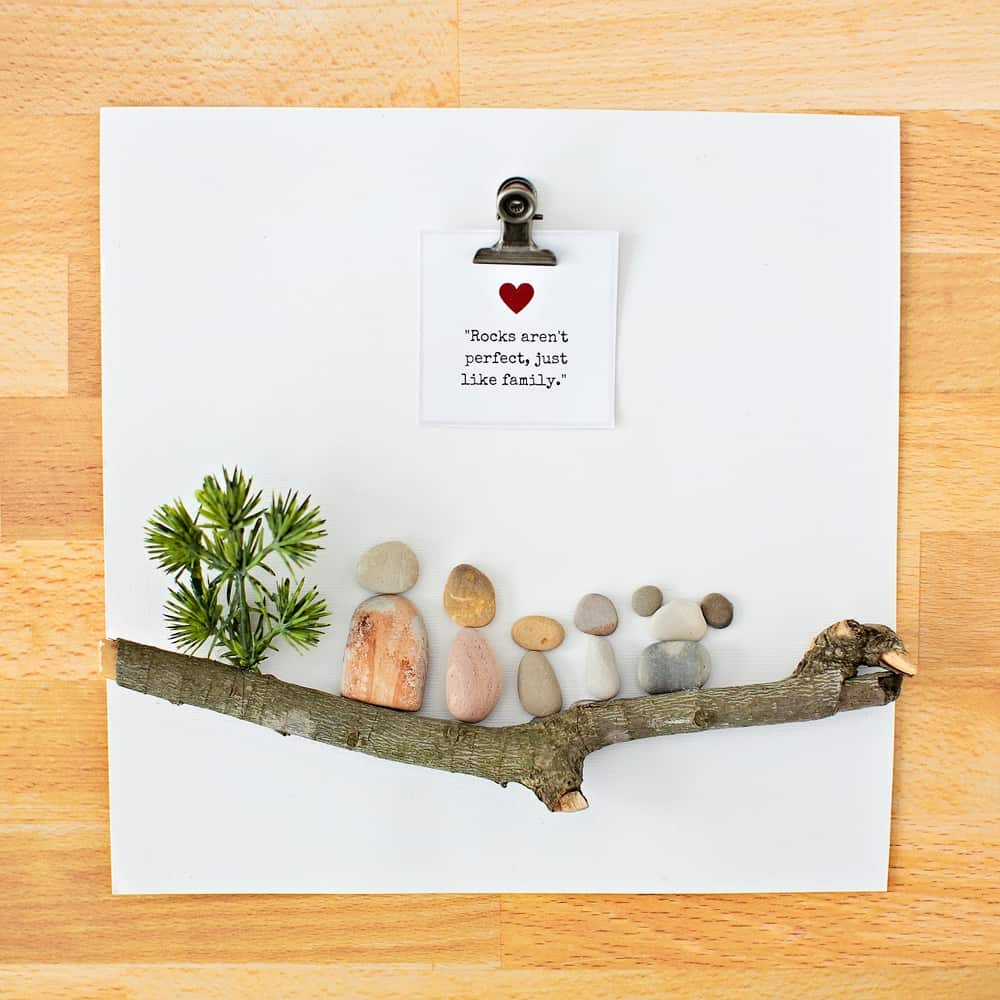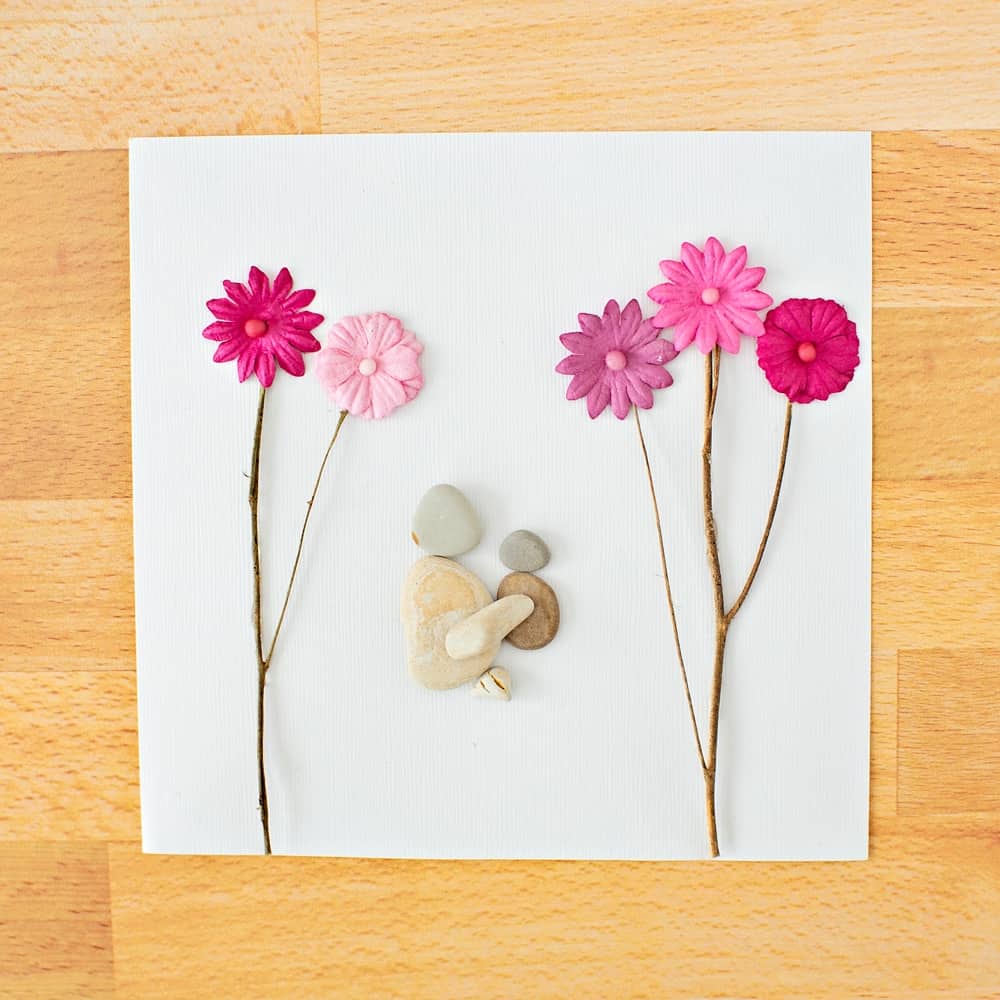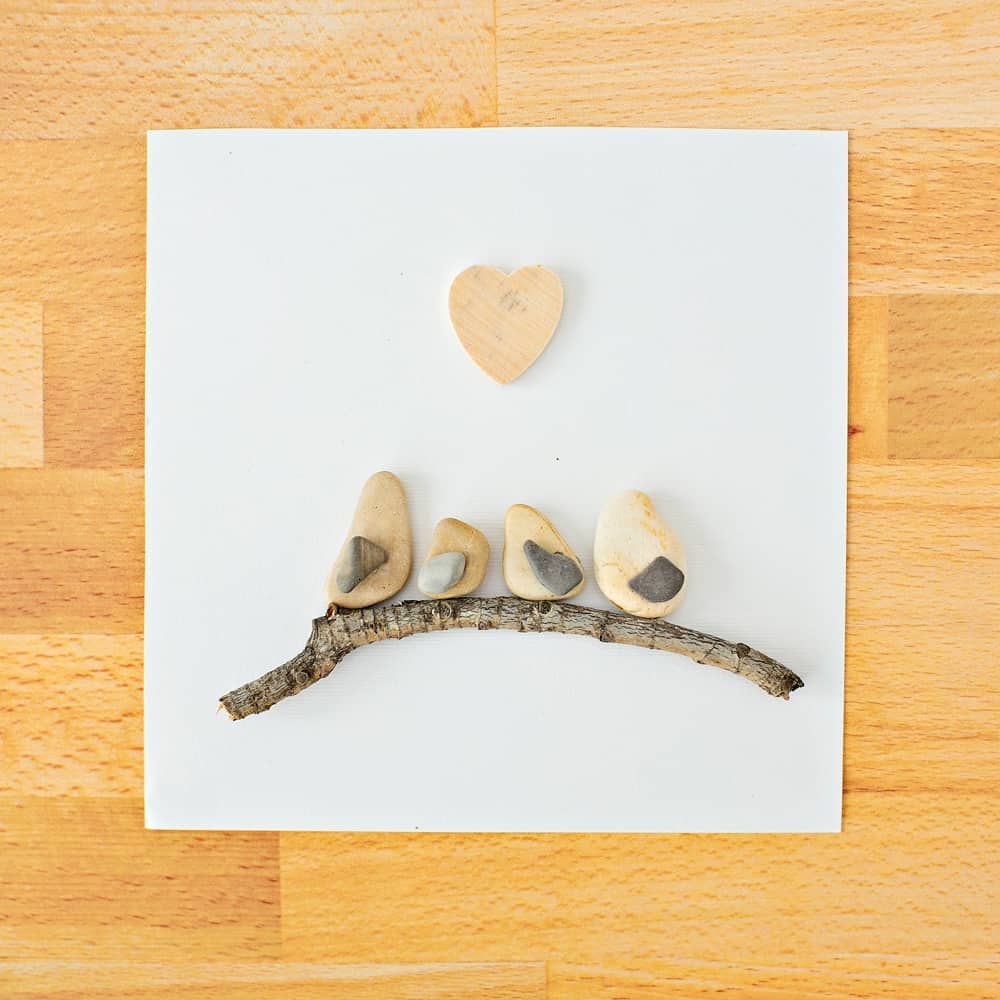 Pebble Rock Art – Materials:
Glue (hot glue is fine if you don't plan to move your art, but we suggest stronger adhesives like e6000 or Gorilla Glue for longevity)

Shadow Frame (we used 8″ x 8″ and 10″ x 10″)

Cardstock

Decorative elements (eg. wooden hearts, craft flowers, branches, artificial leaves or trees, small clipboards)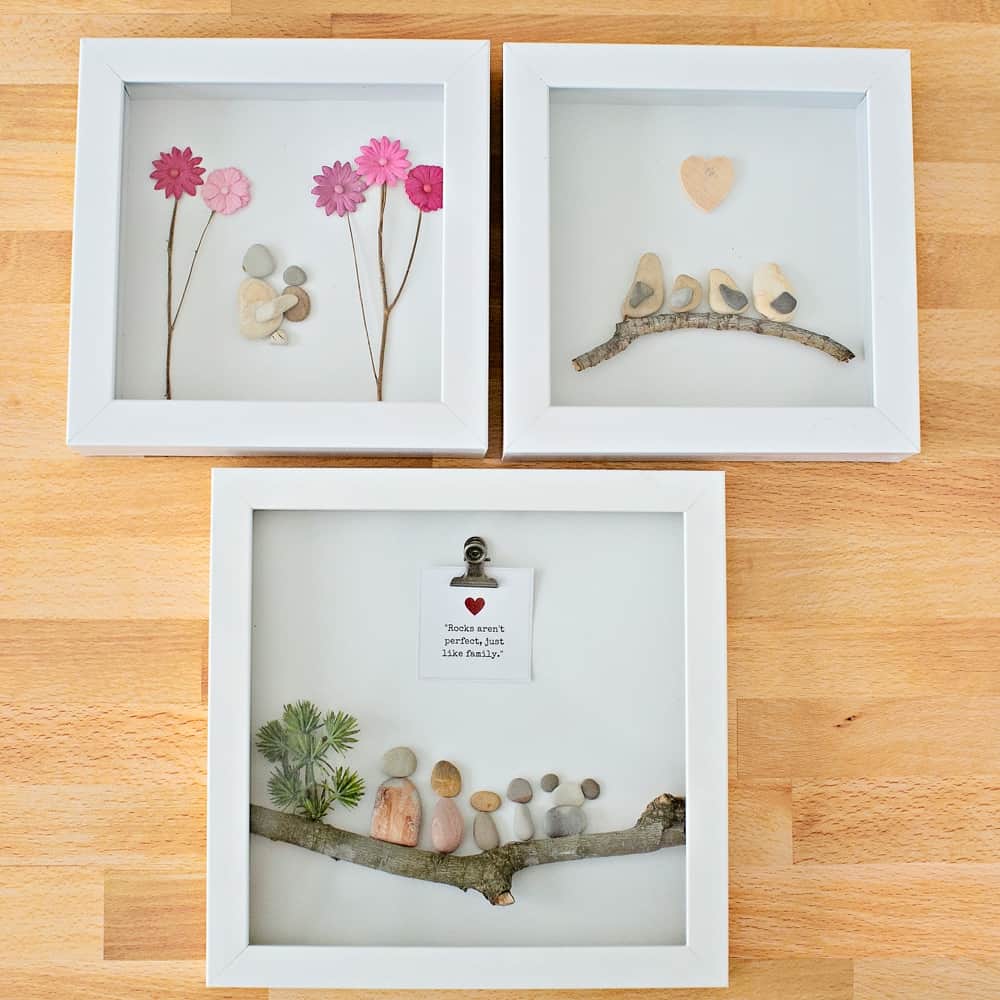 INSTRUCTIONS:
Watch the video on this post to make Pebble Rock Art
Step 1. Take out the back of your frame and cut a piece of cardstock in the color background you would like your pebble art on.
Step 2. It helps to first design your art on the cardstock and THEN glue down all the pieces. Take some time to make a meaningful piece of art that reflects who this is for. Don't be afraid to add different elements or color!
Step 3. Glue down all your pieces. Allow to dry completely before handling again.
Step 4. Open up your shadow box and carefully place your art inside. Seal the frame back up.
Pebble Rock Art makes the most special and unique handmade gift! We hope you give it a try for your next handmade present.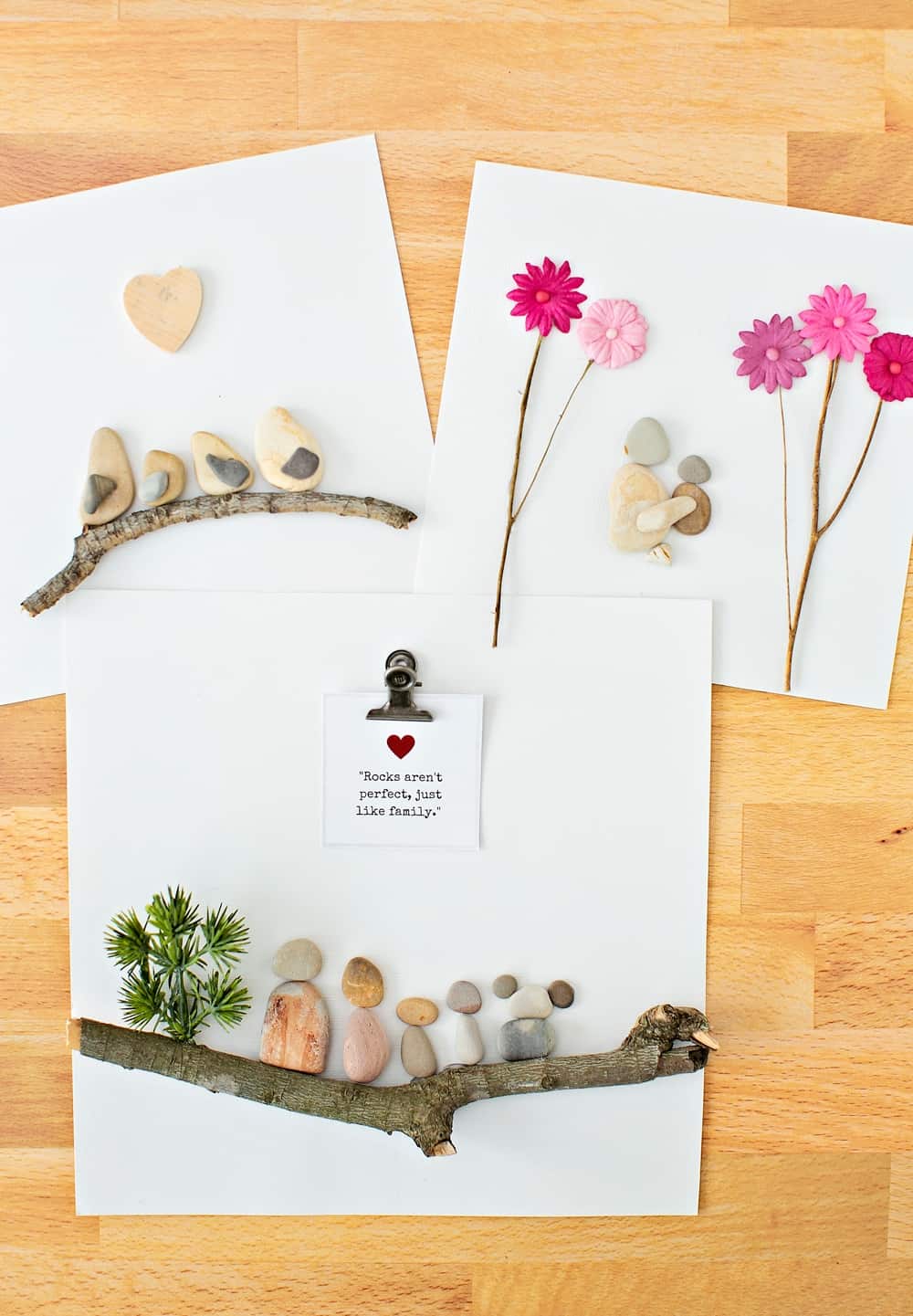 You Might Also Like