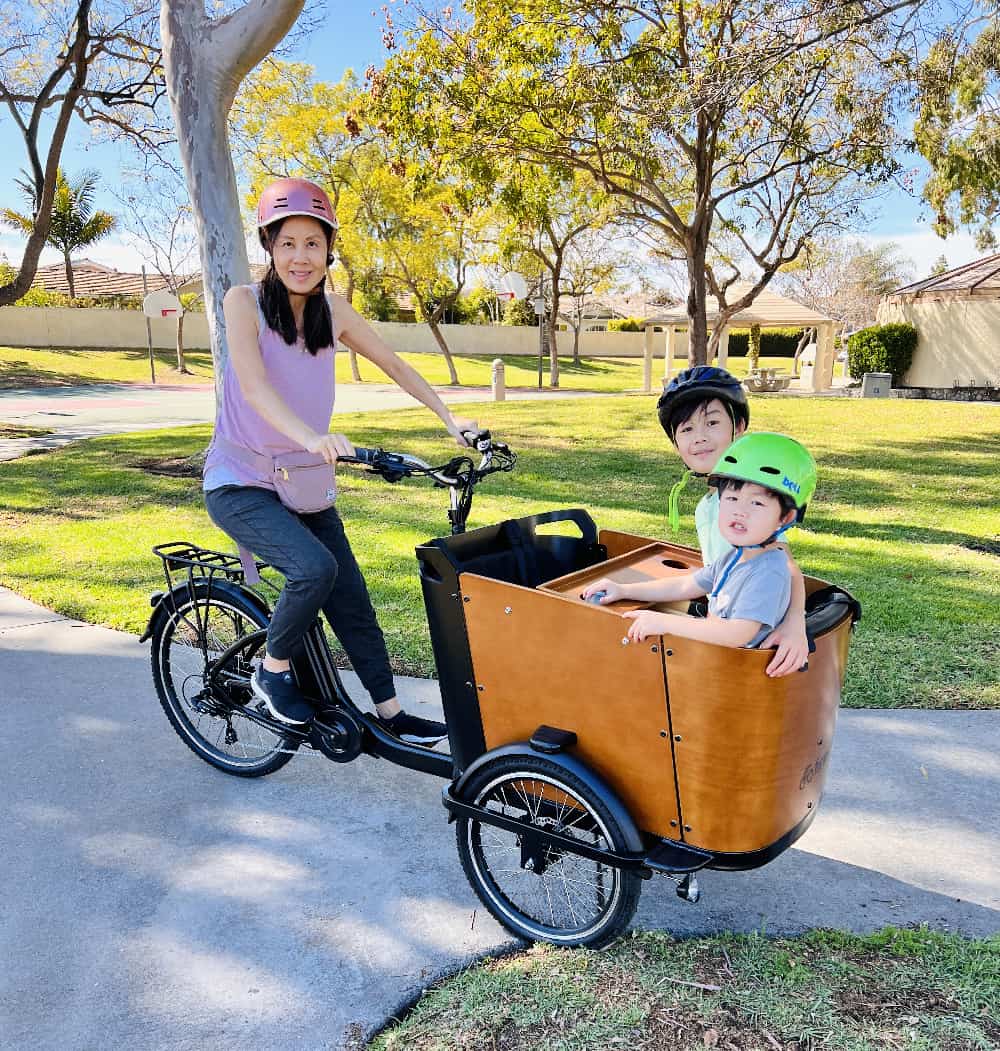 By using this site, you agree to our Terms of Use. This post may contain affiliate links. Read our disclosure policy.
Follow us on Instagram for more fun ideas for kids!
Family cargo bikes are great for physical activity, but they're also perfect for running errands or taking rides in the neighborhood. Check out all the factors to consider when getting a family cargo bike and why we chose Ferla.
There's simply no better way to get around than with a cargo bike when it comes to family transportation. Not only are bikes great for carrying kids and groceries, but they're also perfect for running errands or taking a leisurely ride around the neighborhood.
Many parents were introduced to cargo bikes through bakfiets, sometimes known as a "long bike." The long bike is the ultimate family cargo vehicle with an extended frame and a large wooden box in the front.
If you're in the market for a cargo bike, we've got you covered. I've just purchased the Ferla Family Bike, and it really impressed me!
In this article, I'll tell you everything you need to know about how cargo bikes can make your life easier. Plus keep reading see our honest review of the Ferla Family Bike we got and a special discount just for our readers.
*Disclosure: I am an affiliate for Ferla Family Bikes which means I earn from qualifying purchases. This post is NOT sponsored. I purchased my bike in full was not provided compensation or a free bike for this post. All opinions are my own.
Get the Ferla Family Bike and use code: HELLOWONDERFUL for free memory foam seats (value $200)
WATCH THE VIDEO IN THIS POST TO SEE THE BIKE IN ACTION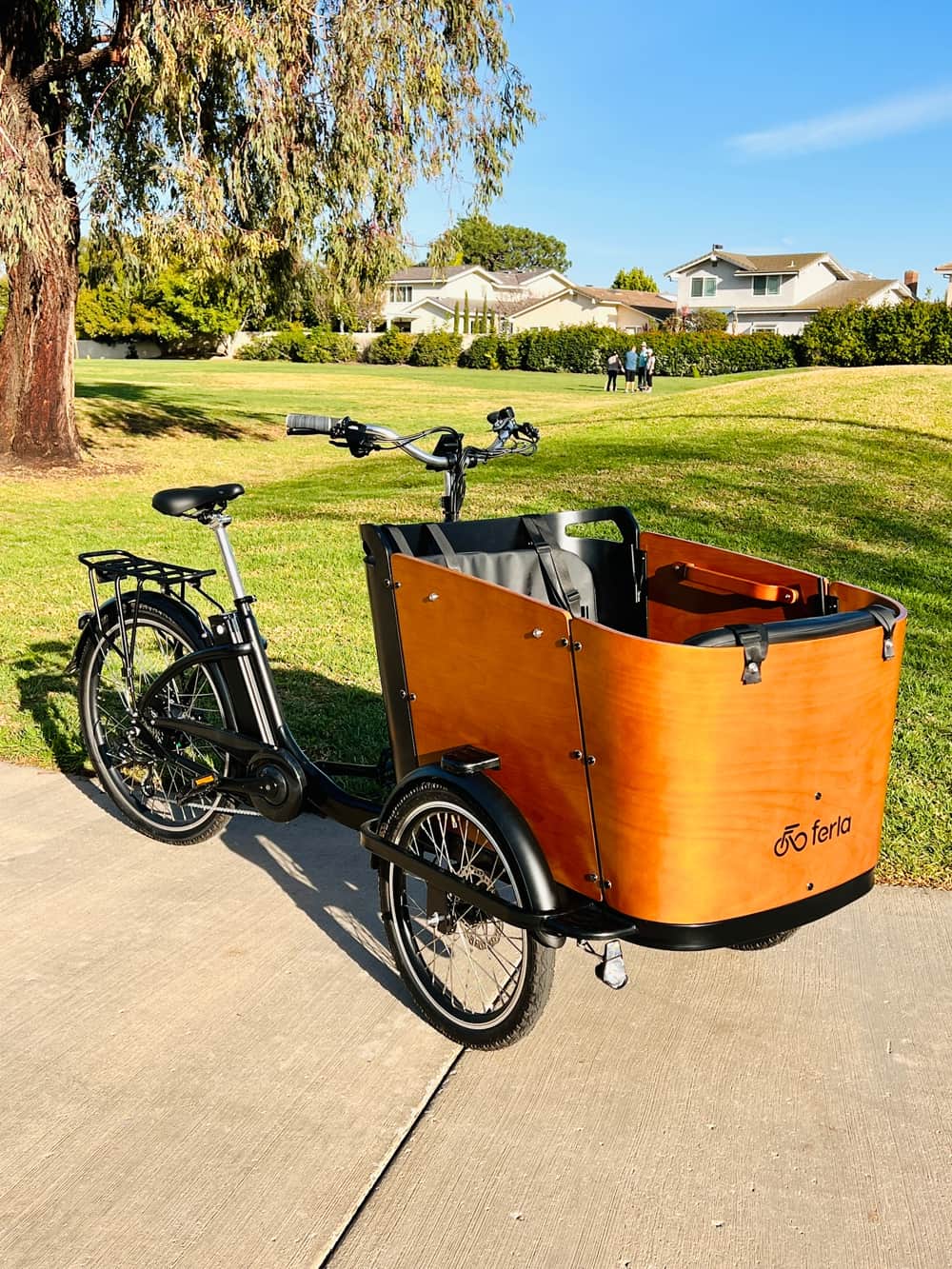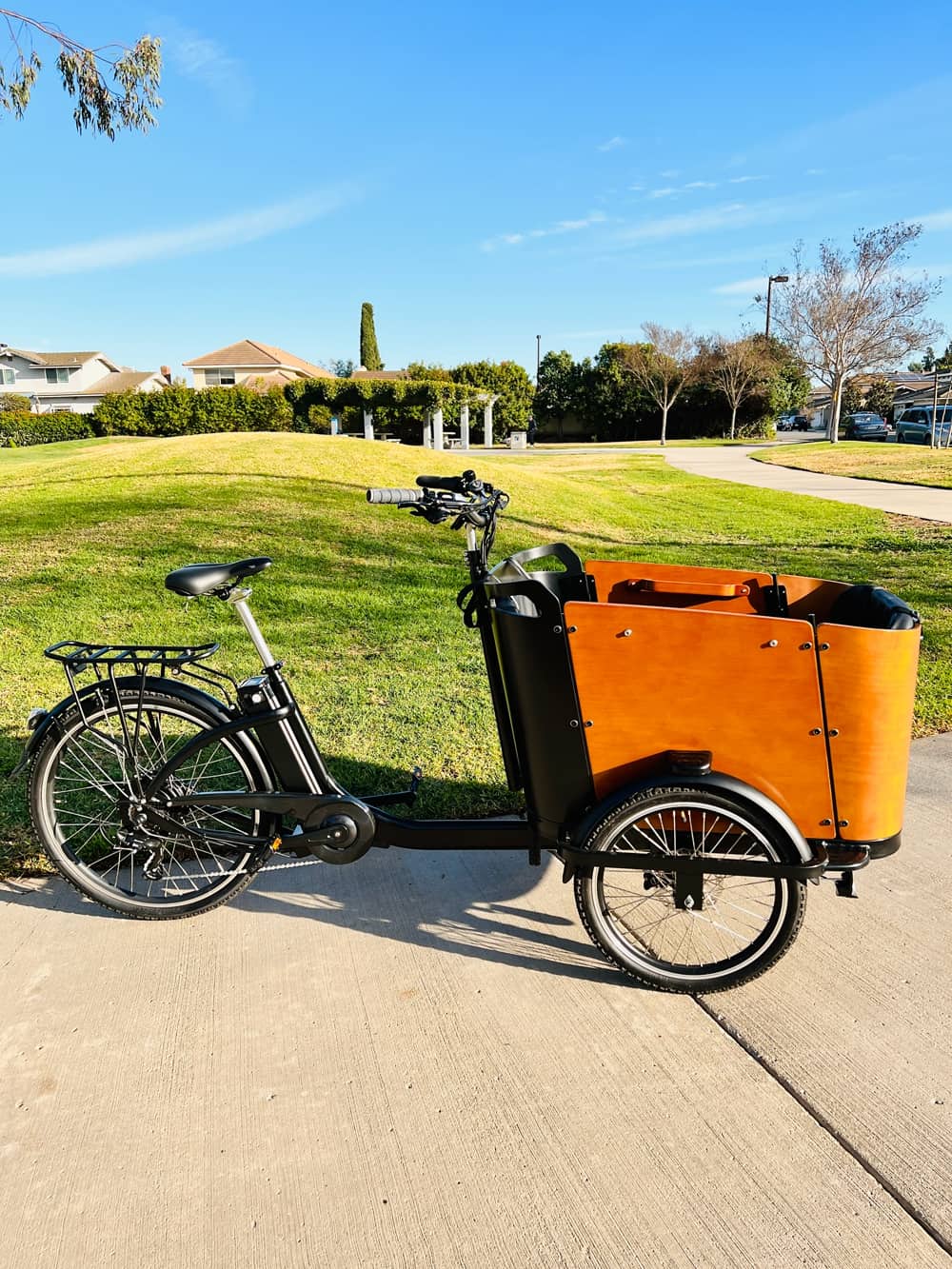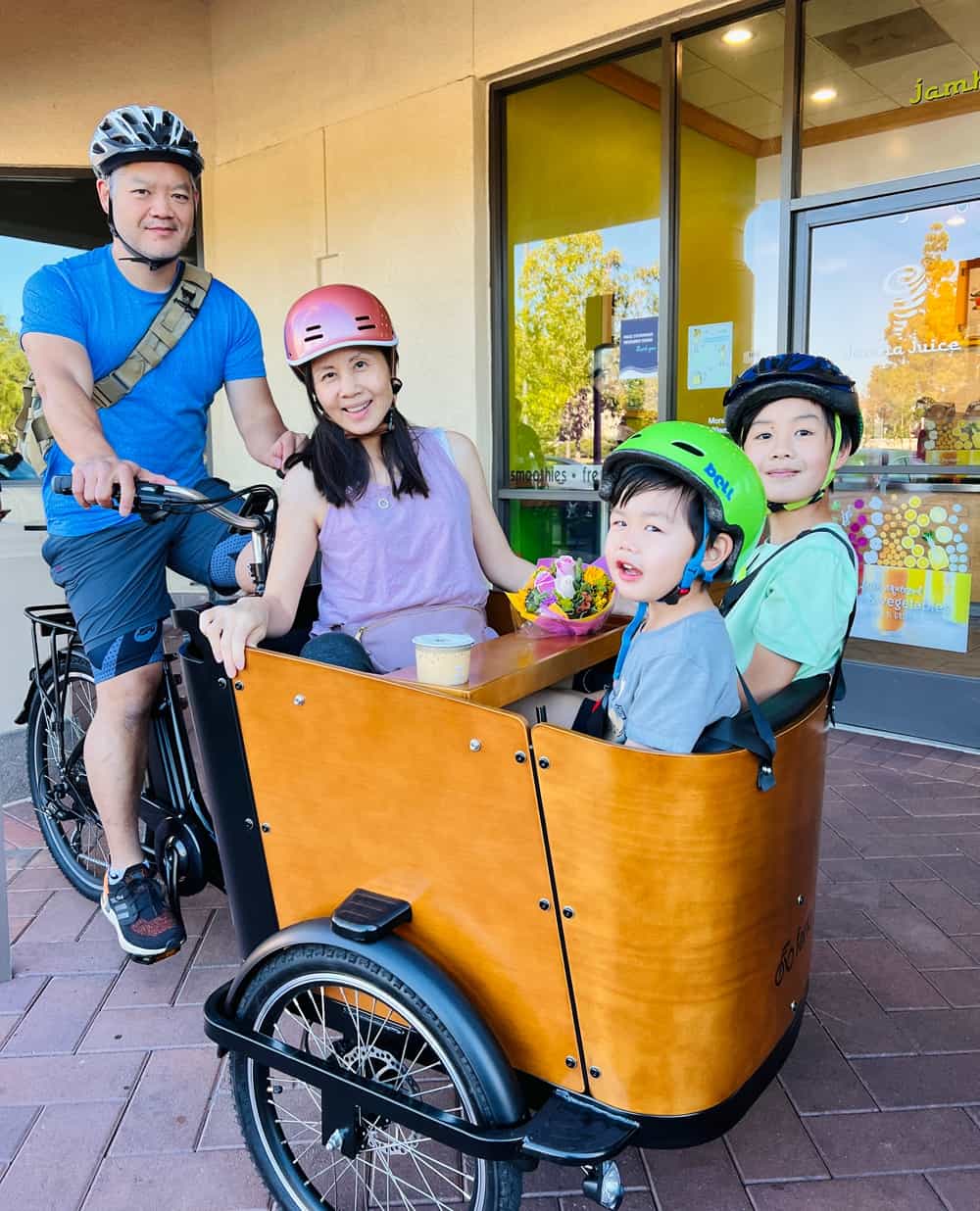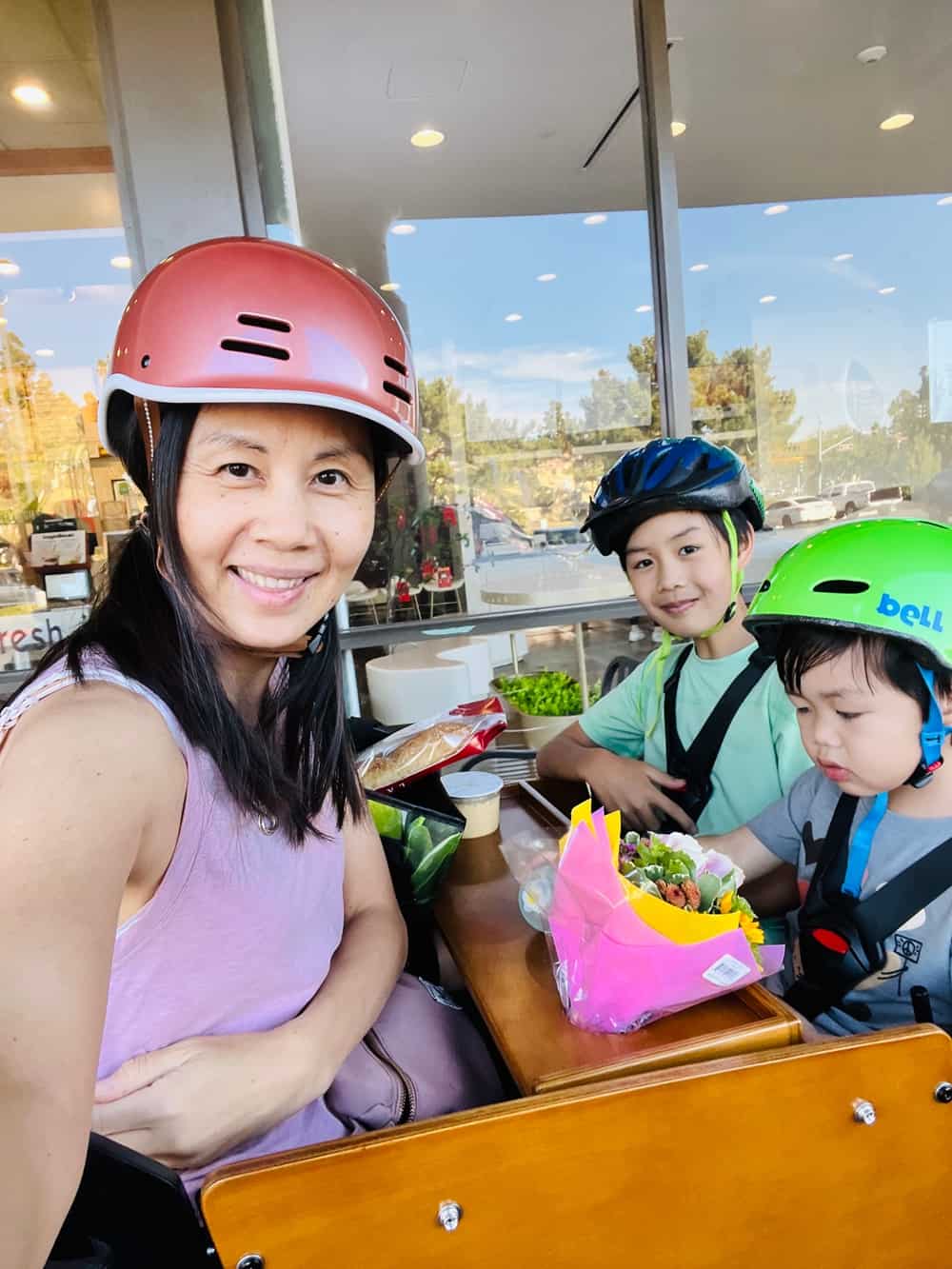 What is a family cargo bike?
A family cargo bike is a sort of bicycle that is intended to transport a group of people rather than just one person. More particularly, it can transport small children, groceries, and even pets with relative ease and comfort.
These bikes are distinguishable from other types of bicycles by their huge carrying capacity – most family cargo bikes have a carrying capacity of approximately 350 pounds.
Many family cargo bikes are equipped with a child seat, and some even have the option of having the child seat in the front position facing backward.
With a full load, most family cargo bikes may travel at speeds of approximately 20 mph, although they are not typically utilized for downhill biking or other sporting pursuits.
What makes them good?
In densely populated metropolitan areas such as New York City, family cargo bikes make excellent use of available space. However, people who rely on public transportation may find it challenging to travel around because of a lack of suitable public transit choices in these types of areas.
A family cargo bike is small enough to be readily transported onto a subway train. Still, it can transport up to four passengers and their bags with ease when necessary!
This makes them particularly handy in densely populated areas like New York City, where it might be tough to get around.
In addition, human power is used to power nearly all family cargo bikes on the road, making them environmentally friendly and long-lasting. Compared to other motorized transportation modes, people who ride family cargo bikes emit no additional carbon dioxide or pollutants into the atmosphere.
Using a family cargo bike instead of having an automobile can save families hundreds of dollars per year in petrol costs. In addition, family cargo bikes are fantastic for your budget in these tough economic times.
Get the Ferla Family Bike and use code: HELLOWONDERFUL for free memory foam seats (value $200)
What should I consider before buying an electric family bike?
Before purchasing a family cargo bike, you may want to think about what you intend to use it for. For example, if you're going to use public transportation regularly but still need to move a large number of items, a family cargo bike may be the best option for you.
A different style of bike, on the other hand, would be more appropriate if you intend to use your bike primarily for recreational or exercise purposes.
Family cargo bikes can range in price from $300 to more than $5000, depending on the model and extras included in the package.
If you are interested in purchasing one, it is essential to first establish a specific budget before looking at other possibilities; this will assist you in narrowing down which models fall within your budgetary constraints.
What are the benefits of getting one for the family?
Family cargo bikes can be utilized for various activities other than just bike excursions. Many different locking options and baskets are available on many models, allowing riders to do things such as grocery shopping or even transporting school supplies for their children.
They also help reduce carbon emissions because they do not require gasoline and instead allow riders to pedal themselves about efficiently and safely.
Through their reduced use of gasoline, these family cargo bikes not only contribute to a reduction in harmful greenhouse gas emissions but also provide additional space inside vehicles such as cars where many young children could otherwise be accommodated, thus enhancing the safety of passengers whenever a vehicle is utilized.
Family cargo bikes are a convenient and safe mode of transportation for both people and objects; whether it's groceries, children, or even pets, these bikes are the practical and ecologically responsible choice for transportation.
Get the Ferla Family Bike and use code: HELLOWONDEFUL for free memory foam seats (value $200)
How to Buy the Right Size Bike for Children and Icons of Compatibility
If you have ever felt baffled when trying to buy a new bicycle, you are not alone. Choosing the right size of bike for children is tricky. Some manufacturers use particular guidelines to help customers choose which bike best fits their child.
However, these are often more frustrating than helpful because they are based more on historical data about height and inseam measurements instead of on what really matters—the proportions of the child's torso to their legs—which more accurately predict how well someone can ride a given size of the bike while minimizing the risk of injury.
You have to think beyond just the seat height of a bicycle. You have to consider how high above the road the handlebars are and where they sit in relation to the rider's pelvis and balance points.
If you can find a bike shop that has an adjustable stand, you'll naturally start thinking about these things when trying out different bikes at their store.
The result is a much better fit and more fun for your child (not to mention easier on parents' backs). As all parents know, nothing beats seeing their kids smile when they're riding something that makes them happy.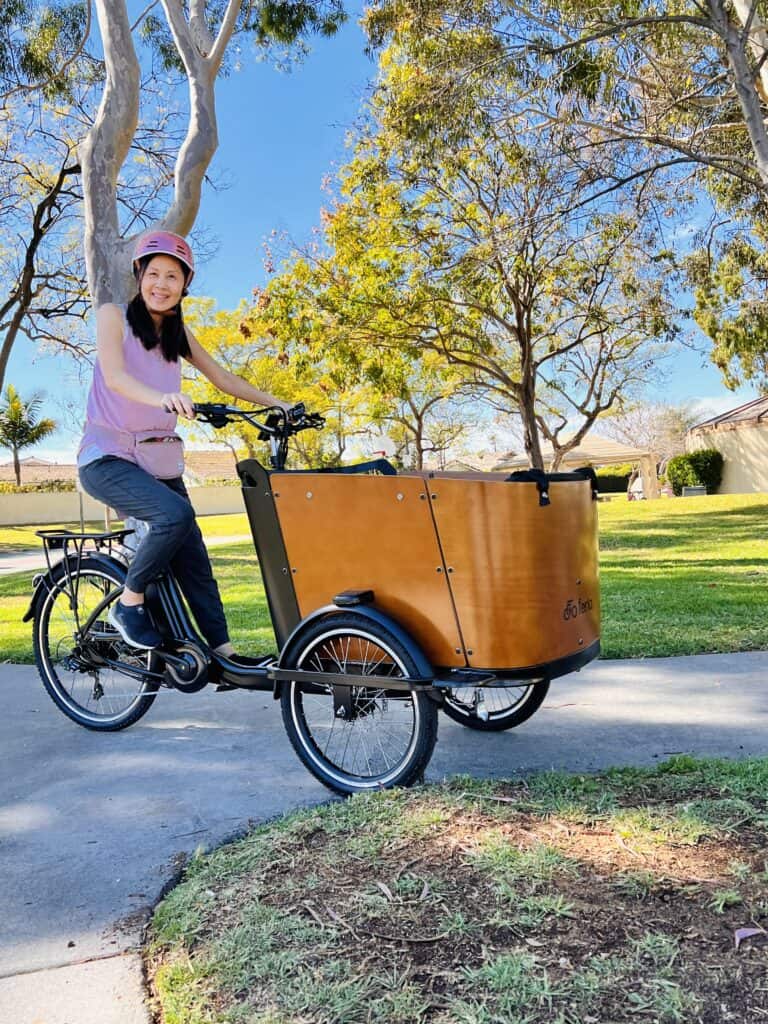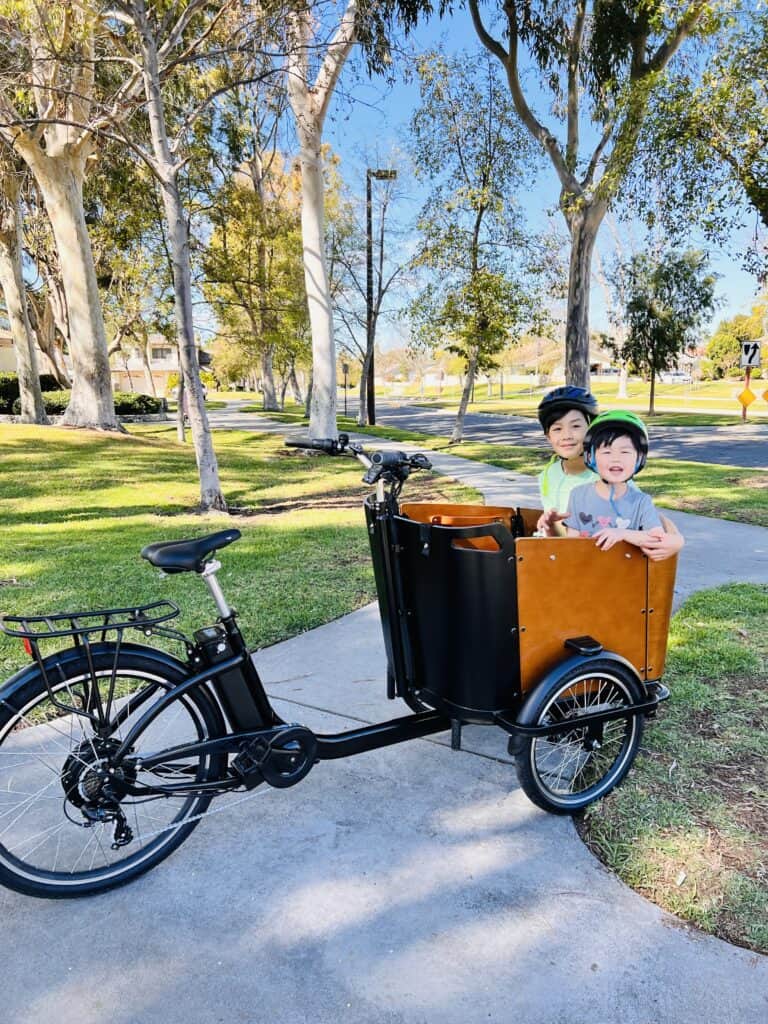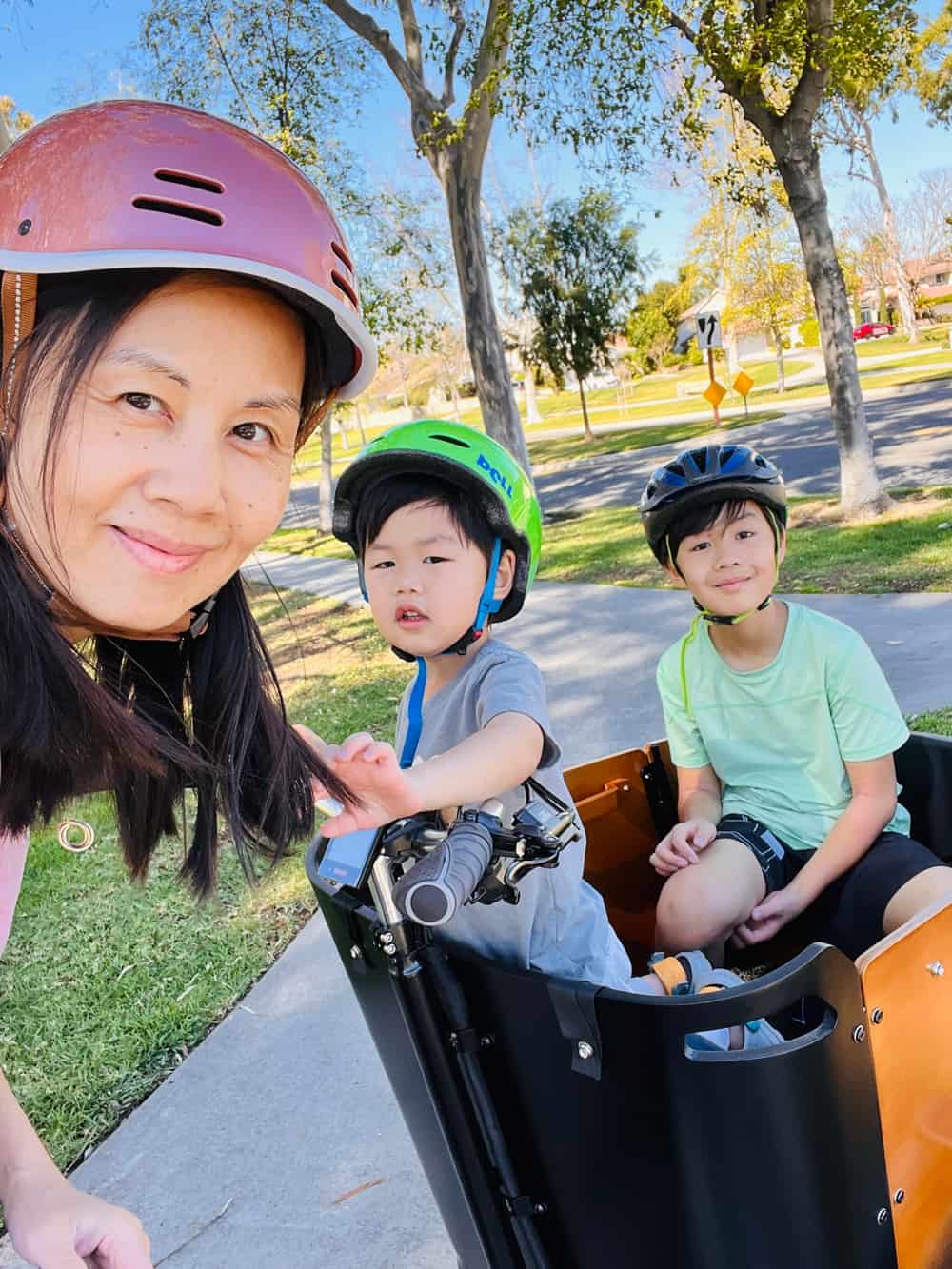 The Benefits of Owning a Family Cargo Bike
There are many reasons to purchase a family cargo bike. For many of us, the benefits are economical and ecological. In addition, by replacing an automobile with one of these bikes, you'll be paying much less for transportation overall.
Plus, the environmental impact is dramatically lower than that of cars or motorcycles (mainly scooters). And then there's the practical side.
When you go shopping by bike with kids in tow, you end up buying far less junk (and produce) than if you had taken your car to do errands on weekends.
All those trips to IKEA? One adult can manage two kids plus furniture on the most basic version of a family cargo bike—so goodbye strollers and challenging trips! You can also use them for things like barbecues in the park, picnics at the beach, or even just taking out the recycling.
You may also find that having a family cargo bike opens up new opportunities for exercise and fresh air—which is especially helpful when you have kids who are resistant to going on evening walks (or trying anything too active, for that matter). So no matter where you live if you need an efficient way of getting around with your kids, look no further than a family cargo bike.
Get the Ferla Family Bike and use code: HELLOWONDERFUL for free memory foam seats (value $200)
Core Principles for Using Bicycles with Children
There are many ways to use a bicycle with children. The best method is the one that will work best for you, based on your abilities and preferences, the age of your child or children, and the terrain in which you are riding.
Remember that using bicycles with children can be highly rewarding, but it should never be undertaken lightly. Whenever possible, start slowly, perhaps only riding short distances at first until everyone is comfortable.
If you feel particularly anxious about doing this sort of thing or feel intimidated by it, then seek assistance from an experienced family cycling enthusiast before attempting to do more. Many of them are willing to give demonstrations and help others get started with their riding.
The most important thing to remember is that cycling should be fun for everyone involved. If you feel tense about the situation, stop and take a break.
Children should be kept safe and comfortable first and foremost, not forced into something just because it looks like fun to the adults who might be pedaling! So always put safety first when planning cycling adventures with children, no matter how short or long the trip will be.
Why should you get a family cargo bike?
You will save money on gas. And we all know gas prices are at their highest since 2008 and fastly rising as we speak.
By using a family cargo bike instead of a car for errands, you'll be trimming your fuel costs considerably while getting exercise outdoors. Moreover, if relying upon taxis or other services while growing up, the cost would add up dramatically. Instead, it is possible to buy used family cargo bikes for reasonable prices, keep them maintained over time with little effort (they don't need much work), and always know that they are available whenever needed.
You will be able to go places that are not easily accessible by car.
If you don't have a family cargo bike, then it may be difficult or impossible to carry your shopping items all the way home from the grocery store. Also, it is possible to carry children up hills and around other challenging environments with a family cargo bike.
You will be able to transport items in an environmentally friendly manner.
One of the easiest ways to cut down on greenhouse gasses is using human power instead of oil-based fuels. Since family cargo bikes are propelled solely by their riders' muscles, they are environmentally friendly transportation methods.
You will provide your kids with memories that can last a lifetime.
If you go for bike rides often as a family, then it is likely that both you and your children will remember those times forever. Whether traveling to an art museum, the park, or just around the neighborhood, cycling is always fun! Also, there are many cities in Europe where families travel by cargo bike all the time, so why not bring the tradition back home?
Your carbon footprint will shrink dramatically.
Each year, about 500 million cars are manufactured worldwide. All of these cars release toxic fumes over their lifetimes (in addition to consuming a lot of resources), and it is estimated that one car will kill about 30 people in its lifetime. By switching to a family cargo bike, you will reduce your carbon footprint daily!
Get the Ferla Family Bike and use code: HELLOWONDERFUL for free memory foam seats (value $200)
Tips for traveling by a cargo bike
If you're looking for a cargo bike that can handle more oversized items and is easier to transport, a family cargo bike might be the right choice for you. These bikes are designed to be more stable and comfortable when carrying heavier loads.
Here are some tips for traveling by family cargo bike:
Make sure your bike is tuned correctly and adjusted before starting your trip. This will help ensure a smooth ride.

Pack light! The more weight you add to the bike, the harder it will be to pedal. Try to pack only what you need.

If possible, try to avoid traveling on busy roads or highways. Instead, stick to smaller streets and side roads with less traffic.

Always use caution when riding in traffic and be aware of your surroundings. Remember that you are carrying a lot of extra weight on the bike and may not stop as quickly as usual.

Plan your route ahead of time and try to avoid hills if possible. Heavier loads can make it harder to pedal up hills.

Make sure you have a good lock for your bike, preferably a U-lock, and use it whenever you park the bike.
Cargo bikes are a great way to transport large items without taking a car or truck. They're also perfect for trips to the grocery store or farmers' market. And with the proper preparation, they can be just as safe to ride as a regular bicycle.
So if you're looking for a more environmentally-friendly way to transport your family and cargo, consider investing in a good quality cargo bike. You won't regret it!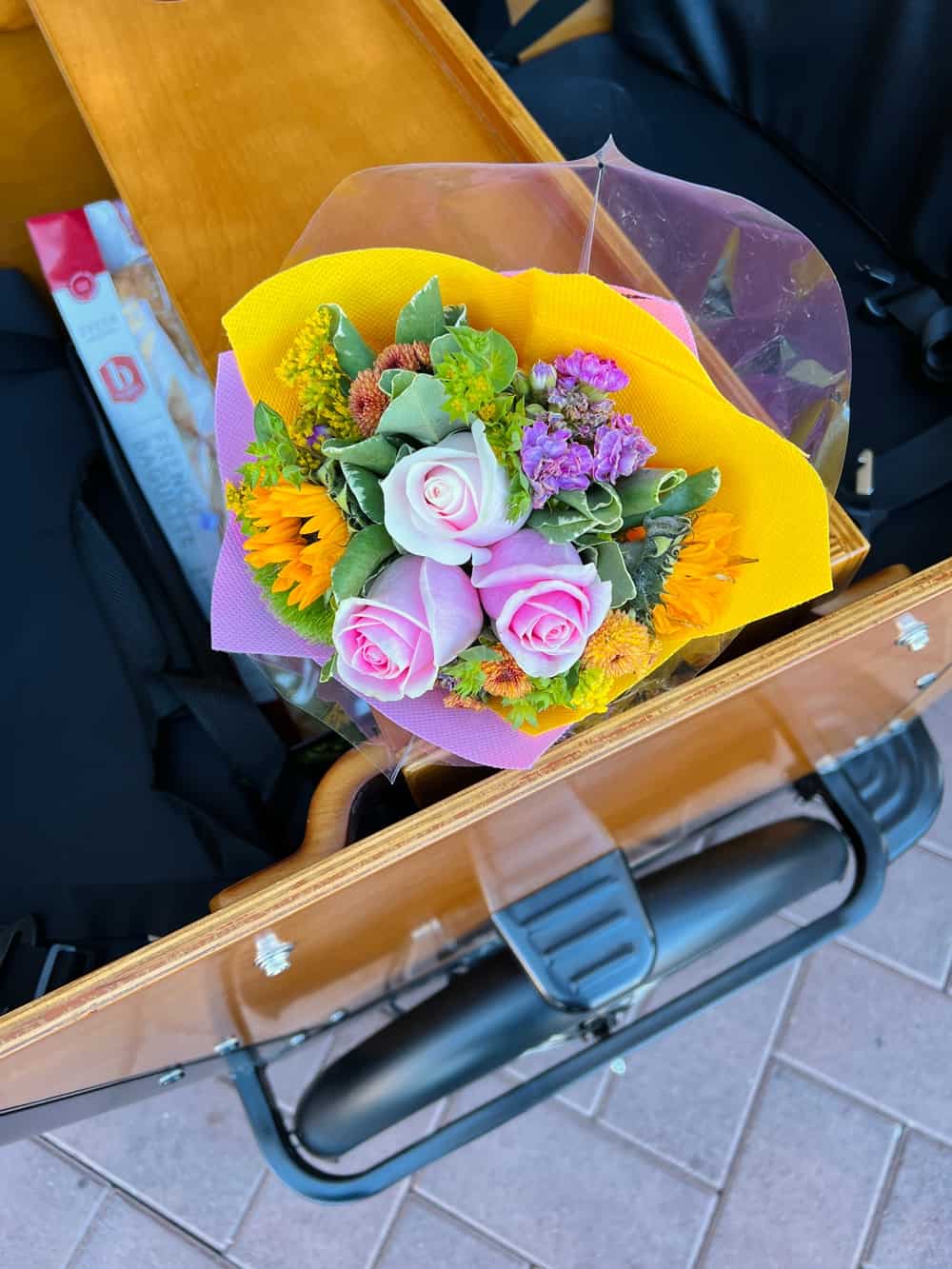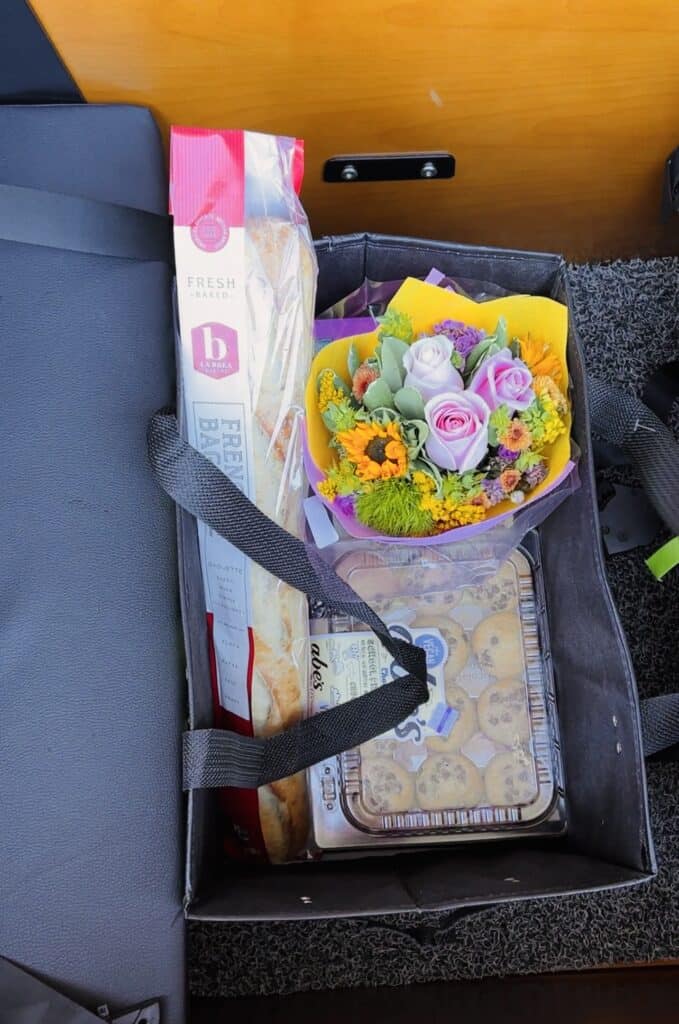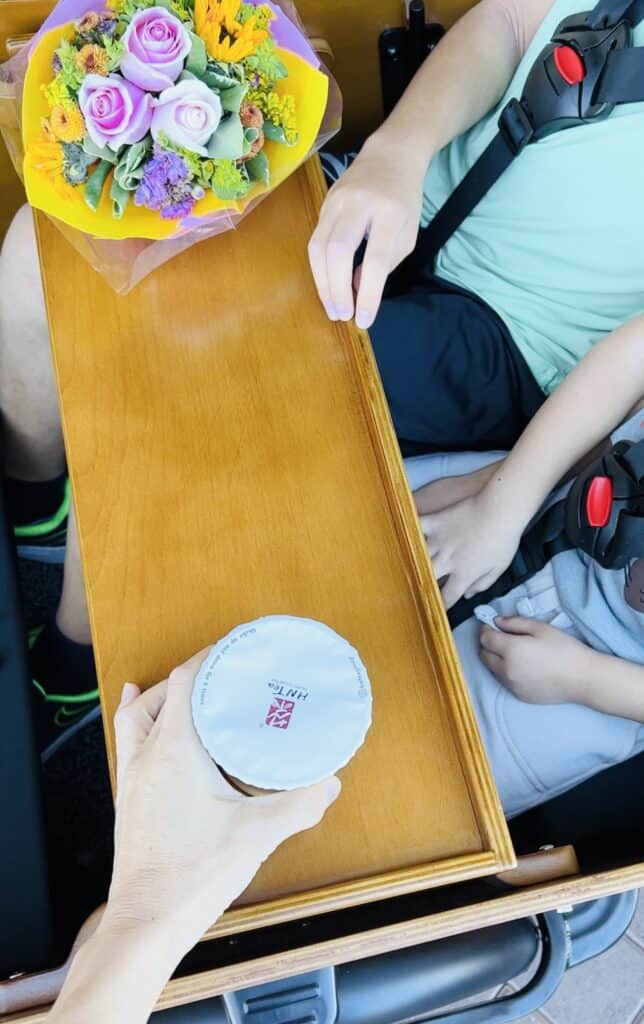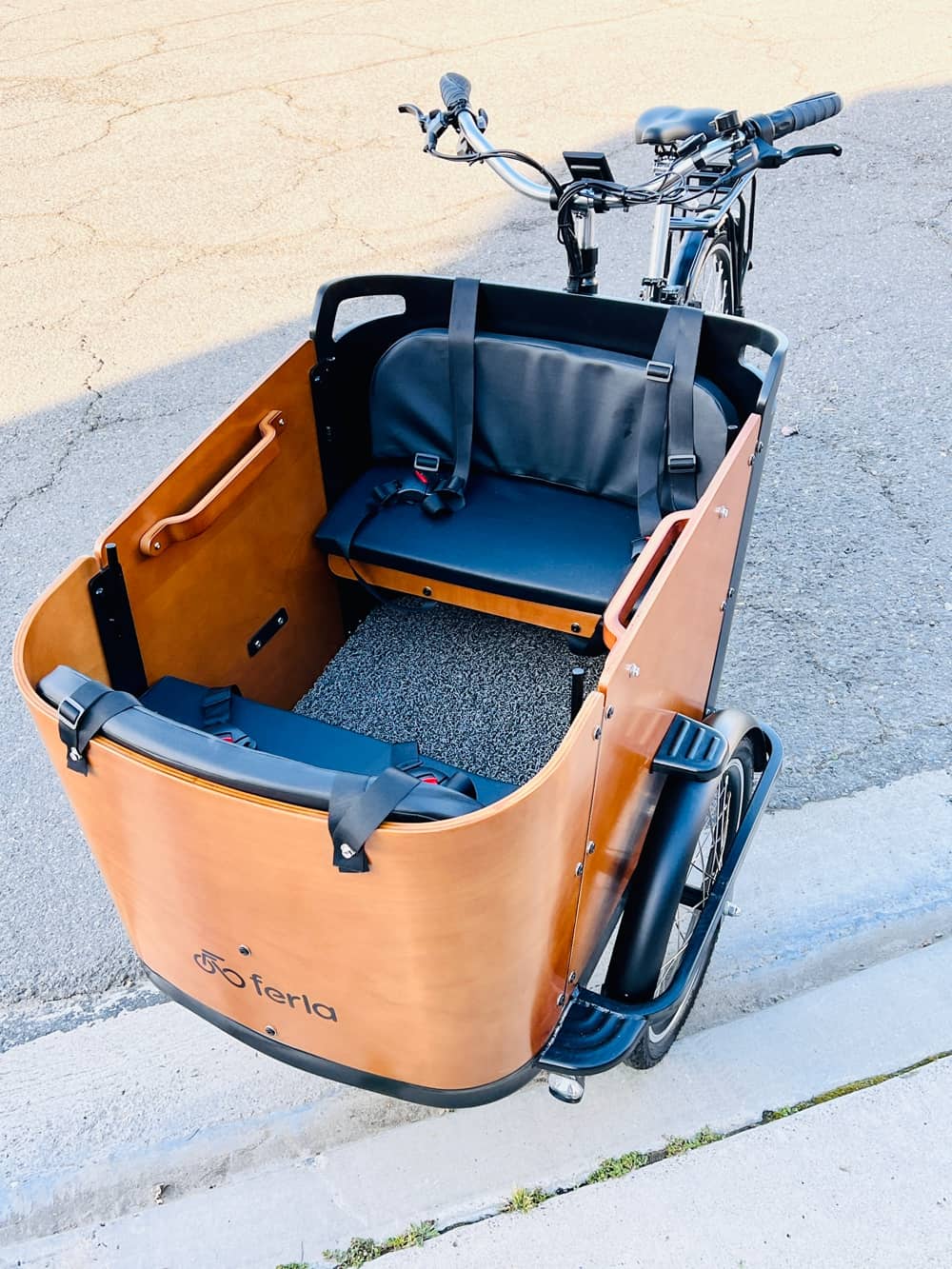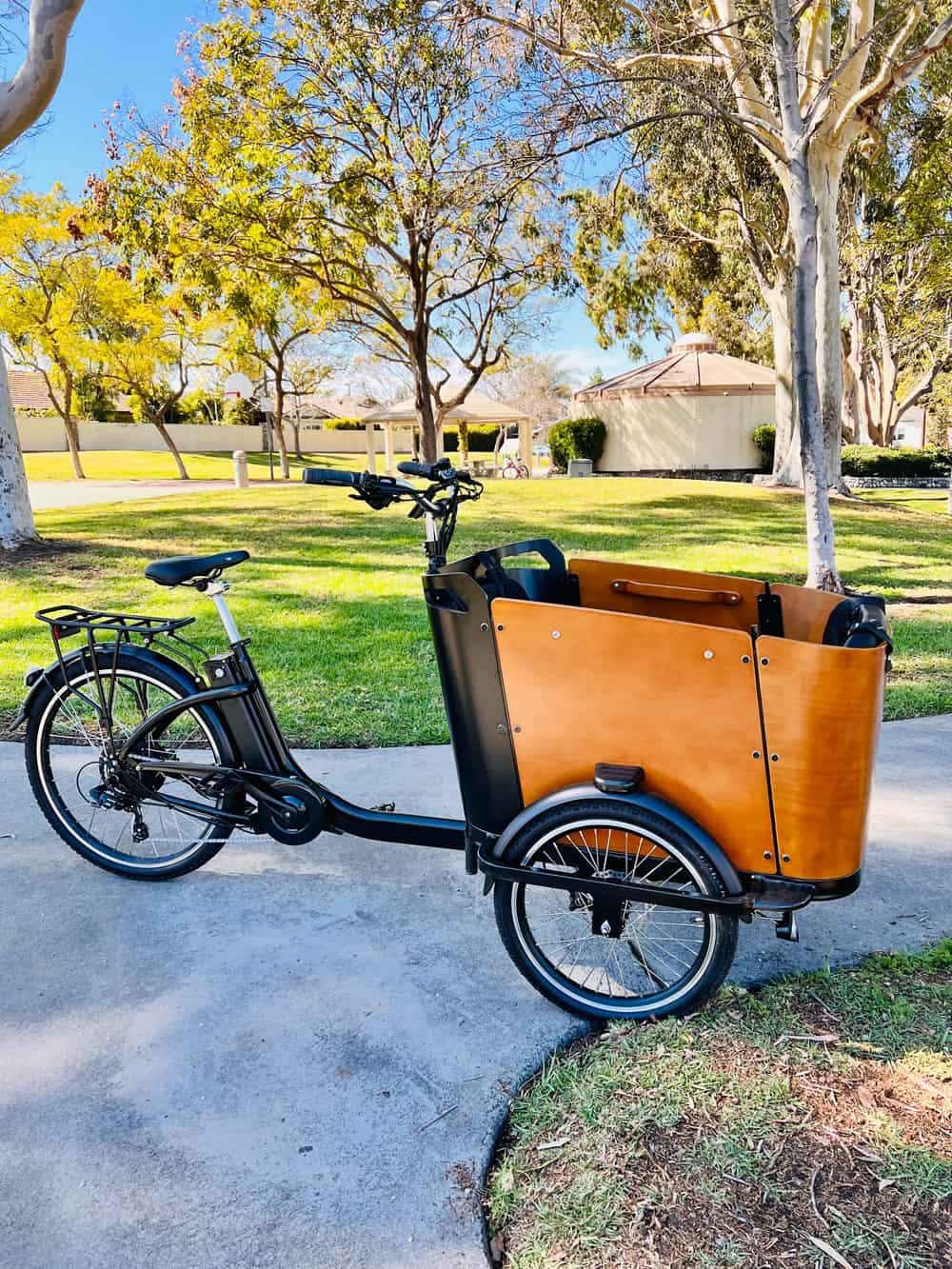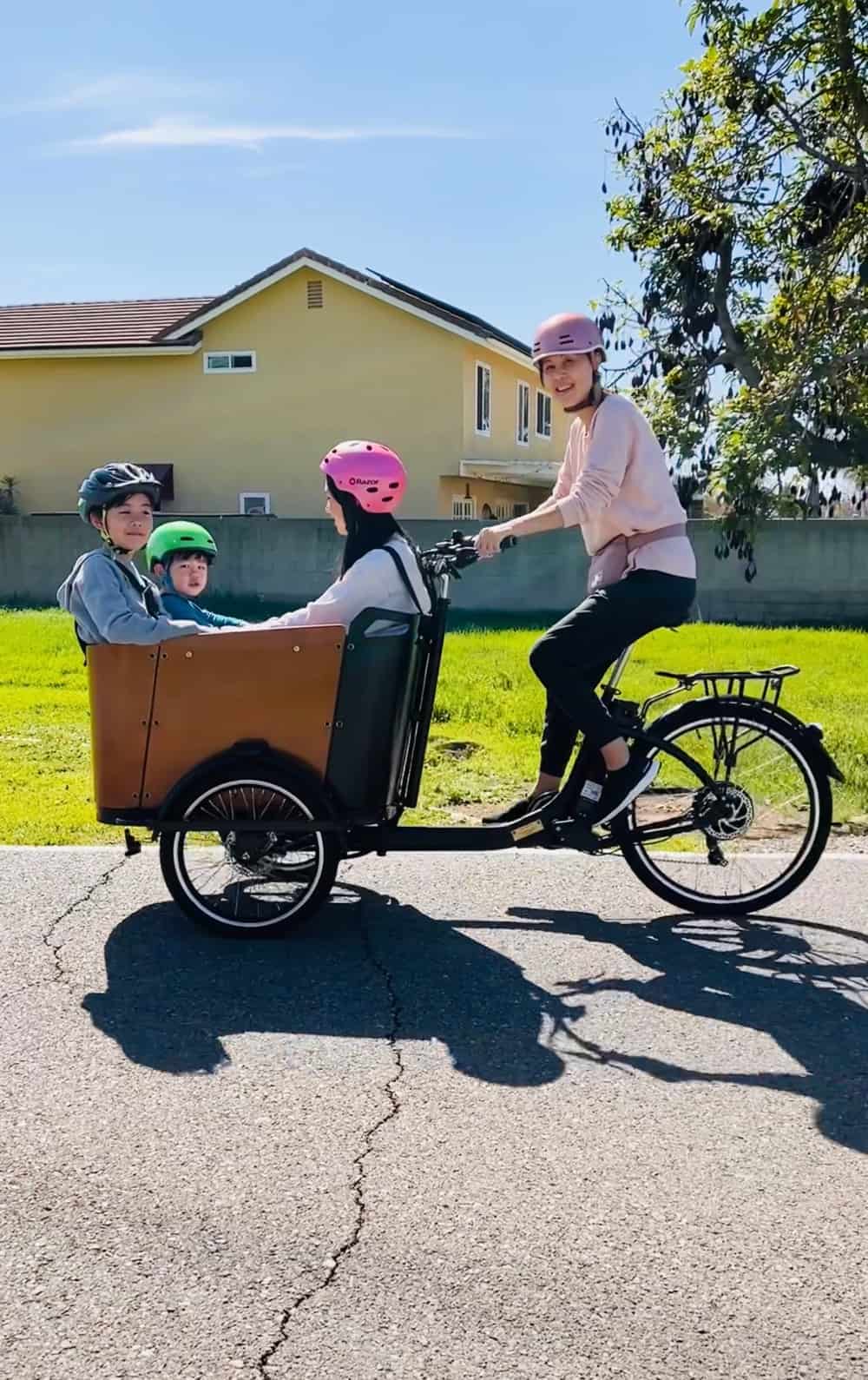 Snapshot of Bikes offered by Ferla
WATCH THE VIDEO IN THIS POST TO SEE THE BIKE IN ACTION
Get the Ferla Family Bike and use code: HELLOWONDERFUL for free memory foam seats (value $200)
Ferla Inspire
The Inspire is perfect for those who want to have some fun while getting from point A to point B. With a top speed of 20 MPH, you'll be able to zip through traffic with ease.
And thanks to the 36V 10.4Ah Li-ion battery, you can ride up to 25 miles on a single charge! The Inspire also comes with a 250W rear hub motor, so you'll be able to take on hills with ease.
You'll also love the mechanical disk brakes, which provide excellent stopping power even in wet weather.
This is the bike my family ended up getting. The Royce is made of wood and can go up to 25 MPH, making it a great choice for urbanites looking to conserve energy.
With a range of 35-50 miles, the Royce can take you where you need to go without polluting the environment.
It also comes with high-performance hydraulic brakes, cadence and torque pedal assist, and a twist throttle – making it easy to get around town. Plus, at only $4,999 it's more affordable than most cars.
Ferla Royce Mid-Drive
Royce MId-Drive is for those who appreciate the finer things in life but don't want to break the bank. This e-bike offers all of the features you'd expect from a high-end model without the excessive price tag.
With speeds up to 25 MPH, Royce is perfect for cruising around town or taking on longer rides. The 350W mid-drive motor provides ample power and torque, while the premium hydraulic brakes ensure smooth, safe stops.
What's more, this bike can accommodate up to 4 kids or 2 adults – perfect for busy families!
WATCH THE VIDEO IN THIS POST TO SEE THE BIKE IN ACTION
The Ferla Royce is a high-end cargo bike that provides accessibility and inclusion for seniors, children, and loved ones differently-abled. The Royce makes it easy for everyone to join in on the family adventure thanks to its low step-through design, easy-to-steer active frame, and larger battery capacity.
The all-new model also has elegant doors that make getting on and off the bike much easier. Although, we got the version without doors which I knew would be perfect for getting my kids in and out without much trouble. With an aluminum frame and excellent materials, the Royce is intended to last so that everyone may enjoy a ride.
One of my favorite aspects of this bike is the fact that it features a 16 Ah Samsung Lithium Battery that can charge it for up to 45 miles in a single charge. If that wasn't enough, there's also a 350 watt geared hub motor for speed and power.
The superior aluminum handlebar is fully adjustable to provide a comfortable ride, and dual front LED lights, and a Smart Tail Light ensure visibility while traveling at night, which is very important to me as it adds another layer to keep me and my kids safe while traveling.
It also has eight speeds and hydraulic brakes for a smooth and safe ride, as well as robust fenders that keep you dry even in poor weather. And with memory foam seats and a drink holder, comfort is a large focus for this bike.
The curved form and ultra-premium bamboo-composite frame give this bike a stylish aesthetic, making it ideal for carrying all of your things. The Ferla Family Bike is also environmentally sustainable and long-lasting. So why not get rid of your car and go pedal-powered instead?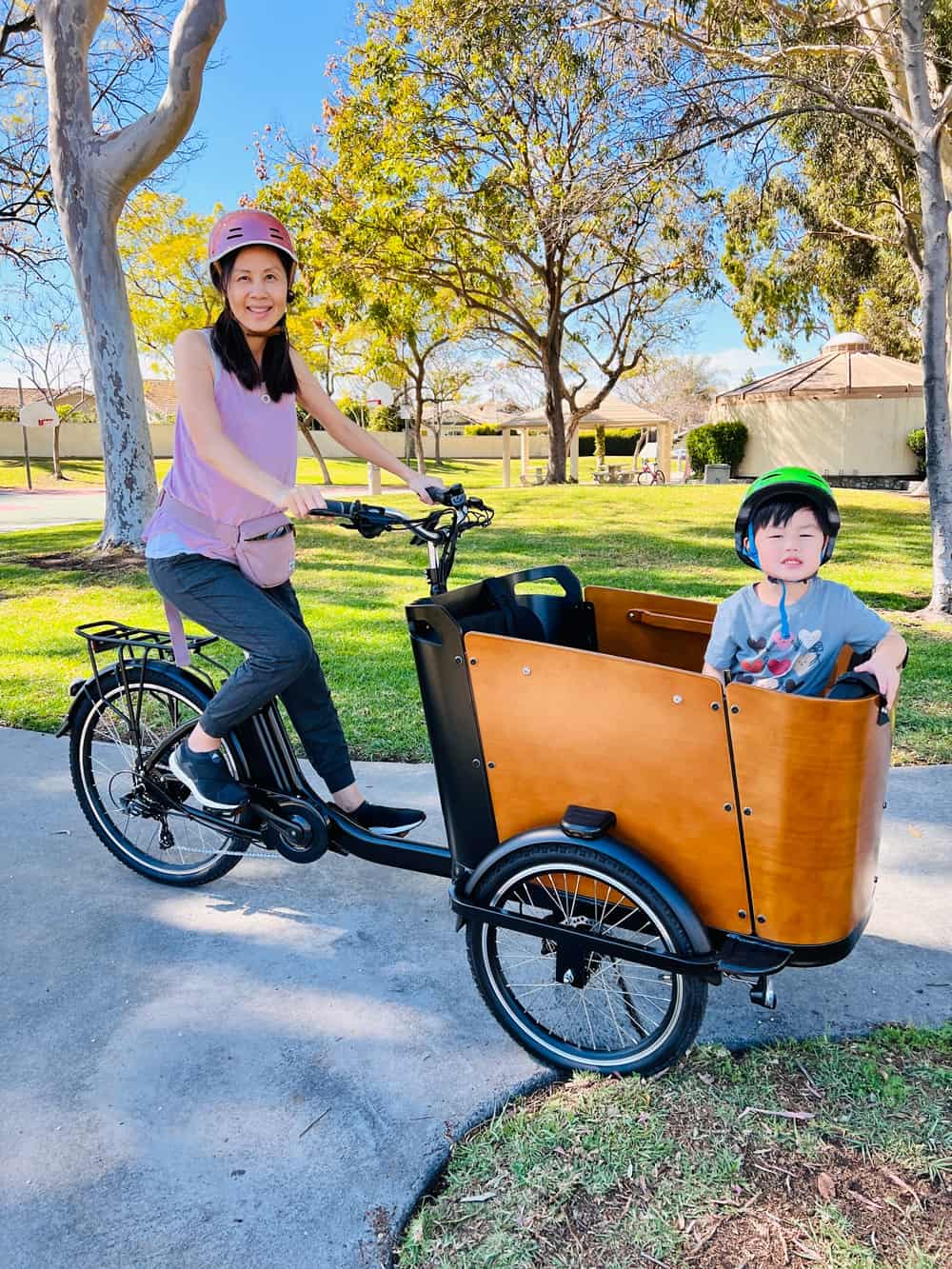 Get the Ferla Family Bike and use code: HELLOWONDERFUL for free memory foam seats (value $200)
Quick facts
16 Ah Samsung Lithium Battery

LCD Display

Features built-in USB charger

45+ miles at speeds up to 20 mph.

350 Watt – geared hub high torque motor.

Dual-front LED lights & smart taillight.

Water-resistant connectors and wiring harness.

Premium aluminum curved design. Fully adjustable

350 lbs Load Capacity

3-point harness seat belts.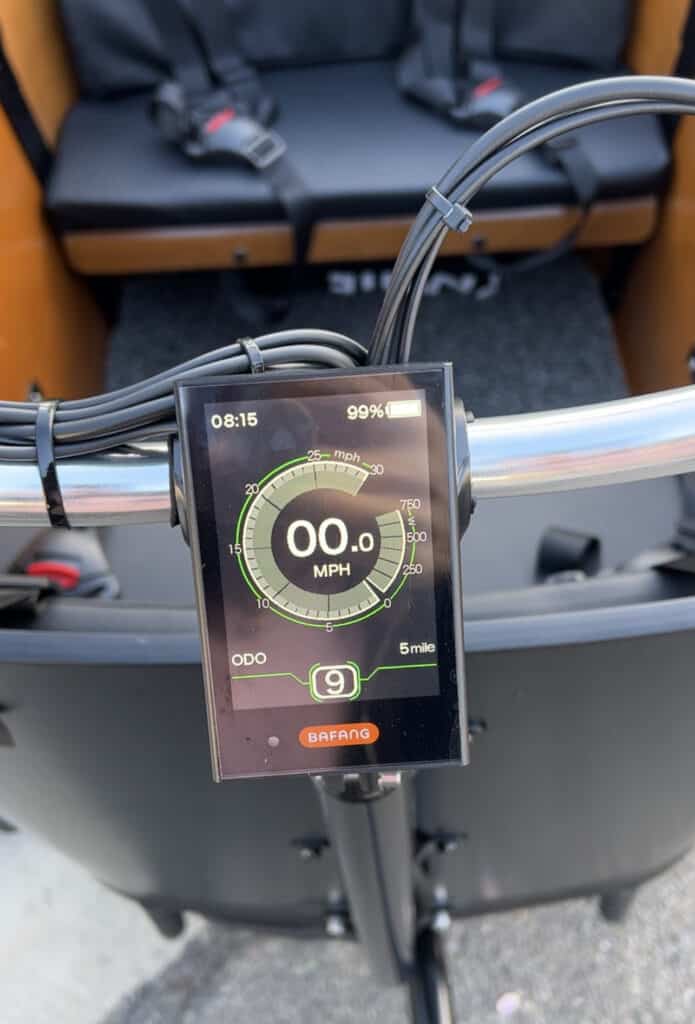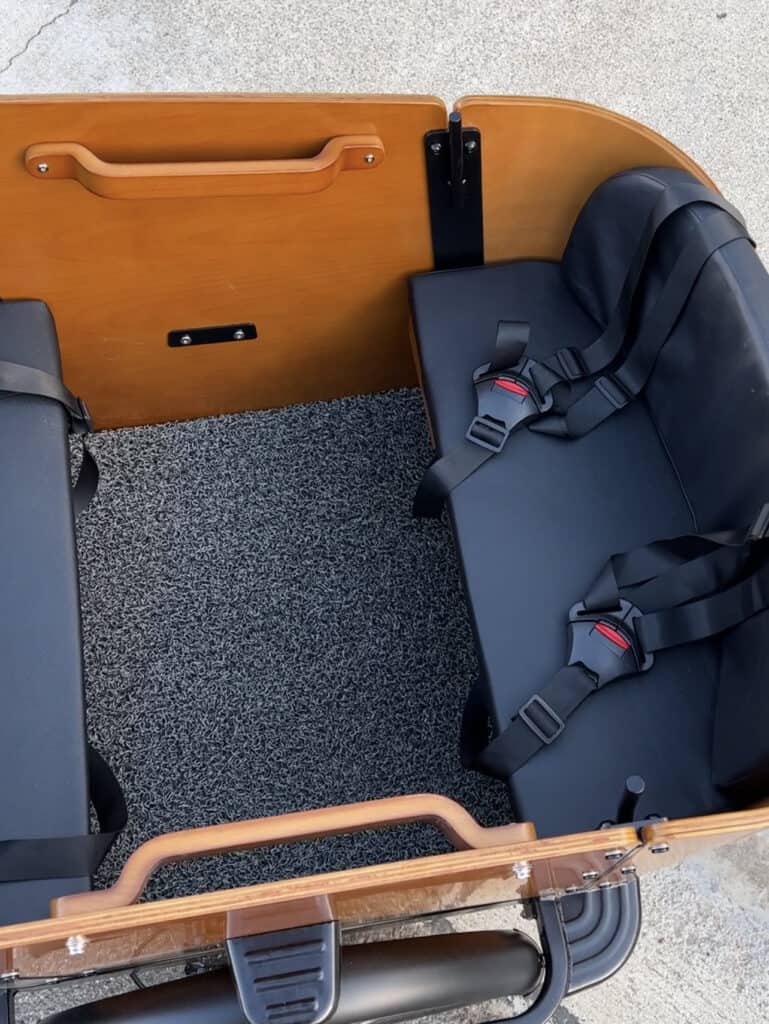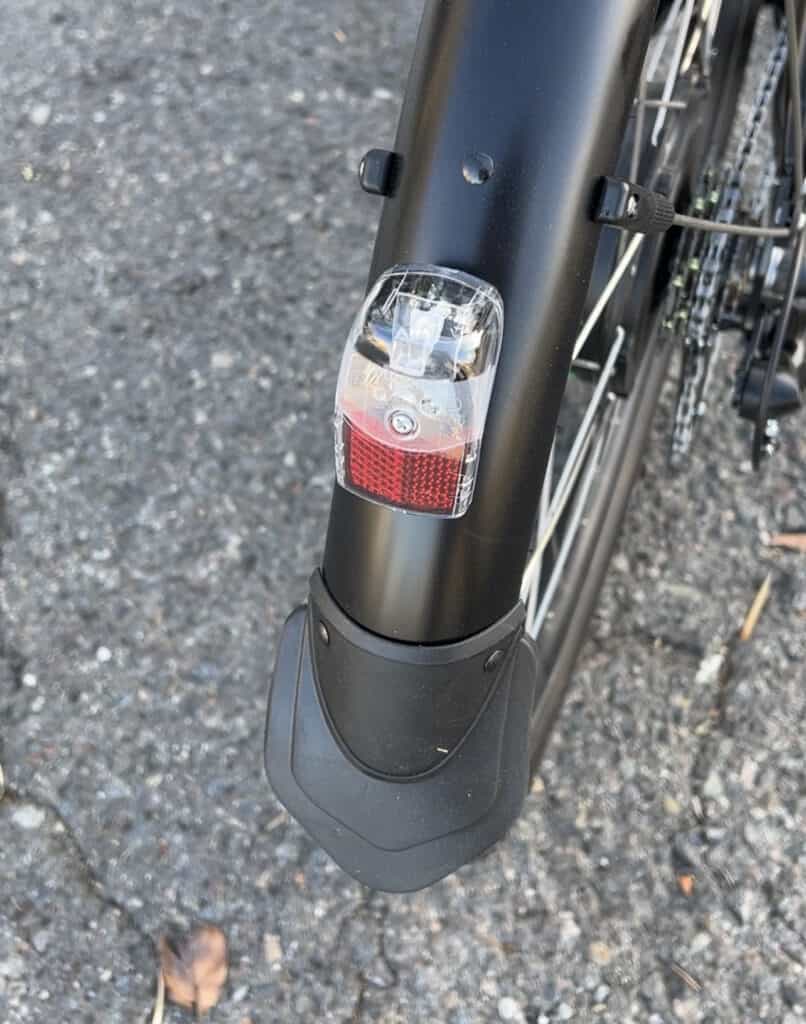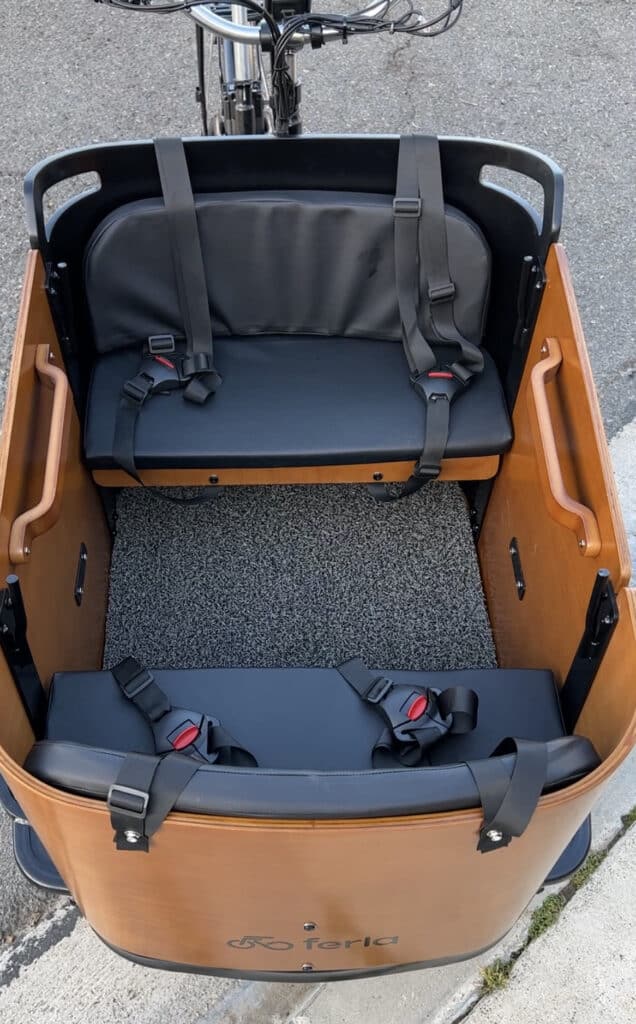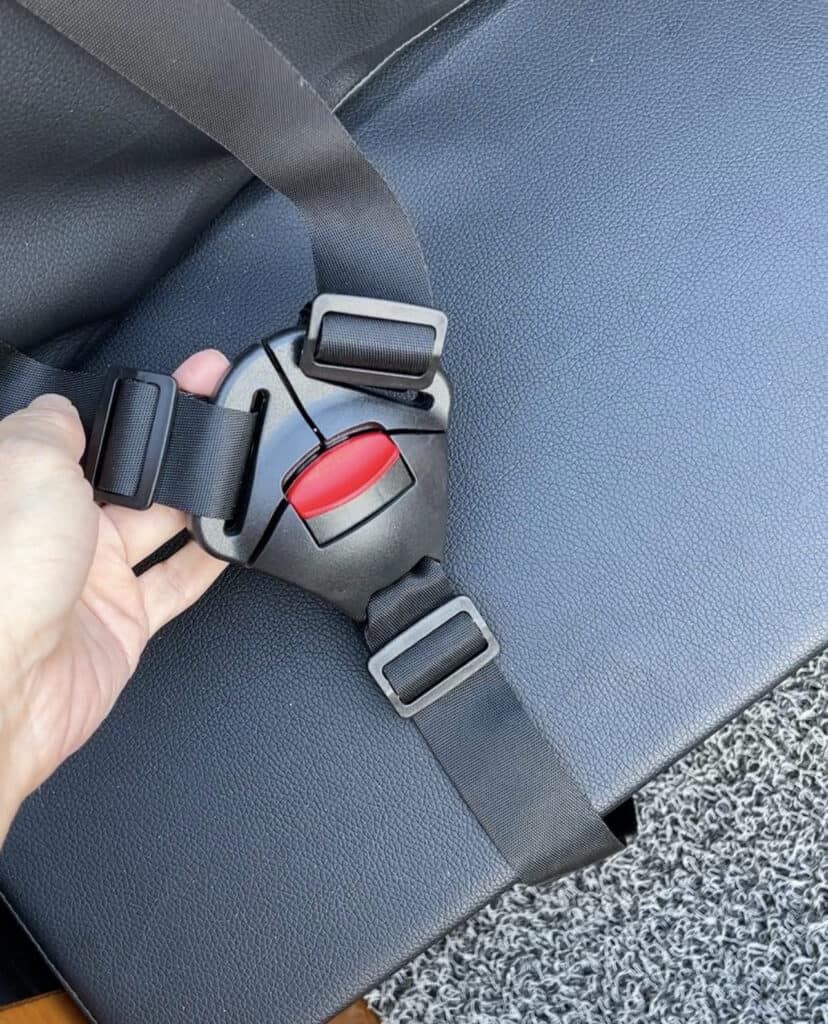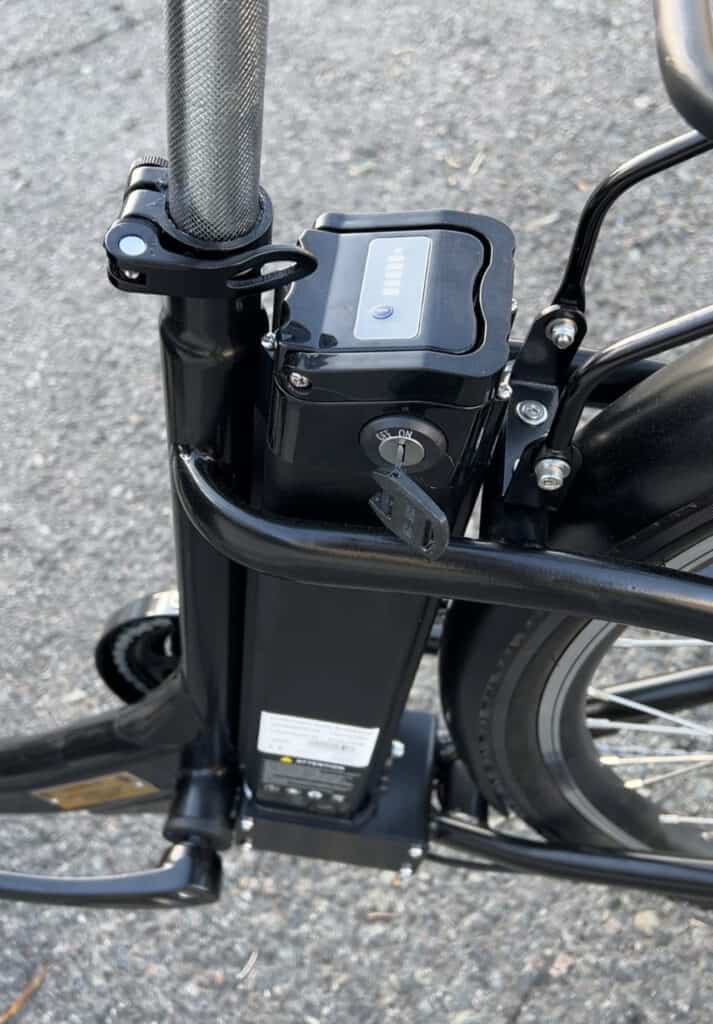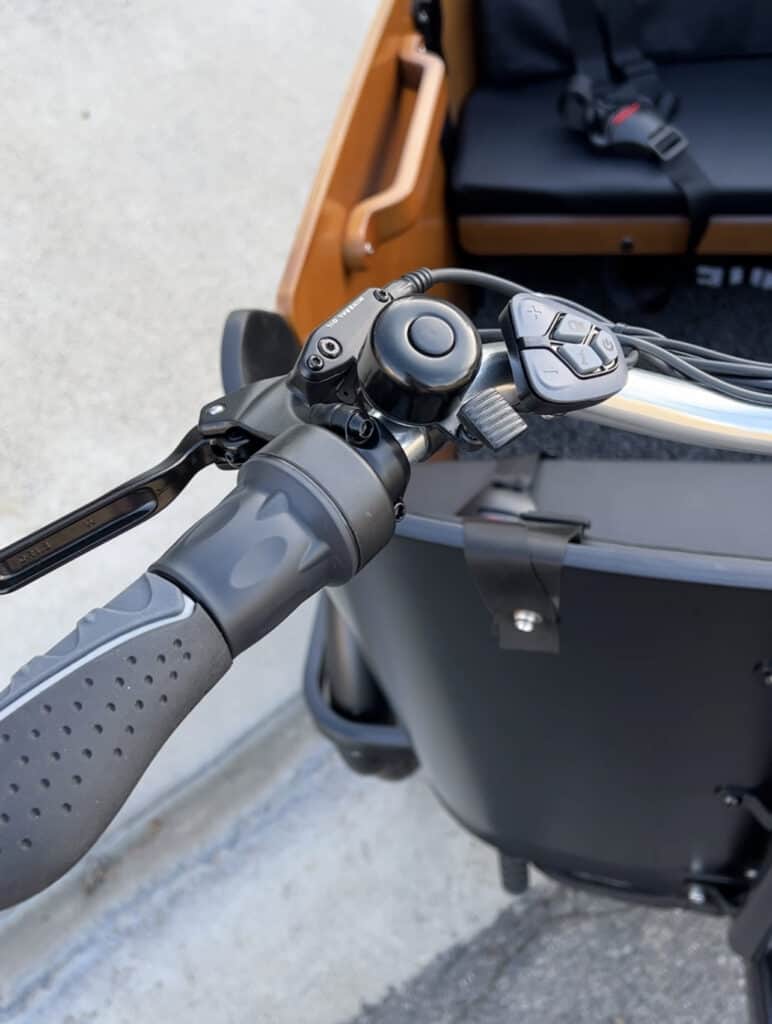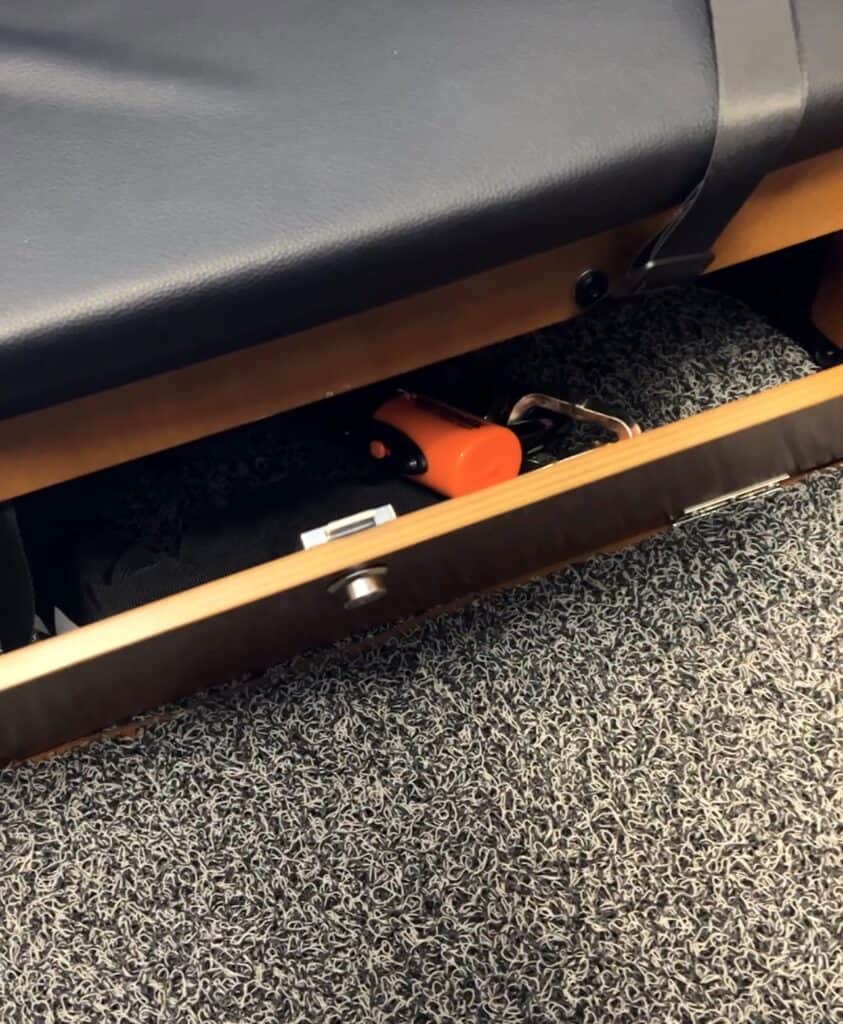 What we thought about the Ferla Family Cargo Bike
We've been looking at cargo bikes for quite some time since we're a family of 5 with 3 kids with only one car. As soon as we saw Ferla Royce, we knew we had to bite the bullet and give it a shot. Since my husband and I work from home, we can sustain our semi-large family with one car, but at times have to compromise and juggle tricky schedules.
An electric family bike gives us the flexibility of a second form of transportation for the bulk of the traveling we do which is staying in our neighborhood town, within 3-5 miles. Within those few miles, we can run errands, drive kids to playdates, school, and easily do school pick-ups.
Instead of a second car, we decided to get the Royce Ferla Bike and it's been working out great to fill in those transportation gaps when we wish we had a second vehicle.
Aside from using the Ferla bike as an additional mode of transport, we just love how it motivates us to head outdoors on the weekend as a family! The cargo at 350 lbs can easily fit me and my two boys while my husband rides. My daughter will follow with her bike as she's older and on the way back I switch off with her and she gets a break in the cargo!
Sometimes I ride all 3 kids or my husband takes them out and I get some quiet time at home by myself which is always nice.
We often head out on a trail and then hit a rest stop for a refreshing drink or lunch. If we stop at a shopping center, we can even pick up a bag of groceries and place it straight in the cargo!
The ability to watch my kids front-facing and being outdoors in nature with the wind around their faces is freeing. There is something really sweet and old-fashioned about a cargo family bike. If I had to describe it as a feeling, it just feels…"HAPPY."
We love how great it is for the environment and bike-riding is such great exercise, too. However, as someone who is not a great bike-rider or the best shape of their life. I LOVE having the option of the electric assist. If I'm riding 3 kids, I definitely use it, especially up a slope and it makes riding a breeze. However, I love using manual mode when I know I need to get some extra steps in during the day.
A family cargo bike is an expensive purchase for the whole family and I realize it is not an easy one to make. However, comparing the price of a few thousand dollars to tens of thousands for a car, it's definitely a better value. And that was the consideration for our family: an electric cargo bike or second car.
I do recognize not everyone can make those choices and so I hope this full review helps make your decision to get a family electric bike a bit easier!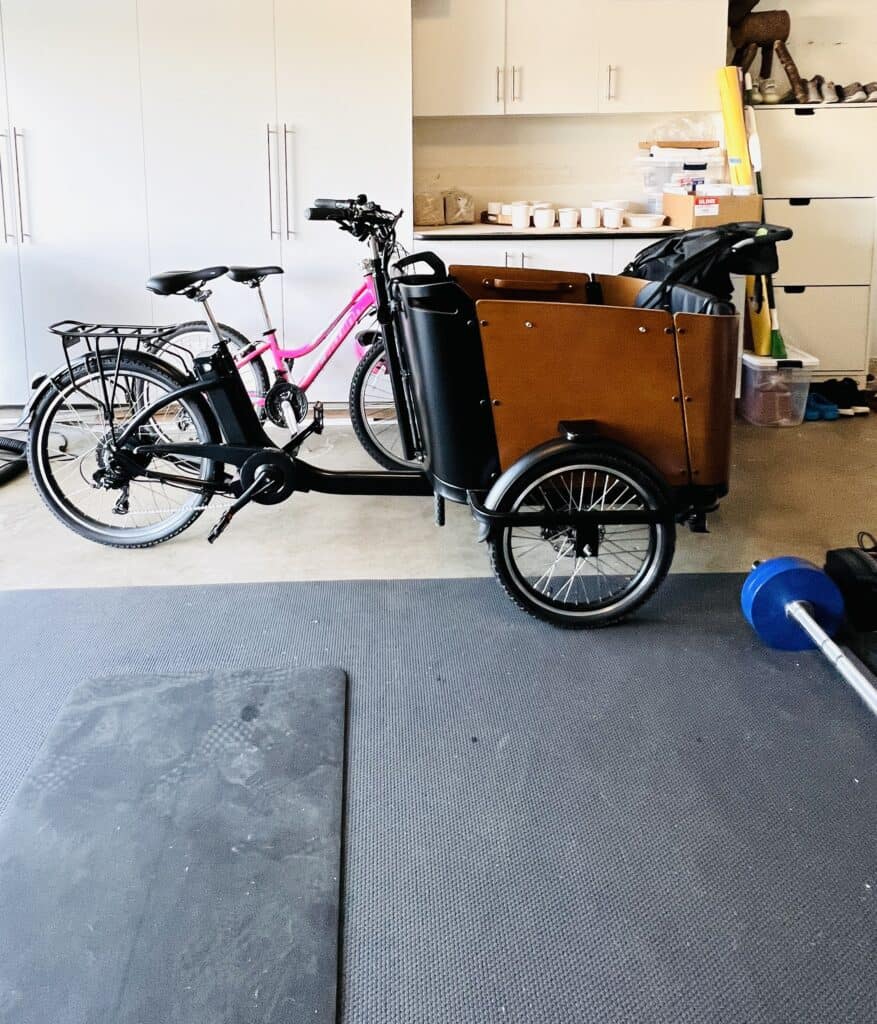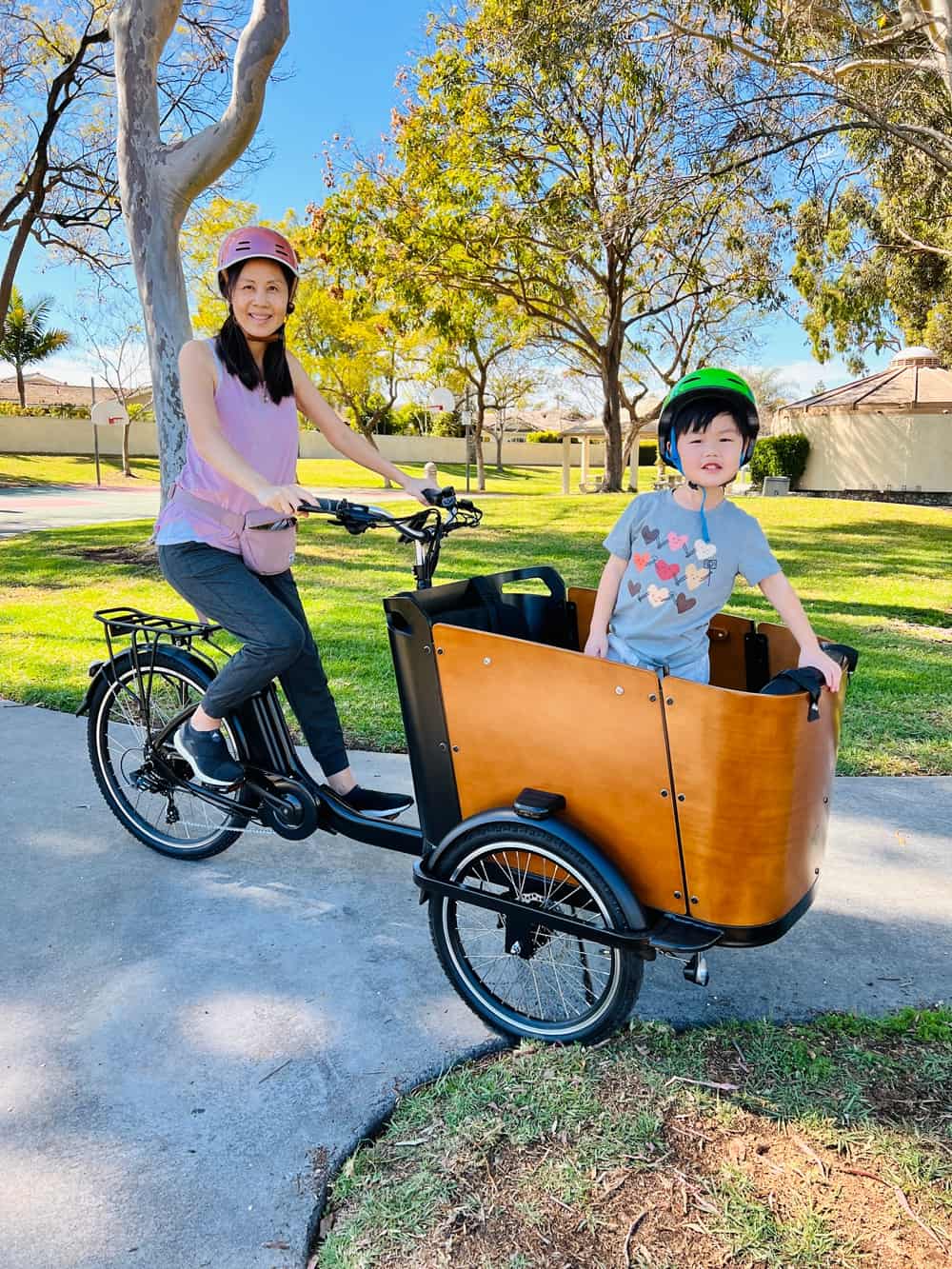 Would we recommend the Ferla family bikes?
Absolute yes! I would recommend however that you consider these options fully:
How many vehicles do you have at home for transportation? If you only have one car like us and it's between a car or cargo bike hands-down the cargo is the better value
Consider where your work. With my husband and I both working at home, we don't need a full commuter car that's gone all day and that's how we've been able to handle one car for so long.
Consider where you live. We happen to live in a vibrant suburban area with many local shops and shopping centers around us as well as nature trails and parks. Plus all my kids' schools are within a 5 mile radius. If you are wanting to head out with the family and/or use a cargo bike for errands and activities, it's helpful to have these amenities near you.
Storage. Our Royce Ferla bike fits nicely one side of our garage and takes less than 1/3 the space. Consider where you can safely store your bike as it is a decently long bike. If you chose to store it in your backyard, covers are available.
Get the Ferla Family Bike and use code: HELLOWONDERFUL for free memory foam seats (value $200)