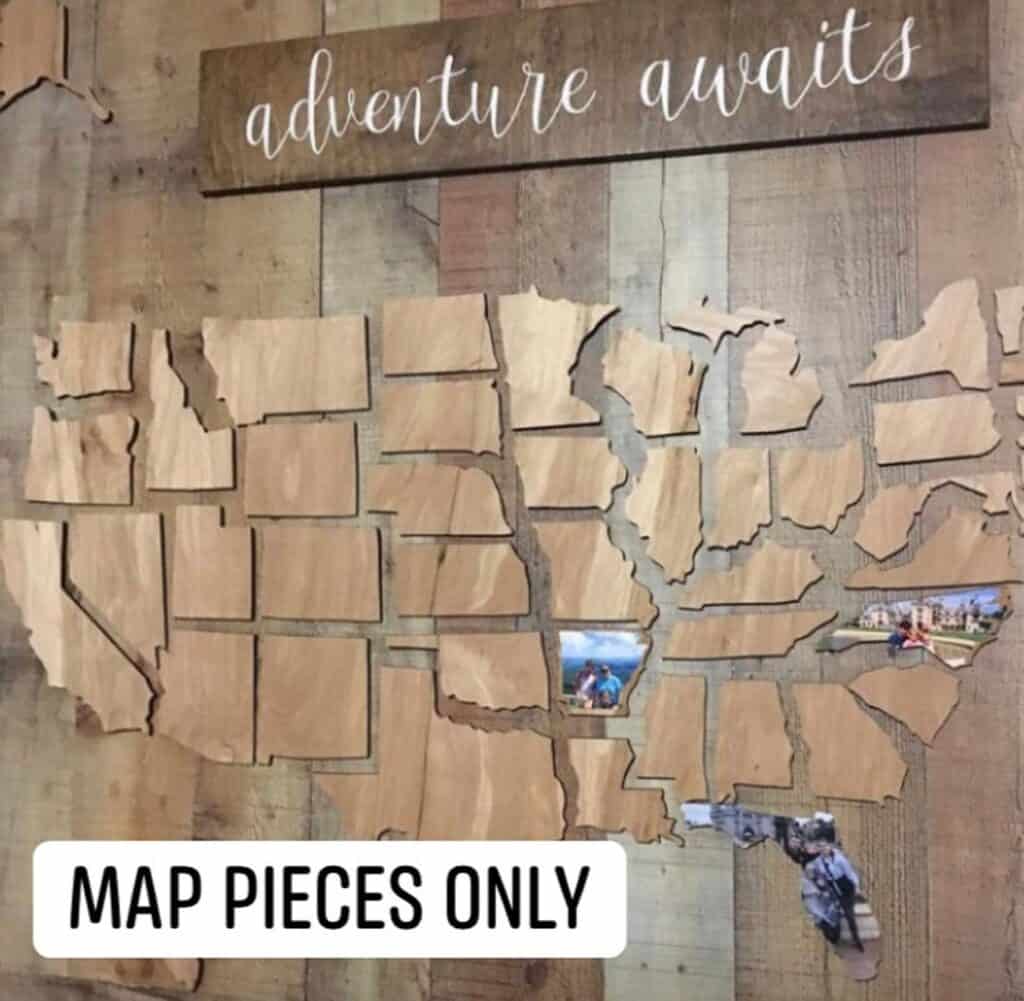 Photo credit: Marking Maps USA / Etsy
Since COVID-19 struck the globe, traveling has been the last thing on anyone's mind. Now that the pandemic has subsided, people are beginning to go out more. This means more traveling! Traveling can mean different things to different people. One person may think traveling consists of going into the grocery store, while others are thinking on a bigger scale. They want to travel across the states and this DIY Travel Marking Map is the perfect companion for it!
What is a DIY Travel Marking Map?
One thing I always wanted was a map of the United States that I could mark off as I traveled to each state. The other day, I came across this Travel Marking Map-USA in which you could document your travels, and I knew I had to share it with you!
The shop owner, Jessica Marking, has a wooden map of the USA that breaks apart into individual states. Her inspiration for this marking map was meant for her Traveler's Map, in which she would place photos of the states she had been to in the shape of the state. She states that she created this map because she noticed people were exacto-knifing states out of styrofoam and cutting out the photos in the shape of the state. She decided to take that idea and make it into a more rustic, decorative piece that you can either leave as a plain, wooden map, or you can cut out state-shaped photos and document your travels!
What do you get with the Marking Map?
According to the listing on Etsy, you get all 50 states in individual pieces, but they are tabbed together for shipping reasons. Some specifications of the product are that the wood may vary depending on the piece, and the thickness of the wood is 3/16". There are also three sizes you can pick from for any placement in your home! You can choose the original size (24"x37"), the medium size (32.5"x48"), or the large size (40.5"x60").
Tips from the seller
The seller puts some tips for perfect placement in the description of the product. She suggests using rubber cement to adhere the photos to the wood. To adhere the pieces to the backing, she suggests using Velcro to stick the pieces to a chalkboard. If you're super tech-savvy, Jessica says you can use a Cricut. However, if you're not, you can use a scrapbooking wax pen or sharpie to trace the outline of the state onto the photo, so you get a perfect match! To get rid of the sharpie mark, just take a Q-tip with some rubbing alcohol, and you're set!
What can I use this Travel Marking Map for?
You don't have to use it just to document your travels! In fact, Jessica states that you can also use this map as a milestone birthday present, newlywed/wedding gift, puzzles in classrooms, new baby, wall decor, or to document anything you think is personally important to you! The possibilities are truly endless to this Travel Marking Map!
What are people saying about this Travel Marking Map?
To give you an idea of how popular this Travel Marking Map is, it's gotten multiple 5-star reviews in the last seven days! It's safe to say buyers are raving about this item. Some of the comments read, "I got this for my Granddaughter's birthday and she loves it. Now we can add our photos from our travel as well as her travel baseball team pics from different tournaments." and "Exactly what I wanted! I'm so happy. Looks awesome in my living room." Not only are buyers super happy with the product, there are over 20 people who have the item in their cart right now!
If you are a person that loves to DIY, travel, or document your life experiences or know someone like this, then this Travel Marking Map makes the perfect gift! It's such a meaningful gift, and it also doubles as tasteful wall decor! Click the link here to see for yourself!
More Travel Tips