Are you doing any traveling with the kids this summer? We are taking the kids to Paris for the first time in August! It will be their first international trip and has special meaning since I grew up in France until the age of 6. It's important for my kids to get a sense of the world outside of where they live and I finally feel they are at the age (5 and 7) where we can open their eyes to different cities and cultures.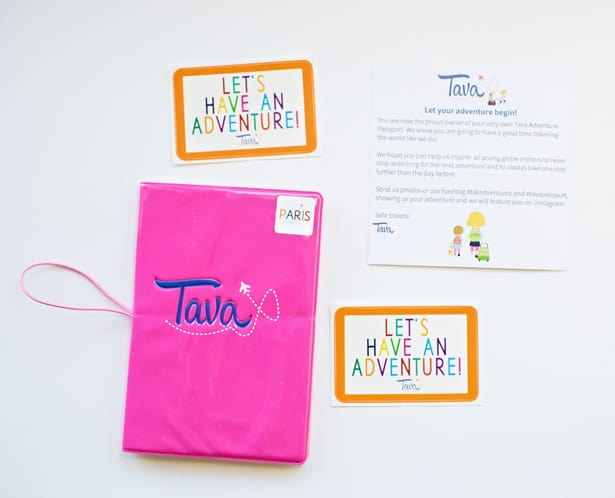 Mom Kady Lieber from Zurich Switzerland had plans much sooner to take her two young daughters globe-trotting around the world. She was so passionate about it that she came up with Tava Passports and Travel Cards. The name is a clever twist on her two daughter's names, Tay and Ava. Unfortunately, when Ava was just 17 months old she was diagnosed with cancer so that put a stop to their adventuring for a while. The good news is that Ava has been cancer free for the last 3 months so the Liebers hope to travel again soon.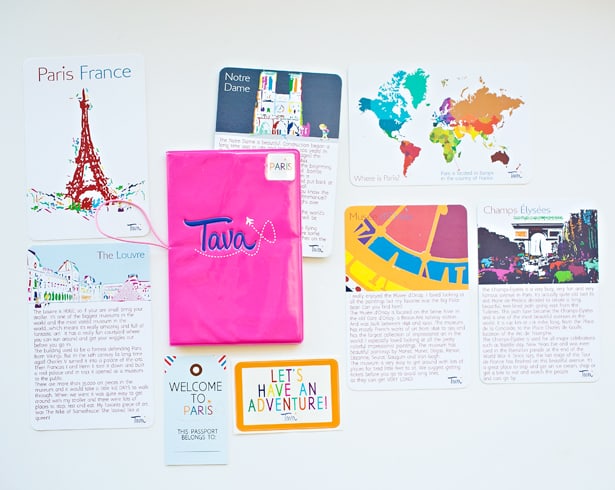 I had a chance to connect recently with Kady on Instagram who kindly sent me a Paris Travel Passport for my daughter for our upcoming travels. She tells us what inspired her to start Tava Adventures:
"Tava Travel Cards came about when our family started traveling around Europe. I'm a design major so I wanted to see all the art and architecture Europe has to offer but my then 2 year old wasn't very interested. I looked all over for some sort of guide book for her but couldn't find anything that really kept her attention. So I decided to make my own. I wanted something that was easy to carry because as parents we already have to carry a lot for our kids. I also wanted to create a game so my daughter was a bit more engaged and involved in our travels. That's how Tava Passports were born!

We launched last July and had big plans of adding 10 new cities last year, but our little Ava had even bigger plans and a bigger adventure for us to go on. Now that Ava's treatment is over and she is 3 months cancer free we hope we can start adventuring more as a family and make more Tava cards for kids."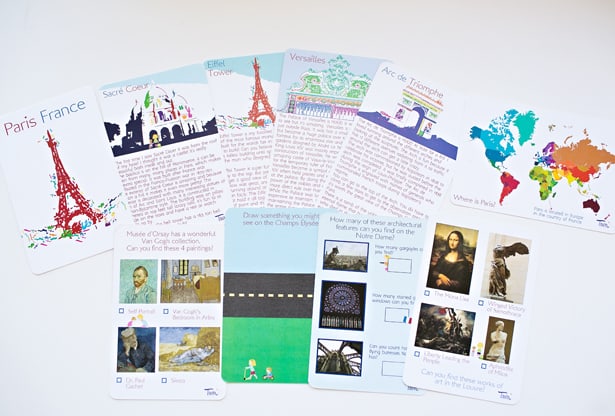 My daughter was thrilled to receive her very own pink passport (they also come in blue) filled with whimsical illustrations detailing cool facts about key points of interest in Paris such as The Louvre, Eiffel Tower, Versailles and more. The passports comes with 12 thick cardstock pages filled with details and colorful illustrations. What's cool are the prompts, drawing exercises, and activities on the back that engage kids with the place they are visiting. For example, checking off key art pieces in the Louvre, tracing your steps to Sacred Coeur, or finishing a drawing of the Eiffel Tower. I also like the handy pockets which make it easy for kids to save small souvenir items like ticket stubs and postcards.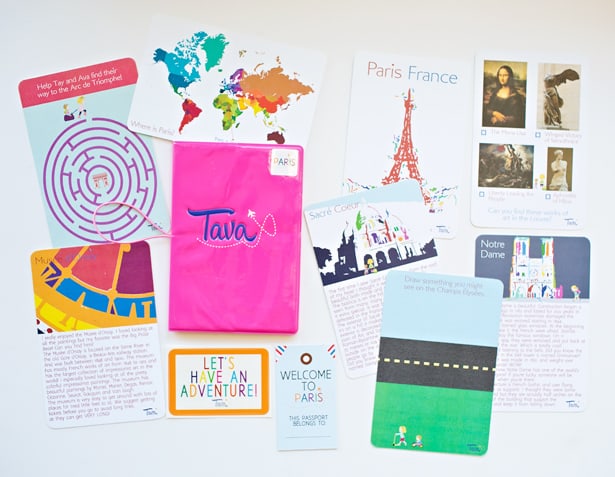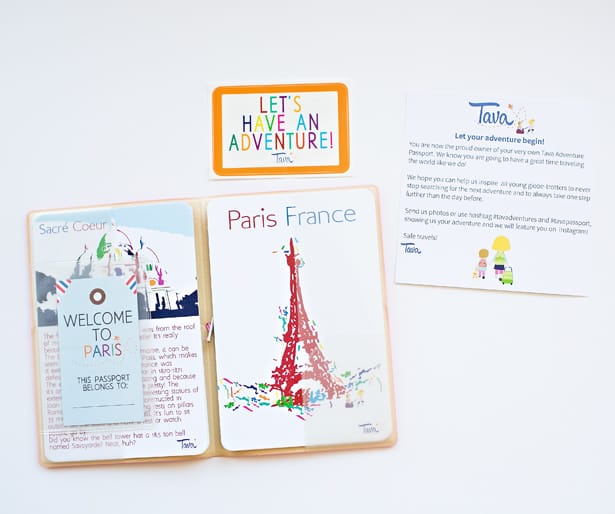 Currently Tava offers 9 passports mainly in European cities, but some in the U.S. such as Salt Lake City and San Diego.
Check them all out on Tava Adventures' site.
Follow along other kids' journeys and the Liebers as well as Ava's fight against cancer on their Instagram.
Do you enjoy traveling with kids? Let us know where you've been in the comments! Happy travels!
Thank you Tava for sending me a Paris Passport. No other compensation was received. All opinions and text are my own.