Kids can be picky at mealtime so it's often up to us parents to resort to clever tricks to keep them seated and focused on eating what's on their plate. To keep the creativity flowing at mealtime and get kids excited about trying new foods, we've rounded up 10 fun plates that will keep them entertained. These will hopefully keep kids focused on their food for a few minutes longer than the usual 5 minute fidgety behavior we're used to seeing.
What are your favorite ways to keep the kids focused on eating at mealtime?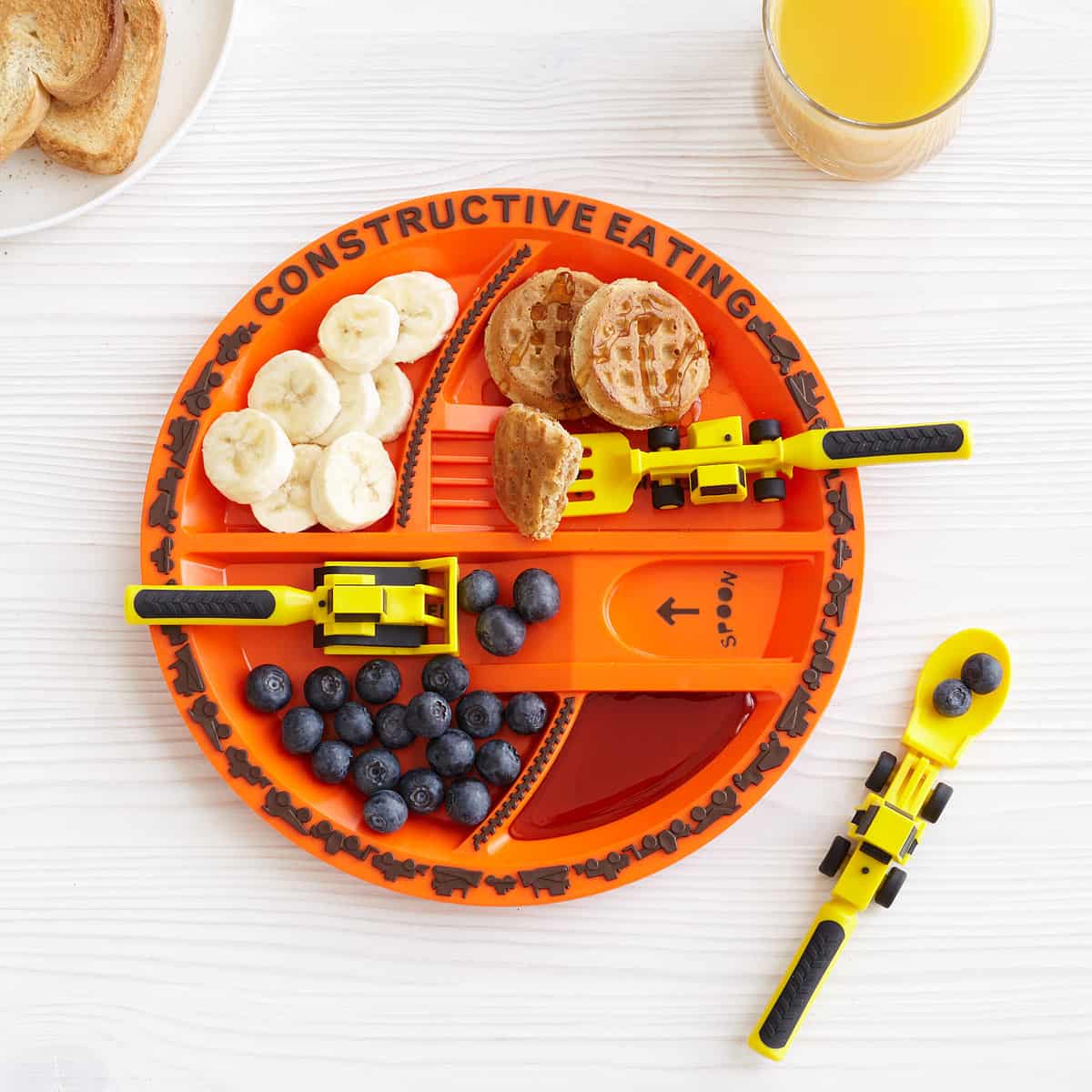 Construction Plate and Utensils
Little fans of diggers and cranes will love this clever construction meal set with bulldozer pusher, forklift, and front loader spoon.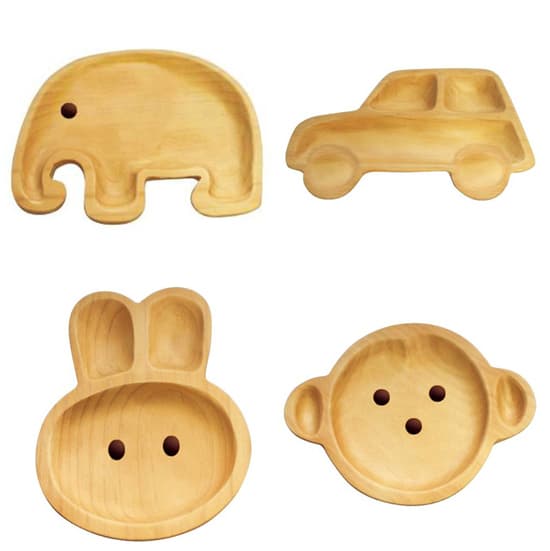 Wooden Animal Plates
These fun and modern animal wooden plates from Petis et Maman add a playful touch to the dinner table with cute designs like a monkey, car and bunny.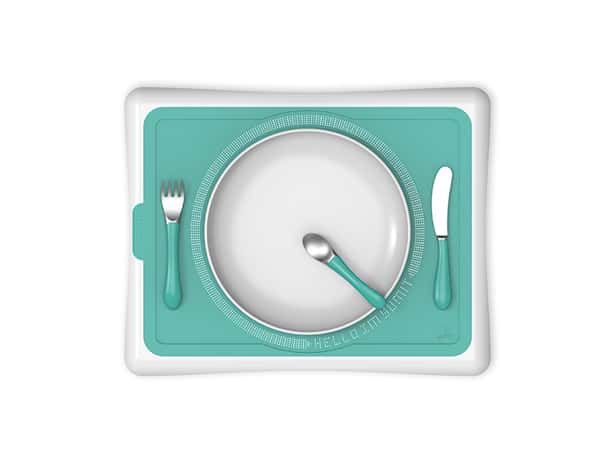 Yumit Interactive Meal Set
Go high-tech with this genius meal set. The built-in sensor measures the food by weight eaten and transfers that to an app that kids can use to unlock fun games on a tablet or smartphone. Kind of like a currency you can redeem for energy (food) taken in.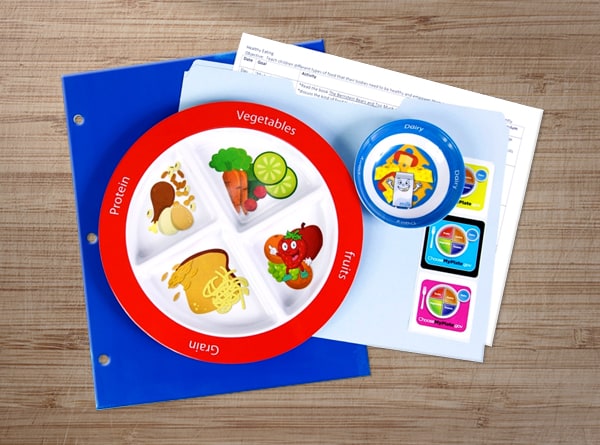 MyPlate Lesson Plan Meal Set
Get to know your fruits and veggies with these learning plates from Super Healthy Kids. They teach kids about the 5 different food groups using the 4 sectioned plate and dairy bowl with elementary age lesson plans.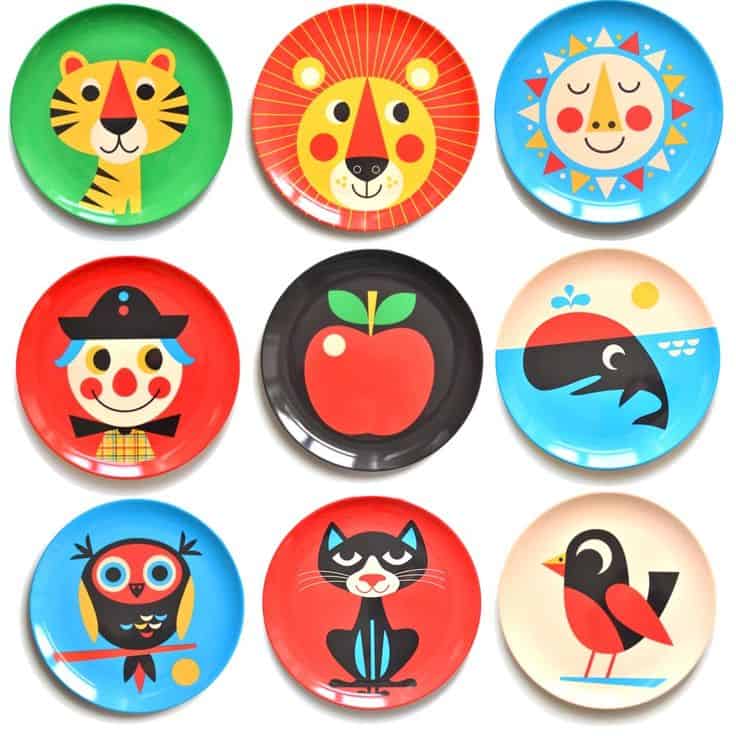 Colorful Melamine Plates
These bright, bold and colorful plates feature designs from Helen Dardik and PSikhouvanjou and can be mixed and matched for some fun at mealtime.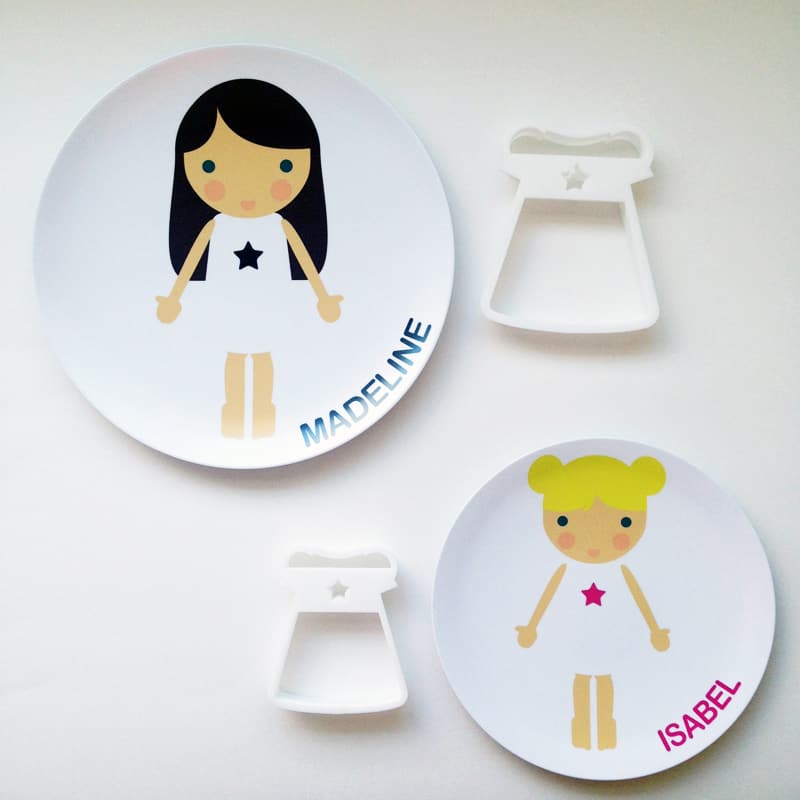 Little Me Dress Up Plates
Featuring personalized details and names, these cute doll dress up plates (also available for boys) encourage kids to create adorable food art in many different different styles.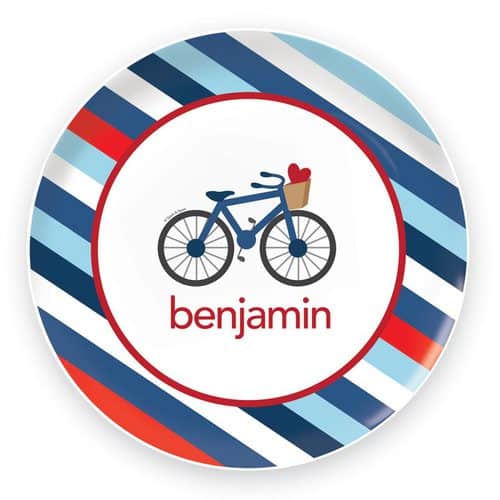 Colorful Personalized Plates
Kids love seeing their names on plates, so you can get them involved in picking out just the right design for them. These colorful plates from Spark & Spark also feature many different themes and scenes kids love like transportation, butterflies, and art.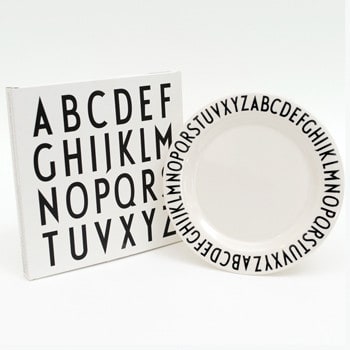 Alphabet Plates
Learn your ABC's with these modern, monochromatic plates from Design Letters.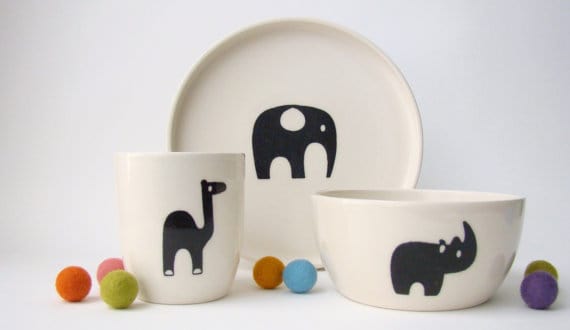 Ceramic Meal Sets
Kids' meal sets don't all have to be plastic. Give kids the appreciation of a well-set table with these beautiful, handmade glazed ceramic sets.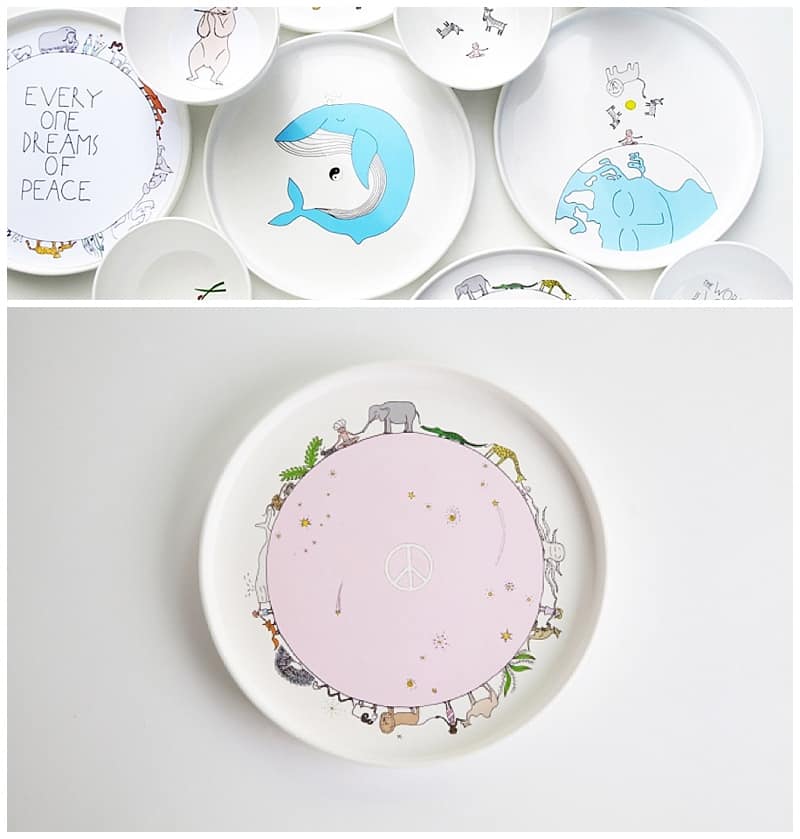 Artistic Plates
These artsy plates from Smiling Planet are eco-friendly and BPA free with whimsical designs that encourage story telling.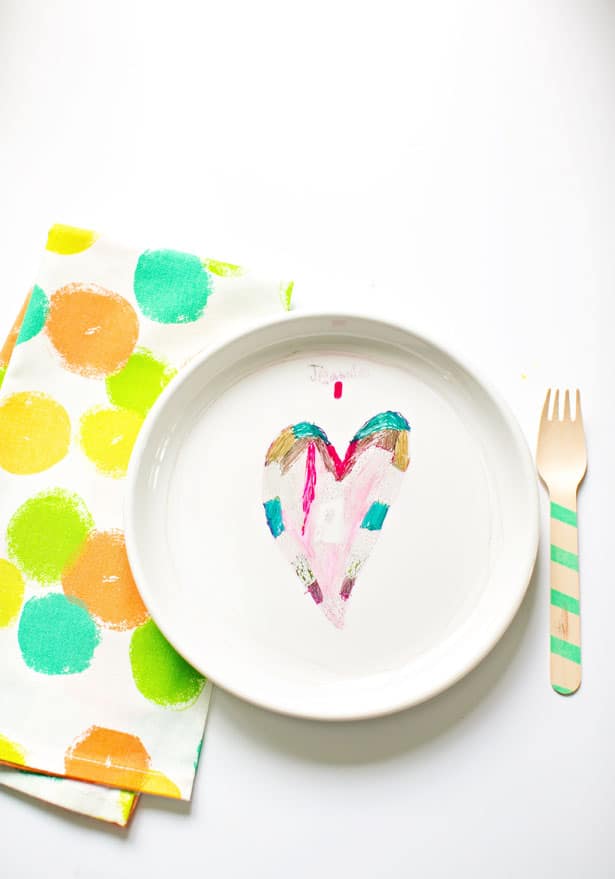 Kids DIY Sharpie Plates
Want to really encourage creativity at meal time? Let the kids design their own plate with our easy tutorial to show off their favorite doodles or art.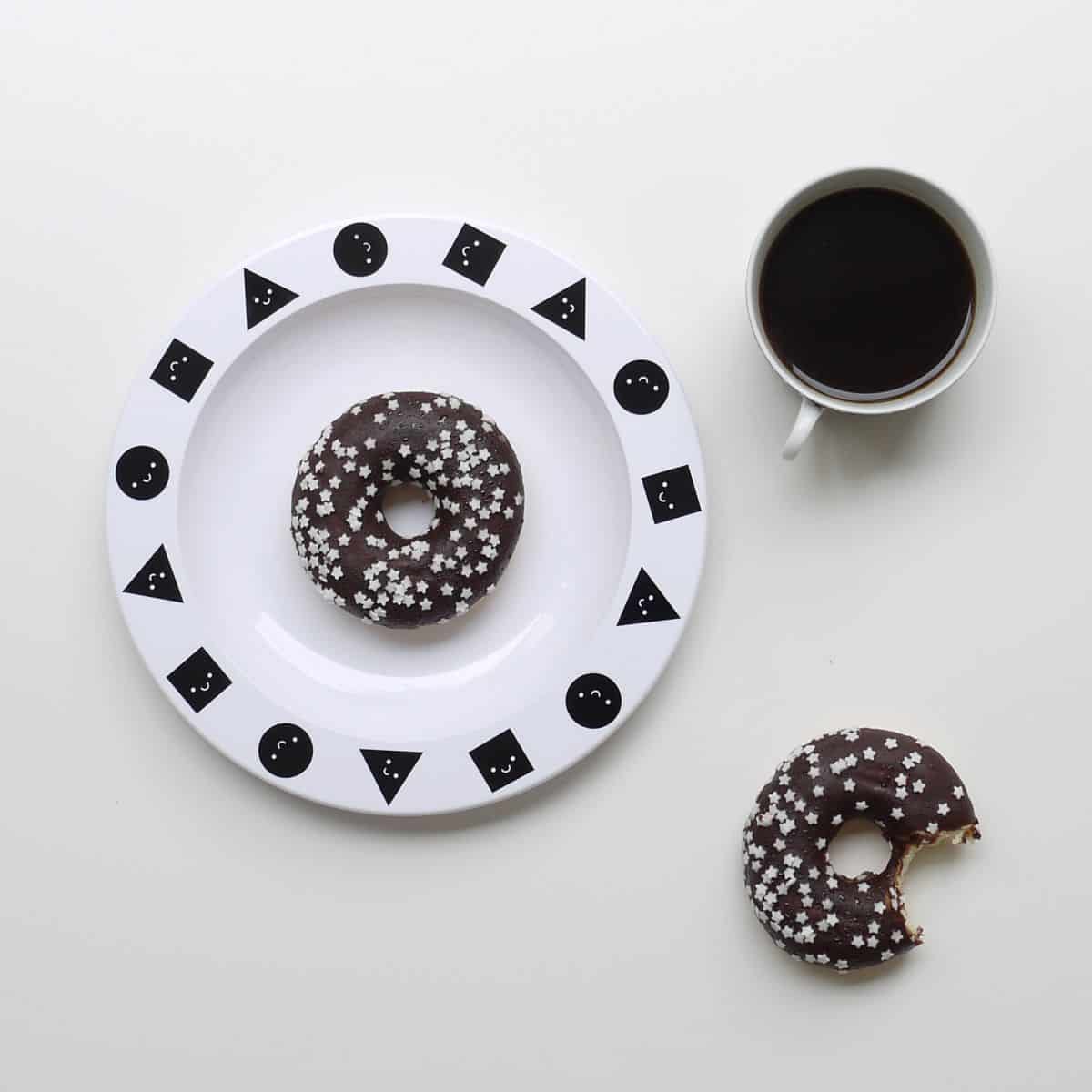 Shapes Melamine Plates
Learn shapes in cute from with these super tough melamine plates from Buddy + Bear. Other fun designs are also available in colorful fruits.
What are your favorite mealtime sets for kids?