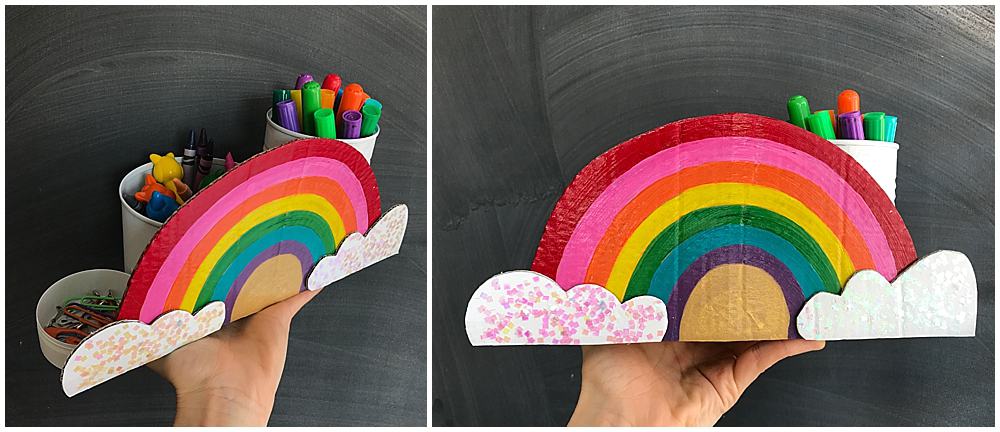 Pencil Caddies are kind of nostalgic aren't they. They remind me of being about 10 and how much I loved meticulously organizing all of my desk supplies. Ok, so basically NOTHING has changed in the 20 something year since. Except maybe now have a lot more supplies to organize (happy dance).
This Recycled Cardboard Rainbow Pencil Caddy not only makes a cheerful decor but is a great Earth Day project!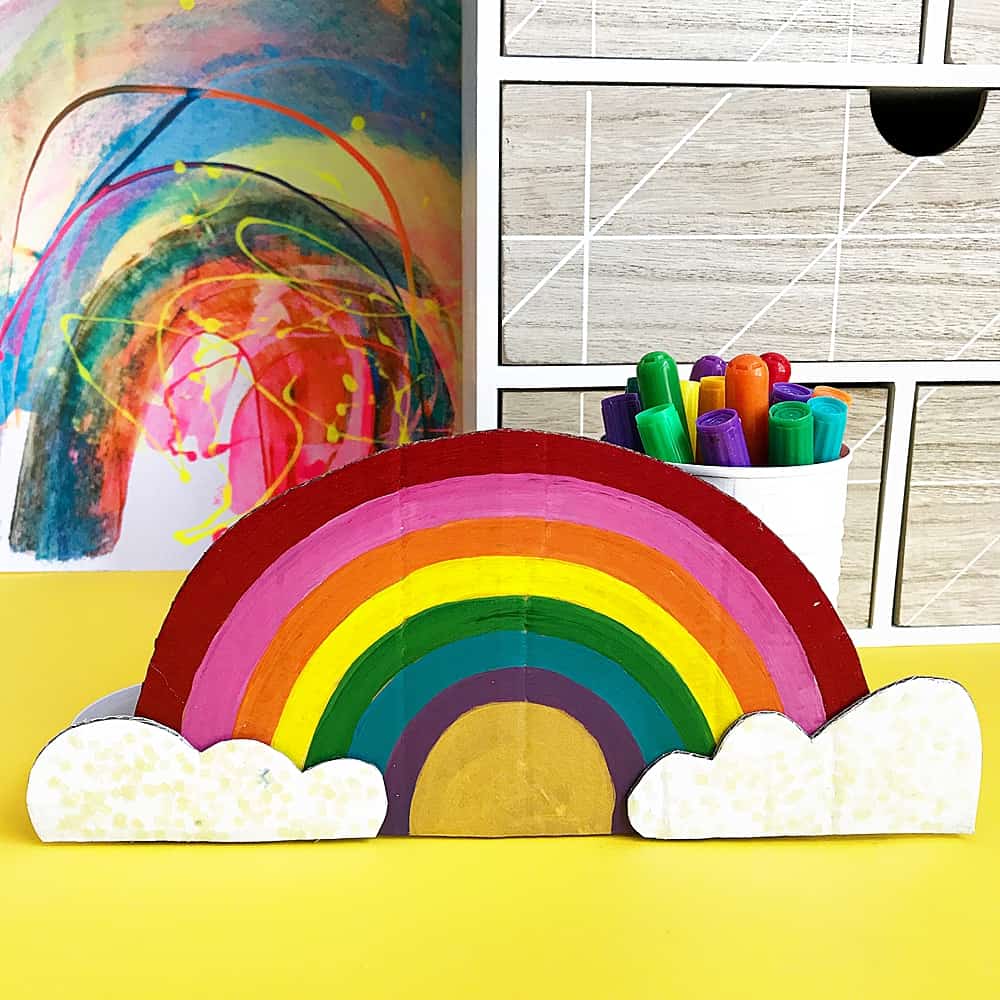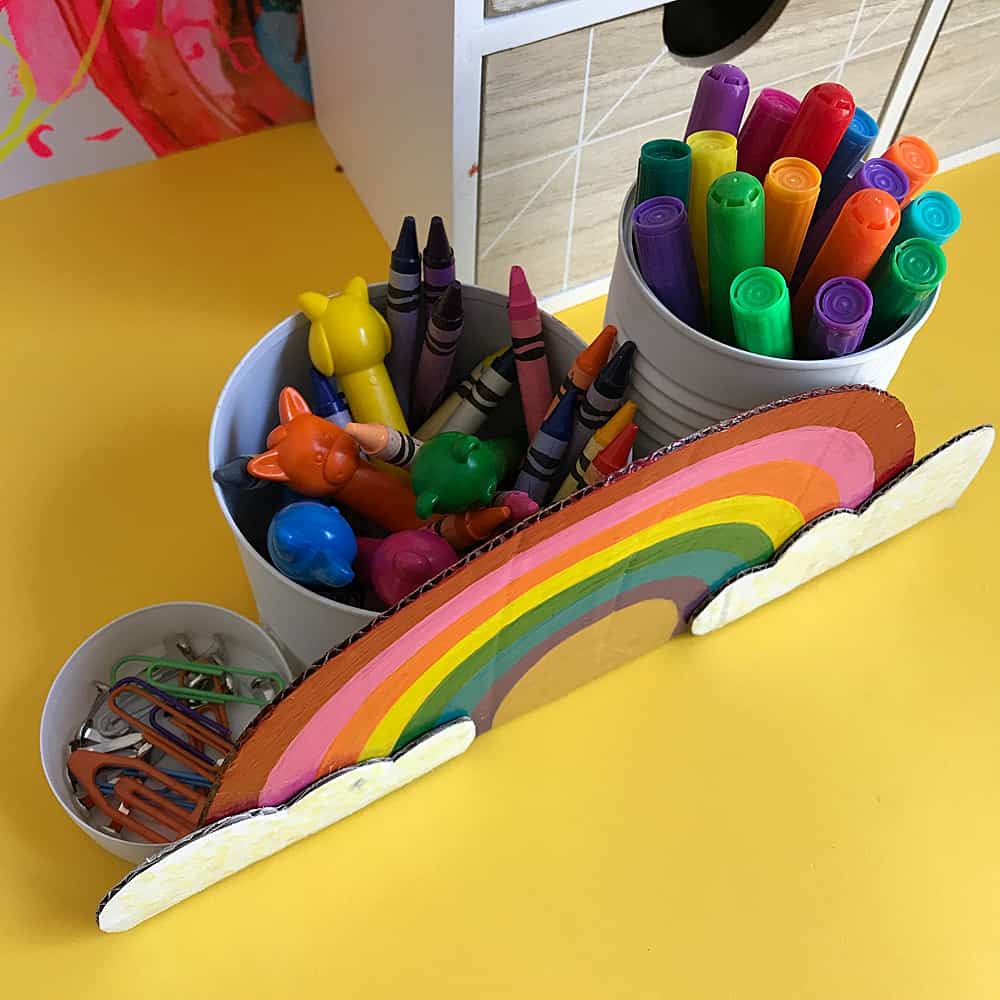 This rainbow version is easy to make and uses very basic supplies. Older kids could probably complete the whole project by themselves but younger kids would need help cutting the cardboard elements and marking out the rainbow.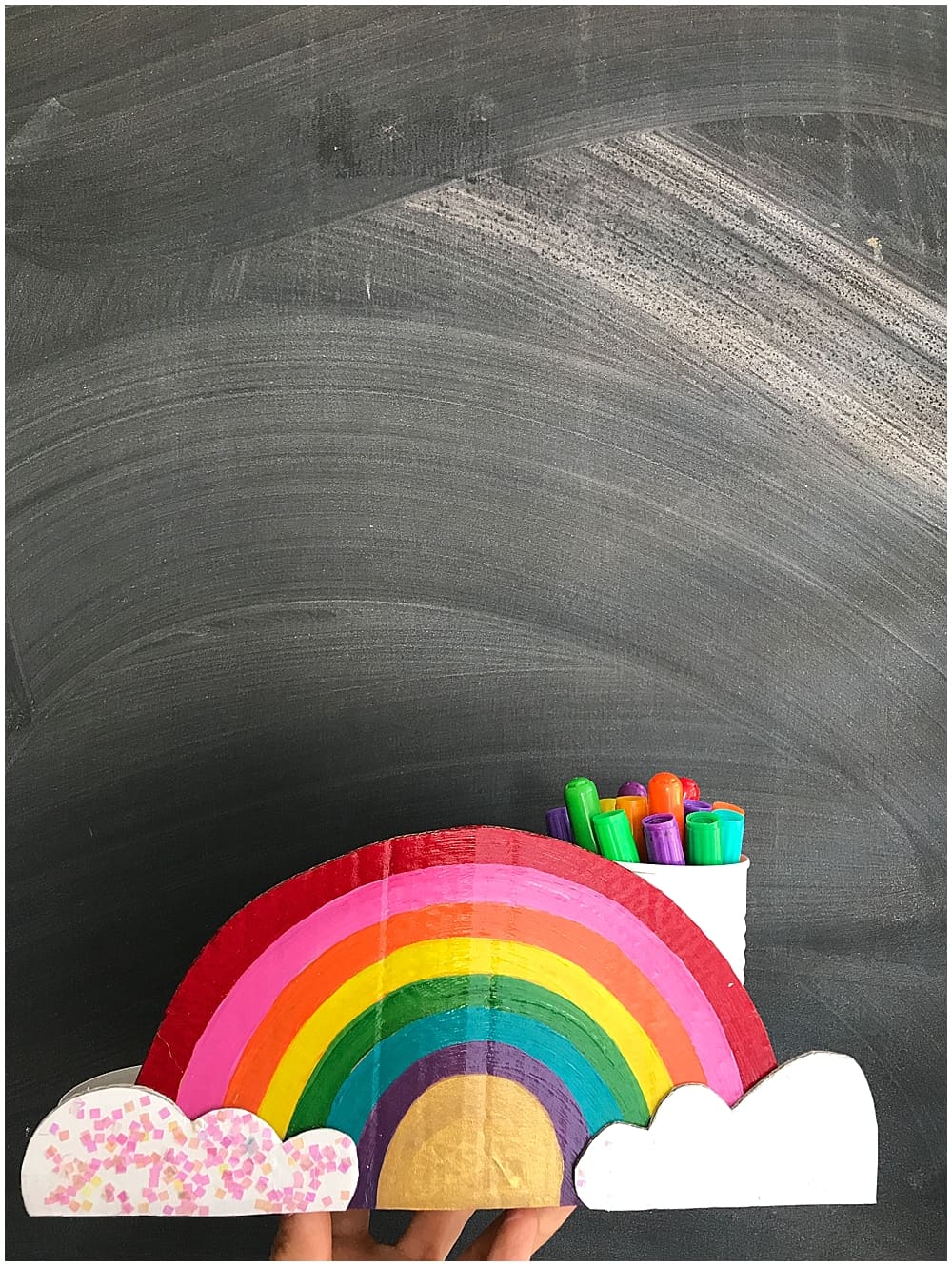 Materials:
Up to three tins/containers in various sizes
Recycled Cardboard (medium thickness)
Paint
Scissors
Optional
Modge Podge or gloss sealant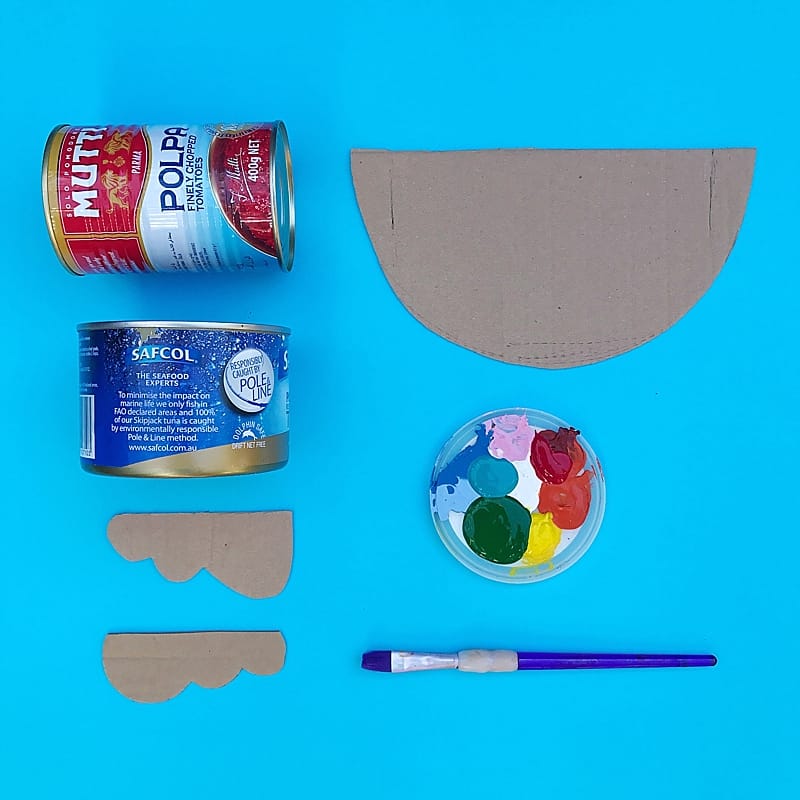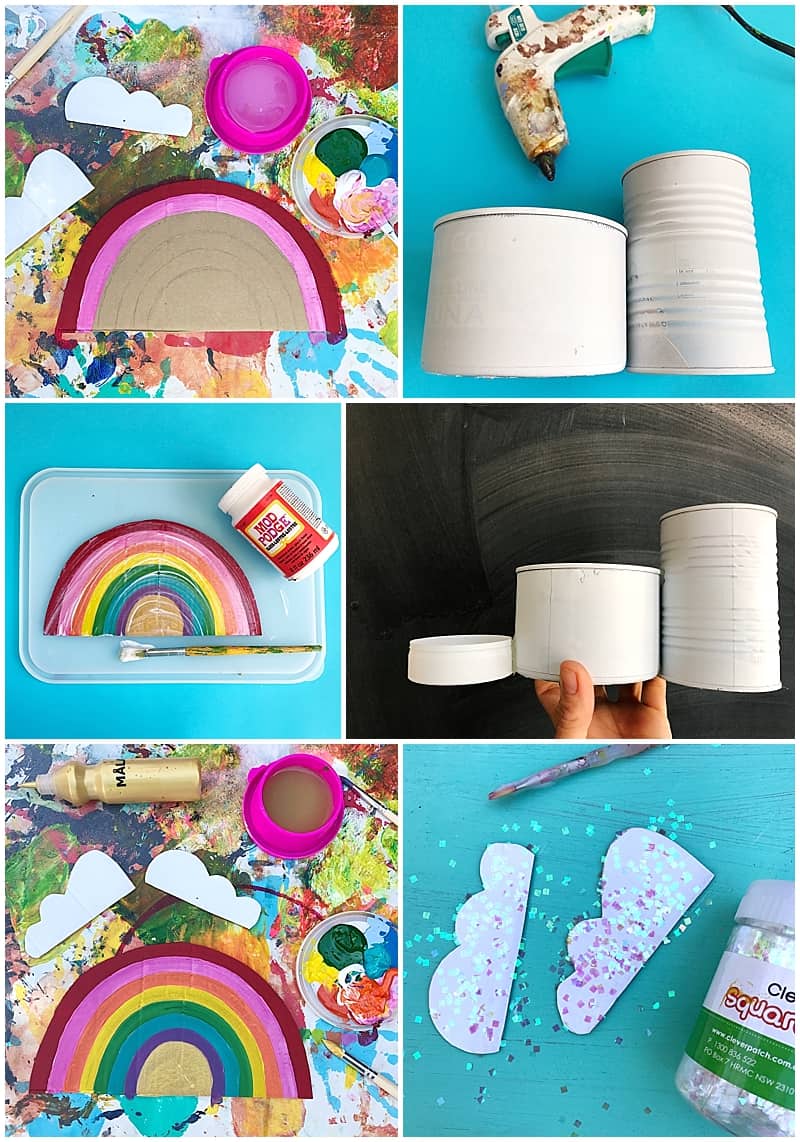 Instructions:
1. Find two or three different sized tin cans or empty containers.
2. Paint them white (or any other colour you like)
3. Glue them together. Hot glue will work best.
4. Measure the card against your containers and cut a semi circle that will cover the whole length.
5. Cut out two clouds
6. Take your semi circle of card and mark out some rainbow lines. A protractor will help keep things even and neat.
7. Paint your clouds and rainbow.
8. When the paint is dry, cover the clouds and rainbow in a layer of Modge
Podge or clear gloss (optional)
9. While still wet add some glitter to your clouds (optional)
10. When dry, glue your rainbow and clouds to the front of your containers.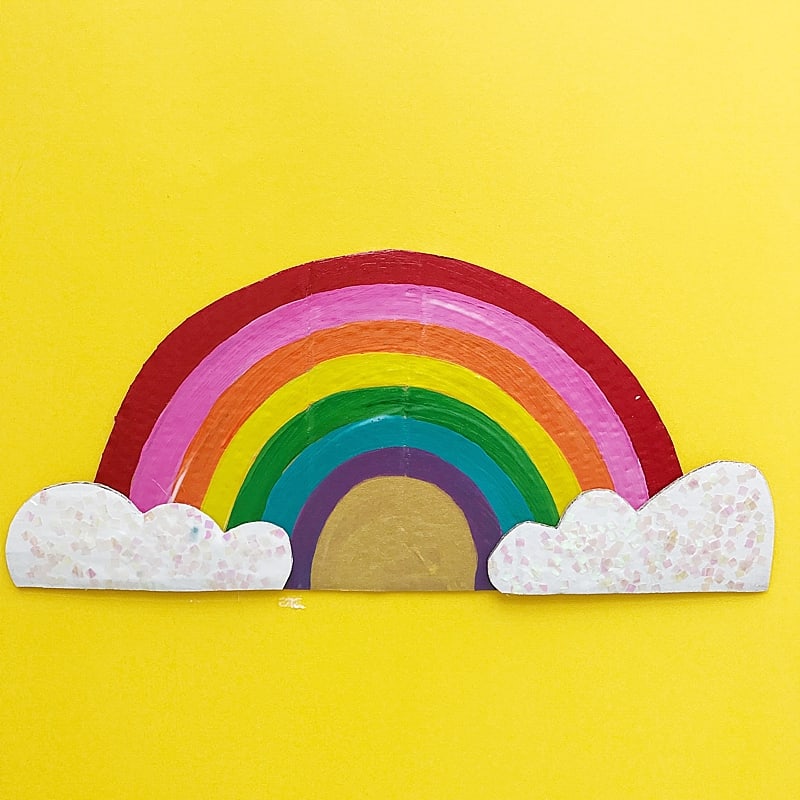 All done! Now you can organize your supplies to your hearts content!
Want more fun ways to recycle cardboard? How about making these GIANT cardboard sculptures? Or more cardboard rainbows and even a cardboard TV.
More Earth Day crafts here.
Disclosure: Some of the links in the post above are "affiliate links." This means if you click on the link and purchase the item, we will receive a small affiliate commission. Regardless, we give our promise that we only recommend products or services we would use personally and believe will add values to our readers.