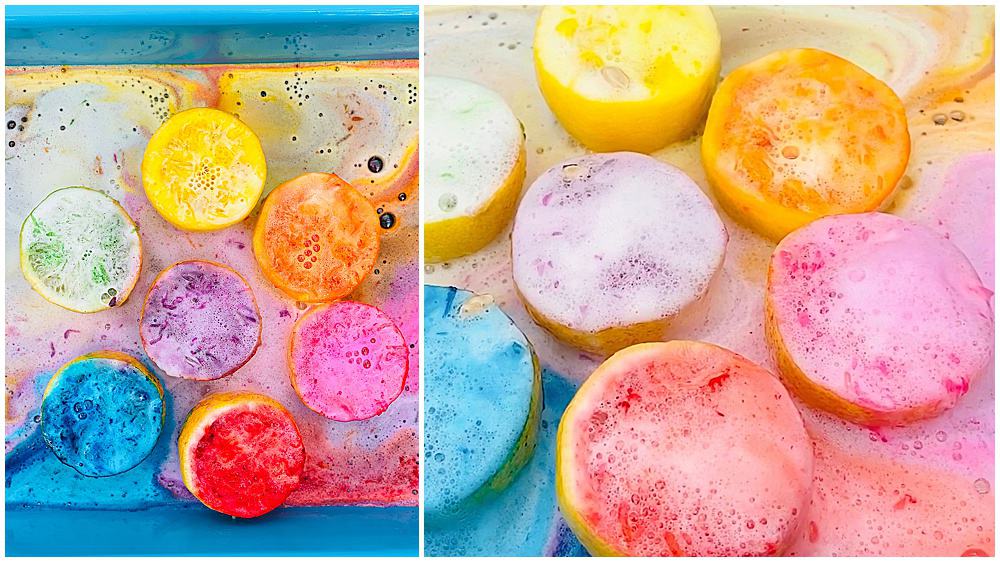 Follow us on Instagram for more fun ideas for kids!
Watch the video below to see this fun Rainbow Lemon Volcano Experiment in action. Make sure to subscribe to our YouTube channel for more fun videos!
This rainbow lemon volcano experiment is a colorful science experiment kids can make with just a few household ingredients and smells great!
We have been loving baking soda experiments lately and this Rainbow Lemon Volcano Experiment is no exception! Unlike our Giant Baking Soda Balloon or Rainbow Baking Soda Volcano, this experiment smells really great and not all of vinegar!
What we love about these easy science experiments for kids at home is that they requires basic household kitchen ingredients like baking soda so you can start creating and learning right away.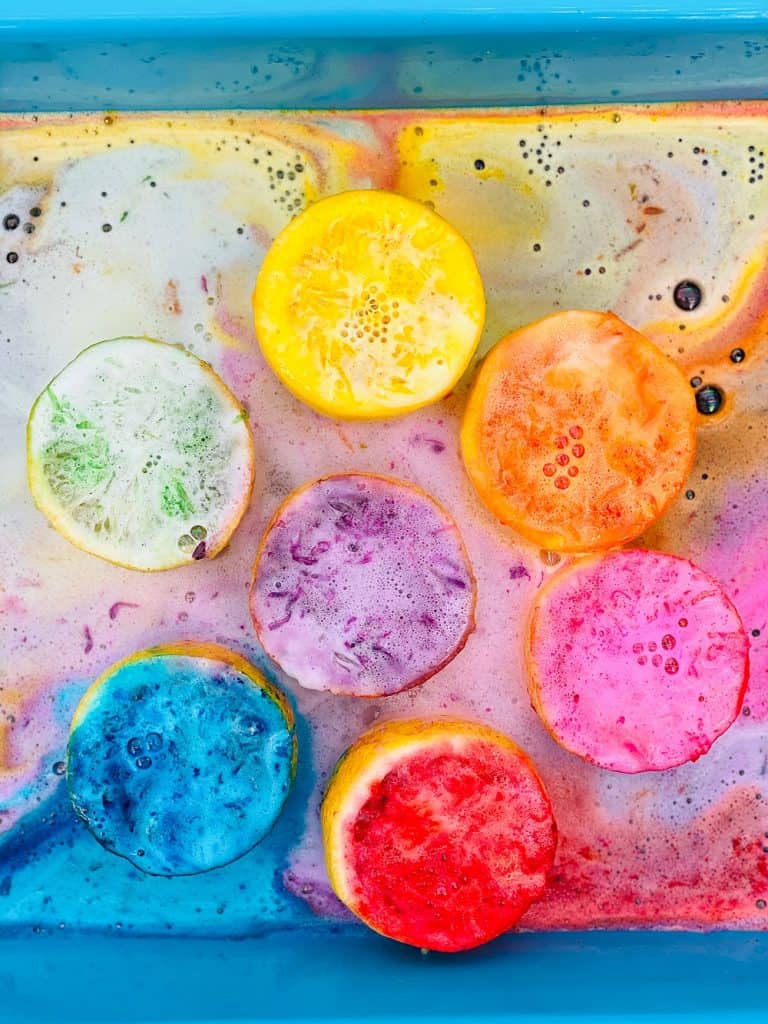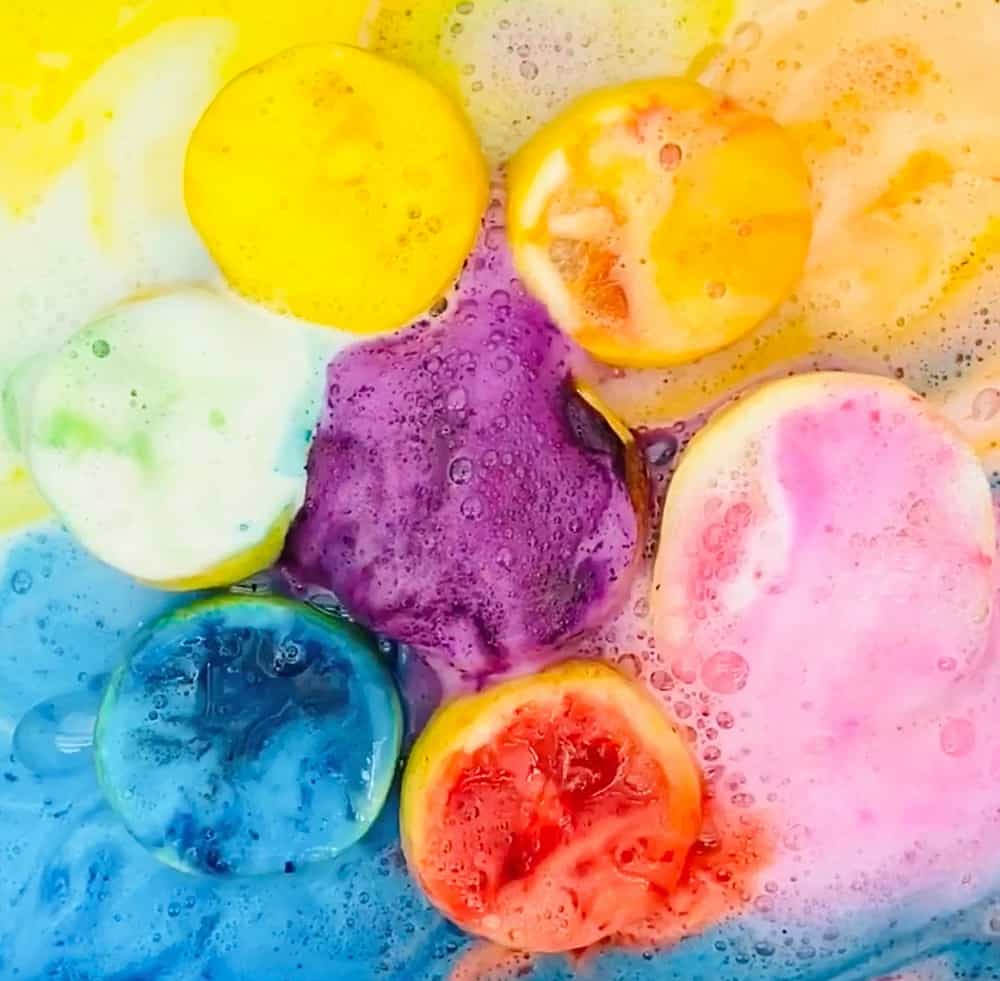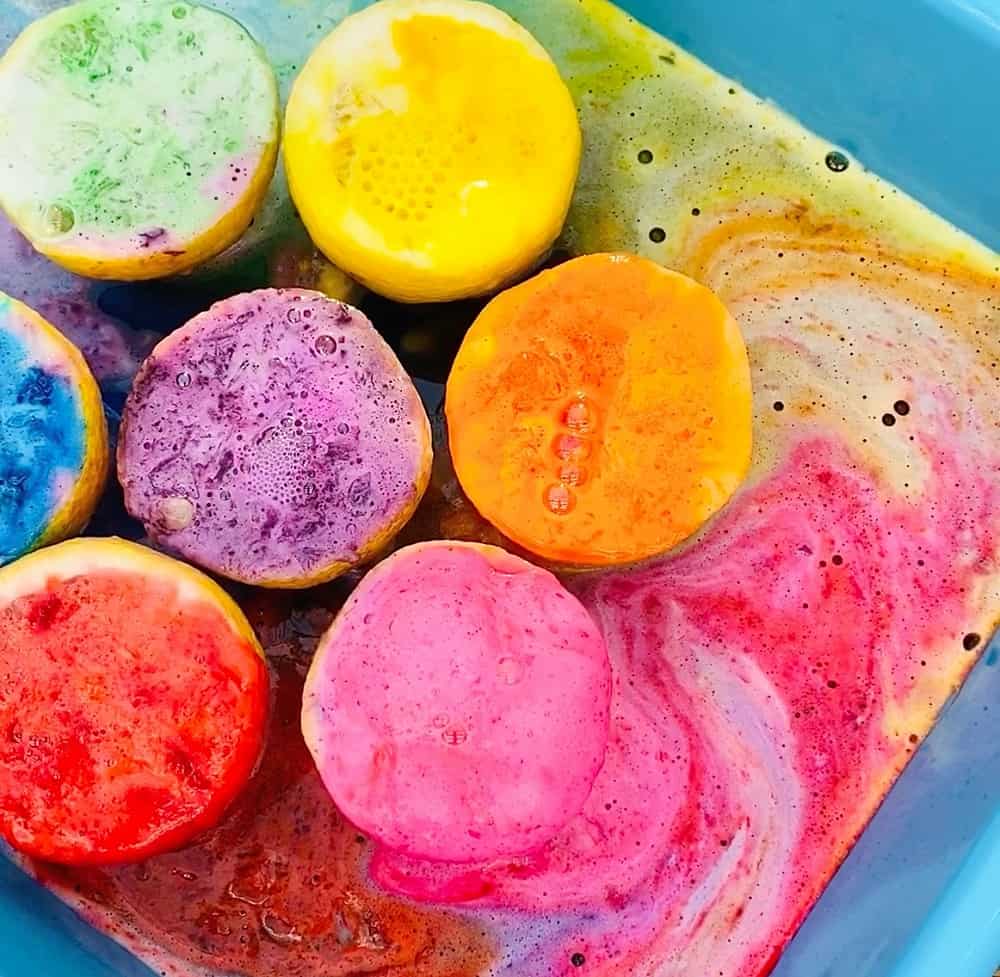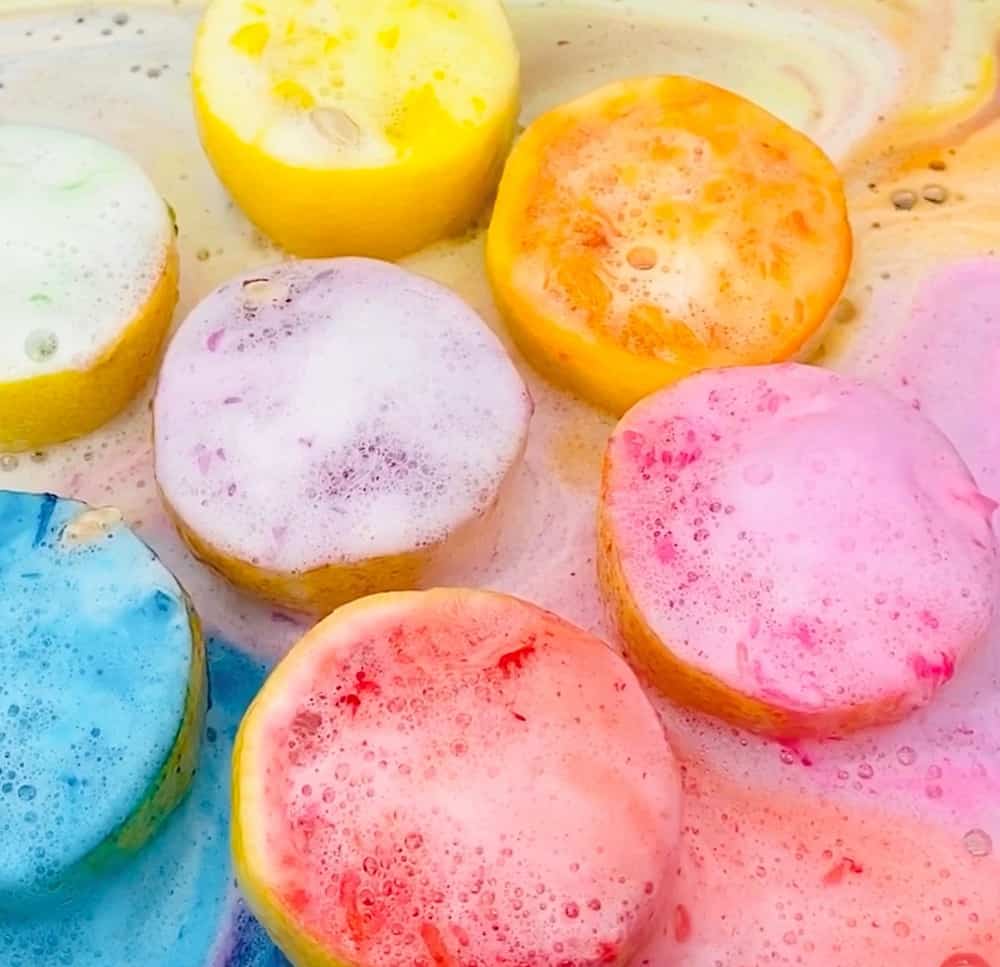 What do you need to make these lemon volcanoes?
The basic ingredients you need are just lemons and and baking soda! You can add colors to make them rainbow via gel colors, or you can also add additional lemon/vinegar juice to make crazier eruptions! You can also add dish soap to make it super fizzy!
What causes the baking soda volcano reaction?
Like our rainbow baking soda volcano experiment, this is experiment is an acid/base reaction. Lemon is acidic and baking soda is a base. When you mix an acid with a base, two new chemicals form, carbonic acid and sodium acetate. The new acid then decomposes into water and carbon dioxide which causes bubbling.
What creates this lemon volcano is when you mix the lemon juices with the baking soda. We added dish soap to make it extra foamy and food coloring to make them rainbow.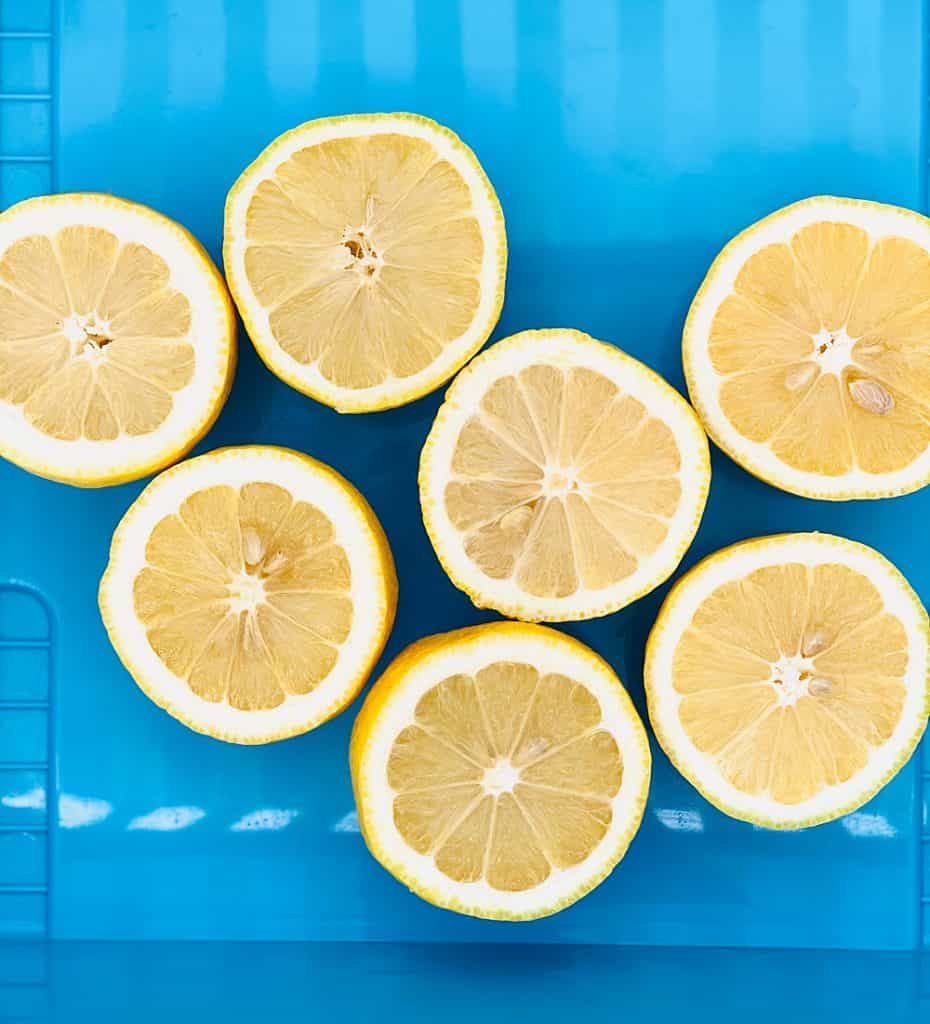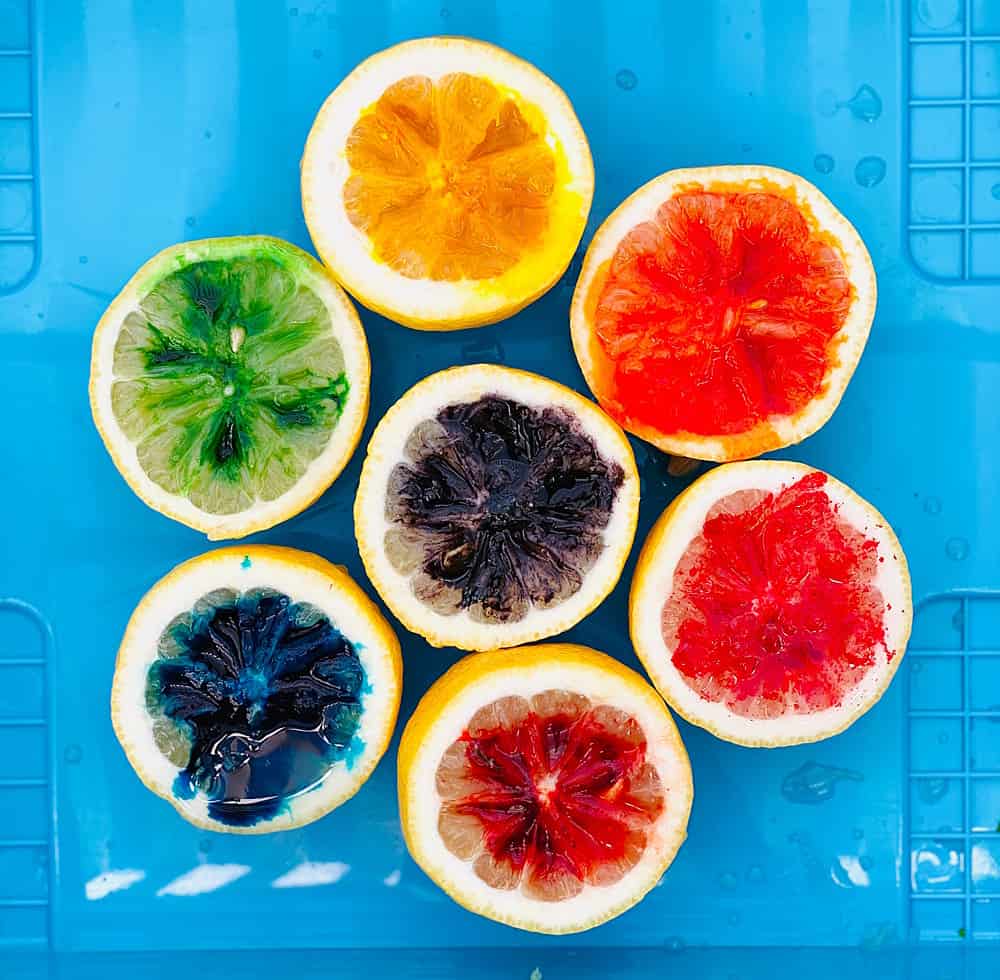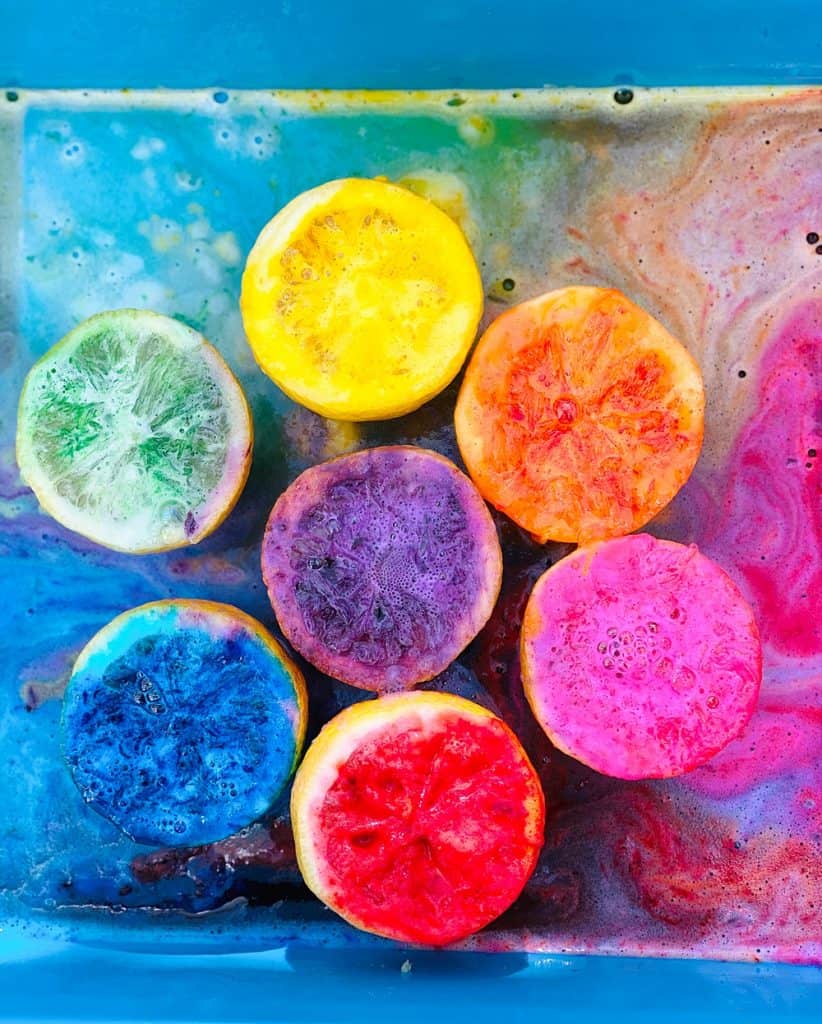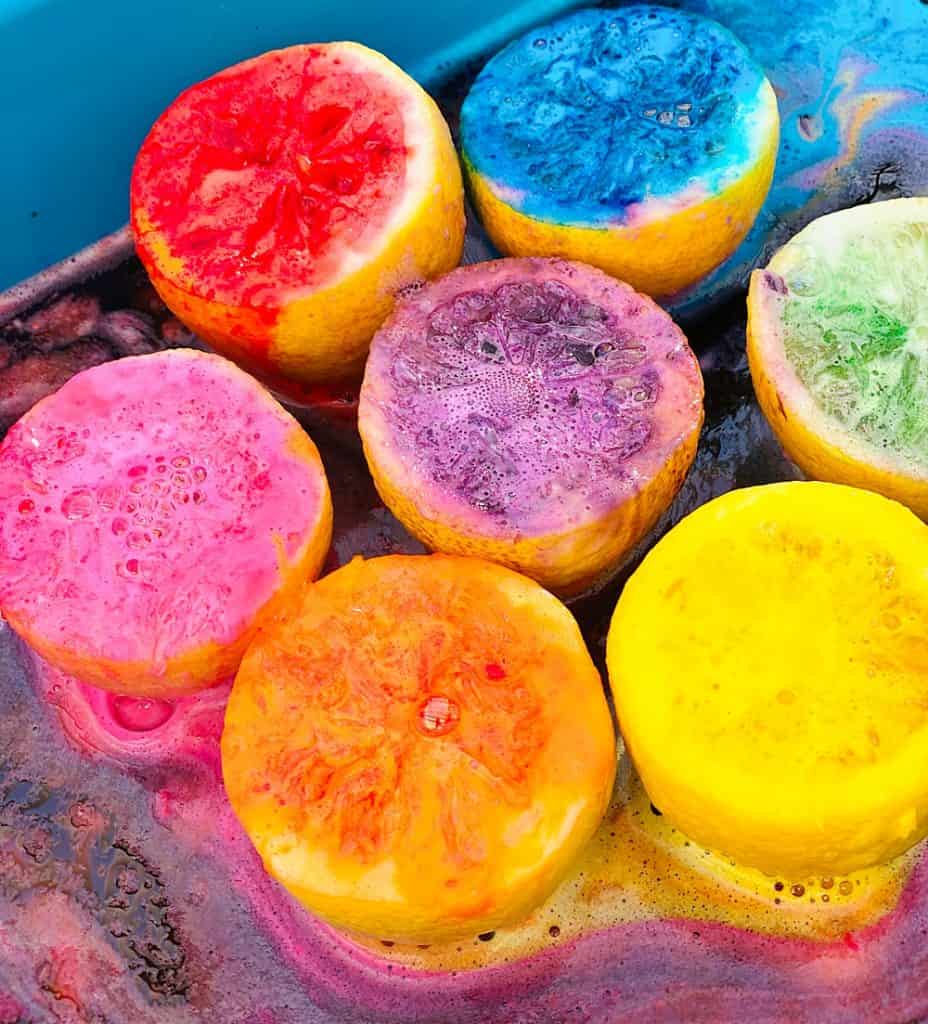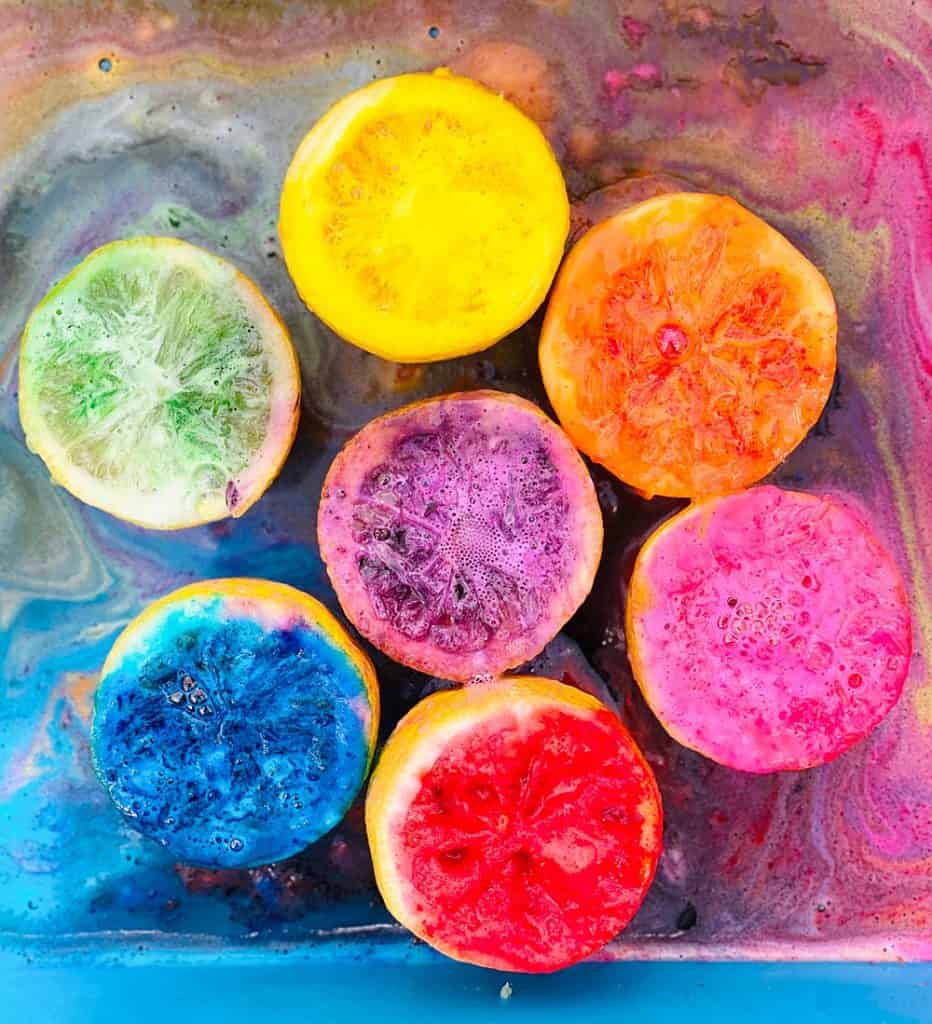 Rainbow Lemon Volcano Experiment – Materials:
Lemons

Baking Soda

Food Coloring (we recommend gel colors for vibrancy instead of water base)

Vinegar

Lemon juice

Dish Soap

A plastic bin to keep the volcano mess contained

Popsicle sticks or any utensils will do
The video will show you the process but it's as simple as adding baking soda, food coloring and dish soap to cut lemons! You can make it extra fizzy and create epic eruptions by adding a blend of lemon juice and vinegar.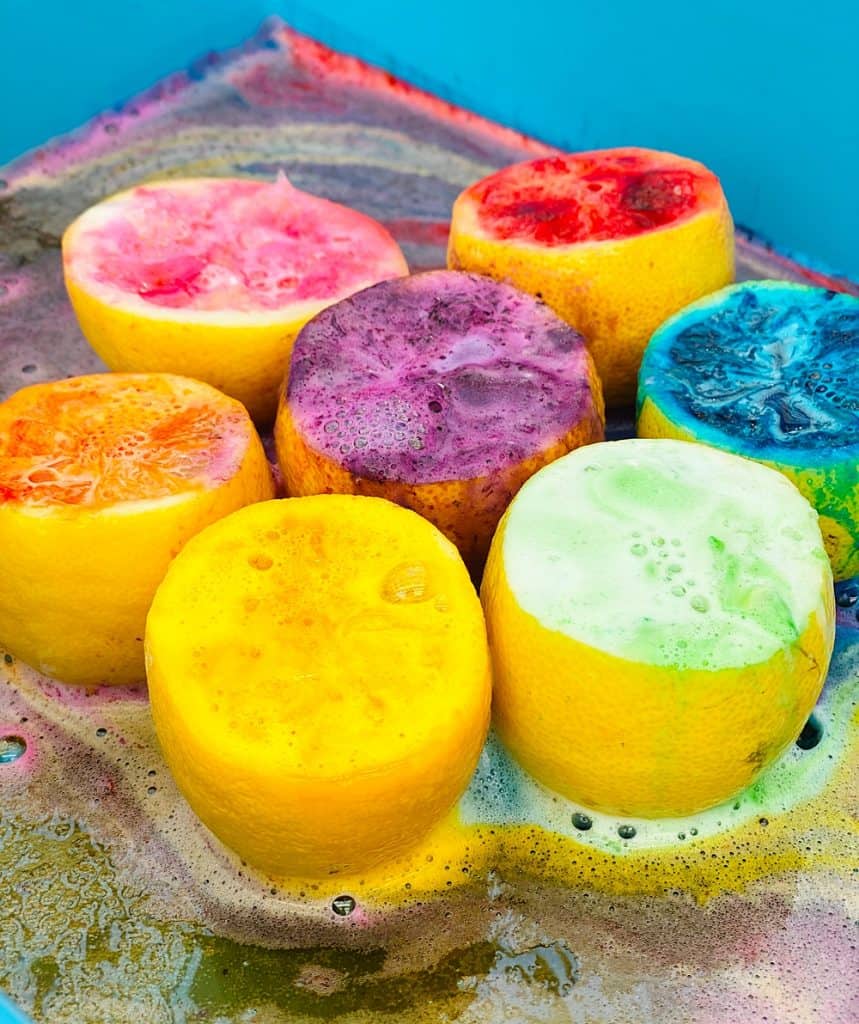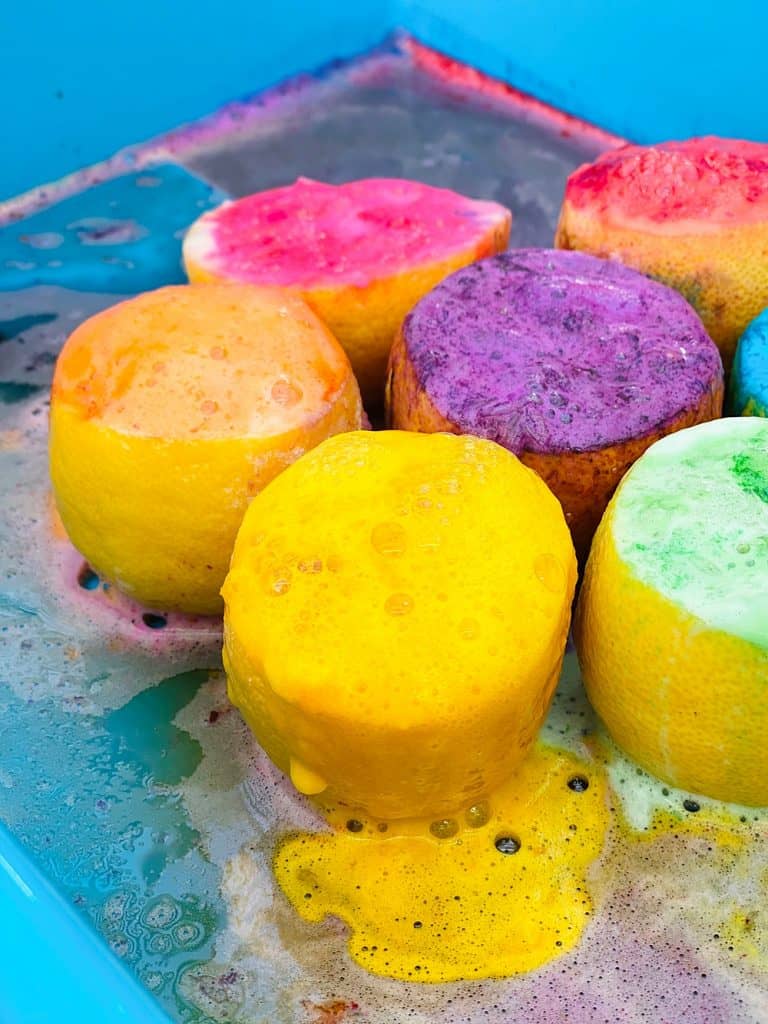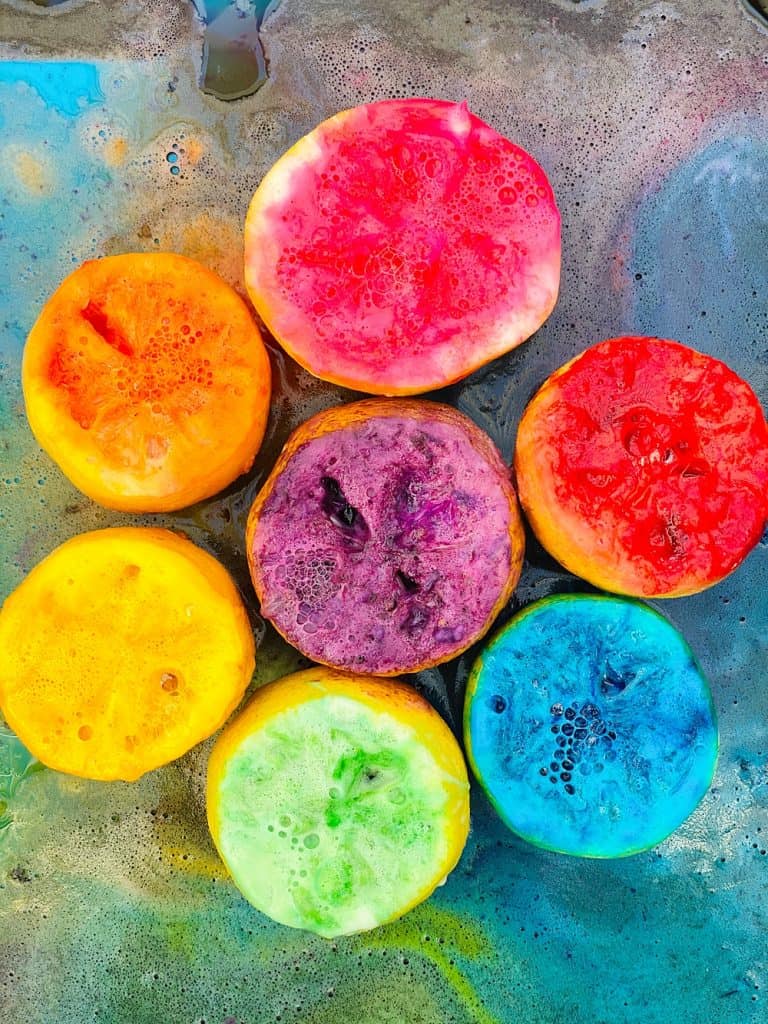 INSTRUCTIONS
(Watch the video in the post)
Step 1. Cut your lemons in half. It helps to cut the tip off one end so the cut lemon stays upright. Save some halves for lemon juice.
Step 2. Add your cut lemons inside a plastic bin. With the other halves not in the bin, squeeze lemon juice out of them and add to a separate container, diluted with half vinegar. Set that aside for your experiment. You could use all lemon juice but we thought it was a waste of good juice so we diluted half with vinegar instead.
Step 3. Use a popsicle stick or any utensil to cut through the upright lemons in the bin, you just want to start releasing some juice for the experiment to work.
Step 4. Add a few drops of food coloring, one color per lemon, in rainbow order.
Step 5. Add about a tablespoon of baking soda over each lemon half.
Step 6. To erupt the lemons and create a volcano you can do this one of two ways. You can 1) use a popsicle stick and mix in the baking soda so it comes into contact with the lemon juice as you break it down. This results in a small volcano. You can also help it along with pouring the lemon juice/vinegar mixture on top of the lemons! You can do this in a grand way as shown in the video by pouring over all lemons, or you can pour over just one and then continue to use the popsicle sticks to keep watching it foam and fizz.
Notes:
You can continue to add more gel colors, dish soap, baking soda and lemon juice/vinegar after the first eruption. Keep erupting those lemon volcanoes!
Test theories out with your kids. What happens when we add more or less of an ingredient?
This is such a fun science experiment that smells so great as you're creating!
If you love this Rainbow LemonVolcano Experiment, check out some more fun science experiments