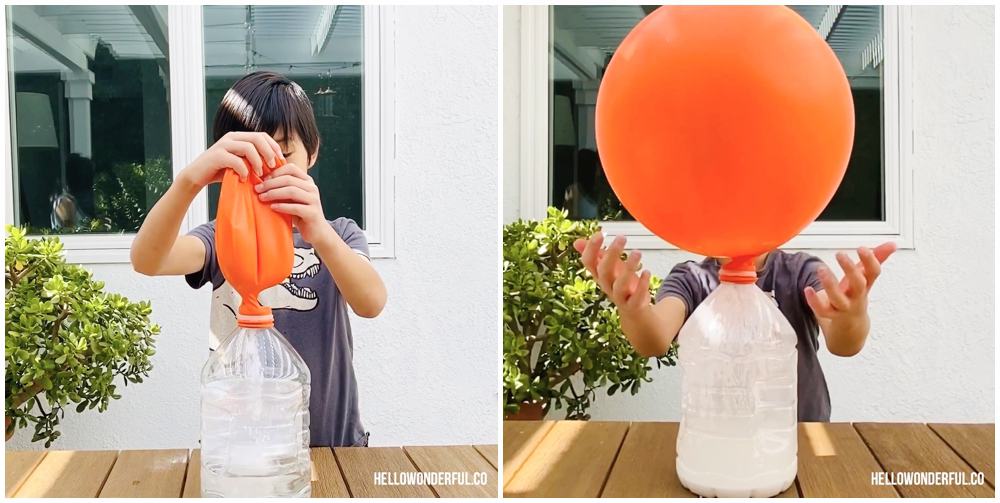 By using this site, you agree to our Terms of Use. This post may contain affiliate links. Read our disclosure policy.
Follow us on Instagram for more fun ideas for kids!
Watch the video below to see how to make this fun Giant Balloon Baking Soda and Vinegar Experiment for kids! Make sure to subscribe to our YouTube channel for more fun videos!
This Giant Balloon Baking Soda and Vinegar Experiment is a fun science project for kids for them to learn about acid base reactions with an entertaining twist.
I'm sure you've seen the classic balloon baking soda and vinegar experiment where you mix vinegar and baking soda together in a bottle. The chemical reaction releases carbon dioxide and blows up the balloon!
We added a fun twist to this entertaining science experiment by using a giant balloon and bottle!
Instead of the typical 16 oz water bottles used we used a one gallon plastic water bottle. We also used a 36″ balloon.
Read on to see what our scientific observations were!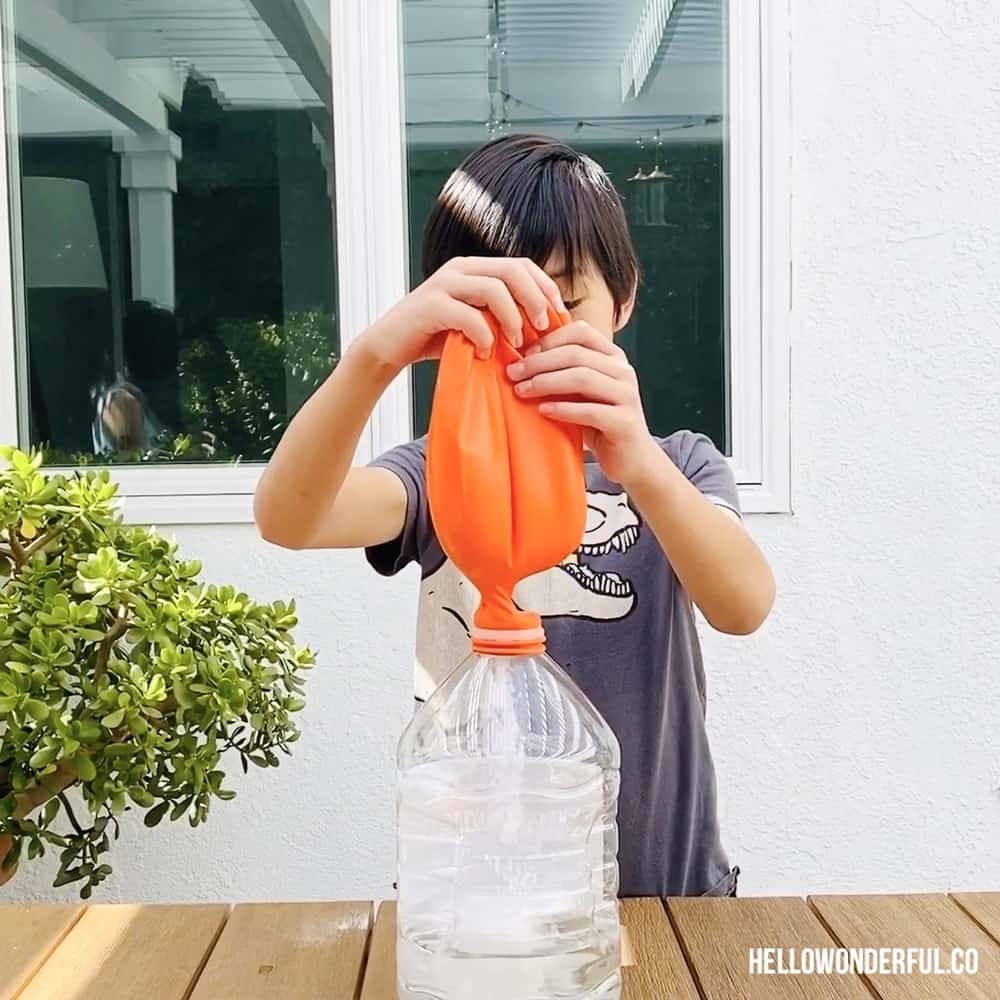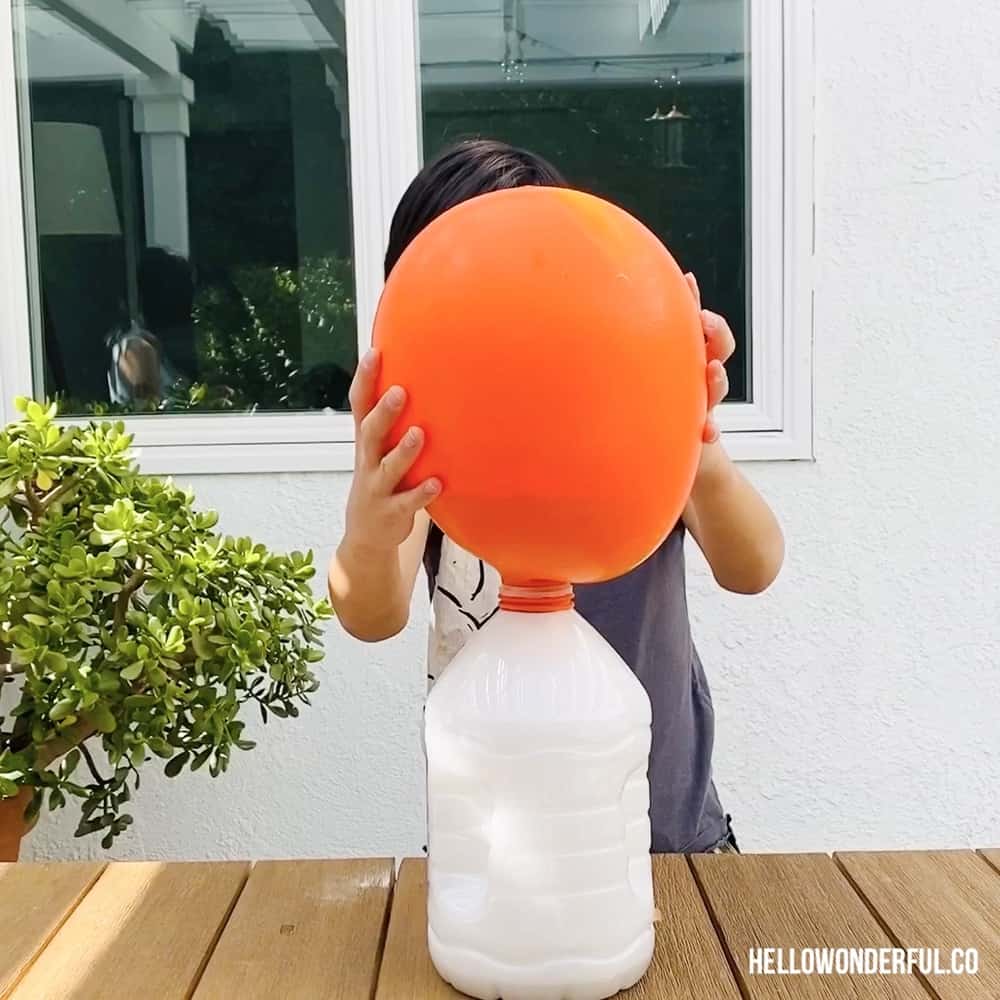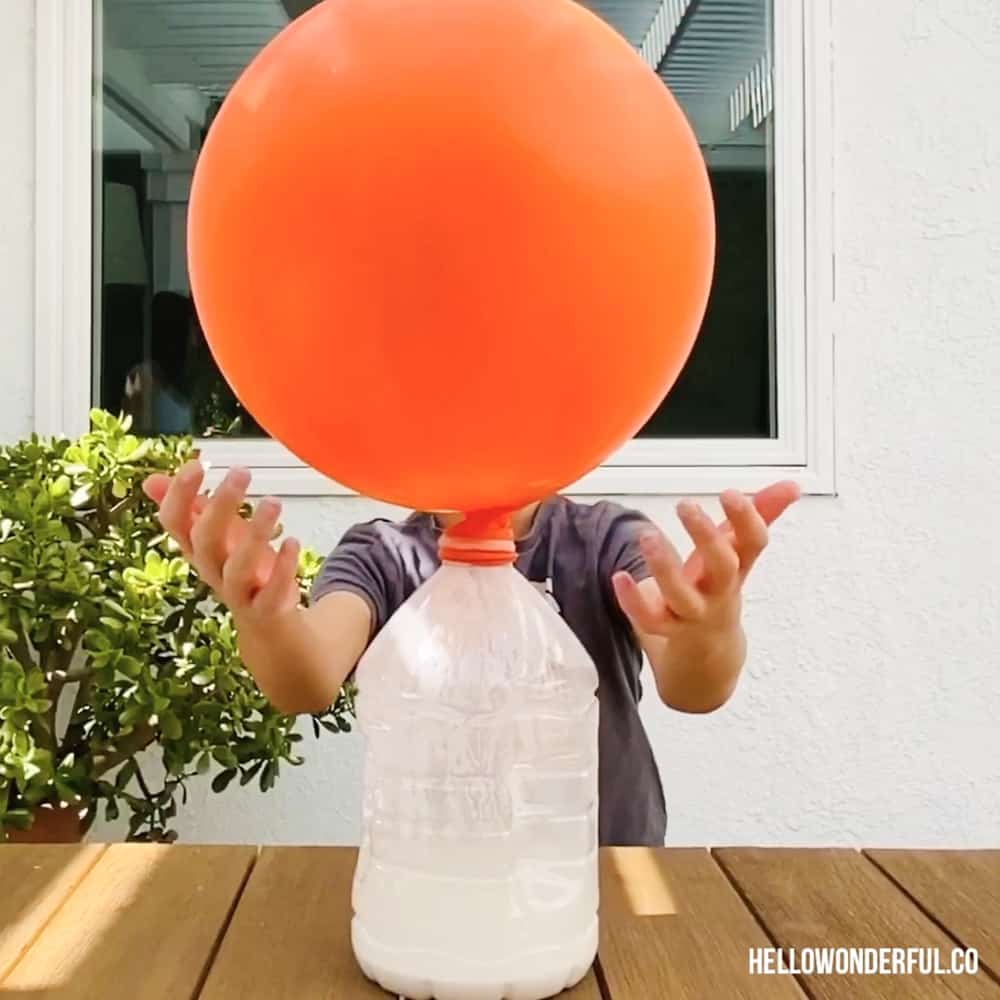 What is the chemical reaction between baking soda and vinegar that causes the balloon to blow up?
It's quite simple, combining vinegar and baking soda together is considered an acid base reaction. Vinegar is acidic and baking soda is a base.
When you mix and acid with a base, two new chemicals form, carbonic acid and sodium acetate. The new acid then decomposes into water and carbon dioxide which is like the bubbling you see in sodas.
You can see bubbles forming in the bottle when you mix vinegar and baking soda, this is causing the fizzing.
The release of carbon dioxide is the gas that blows up the balloon.
Giant Balloon Baking Soda and Vinegar – Materials:
One gallon plastic water bottle, empty with cap ring intact.

2 Cups Baking Soda

4 Cups White Vinegar

Funnel
We recommend doing this experiment outdoors to minimize the mess.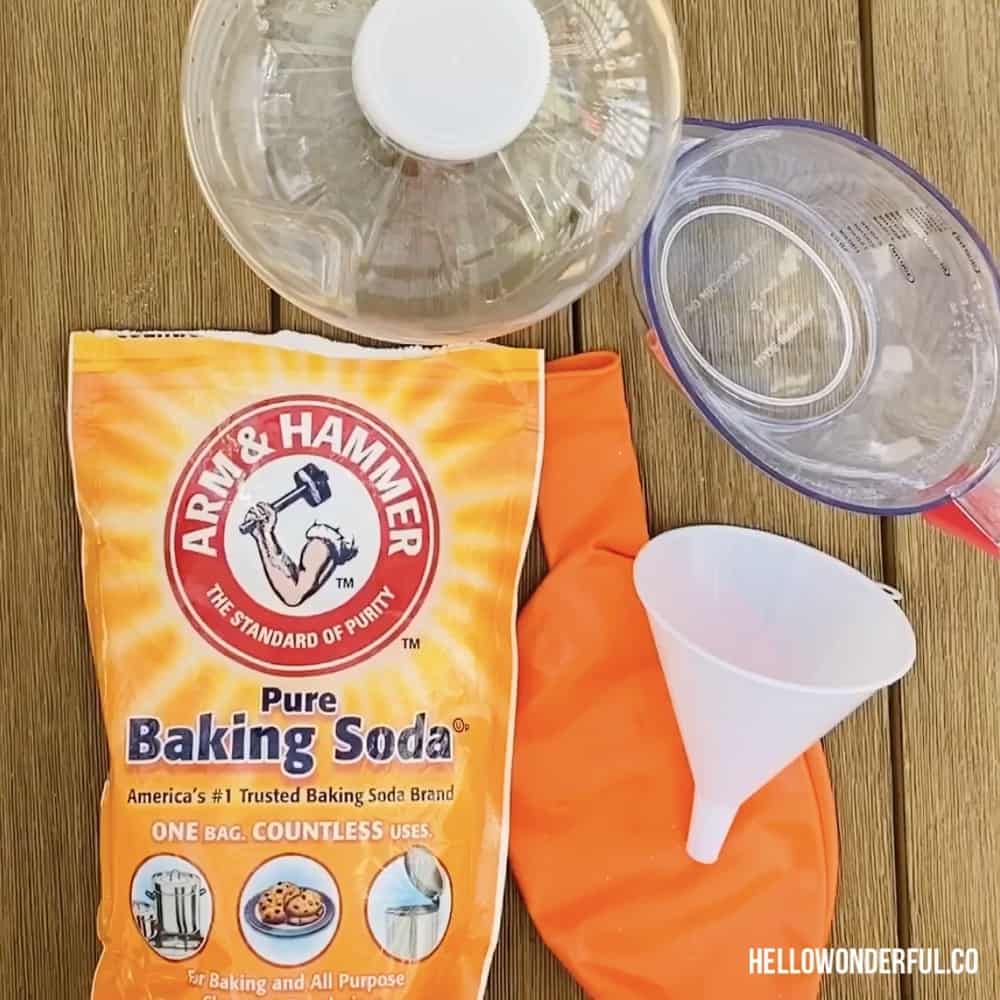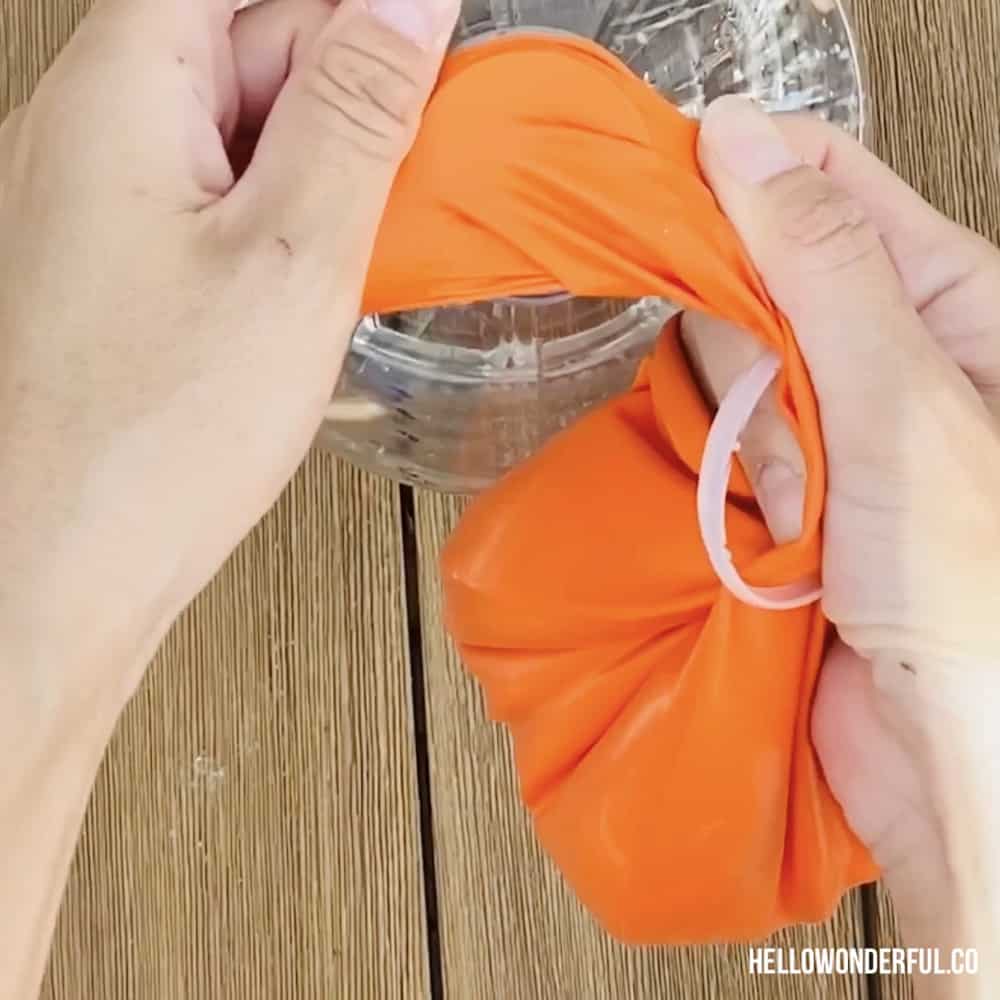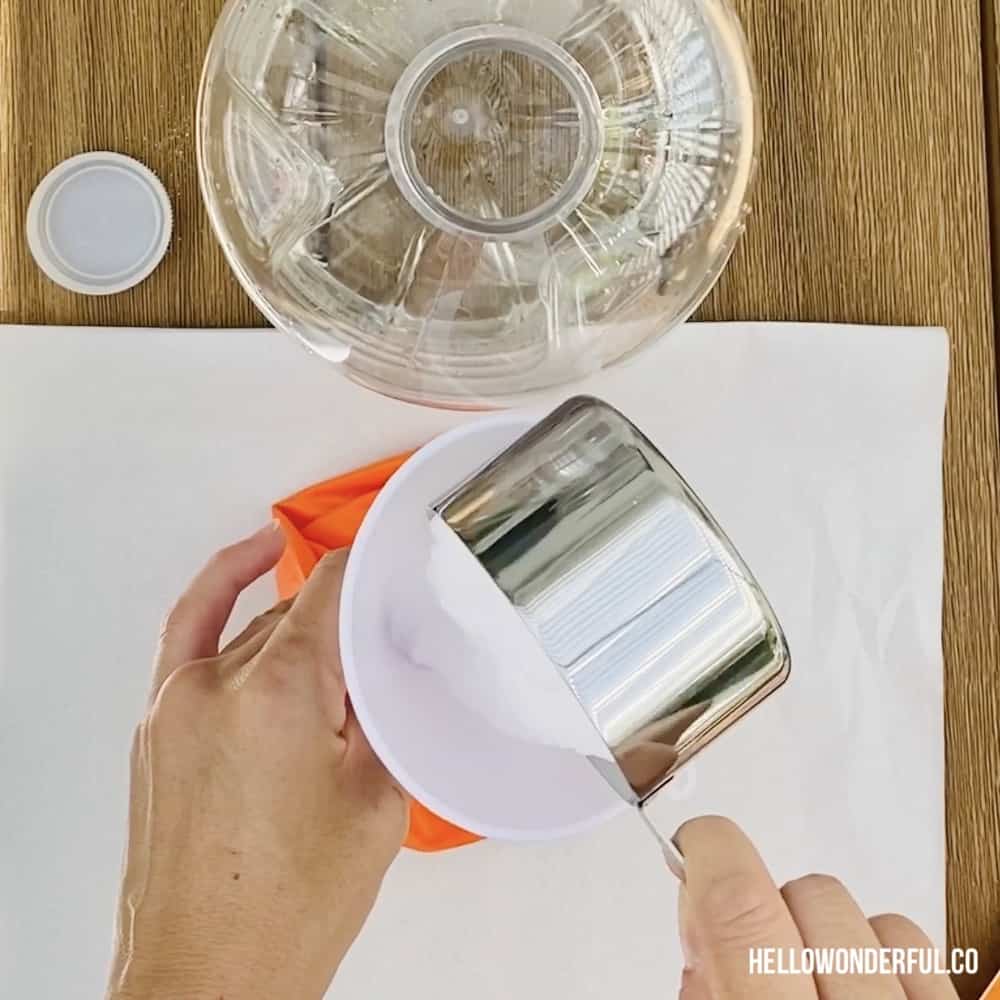 INSTRUCTIONS:
Step 1. Pour your vinegar into the bottle. Set aside.
Step 2. Use your funnel and slowly measure in your two cups of baking soda.
Step 3. Take the bottle ring out of your bottle opening and add it over the balloon opening.
Step 4. Then snugly close the bottle opening with the balloon and add the ring back to secure in place. As you do this step, make sure you don't invert the balloon all the way as you don't want to start the reaction until the ring is set on the bottle opening.
Step 5. Slow invert the balloon and shake/release the baking soda into the vinegar and the balloon will start to blow up.
Watch the video to see how to set balloon experiment up in action.
Notes and observations:
Our ballon is huge and heavy so it never fully stood up. It dangled to one end, you can see that in the video. However, it was still pretty cool to bounce back and forth!

It may have not just been the weight of the balloon but maybe we needed more CO2 produced! Next time instead of adding 4 cups of vinegar we will try 6 cups.

Make sure after the experiment to deflate the ballon as residual gas can continue to be produced and lead to the balloon popping. This happened to us and we had baking soda bits on the ground everywhere! It was easy to hose down however.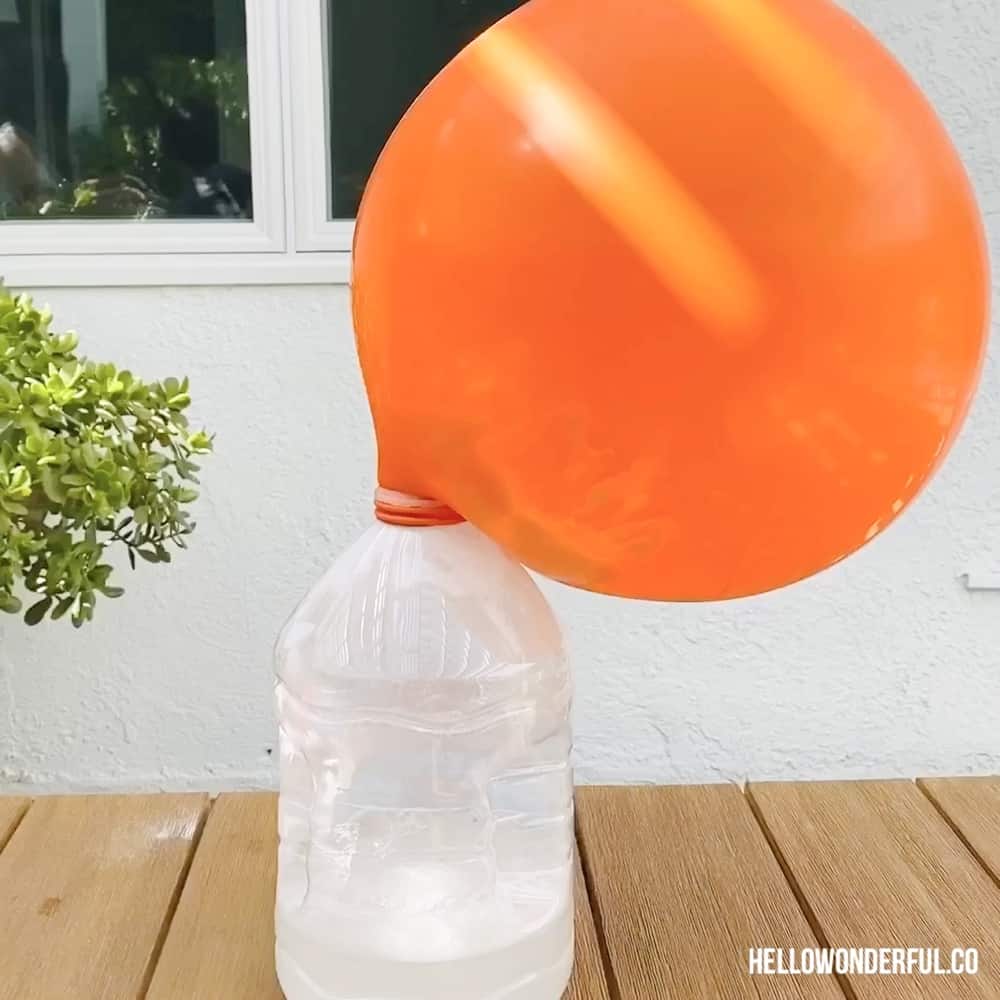 YOU MIGHT ALSO LIKE: