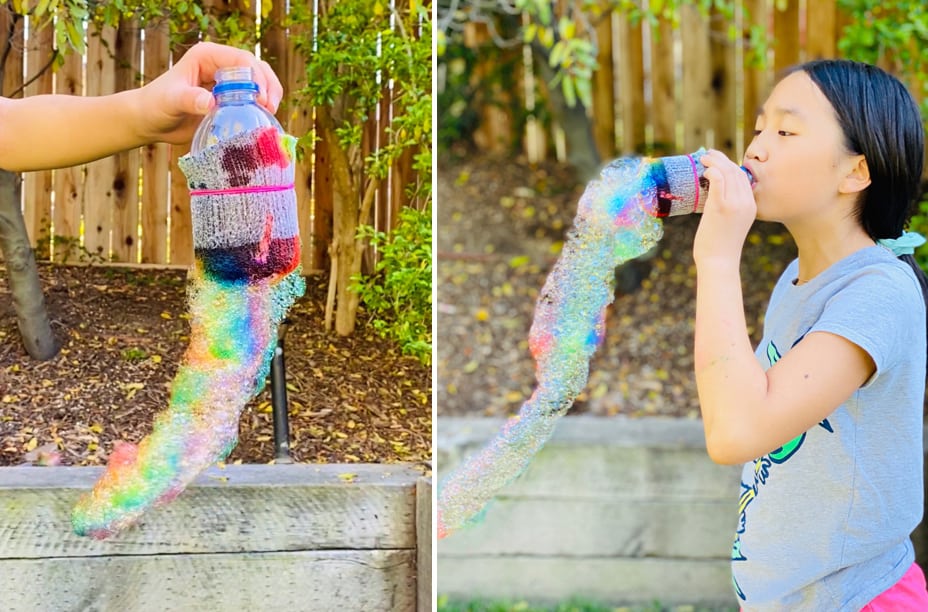 By using this site, you agree to our Terms of Use. This post may contain affiliate links. Read our disclosure policy.
Follow us on Instagram for more fun ideas for kids!
Watch the video below to see how to make these mesmerizing Rainbow Bubble Snakes. Make sure to subscribe to our YouTube channel for more fun videos!
These Rainbow Bubble Snakes are a colorful way for kids to play with bubbles and a fun recycled craft!
We love making bubble art and could not wait to do this variation by making Rainbow Bubble Snakes! We have tried making a twist on bubble snakes by using a bottle bubble blower and they make the most beautiful bubbles. We've even tried bottle bubble art painting too!
This version is a bit different as it uses a sock and dish soap instead of bubble solution. And of course food coloring for making rainbow bubbles! It's absolutely mesmerizing when you blow the snake bubbles out and a rainbow forms!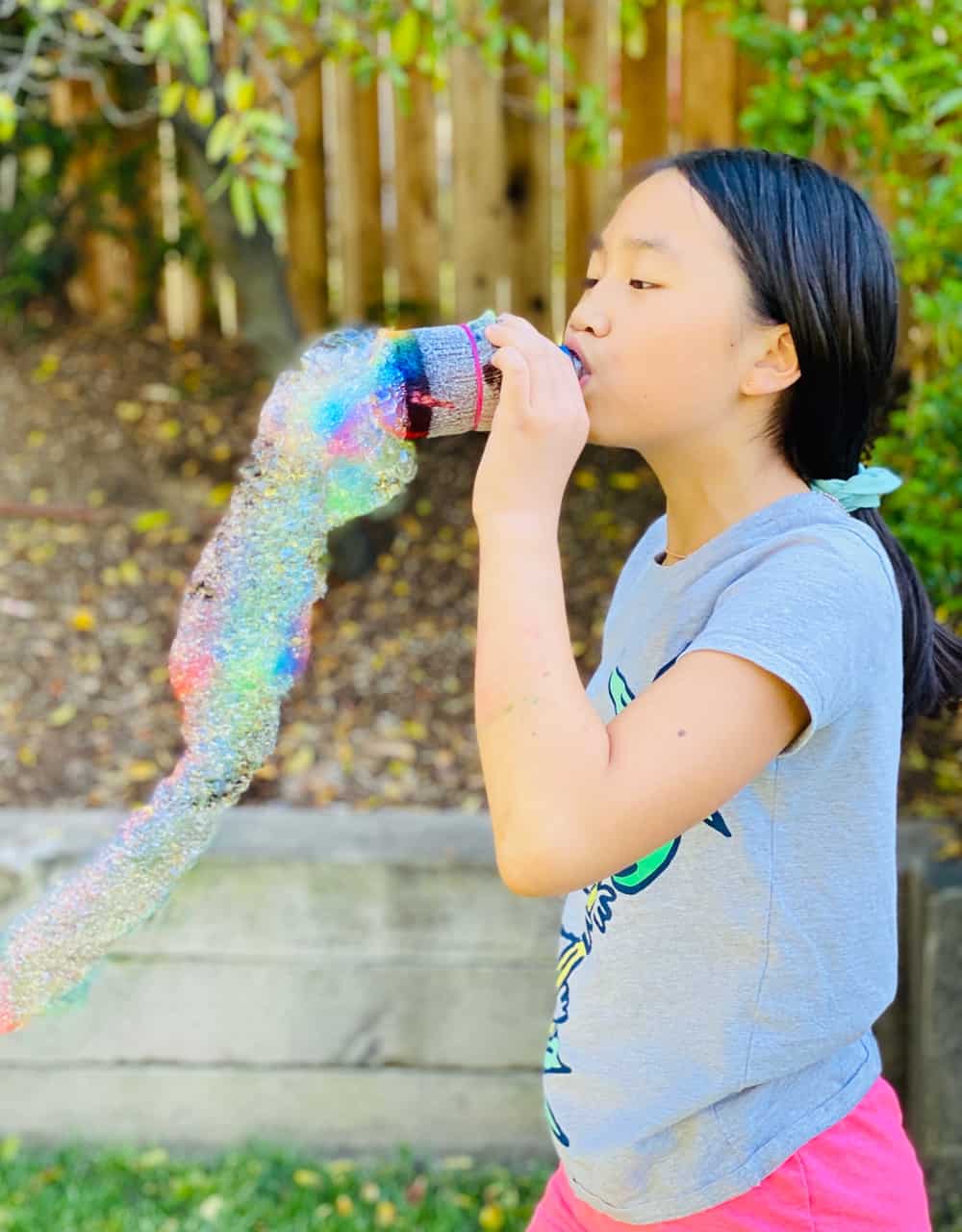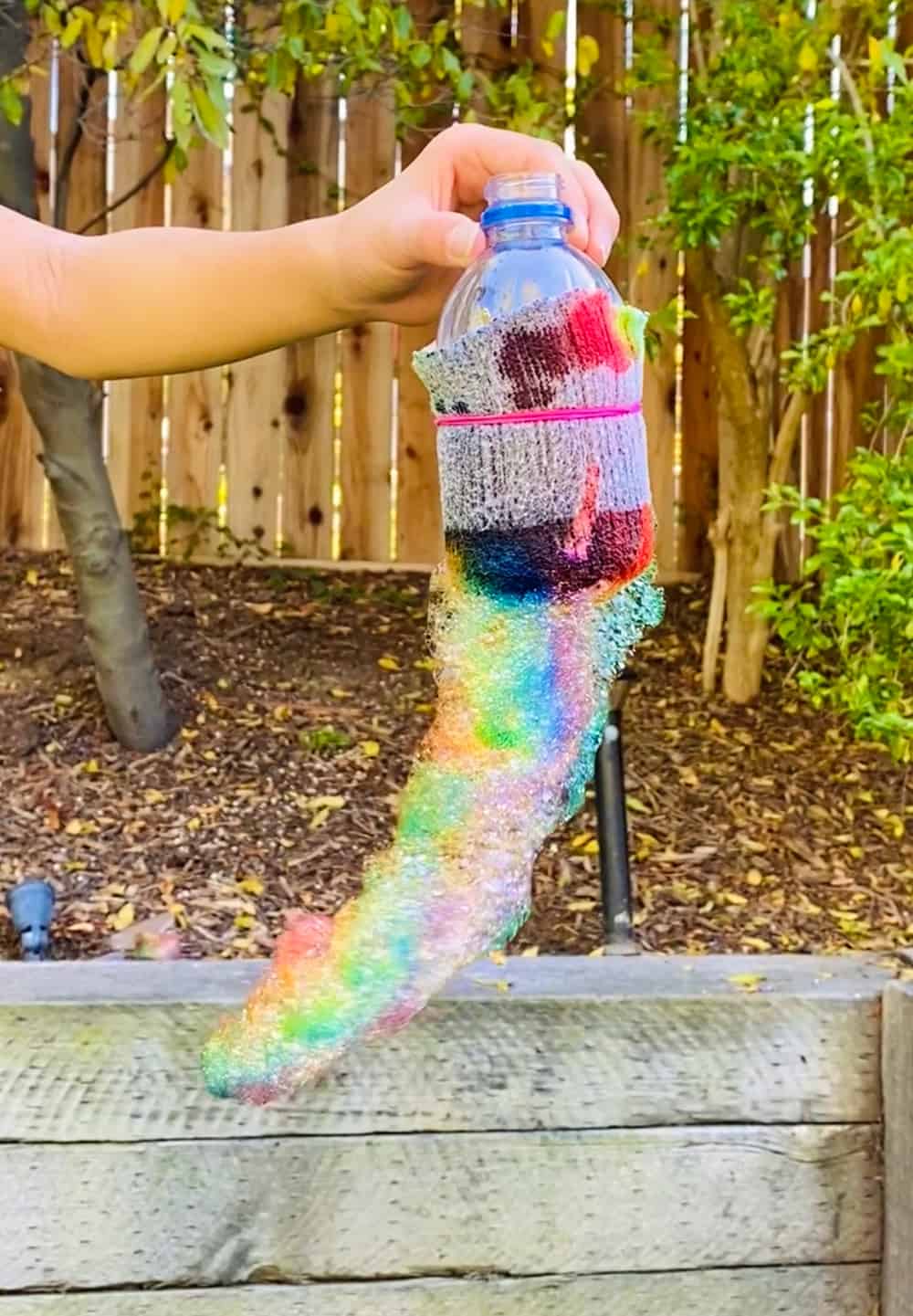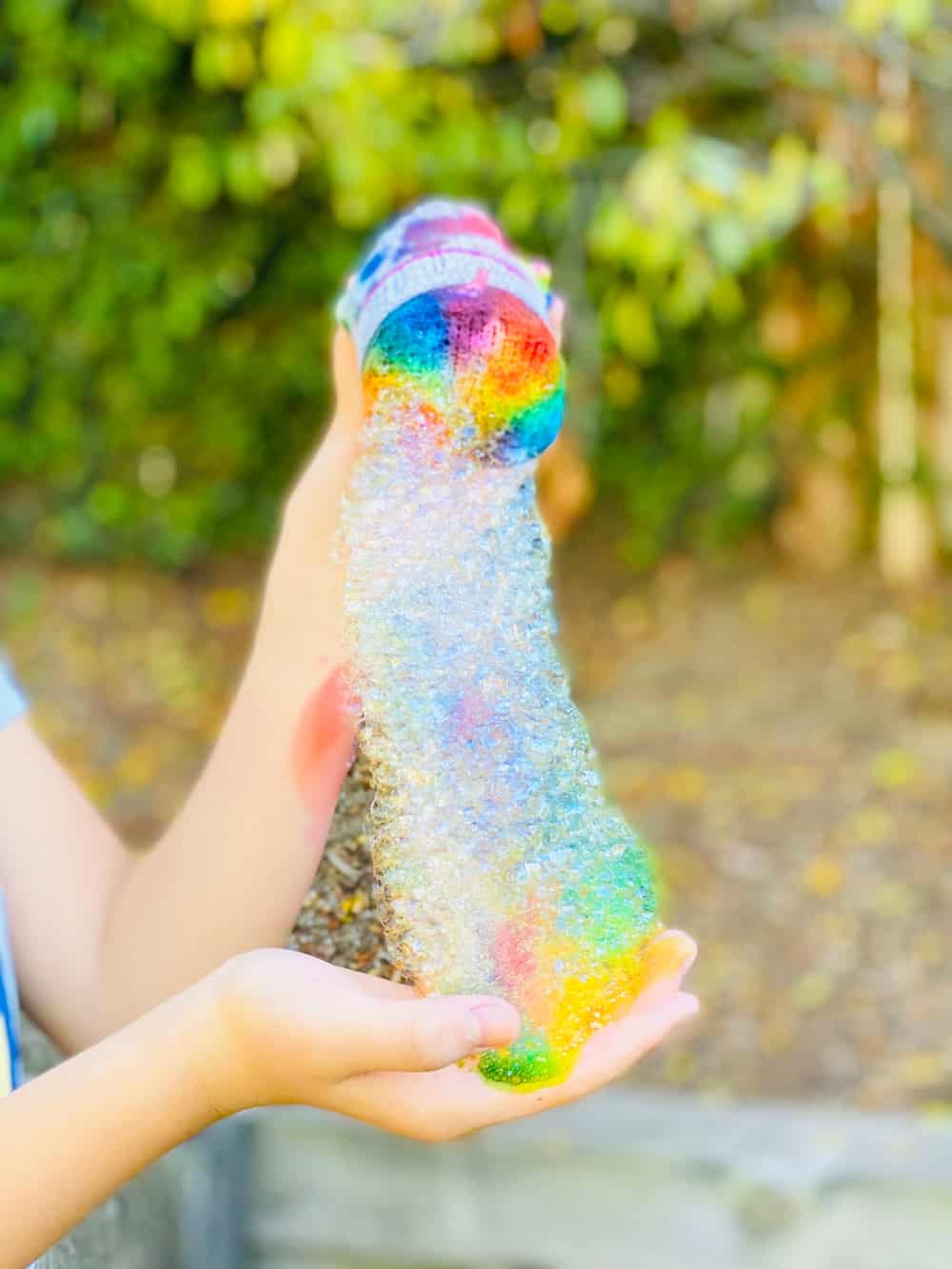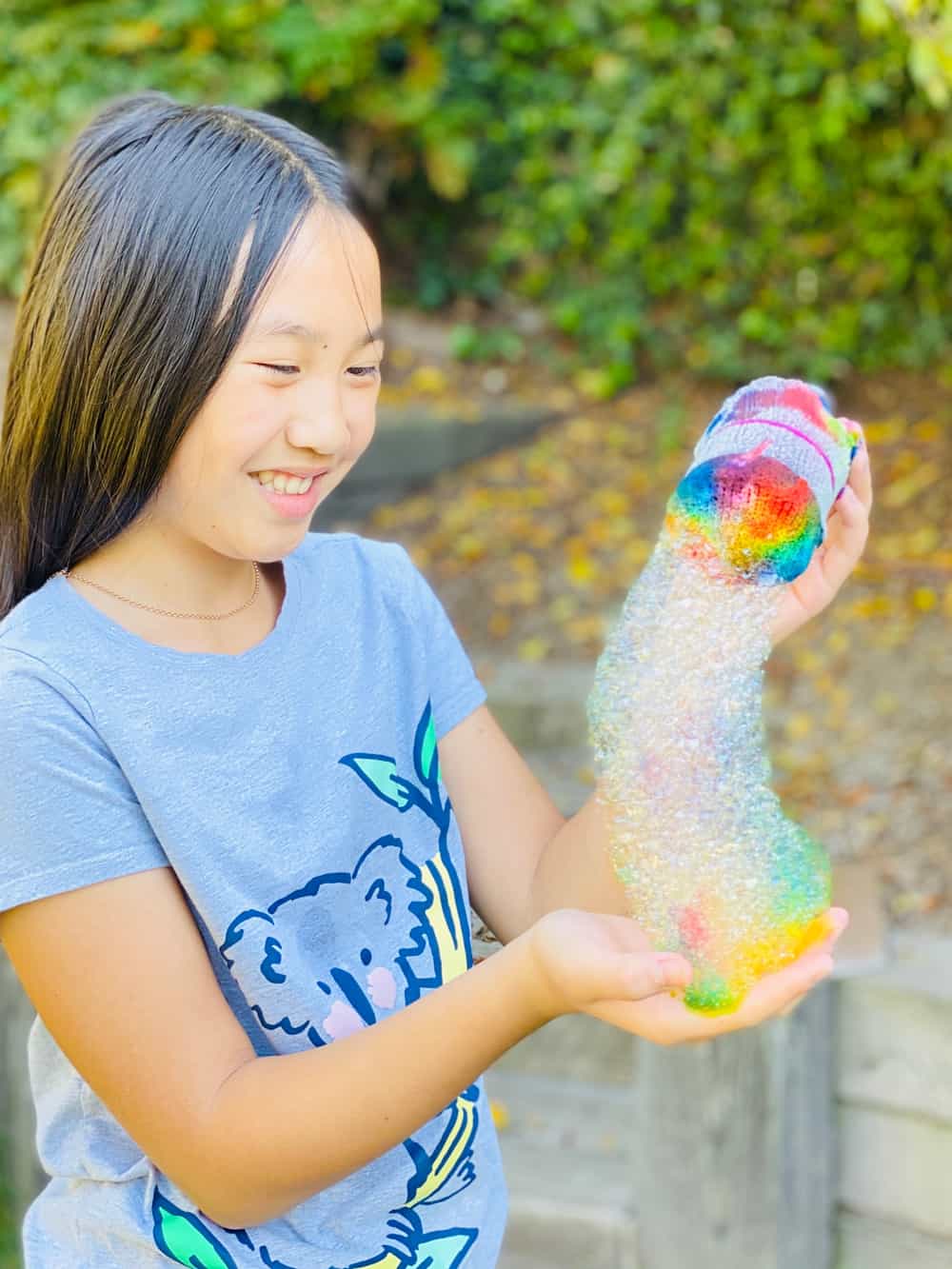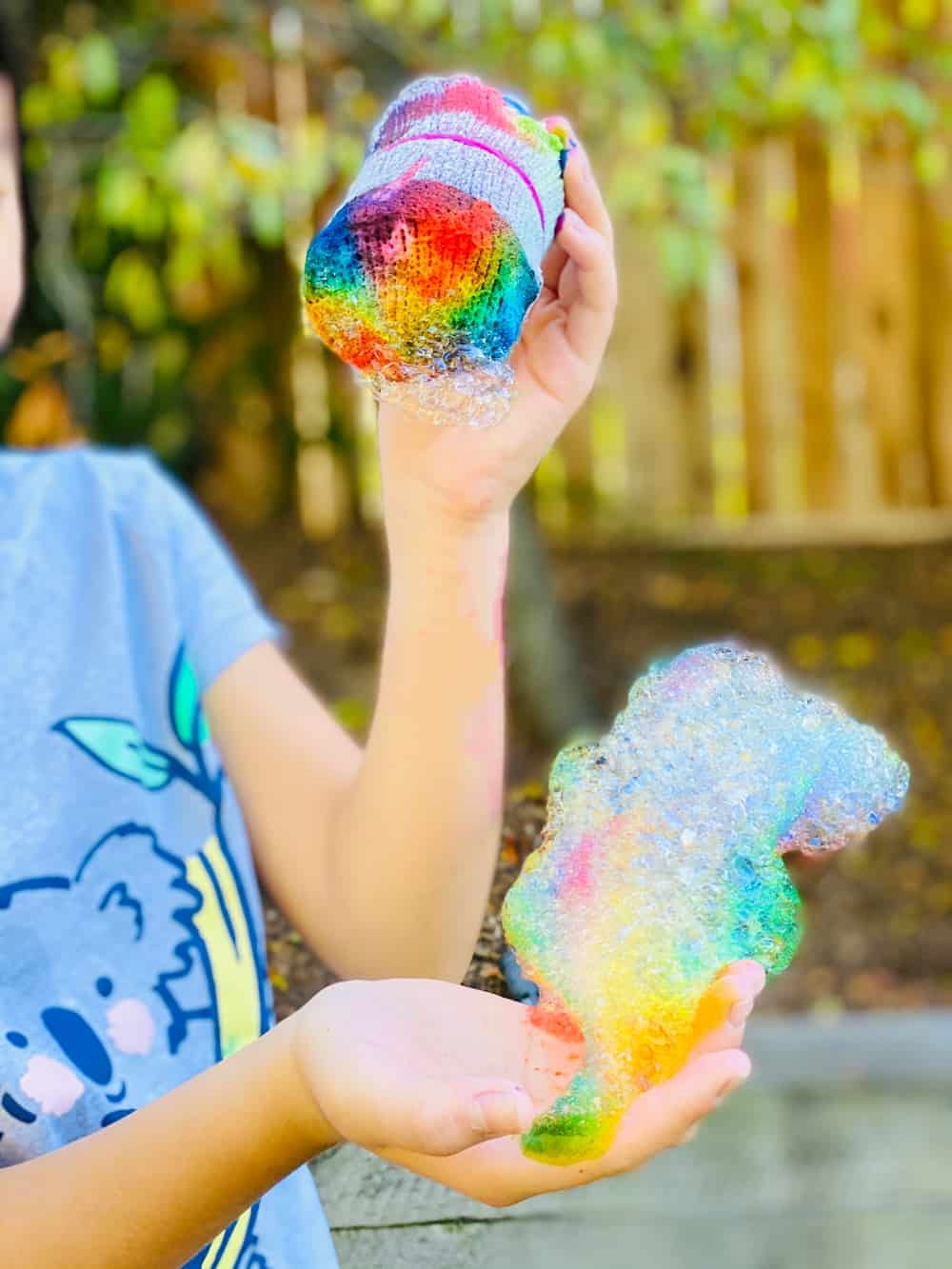 What do you need to make Rainbow Bubble Snakes?
You are going to love this activity because you probably already have all the materials at home! You'll need a plastic bottle, old sock, dish soap and food coloring.
We love using these super bright neon food colors but they don't come in yellow, so we added yellow food gel coloring which works out just fine too! So the good news is that you can use either gel or liquid food coloring.
I bet liquid watercolors would work too but we haven't tried that yet, although we tried painting with watercolors and bubbles before and that turned out excellent.
A note on food coloring and this activity – if your kids want to touch the rainbow foam, which I guarantee you they will! – note that food coloring WILL stain your hands immediately!
A good amount of immediate scrubbing with soap, especially dish soap will take most of it off. But be warned it WILL stain hands and clothing.
So makes sure your kids are wearing an old tee or covering when they are doing this activity. You can also have them wear disposable gloves if you don't want their hands to be covered in color should they touch the bubbles.
We also recommend doing this activity outside over the grass, a covered area with a paint drop cloth, or an area where you won't stain the pavement or outdoor furniture.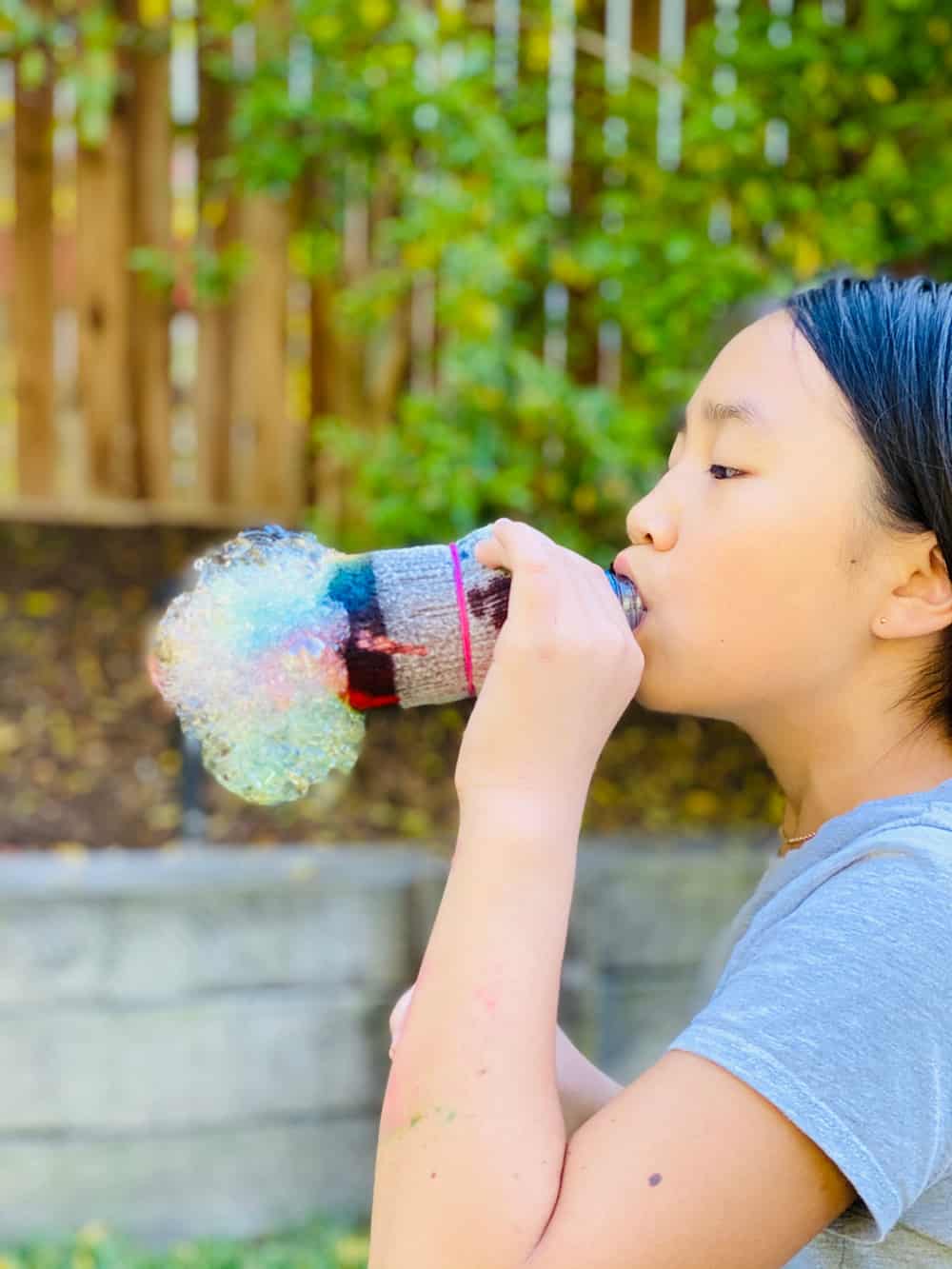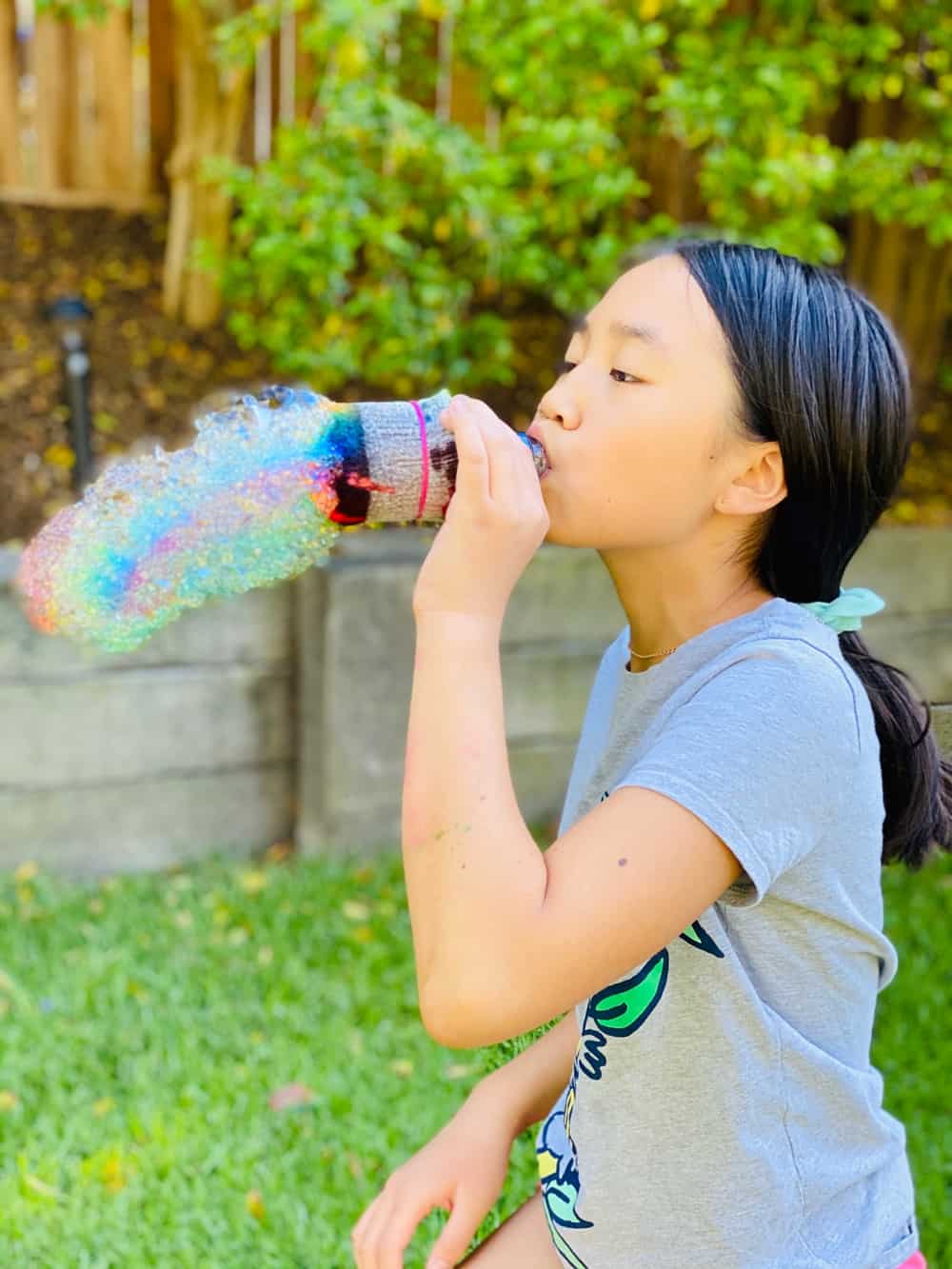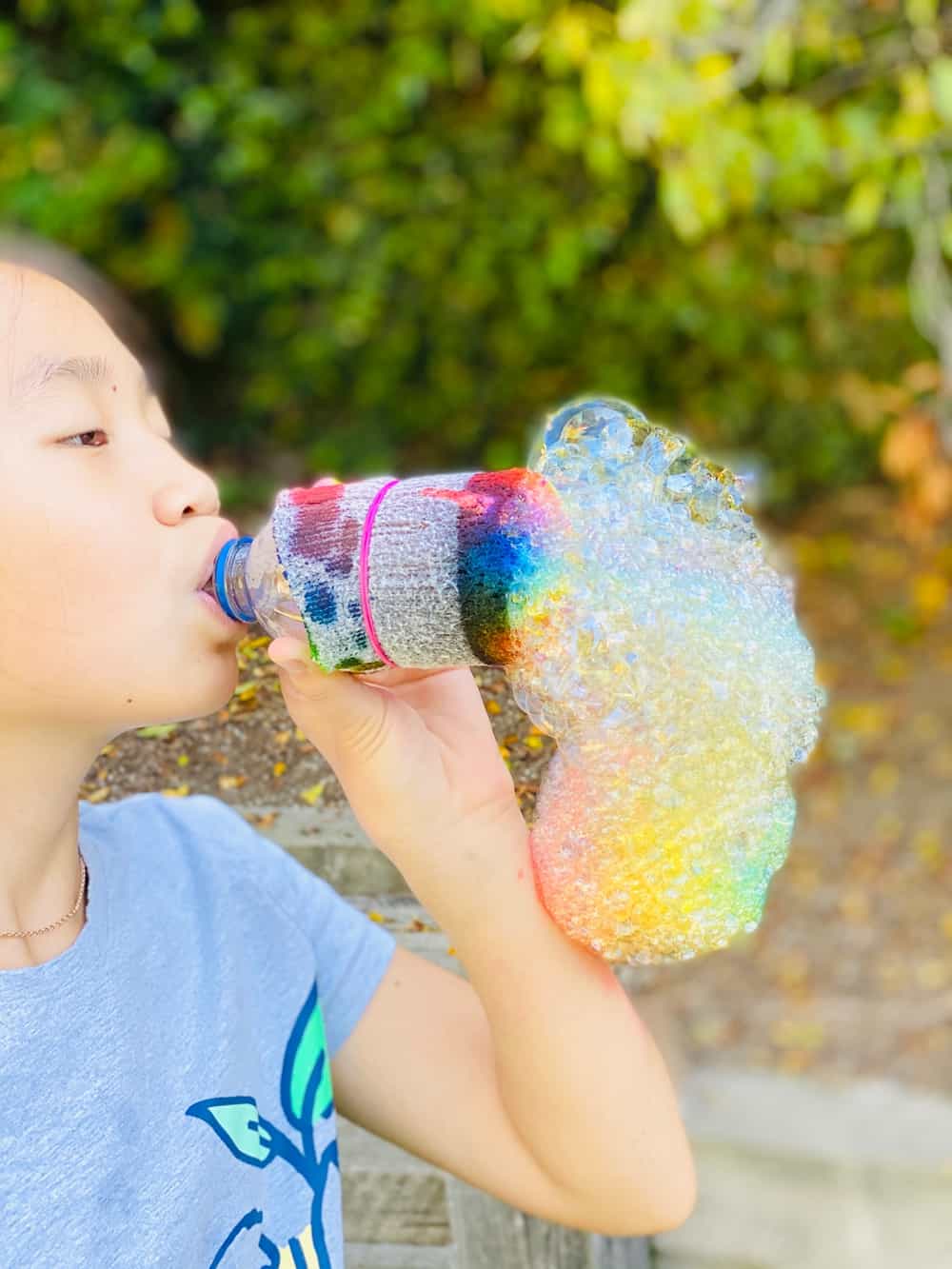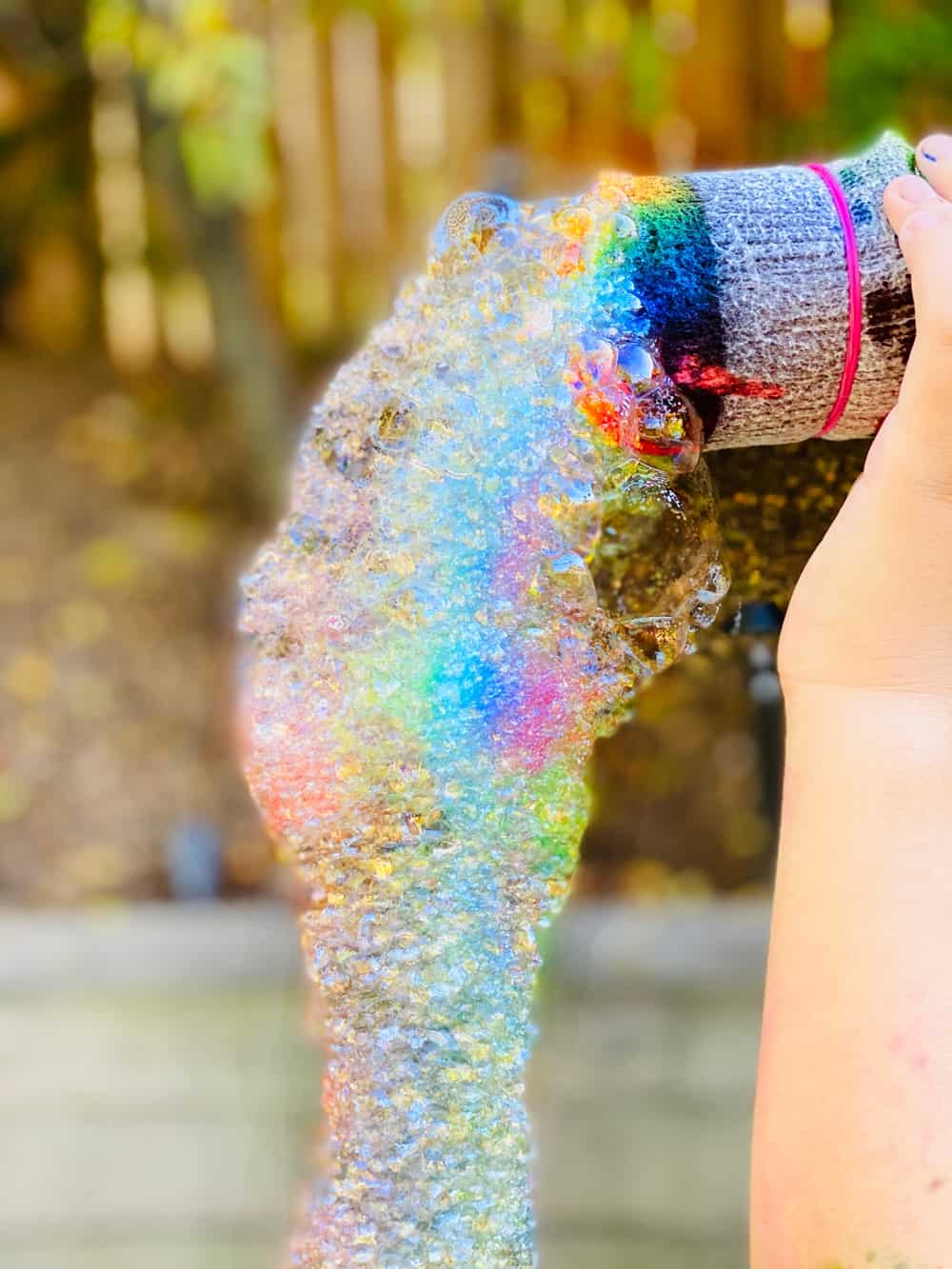 Rainbow Bubble Snakes – Materials:
Plastic bottle

Old sock

Rubber bands

Dish soap

Disposable bowl

Water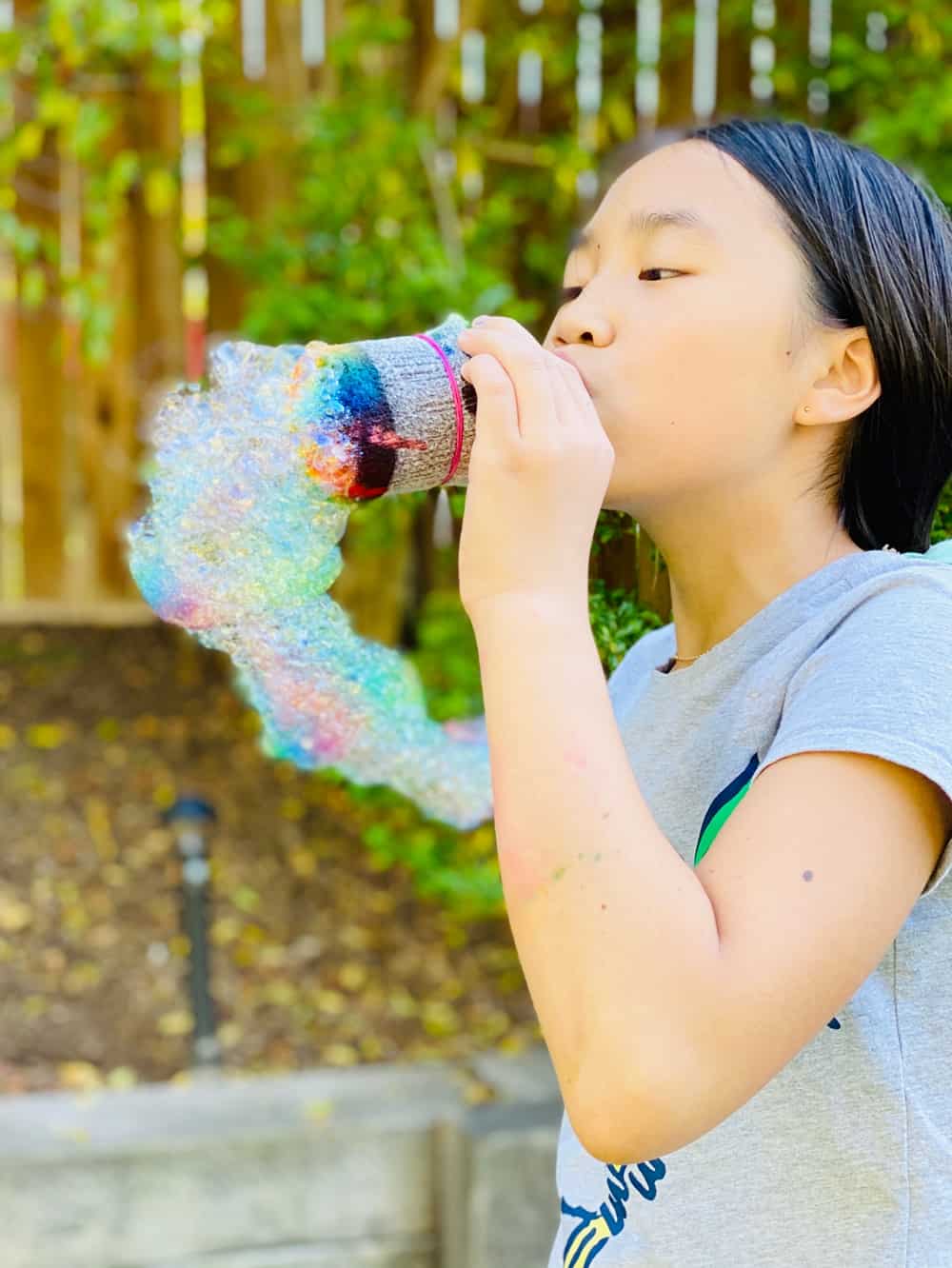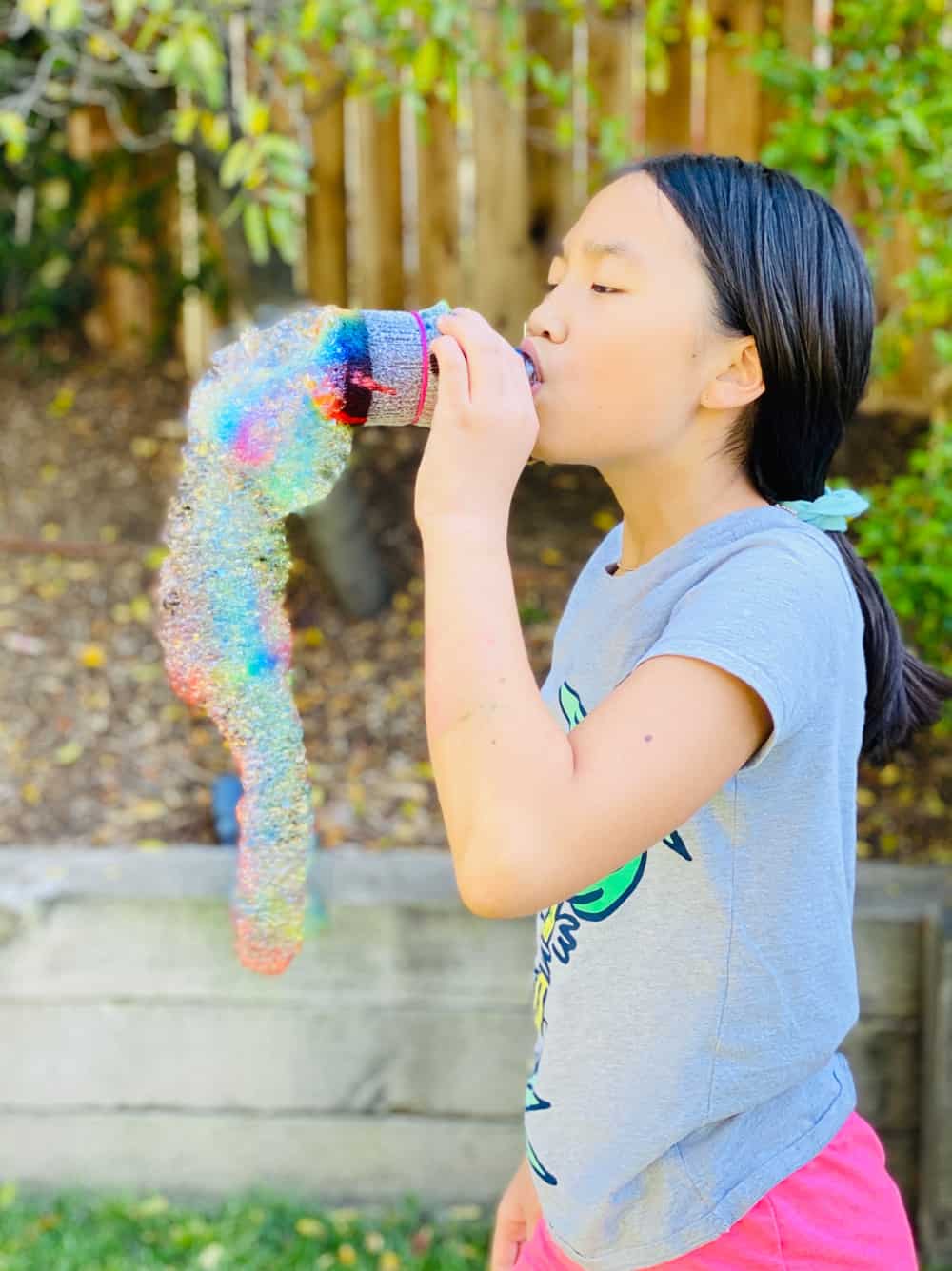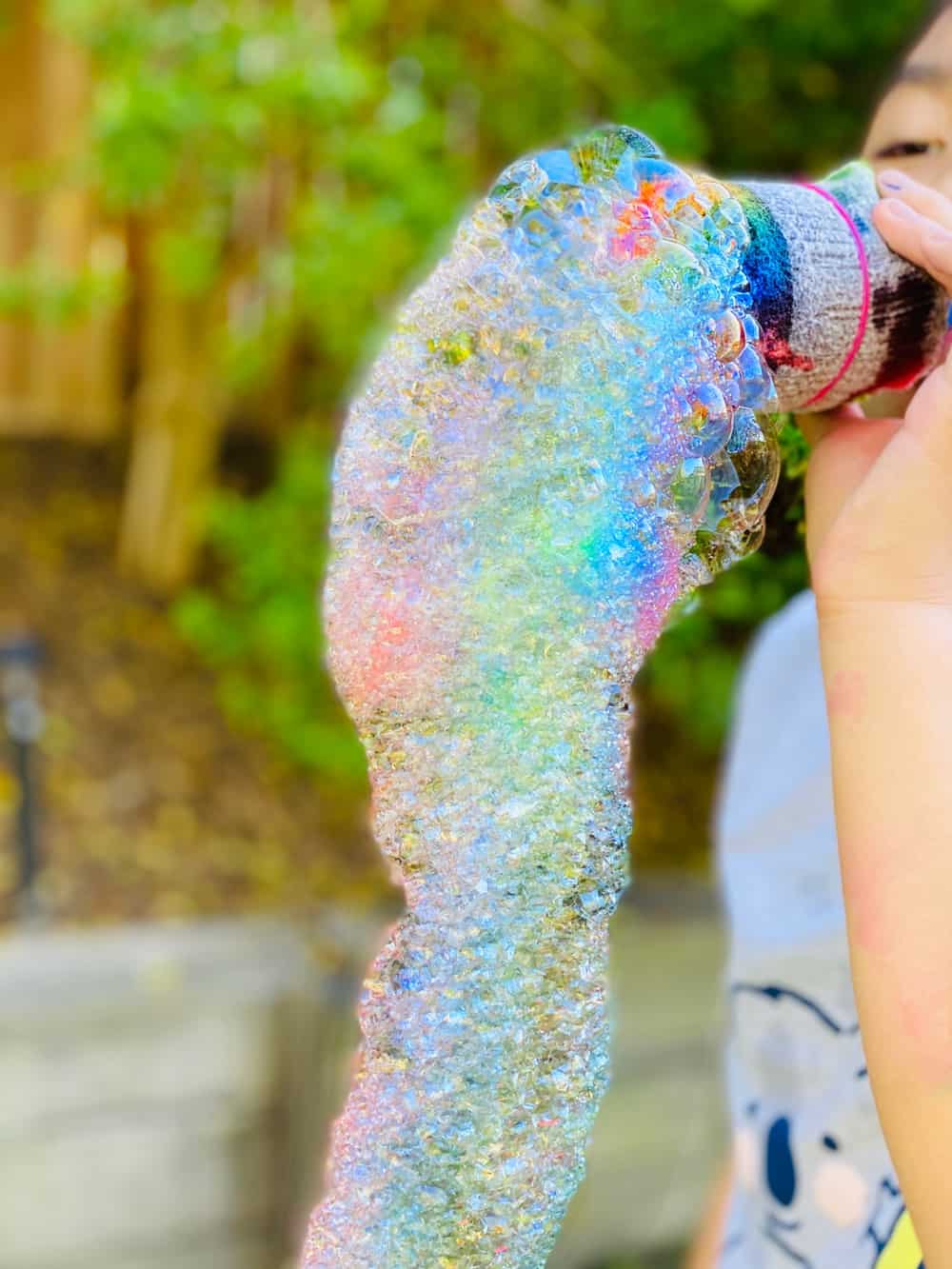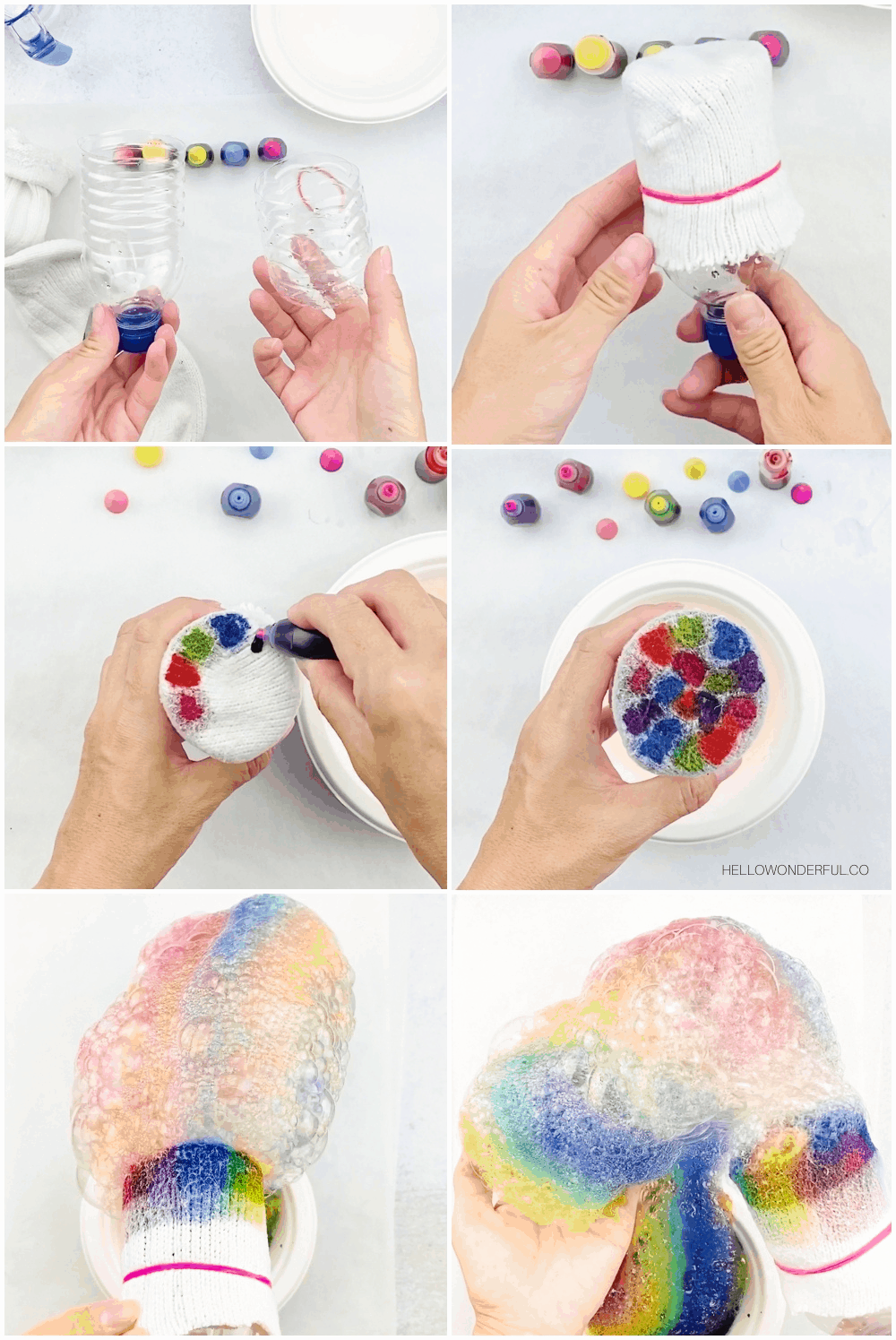 INSTRUCTIONS:
Watch the video in this post to see how to make it or follow below.
Step 1. But your bottle about halfway.
Step 2. Cut the bottom of your sock off with enough room to fit over the half of your bottle that has the mouth opening.
Step 3. Secure the sock over the bottle with opening with a couple of rubber bands.
Step 4. Add some water to your bowl, you don't need much about 1/4 cup is fine. Add several squirts of dish soap. We probably put in 2-3 Tablespoons. Stir.
Step 5. Dot your food coloring along the edges of the stock in rainbow colors all around the sock until you get to the middle. Essentially forming concentric circles so all the sock is covered in food coloring.
Step 6. Add drops of dish soap all over the sock.
Step 7. Then dip your sock inside the bowl of dish soap and water just to get it wet you don't want to drench and leave it there. Start blowing rainbow bubbles!
Step 8. The most vibrant rainbow bubbles come out when you first add the food coloring so if you want to continue making rainbow bubbles as intense as the first snake bubble, you will need to re-dot your sock with more food coloring. Then add more soap on top of the sock and dip again in the soap and water mixture.
The more you do this, the more your sock will turn a beautiful tie-dye color it ends up looking amazing too!
You Might Also Like: