I grew up eating Vietnamese food since my dad was from Vietnam. One of my favorite all-time Vietnamese dishes is grilled Vietnamese pork, often served with rice noodle or over rice along with a dipping sauce and fresh garnish like cucumbers and carrots. It also happens to be one of my kids' favorites so I thought it'd be fun to make it with them, next in our Cooking With Kids series!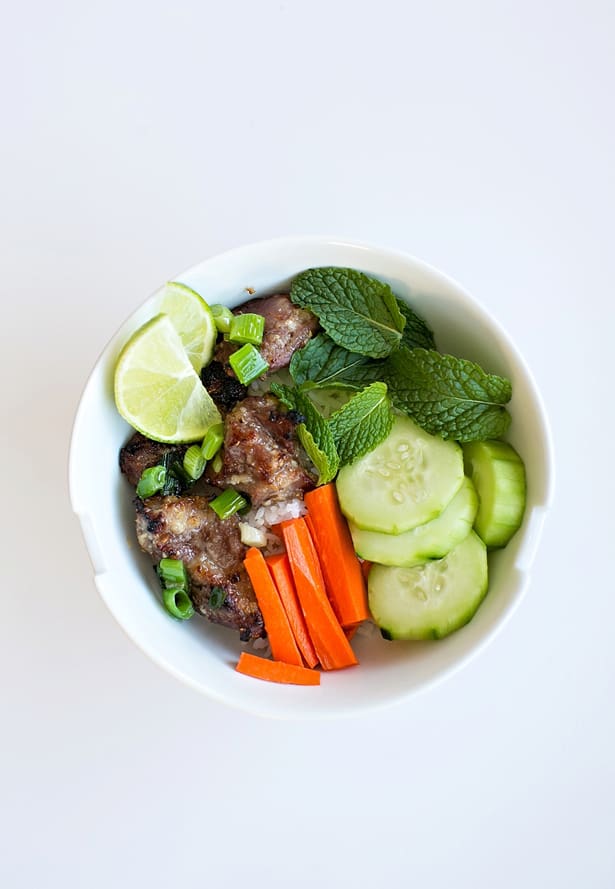 Easy Vietnamese Pork Rice Bowl – Ingredients:
(adapted from Hungry Huy)
Pork Marinade
– 2 pounds pork shoulder, cut into roughly 3″ pieces
– 2 small shallots, roughly cut
– 4-5 cloves garlic
– 1 small knob of ginger, roughly cut
– 1/4 cup of sugar
– 1 1/2 tablespoons fish sauce
– 1 tablespoon dark soy sauce
– pepper
– 1/4 cup vegetable oil
– 3 tablespoons honey
Vietnamese Dipping Sauce (Nuoc Cham)
– 6 tablespoon water
– 2 tablespoon sugar
– 2 tablespoon fish sauce
– juice from one small lime
Easy Pickled Carrots
– 2 medium carrots, sliced
– 1/2 cup rice wine vinegar
– 1/4 cup sugar
Toppings for Rice
– 5-6 scallions cooked in 2 tablespoons oil
– fresh sliced cucumbers
– fresh mint leaves
– fresh lime slices
You'll also need cooked white rice or you can serve over rice noodles.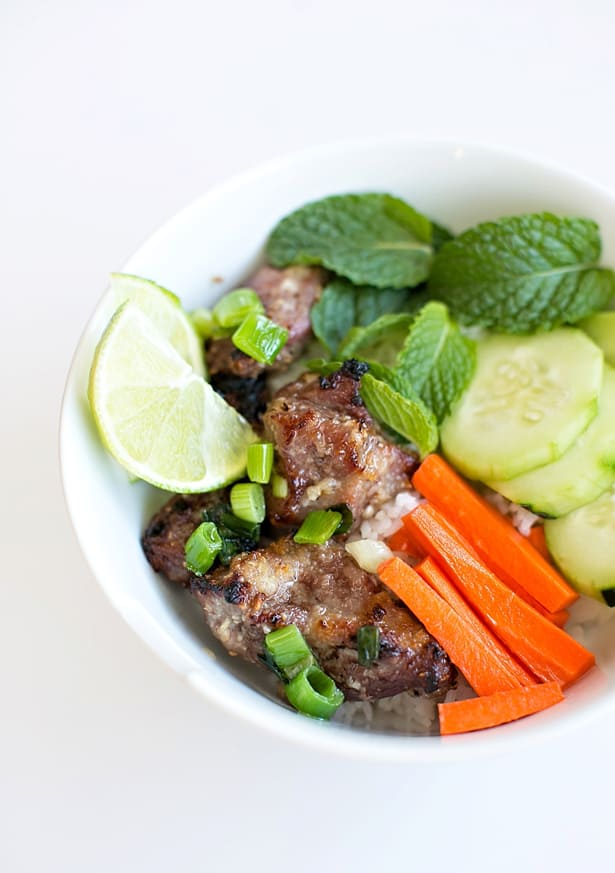 Instructions:
Step 1. Place all the pork marinade ingredients into a food process and blend until combined. Add as much or as little pepper as you want.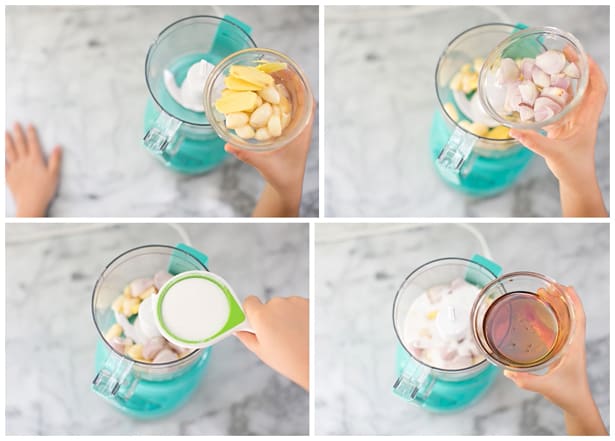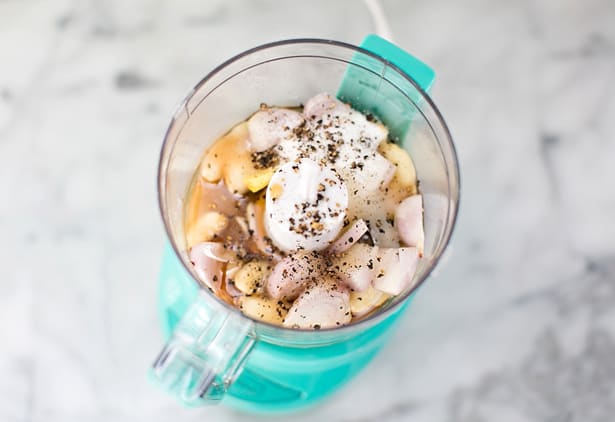 Step 2. Place pork in a shallow container and mix in marinade. Let it marinade covered in the refrigerator for at least 2 hours.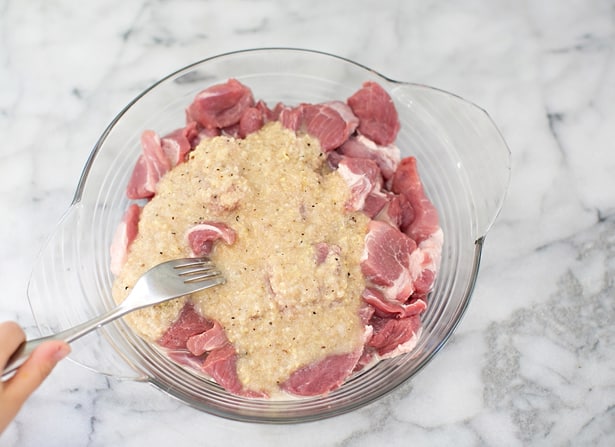 Step 3. In the meantime, prep your pickled carrots. Help your child cut them into sticks with a kid-safe knife. We love this one.
Add the vinegar and sugar together until dissolved, then the carrots. Refrigerate until ready to garnish.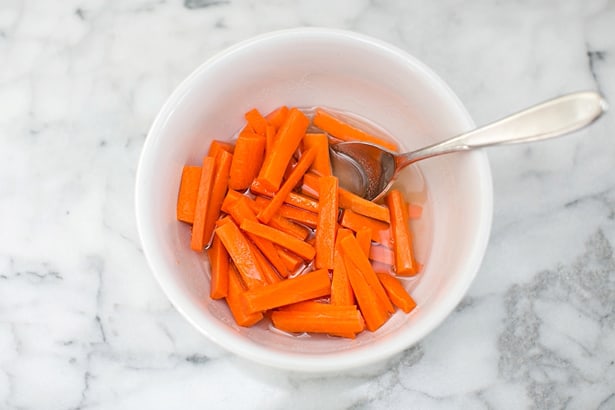 Step 4. Prepare the Vietnamese dipping sauce. Combine water, fish sauce and sugar in a small bowl. Chop up one lime and squeeze juice into the sauce. Add a few of the carrot sticks you chopped earlier as garnish.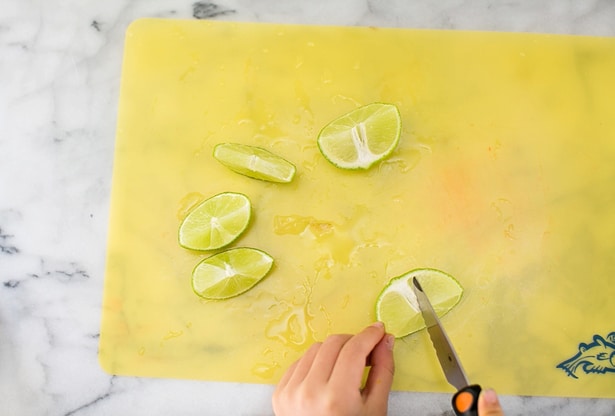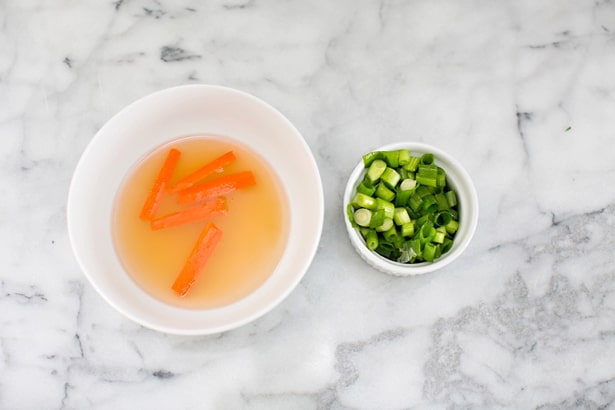 Step 5. Slice the cucumbers into slices to reserve as garnish for later and chop the green scallions. These kid-friendly kitchen shears are great for doing that. Fry the scallions in oil for a few minutes until fragrant and reserve that for topping as well.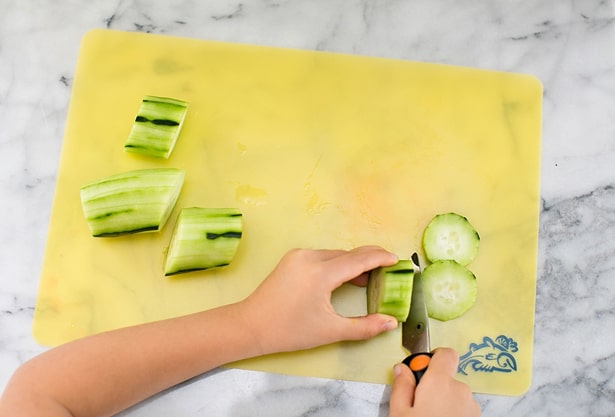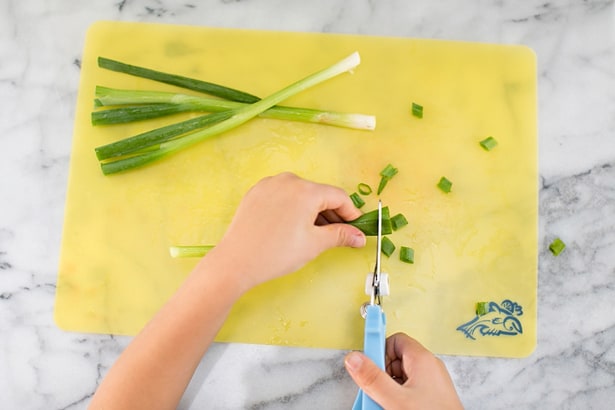 Step 6. Now that you have all the garnish and sauce prepped, you can cook your pork. You can grill it but if you don't have access to a grill, the oven is fine. Preheat the oven to 375 degrees. Line a pan with foil and place a baking rack on top. Place pork on top of the baking rack and cook for about 20 minutes. Broil on high for 5 minutes to caramelize the top of the pork. Allow pork to rest and then cut into smaller slices.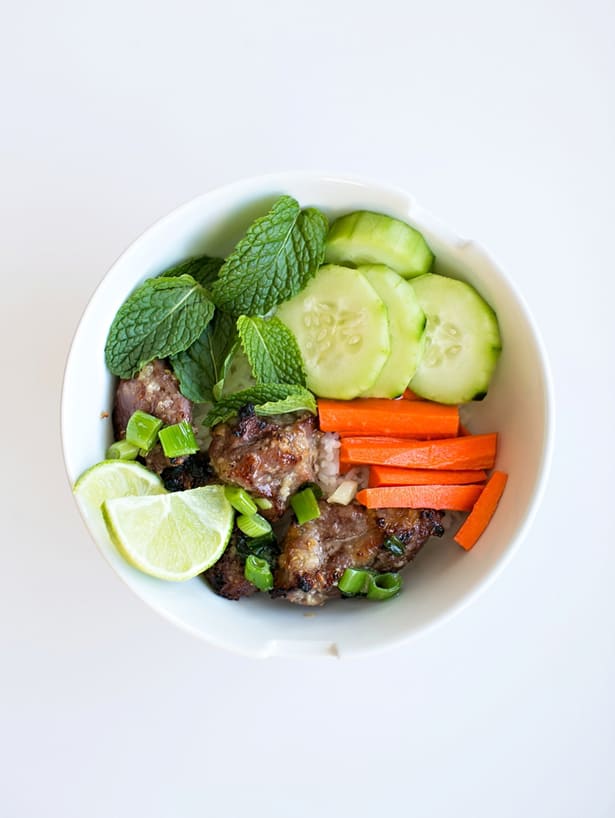 To put it all together, add rice, pork, drizzle with Vietnamese dipping sauce, and garnish with cucumber slices, lime, mint leaves and pickled carrots.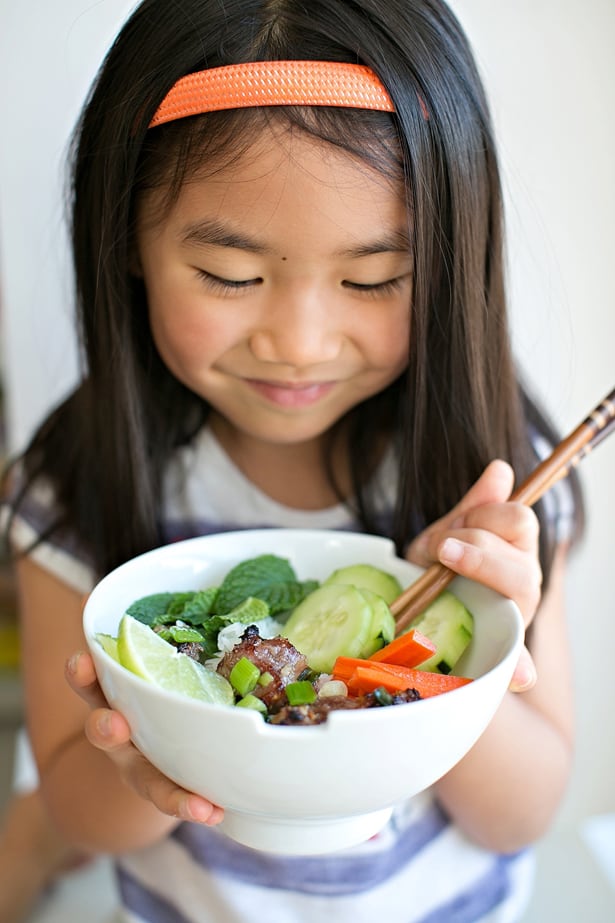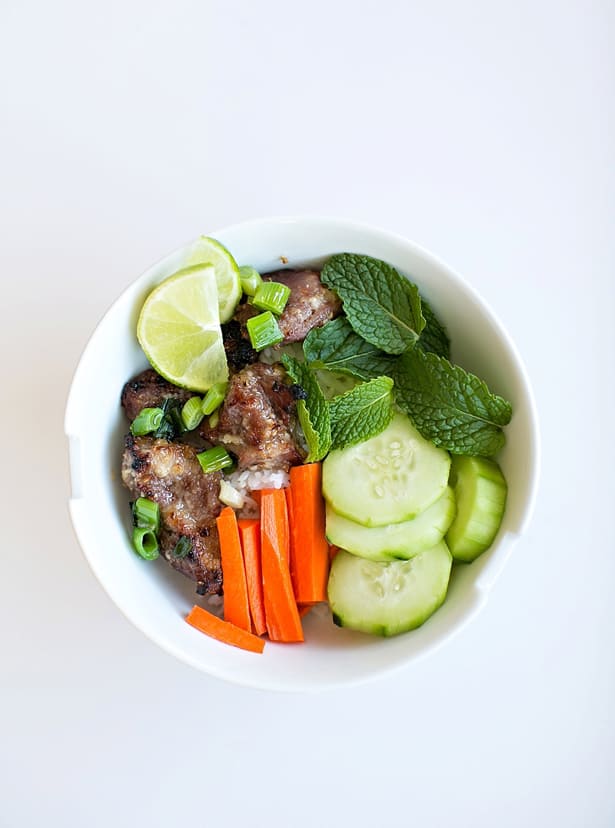 This Vietnamese Pork rice bowl is a delicious, healthy and kid-friendly meal that's a great way to get your kids to try more ethnic flavors. Plus, they'll have fun helping you make it in the kitchen!
Follow along our Cooking with Kids series for more kid-friendly cooking tips!