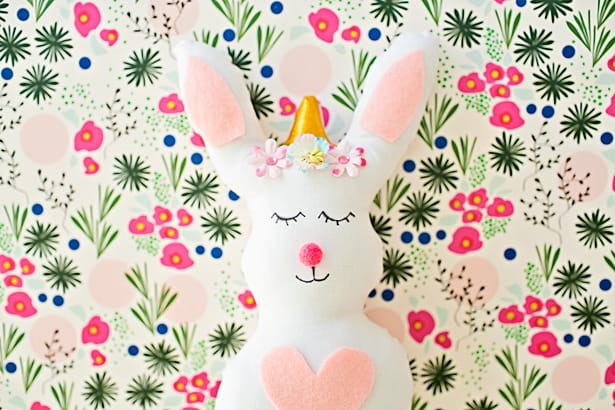 If you liked our Easter Bunny Unicorn Cards  you will love this adorable Bunny Unicorn Softie! Some may call it a "bunnicorn" but either way we're in love with the unicorn animal hybrid trend (have you see our Unicorn Animal Alphabet?).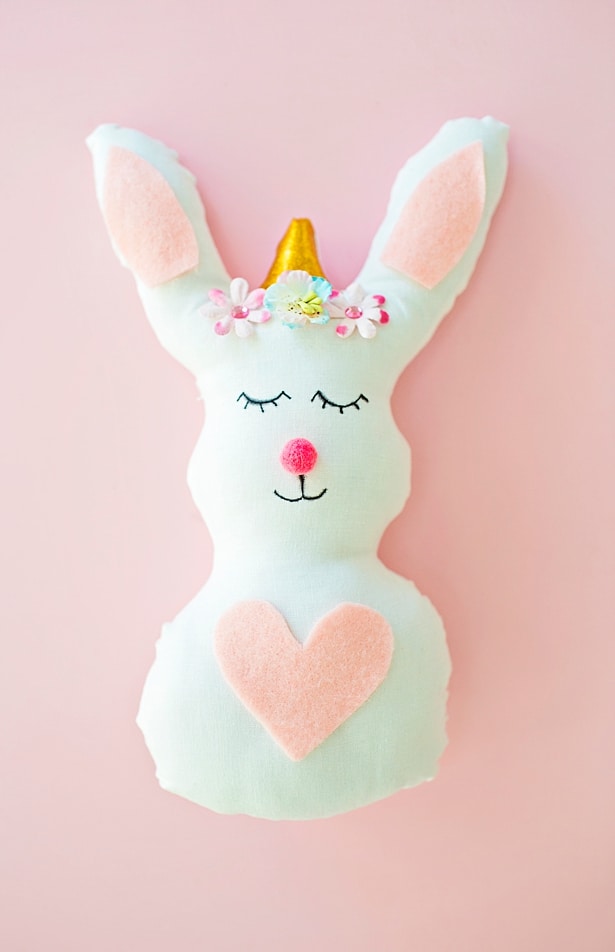 Hopping straight on to the details, this softie couldn't be easier for kids to help make. Younger kids will need help with the machine sewing part (or you can also do a no-sew softie version) and we've made this one easy with glued on felt ears, pom pom nose, tail, flowers and drawn-on faces.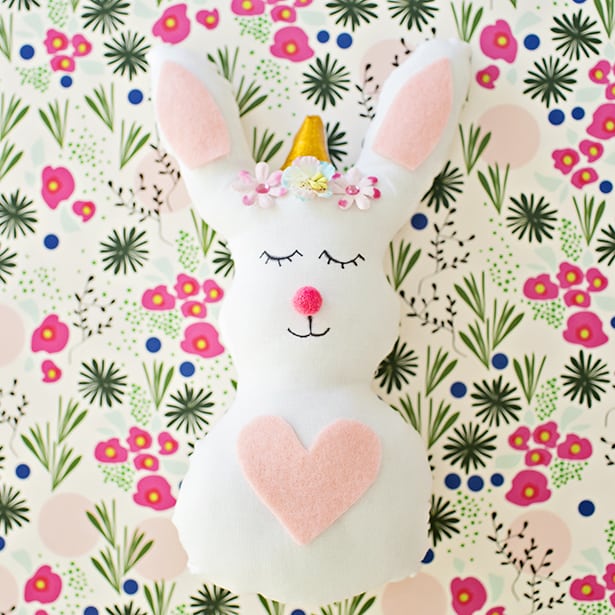 Of course if you're an expert sewer, feel free to stitch all the features on, but since we like to keep it simple and kid-friendly here, we wanted to show an option that would be suitable for little ones to make.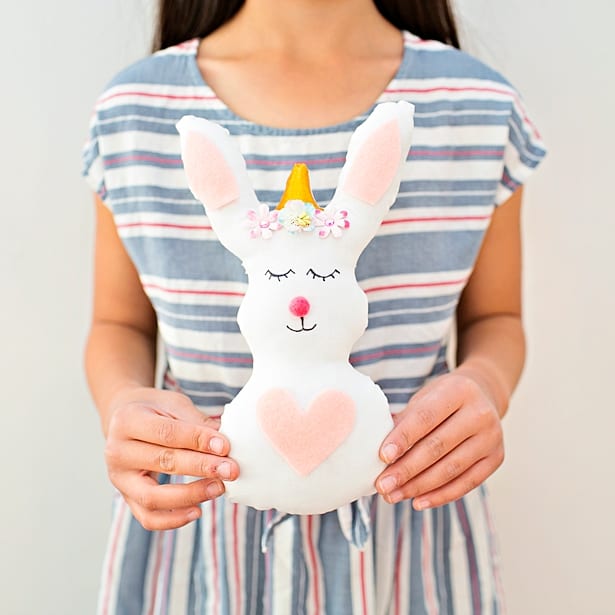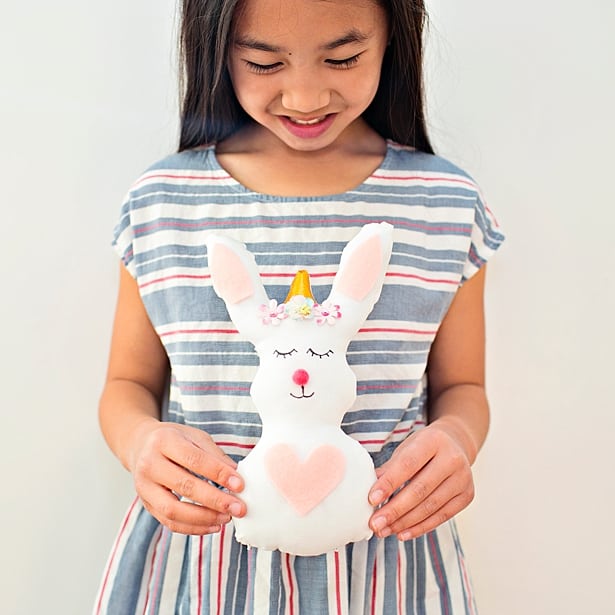 Read on below to get the material list to make your own DIY Bunny Unicorn Softie and our FREE printable pattern.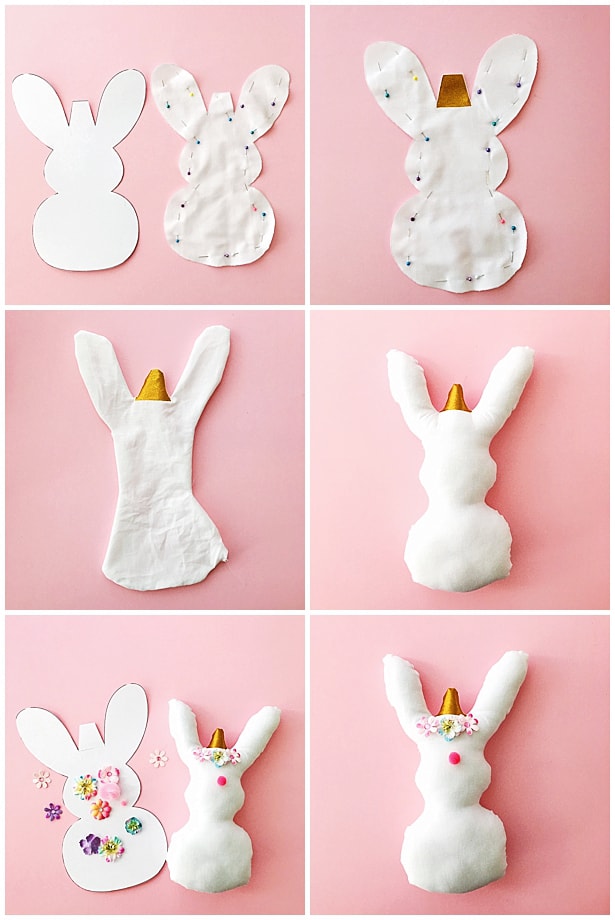 DIY Bunny Unicorn Softie – Materials:
Free Printable Pattern (download below)
White cotton fabric (these white tea towels also work)
Pins
Needle and thread (we used a sewing machine but you can sew by hand)
Crafty decorations like pom poms (nose and tail), craft flowers
Click Here to Get Your Free Printable
Instructions: 
Step 1: Print your free pattern out and cut out. Lay on top of two layers of white cotton and trace lightly around with a pencil.
Step 2. Pin your fabric together to hold it while cutting out the pattern (two pieces of fabric).
Step 3. Remove one of the layers and use the template to cut out the horn shape out of your gold vinyl.
Step 4. Follow the vinyl instruction to iron on the gold horn to your white fabric. We were inspired by this tutorial on how to make the gold horn.
Step 5. Flip the side with the gold horn onto your other white layer and pin.
Step 6. Sew around leaving a 1/4″ seam and a hole on the bunny's side so you can stuff it. Clip around the sewn edges with scissors.
Step 7. Reverse your fabric and stuff with polyfill. Hand-sew the opening shut.
Step 8. Glue on pink felt ears, pom pom nose, tail and flowers. Draw the bunny face with a thin black marker. As mentioned all the above can be sewn instead of glued on.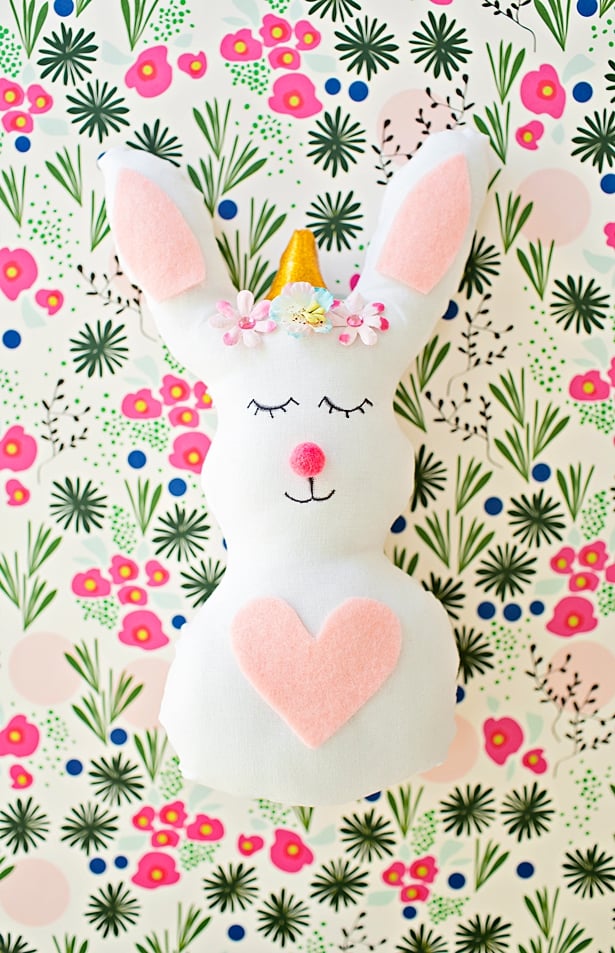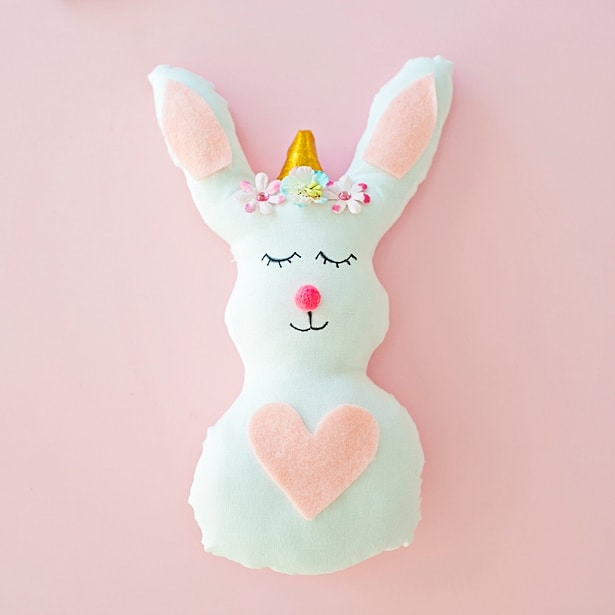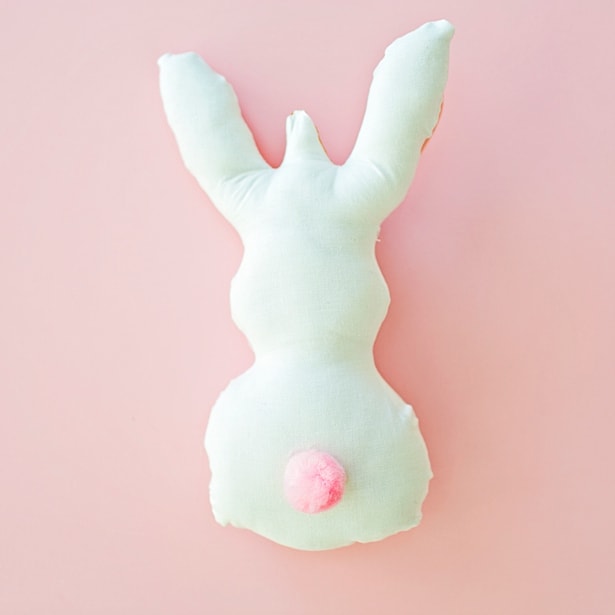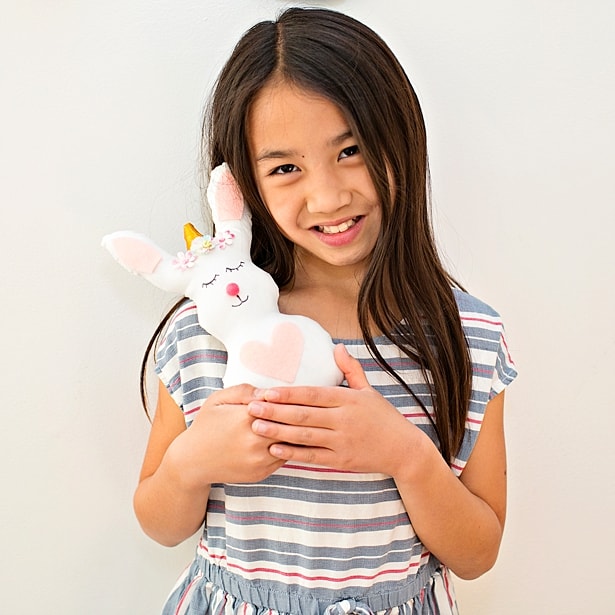 How cute is this Bunny Unicorn Softie? Wouldn't it be fun to pre-make a bunch of them and let kids finish them off by decorating in an Easter party?
Check out more fun Easter ideas for kids!
Disclosure: Some of the links in the post above are "affiliate links." This means if you click on the link and purchase the item, we will receive a small affiliate commission. Regardless, we give our promise that we only recommend products or services we would use personally and believe will add values to our readers.