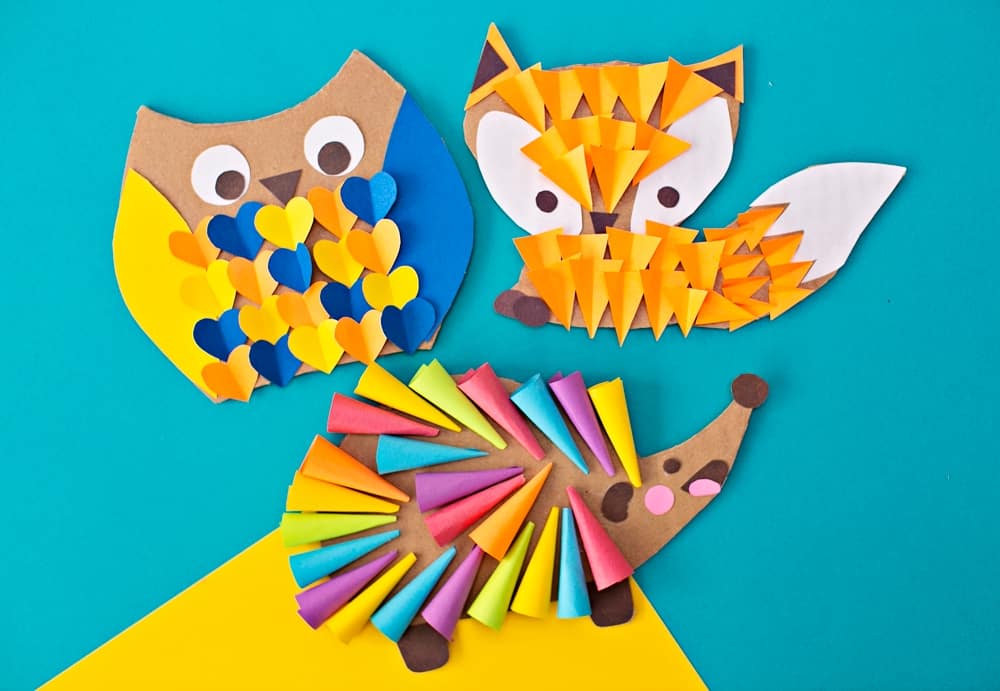 By using this site, you agree to our Terms of Use. This post may contain affiliate links. Read our disclosure policy.
Follow us on Instagram for more fun ideas for kids!
Watch the video below to see how to make this cute Woodland Animal Craft Cardboard Owl, Fox, Hedgehog Make sure to subscribe to our YouTube channel for more fun videos!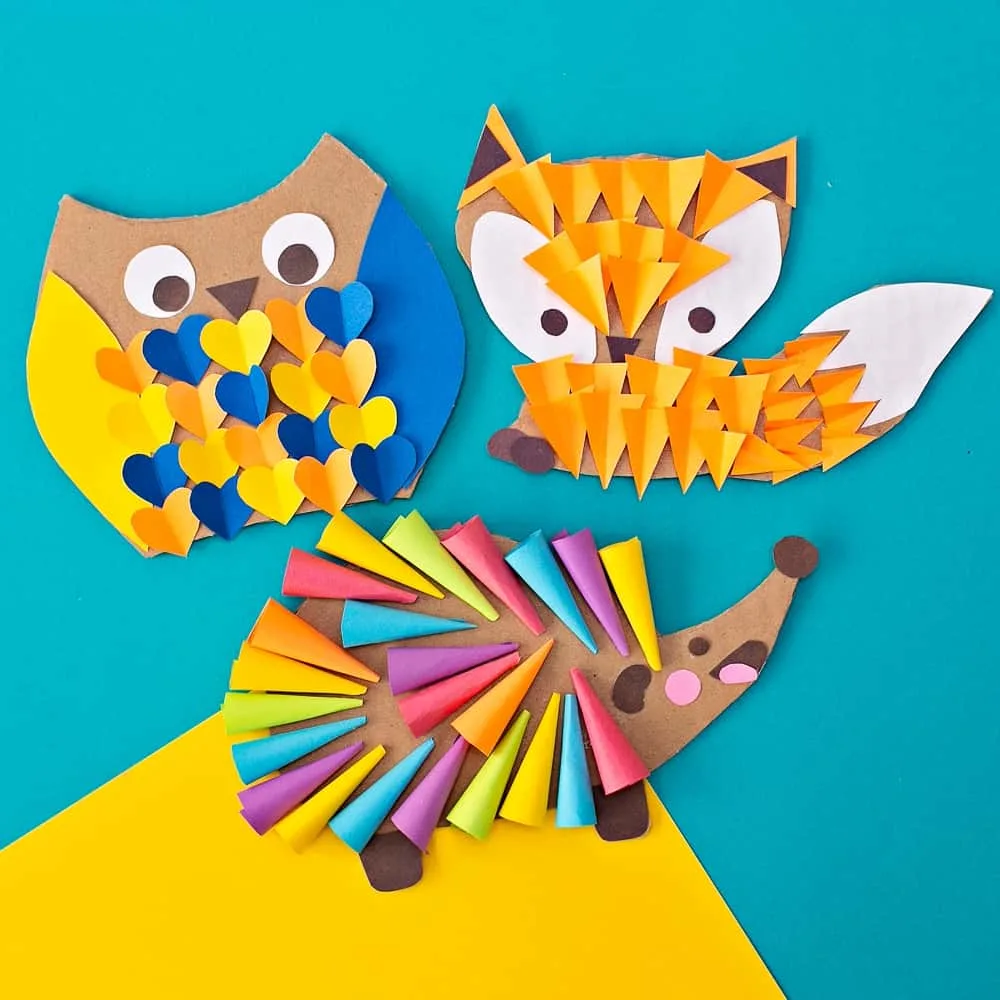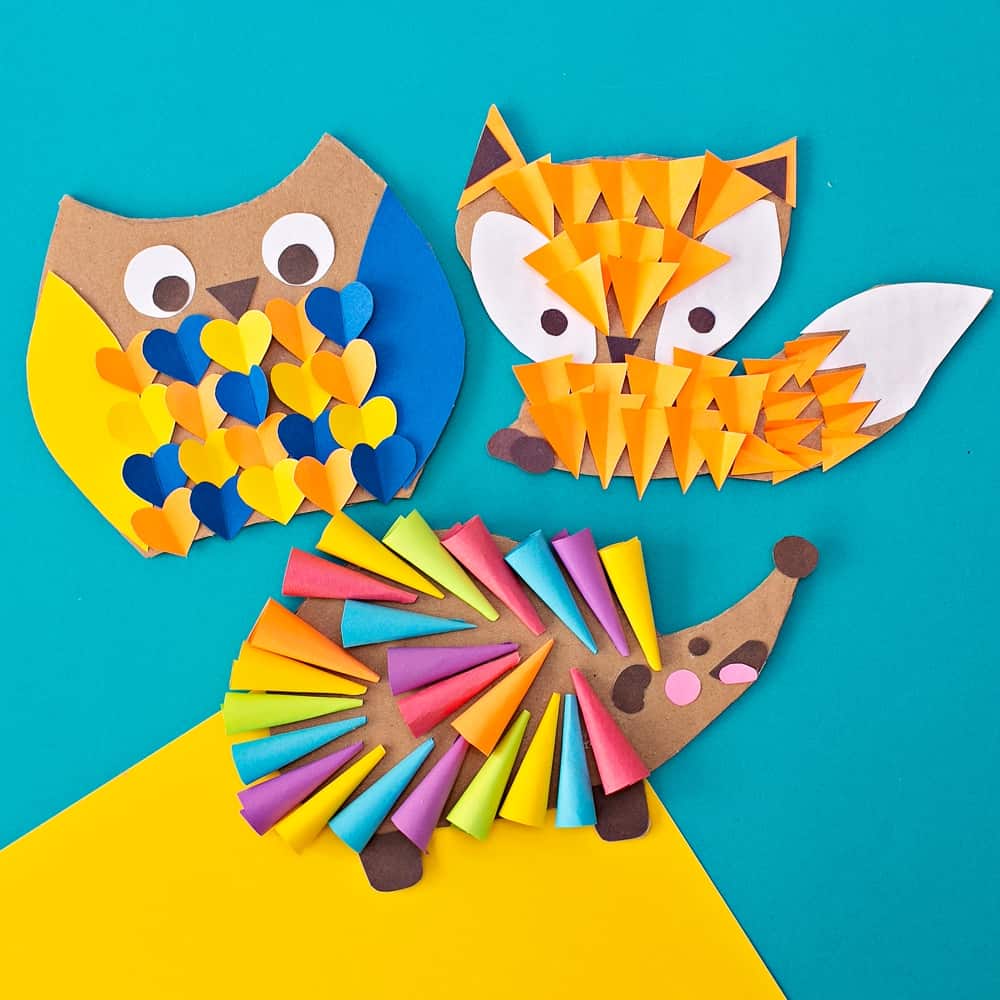 This adorable woodland animal craft featuring an owl, fox and hedgehog makes a cute recycled fall craft for kids!
Did you catch our DIY woodland animal costumes for Halloween this year? We got such a positive reaction from them that we decided to recreate them in miniature craft size!
The concept is the same, using just paper, cardboard, scissors and glue to make this cute recycled craft.
We used the same color combinations as the costumes; rainbow paper quills for the hedgehog, paper hearts for the owl and triangles for the fox.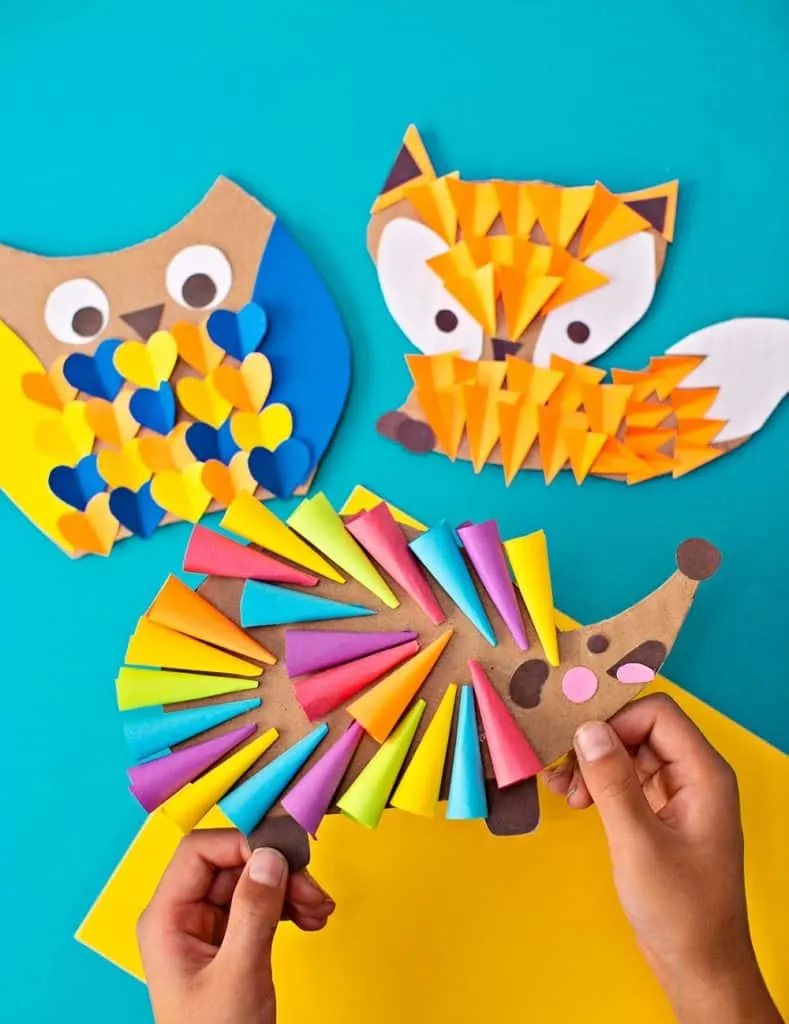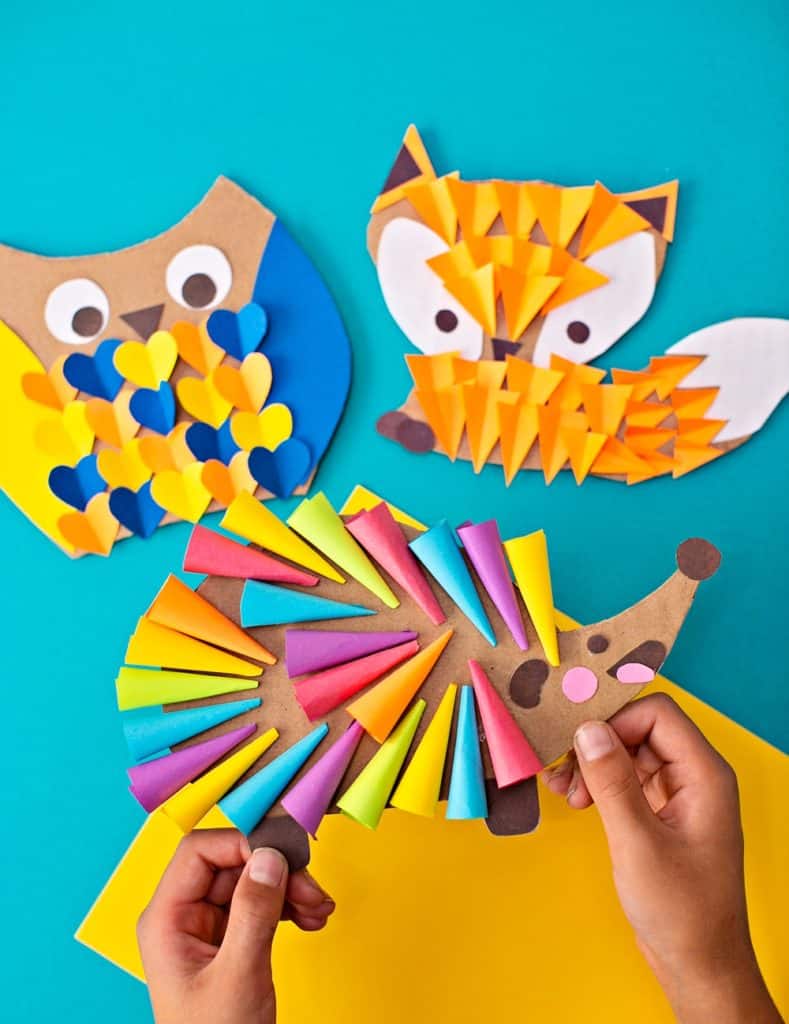 Can you make these woodland animal creatures any size?
Yes of course you can! Our costumes are quite large as you can see, but this smaller, more manageable craft size fits in the palm of your hands.
Do you have a template for this fox, hedgehog, and owl craft?
No we don't because there really isn't any size requirements to follow. The cardboard animal shapes are easy to cut out as simple shapes. The size of your paper "fur" feathers or quills will depend on the size of your cardboard cut-outs so we opted here to leave it to your imagination!
However this is an easy craft to follow because we stuck to basic shapes like cones, hearts and triangles.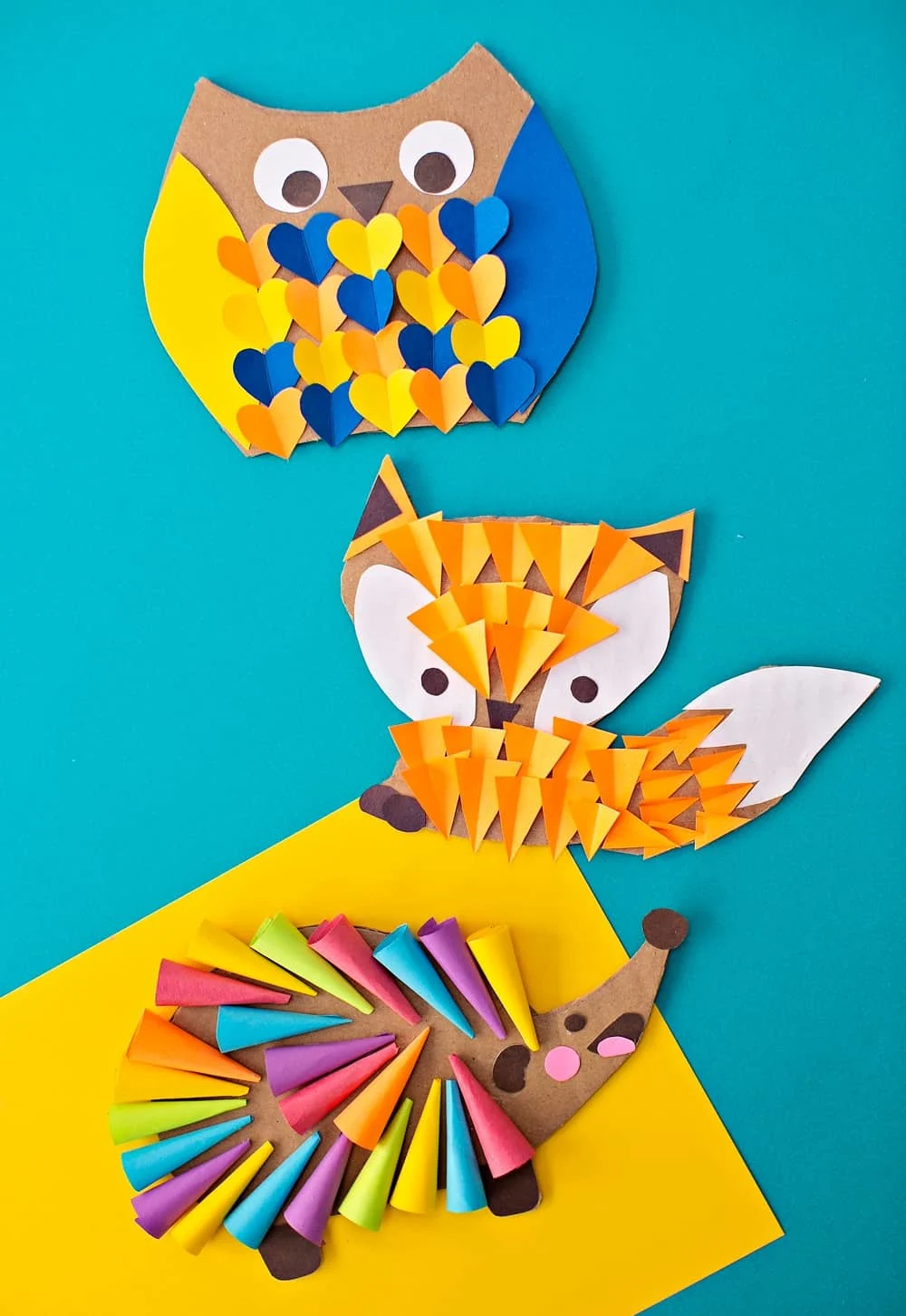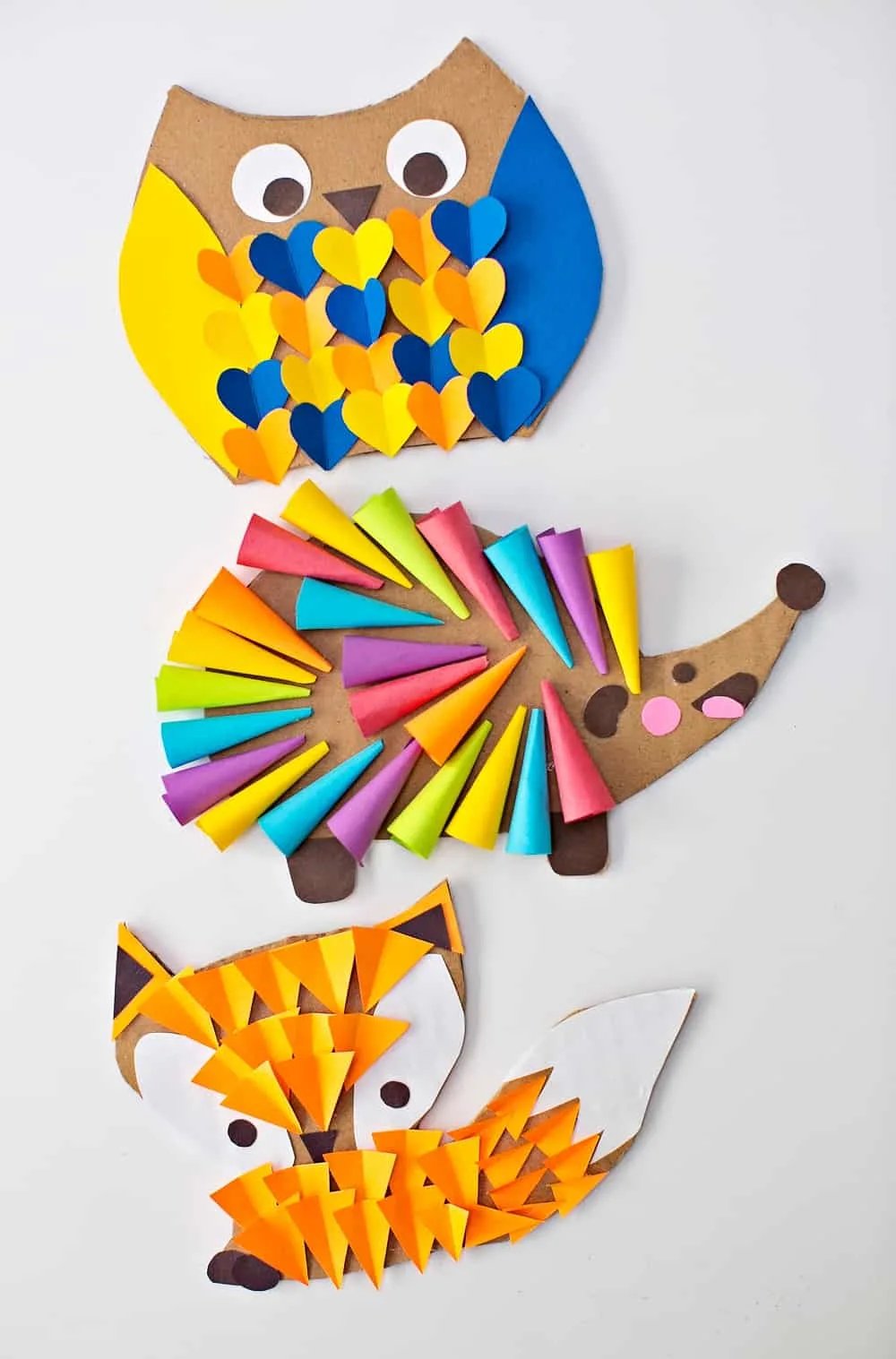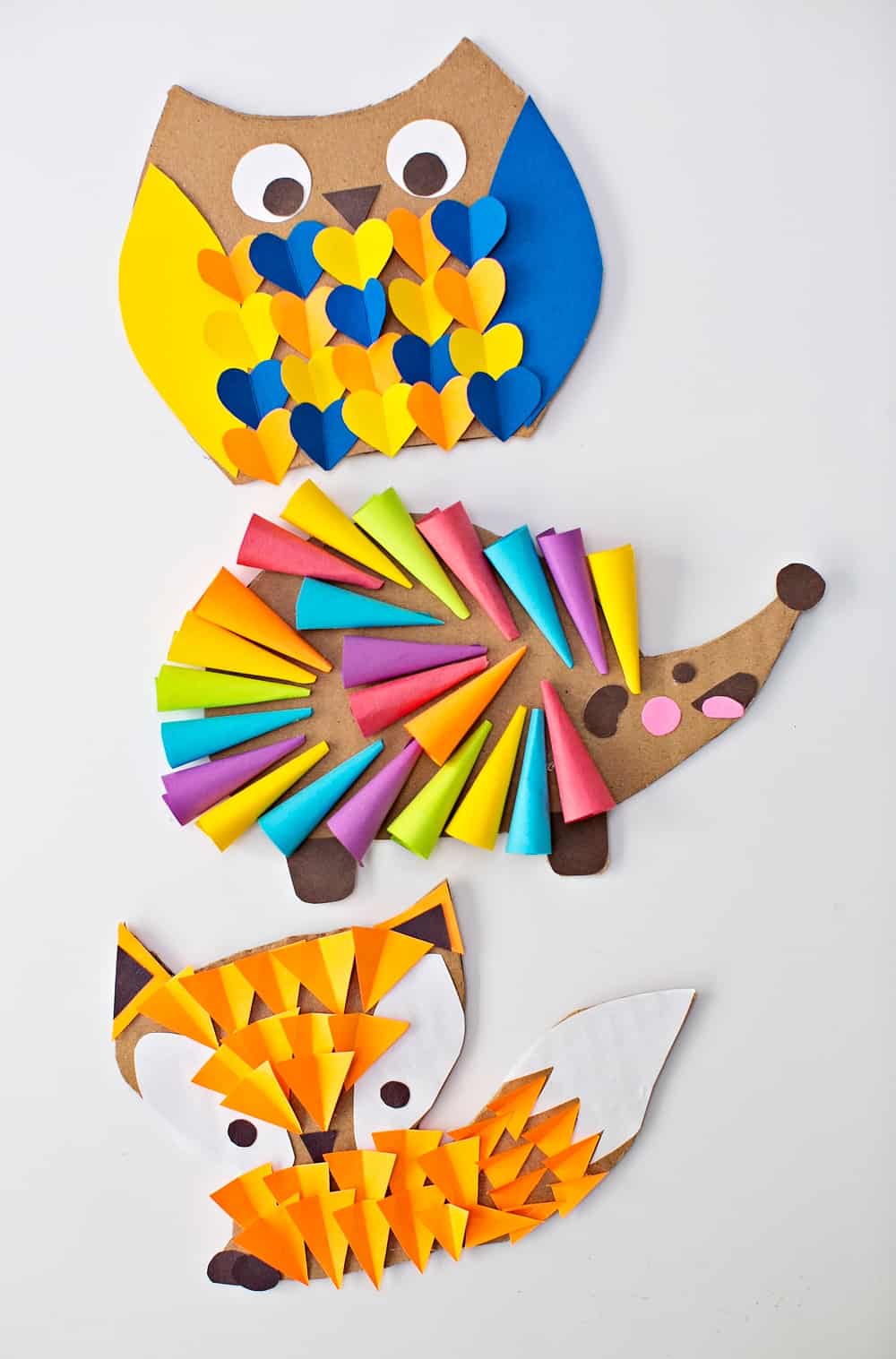 How to make this Cardboard Owl, Fox, Hedgehog Woodland Animal Craft – Materials:
cardboard
scissors
glue
white and dark brown paper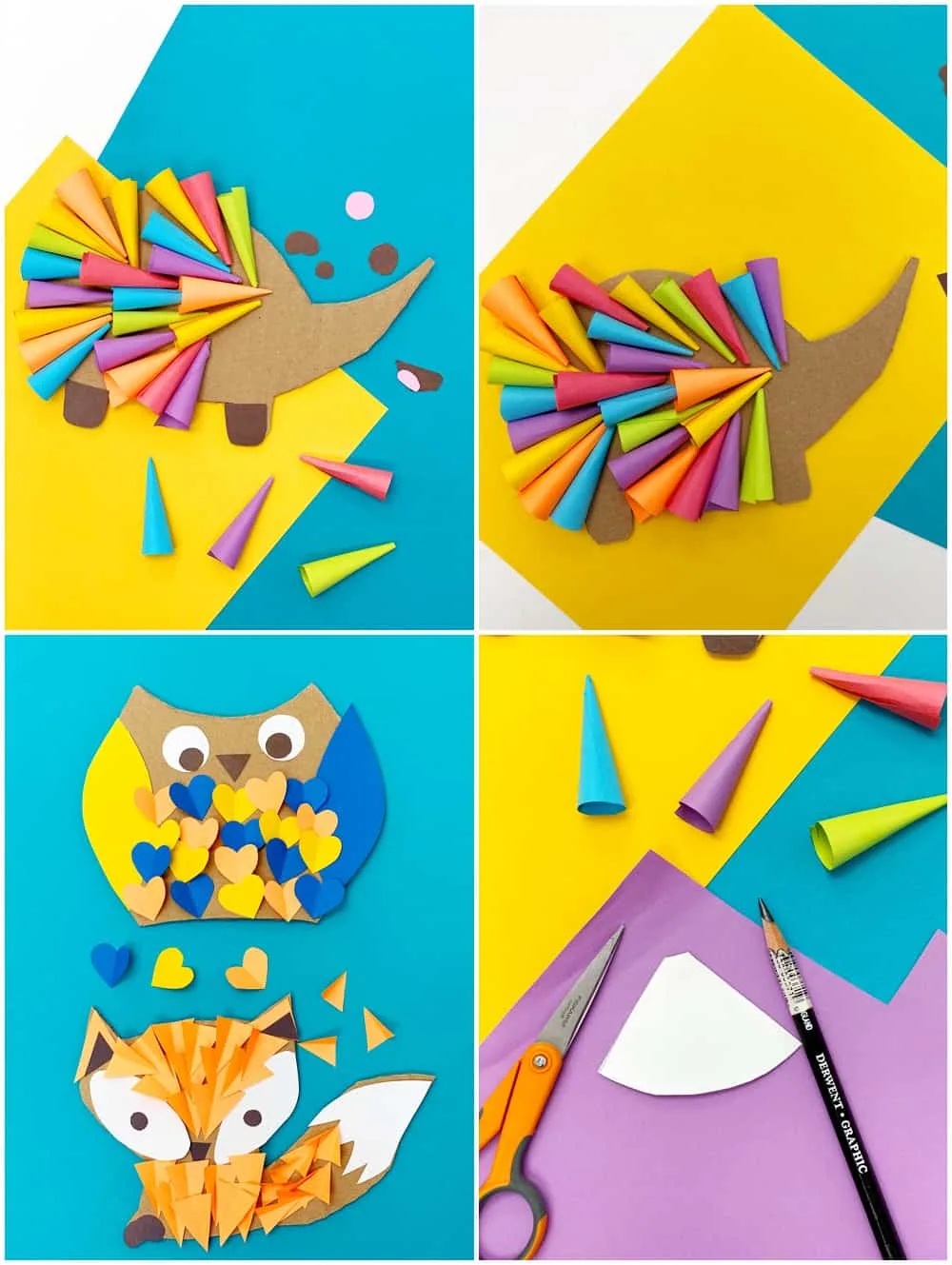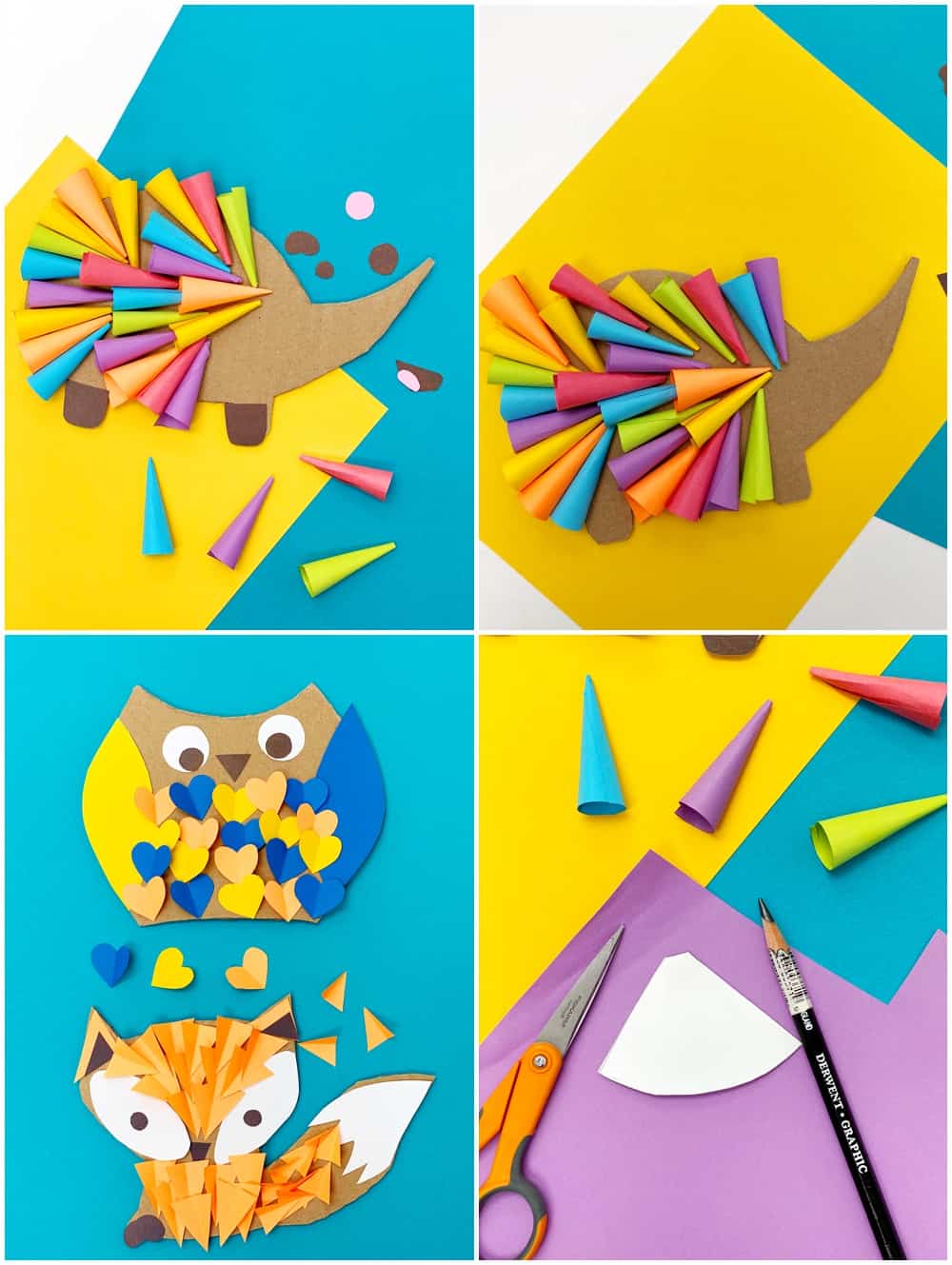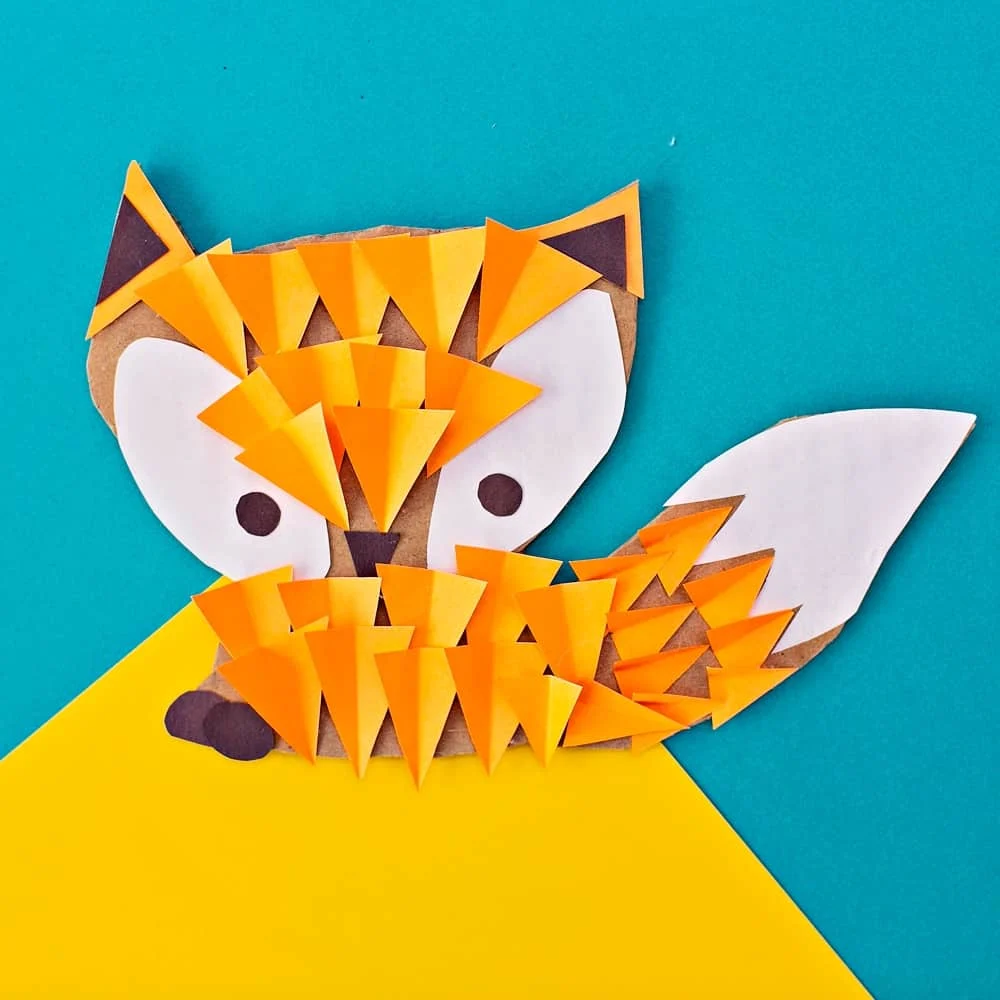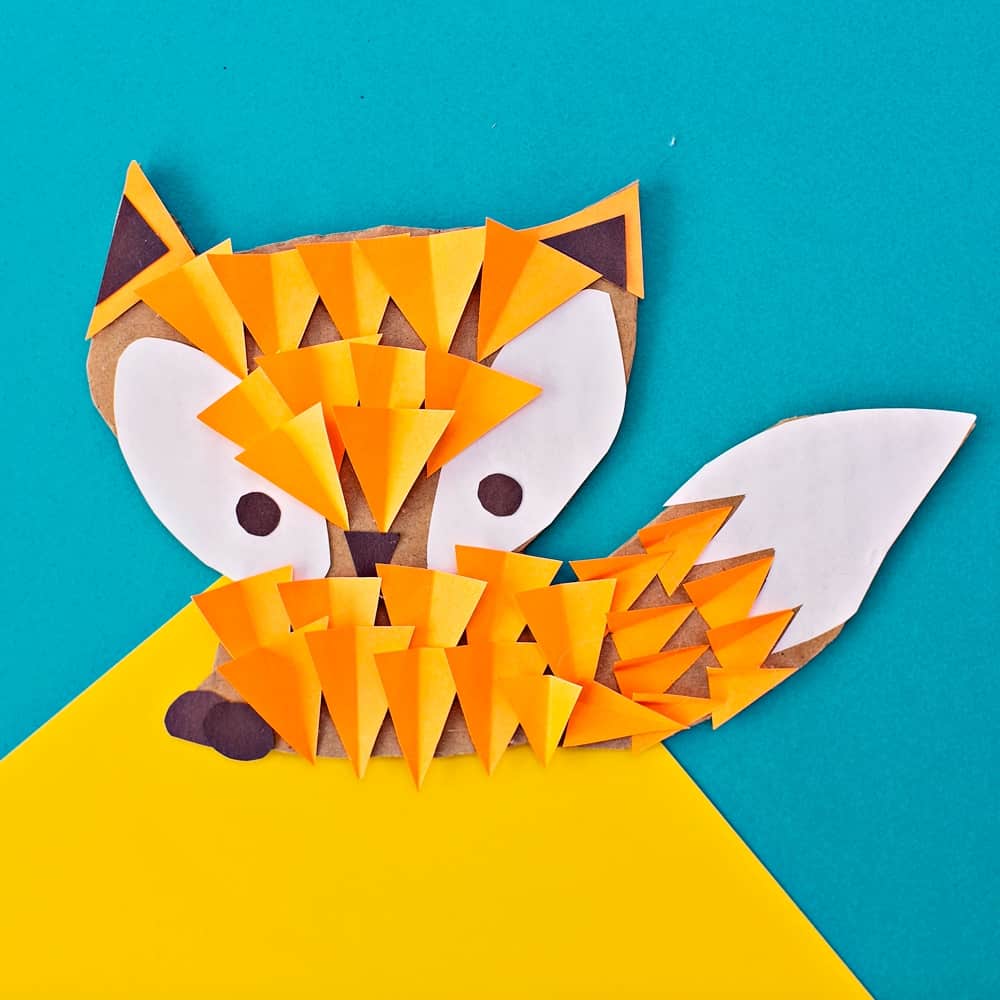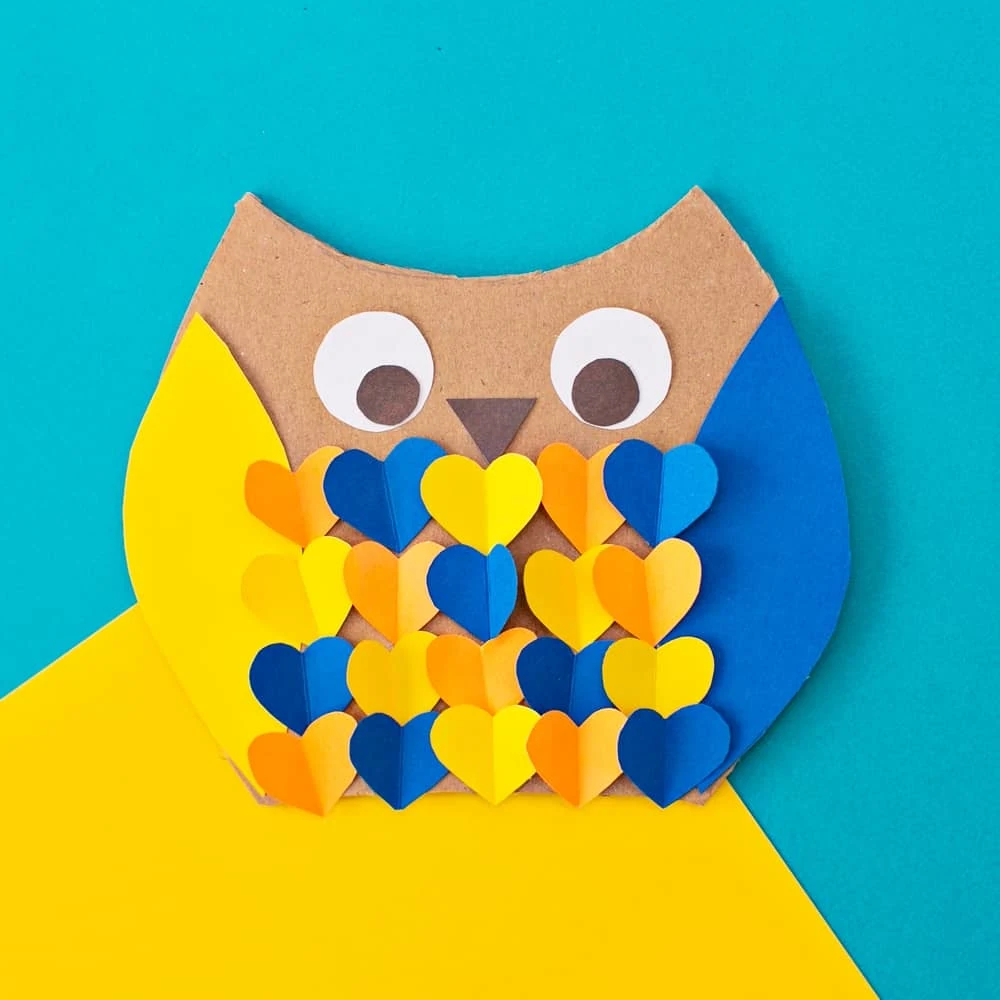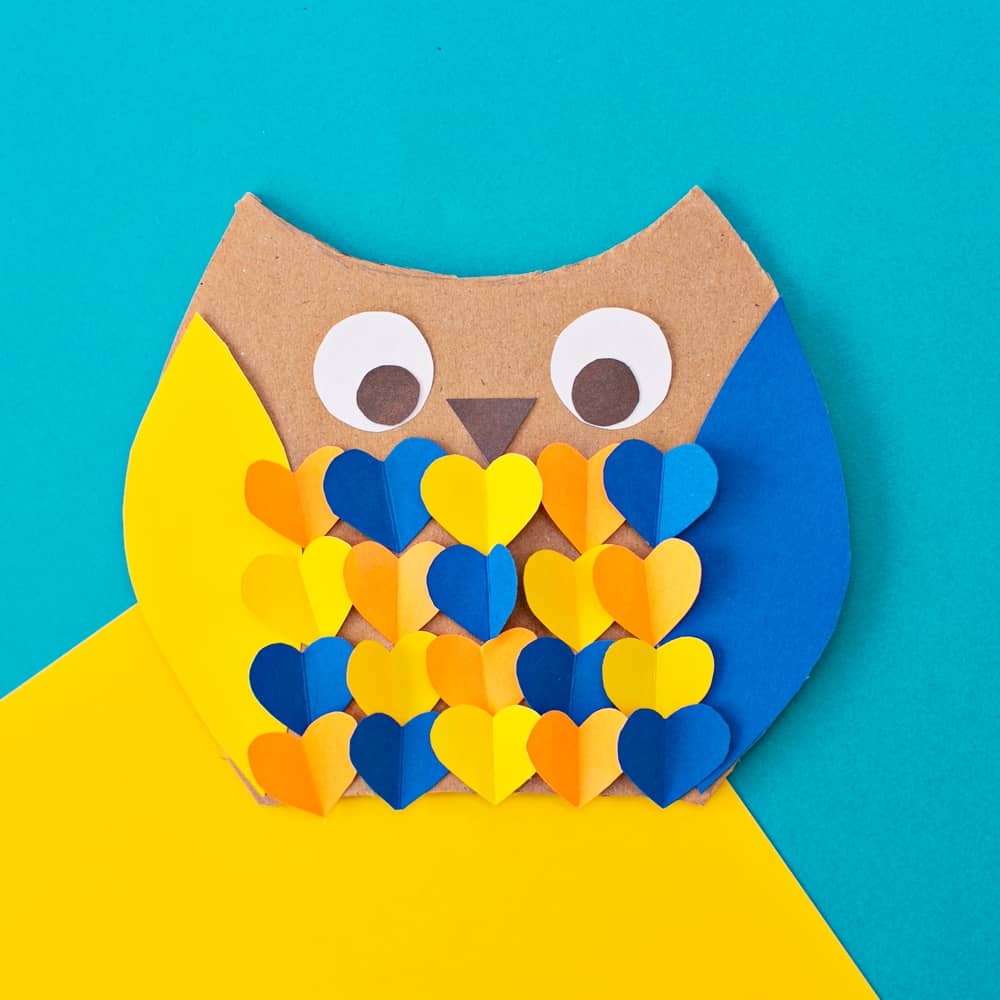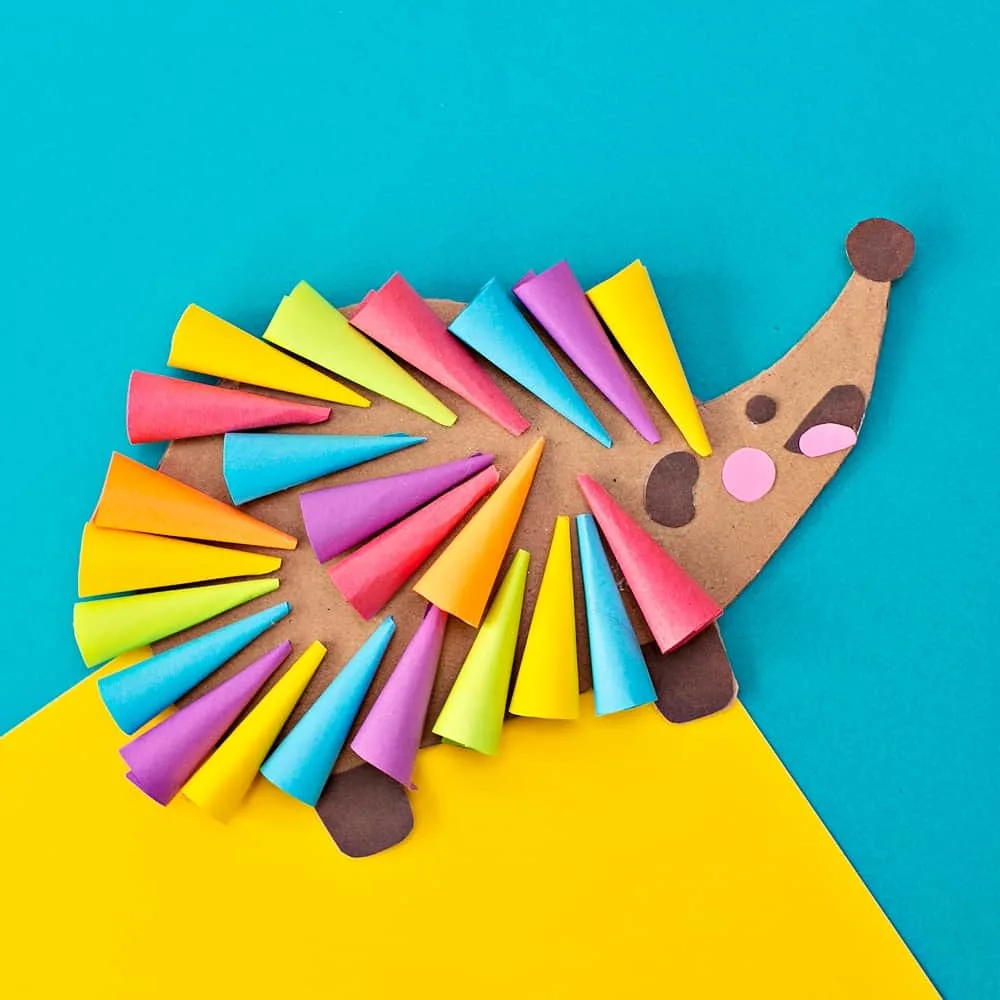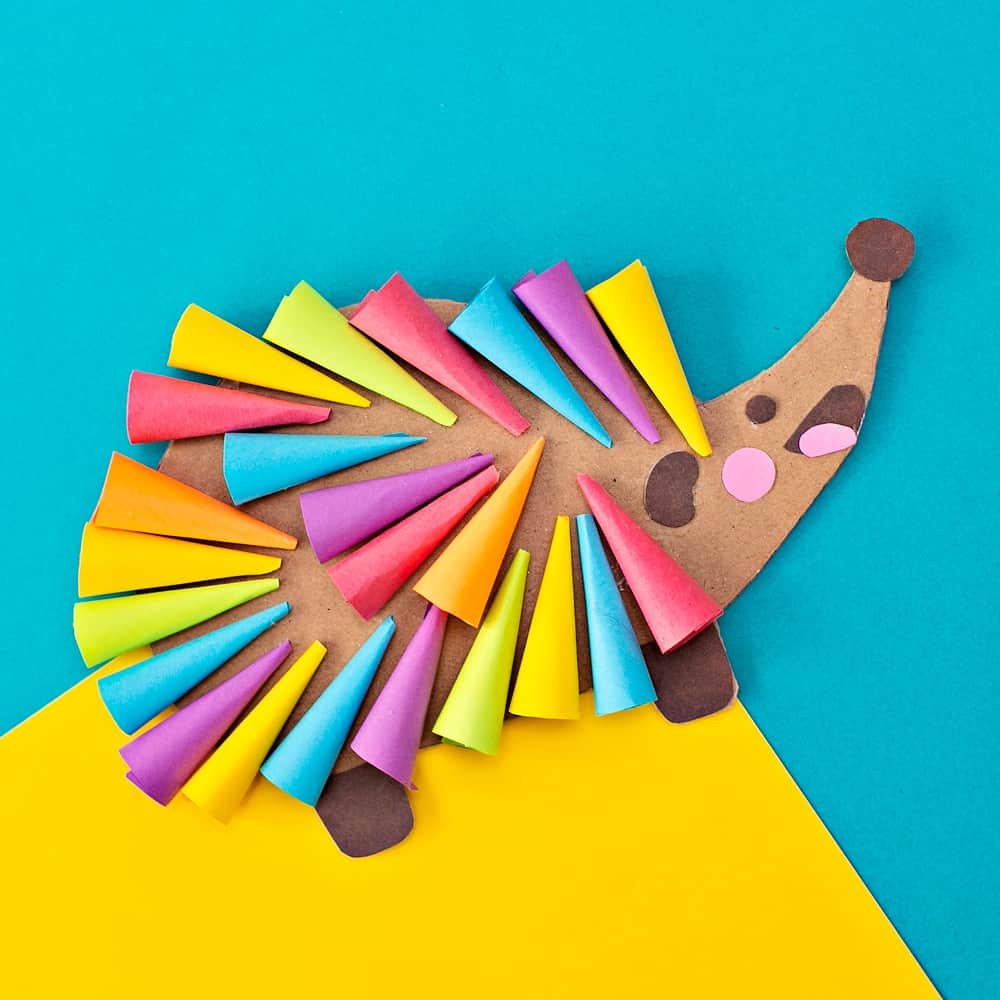 INSTRUCTIONS:
Cut out your cardboard into a simple owl, hedgehog and fox shape as shown.
For the Owl:
Step 1. Cut out two round white circles for the eyes and two smaller black circles. Glue the black onto the white circles. Glue eyes to cardboard owl. Cut a small triangle for the nose. Glue that on as well.
Step 2. Cut out small hearts in orange, yellow and blue. Fold the hearts in half and glue to the body of the owl.
Step 3. Add one blue and one yellow feather on each side.
For the Hedgehog:
Step 1. Cut out a triangle shape but with the to cut straight. Use that as template to trace onto various colored papers (red, orange, yellow, green blue, purple). Roll into a cone and glue or tape shut.
Step 2. Glue your rainbow quills to the cardboard hedgehog.
Step 3. Cut out a small eye, mouth (add a pink paper tongue), feet, ear and nose out of dark brown paper. Glue features on hedgehog face.
For the Fox:
Step 1. Cut small orange triangles. Longer ones for the body, smaller ones for the tail.
Step 2. With white paper, cut out a left and right oval for the face. Add two small dark brown circles for the eyes.
Step 3. Cut out two orange triangles for the ears, and add smaller dark brown triangles for the inner ears.
Step 4. Cut out the white end part of the tail.
Step 5. Cut out two small oval-ish shapes for the feet.
Step 6. Assemble paper parts by first gluing the white face details, ears, white end tail and feet. Then add the triangles. The ones on the body point down and the ones for the tail point up.

If you like this craft you might also enjoy:
______________________________________________________________________________________________________
Disclosure: Some of the links in the post above are "affiliate links." This means if you click on the link and purchase the item, we will receive a small affiliate commission. Regardless, we give our promise that we only recommend products or services we would use personally and believe will add values to our readers. As well, as an Amazon Associate I earn from qualifying purchases.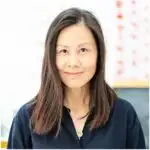 Agnes Hsu is a mom of three and has been inspiring parents and kids to get creative with easy activities and family friendly recipes for over 10 years. She shares her love for creative play and kids food to her 2MM+ followers online. Agnes' commitment to playful learning and kindness has not only raised funds for charity but also earned features in prestigious nationwide publications.