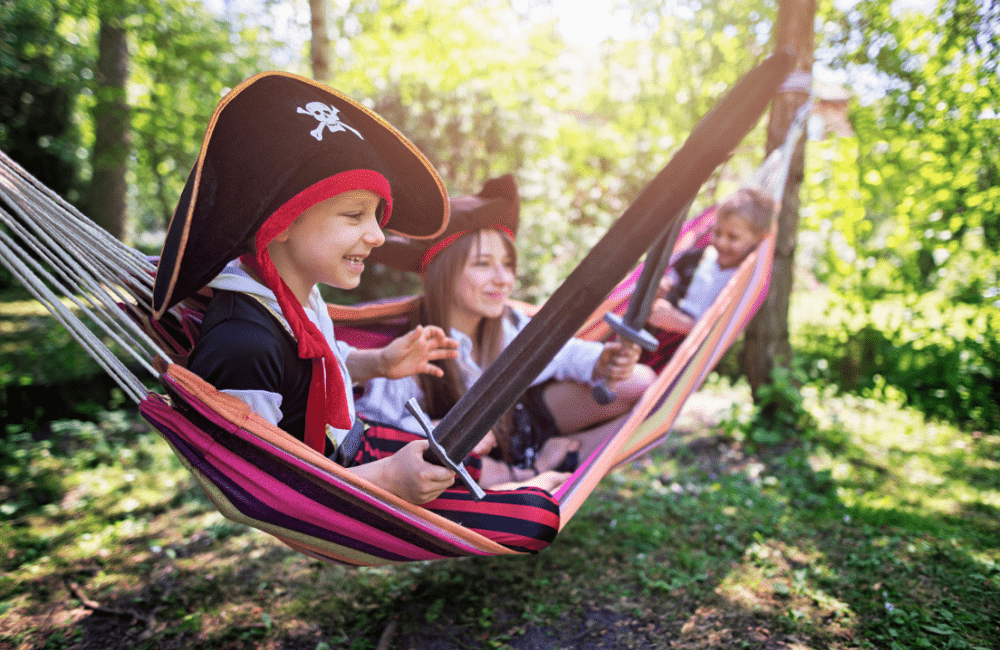 Photo Credit: Canva
By using this site, you agree to our Terms of Use. This post may contain affiliate links. Read our disclosure policy.
Follow us on Instagram for more fun ideas for kids!
Check out our top picks for the best kids hammocks that gives each kids a safe and cozy place of their own.
Your kids are probably in constant motion and stay busy, busy, busy. To rest, they require a place to relax, which may entail seeking an alternative to their bed or couch. This is where a calming hammock comes in handy. These kids hammocks are like personal swings on a playground for kids but with much less danger. They also provide a cozy cocoon for rest after playtime at home.
Aside from that, hammocks are simply entertaining and just fun to have vs. sitting on a chair or couch!
As relaxing as swinging back and forth while reading your favorite book can be, it is also beneficial and serves as a nice calming routine for your child. So you won't be sorry if you purchase one of these adorable hammocks for your child today!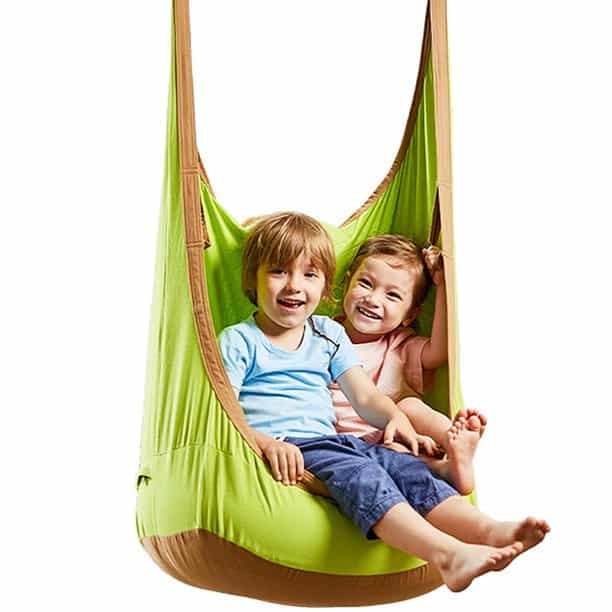 Photo Credit: Walmart
Are you looking for a fun and happy way to assist your children in regulating their sensory needs? Well, look no further than the Swing Seat, which is both a FUN and HAPPY place to learn and relax! This 53-inch swing has a weight capacity of 175 pounds, making it suitable for children aged three and up and teens and older adults. To provide a soft and comfortable experience, it is made with 100% cotton fabric material. On the other hand, the inflatable cushion is made of PVC material that is both breathable and comfortable. Thanks to its design, this swing will help keep your children entertained for hours on end.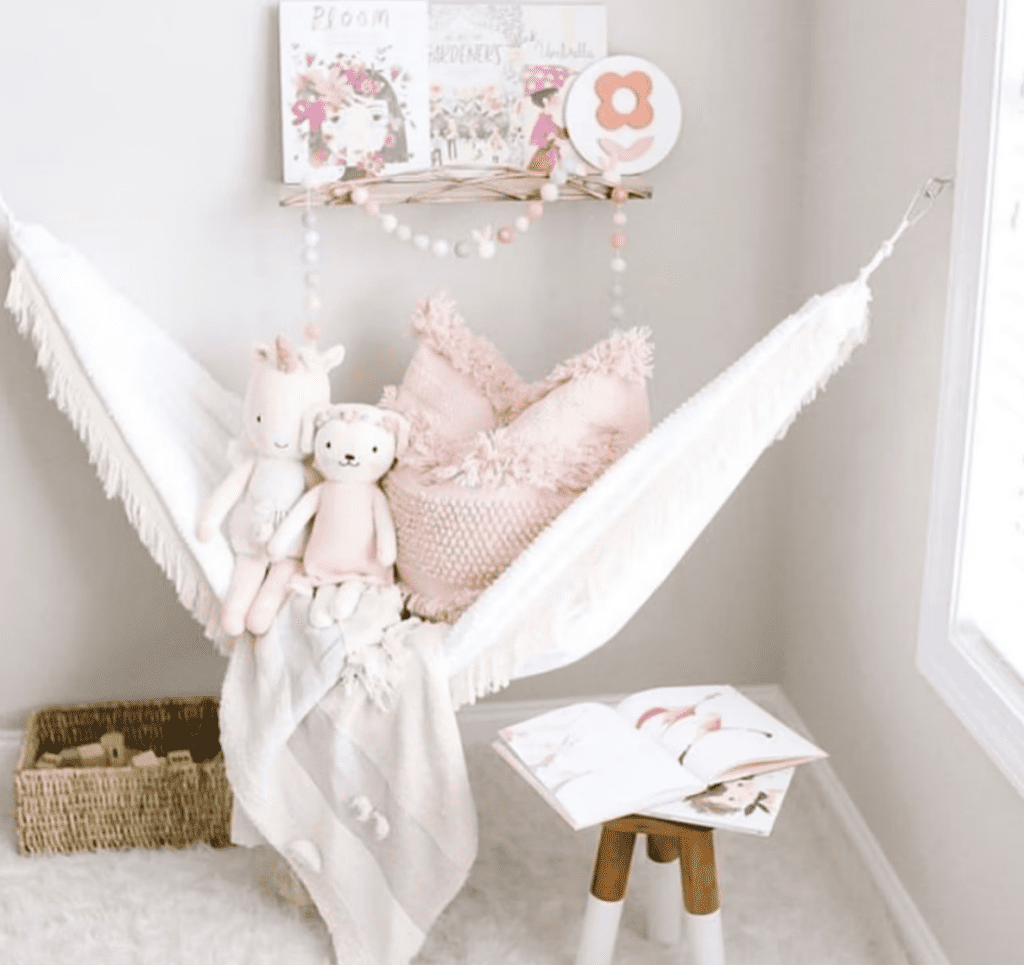 Photo Credit: Etsy
So what's the point of having a boring old bed when you can have your very own hammock !? This Whimsical White Minky-lined children's hammock is ideal for reading or taking a quick relaxing nap. It comes with eye bolts and carabiners so that you can get it up and ready in minutes. With a weight limit of up to 125 pounds, it's suitable for both children and young adults to relax on. You and your child will have a great time relaxing in this soft, Minky, comfortable hammock on those lazy afternoons. The off-white color is ideal for a child's bedroom or playroom, and the Minky lining makes it extremely comfortable.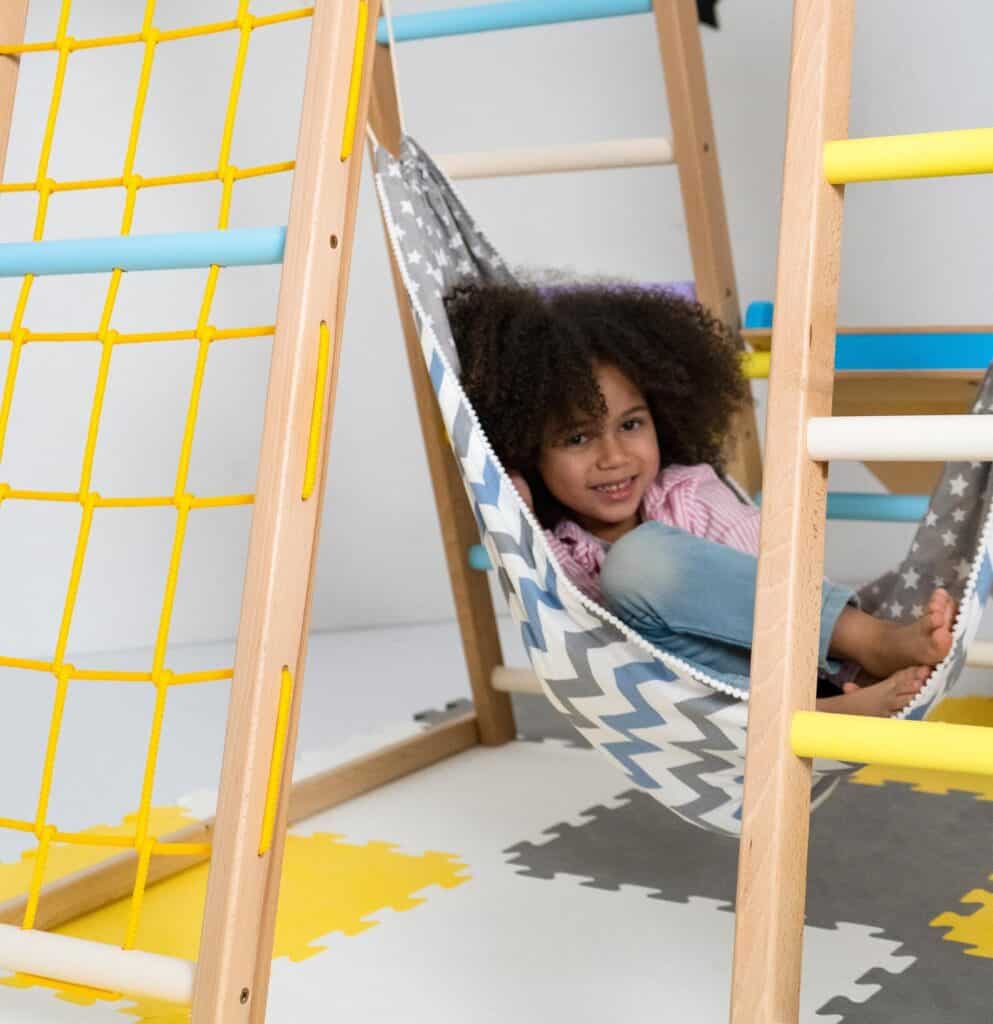 Photo Credit: Etsy
It isn't easy to imagine anyone not enjoying the sensation of rocking back and forth to sleep in a hammock and moving gently from one side to the other, as well as back and forth. After all, that is the underlying concept behind this baby hammock. Made of 100% cotton, this hammock is both soft and environmentally friendly, making it an excellent choice for any occasion. In addition, it is double-layered for added comfort and durability. In conjunction with a play gym, you can use it as either a hammock or a swing, depending on you and your child's preference.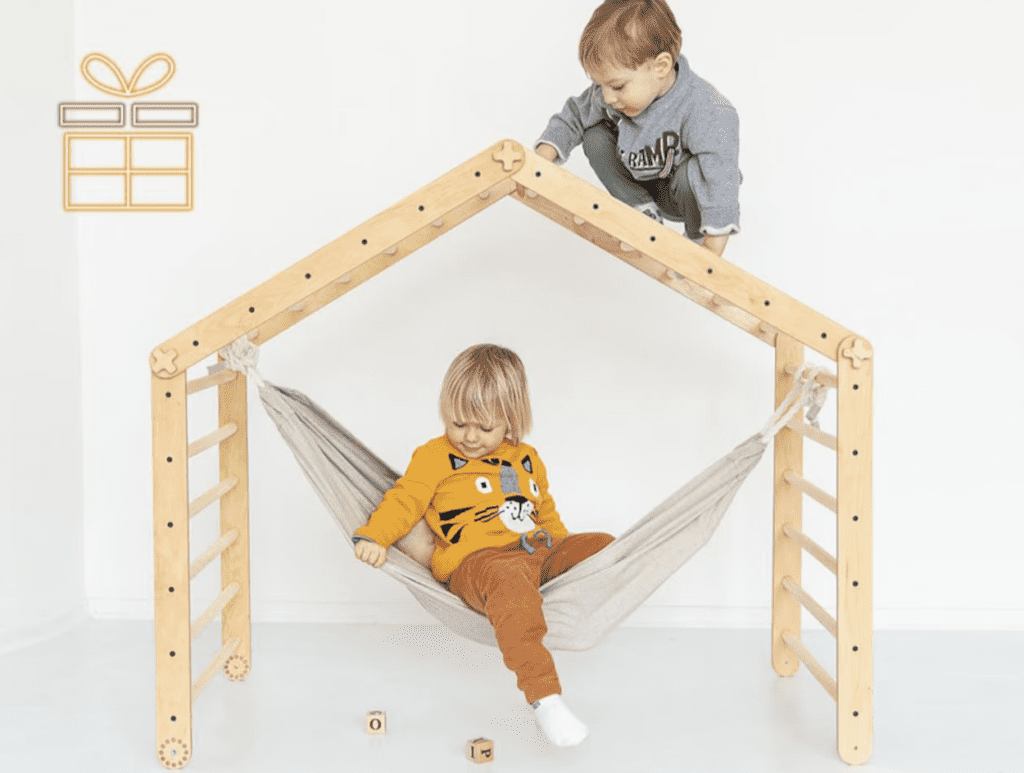 Photo Credit: Etsy
Looking for a fun and challenging way to keep your children occupied this summer? Look no further than our COMBO SET, which includes four items as well as a gift and a set of climbing frames! There are two transformable climbing triangles, two different style double-sided sliding/climbing ramps, and a hammock in this set – all of which are great for your child's developing skills. The climbing frame is intended to assist children ages three and up in developing their physical abilities and spatial awareness. Having so many different activities to choose from ensures that your children will never become bored!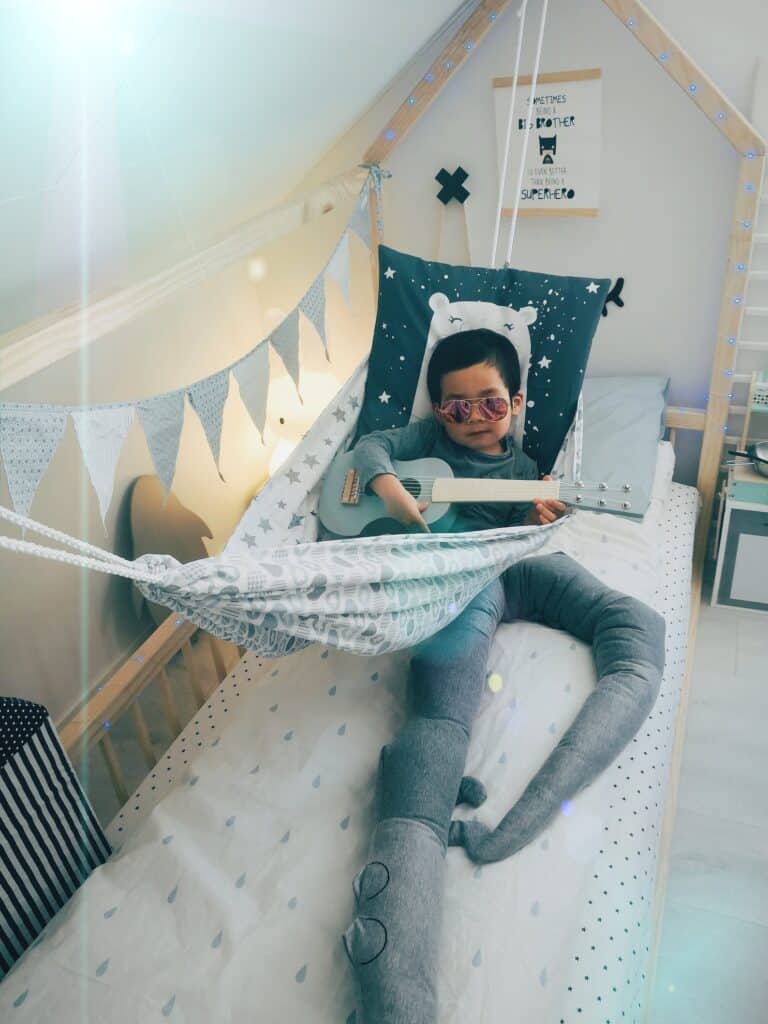 Photo Credit: Etsy
Is it essential for you to provide a safe and comfortable place for your children to rest their heads? Suitable for babies, toddlers, and children up to six, this double-sided hammock is entirely made from cotton and has two distinct sides. Your child will sleep peacefully in this hammock! It even comes with a cotton cord for easy assembly. In addition, the hammock is certified hypoallergenic and breathable, allowing them to sleep comfortably in it.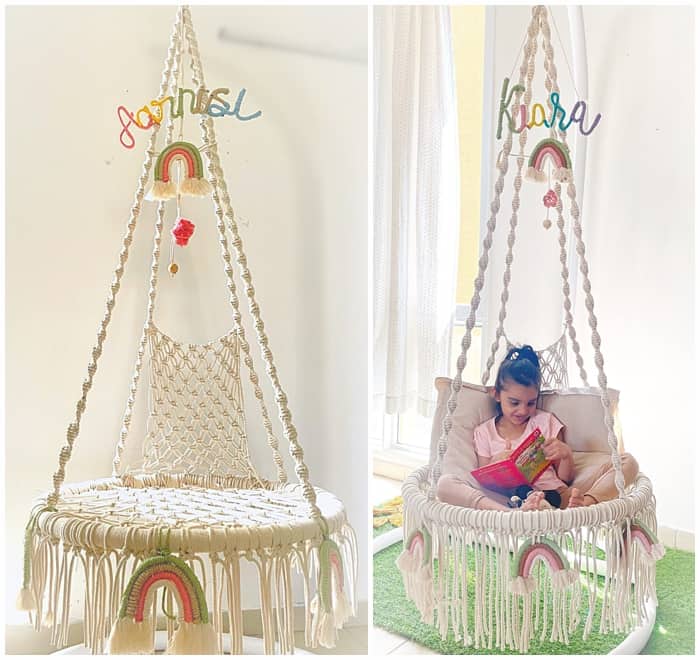 Photo Credit: Etsy
With the help of this personalized name swing, it's possible to bring joy and laughter into any child's environment. When it comes to creating this whimsical addition, only the finest materials are used, and it is painstakingly crafted with care and much attention to detail. Because of its durable frame and soft cotton cord will provide hours of entertainment for children and young adults alike. Bringing home this one-of-a-kind personalized swing from the store will make your child's day that much more enjoyable!
Photo Credit: Etsy
Whether you're at home or on the go, the Baby Hammock is the ideal place for your baby to sleep or relax. Made of natural beech plywood and finished with a child-safe oil, this sturdy hammock is suitable for newborns and toddlers who want to relax or sleep. This wooden baby hammock has been lovingly crafted by hand and provides a safe and comfortable environment for your baby or toddler to swing, sleep or relax in. In addition, this baby hammock/cradle is durable and easy to install.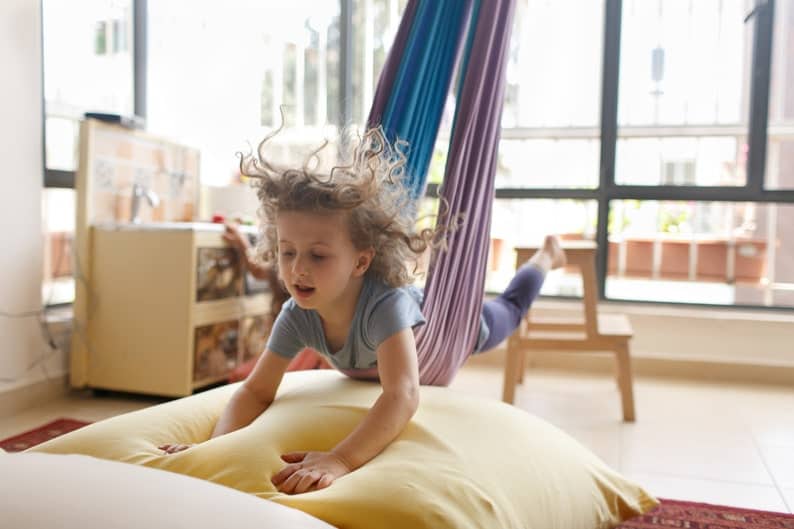 Photo Credit: Etsy
Trying to come up with some outdoor activities that will keep the kids occupied for hours on end? Then there's no need to look any further than the Sensory Swing! This hanging chair is suitable for use both indoors and outdoors and is equipped with a special spring that allows your child to bounce up and down in addition to just swinging. It is made with double-layered fabric to provide a soft yet sturdy and comfortable place for children of all ages to swing or relax. The Sensory Swing allows your children to express themselves creatively while developing gross motor and balance skills!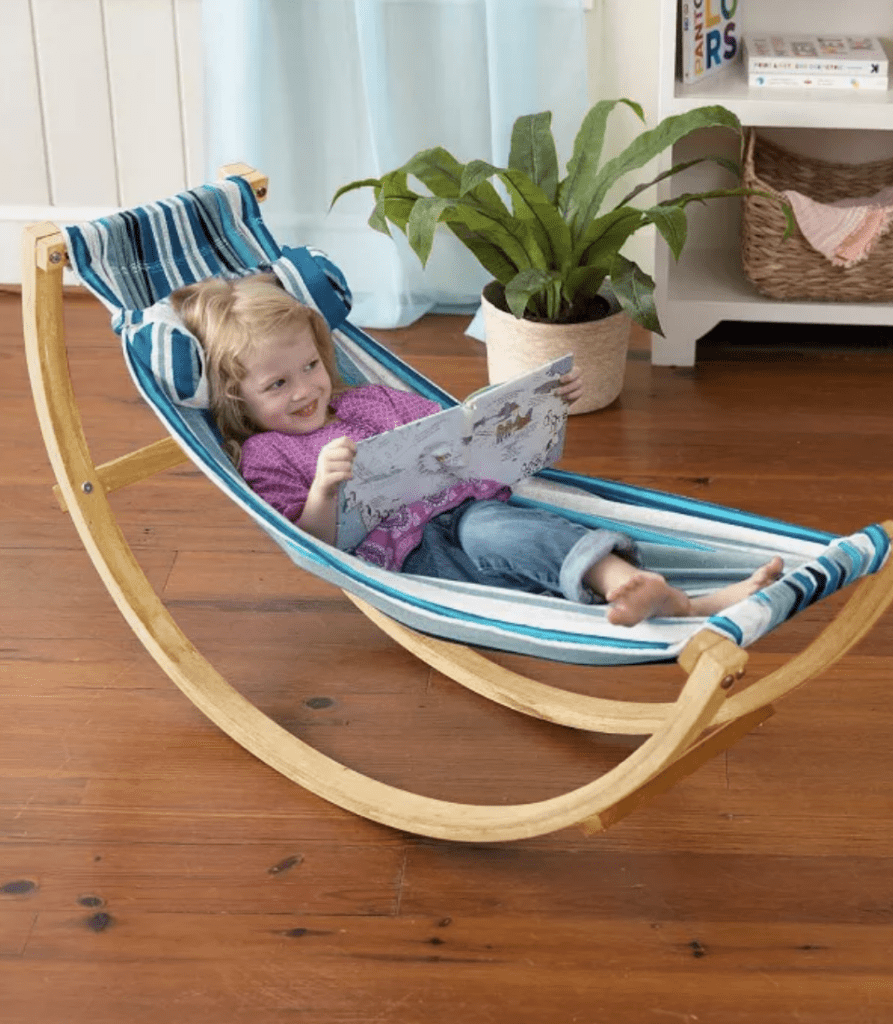 Photo Credit: Target
This HeartSong Rocking Floor Hammock has a sturdy, curved frame that allows children to gently rock and relax in comfort as they progress through their many stages of development and growth. The soft and comfortable cotton and polyester hammock fabric are long-lasting, and the removable cushion provides additional back support and comfort. This hammock holds up to 95 pounds, making it an excellent choice for growing children. The best part is that it is compact, lightweight, and easy to move, so you can take it with you wherever you go!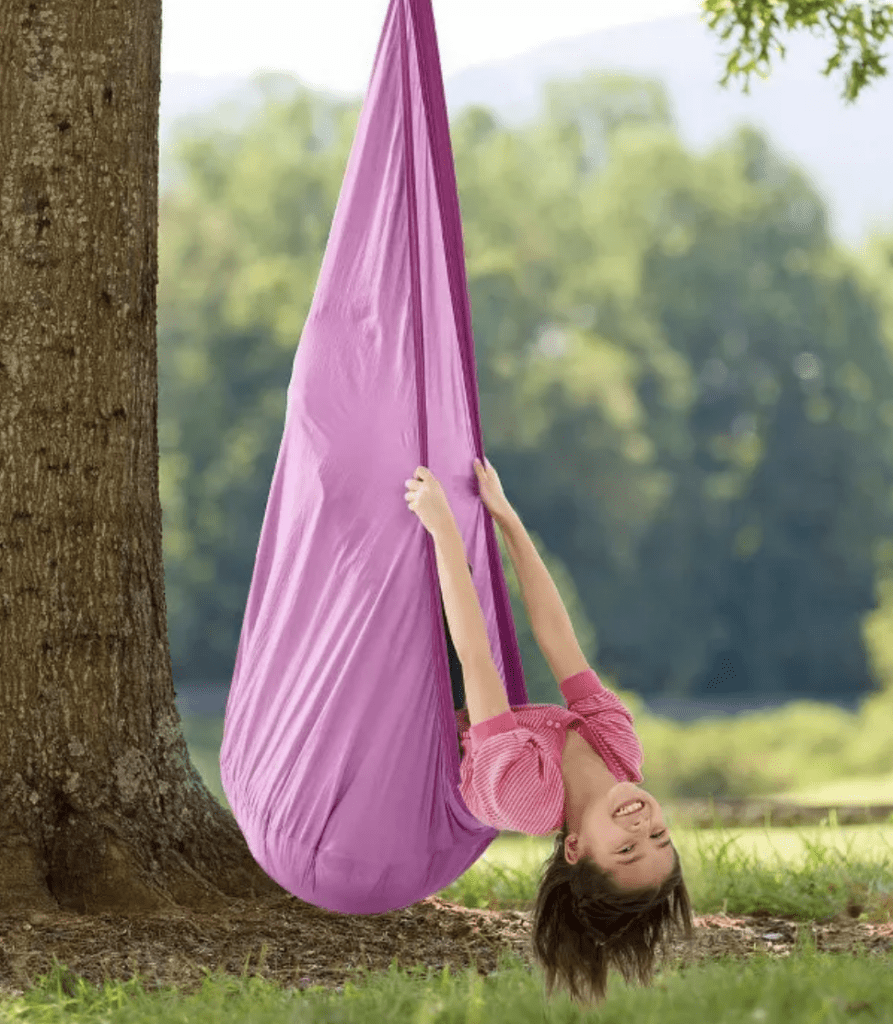 Photo Credit: Target
The HugglePod Lite Indoor/Outdoor Nylon Hanging Chair is the ideal spot for snuggling, reading, or just playing. This tough and durable chair is constructed of lightweight nylon and can support up to 175 pounds. The hanging strap and edging have been reinforced to provide additional strength while still allowing you to transport the piece with relative ease. In addition, because of the comfortable and inflatable cushion that is included in the package, it will make it easy to remain comfortable throughout the day.
Takeaway
If you're a parent who's looking for a safe and high-quality way to keep your child entertained, then you'll be interested in one of these awesome hanging hammocks! They come in a wide variety of colors and styles, so you can easily find one that matches your home's decor.
No matter what kind of hammock you're looking for – whether it's a sensory swing or something that they can play with indoors or outdoors – there's an awesome hanging hammock out there just waiting for your little ones!
Plus, they come in various fun colors and designs that your kids will love. So why not buy one for your home today? You won't regret it!
You Might Also Like
10 Exciting Pop It Gifts For Kids