Play kitchens are imaginative and fun spaces for kids to cook up all sorts of pretend play. My daughter was two when she received her first kitchen and it became a wonderful playing ground for her and her little brother for several years. They would love to make up dishes, play market, wash veggies and cook for their many stuffed animals and dolls.
There are plenty of cool play kitchens you can buy, but if you find yourself on a budge or want to customize one, take a look at these inspiring DIY projects. Some are as simple as cleverly dressing up old cardboard boxes or furniture like a stool or night stand. While others range to the more elaborate mini chef station complete with drawing plans.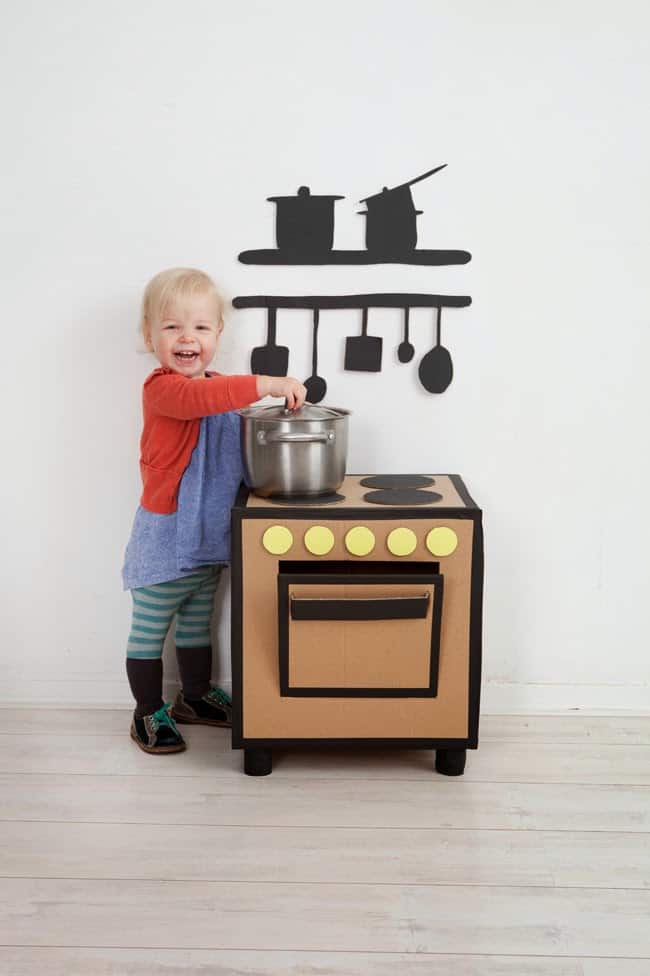 Cardboard Play Kitchen (via Pimpelwit)
Turn a large cardboard box into a stove and voila, you've got a kitchen! I love the black construction paper cutouts that give this simple box some additional flair.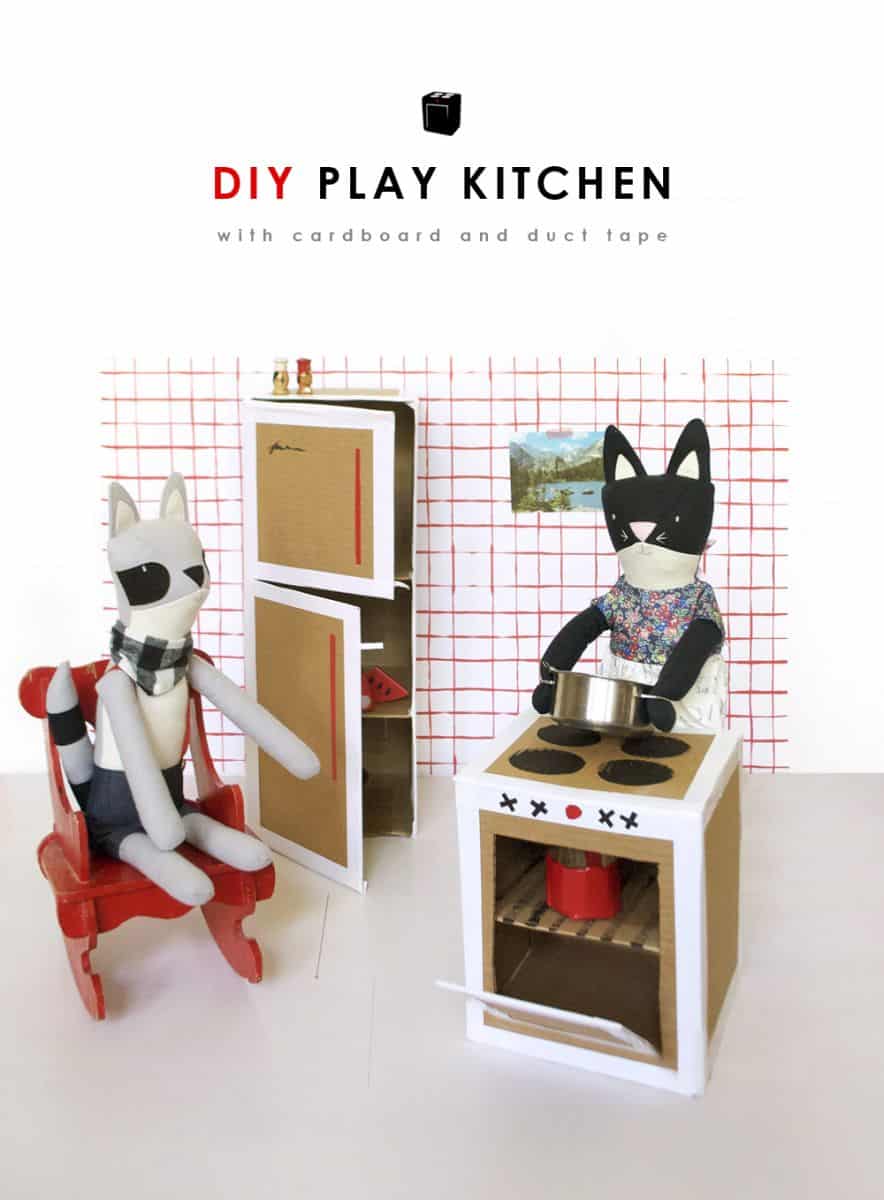 Small Box Kitchen with Duct Tape (via Mer Mag)
Here's another fun way to play with cardboard and turn it into an adorable play kitchen for your children's favorite stuffed dolls and animals.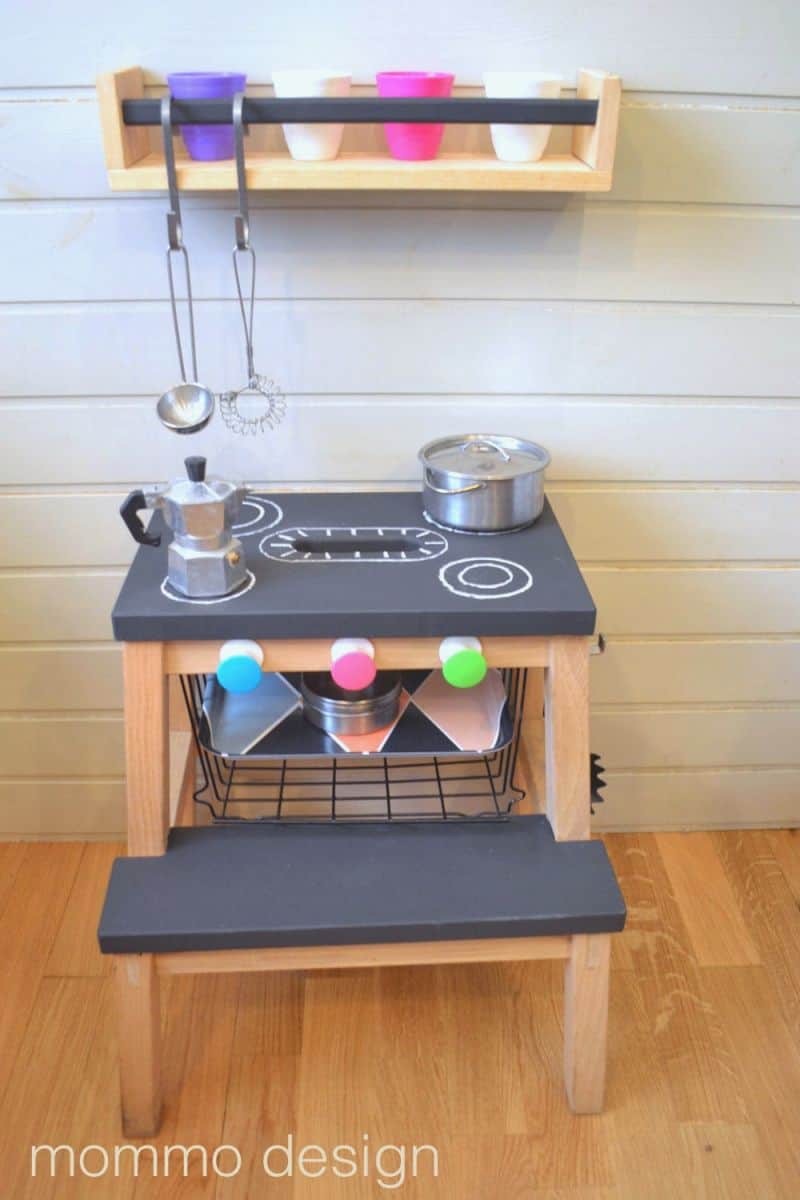 Stool Kitchen (via Mommo Design)
An Ikea hack that can't be beat. This plain stool functions as a cute stovetop and won't break the budget.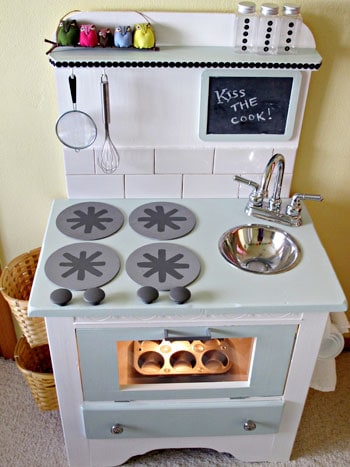 Nightstand Play Kitchen (via Baby Center)
These creative parents took an old nightstand and turned it into a sweet kitchen. Take a look at that chrome sink and oven door!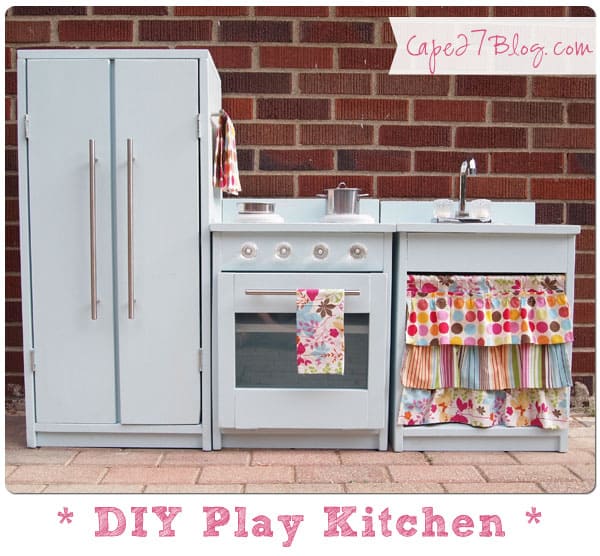 Ultimate DIY Play Kitchen (via Cape Twenty Seven)
For the weekend warrior type, this impressive kitchen can be yours if you follow the amazing, detailed set of plans that come along with it.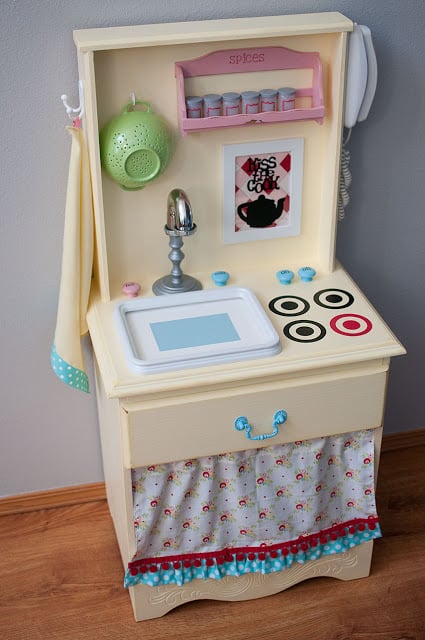 Vintage Kitchen (via Little Gray Table)
Another creative nightstand makeover – this play kitchen's got vintage detailing and flair.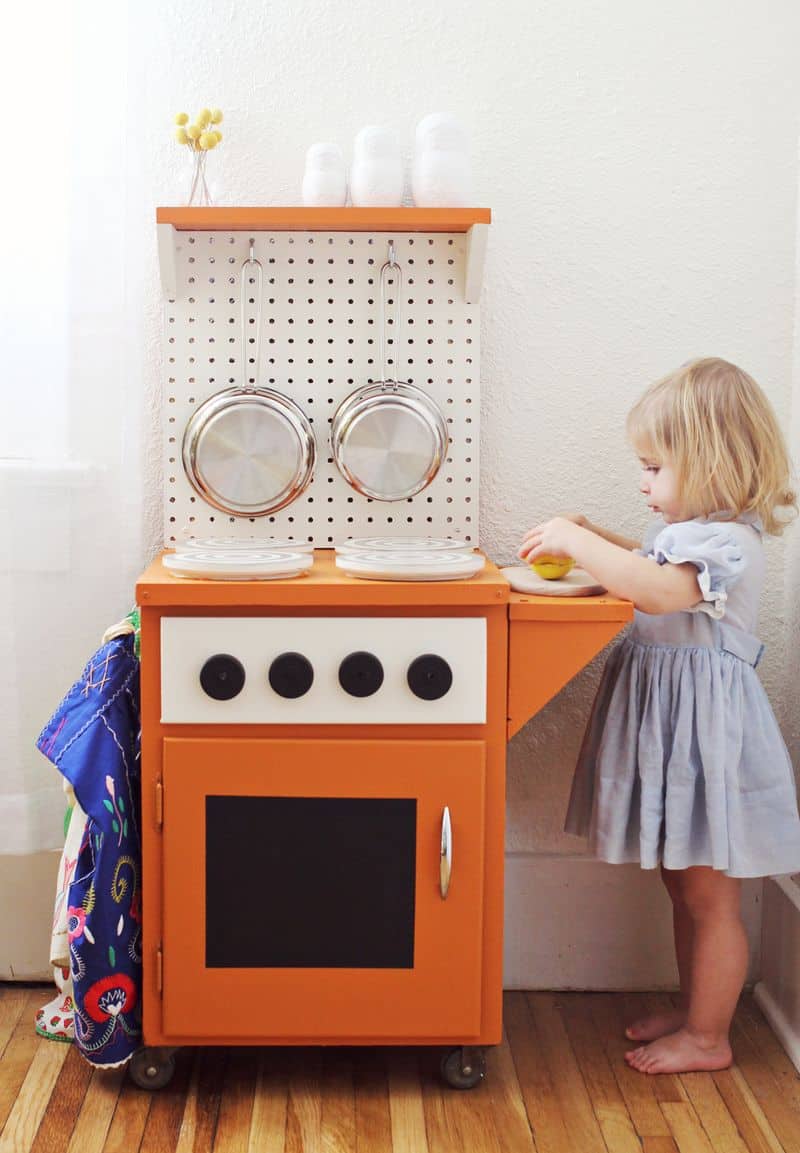 Retro Play Kitchen (via A Beautiful Mess)
A slightly retro and cool kitchen, which you'd never guess came from the old cabinet it was made of. I love the peg board for hanging up kitchenware.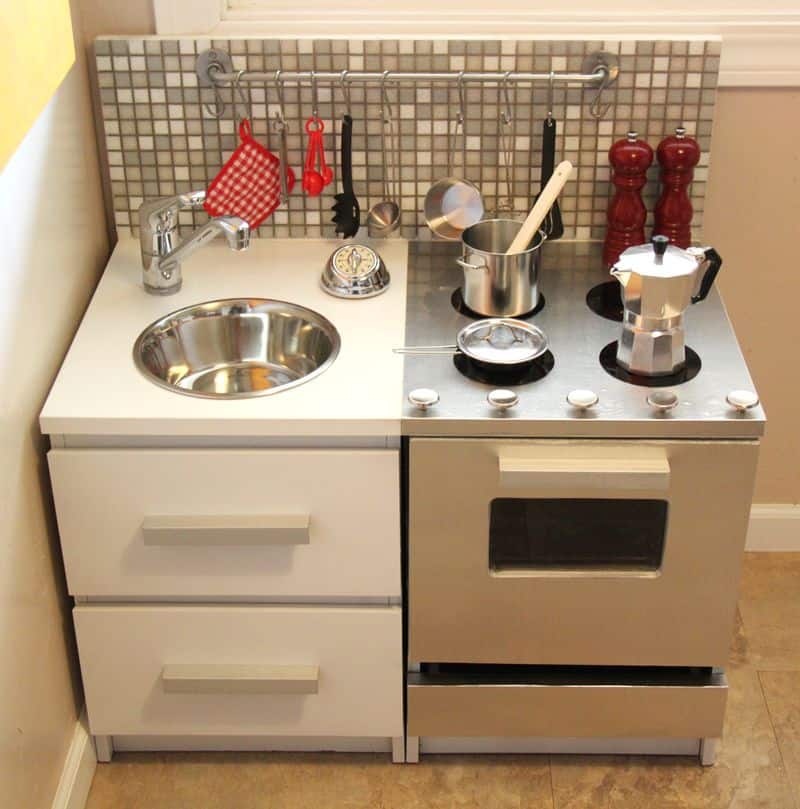 Ikea Nightstand Kitchen (via Small + Friendly)
Another super fun Ikea hack (we can't get enough of them). Two nightstands turn into one dazzling kitchen complete with stainless steel appliances and tile backsplash.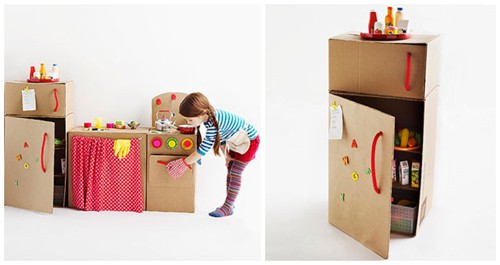 Multi Part Cardboard Kitchen (via Parents)
This is the deluxe cardboard version of a play kitchen and comes with 3 separate parts (fridge, stove and sink) for cooking up tons of fun.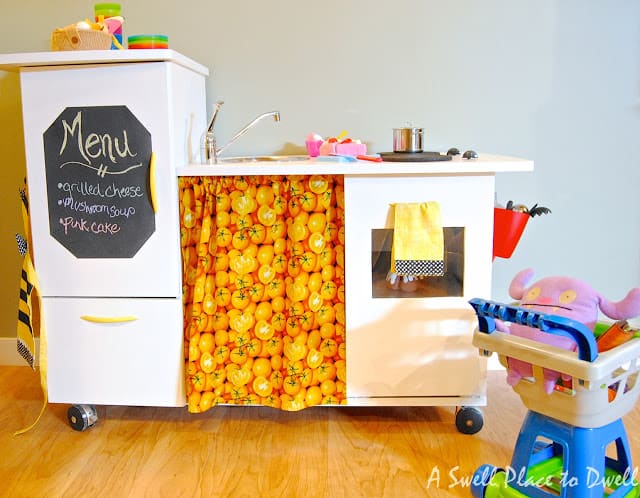 Desk Play Kitchen (via A Swell Place to Dwell)
This bright and white kitchen has a complete makeover from an old desk. I love the cheery splash of color from the citrus patterned curtains.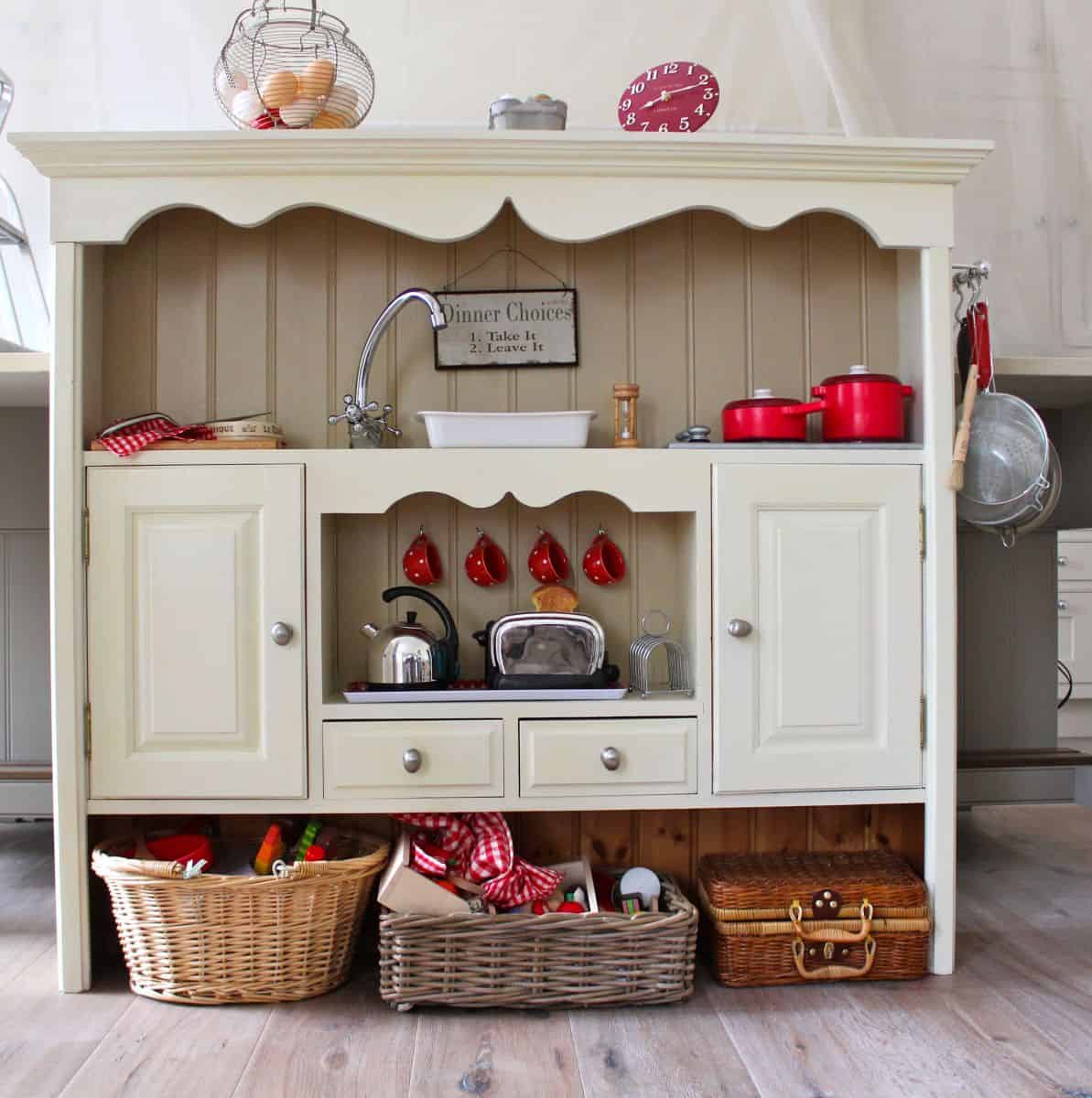 Traditional Kitchen (via Kate's Creative Space)
An old dresser becomes a gourmet kitchen for your budding chef. This one's large with lots of space and built in cabinetry to store all those kitchen tools.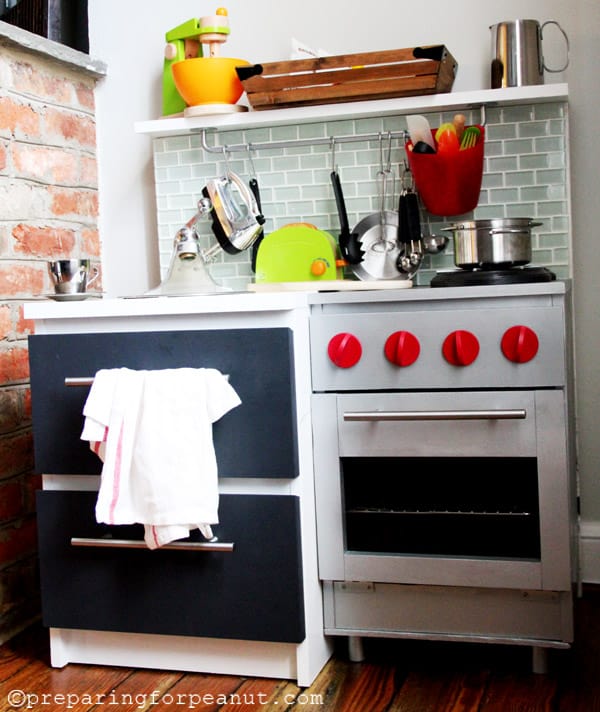 Modern Play Kitchen (via Preparing For Peanuts)
A modern play kitchen with sleek detailing and cool details like subway tile backsplash and bold red stovetop knobs.