Scroll down to watch the video below to make this adorable Winnie the Pooh Smoothie Bowl, and be sure to subscribe to our channel for more fun crafts and ideas!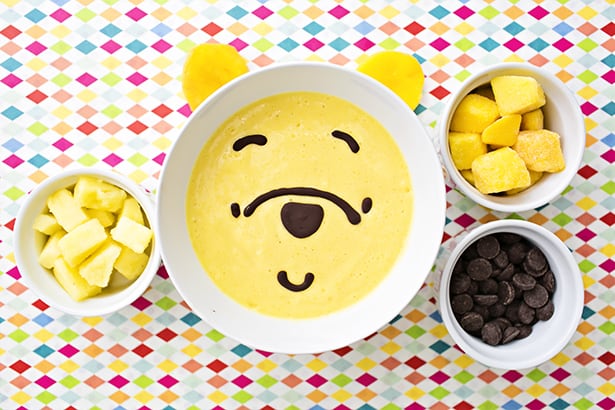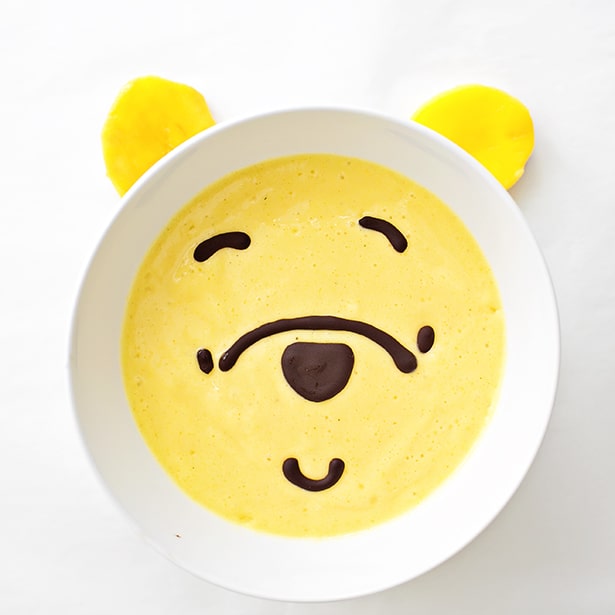 "You are braver than you believe, stronger than you seem, and smarter than you think," said Christopher Robin to Winnie the Pooh. This inspiring quote and sweet tale from A.A. Milne has a classic message of believing in yourself and all the qualities that make you unique. My kids love Winnie the Pooh and so I thought this smoothie bowl would make the cutest snack based on one of their favorite book characters.
Full credit for this delicious and refreshing banana, pineapple and mango smoothie bowl goes to my talented friend Jessica from @luxeandthelady who first shard this on her Instagram.
Jessica creates adorable, delicious and healthy smoothie bowls with fun characters we all know and love. She was sweet enough to allow me to share this smoothie bowl recipe (and the fun video we took above), to show you all how easy it is to make!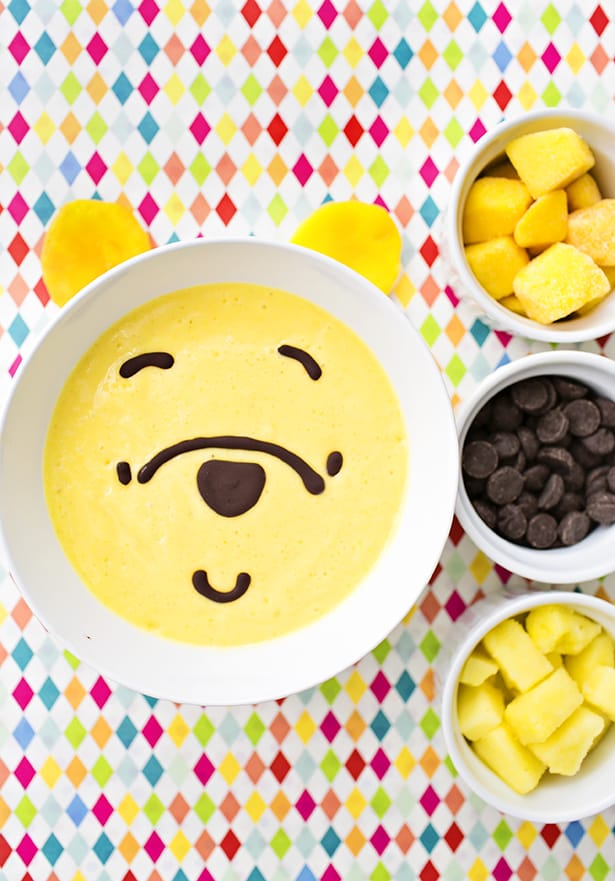 Winnie the Pooh Fruit Smoothie Bowl – Ingredients: (serves 3)
1 1/2 cups each (fresh or frozen) mango, pineapple, and banana
1 cup of either coconut water or milk of choice (I used lowfat milk, but you can also use almond milk)
* Yellow natural liquid food coloring or a pinch of turmeric powder
Toppings:
Dark or milk chocolate, melted
Fresh mango (for ears)
Circle cookie cutter or a knife to cut mango ears
Wax or parchment paper
Heat proof piping bottle or any heat proof piping bag/bottle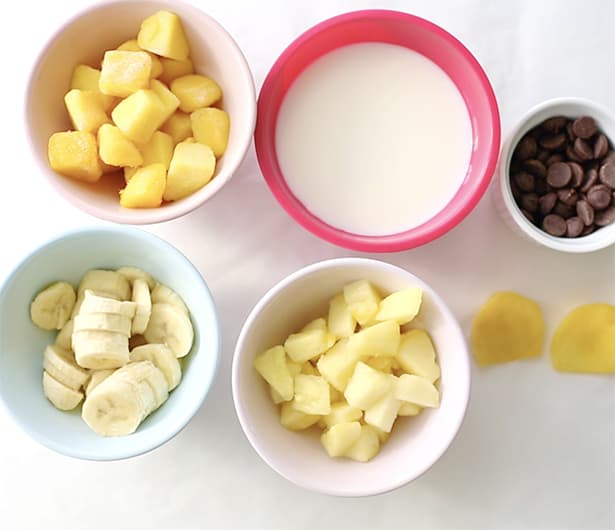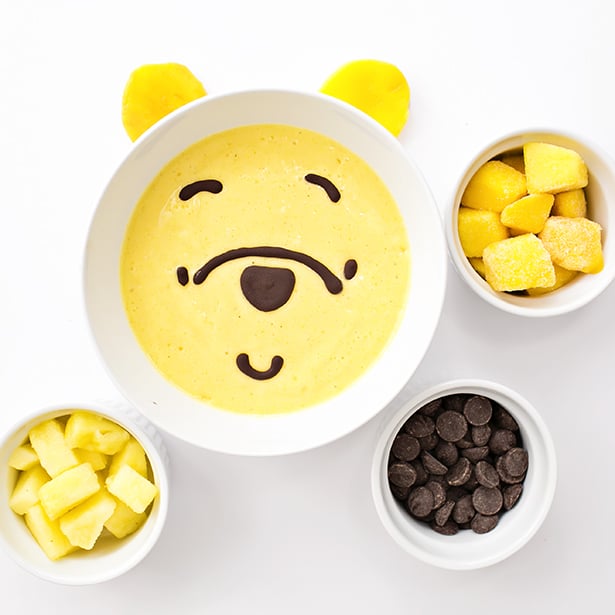 Directions:
Step 1. Add the milk or water to the blender a little at a time, and blend with the fruit until everything is combined (I like mine thicker, like ice cream, so I start with ½ cup and sometimes don't use all of it).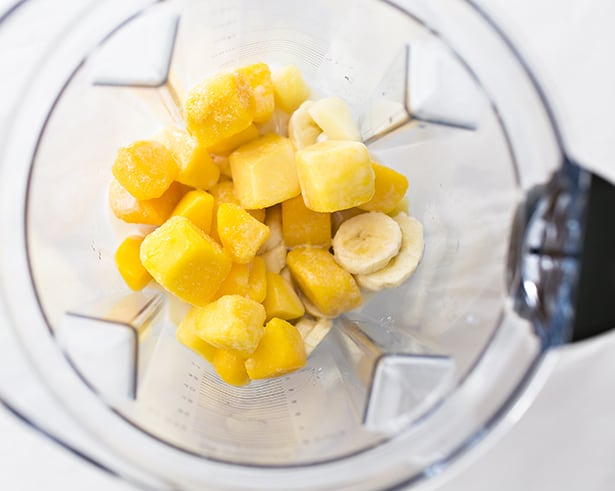 Step 2. To turn the smoothie into Pooh Bear, you can use a medium/large size circle cookie cutter or knife to cut the ears out of fresh mango and place on top. The chocolate details can be created the night before by slowly melting chocolate chips until smooth, and then transferring to a heat proof piping bag or bottle (a funnel helps if using a bottle). You can then pipe the designs onto wax or parchment paper and allow to set. I like to draw the design first on computer paper and place it under the wax as a guide (secret tip, you can use an image online to help with the proportions when drawing).
Note: You can also pipe the chocolate designs the day of, and pop them in the refrigerator for half an hour or until set.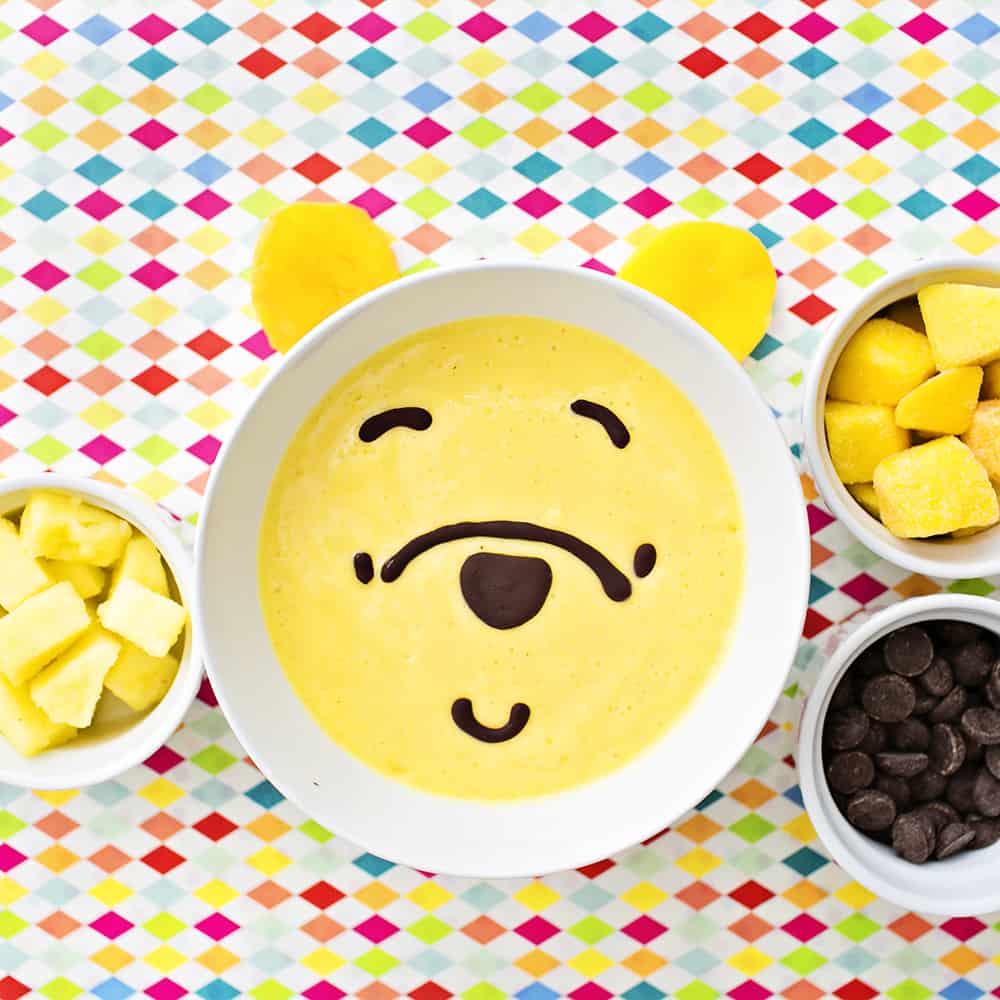 Enjoy your yummy Winnie the Pooh Smoothie bowl! Bistro deep bowls are recommended to serve. My kids dug right into the smoothie, two straws in, and slurped it all up as a refreshing after school snack. We also drizzled a bit of honey on top to lightly sweeten, which seems fitting since this is Pooh Bear after all!
Huge thank you to Jessica for letting me share your adorable Winnie the Pooh Smoothie Bowl. Please make sure to follow Jessica for lots of fun and cute food ideas and food art on Instagram @luxeandthelady.
Are your kids big fans of smoothie bowls? Check out more kid-friendly smoothie recipes or make them into frozen ice pops.
More fun recipes for kids HERE!
Watch the video below to make your own Winnie the Pooh Smoothie Bowl
______________________________________________________________________________________________________
Disclosure: Some of the links in the post above are "affiliate links." This means if you click on the link and purchase the item, we will receive a small affiliate commission. Regardless, we give our promise that we only recommend products or services we would use personally and believe will add values to our readers.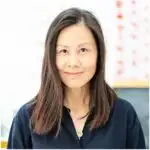 Agnes Hsu is a mom of three and has been inspiring parents and kids to get creative with easy activities and family friendly recipes for over 10 years. She shares her love for creative play and kids food to her 2MM+ followers online. Agnes' commitment to playful learning and kindness has not only raised funds for charity but also earned features in prestigious nationwide publications.