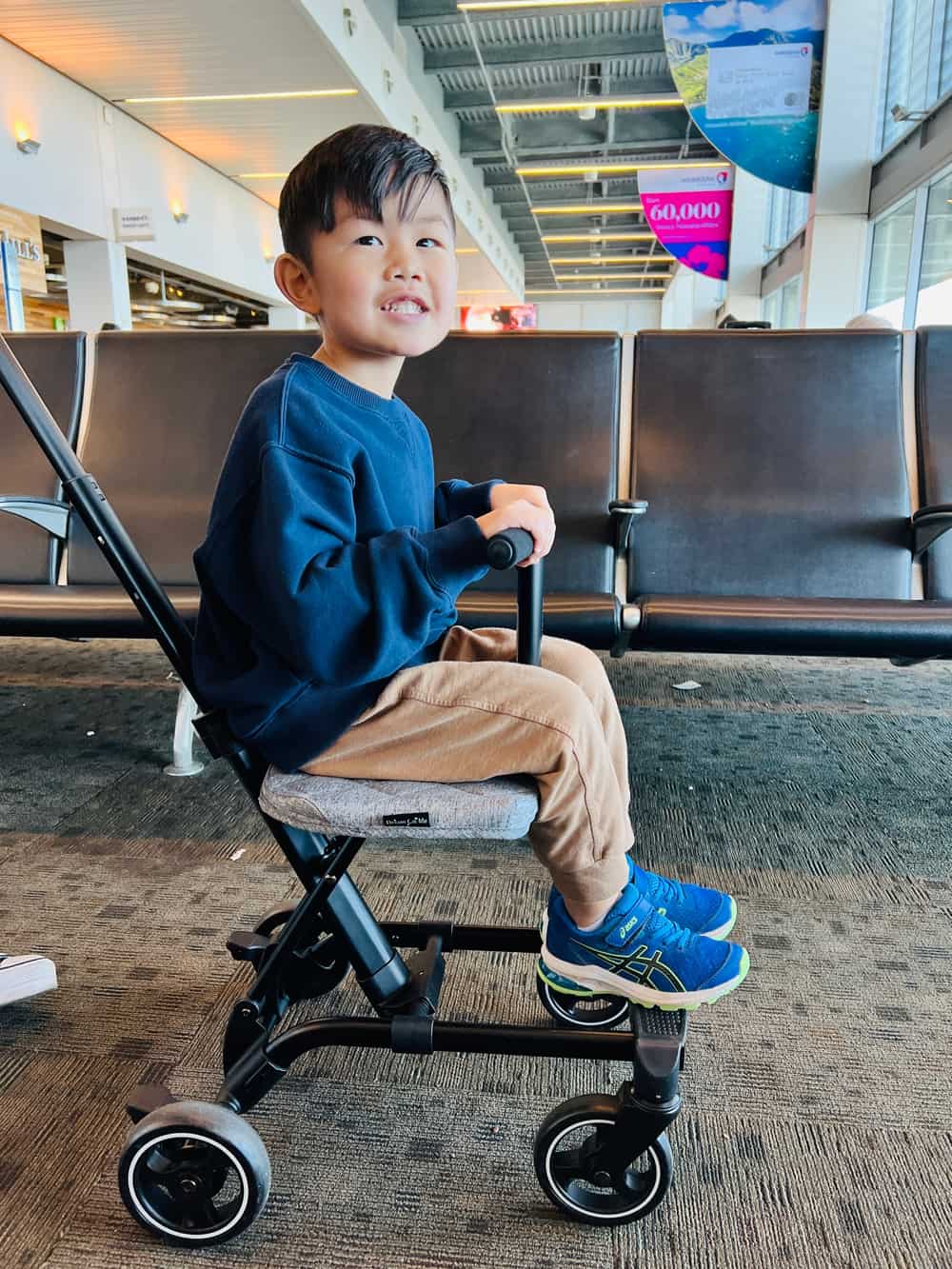 By using this site, you agree to our Terms of Use. This post may contain affiliate links. Read our disclosure policy.
Follow us on Instagram for more fun ideas for kids!
With its super lightweight and compact size, plus three configurations, this is the best lightweight stroller for traveling with kids.
If you're a parent you know traveling with kids can bring on all sorts of considerations. I'm at that weird stage with my 5 year old son where he's too old for a traditional stroller (even the lightweight umbrella ones) but still too young to walk a great amount of time on his own. Going on short trips to the store or down the street to the park is fine for walking, but the thought of having him walk long distances during our upcoming vacation seemed a bit daunting. I knew it'd be hard for him and that he'd (unfortunately) slow us down. Since he's the youngest with two much older siblings, this wasn't going to set our vacation off well with him lagging behind and having his tween siblings miles ahead.
I looked fervently for a lightweight stroller, with two 3 major caveats: 1) it must be lightweight, compact, and foldable 2) inexpensive as I know he is on the way of outgrowing any wheeled contraption soon and so I didn't want to spend a ton of money on something that would be short-lived 3) easy to take traveling or on-the-go
Right before our 3 week trip, I found a gamechanger stroller! Cue the Dream on Me lightweight and compact Coast Rider Stroller. It's not only lightweight and portable, but also has 3 different stroller configurations and one-handed easy fold-down.
The compact fold-down design means you'll have no problem fitting your stroller into the trunk of your car or taking it on a plane for traveling.
Watch the video in this post to see it in action.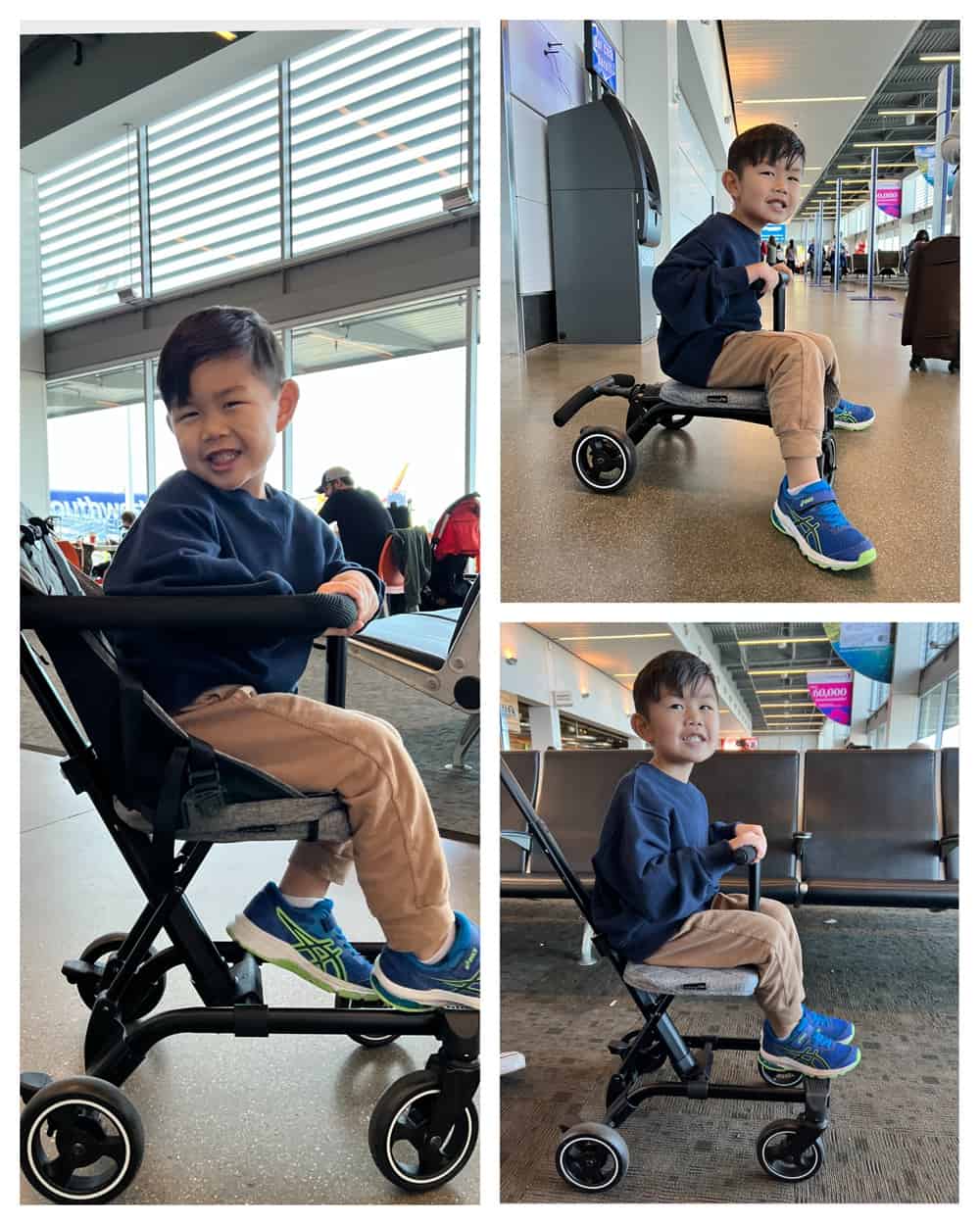 Lightweight Stroller for On-the-Go Families | Overview
The Dream on Me stroller is an award-winning stroller designed with innovation in mind and is perfect for parents looking for a lightweight yet sturdy stroller.
Its aluminum frame makes it lightweight and easy to maneuver at only 13.5 lbs. It also has soft-ride wheels for a smooth ride and can be folded inward with just one hand for easy carrying.
This stroller is fully equipped with adjustable handles and push bars, as well as a 5-point safety harness for safety. It also comes with a removable seat back and a canopy!
Plus, It's a winner of the JPMA Innovation Awards, the National Parenting Center Holiday 2019 Seal of Approval, and meets the highest safety standards set by the CPSC and ASTM
Why we love the Dream on Me Stroller
Other than the compact size and weight, just 13 lbs, here are the main reasons we LOVED this stroller while traveling 3 weeks on vacation.
It has 3 configurations 1) If your child is younger, it has a guard-rail; 2) you can take the rail off if your child is older and the stroller acts like a "seat" on wheels 3) for added fun, you can convert the stroller into a kick scooter.
The one-hand fold down is super easy even for someone like me who isn't very handy with building or breaking down things
5 point harness seat belt gives you peace of mind your child won't topple over.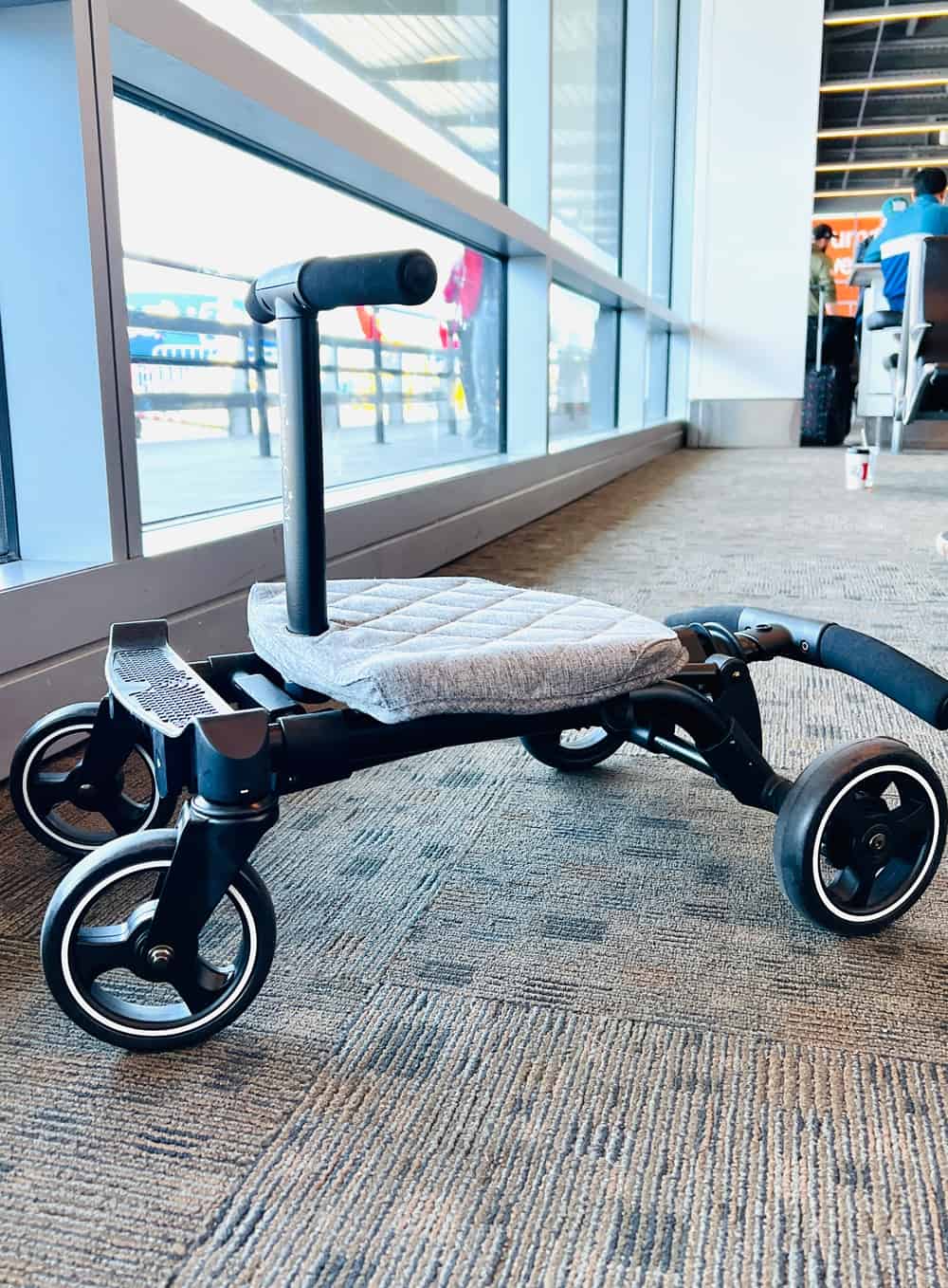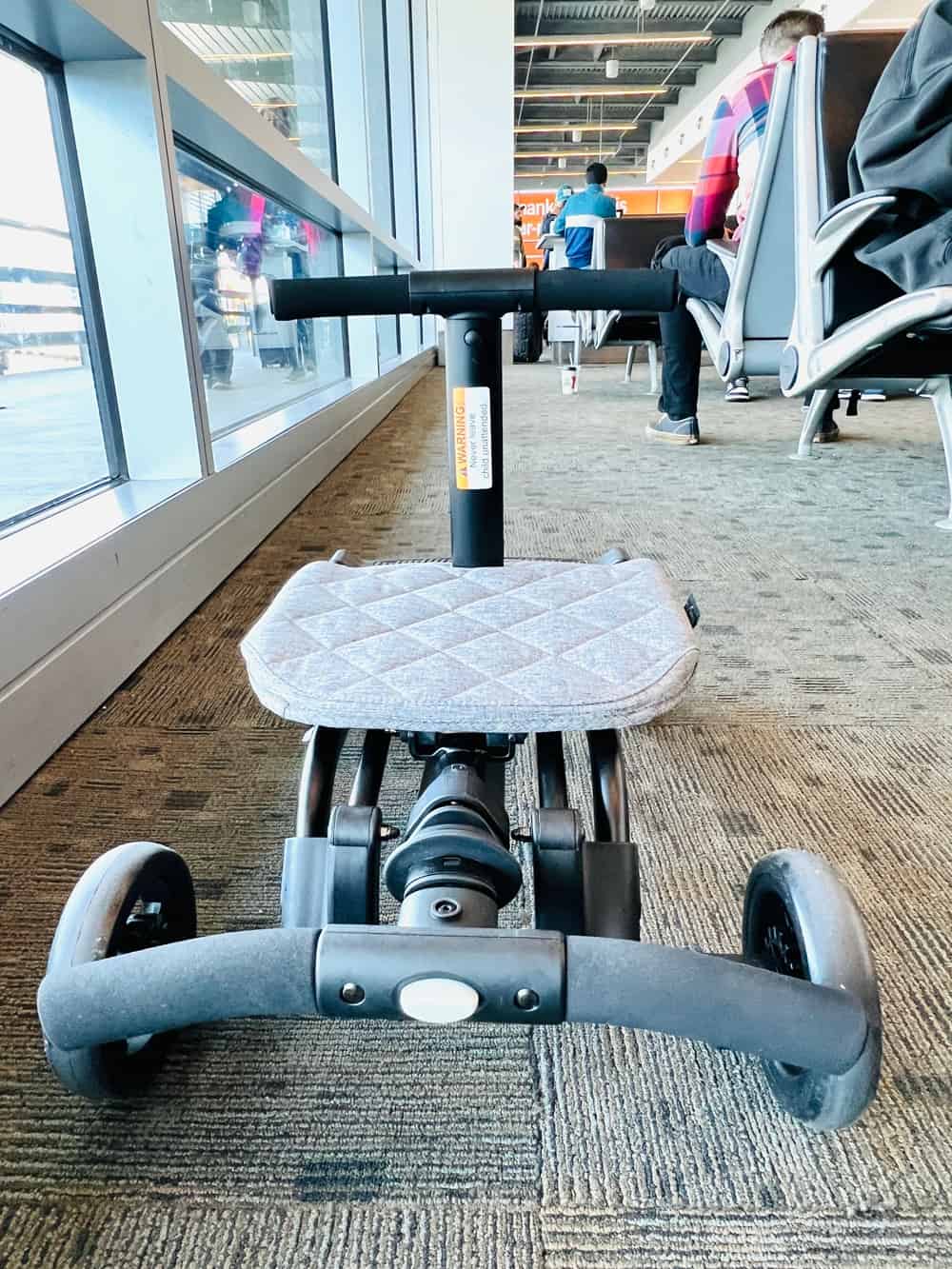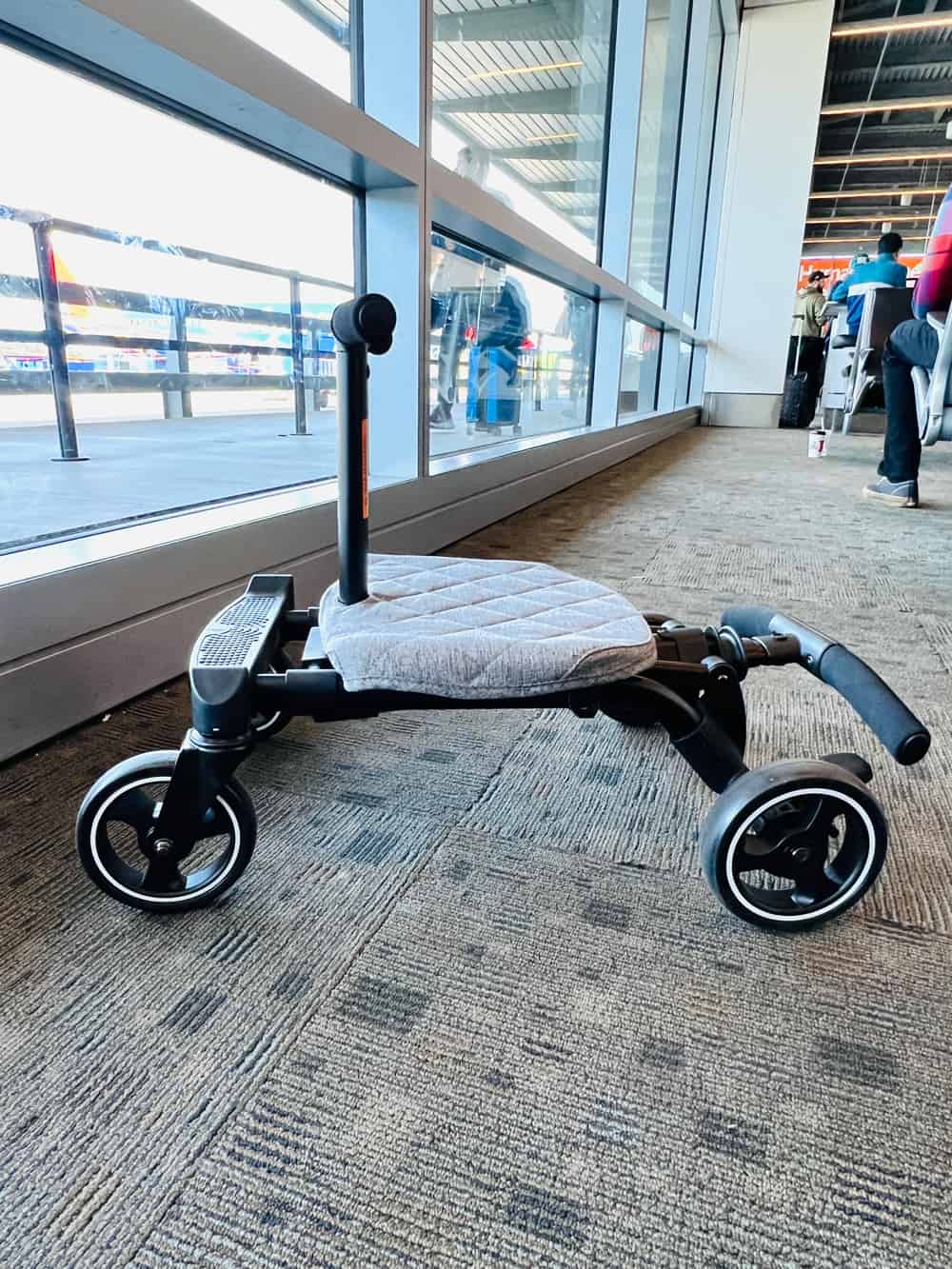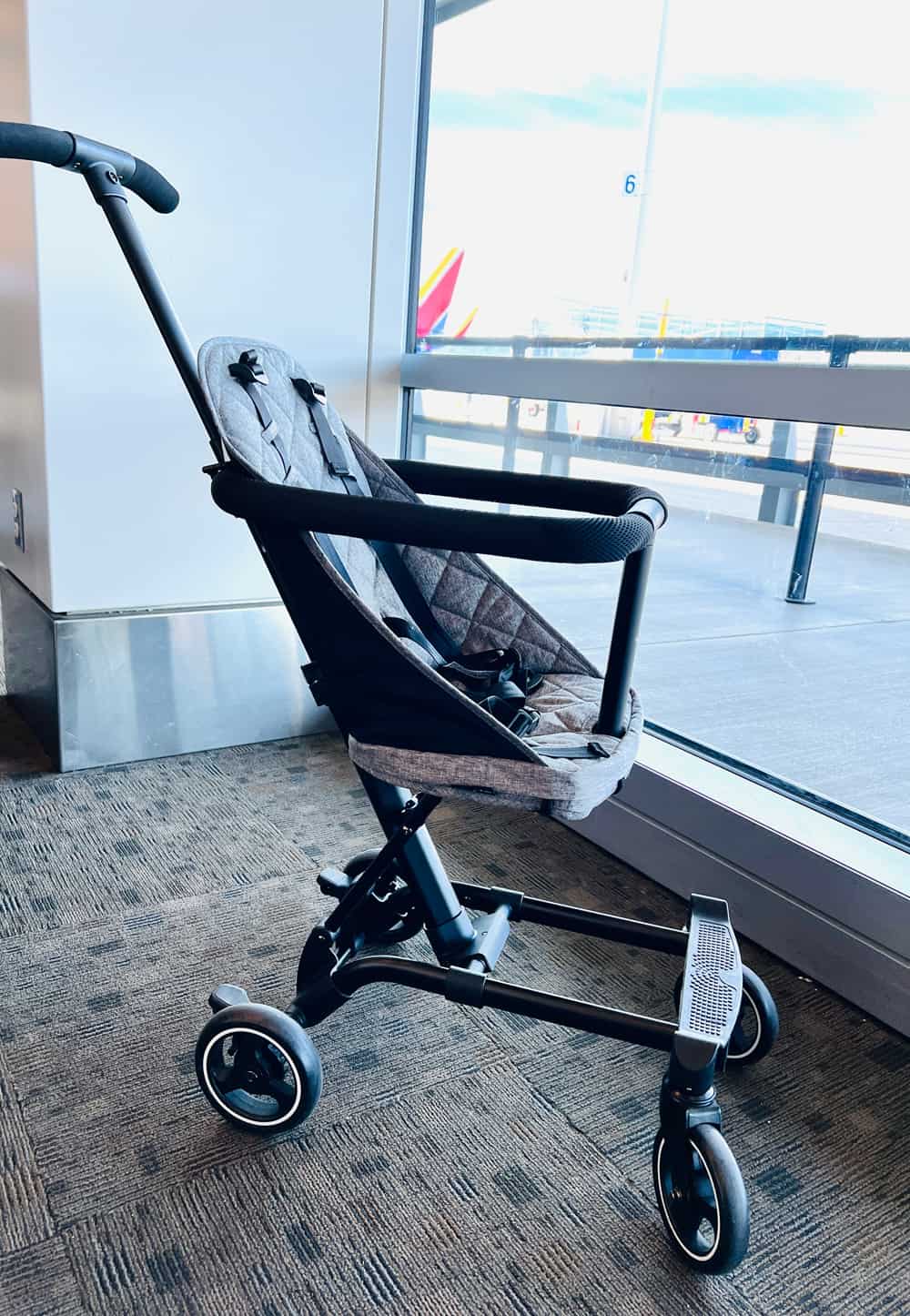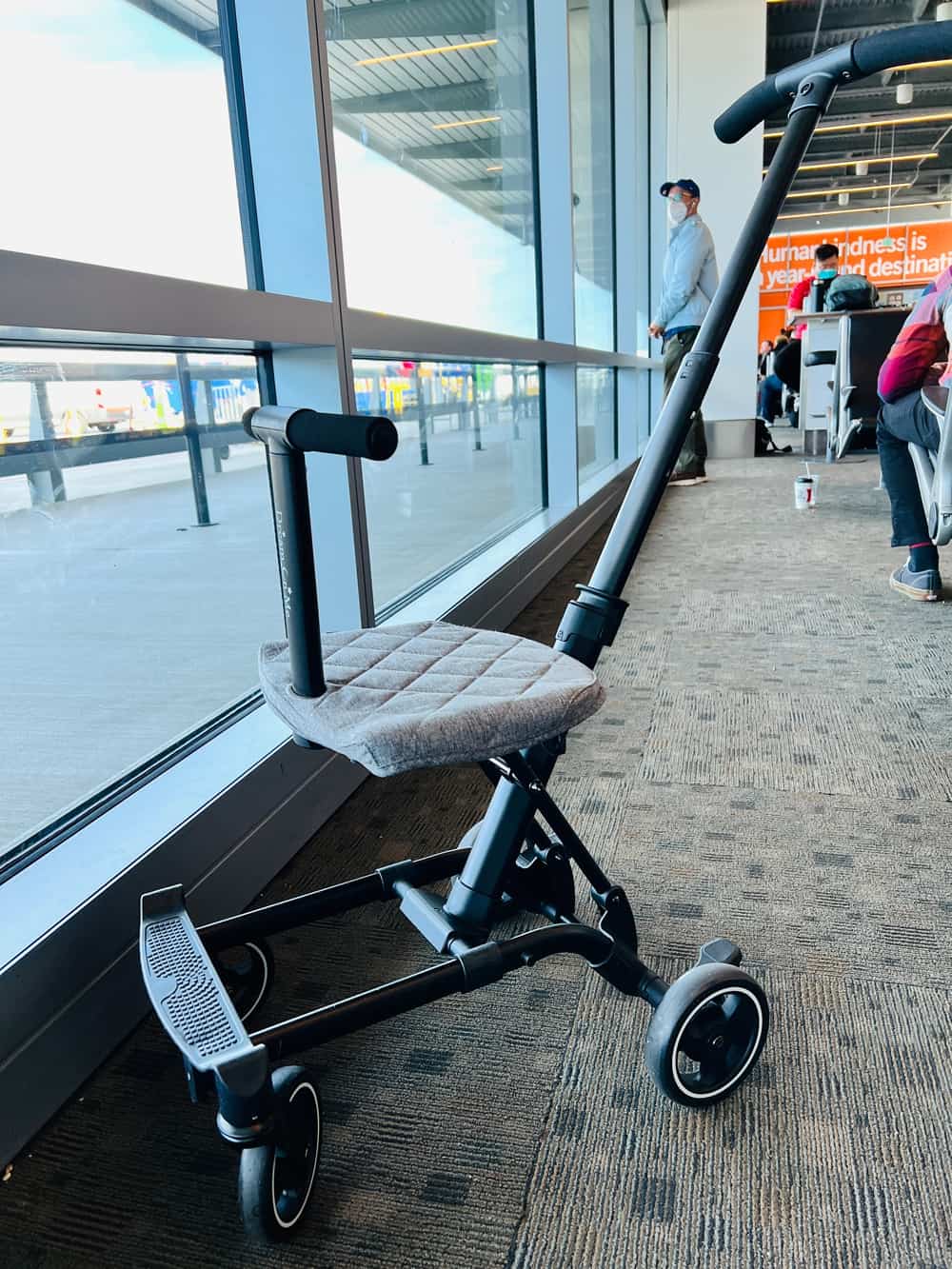 Watch the video in this post to see it in action.
Features of the Dream on Me Lightweight Stroller
Aluminum frame construction

Soft-ride wheels

One-hand folding mechanism

Adjustable handles and push bars

Five-point safety harness

Removable seat back and canopy

Disney park size specifications

Awards and safety standards met

Maximum weight 45lbs
Maximum hight 37.8″
Reviews from Amazon:
My 6 year old does not need a stroller, except when we visit theme parks and this stroller is exactly what she needs when her little legs grow tired of walking all day. This is a great stroller for older kids who just need a seat and for parents who don't want to worry about their little ones keeping up or to hear them saying, "I'm tired!" If I could change anything about this stroller, it would be to make the seat and back cushions slightly thicker for comfort. This stroller does not come with storage, it's literally just a seat on wheels that's easy to maneuver, and holds up to bumpy terrain at the theme parks! Great purchase.
This thing is awesome and a must have! We take it EVERYWHERE and even to India for our trip. My son rides with ease. We push this thing through snow (light snow) with 1 hand up a bumpy sidewalk. So easy to collapse and store. It did take me a couple tries when I first got it though. You just have to remember to hold the little ring piece on the handle then push the button to release at the same time. Just practice at home a few times and you'll be a pro.
This thing is legit a must have! I take it EVERYWHERE. it rides with ease. We live up north and it was nothing to push this thing through snow (light snow) with 1 hand up a bumpy sidewalk. My daughter loves riding because when we have the scooter and handle up she doesn't feel like she's in a stroller. So easy to collapse and store. It did take me a couple tries when I first got it. I kept forgetting there was a lock that has a ring that hooks on a pole thar locks it in place, you just have to remember to hold that little ring piece then push the button to release at the same time. Just practice at home a few times and you'll be a pro. That was the only frustrating part, but it was because I forgot the lock. Once I remembered this is the bomb.com!!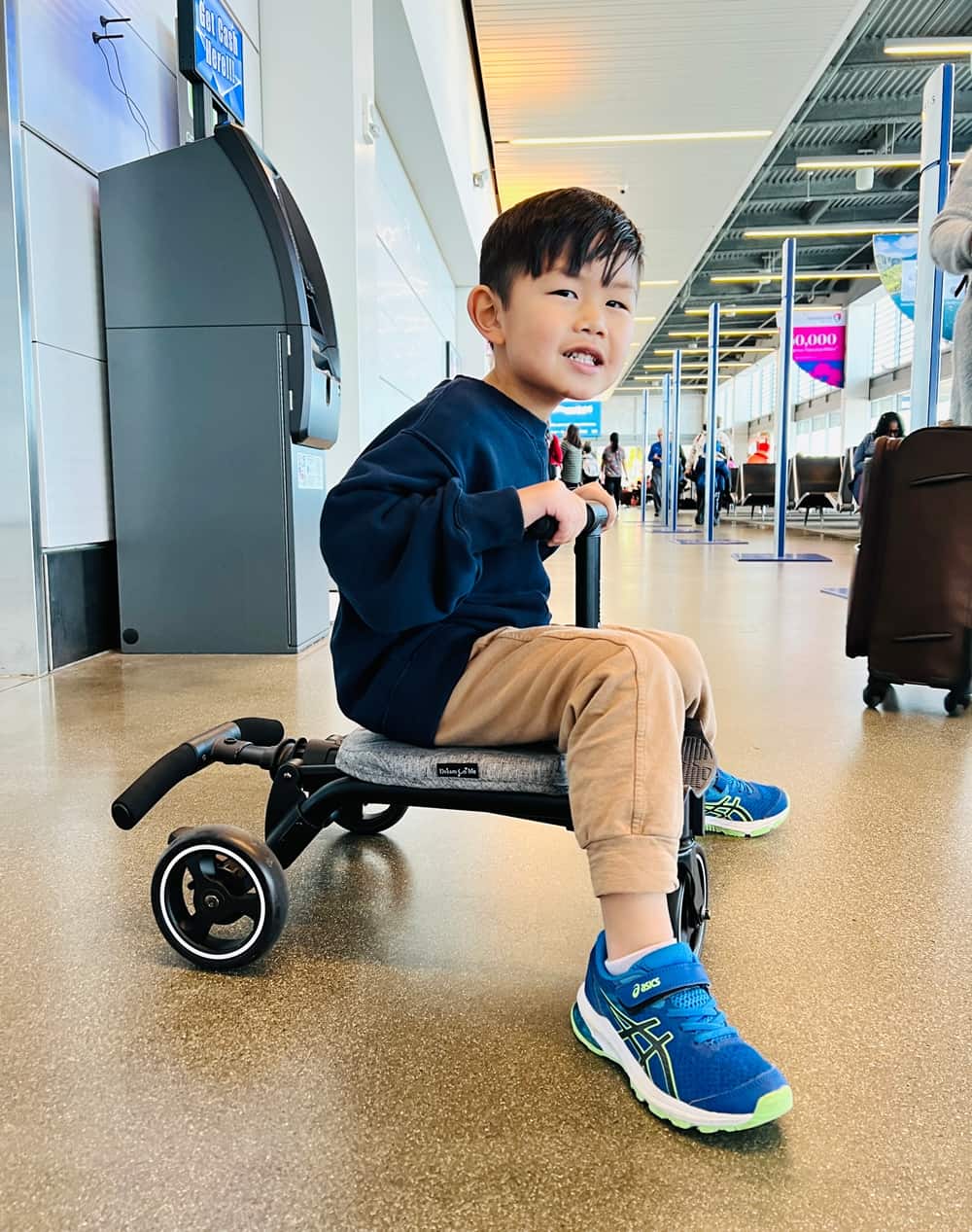 Watch the video in this post to see it in action.
Some Benefits of Choosing Lightweight Strollers
Ease of Maneuverability
A lightweight stroller is much easier to push and maneuver than a heavier model. This can be especially helpful when navigating crowded streets or tight store aisles.
If you plan on doing any traveling, a lightweight stroller will make it much easier to navigate any crowded theme park, for example.
Less Strain on Parent
As there is less strain on the arms and back when pushing it, using a lightweight stroller can be much less physically taxing for the parent.
This can be especially helpful for moms with back or shoulder injuries. Plus, It can be easily stored in the trunk of a car or taken on public transportation.
Easy to Store
Because it takes up less space than a larger stroller does, a lightweight stroller can be conveniently stored in a closet or small area.
This can be helpful for families with limited storage space or those who move around a lot.
Great for Travel
Families who travel frequently should consider a lightweight stroller because it is simple to pack and can be checked at the airport.
It is also much easier to carry through airports and onto planes than a heavier stroller.
Just as Safe
Despite their lighter weight, many lightweight strollers are just as safe as heavier models, with features such as 5-point harnesses and sturdy frames.
The Dream on Me stroller is a great starting point, but lightweight strollers in general tend to be pretty safe all around. Just make sure to always check reviews.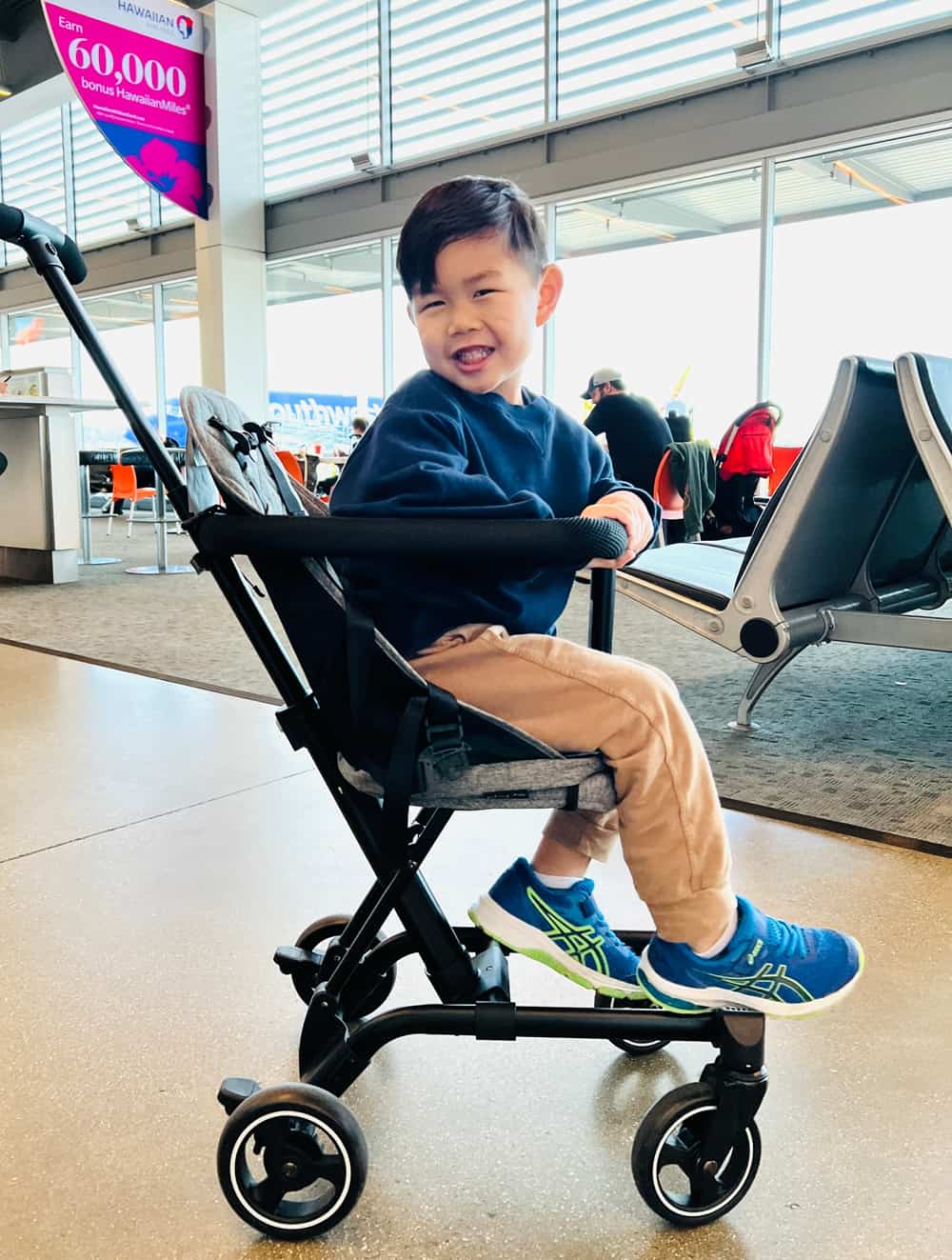 Important Factors When Choosing a Lightweight Stroller
Consider your needs and budget
Before you start shopping for a stroller, think about what features are most important to you. Do you need a stroller that can recline for napping?
Do you need a stroller that can accommodate multiple children? Once you have a list of your priorities, consider your budget and how much you are willing to spend.
Look for features such as a 5-point harness
Safety is always a top concern when it comes to strollers, so make sure to choose a stroller that has a 5-point harness to keep your child securely strapped in.
A sturdy frame is also vital, as it will help to ensure that the stroller can hold up to wear and tear.
Read reviews from other moms
There's no substitute for real-life experiences from moms who have used a particular stroller.
Look for reviews from moms who have similar needs and priorities as you, and pay attention to any common issues or problems they have experienced.
Think about how you will use the stroller
Consider how often you will be using the stroller and what types of terrain you will be using it on. Some strollers are designed for urban use, while others are designed for off-road adventures.
Make sure to choose a stroller that is suited for the type of environment you plan to use it in.
Look for additional accessories
Many lightweight strollers come with accessories such as a cup holder, snack tray, or sunshade. These accessories can be useful and can help make your life as a parent easier.
However, they can also add to the cost of the stroller, so if you are on a tight budget, you may want to skip these extras.
Watch the video in this post to see it in action.
Takeaway
There's a ton to consider when you are looking for a lightweight stroller, so think about the major reasons you want one and also your child's age. Take into account the price, and reviews from other parents, and your primary use case.
For us, it was mainly to have a good on-the-go vacation stroller that was super lightweight and not bulky for our older child (5 years old). We also didn't want to spend a ton of money since we knew he'd likely outgrow it fast. I highly recommend the Dream On Me stroller if those are your considerations!
Get the Dream On Me Stroller On Amazon for $57 as of this publication.