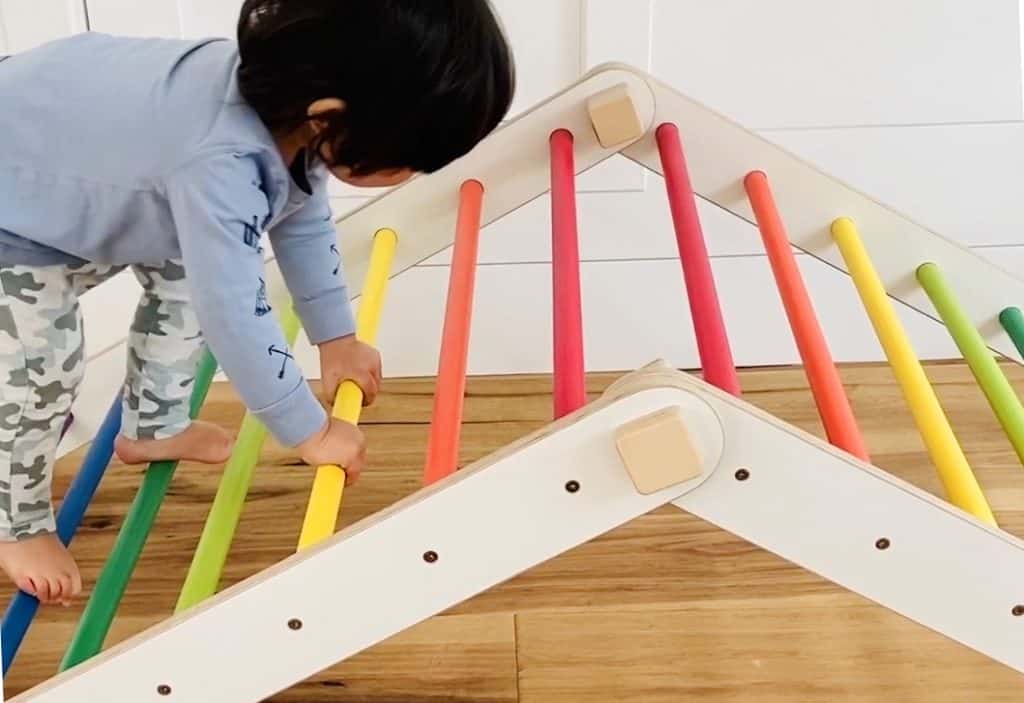 By using this site, you agree to our Terms of Use. This post may contain affiliate links. Read our disclosure policy.
Follow us on Instagram for more fun ideas for kids!
Scroll all the way down to watch the video to see my toddler climb the Rainbow Pikler Triangle. Make sure to subscribe to our YouTube channel for more fun videos!
This Rainbow Pikler Triangle is great for toddlers and preschoolers to practice their gross motor skills and exercise play indoors.
Every home with small children needs a climbing frame. We love this rainbow Pikler Triangle from Wood Grain Lab.
The triangle makes it easy for your kids to reach those developmental milestones. The other thing we love about this Pikler Triangle is that it's collapsible, which allows for easy storage.
This climbing triangle is often used in Montessori classrooms. The Pikler Triangle was created by pediatrician Dr. Emmi Pikler more than 100 years ago, and it's still being used in homes and schools today.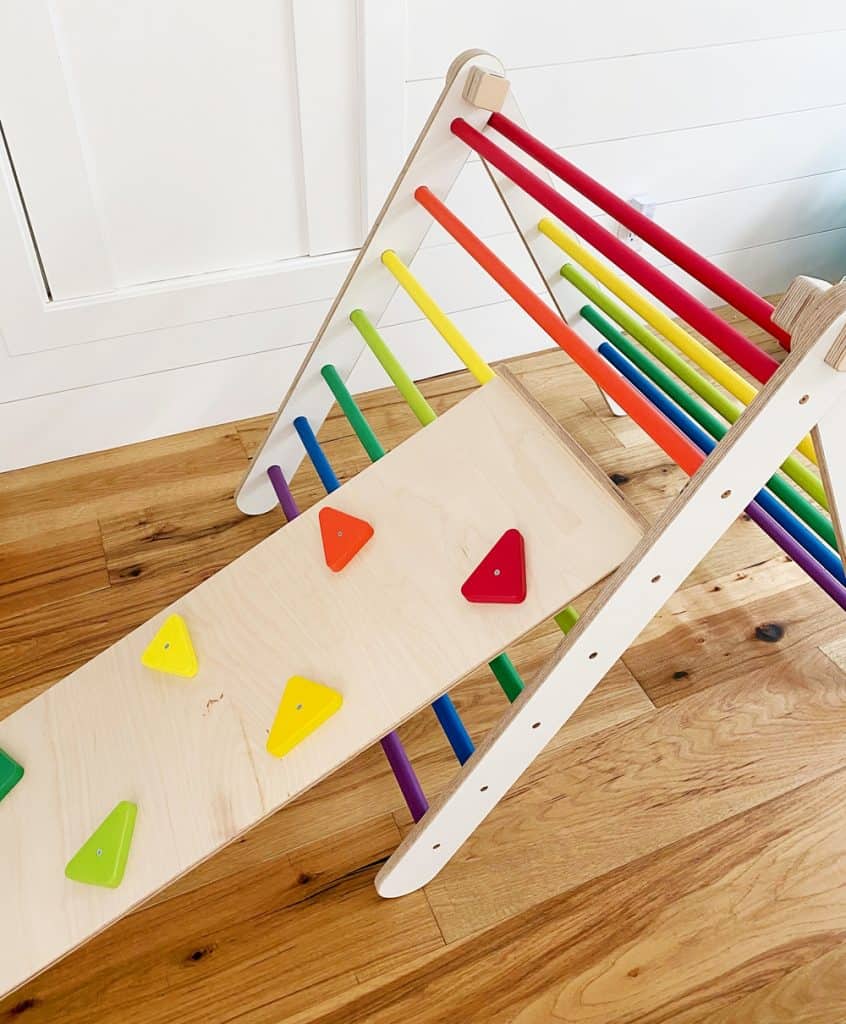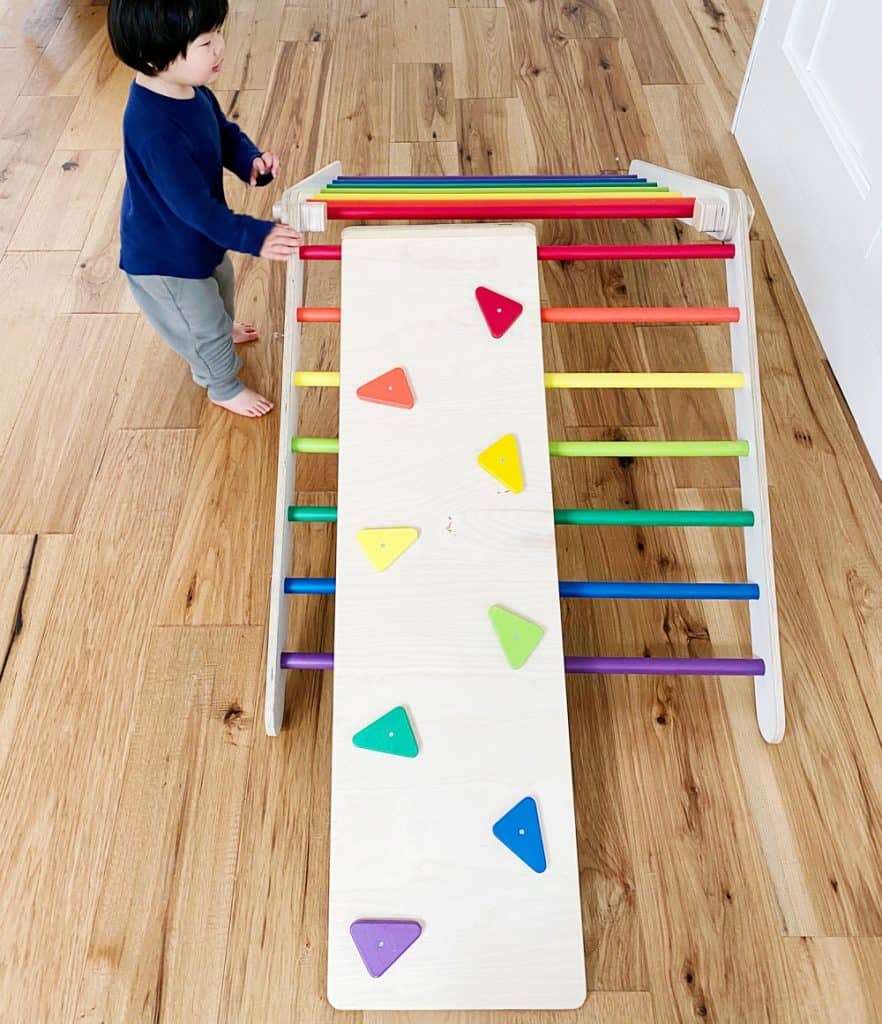 What is this Rainbow Pikler Triangle made of?
This particular model is made from plywood, pine wood, waterbased paint, and screws. The wood is sanded and is smooth. The material is Baltic birch plywood .The paint is waterbased, nontoxic.
Is this Rainbow Pikler Triangle Adustable?
According to the Etsy shop, "this is an adjustable version of "Pikler triangle" We have used a unique "star type" joint to be able to adjust the position of the segments by every 30 degrees. The side parts are made of plywood laminated with white color plastic that is easy to clean."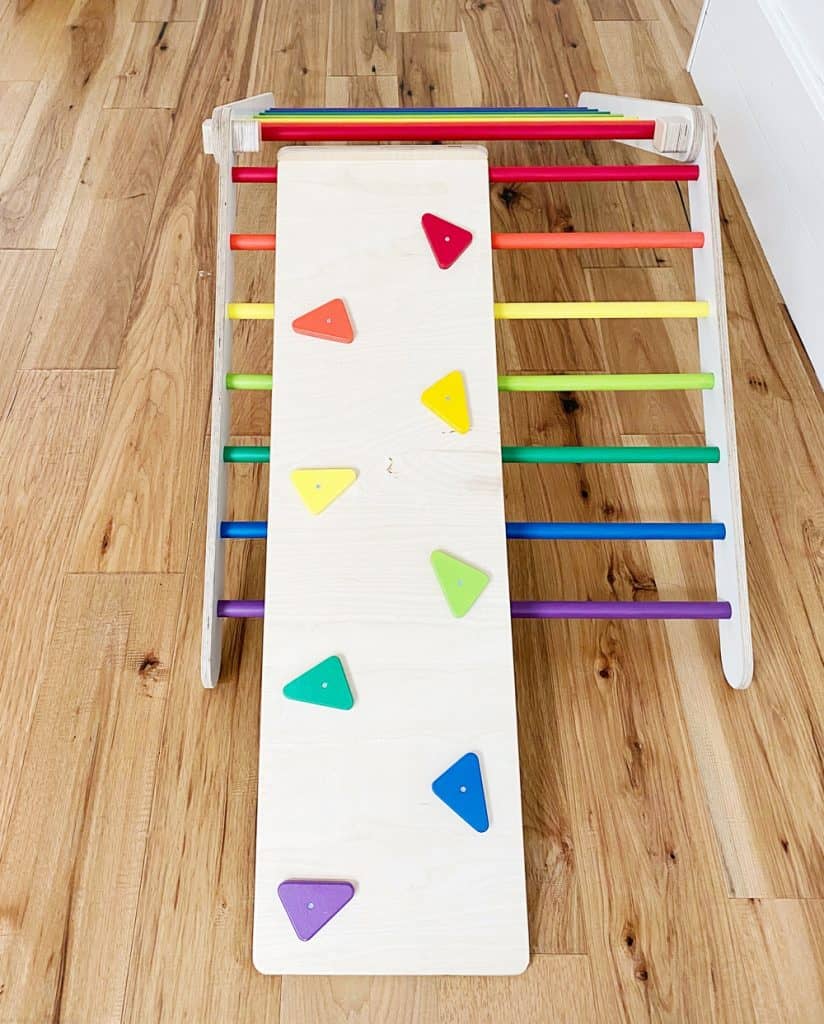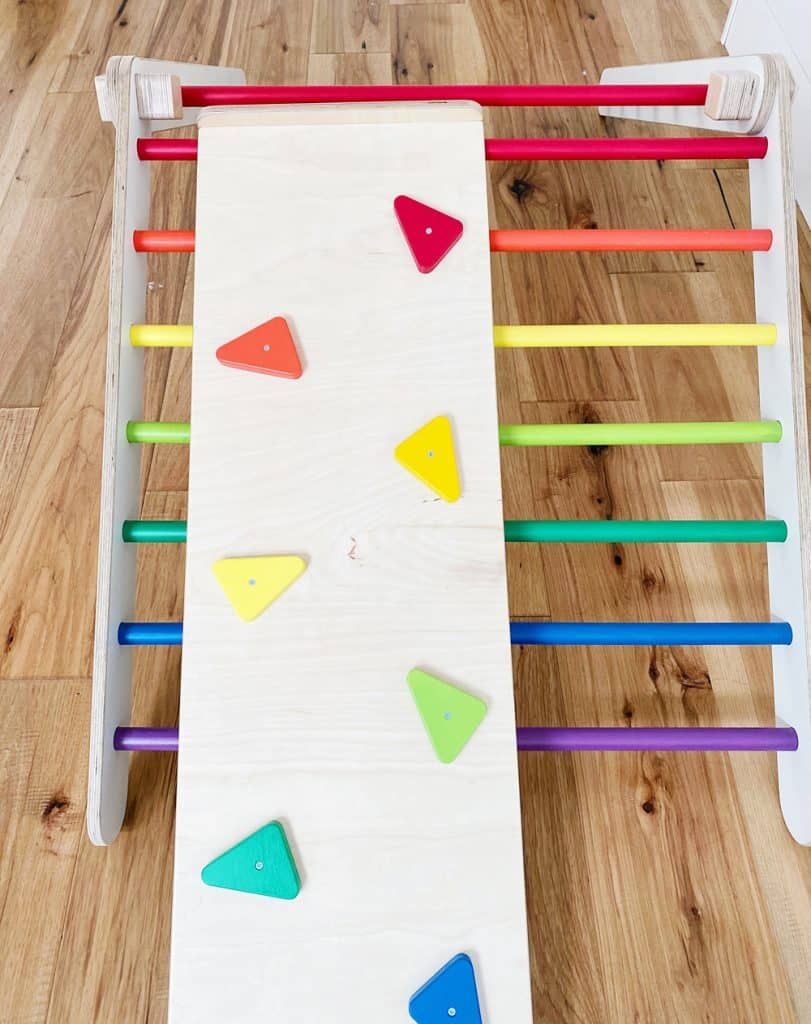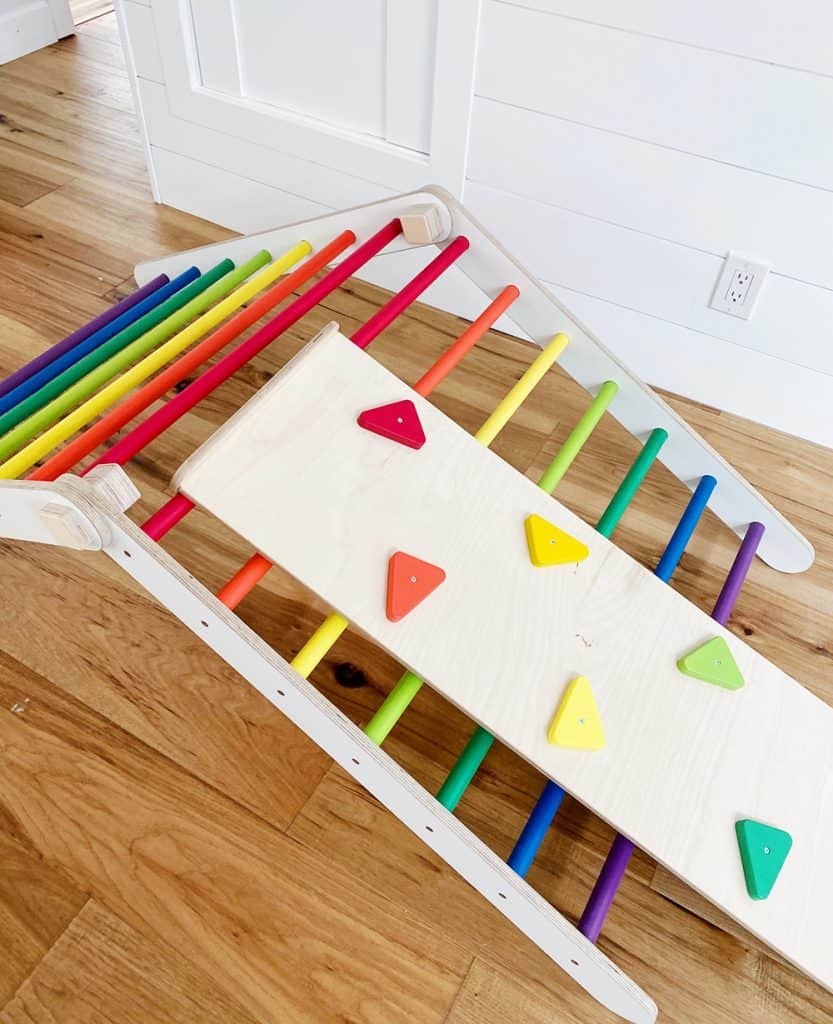 Do the climbing ramps come with the Pikler Triangle?
In the photos you see interchangeable two sided ramps, one with rock climbing pulls and one that is smooth. these are optional to purchase along with your Pikler Triangle. We chose to get the ramps for added gross motor agility.
As you can tell from the video in the post, my toddler actually likes to use the ramp as a sensory walk!
My older son uses the ramp as a car ramp and drops all his vehicles down. So it's proven to be multi-use for us. We're glad we went with this additional option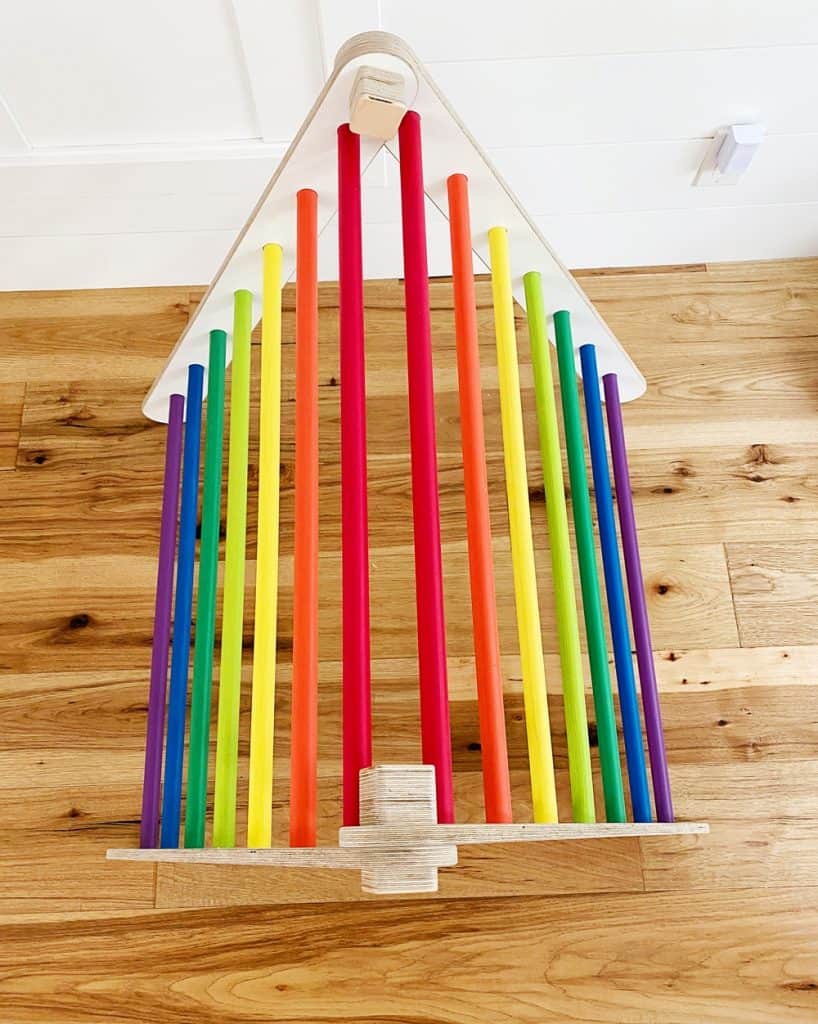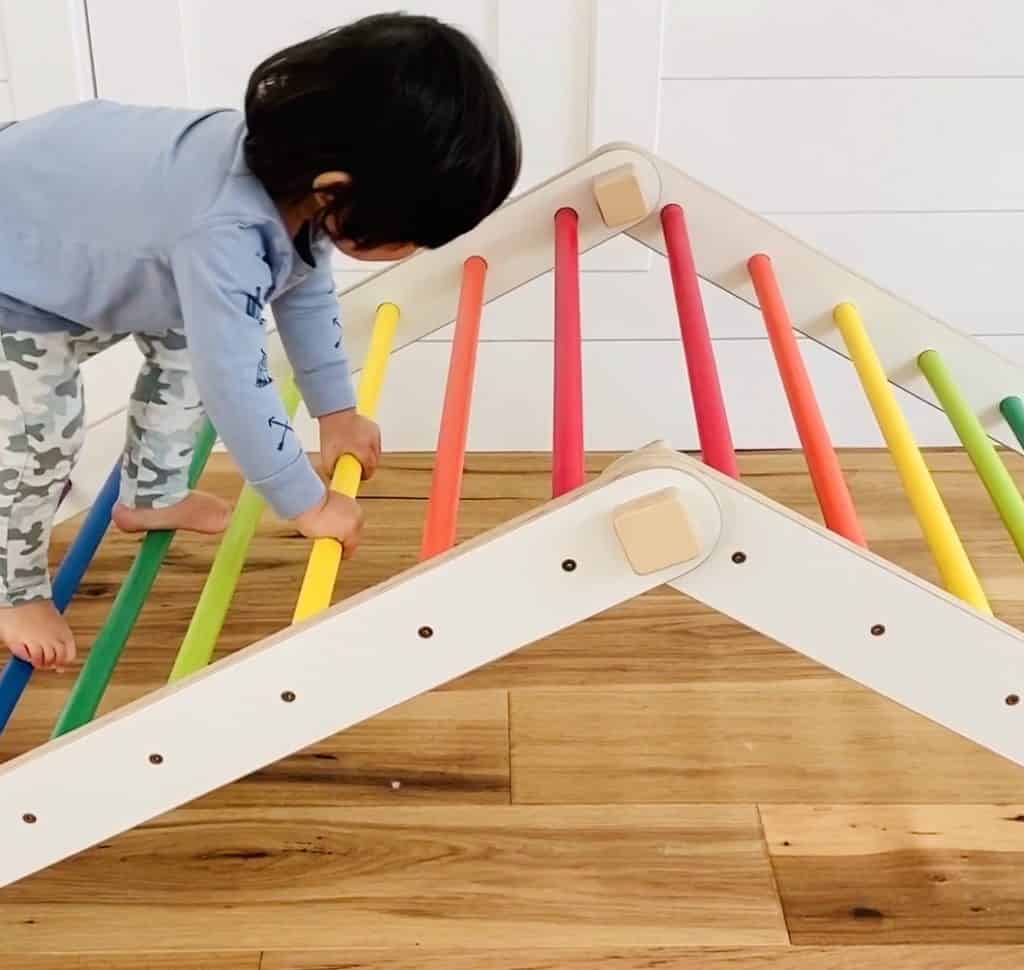 After your children outgrow the climbing aspect of the triangle, it can become anything your child's mind can make it.
The triangle can become a house, teepee, or a part of a fort. Our kids have added blankets to make on already! I know your children will enjoy this indoor exercise, play and gross motor tool as much as we do!