Update: 5/719. This post has been updated and now features a video on our new food site, Hello, YUMMY.
If your kids are big peanut butter and jelly fans like mine, they will love this delicious PB&J pull apart bread. Made with just 3 ingredients, it's easy to whip up in a flash and makes a hearty snack. Best when pulled straight out of the oven when the bread is toasty and warm and the peanut butter is still gooey – this loaf of bread was devoured in a flash!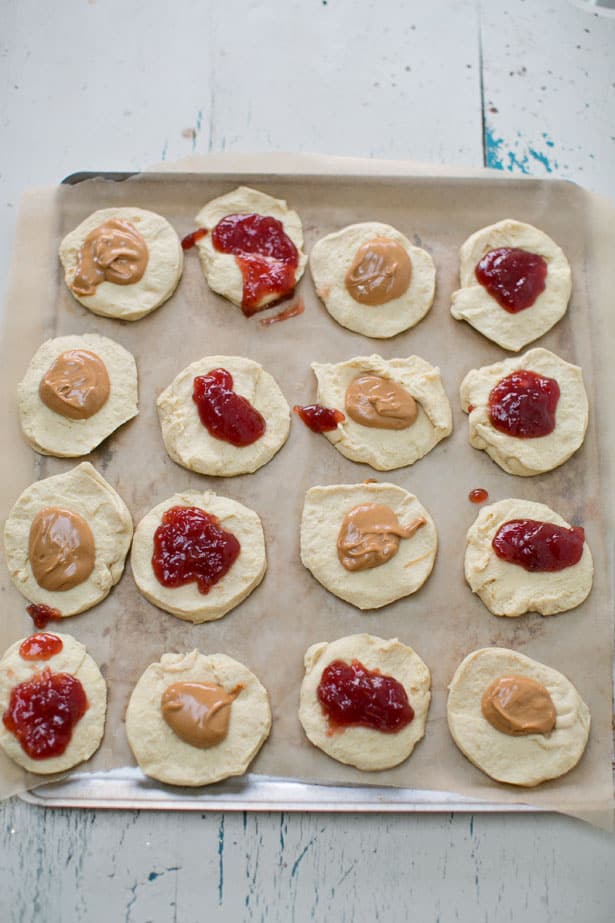 Peanut Butter and Jelly Pull Apart Bread – Ingredients
(Recipe adapted from Heather's French Press' Apple Pie Pull Apart Bread)
1. One package of Pillsbury Grands Flaky Layers Biscuits
2. Smooth peanut butter
3. Jam or jelly
4. 1 Tablespoon of melted butter (optional)
5. Sugar (optional, for sprinkling on top before baking)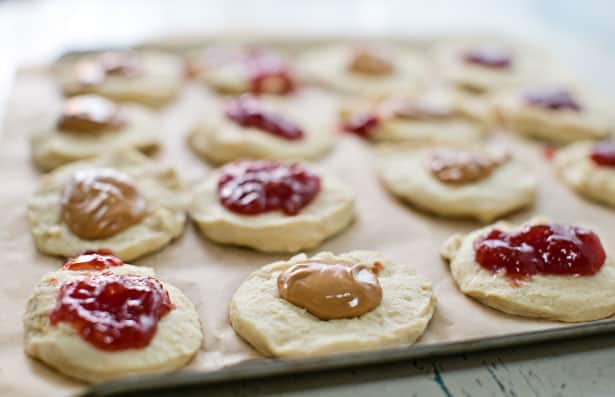 Steps:
(Preheat oven to 375 degrees)
1. Pull apart the biscuit rounds (there are 8 total) and slice each in half to get 16 rounds.
2. Add a spoonful of peanut butter and spoonful of jam to each round.
3. Line a 9″ x 5″ loaf pan with parchment paper.
4. Add one peanut butter round to one jelly round so you have 8 "sandwiches."
5. Line up the rounds standing up in the parchment lined loaf pan.
6. Brush with melted butter and sprinkle with sugar (optional)
7. Bake in the oven until the top is golden brown, about 30-35 minutes.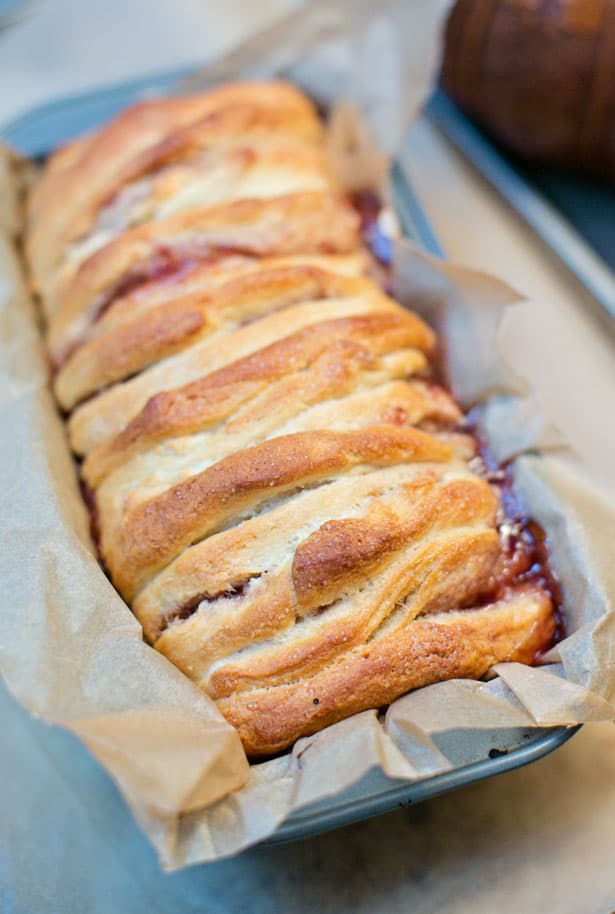 This quick recipe took 10 minutes to prep and is super kid-friendly. My daughter loved adding the spoonfuls of peanut butter and jelly and brushing the butter/sprinkled sugar on top of the bread. The decadent snack is seriously addictive and delicious!
Have you ever made pull-apart bread before?