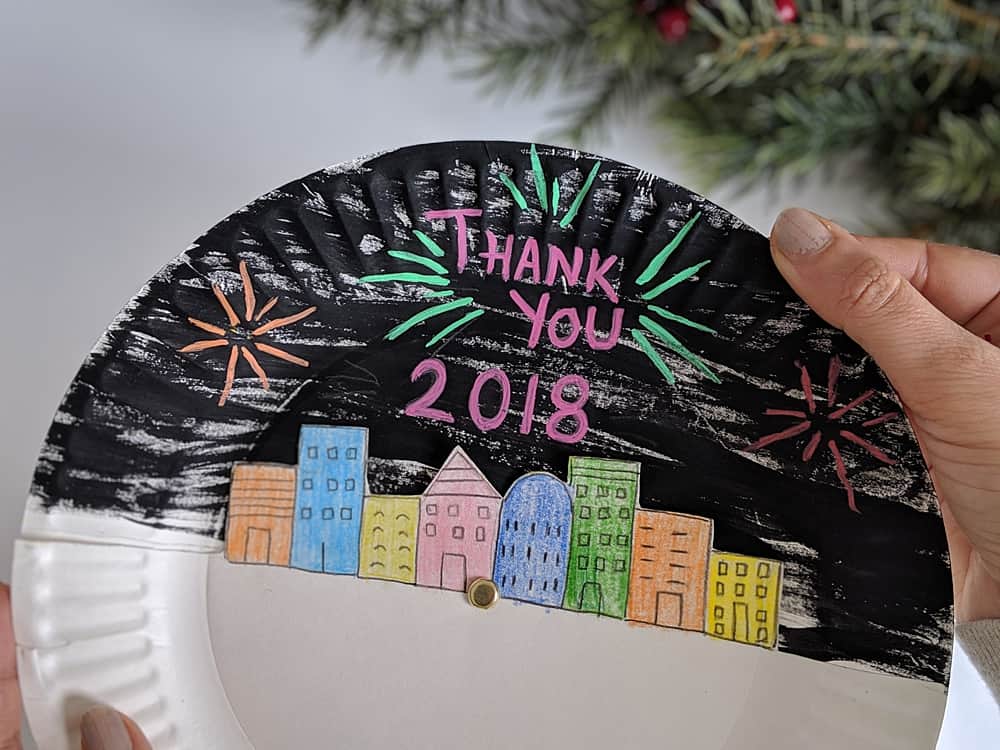 Follow us on Instagram for more fun ideas for kids!
Scroll all the way down to watch the video below to see this fun and interactive New Year's Eve Paper Plate Craft in action. Make sure to subscribe to our YouTube channel for more fun videos!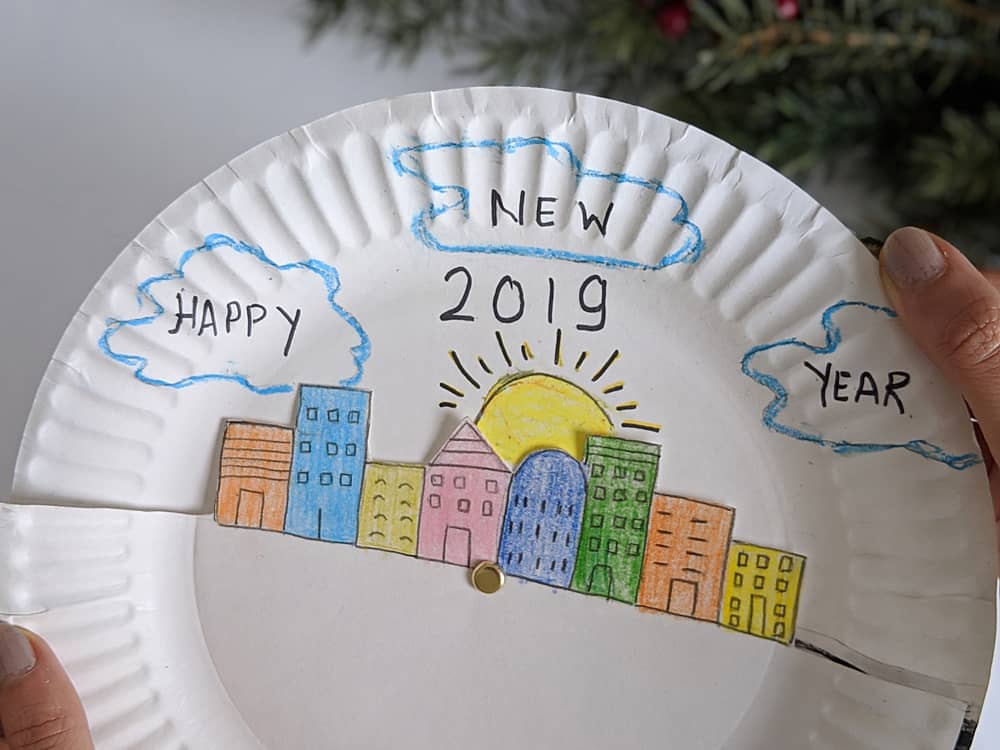 New year's eve is special for not one but two reasons.
One, to welcome the brand new year and its promises but equally importantly, to thank the current year for all the joys and experiences it brought along.
To educate our child about the special aspects of the new year eve, we made this rotating new year paper plate craft.
We want to make sure they develop gratitude for what they have as much as they look forward to the new things the next year will bring along.
So, when the fireworks go off this year, remember to celebrate both the special occasions!
Thank you 2018 and Welcome 2019!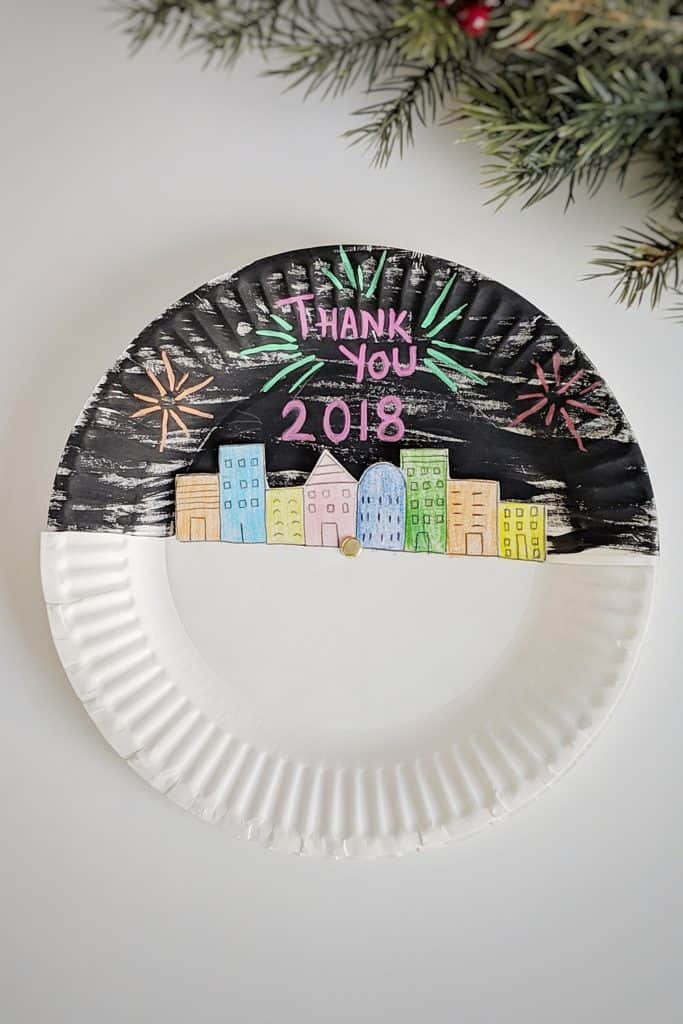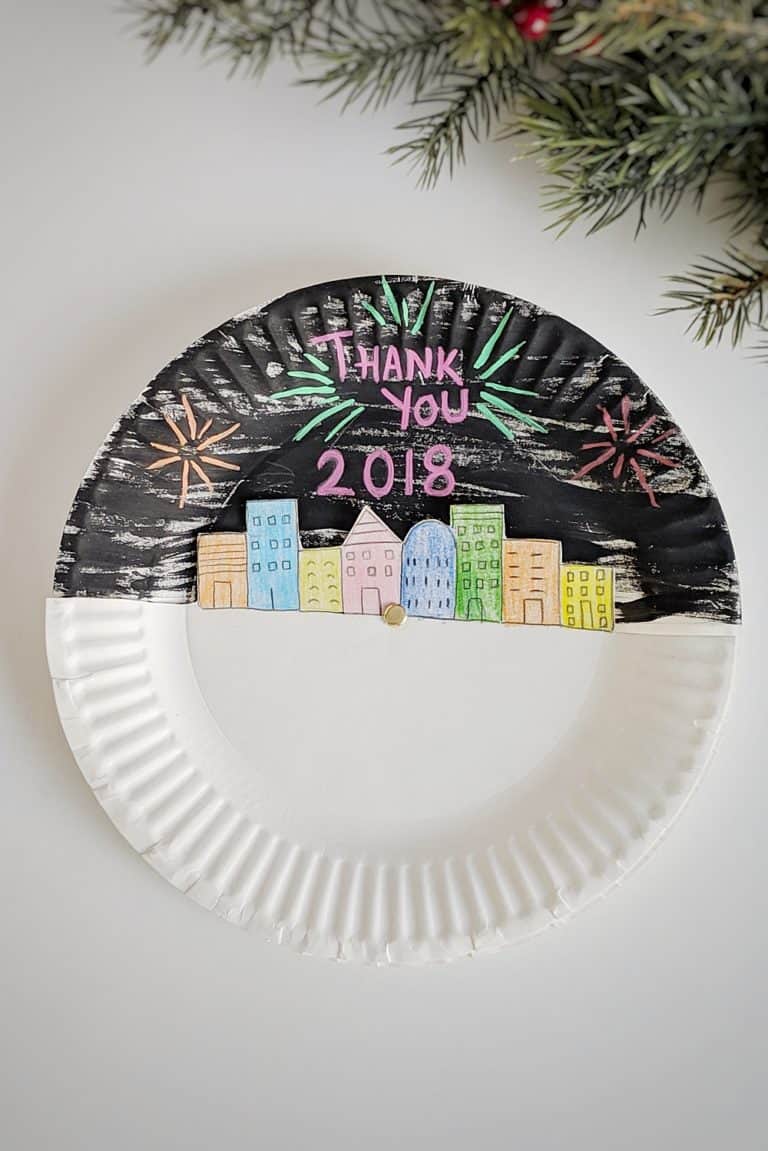 Don't forget to check this easy Pom-Pom Christmas Tree Ornament for little kids we made last week and super fun Spoon Grinch Christmas Ornament to go with Dr.Seuss classic book 'How the Grinch Stole Christmas.
Here is how to make this craft.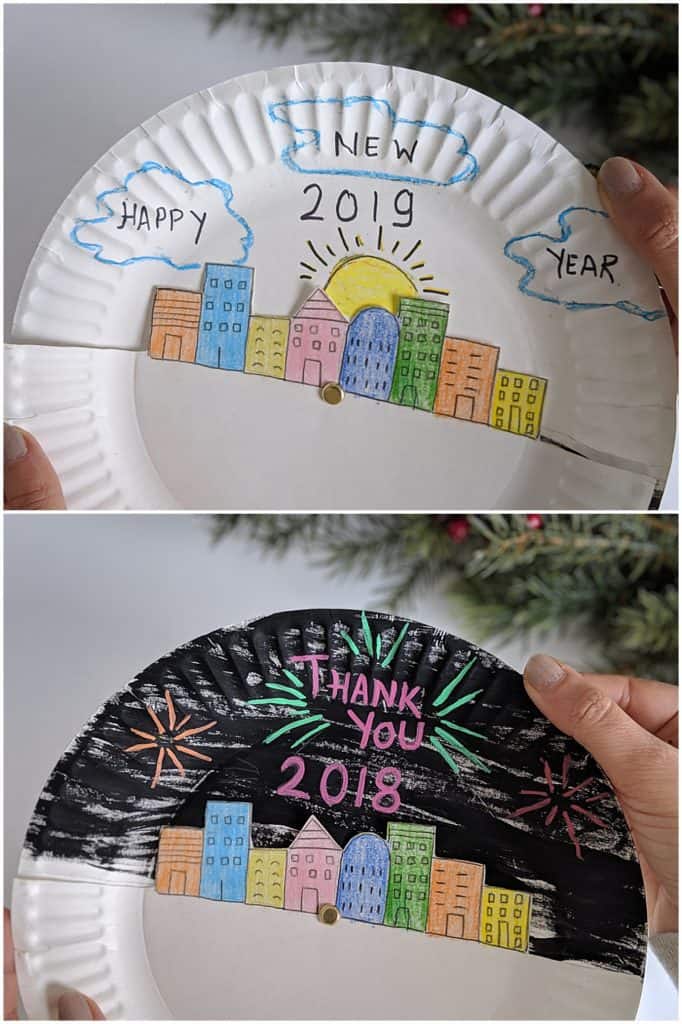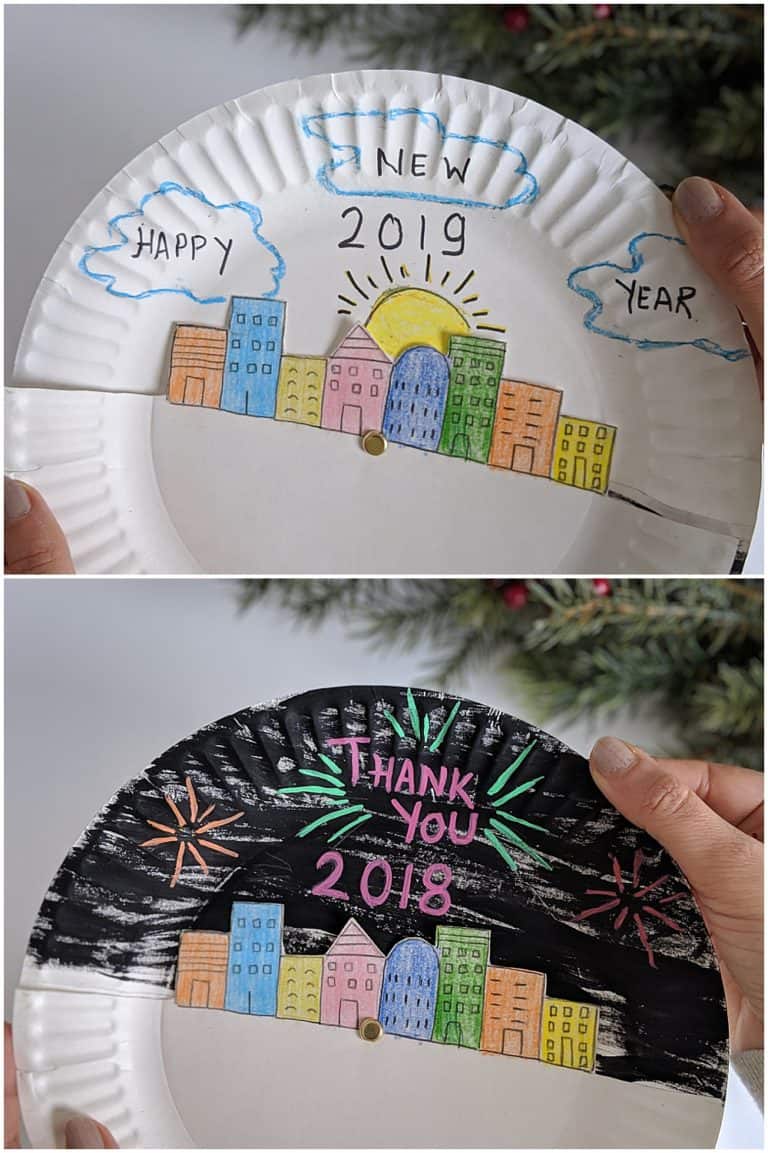 MATERIALS
Paper Plates (2)
Brad Pin
Pencil Colors
Black Acrylic Paint
Chalk Markers
Sharpie Marker (Black)
Scissor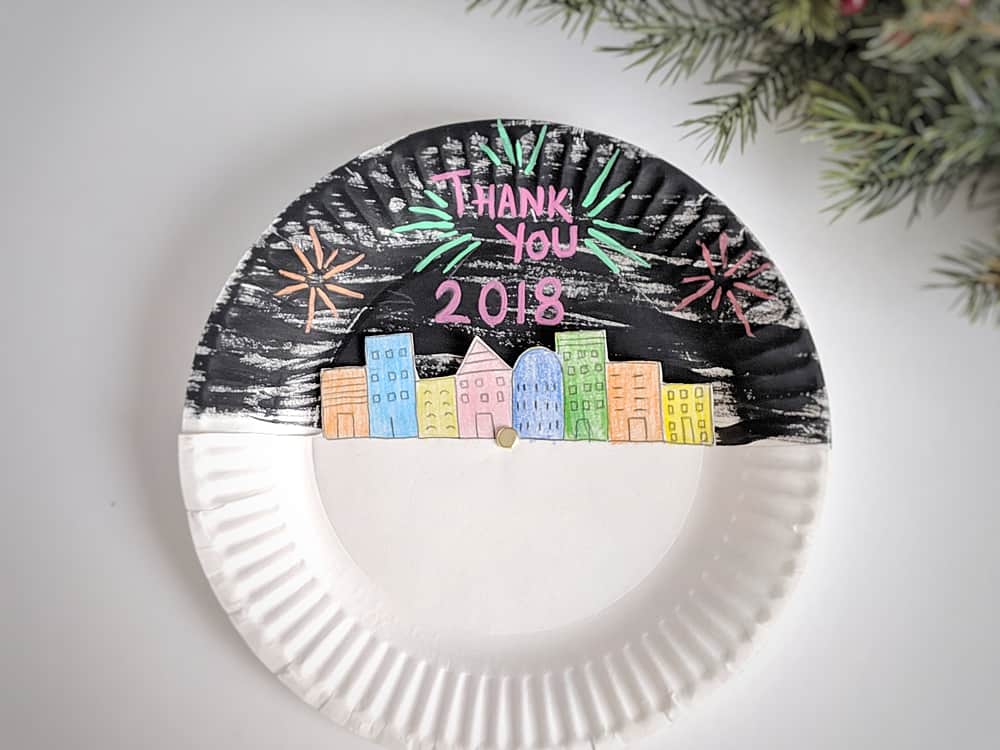 INSTRUCTIONS
1.Draw a line on a paper plate dividing it into half. Trace a simple skyline an cut along it as shown in the picture.
2. Make a colorful skyline by filling buildings in different colors.. We used pencil colors but you can use any colors you like.
3. Outline the skyline using black color.
4. Take another paper plate and again draw a line dividing it into half.
5. On one half of the paper paper, make a night sky by coloring it black as shown.
6. After the black color dries, place the plate with skyline on top of it and write 'Thank You 2018' message.
7. For the 2019 day scene, place the plate with skyline on the uncolored side of the plate and draw the sky, sun and write the message 'Happy New Year 2019' as shown.
8. Join both the paper plates from the center using a brad pin.
You're are all set to celebrate New Year with this fun and interactive paper plate craft.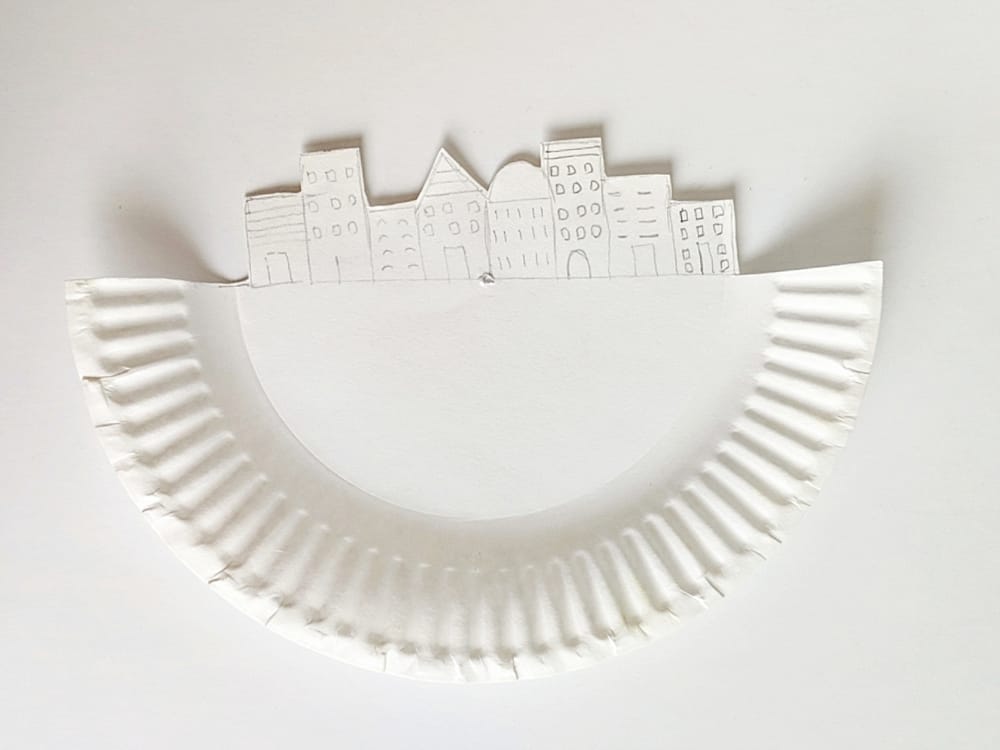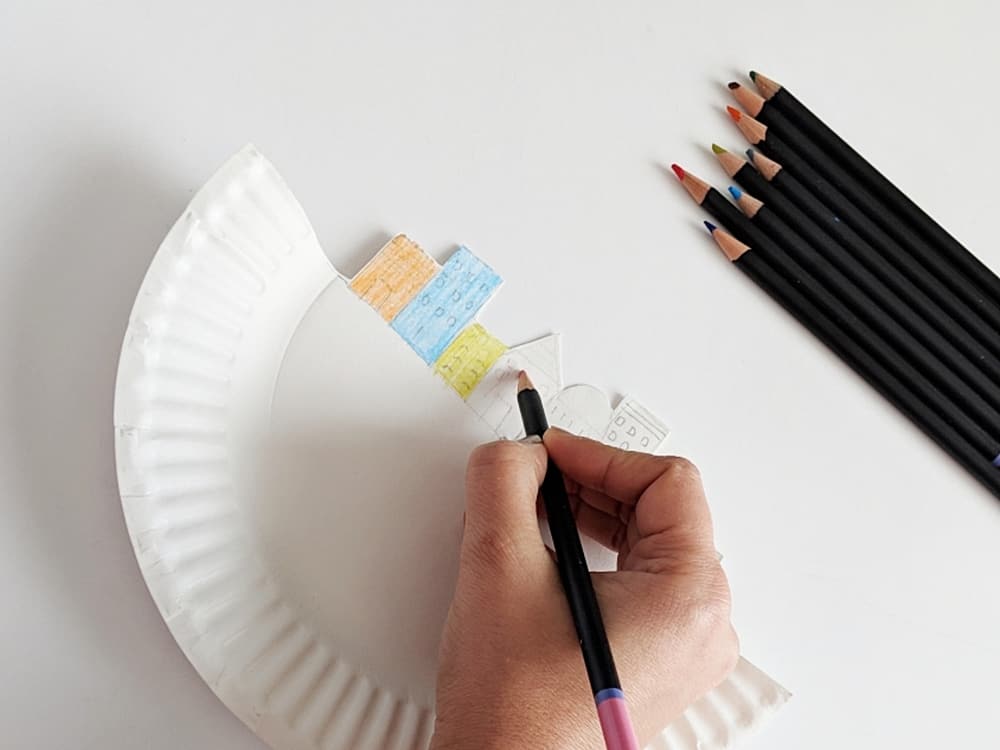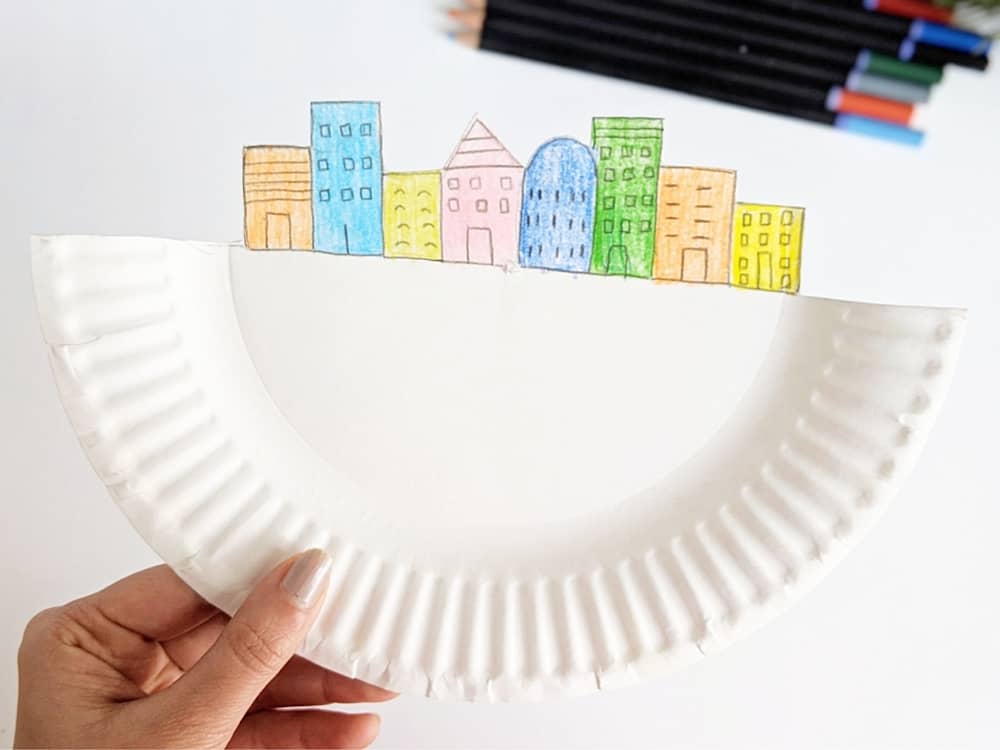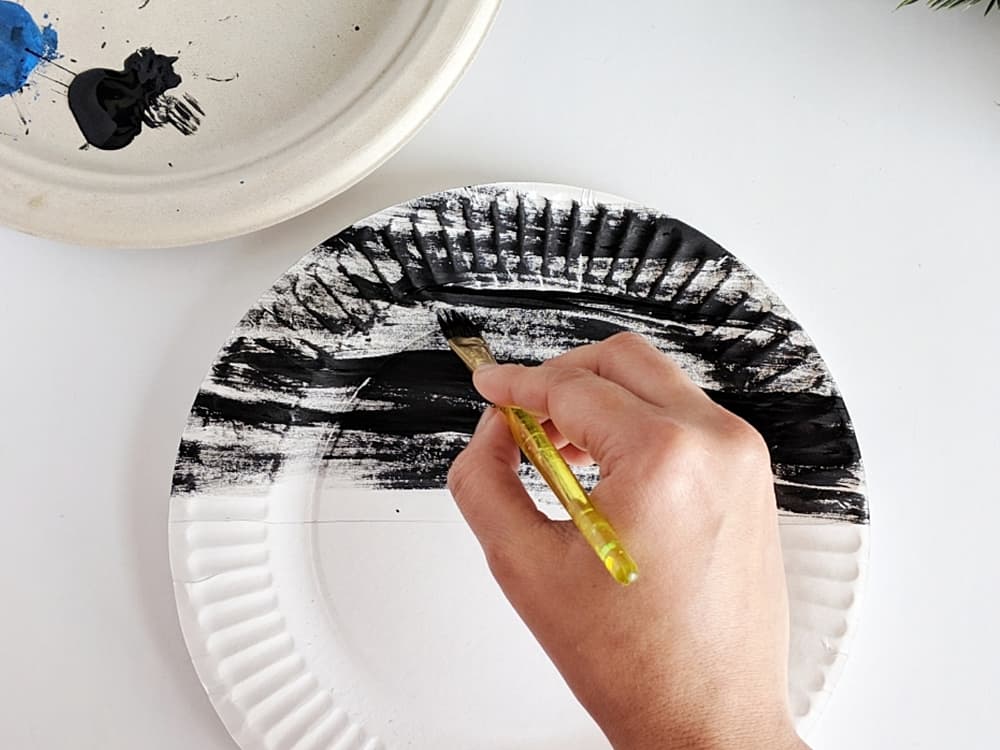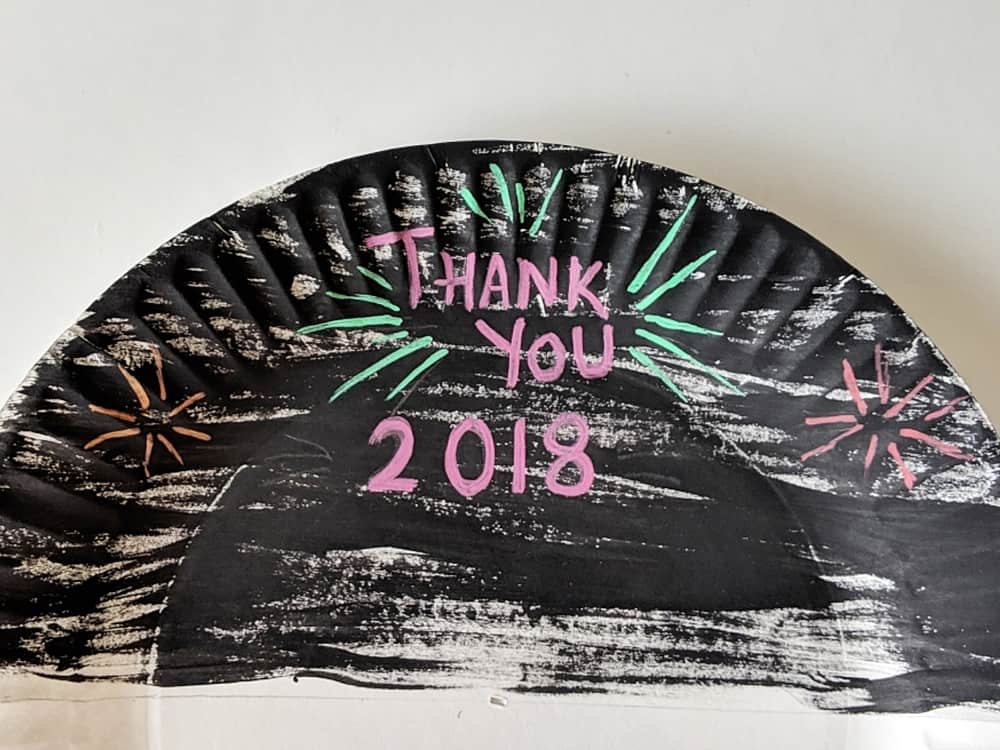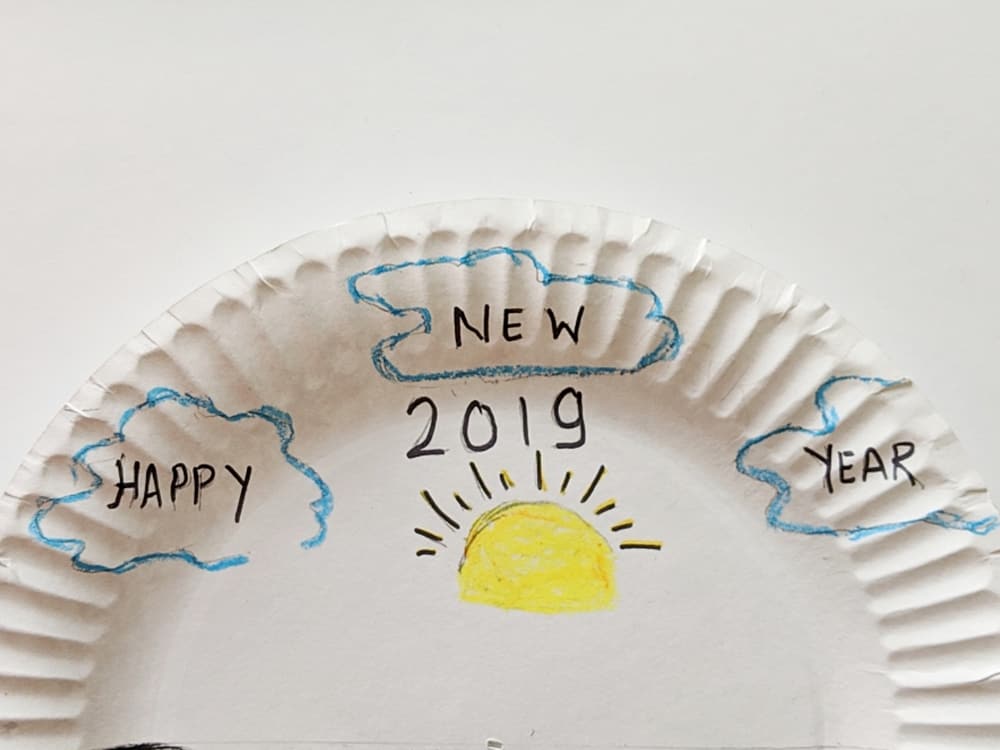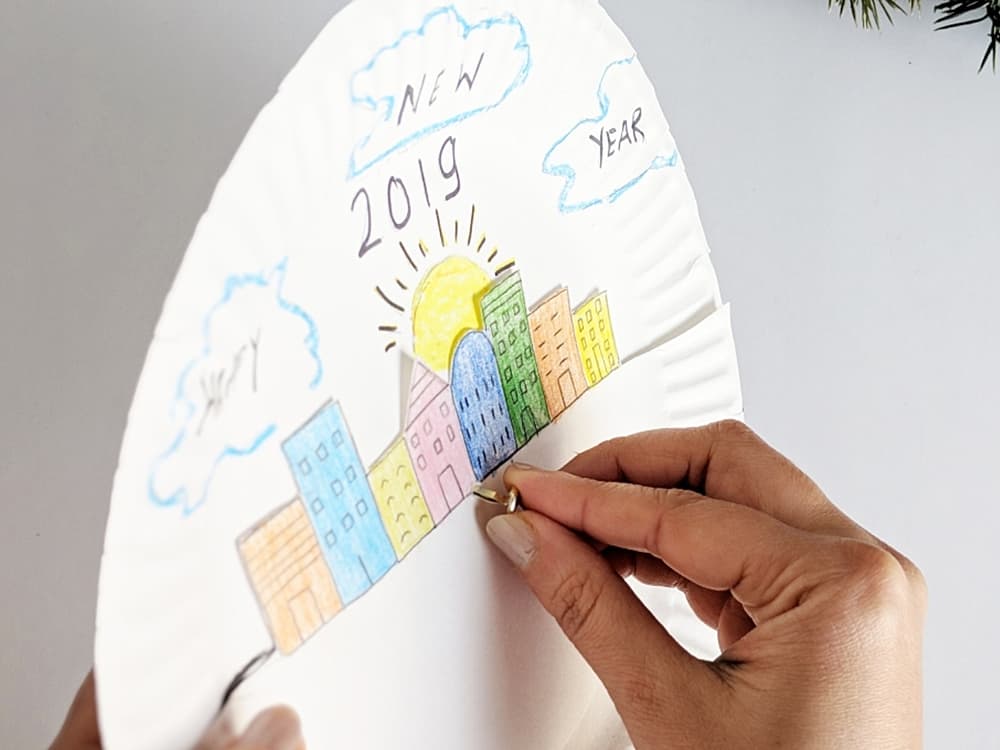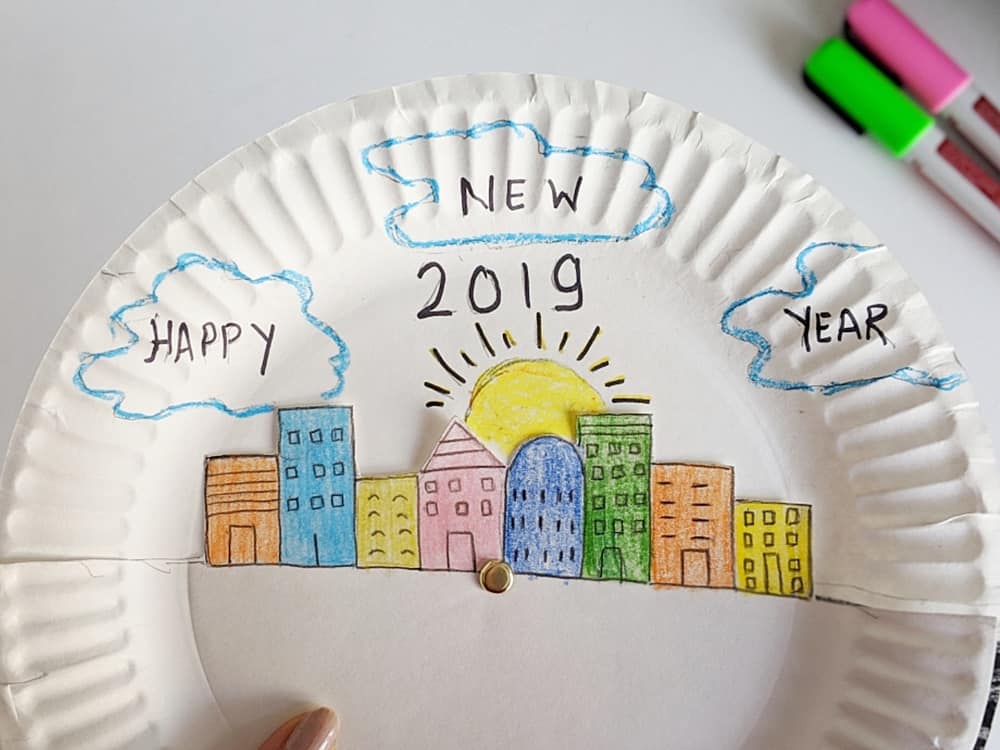 Watch the video right below to see this fun New Year's Eve Paper Plate in action!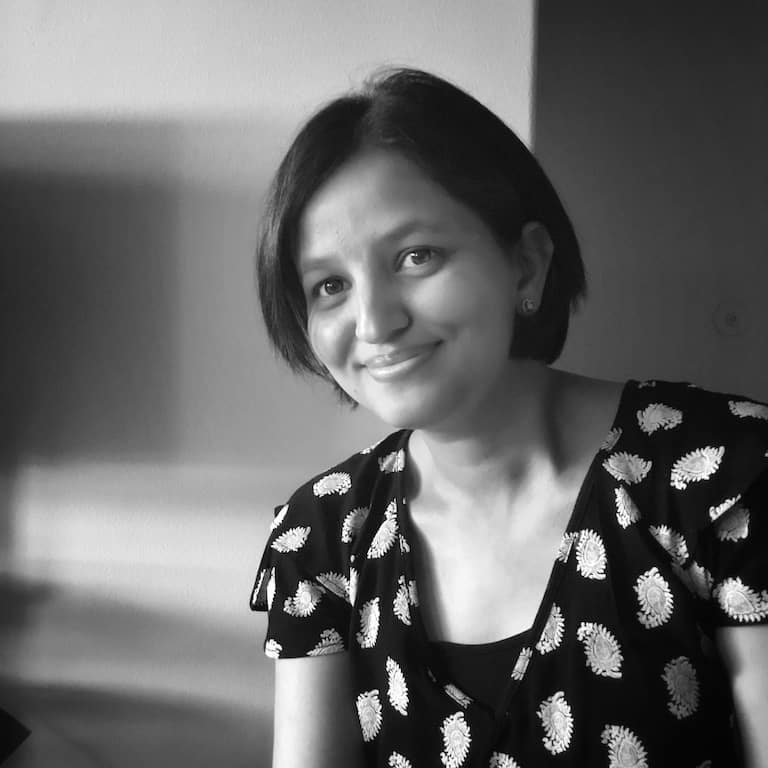 Shikha from The Joy of Sharing has a passion for crafts. She loves sharing easy, fun & educational crafts. She is a prolific craft blog & video creator with unique ideas that make her posts hugely popular with moms, teachers & craft enthusiasts. In previous life, she worked with Fortune100 companies in marketing & product management roles. She has a toddler girl – her craft conspirator & co-creator. Follow them on Facebook, Pinterest and Instagram for your next craft inspiration.
---
Disclosure: Some of the links in the post above are "affiliate links." This means if you click on the link and purchase the item, we will receive a small affiliate commission. Regardless, we give our promise that we only recommend products or services we would use personally and believe will add values to our readers.