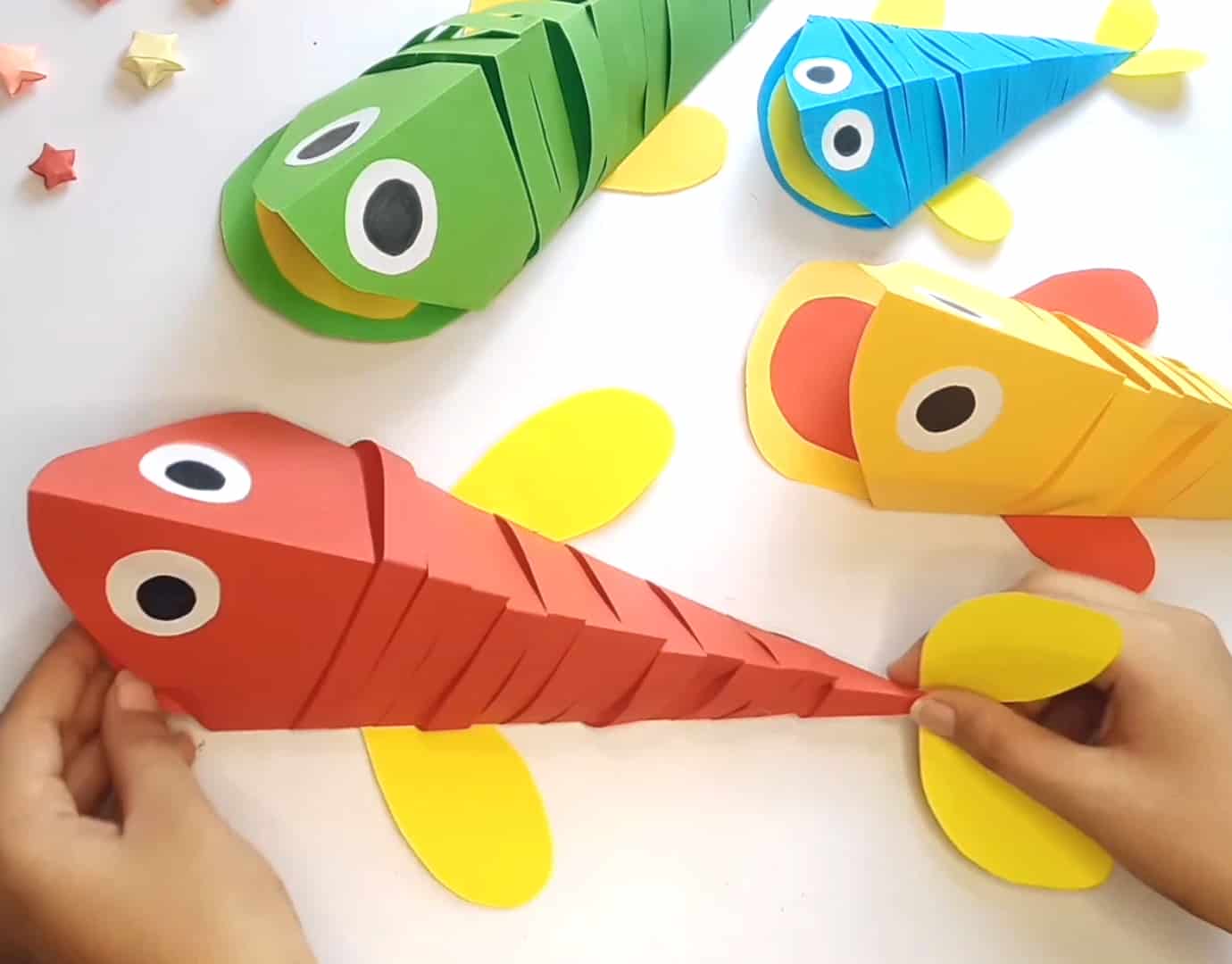 By using this site, you agree to our Terms of Use. This post may contain affiliate links. Read our disclosure policy.
Follow us on Instagram for more fun ideas for kids!
This Moving Paper Fish Craft is great fun for the kids! Get the detailed step-by-step and video to make this fun ocean craft!
Fish crafts are so much fun! The kids love anything dealing with water and marine life – and for a good reason! The really fun part about this fish activity for kids is that the fish really looks like it's moving. The paper gills that you'll be making are moveable to make it look like the fish is actually breathing.
This fun activity will be great for a day at home or if you're learning about a specific type of fish. If you can use art and tie in learning projects with it, that's a great way to combine education and fun.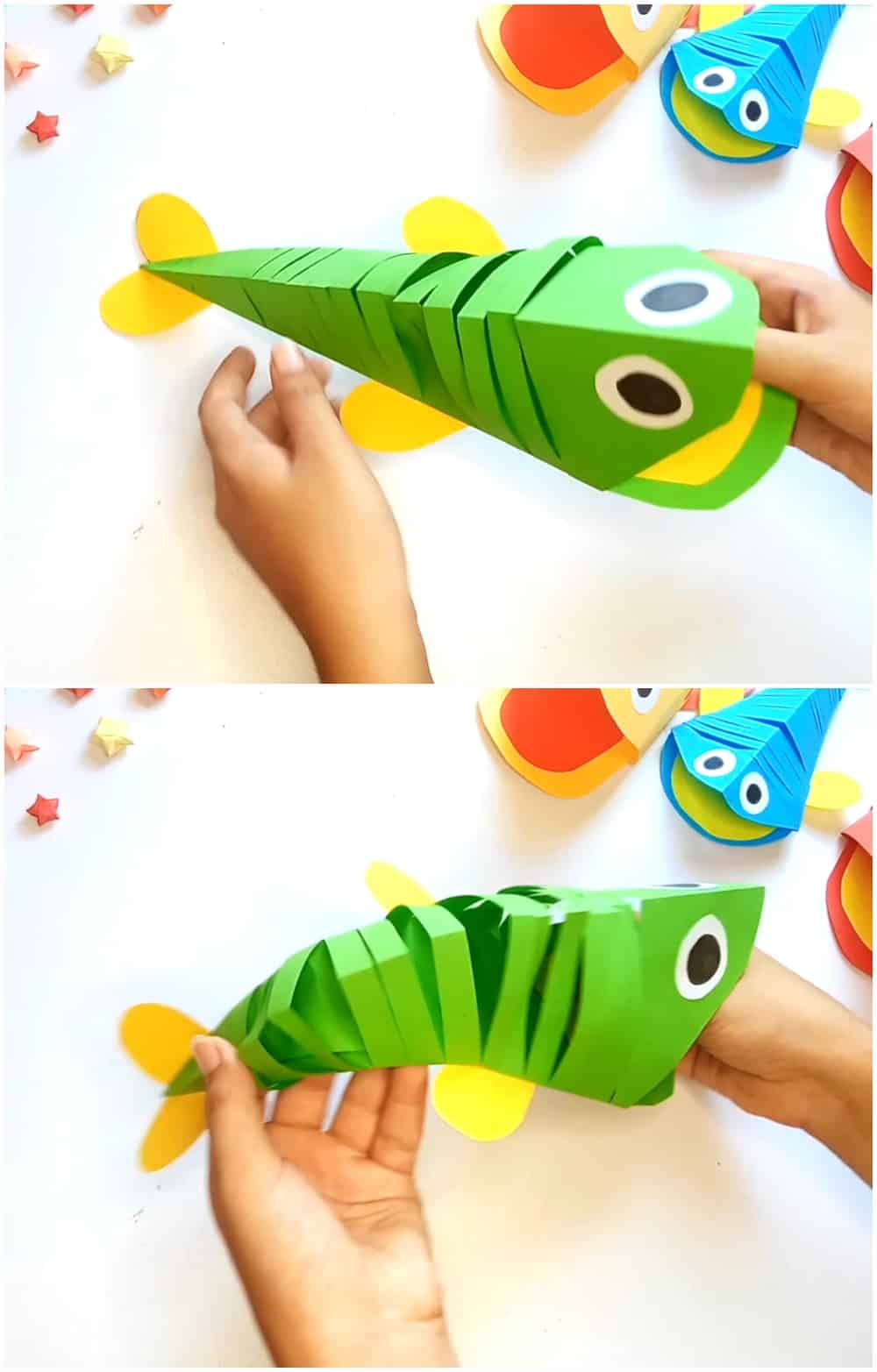 What age groups is this fish paper craft good for?
This is the great thing about crafting! You can easily be right there with your little one every step of the way. Since there is some cutting and gluing to this craft, just let them do what they can and help out when they need it. You'll be amazed at how their confidence will soar by being able to do some of this craft on their own.
The older kids can easily work on it at their own pace as well.
Moving Paper Fish Craft – Materials
Colored paper scraps

White paper

Glue

Scissors

Black Marker

Pencil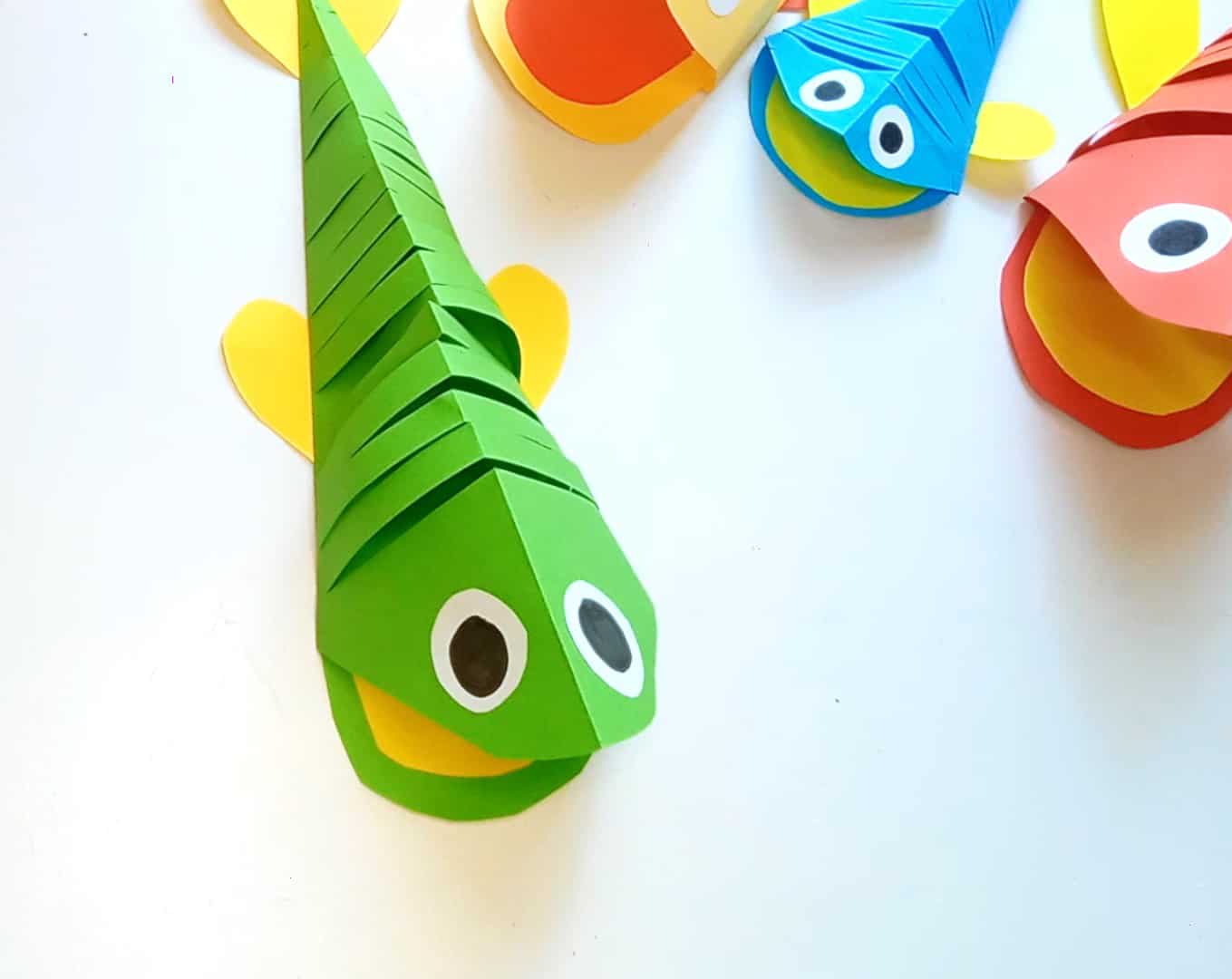 Fun Ways to Play with this Moving Fish Craft made out of Paper
Once the kids make this fish out of paper, it's time for them to use their imagination! Imagination play is one of the best for kids! This is a time that they can make their fish move, swim, fly – whatever they want!
Anytime we create something at home, I love to see what they're going to use it for when it comes to imaginative play. They might even want to put on a show for you so that you can see what's going on in their minds. Sit back and enjoy the show – it's certain to be a good one!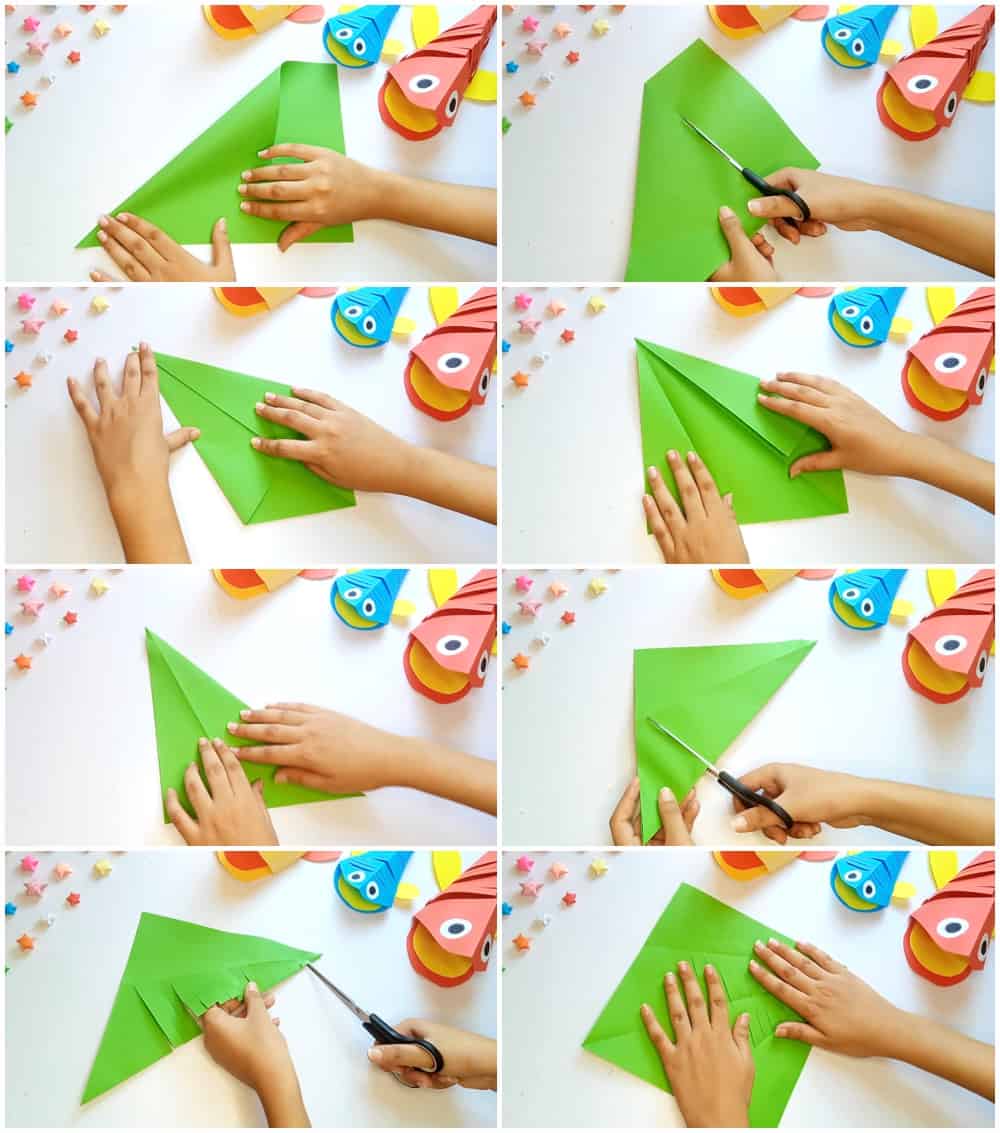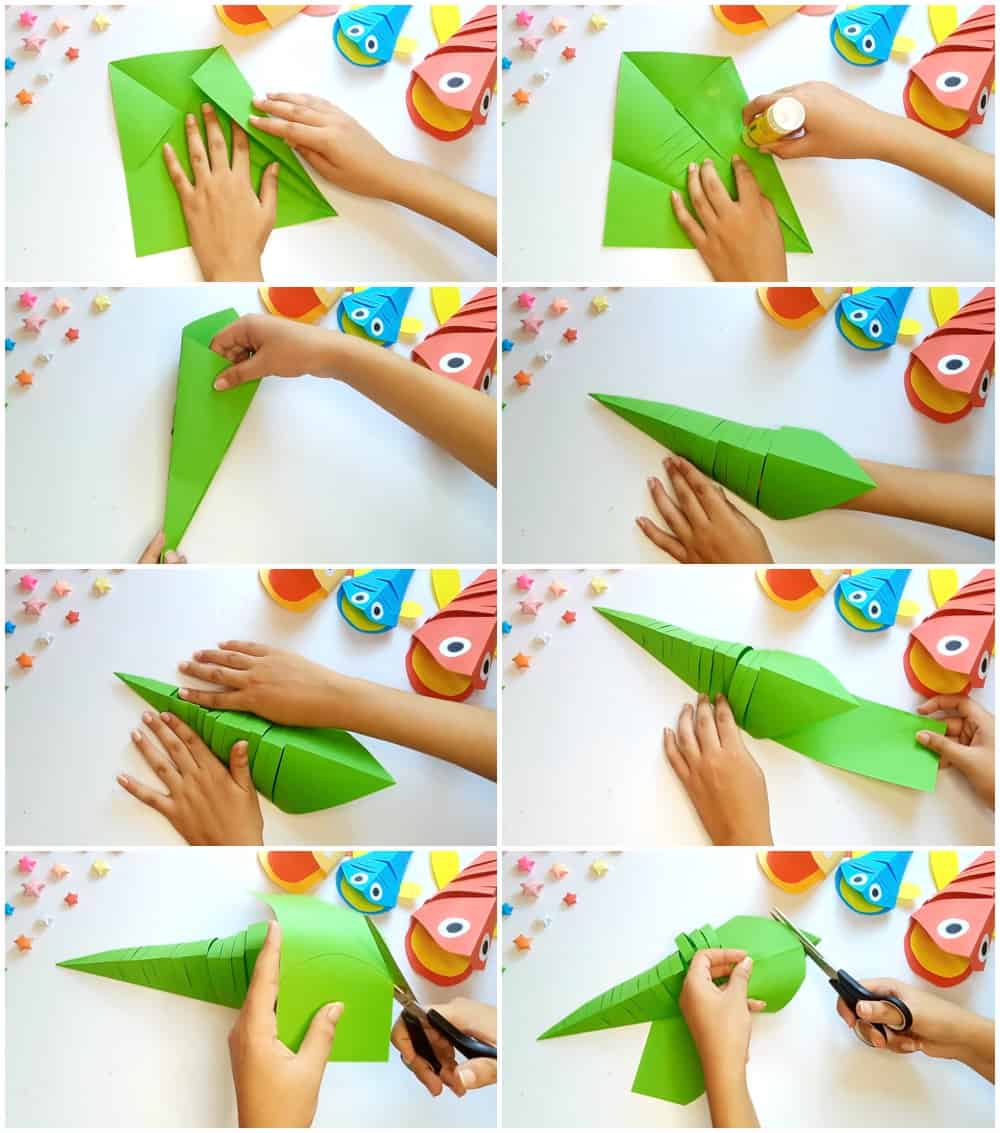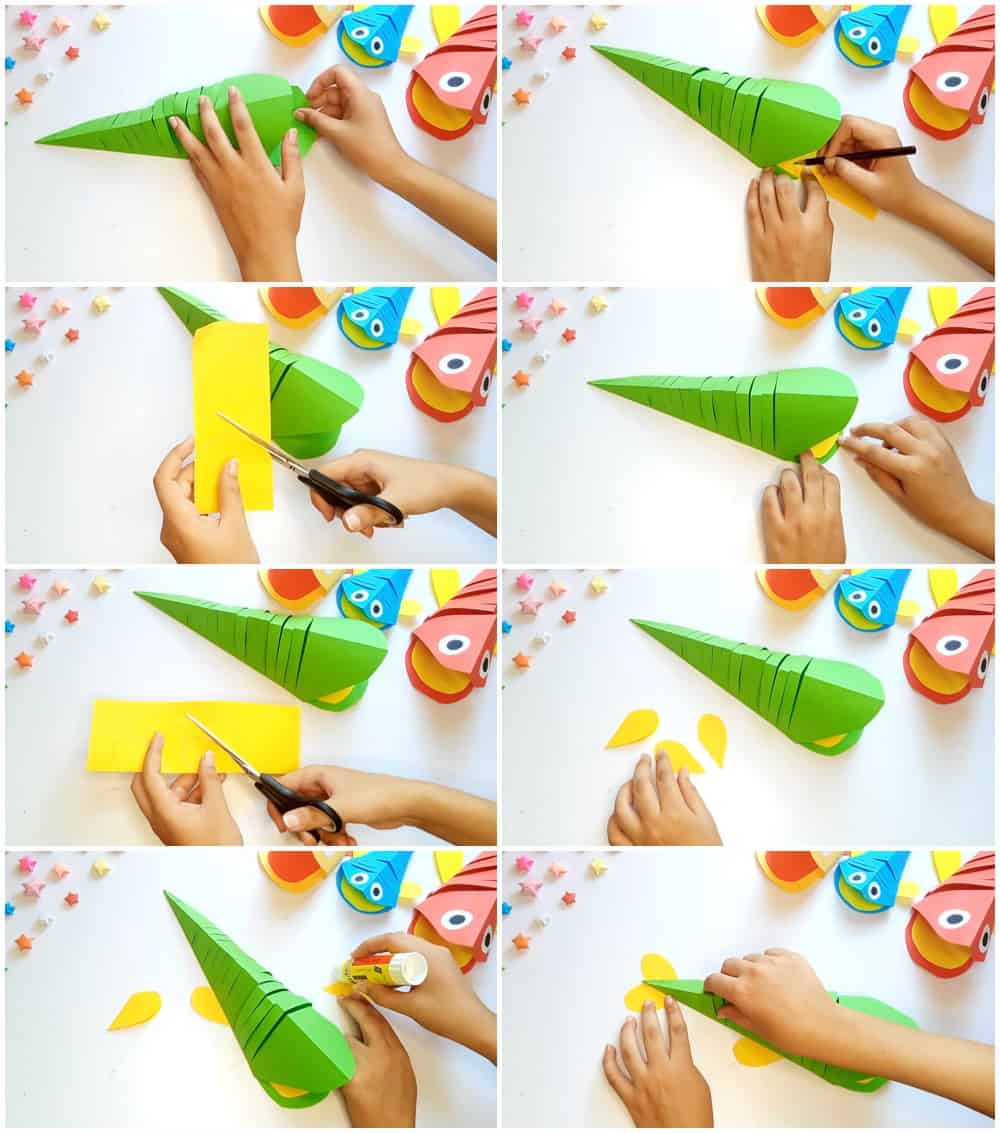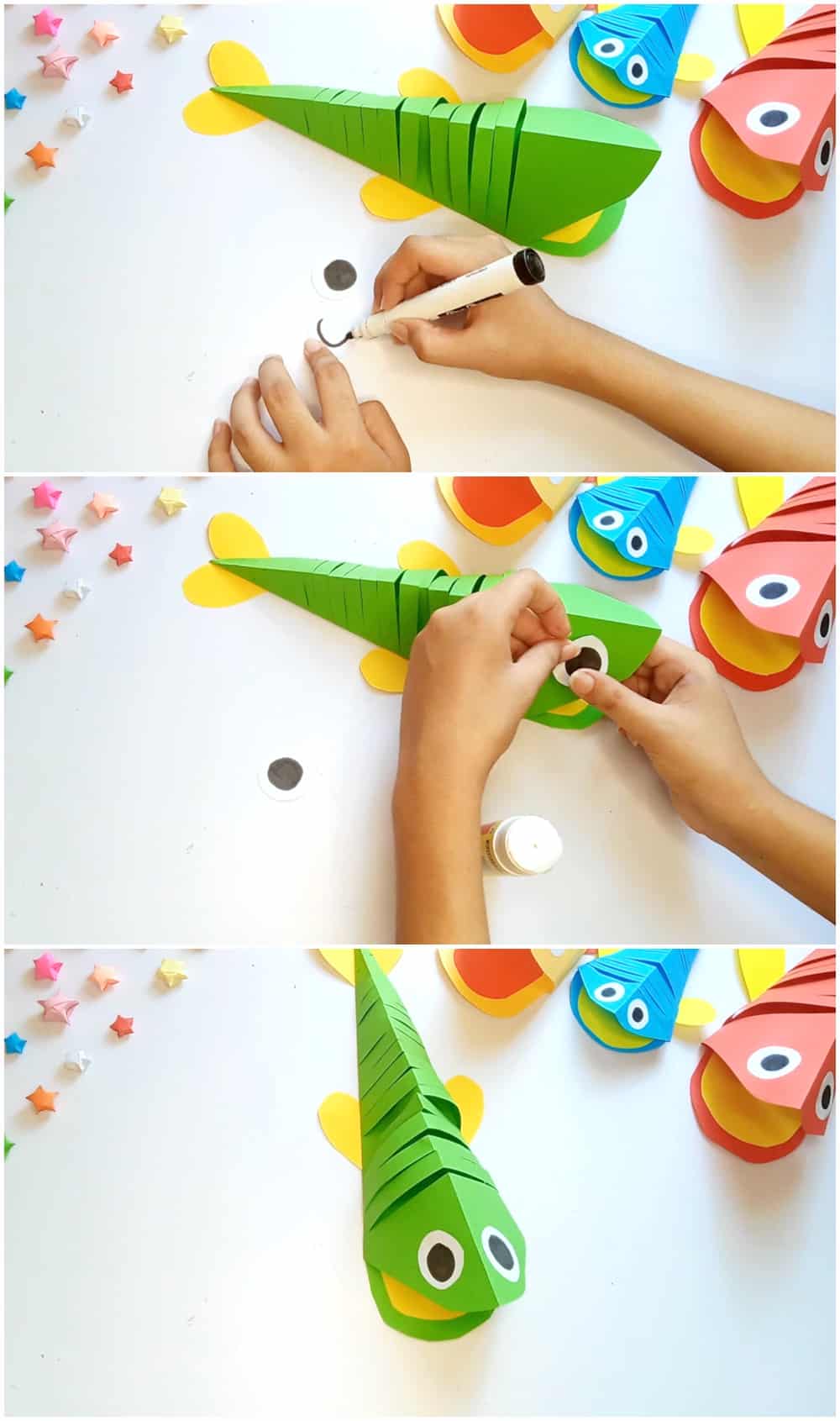 INSTRUCTIONS
Moving Paper Fish Craft
This moving paper fish craft is so much fun and easy to create!
Materials
Colored paper
Colored paper scraps
White paper
Glue
Scissors
Black Marker
Pencil
Instructions
Grab a sheet of paper in any color.

Fold one corner of the paper across to line the top edge with the side edge. Trim off anything extra at the bottom. This should give you a square piece of paper that is folded in half in a diagonal shape.

Open it and lay it flat. Fold in two of the corners towards the center. This will make it into a kite shape.

Open again and flatten. Fold it in half on the center diagonal once again. '

Make 1/4 inch - 1/2 inch cuts into the paper. Do this starting about 1 inch from the end. Be sure that you're cutting up the crease. (If you make small gaps in the cuts, the fish will be able to move more!)

Unfold everything and put it back to a square. Refold it into the shape of the kite but make sure to have one side open.

Put some glue on the closed side and cover it with the side that is open. This will form a triangular tube. This is the fish's body.

Cut off the point on top and make it round to look like the head of the fish.

Grab some of the same colored paper and put it in the cone to make the mouth. Draw a curve that starts about 1 inch from the edge of the body. Cut out this shape and glue it to the inside bottom portion of the mouth of the fish.

Grab a different color of paper and repeat the above step. Glue to the mouth.

Cut out two heart shapes from the paper and then cut one of them into three pieces. Glue them on the fish for the fins.

Cut out white paper circles and draw on the black portion for the eyes. Glue them onto the fish to be done.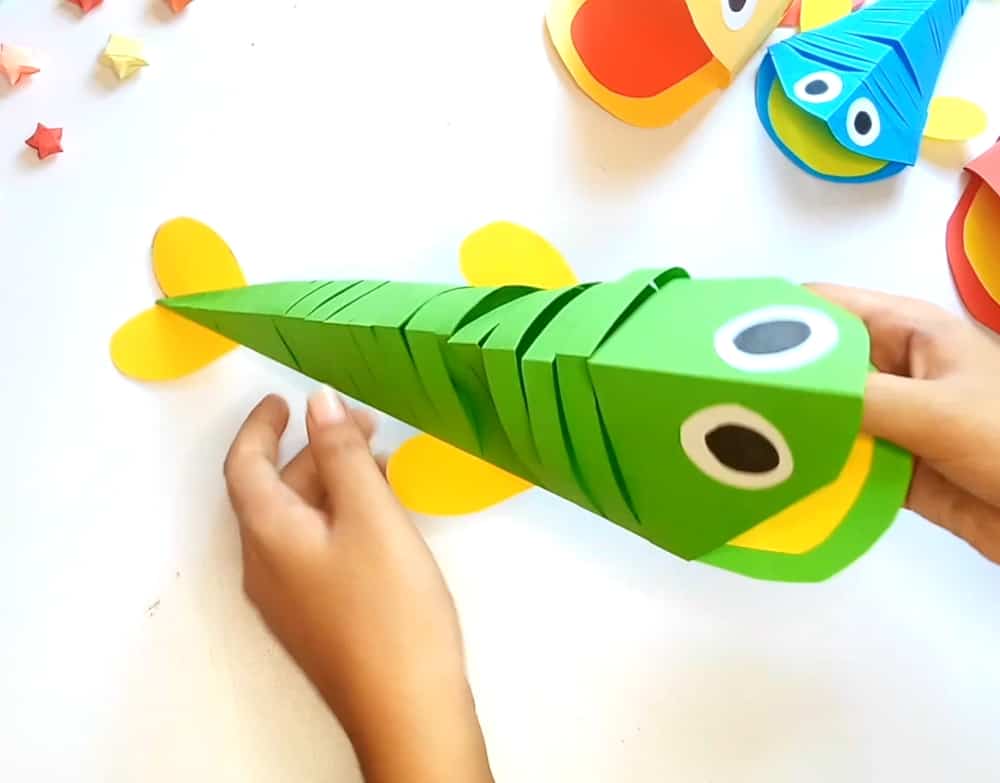 More Fish Crafts: