I got the inspiration to make these mason jar aquariums from Delia Creates. She made these adorable baby jar aquarium snow globes as a party favor.
At a recent playdate activity with my daughter's preschool friends. We decided to make real-looking aquariums by adding plants, rocks, and aquarium figurines to a mason jar of blue water. Everyone enjoyed this super fun and easy craft, and it was great to send kids home from a playdate with a treasure they created themselves.
Mason Jar Aquariums – Materials:
1. Mason jars
2. Blue food coloring
3. Filtered water (tap water tends to give a cloudier look, but is totally fine to use)
4. Aquarium plastic figurines
5. Aquarium rocks and plastic plants (you can buy these at any fish or pet stores)
6. Blue and white glitter (optional)
7. Glycerin (optional – this makes the glitter move more slowly when you shake the jar)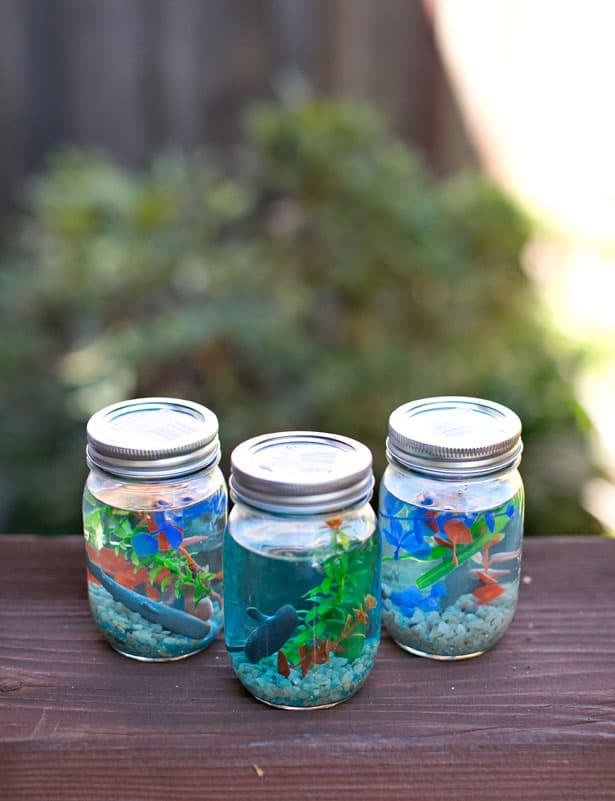 Because we made these mini aquariums in mason jars, we didn't bother sealing the lids (though you could do that with sealing glue). We kept the jars upright to make sure they wouldn't leak.
The finished aquariums look very pretty and realistic, and the kids were thrilled at the way the glitter and rocks could be swirled around inside the jars.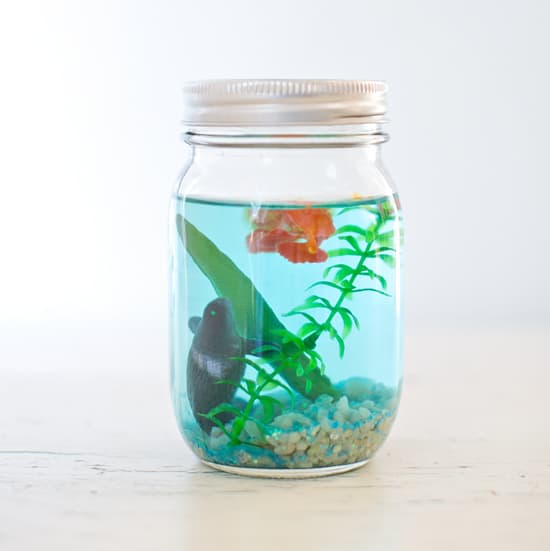 They look just as cute inside the home too 🙂
Have you ever made a snow globe before? Please share your tips!
PS. Have you heard? Our NEW Plaeful Erasable Frames Wall Decal is Here!