My five-year-old daughter is just at that age where she's starting to enjoy drawing shapes and characters. She also loves to color, so I thought it would be fun to make some temporary tattoos for kids…out of her own art!
It's an easy at-home activity as you should have almost everything you need in your craft storage space. There are tons of fun tutorials that will show you not only how to make temporary tattoos for your kids, but also cool designs that can be made on items like Easter Eggs such as the ones on How About Orange.
Here is how to make temporary tattoos using your kids' art. They'll love sporting these tattoos knowing they had a hand in making the designs.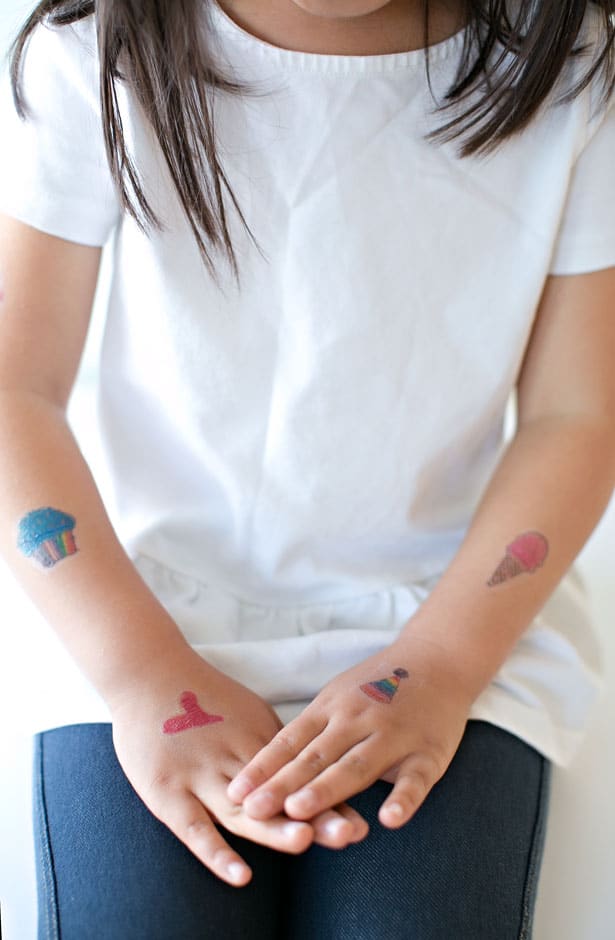 Materials Needed to Make Homemade Tattoos for Kids
Temporary Tattoo Paper – this is a very important material needed to make DIY tattoos for kids.
White paper – you'll need this to print out some black and white clip art for your child to color in. Or use a blank sheet of printer paper and have your child draw designs (we did both as you'll see below).
Printer and scanner
Scissors
Crayola's or any other coloring-in crayons.
Paper Towels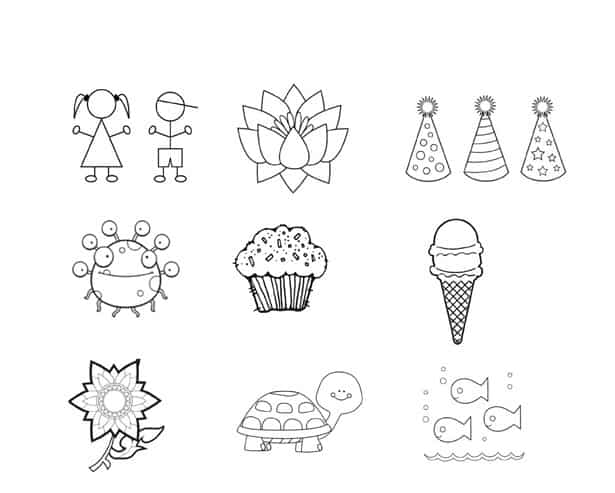 Steps: How to Make Fake Tattoos For Kids
This step-by-step guide on how to make a tattoo for kids will have you making temporary tattoos in your sleep. It's an easy art project for you to do with your kids while spending quality family time together. It can also make for a fun birthday party activity.
Step 1: Find Some Cute Images
The first thing you'll need to do is add some clip art to a Word file. You can easily find some adorable colorful cartoons online. Or, you can find some black-and-white clip art images (like the ones above) for your little ones to color in themselves.
I also left some blank space on the page so she could draw her own "clip art." Feel free to use the template I made here.
Step 2: Start Coloring In Your Temporary Tattoos
Once you've found all the clip art images you or your child want to use to make your easy kid tattoos, it's time to print them. Let your kid color to their heart's content then, once they're done, you can scan this page back onto your computer.
The image below is the scanned page of what my daughter drew. She colored the clip art and made some of her own designs (see the bottom of the page below).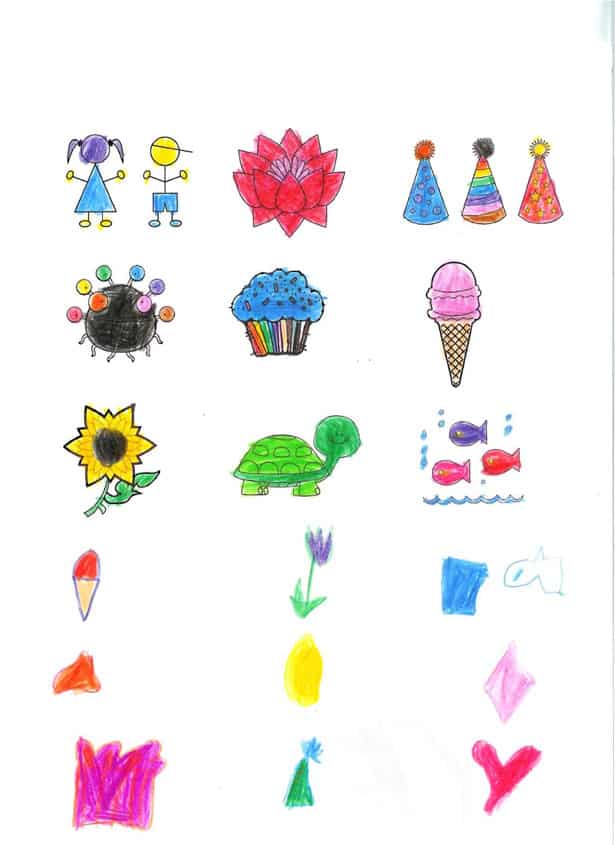 Step 3: Printing your DIY fake tattoos
Follow the instruction on the temporary tattoo paper's packaging and place one sheet in your printer. If it's your first time making temp tattoos, consider getting some extra paper. It's easy to botch printable tattoos for kids the first time around.
Depending on the type of tattoo images you've chosen, you may need to flip them over (mirror the image) before printing. This can easily be done with some free online apps to mirror an image. Now it's time to print out the digital file you scanned of your kid's art.
Step 4: Applying the Adhesive Paper
The temporary tattoo paper comes with a separate self-adhesive transparent cover. You'll want to remove the clear page from the self-adhesive paper and stick it on the printed page of tattoos. It's a good idea to use a credit card to smooth out any bubbles that may appear under the clear adhesive paper.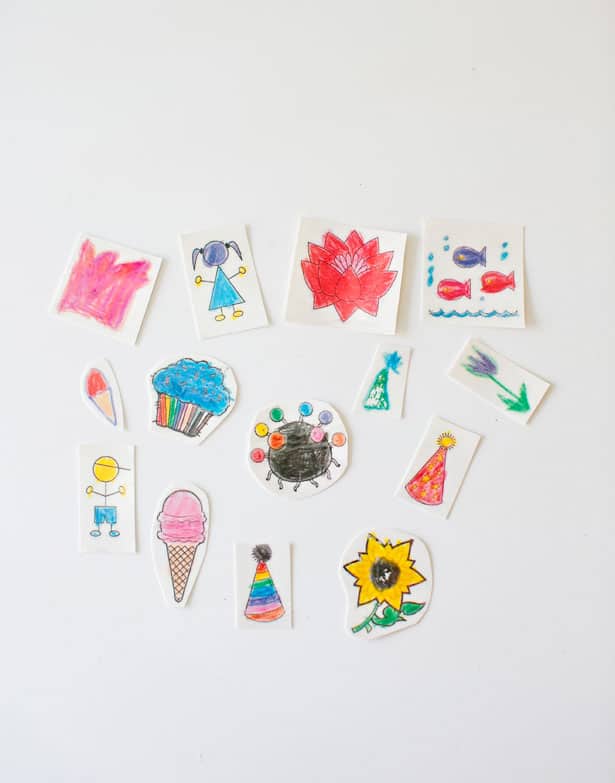 Step 5: Cut Out The DIY Temporary Tattoos
Once you've smoothed out the pockets of air, it's time to start cutting. Make sure you have a sharp pair of craft scissors for yourself and safe cutting scissors for your little one. Cut the tattoos out with some space around the images as seen below.
Step 6: Apply these Easy Tattoos for Kids
Now you can place these tattoos as you would any store-bought temporary tattoos. Remove the clear adhesive from each tattoo and place the tattoo design face down on your child's skin.
Wet a paper towel and press gently on the tattoo. After about 30 seconds, gently remove the wet paper towel and temporary tattoo paper.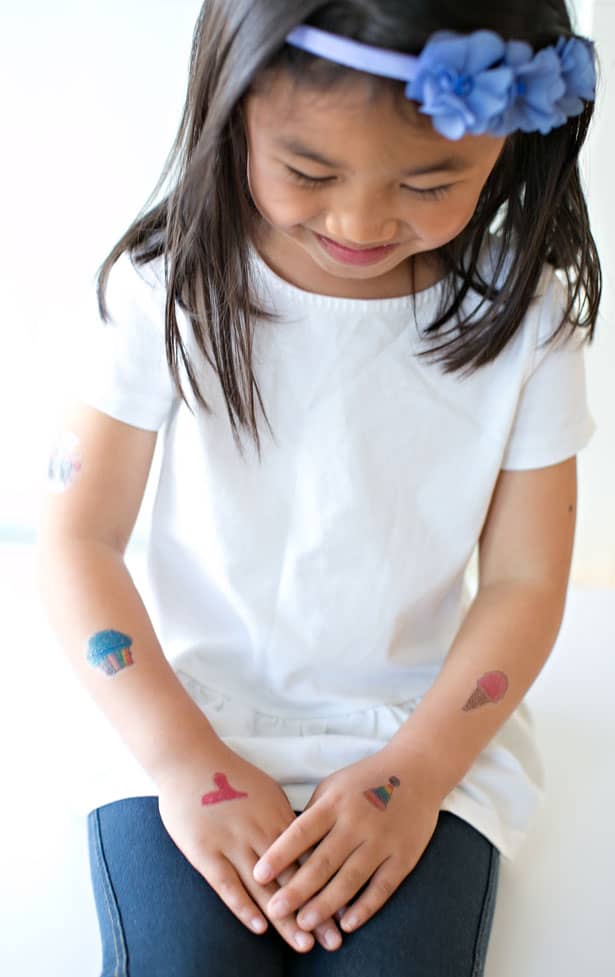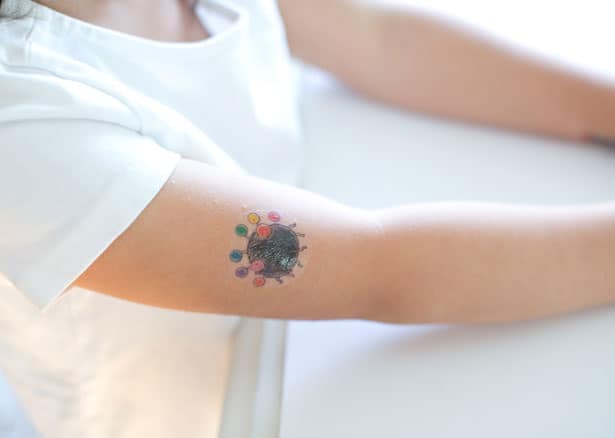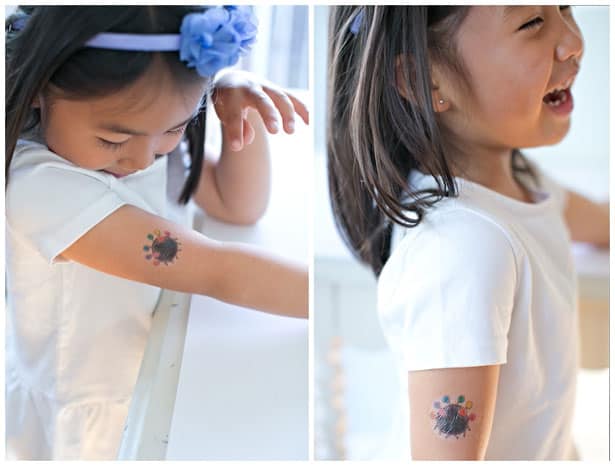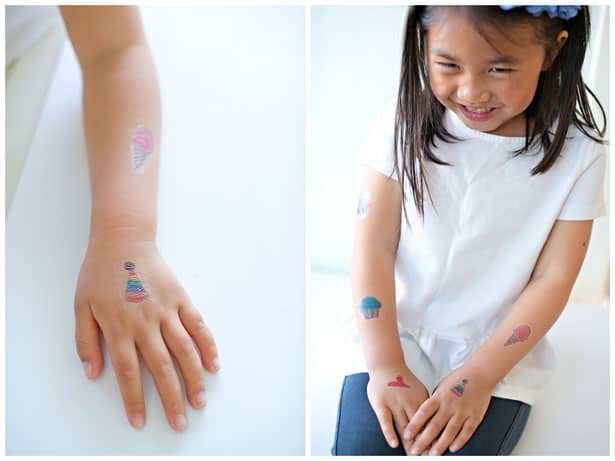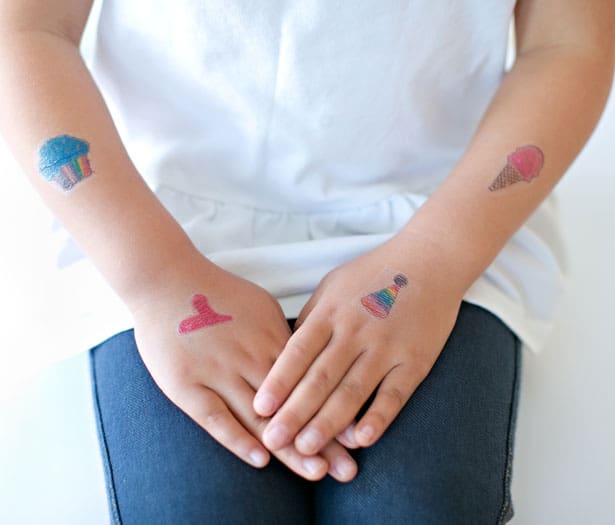 Final Thoughts on How to Make a Tattoo For Kids
And there you have it; everything you need to know about how to make homemade kid tattoos! It's an awesome creative activity for you to do with your kids. Or, if your child is old enough, something for them to do with their friends.
With endless possibilities for custom designs, DIY temporary tattoos are an indoor activity that never gets old. My little one had so much fun making her own tattoos and I'm sure yours will too!