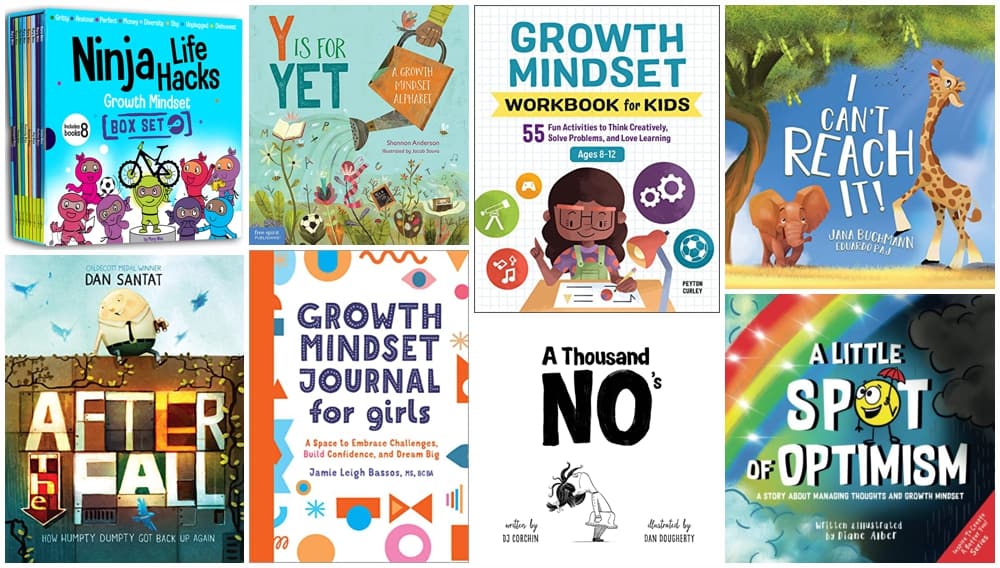 By using this site, you agree to our Terms of Use. This post may contain affiliate links. Read our disclosure policy. As an Amazon Associate I earn from qualifying purchases.
Follow us on Instagram for more fun ideas for kids!
Here is a list of the most thoughtful Growth Mindset Books for Kids
It's never too early to start teaching kids about the power of growth mindset. As soon as they are able to understand, it's important to start reinforcing the idea that intelligence and abilities can be developed through hard work and dedication.
This is a critical life lesson that will serve them well in every area of their lives. One of the best ways to teach kids about growth mindset is through calming books.
There are many wonderful children's books that focus on this topic, and they can make a big impact on young minds. Here are the best growth mindset books that are good for kids.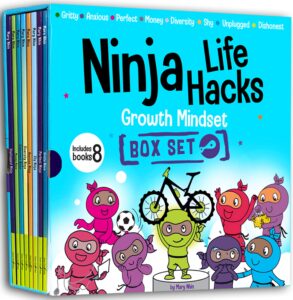 Photo Credit: Amazon
Do you want your child to have a growth mindset? With this Box Set, they will learn valuable life skills that will help them succeed in any area of their life.
The set includes books 9-16, which teach kids how to be resilient in the face of adversity, stay positive in difficult situations, and more.
So give your child the tools they need to thrive with the Ninja Life Hacks Growth Mindset Box Set.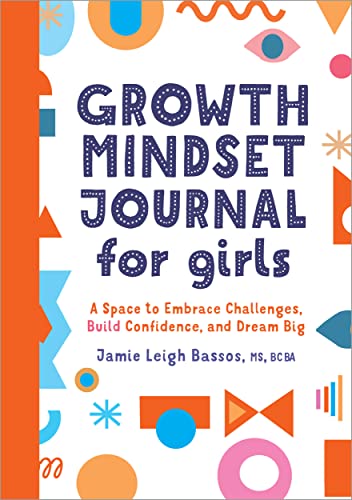 Photo Credit: Amazon
A growth mindset journal for girls helps any girl adopt a growth attitude and realize how smart and talented she actually is.
With a degree of insightful writing prompts and activities, this kids diary for girls can help her evolve more audacious and elated every day.
By exploring how a growth mindset can give them a nourishing perspective on life, this journal will empower girls to unleash their potential and become confident young women.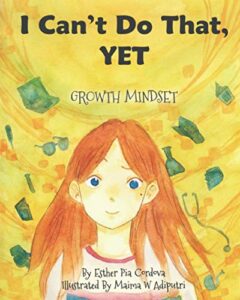 Photo Credit: Amazon
There's no limit to what girls can achieve when they set their minds to it! This growth mindset journal is the perfect tool to help any girl unlock her potential and boost her confidence.
With a range of insightful writing prompts and exercises, this journal is designed to help girls embrace a growth mindset and discover how smart and capable they truly are.
What sets this journal apart from the rest is its empowering notes- girls will analyze how a good attitude can give them a wholesome dose of bravery and determination; two elements for conquest.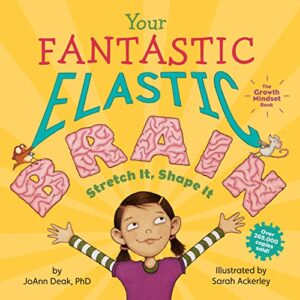 Photo Credit: Amazon
You'll discover all about the amazing things your brain is capable of doing in Your Fantastic Elastic Brain: Stretch It, Shape It.
Introducing young readers to the concept of lifelong learning and the importance of having a growth mindset is made easy with this growth mindset book for kids.
This teacher must-have includes illustrations of how the brain works as well as suggestions for developing one's own brain. It is an excellent resource for any classroom.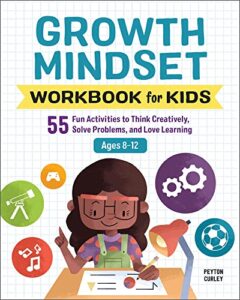 Photo Credit: Amazon
Your child will benefit from the Growth Mindset Workbook for Kids, which is jam-packed with fun and engaging activities that will teach them how to embrace challenges and pursue their goals.
Their ability to deal with any problem or challenge will improve as a result of using this Growth Mindset Workbook for Kids.
This workbook, which includes 55 enjoyable exercises, will help your child develop a growth mindset, allowing them to achieve any goal they set.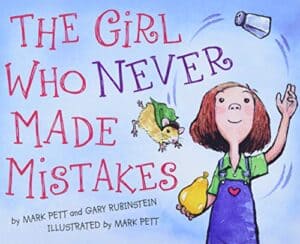 Photo Credit: Amazon
When children read The Girl Who Never Made Mistakes, they are getting a great introduction to the growth mindset concept.
This educational book teaches young readers how to grow as a result of their mistakes and how to learn from their mistakes in the future.
For anyone who wants to develop a growth mindset, The Girl Who Never Made Mistakes is an essential read. It is also an excellent choice for classrooms and home libraries.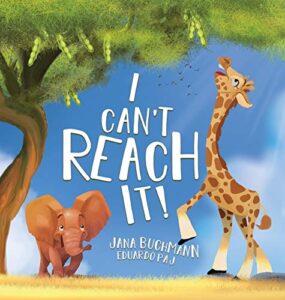 Photo Credit: Amazon
In Africa, a young giraffe named Moyo is growing up and encountering new challenges on a daily basis. Moyo's story is told in rhyme.
She never gives up, thanks to her mother's encouragement, and she learns that anything is possible if one believes in oneself and one's own capabilities.
This heartwarming children's book transports readers to the beautiful continent of Africa while instilling in them the importance of perseverance in difficult circumstances.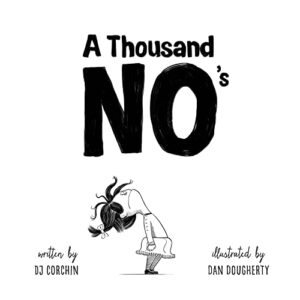 A Thousand NO's is a children's book about perseverance and developing a growth mindset. The story follows a young girl who has a brilliant idea but faces a lot of opposition.
She doesn't give up, though, and instead uses her imagination to turn all of those NOs into a big YES!
This book is ideal for children who are facing difficulties, as it shows them how obstacles can be turned into opportunities. A Thousand NO's is a motivational and inspirational story that will inspire children to pursue their dreams.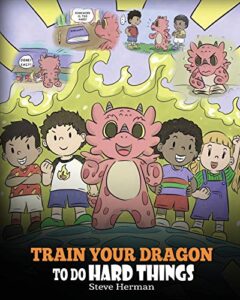 Photo Credit: Amazon
Your dragon is the best friend you could ask for. He's always there for you, no matter what. But sometimes, you wish he could be a little braver.
A little more willing to take on challenges. That's where Train Your Dragon To Do Hard Things comes in.
This charming children's story follows the adventures of a young dragon as he learns that it's okay to be scared of doing hard things – but that it's also important to face those fears head on.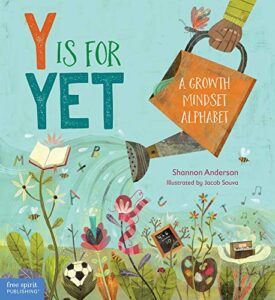 Photo Credit: Amazon
Is your child eager to learn and grow? Y Is for Yet can help! This alphabet book introduces kids to the growth mindset, teaching them that mistakes aren't just mistakes—they're opportunities for growth.
From A to Z, kids will learn new vocabulary that improves their view of themselves and their potential. With a growth mindset, anything is possible!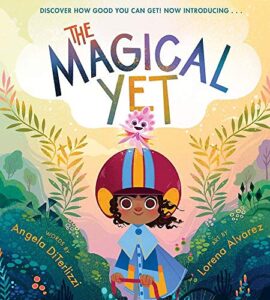 Photo Credit: Amazon
The Magical Yet is the perfect book for children who are facing difficulties and need a little encouragement.
The book is filled with wonderful illustrations and rhyming text that will inspire readers of all ages. The story follows a young child who is struggling to do things that seem impossible, but with the help of the magical Yet, anything is possible.
This is an uplifting tale that will teach children to never give up and to always keep trying.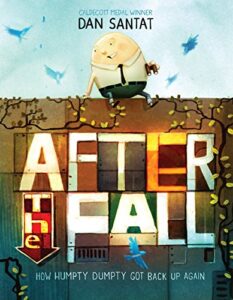 Photo Credit: Amazon
Although everyone is familiar with the story of Humpty Dumpty, many people are unaware of what happened after he fell off the wall.
This heartwarming story follows Humpty as he attempts to overcome his fear of heights. It was written by Caldecott Medalist Dan Santat.
Featuring a beautifully illustrated and inspirational story about facing your fears, After the Fall is the perfect book for anyone who has ever faced adversity in life.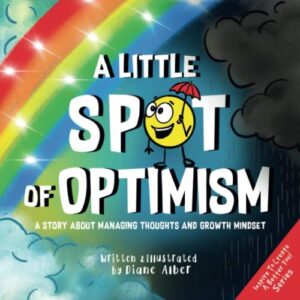 Photo Credit: Amazon
In this bright and colorful children's book, kids will learn how to look on the bright side of life through fun and engaging stories that will keep them reading for hours on end.
This book, which is filled with whimsical illustrations and upbeat stories, is ideal for anyone who wants to learn how to find the silver lining in every cloud.
Books like this can assist your child in expressing themselves fully and gaining a great deal of courage!
Takeaway
Children are constantly learning, and the more they learn about themselves and their potential, the better. A child's self-image is shaped by a lot of factors: family dynamics, friends, media portrayals―and sometimes these messages can be limiting or negative.
That's why it's so important to give kids books that emphasize how much they can grow if they try hard enough.
Sometimes all it takes is a little encouragement from one person to make a difference in someone else's life—especially when that person is still young.
You Might Also Like