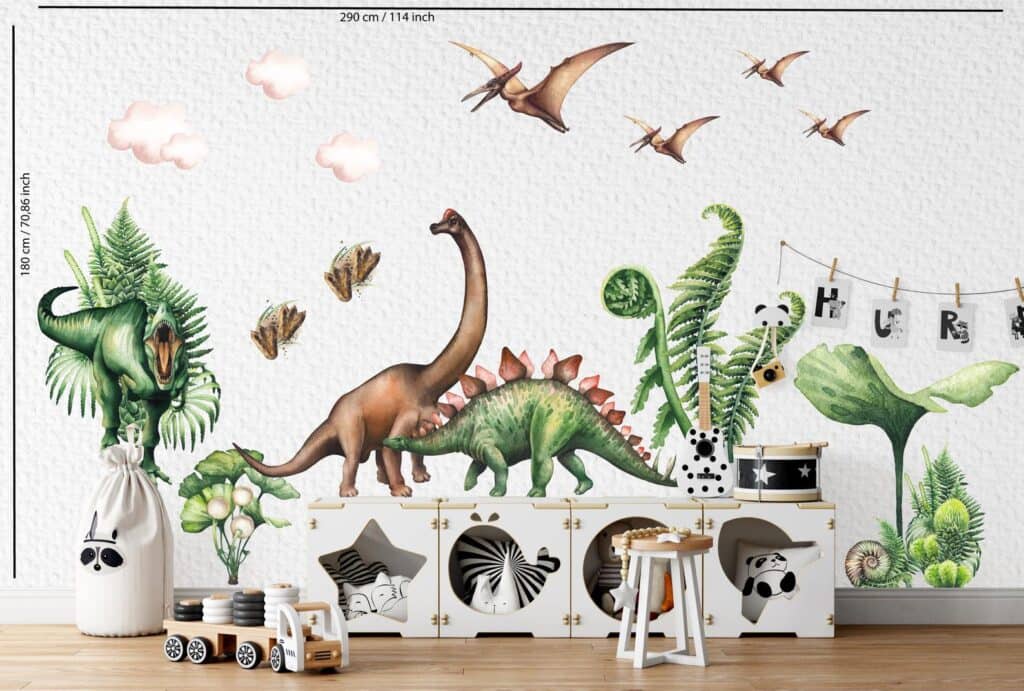 Photo credit: Etsy/OiLANDIAl
By using this site, you agree to our Terms of Use. This post may contain affiliate links. Read our disclosure policy.
Follow us on Instagram for more fun ideas for kids!
This ferocious dinosaur wall decal will bring an exciting style into the room of your little dino lover. This roarsome removable wallpaper is perfect for any bedroom or playroom!
Watch the video in this post to see the dinosaur removable wallpaper up close.
Do you have a little one who loves dinosaurs?
OiLANDIA eco-friendly wall decals are the perfect way to decorate your child's room. These decals are made of high-quality vinyl and last without fading or peeling off. They're also removable and re-usable so they can be used again and again. You'll never need to worry about painting the walls again – just peel them off when it's time for a new design!
How do I know? Well, I actually bought these fierce and impressive dinosaur decals for my boys' room! I recently turned our playroom into a joint boys' room with bunk beds. Lucky for me they are both into dinosaurs so finding a theme was easy! As anyone with kids knows, their interests change over time. I wanted a budget-friendly but also removable and flexible room decor. I also wanted a statement wall that made a bold splash.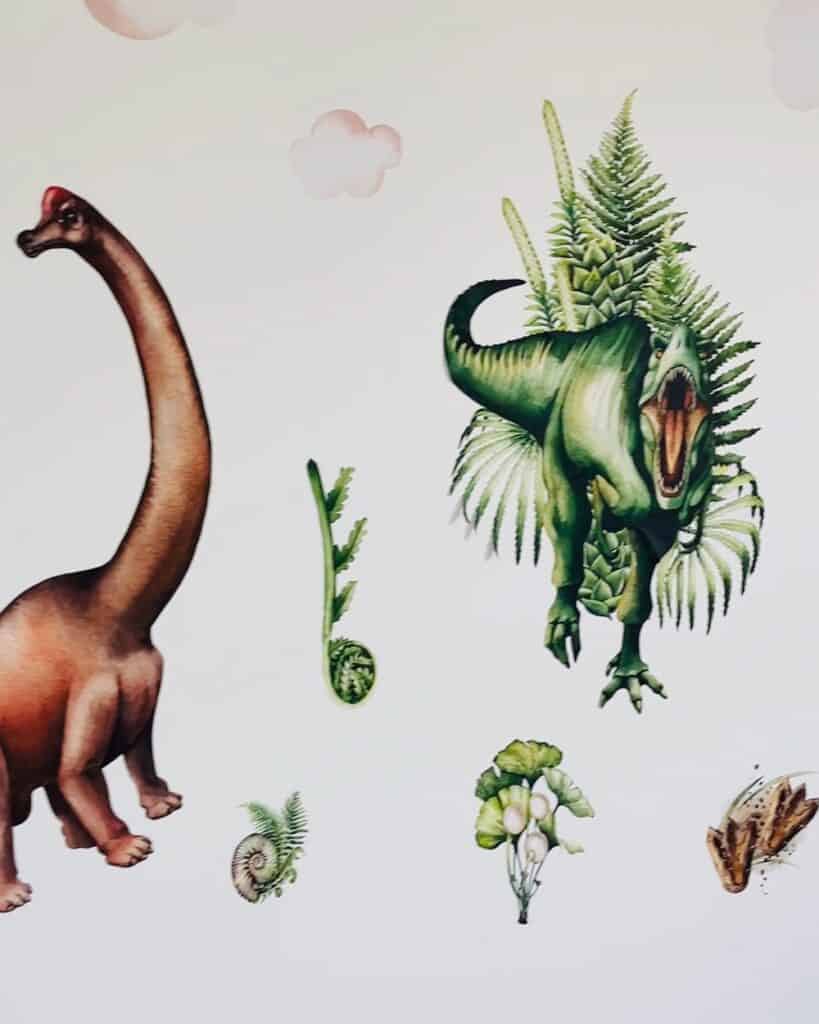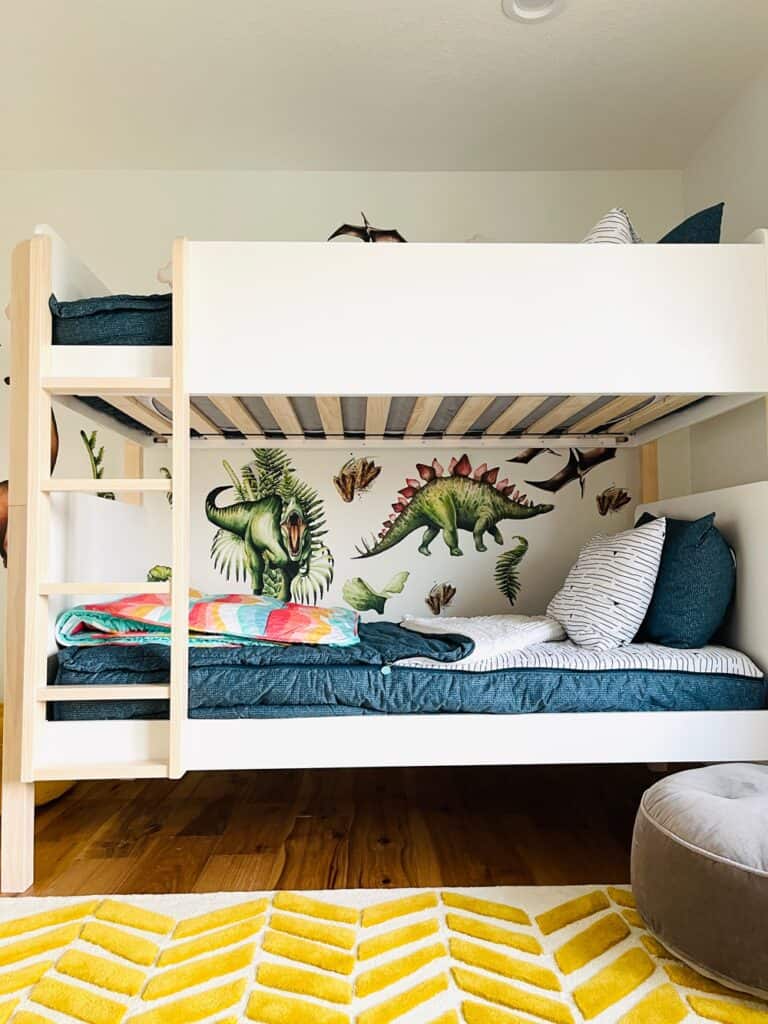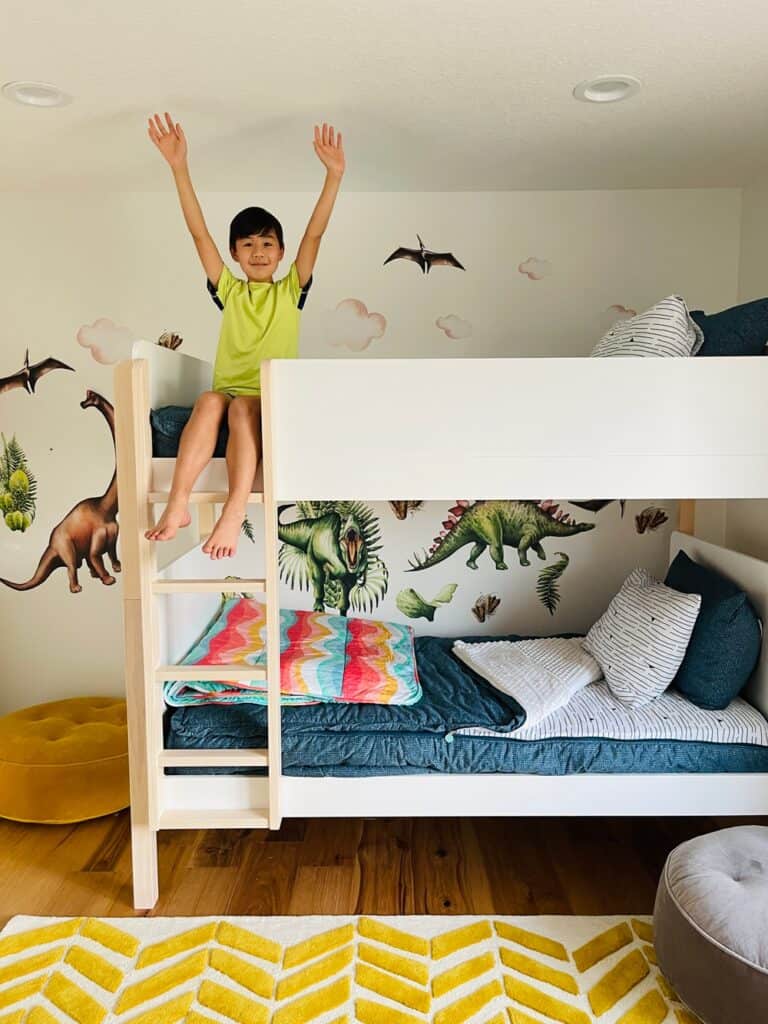 Cue these reusable and repositionable wall decals from Etsy shop OiLANDIA. They are easy to apply and remove without damaging your walls, while also being safe for little ones.
OiLANDIA dinosaur wall decals are a fun way to decorate a child's bedroom with no damage done. The best part? When they grow up you can take them off the wall and reuse them somewhere else! These reusable vinyls won't leave residue when removed from your walls either.
The large dinosaurs wall decal set comes with 4 different dinos that will transform any surface into an authentic Jurassic Park experience in no time. Just peel off the backing and stick our prehistoric friends on their designated areas – they'll stay put until you decide to remove them! No need for messy paints or expensive painters; simply follow instructions included with each order and enjoy your new space in minutes without breaking a sweat (or bank).