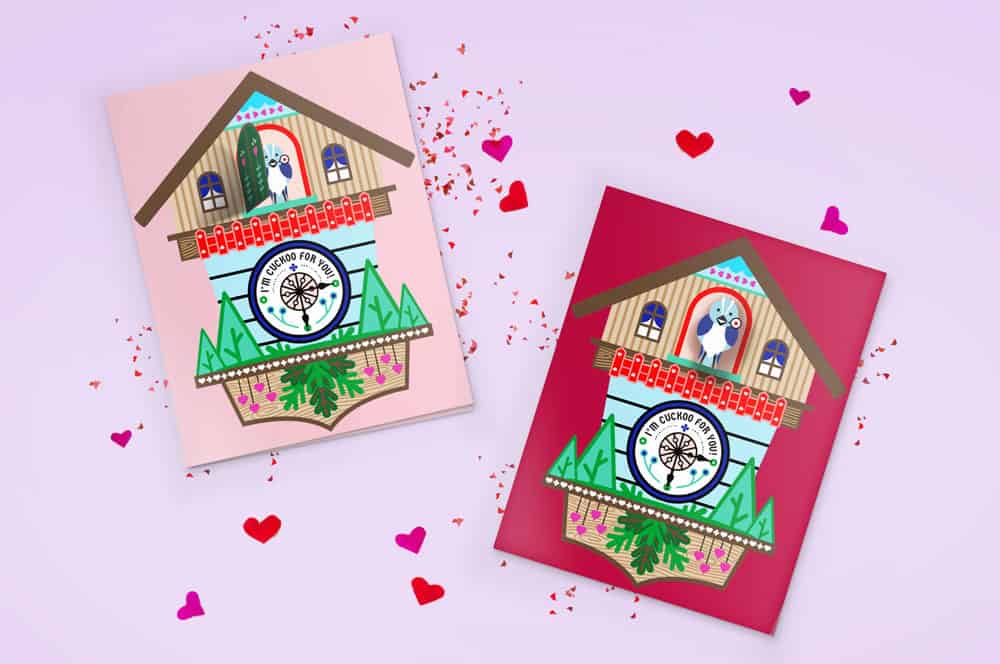 I have gone cuckoo for cuckoo clocks this winter! If you've ever seen one in real life, you can appreciate the fun of all the hidden surprises that appear and come to life when the clock strikes the hour. We wanted to make our own versions for Valentine's Day in the form of cards – complete with a little love bird that can be revealed with the lift of a door, or pops out of the doorway (just like the real thing!) You can make one just like ours, or make something more your style by using the black & white template. There's even a coloring page for cuckoo kids (or adults) who want to skip card-making and just relax with some crayons. Happy Valentine's Day lovies!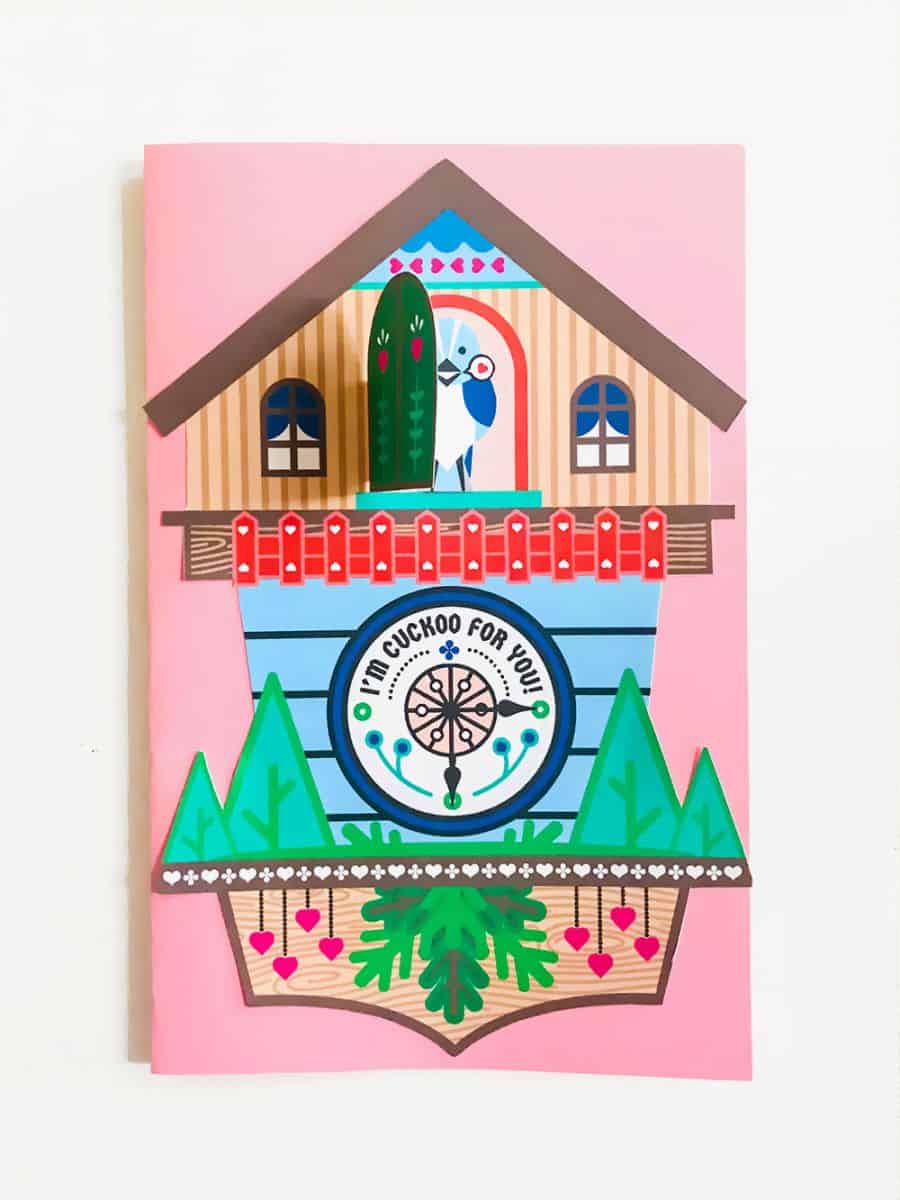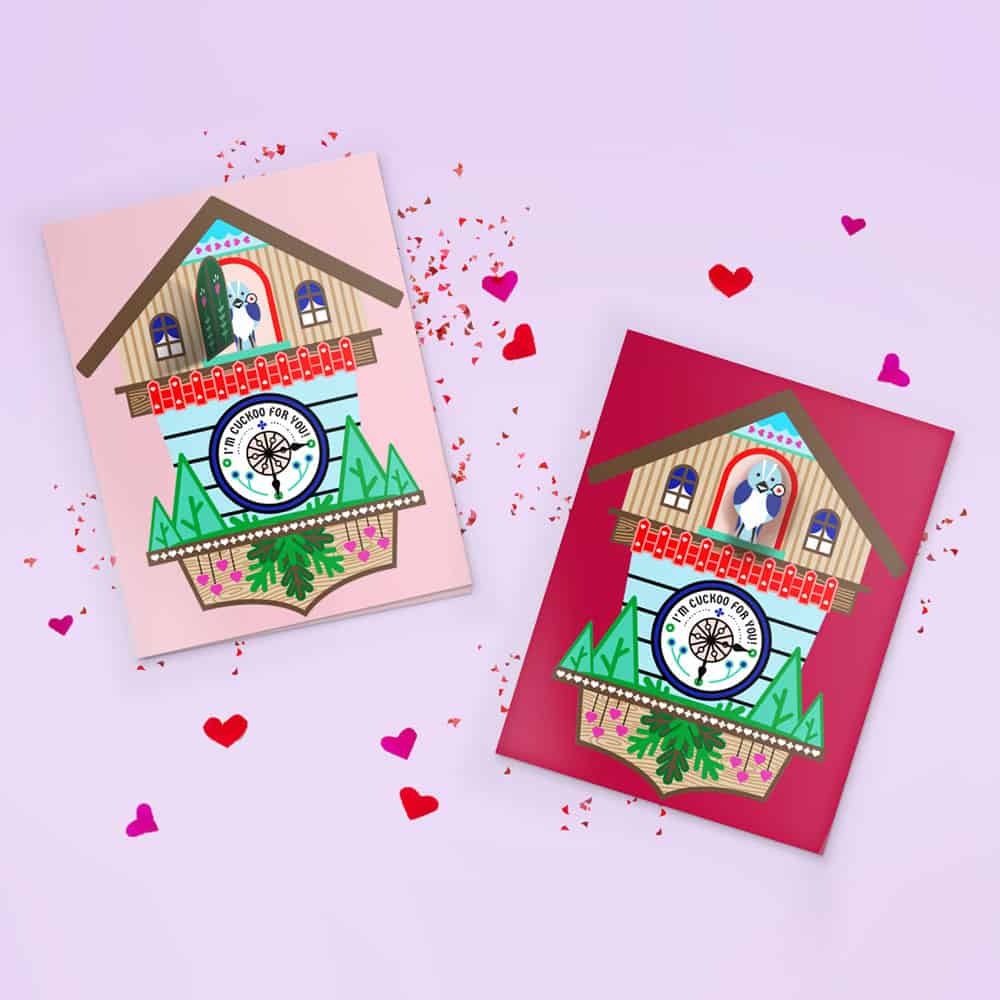 Materials:
1-3 Sheets of 8.5 x 11 Cardstock or Copy Paper
Our Cuckoo Clock Printable (download right below)
Scissors
A Glue Stick
CUCKOO CLOCK FREE PRINTABLE
Optional: Crayons, Watercolors or Paints (if you'd like to color your own!)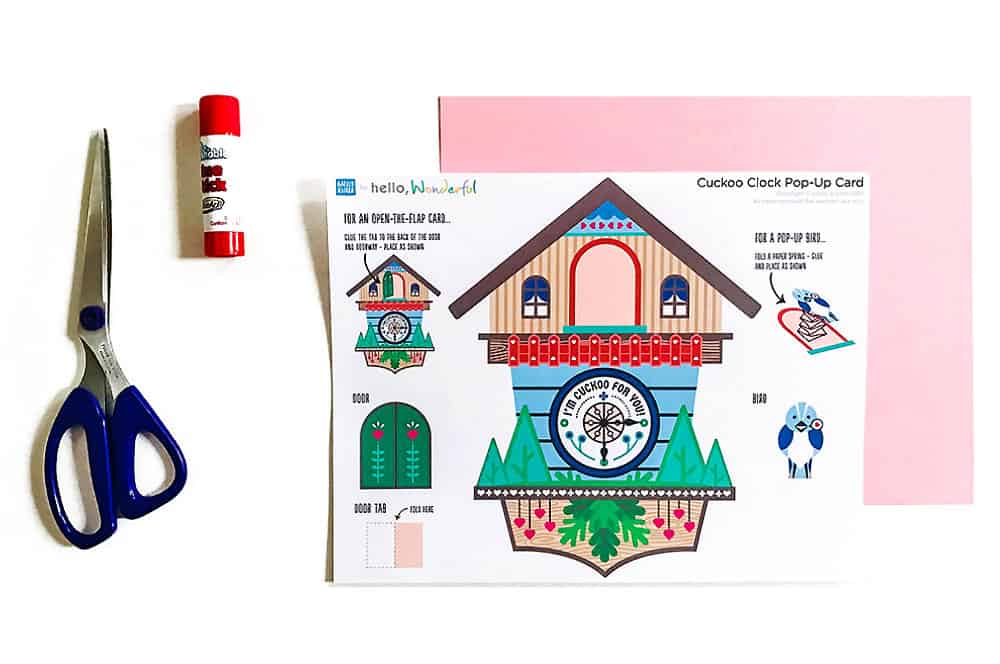 Instructions:
Step 1: Print out the desired pages of our Cuckoo clock PDF on cardstock or copy paper. There is a full-color card template, a black & white template that can be colored-in, and a full-size black & white coloring page (just for fun!)
Step 2: Cut out your cuckoo clock. If you'd like to make it into a card, you can glue it to a piece of construction paper (folded in half) using a glue stick – or simply write your own message on the back!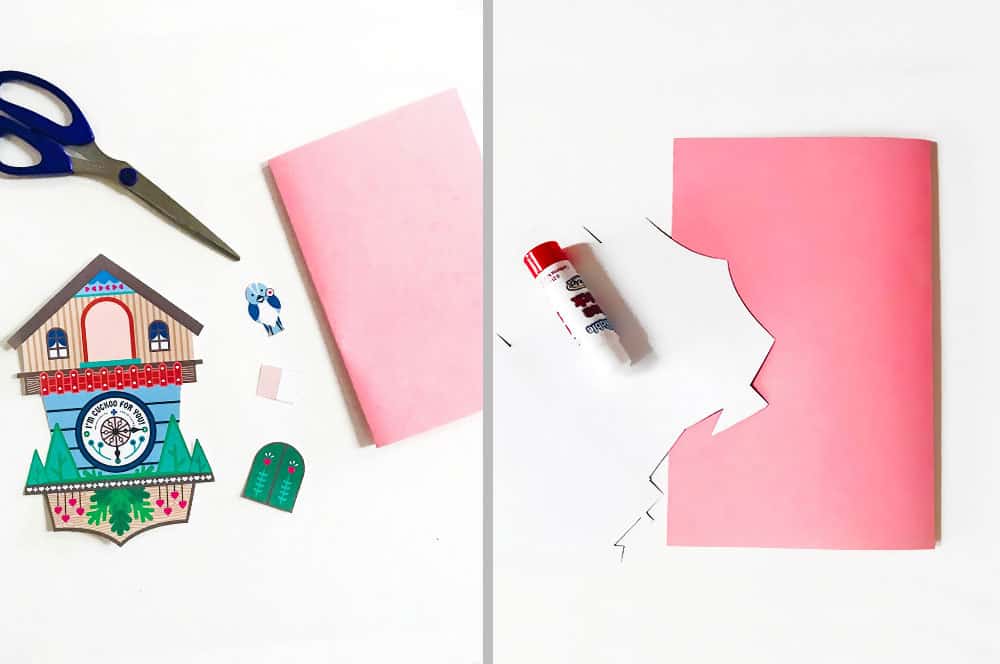 Step 3: What would a cuckoo clock be without bits and pieces that open and pop out? We wanted to re-create some of the surprises for this card, so there are a few ways to make this interactive! You can follow the diagrams on the printable to create either a lift-the-flap valentine, or a pop-up valentine!
For a lift-the-flap Valentine:
Cut out the door and door tab
Glue the door tab to the back of the door and (as shown on the PDF)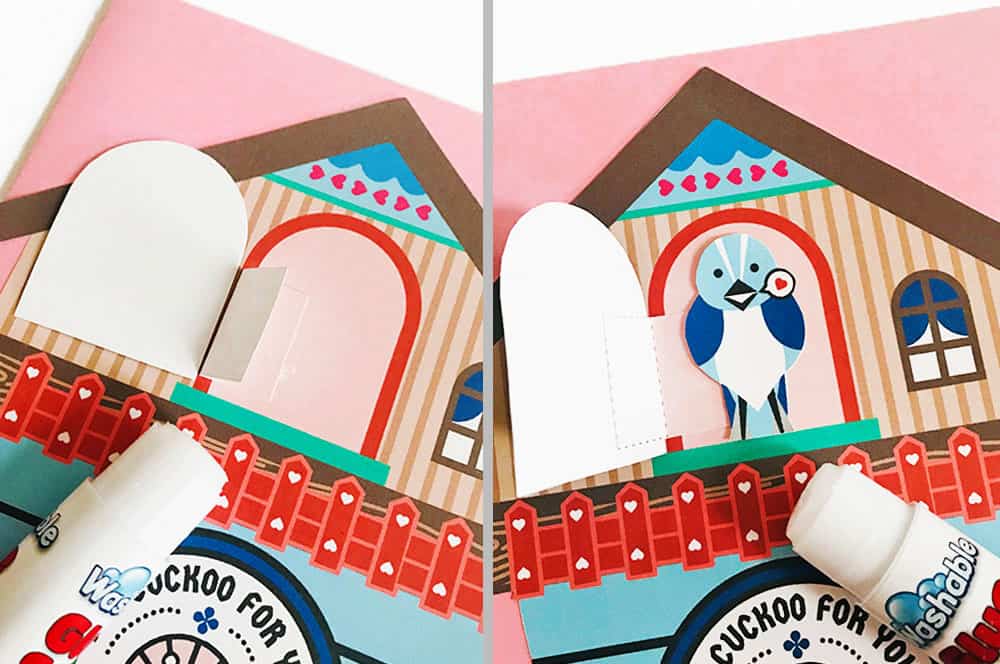 For a pop-up Valentine:
Create a paper spring by folding strips of paper (as shown here [https://www.youtube.com/watch?v=Mh6mJNMAEhQ] if you've never made one!) Glue the bottom of the spring to the center of the doorway, then glue your cuckoo bird on top.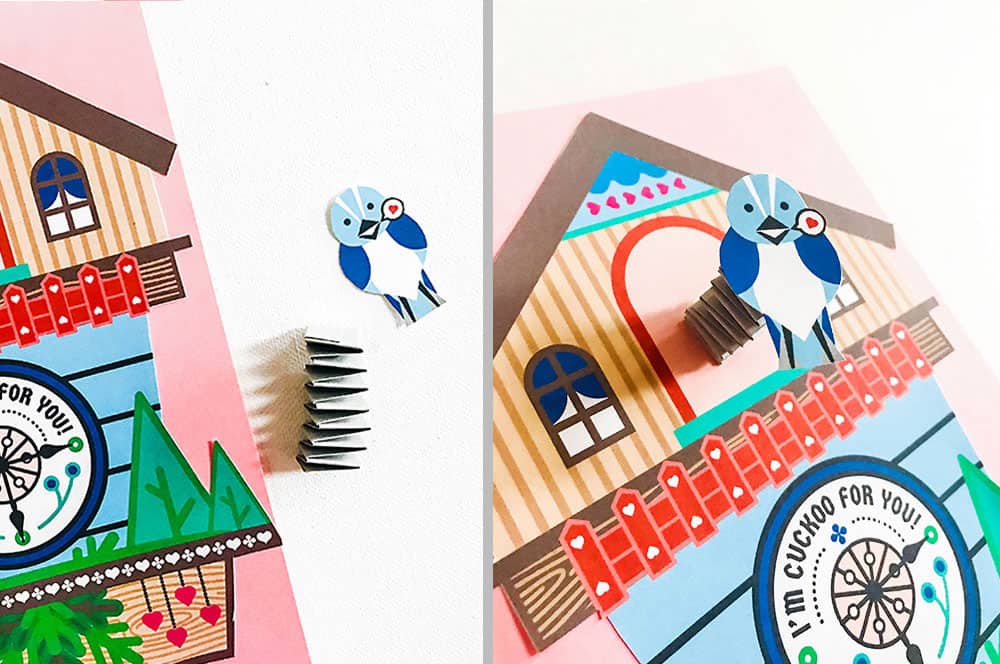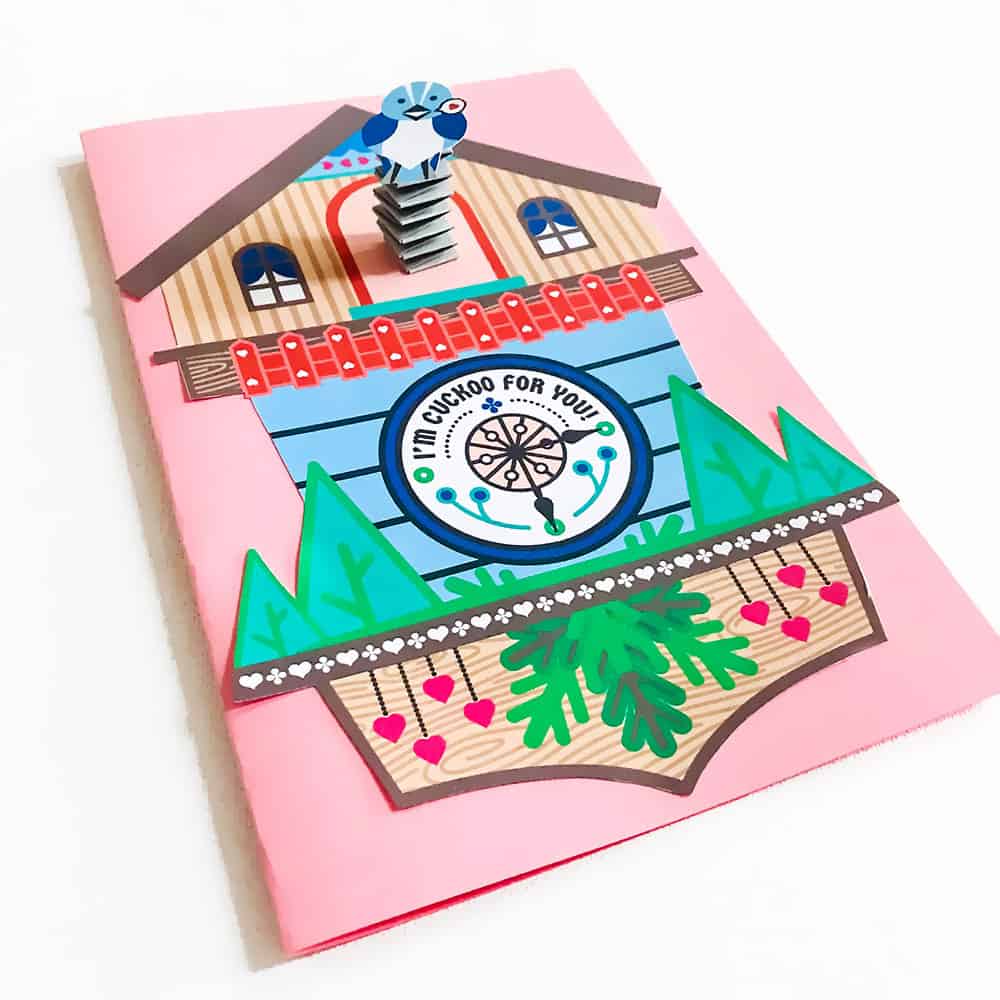 These are so cute and especially fun for kids to give to someone extra special!
Other Ideas for Use:
The black and white coloring page is a fantastic gender-neutral Valentine's Day activity for a classroom. Instead of using our cuckoo clock bird, have your kiddos draw their own – or add their own Valentine messages! Design your own cuckoo clock! Cuckoo clocks typically have a lot of fun, small details (lumberjacks chopping wood, flower boxes, woodland animals, etc) – you can draw, color and paste your own elements!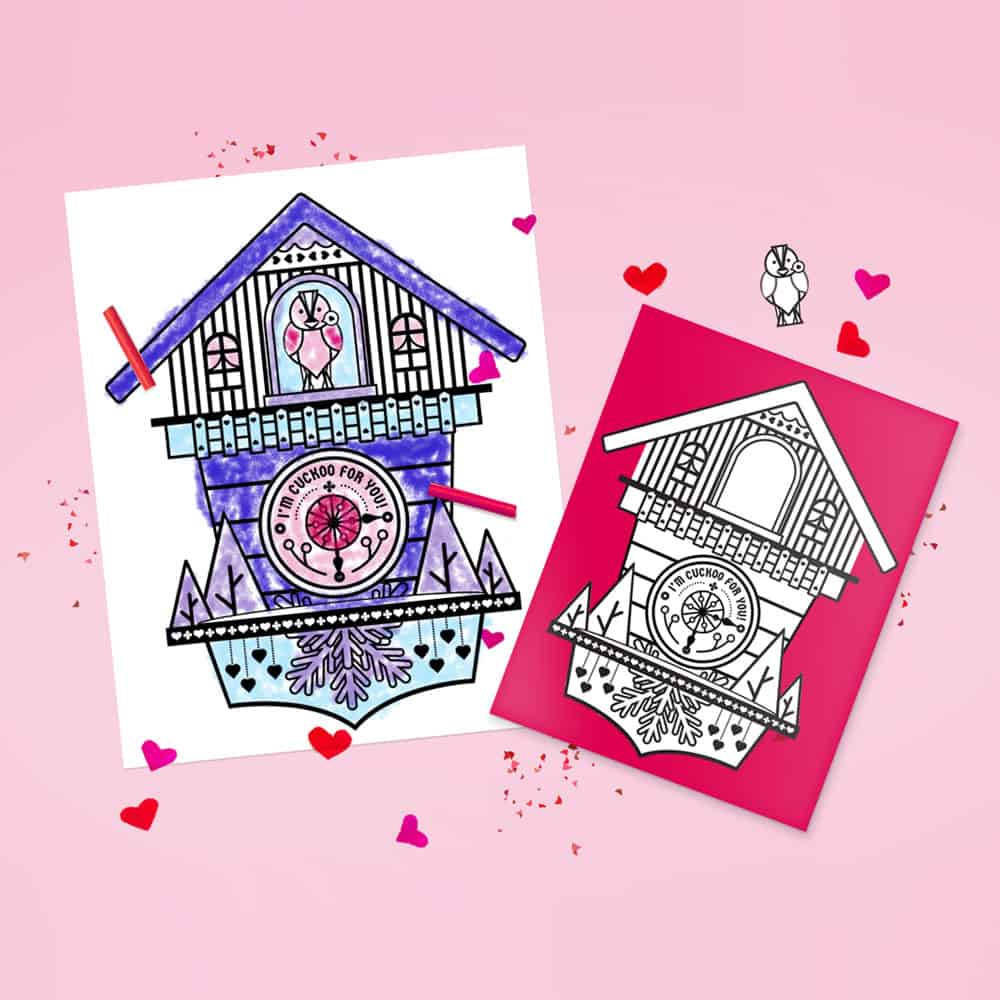 What are your favorite Valentine Cards for Kids? Check out lots more creative Valentine ideas!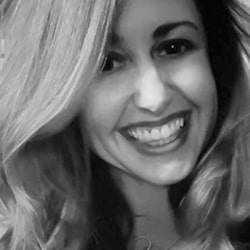 Amanda Eldridge is the Managing Director and Lead Designer at barley & birch. Driven by carbs, coffee and a passion for cultivating imagination, she aims to help families discover their creative potential and be inspired to generally make the world a better place through art, play, adventure, activism, conservancy and community. When not tinkering with ideas, designs and projects for barley & birch, Amanda enjoys working as a modern art curator and managing her own small design business. Beyond work, you'll likely find her playing mom to Thor – her ginormous Golden Retriever, reading a new book, or traveling anywhere she can. For more fun projects and printables, you can explore the barley & birch blog or follow b&b on Instagram, Facebook and Pinterest.
______________________________________________________________________________________________________
Disclosure: Some of the links in the post above are "affiliate links." This means if you click on the link and purchase the item, we will receive a small affiliate commission. Regardless, we give our promise that we only recommend products or services we would use personally and believe will add values to our readers.